From the stock market to commercial real estate, there are now plenty of great ways to diversify your investment portfolio. Lately, farmland investments have been gaining in popularity among accredited investors.
Why would anyone want to invest in farmland? As it turns out, the world of agriculture is full of interesting alternative investments, many of which come with a unique set of perks.
As an asset class, farmland offers low volatility and the potential to achieve respectable capital gains. While it tends to be a pretty long-term investment, it can also be a nice way to generate passive income throughout the holding period.
But how would you even go about farmland investing? Would the requirements include suiting up in a pair of overalls and toiling the land?
That's where platforms like AcreTrader come in. AcreTrader is an agricultural real estate investment platform designed to help accredited investors invest in farmland – even if they've never set foot on an actual farm in their life.
Rest assured that no overalls are required, unless you choose to work them into your wardrobe as a fashion statement. But AcreTrader does take care of all the property management concerns, including locating experienced farmers to handle the actual farming.
Join us for a thorough AcreTrader review, including an in-depth analysis of the AcreTrader platform, what Acretrader investments have to offer the accredited investor, and whether or not it's the right real estate opportunity for you.
What is AcreTrader?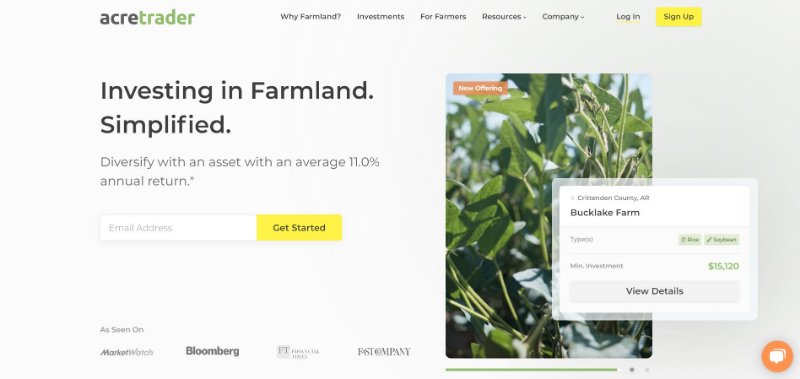 AcreTrader is an agricultural real estate investing platform that was founded in 2018 by Carter Malloy. Having grown up in a farming family himself, Malloy went on to become an investment professional.
Malloy decided to combine his experience in both worlds to set out on a mission to make investing in farmland easier than ever before. Based in Fayetteville, Arkansas, the AcreTrader team is made up of a unique blend of experts from the fields of finance, technology, and agriculture.
But is AcreTrader legit? Rest assured that it is indeed. The AcreTrader platform enjoys an A+ rating from the BBB, as well as 5/5 star customer reviews.
At this point, you may be wondering what gave the AcreTrader team the idea of developing a real estate investing platform specifically geared towards farmland investments. A lot of it goes back to the fact that many of them had been investing in farmland for years and knew exactly how profitable it could be.
Unfortunately, they also knew firsthand that farmland had traditionally been an asset class that was out of reach for many investors. In the past, it also came along with plenty of unattractive requirements such as high fees, significant capital, and a great deal of research.
Worst of all, even investors who did make it through the process ended up with little or no control over their own portfolio composition.
AcreTrader set out to remove all these obstacles by creating a straightforward investment process that made it easy for investors to buy land right from their own computers.
See Related: FarmTogether Review: Is It Legit or Worth It?
Who Can Invest With AcreTrader?
Unfortunately, AcreTrader is only open to accredited investors. But what is an accredited investor and how do you know if you qualify?
Accredited investors are investors that are able to legally trade securities that are not registered with the SEC. They can be individuals or entities, but either way, they must meet certain requirements, most of which are based on income or net worth.
While this may sound a little unfair, it's due to the fact that some investments come with more risk than those you'd buy on a secondary market like the stock exchange. The idea of classifying certain investors as accredited is to ensure that they're able to recover financially even if an investment goes wrong.
How do you know if you're an accredited investor? Here are some basic qualifications:
Individuals must either:
Have a net worth of at least $1 million
Have earned an income of at least $200,000 for at least the past two years, with the expectation of earning the same in the coming year. In the case of joint-filing couples, the requirement jumps to $300,000.
Individuals may also qualify if they work for the company issuing the opportunity as an executive officer, director, or general partner.
Businesses, Organizations, or Entities must either:
Have assets worth at least $5 million
Be owned by investors who are accredited
See Related: Best Investments for Teachers to Make Today
Is Farmland a Good Investment?
While this largely depends on what type of returns you're hoping to generate, we can say that farmland is definitely an asset class worth looking into. How does it stack up to traditional investments available on the secondary market?
According to the NCREIF, farmland has generated an average 11% annual return since 1991. This is an incredibly impressive figure when you consider that it also comes with the benefit of low volatility. It also tends to be very recession-resistant.
Few other asset classes can make such claims, with the exception of bonds and CDs, neither of which currently offer any chance of achieving quite such a high return.
Much like any other investment, however, it's important to keep in mind that investing in farmland is not without its risks.
This is particularly true when it comes to real estate investing, which is one of the main reasons that AcreTrader investments are only open to accredited investors.
While AcreTrader seems to have established a solid due diligence and risk management system, you should never invest money you can't afford to lose, regardless of the asset class.
See Related: AcreTrader vs FarmTogether: What Is Best?
AcreTrader's Commitment to the Farming Industry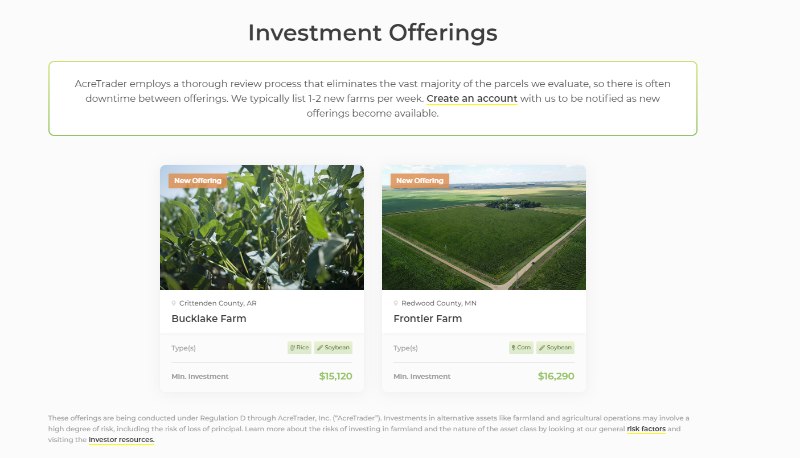 While Acretrader presents investors with solid real estate investments, the company is equally committed to enhancing the lives of professionals in the farming industry. When farmers decide to partner with AcreTrader, they can enjoy a variety of unique opportunities that may not otherwise have been available.
These opportunities can take several different forms, including:
New Property Leasing Options
Say that a farmer identifies a new piece of land they'd like to buy. Or perhaps they've already been leasing the land in question, only to find out that the landlord is putting it up for sale.
In either case, they'd like to make the purchase but just aren't able to cover the entire investment themselves. In these instances, AcreTrader may be able to invest in the land as an upfront buyer, then set up a lease that allows the farmer to purchase it from the company and its investors over time.
This serves as a win-win situation for both the farmer and investors alike. The farmer gets to start (or continue) working the land, while investors enjoy the added annual income generated by their lease payments.
Leaseback Sales
Many major companies and corporations have historically enjoyed funding opportunities that weren't always realistic for farmers. For instance, when a company wants to raise money for expansion or development, it can decide to sell shares of its business on the stock market.
Whether a company launches a first-time IPO or simply sells additional shares of its company, the stock market tends to be a great way for a successful business to generate capital gains. The company can then use the profits from these shares to upgrade its machinery, open new retail locations, or otherwise make its business even more profitable.
This is also great for shareholders, as their shares of the company often rise in value as a result. The investors can then generate capital gains of their own by selling their shares on the secondary market.
The idea behind the AcreTrader platform is to provide a similar setup for both local farmers and investors alike.
AcreTrader can provide farmers who are looking to leverage their acreage with the upfront cash they need to improve or develop their operations. The company even helps its partner farmers achieve their goals.
The company also offers additional assistance for any farmers who may be looking to transition from conventional to organic production.
The best part is that before the deal is even closed, AcreTrader establishes a flexible leaseback plan with the farmer which typically lasts anywhere from 3-5 years.
Depending on the particular investment, farmers may even be able to retain a partial ownership stake in the property while offering the rest as an opportunity for AcreTrader investors.
See Related: Best Impact Investing & ESG Blogs to Read Today
How Does AcreTrader Work?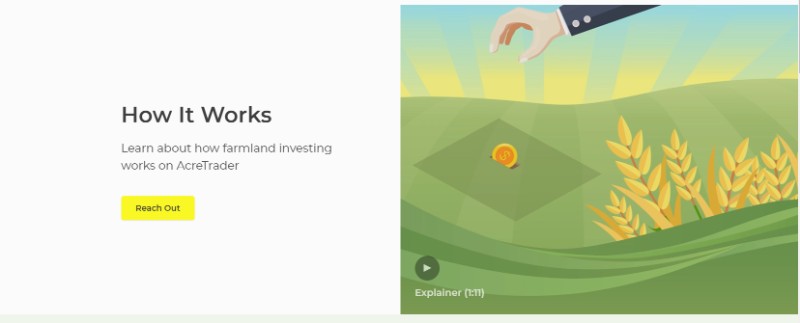 If the idea of farmland investing has piqued your interest, then you may be wondering more about how the entire process works. Let's dig a little deeper and look at everything from how Acretrader locates prospective real estate to how investors can make money with the Acretrader platform.
The Selection Process for AcreTrader Investments
Whether you work at a real estate brokerage or have never invested in real estate beyond your primary residence, you're likely already familiar with the industry's most open secret. Simply put, capital appreciation depends on investing in the right property.
So how can you be sure that the farmland investment you're eyeing on AcreTrader is worth it? How do you know you're not accidentally investing in a row of soybeans someone planted on a piece of random farmland?
Part of the reason that AcreTrader exists is to make sure that overly enthusiastic first-time investors don't get taken in by such ploys.
Admittedly, one of the challenges of farmland investing space is that land value isn't always quite as easy to calculate as other assets.
Whereas the stock market tends to include a vast array of data about any given asset, the key to locating a solid farmland investment lies in understanding certain value factors.
AcreTraders is one of the few real estate crowdfunding platforms that takes the mystery out of farmland value through a thorough due diligence process. While the company uses a variety of different technological tools to locate prospective Acretrader offerings, only a tiny percentage of the very best opportunities make the cut.
Their vetting process involves three different levels of intense scrutiny. Here's a brief breakdown of each:
Level 1: "Sanity Check"
First, AcreTrader reviews each prospective agricultural real estate property to ensure that it doesn't present any obvious problems. Rest assured that any random rows of soybeans in questionable environments won't even make it past this most basic of all review levels.
During this stage, AcreTrader also checks to make sure that each farm in question is capable of producing its desired net annual return.
Level 2: "Documentation and Verification"
This is more of a technical phase, in which AcreTrader pulls together all the necessary paperwork and documentation. They also map and gather data on the area in which the farm is located to better understand the potential gross cash yields it's capable of generating.
Last but not least, this stage is also when AcreTrader begins to build financial models to decide whether or not it's worth moving forward with a potential offering.
Level 3: "Ground Check"
This is the point when inspectors from AcreTrader review everything from the farm's soil sustainability and crop yields to the nearest crop delivery point. By visiting the farm itself, they're able to identify any non-farming assets valued in the farm's price and pinpoint ways they could produce additional income.
They also get a better understanding of the local region and find out how the farm compares to comparable pieces of farmland in the area.
Here's a more detailed breakdown of everything that goes into AcreTrader's due diligence process: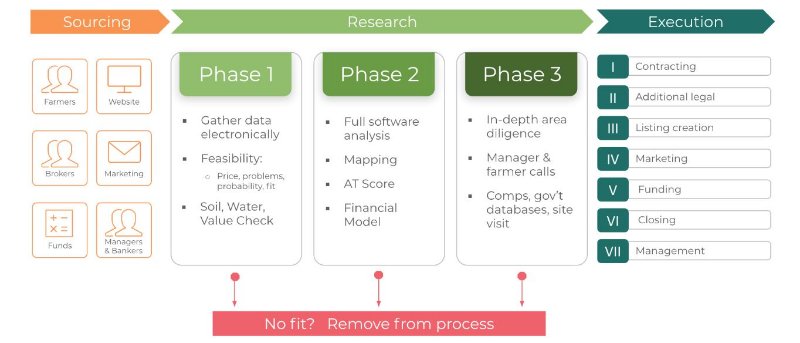 Want a more in-depth review of how farmland investments are valued? Check out this handy blog post from AcreTrader's learning resources.
See Related: What is the Current Greatest Threat to Agricultural Sustainability?
Buying Farmland on the AcreTrader Investment Platform
If you're looking for a great alternative investment in the farmland industry, then this is where you come in. When AcreTrader approves a piece of land to offer, they build it its own profile on the Acretrader platform.
This allows investors to peruse current real estate opportunities right from the company's online platform, as well as check out other recently closed deals.
Whether you want to invest in a soybean farm in Arkansas or a timber forest in Alabama, you can peruse available AcreTrader investments right from your own computer.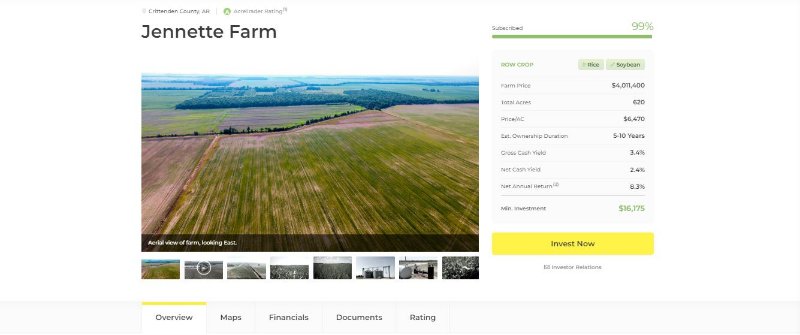 Each profile includes a thorough breakdown of the farmland, documentation, maps, and finances. Investors also enjoy easy access to financial information such as projected cash yield, minimum investment requirements, and the projected holding period.
One of the highlights of AcreTrader is that the platform is also incredibly transparent when it comes to fees. In the profile of each piece of real estate, you'll find a clear breakdown of fees, including everything from their annual servicing fee to closing fees. This can go a long way towards a clearer picture of your projected net profit after any fees that may be involved.
Should you decide that you want to invest in farmland, you'll be able to do so right from the platform in a matter of minutes. Each available "share" is divided into 1/10 of an acre, so you can select the number you are interested in and begin enjoying your share of the dividends.
The whole process can be conducted 100% online through AcreTrader's farmland investing platform, as long as you connect your account to your financial institution. Alternatively, AcreTrader is happy to help you through the process if you prefer to reach out.
See Related: Proven Ways to Start Investing in Apartment Complexes
What to Expect During the Holding Period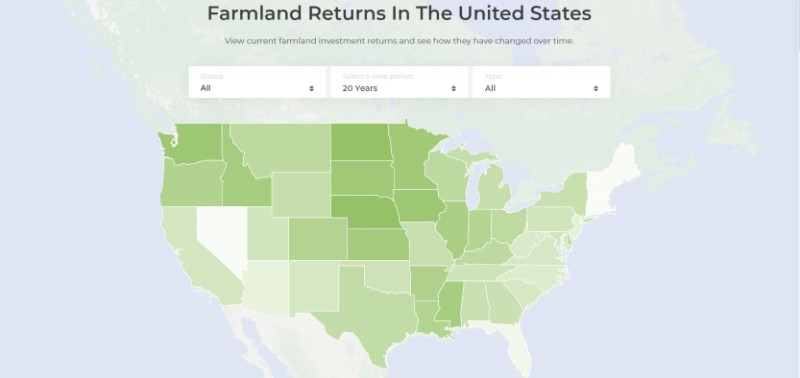 During each farm's holding period, AcreTrader works with its managers and farmers to improve everything from sustainability to technological assets.
In short, AcreTrader wants to make sure that every real estate investment on its platform generates the best possible passive income during its holding period and the highest gross cash yield when the farm is ultimately sold.
Throughout the holding period, farmers continue to pay cash rent, which is a pretty typical arrangement for farmers in the U.S. Most of this rent money is received before the planting season and is tucked away into a special bank account until December.
AcreTrader Fees
One of the largest benefits of the Acretrader marketplace is that the company handles an impressive amount of the legwork. But how much are their services going to cost you?
Let's do a quick breakdown of fees.
AcreTrader reports that there tend to be a few legal fees that come along with closing costs, which usually equal around 2% of the total investment. On the bright side, the company does not charge investors carried interest fees in order to ensure a maximum return on their investment.
Attached to each property investment, you'll find a specific fee breakdown outlined in the offering documents section. Overall, however, the platform's fees tend to be on the lower side and very transparent.
The one fee that remains standard, regardless of which property you choose, is AcreTrader's annual servicing fee of 0.75% of the total property value. It covers a wide range of services, most of which amount to you not actually having to manage the property yourself.
Think of it as paying AcreTrader to manage the land and farmers, as well as cover all the accounting, reporting, admin, and communication services involved.
Investor Distributions
When you invest in farmland, your investment generates money in two distinct ways. The first is through the capital appreciation generated from the sale of the farm after the holding period ends. Additionally, you can also earn passive income in the form of annual dividend distributions from any excess income your farm earns throughout the year.
AcreTrader distributes these payments to each investor every December and will provide any information you may need to pay taxes by the following February.
At the moment, AcreTrader typically aims for a target unlevered IRR goal of 7%-9%, including value appreciation or a 3%-5% unlevered yield in addition to annual appreciation for lower-risk investments.
AcreTrader Tax Considerations
First of all, this is something you'll want to consult your tax advisor about.
But to give you a general overview, capital gains from the sale of the farm itself are taxed much like ordinary long-term capital gains, unless, of course, you decide to sell your shares early. If this is the case, then they may be subject to short-term income tax rates.
Annual distributions are handled a bit differently. AcreTrader is usually able to classify investors as partners and will send each a K-1 tax form that details their taxable income each year. Partnerships may not always be subject to tax but will need to be reported on your tax return.
Again, it's important to make sure you consult a professional tax advisor to ensure that you comply with all state and federal tax guidelines. In the event that you end up taking a loss on your investment, you may also be able to use it as a tax write-off.
AcreTrader is also available to answer any questions that potential investors may have about taxes or any other aspect of investing in their farmland offerings.
Selling Your Farmland Investments
The ultimate goal of farmland investing is to sell your land for a higher price than what you initially paid for it. With this in mind, it's probably no surprise that farmland as an asset class tends to be best for long-term investors.
Typical holding periods are anywhere between 5-10 years, at which point AcreTrader will sell the farmland through their affiliate registered broker-dealer, AcrePro. Once the deal is complete, you'll get your initial investment back, as well as your share of any additional revenue generated from the appreciation of the farmland's value.
As you can see, farmland is an interesting asset class to consider adding to your investment portfolio. But as with any alternative investment, there are plenty of pros and cons of AcreTrader worth considering before you jump right in and invest in farmland today.
Let's go over some of the pros and cons of real estate investing through the AcreTrader farmland investing platform.
See Related: Sustainable Investing vs Impact Investing: What's the Difference?
The Pros of AcreTrader
The AcreTrder platform makes investing in farmland incredibly easy and accessible for more investors than ever before.
AcreTrader fees cover everything from an extensive real estate selection process to every aspect of property management during the holding period. The platform provides investors with an opportunity to reap all the benefits of investing in farmland without any of the hassles of actively managing the property.
Investors have the option of investing through a self-directed IRA (SDIRA) if they use a variety of different custodians.
As compared to other alternative asset class investments, AcreTraer's fees are on the lower side.
AcreTrader takes great care of both the investors and the farmers they work with. Farmers can enjoy pre-arranged leaseback options, lease transfer opportunities, or other flexible lease arrangements. AcreTrader also works with its partner farmers in order to ensure their greatest odds of success.
Investing in farmland has several unique perks, such as low volatility and recession resistance.
Farmers generally pay their annual rent before the planting season begins. This is a nice safety net because if the farmer defaults on their lease, then AcreTrader can simply find a new tenant to replace them.
The Cons of AcreTrader
Given that only accredited investors can trade on AcreTrader, it may come as no surprise that a substantial minimum investment is required. Even at the lower end of the spectrum, a minimum investment can range anywhere from $8,000 to $10,000.
AcreTraer is only currently available to accept self-directed IRA contributions through a limited variety of custodians. At the moment, they aren't able to work with major custodians such as Fidelity, Charles Schwab, Fidelity, or Vanguard. See the AcreTrader website for more information.
Farmland tends to be a very illiquid asset. AcreTrader does offer somewhat of a secondary marketplace, as far as allowing investors to sell their land early via a private transaction. But in order to get the most out of your investment, it's recommended that you approach it as a long-term opportunity.
One of the biggest cons of Acretrader is that it's only open to investors who are accredited. While this isn't uncommon among alternative investment opportunities, it means that non-accredited investors will not be eligible to enjoy any of the perks that many real estate investment platforms like AcreTrader have to offer. Fortunately, there are several alternatives that allow you to invest in farmland even if you aren't accredited.
AcreTrader Alternatives for Non-Accredited Investors
If you don't meet the qualifications listed above, then you may not be totally out of luck if you find the idea of investing in farmland interesting. Here are a few options that may be worth looking into for you.
1. Farmland REITs
Real estate investment trusts, commonly known as REITs, are companies that invest in various types of real estate. By buying shares of the REIT, you too can enjoy reaping the benefits of their investments.
There are currently several REITs out there that invest largely or exclusively in farmland. While you won't actually own the land, as you would if you invested with AcreTrader, you can own shares of the company that does.
Here are several REITs worth looking into:
2. Steward Farmland Lending Platform
Steward is a lending platform that's open to investors, whether they are accredited or not. Started by one of Fundrise's co-founders, Steward is a lending platform dedicated to regenerative agriculture.
With minimum investments as low as $100 and no lender fees, Steward offers users the chance to buy a piece of a "participated loan" that's been issued to a farmer or rancher. Not only will they receive their loan back over time, but also the interest it earns.
While these types of loans may not have the potential to earn quite as much return as traditional equity deals like those offered by AcreTrader, they also tend to be much less risky.
3. FarmFolio
FarmFolio is probably the most similar opportunity to AcreTrader that's available to investors who don't happen to be accredited. When you invest with Farmfolio, you're able to purchase a lot on an actual farm and enjoy earning annual harvest income until you decide to sell.
One of the reasons that FarmFolio is able to offer opportunities to all investors is that all the farms featured on the platform are located in South America. While FarmFolio offers some great investments, just beware that many lots can be pretty pricey and are generally in the five-figure range.
4. GroundFloor
While GroundFloor is admittedly geared mostly towards non-farming real estate, it's still worth mentioning. You can start investing in various residential properties across the U.S., whether you're accredited or not, at a minimum of just $10.
See Related: How to Become an Impact Investor [Step-By-Step Guide]
Key Features of AcreTrader
Now let's look into various aspects of the AcreTrader investment platform and see how they stack up. We'll rate each feature on a scale of 1-5 and explain our reasoning behind each score.
Ease-of-Use: 4.5/5
If there's one thing that AcreTrader has going for it, it's that it's incredibly easy to use. If you are an accredited investor who is seriously interested in looking at agricultural real estate opportunities, you can start the process in minutes by creating a free account.
The cool thing is that even if you're not an accredited investor, you can still sign up for an account anyway, even though you won't actually be able to use it to place any trades.
As far as how to sign up for AcreTrader, the process is incredibly easy and can be completed in a matter of minutes. Just click on the "Sign Up" option at the top of the homepage to begin.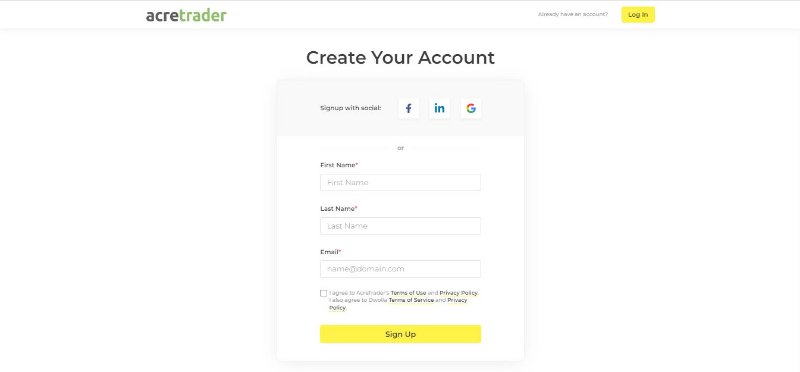 You'll be given the option to sign up using one of your existing social media profiles or you can create an account using your email.
Once you complete the signup process, you'll then be able to complete your account by filling in basic contact information. At that point, you'll want to connect your AcreTrader account to your financial institution so that you can fund any investments you may choose to make.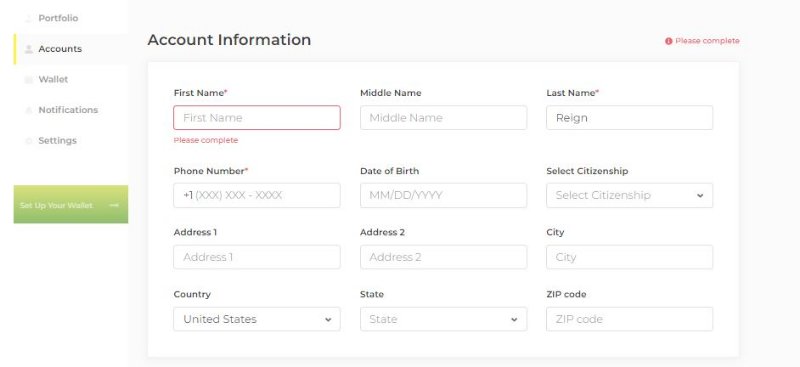 From that point, you can start checking out current investment opportunities. If you find one you like, you'll be able to complete the deal 100% online and track your investments through your online portfolio.
Features: 4/5
As compared to many other investment platforms, AcreTrader is refreshingly simple. On the homepage, you'll find sort of a crash course in farmland investing, including some solid arguments about why farmland is worth considering as an alternative asset class.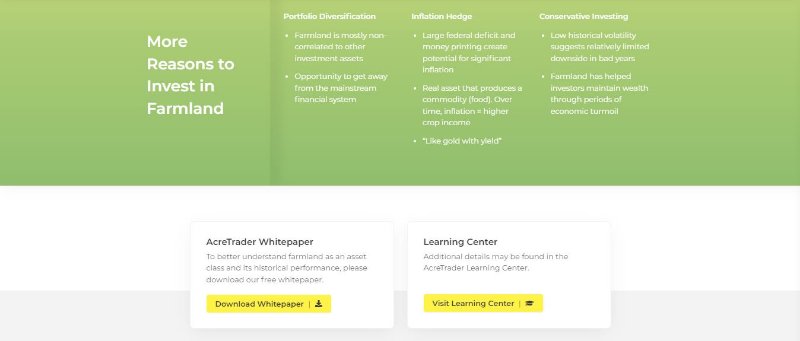 When you head over to the investments page, you'll be able to check out all of the opportunities the platform currently has available. It's important to be aware, however, that you shouldn't expect a huge range of different choices at any one given time.
Due to AcreTrader's thorough due diligence process, the company generally only offers one or two new farms each week. Take your time and make sure you keep checking back on a regular basis in order to ensure you find the right opportunity.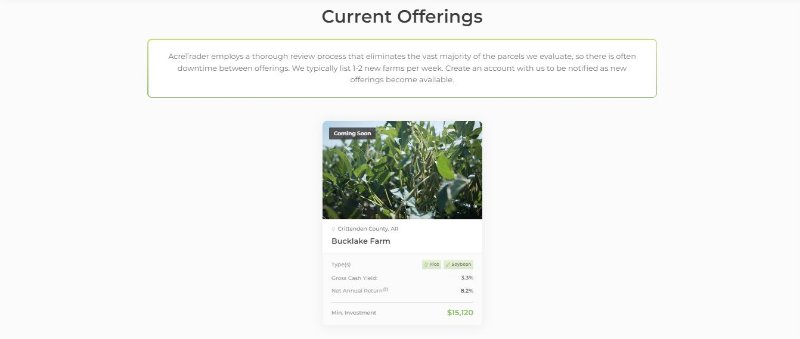 The investment page will also allow you to check out a much wider selection of recently closed deals. This can be a great way to get familiar with the different types of investments that the platform offers, as well as what kind of opportunities you can look for in the future.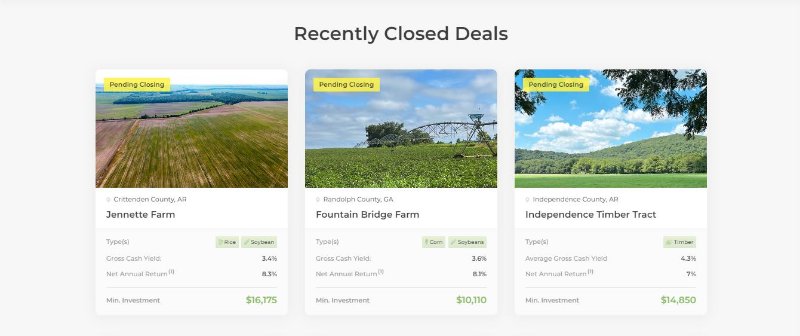 Alongside the investment snapshots of each property, you can see things like average annual gross yield, net annual return, and minimum investment required. If you want to get a more detailed breakdown of a certain farm, simply click on it to bring up its full profile.
AcreTrader also includes several other resources like an investment calculator map that allows you to see how various types of farms have performed throughout the past 20 years.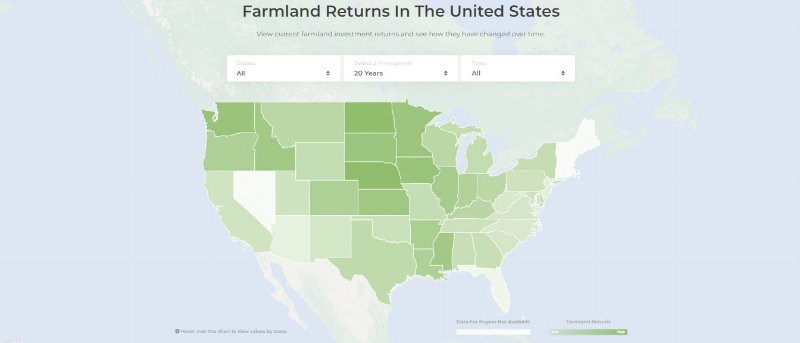 Last but not least, be sure you also check out the AcreTrader learning center. There you'll find blog posts, market research, and other educational materials that serve as a great resource for first-time farmland investors.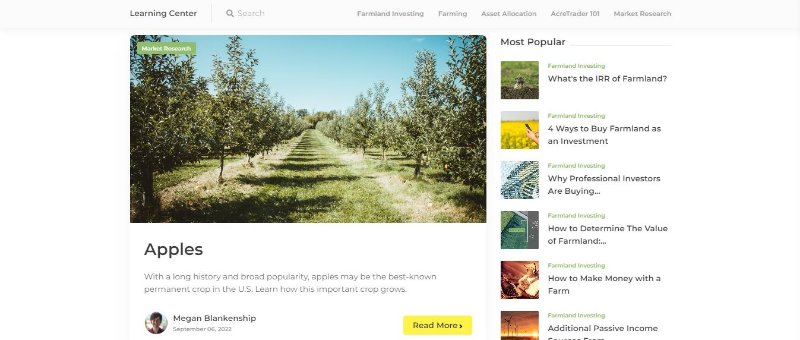 Customer Service: 5/5
While AcreTrader's contact section isn't anything fancy, it offers everything you need to know to get in touch with the company.
You can reach out through the platform's contact form, give them a call, send them an email, or even follow them on various social media platforms.
Multiple users report that the AcreTrader staff is very helpful and friendly. Several also reported that the company's CEO even gave them a call before their first trade to ensure that all their questions were answered.
Value for Money: 4.5/5
Admittedly, this one is a bit subjective, depending on whether or not you're an accredited investor who is looking to branch out into other asset classes. We will say that AcreTrader's fees are pretty reasonable and incredibly transparent as compared to similar investing opportunities.
But is AcreTrader worth it? At the end of the day, this is a question every investor will have to answer for themselves.
It will likely depend on how much money you're interested in investing and how much of a return you're hoping it will generate. This leads us to the question of how AcreTrader returns stack up as compared to other investments.
See Related: Best Green Apps for a More Sustainable Life
Our Overall AcreTrader Review
In an overall AcreTrader review, we'd give the platform a solid 4.5 stars based on a number of different factors. If you're an accredited investor, then AcreTrader makes investing in farmland incredibly easy, whether you happen to be a personal finance wizard or not.
The platform's interface couldn't be easier to use and the sign-up process can be completed in minutes. The AcreTrader platform also features plenty of great resources for first-timers who are interested in learning more about the concept of agricultural investing.
As AcreTrader points out, farmland is one of the oldest forms of investing known to man and has generated a great deal of wealth throughout history. AcreTrader is now one of very few online platforms that makes it possible to enjoy the perks of farmland ownership without ever having to worry about any aspects of the farm's management.
The fact that AcreTrader is also introducing secondary market selling options is also pretty revolutionary, as farmland has traditionally been a pretty illiquid investment. That said, it's best to approach real estate as a long-term investment in order to maximize your return.
Of course, some main downsides of any AcreTrader review are that the platform only offers opportunities for accredited investors who can afford a high minimum investment. This is not particularly uncommon, however, even among non-farming leases and real estate investing in general.
One of the other potential cons for some investors may be that AcreTrader doesn't offer a huge number of opportunities. For others, however, this may be a pro as it speaks to AcreTrader's incredibly picky due diligence process.
Related Resources
Kyle Kroeger, esteemed Purdue University alum and accomplished finance professional, brings a decade of invaluable experience from diverse finance roles in both small and large firms. An astute investor himself, Kyle adeptly navigates the spheres of corporate and client-side finance, always guiding with a principal investor's sharp acumen.
Hailing from a lineage of industrious Midwestern entrepreneurs and creatives, his business instincts are deeply ingrained. This background fuels his entrepreneurial spirit and underpins his commitment to responsible investment. As the Founder and Owner of The Impact Investor, Kyle fervently advocates for increased awareness of ethically invested funds, empowering individuals to make judicious investment decisions.
Striving to marry financial prudence with positive societal impact, Kyle imparts practical strategies for saving and investing, underlined by a robust ethos of conscientious capitalism. His ambition transcends personal gain, aiming instead to spark transformative global change through the power of responsible investment.
When not immersed in the world of finance, he's continually captivated by the cultural richness of new cities, relishing the opportunity to learn from diverse societies. This passion for travel is eloquently documented on his site, ViaTravelers.com, where you can delve into his unique experiences via his author profile.