Are you tired of running back and forth from the bank? Do you find the process too complicated and tiring? Then, shifting entirely to online banking might just be the solution for you.
But we are sure you have already figured that out. This Ally review will help you figure out if Ally is the right choice for this shift.
So, let's get to figuring out how Ally works, how ethical and socially responsible it is, and if you should put your trust in it.
Unlock Sustainable Investing Opportunities 🌿
Join the green revolution by investing sustainably with our top partners. Discover platforms that align with your values and offer remarkable opportunities for growth.
What Is Ally?
Ally is an entirely digital banking platform, offering round-the-clock banking services to its customers. The bank was founded in 2009 and currently has its headquarters in Sandy, Utah.
With Ally, you can shift your banking entirely online. All you need is your smartphone or your computer, and you are good to go.
Ally Bank claims to work on the ideology of providing the best customer care and upholding community standards. Moreover, in the words of Jeffrey J. Brown, the Chief Executive Officer at Ally, the platform is aimed at:
Driving shareholder value over time by further improving profitability
Diversifying our customer product suite
Optimizing capital deployment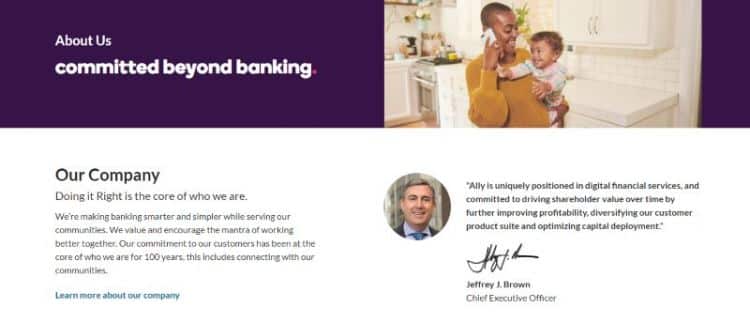 In addition to all this, Ally is famous for the low fees it offers, its exceptional customer care, and zero minimums needed to get started. However, one must understandably be a little doubtful about the platform if one has to trust their finances here.
Here are a few questions that might be on your mind, especially if you are concerned about ethical banking. Is Ally bank ethical? Is it socially responsible?
To ease your mind and find answers to these questions, we will run through the services offered by the bank and a quick overview of how the system works in this Ally review. Let's get started.
How Does Ally Work?
Ally prides itself on offering comfortable terms and services which make life easier for its customers. Moreover, the profits saved by Ally on building offices go towards setting low fees and no minimums.
The bank describes the services it offers under three make categories:
Ally Bank
Ally Home
Ally Invest
Per its claim, Ally seems to have something for every member of the community. So whether you need a simple checking account or you need to make a down payment on that beautiful house by the river, you can count on Ally's services. This part of our Ally review focuses entirely on how the system works.
Ally Bank
Ally offers you four types of account services, namely:
Checking
The Ally Interest Checking Account is the only checking service offered by the bank. It neither requires a minimum deposit to open nor do you need to pay a monthly fee or overdraft fees on the account. In addition to that, you get a free debit card, free card checks, a free bill pay service, and a free Allpoint ATM service.
The Ally eCheck Deposit facility eliminates the need to deposit checks in person. Instead, all you have to do is take a picture of your check with your phone camera to deposit it. However, they also have a mailing service for depositing checks.
But where does all this money come from? If Ally can do this, why not your previous bank? As discussed before, the money Ally saves from being online-only and not running offices all goes into providing ease to its customers.
Savings
Per their working strategy, Ally has meager interest rates. However, since online banks usually offer higher rates than most other banks, and Ally is no exception, you still end up getting a pretty decent rate. It might even go beyond what your current bank offers.
As with the checking account, there is no minimum deposit. Moreover, you do not have to pay a monthly maintenance fee, which is the norm with all other savings accounts. The interest adds up daily.
You can only conduct six transactions with your savings account in one statement cycle. You will have to pay a fee of $10 for every additional transaction. However, the bank refunds you that fee these days due to the ongoing Covid-19 crisis. Once again, you can make deposits both digitally or via mail.
Money Market
Money Market accounts also do not require any minimum deposits or management fees. Moreover, you also get the benefit of a free ATM service. Unlike with a savings account, there is no limit on the number of transactions you can make within one statement cycle.
Certificate of Deposit / CD
Ally Bank offers multiple types of CDs to fit the customers' needs. They can mainly be divided into three categories:
High-yield CDs
Raise-your-rate CDs
No Penalty CDs
Like all other accounts, you need not have a minimum deposit ready to open a CD account. Both the high-yield and raise-your-rate CDs have a penalty for early withdrawals, whereas the No Penalty CDs were introduced to allow withdrawals without penalty fees.
Let's take a closer look at how the early-withdrawal penalties work:
For withdrawals within 24 months or less, you will be charged 60 days of interest
For withdrawals between 25 and 36 months, you will be charged 90 days of interest
The charge will go up to 120 days of interest for withdrawals between 36 and 48 months
At 49 months or more, you will be charged 150 days of interest
However, with No Penalty CDs, you can liquidate your money seven days after the initial deposit.
The high-yield CDs are usually for terms of two to five years. For raise-your-rate CDs, you can either pick a term of two years in which you can raise your rate once or a term of four years in which you can raise your rate twice. The No Penalty CD is only for an eleven-month term.
See Related: Best Banks for Low-Income Earners
Ally Home
The Ally Home services include home loans and mortgage refinance options. Ally claims to make the process of homeownership easier and simpler for you.
Home Loans
With Ally, you can speed up the process of getting a home loan by about ten days. In addition, you can get pre-approved for the loan in less than five minutes. Not only is it fast, but you can also complete your entire application online.
No longer would you need to pay any origination, processing, or underwriting fees. The process is simplified and aimed at getting you a house as quickly as possible. You can organize, sign, and submit all your documents online.
Moreover, Ally offers multiple types of loans with adjustable durations to fit your needs.
If you expect to make a consistent monthly payment for your house, this is the way to go. This plan means you are not looking to relocate and refinance. As a result, your monthly rate will not change throughout your loan, and you can ultimately settle with the house you have bought.
Compared to this, the interest on Fixed-Rate loans is high, and understandably so. However, you would not prefer to pay high interest on a home you don't think is permanent. So, in case you plan to relocate a few years down the line, taking an Adjustable-Rate loan is the way to go.
Are you interested in a fancy home in the suburbs? Then, you can apply for a Jumbo loan to make the down payment.
Mortgage Refinance
Like the process for home loans, refinancing mortgage payments can be sped up by about ten days. Moreover, you can once again say goodbye to all the extra fees. All you need to do is take out 15 minutes from your day to fill out a simple Q&A form.
Here are all the benefits you can avail of with this service:
Get a lower rate so you can save for other things in your life, for example, school
Pay off your loans faster so you can become mortgage-free sooner
Get cash out by leveraging your home's equity to pay for improvements, education, etc.
True to their claim, Ally offers services that the community can benefit from with the right intentions.
See Related: Neobank vs Digital Bank: What's the Difference?
Ally Invest
If you are looking to invest, Ally has got you covered. It offers Robo Portfolio and Self-Directed Trading services to optimize your investments. So far in our Ally review, the bank has managed to make good on its claims, and it does not disappoint in the business world either.
Robo Portfolio
Without any advisory fees, a team of specialists can design you the perfect investment portfolio. Moreover, this portfolio is updated regularly with the help of some innovative software. Finally, with a few digital tools, you can track your performance round the clock.
30% of your portfolio is automatically set aside as cash to make up for market volatility, and it earns interest at a competitive rate.
Self-Directed Trading
Self-directed trading offers you a world of opportunity. You can stay up-to-date with the market 24/7 and make commission-free investments wherever you like. Moreover, you can build your investment strategy with the wide range of EFTs offered to you by Ally.
See Related: Mainvest Review
What Socially Responsible Products Does Ally Offer?
At Ally, ESG issues take priority. Ally claims to have rethought its priorities in 2017 and has been ensuring environmental, social, and governmental good ever since. It wishes to have a positive social impact and has put strategies in place for this, making it one of the most socially responsible banks out there.
Here are some of the examples of socially responsible steps taken by Ally:
A fund of $34MM to establish the Ally Charitable Foundation
14,000+ hours of volunteer work from Ally's teammates
133,000 participants in Ally Wallet Wise classes since 2011
2nd consecutive "Outstanding" Community Reinvestment Act (CRA) rating
In addition to all these initiatives, Ally also ensures socially responsible investment via the services it offers. For example, when making your portfolio, you can opt for the Socially Responsible option. Therefore, you can ensure that the investments you make are eco-friendly and aimed at the greater good.
This Ally review finds that Ally has been fulfilling its claims towards creating a healthier social environment consistently and remarkably.
How to Join Ally
Another factor that spins our Ally review towards the positive side is the ease of the process. All you need to do is sign up and create an account, ensuring you provide all the necessary information. The entire process only takes a few minutes.
Moreover, you do not need to enter a minimum deposit to begin. However, if you are investment-oriented, the fast you add the money, the quicker you can start trading with it.
On top of that, if you open an investment account, you can get bonuses of up to $3,000 in cash.
Is Ally Bank Ethical?
So far in our Ally review, we have seen how transparent the policies are. At Ally, financial, corporate, social responsibility take precedent. The Ally financial philanthropy goes a long way in making it a trustworthy banking site.
Moreover, Ally has been utterly transparent with its inner workings and goals. For example, on the financial side of things, Ally claims to be open about what it charges and what it does not.
For example, the website lists all the fees claiming that they do not hide any of the fees they do charge.
Pros and Cons of Using Ally Bank
Now we come to the most critical part of our Ally review. A quick overview of some pros and cons will help us see if you should shift your online banking to Ally. Before we are through with this part of the Ally review, you will have formulated a verdict of your own.
Pros of Ally
The list of services Ally offers might even make those who shy away from online banking consider it once. Moreover, we have seen in this Ally review that most of these services are directed towards individual and community betterment.
Here are some of the significant pros of banking with Ally:
Easy online banking via your smartphone
Multiple options for your investment plans
No minimum deposit fees
No more additional account fees, including maintenance fees
Higher yields on savings accounts and CDs
Maximum interest rates
Access to over 43,000 free ATMs
Detailed reports and charts are available
Easy interface
Round-the-clock customer service
A full-service, independent bank

Cons of Ally
A 100% online bank comes with its cons. Although our Ally review is more allied in favor of the bank, we cannot turn a blind eye to some of the downsides.
Here are the cons of baking with Ally:
No physical offices
No cash deposits
A relatively low rate on money market accounts
No tax-loss harvesting
30% of your portfolio turned to cash
No human advisors
See Related: Best Credit Builder Loans
The Final Verdict: Is Ally Socially Responsible?
In our Ally review, we have explored all the services it offers. The ultimate and apparent goal of these services has been the good of the customer. Therefore, every service is strategically designed to offer maximum returns with minimum discomfort.
Moreover, Ally clearly defines its priorities. It aims at contributing to society on a larger scale, and the ratings and accolades it has collected all point toward an ongoing accomplishment of that goal. Therefore, after this in-depth Ally review, our final verdict is that it is both socially responsible and ethical.
Conclusion
Ally is excellent for those wishing to make the shift to online banking. However, this is only possible for people willing to convert entirely to handling digital money, not cash.
We hope you found this Ally review helpful for your banking needs.
Related Reviews
Related Resources