In the fight against climate change, any efforts involving the reduction of our carbon footprint help toward slowing the degradation of the planet. Certain energy companies have taken the initiative to provide cleaner sources of fuel.
Arcadia Power claims that its mission is to inhibit the effects of climate change by using innovative technology to offer consumers and businesses a path to affordable renewable energy. They also claim that their solutions are cost-effective.
But is Arcadia Power legit?
Through personal experience and examining customer reviews, this Arcadia Power review supplies all the necessary information you need to determine if it's worth signing up to help make a difference.
Review Methodology
We consider our first-hand experience with the service first and foremost.
As it pertains to the length of time necessary to determine if evolving company strategies have a positive effect over time, we test as much of the user experience as possible. That includes evaluating whether the company accomplishes what they intend to amongst consumers.
We analyzed public consensus and reviews and examined what other real users have said about Arcadia Power.
By checking Arcadia energy reviews, Trustpilot scores, Better Business Bureau ratings, and user comments from trusted online forums, it's easier to get an idea about how the average person feels about the efficacy of the service.
We compared and contrasted these reviews with our own experience and conducted fact checks on any statistics. This includes ensuring that Arcadia's features align with their marketing claims.
What Is Arcadia Power?

Arcadia Power allows consumers all across the country to access renewable energy sources like wind farms and solar panels and to support similar programs.
As of 2020, there were modifications to the membership plans offered by Arcadia. As the company continues to expand, in 2021, they formed joint partnerships, eliminated a few services, and made other notable changes that we'll discuss later.
It's essential to acknowledge that Arcadia is not an energy supplier. They don't sell electricity nor produce energy. When you sign up for Arcadia, you will not start receiving green energy to your business or home.
This idea wouldn't be possible because every form of energy travels through the same power lines (grid). Whether it's clean energy or fossil fuels, there's no way to separate them. They will mix and get distributed amongst all homes evenly.
So, what's the point?
Well, it's more of a benefit in the sense that you're paying a nominal fee to have your energy consumption matched with clean energy via renewable energy credits or RECs. These certificates boost the amount of renewable energy that your electric company can access, which simultaneously increases the demand for clean energy.
Our Arcadia Power Review: A Summary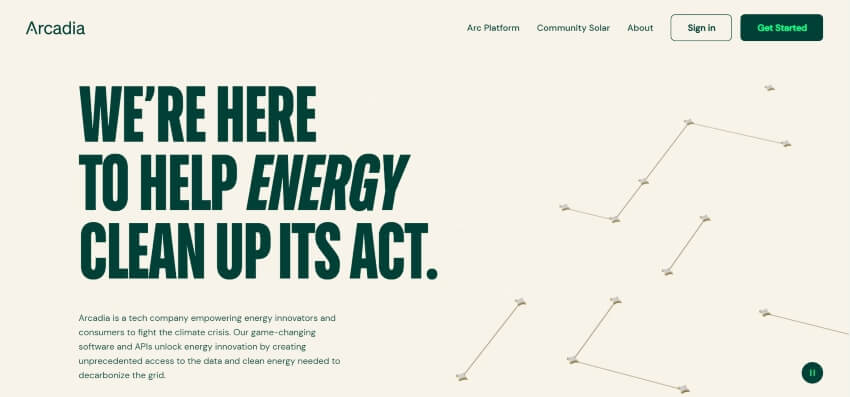 Arcadia Power is what we would consider an energy brokerage company.
They offer customers access to renewable energy from a variety of sources. While it is a good way to help protect the planet, there are some caveats that potential customers should be aware of.
One of which is that they are not guaranteed to pay less for this service. Also, you will not be receiving green energy directly to your home. If combating climate change is important to you, you may still want to consider signing up for this program.
Arcadia Power Pros and Cons
Here are the advantages and drawbacks of choosing Arcadia Power as your energy supplier:
Pros
It expands the demand for clean energy. The belief is that many people would consider switching to clean energy if they knew how to make the change. Arcadia provides an easy method of protecting the planet without too much involvement. The process to sign-up is also quick and easy.
They have a Smart Rate option that helps some customers save money. This price alert option does the legwork of shopping around for lower energy rates, which most people still aren't aware is possible. It's similar to how you would shop around for car insurance. It's only available in the more competitive energy markets, but it's an excellent feature for those that want to see their options for saving while protecting the environment.
It's an inexpensive way to contribute to a good cause. Compared to some costlier methods of fighting climate change, like purchasing solar panels, signing up with Arcadia is inexpensive and makes a difference right away.
The dashboard feature is helpful. Most utility companies don't provide the same account overview features that Arcadia provides. It shows you in-depth information about your energy usage, savings, and more.
You won't pay any transaction fees on your credit card. Plenty of companies charge their customers when they pay with a credit card. If you possess a credit card that offers cashback or other bonuses, the automatic payments through Arcadia every month will help you reach those goals quicker.
You can cancel your plan whenever you choose. This program comes with low commitment because you can cancel it anytime you want. There is no risk associated with obtaining an Arcadia Power account; you will go back to dealing with your utility company exclusively should you choose to opt out.
Quick sign-up. The sign-up process is quick and easy. You can join the program in five minutes or less.
Discounts. You might be able to get discounts on eco-friendly technology like smart thermostats.
Cons
Green energy doesn't go to your home. Since they can't separate the energy, you aren't actually getting renewable energy to your home.
There are no savings for small cities or regulated markets. Members often pay a little more on their monthly bills because they don't live in a deregulated market. This usually affects those in smaller cities.
Autopay. Some people don't prefer to have their bill totally automatically deducted from their account or credit card. This takes some getting used to, and some financial situations don't make this option plausible for everyone.
Cancelation takes time to reflect. Though you may cancel whenever you want, it may not be reflected for up to two billing cycles once you confirm the cancelation.
Limited payment options. Arcadia only offers two payment methods to sign up at the moment. You can fund the payments with a bank account or your credit card. Some people might like the option to pay with services such as PayPal, a debit card, or even a check. Hopefully, more options will become available in the future.
How Does Arcadia Power Work?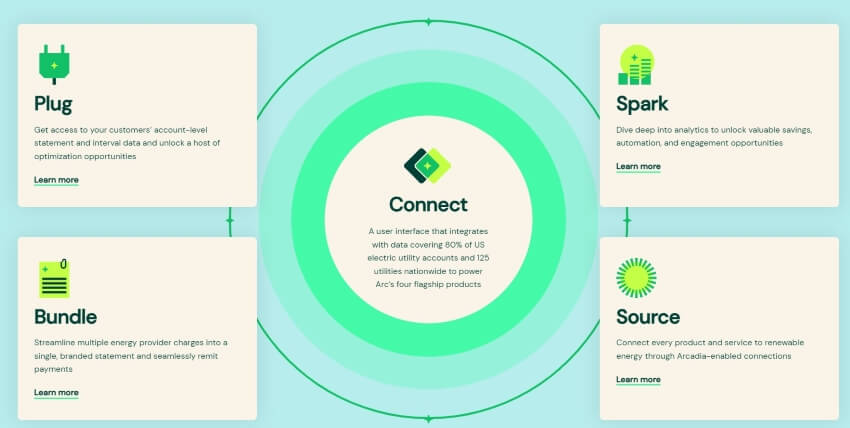 Arcadia can be an ally of renewable energy sources because they purchase the RECs we mentioned in your name. That means your consumed energy gets attributed to clean energy programs.
Once you sign up, you will still keep the same utility company you already use. Arcadia handles the rest beyond the subscription. Think of it as them becoming the overseer of your account.
For a flat rate, they source all of your energy from green energy sources.
It depends on the amount you currently pay, but this might be less expensive than the one you'd typically obtain a renewable energy certificate. Typically, you buy them and pay based on how much electricity you use.
Since there isn't a contract, you can change your mind at any point and go back to how you were doing things before.
See Related: How to Store Solar Energy for Later Use
Renewable Energy Certificates
These certificates serve to track and acknowledge when someone owns a megawatt-hour of electric power.
It has to come from a renewable energy source, such as solar, wind, hydroelectric, and others that go into the power grid. The certificate is a document that pushes the demand for clean energy as more and more people can demonstrate that they are active users.
So, each time green energy is generated and goes into the grid a renewable energy certificate gets created and is linked to a customer's account.
It cannot be donated, traded, or sold again after this point. The primary function is for tracking the production of clean energy. If someone claims usage, it encourages utility companies to expand their services to tap into purchasing renewable energy.
See Related: How Much is a Wind Turbine? Here's What to Know
Arcadia Pays the Bill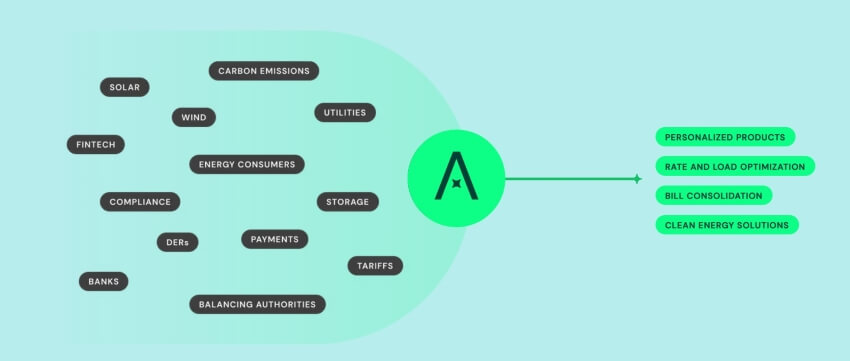 Your Arcadia Power account is linked to your current energy account and company. You also get the option to decide the payment method for this account, whether bank withdrawal or credit card.
It's free to pay by credit card, so it's an excellent option for rewards points, and so you don't have to think about it each month.
Once you complete the simple sign-up process, Arcadia will automatically pay your bill as soon as they receive it. They withdraw the money from your account and pay on your behalf.
The automatic payment will start in three days once you get the bill.
After they take the money from the account and pay your bill, you will receive a notification on the Arcadia dashboard. You are allowed a grace period of three days if you need a little extra time to make the payment.
However, you must reach out to customer service to make this request ahead of time because once the payment gets initiated they cannot halt it.
Arcadia Membership Options
Important: Remember that Arcadia no longer offers a free membership plan.
Regular Plan
The Regular plan is the least expensive plan, and it's the category that most consumers automatically qualify for. Every month you will also pay the flat rate for the Arcadia membership in addition to the utility bill.
At this point, all of your energy use gets matched to renewable energy sources. You don't have to pay a higher fee if you use more electricity either.
The primary difference between this plan and the following plan is that you won't be the one to pay your energy bill anymore. Arcadia pays your bill and also deducts the membership fee.
*Note that you might have to adjust to having your bill automatically paid every month if you were used to paying manually.
Basic Plan
The Basic Plan is for special circumstances regarding billing or specific utilities. Those categories can include something like a rooftop solar panel or if they have their bill split into more than one due date. It would prohibit them from signing up with the bill pay feature.
Basic members pay an additional fee for their standard kilowatt usage. They also receive the same benefits if getting their energy matched.
It doesn't matter if you use more or less energy, the amount you lay every month does not fluctuate. Arcadia does not readjust this figure, but if you're using less energy and you want them to recalculate the amount manually, you can make a request.
You're still in charge of paying your own bill with this option; you'll just add the membership fee to the account.
See Related: Ways Climate Change Affects Personal Finance
The Arcadia Power Dashboard
Arcadia has an extensive online dashboard showing how much CO2 you averted, how much energy you used, how many kilowatts of clean power you purchased, how much you saved, and much more.
This small add-on makes the program that much easier to join and keep up with. It can be a little difficult to understand at first since you're purchasing certificates instead of actually receiving green energy.
It's even possible to view what percentage of power comes from multiple energy sources. This impressive feature is not possible on any other utility company's dashboard section.
You also get to keep the dashboard associated with your utility company. The app that comes with your account makes it easy to check your usage trending rates on the go, and it's super user-friendly.
Arcadia likely gathers this information from your monthly averages. They also use tracking services that keep you informed on the origins of the renewable energy certificates they purchase on your behalf.
How Does Arcadia Power Make Money?
Arcadia charges a monthly fee that they collect each month from members regardless of which plan they're a part of. However, this is not the only way that Arcadia Power earns money.
Here are the other ways they earn money:
They take a small percentage of the savings after finding you a better deal with Smart Rate
Arcadia makes money by connecting you with a network of power projects
They earn money from the sales products they partner with, such as the Nest thermostat
They receive a small commission from the RECs they purchase on your behalf
See Related: What is the Environmental Impact of Geothermal Energy?
Does Arcadia Power Save You Money?
Arcadia was founded precisely to save you money. Their innovative automated platform helps customers access green energy sources within their region. Due to their gathering of resources, many members can save money monthly.
Arcadia's smart rates feature means that they negotiate with your energy supplier on your behalf to decrease your power rates and lessen your bill.
Because Arcadia represents many customers, it enables them to negotiate cheaper rates more often than individuals attempting to negotiate independently.
In other words, some eligible households could potentially save a considerable amount—it all depends on the rates that they paid previously. Simultaneously, Arcadia will use renewable wind energy to match your energy usage.
If it's the case that you don't live in a state that's energy competitive, you still have the opportunity to take part in their renewable energy match for free.
Is Arcadia Power Safe?
Arcadia Wind Energy no longer has certification from Green-e, as of 2018. This global renewable energy certification program previously traced and tracked the RECs for Arcadia Power. However, Arcadia continues to track its certificates the same way as before.
They are still certified by a non-profit organization called Green America, the American Sustainable Business Council, and the Better Business Bureau. The rating for this company through the BBB is an A-.
Arcadia Power Key Features
You are sure to come across some unfamiliar terminology and features while researching Arcadia Power and its program. The following will explain the concept of notable features.
Price Alerts
If you're in a state that has several power suppliers, price alerts will be available in your state. Based on their website, such states exist in the Midwest and northeast only. Unfortunately, this means that most U.S. customers will be unable to participate in price alerts.
Fortunately, as deregulations and reformations occur across the energy landscape, more states are assured eligibility to participate in the price alerts.
Arcadia has positioned many households to save money, some of which have saved as much as 30 percent. Essentially, if Arcadia finds a better price for your generation, they will transfer you to the better price right away.
Community Solar Program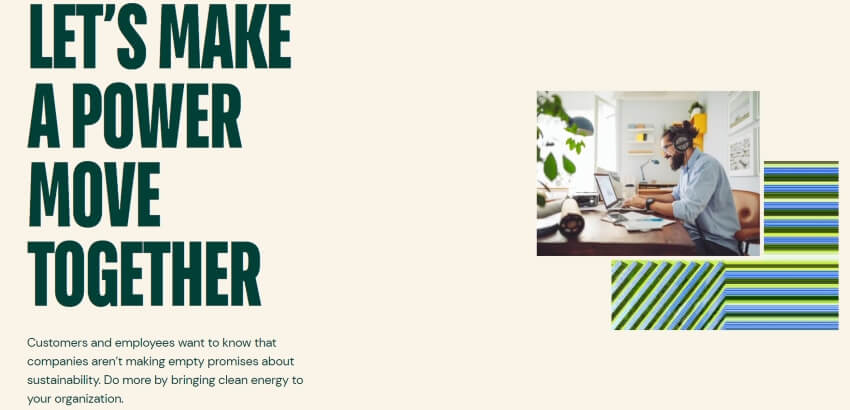 The Community Solar Program is a program that benefits households who are unable to install any renewable energy hardware at their apartment or home.
Arcadia community solar reviews indicate that customers are overall satisfied with the ability to use renewable energy even if they can't afford solar panels.
Other traditional solar programs require the installation of solar panels. However, you do not have a long-term contract with community solar programs. This gives you the freedom to cancel any time with no upfront costs.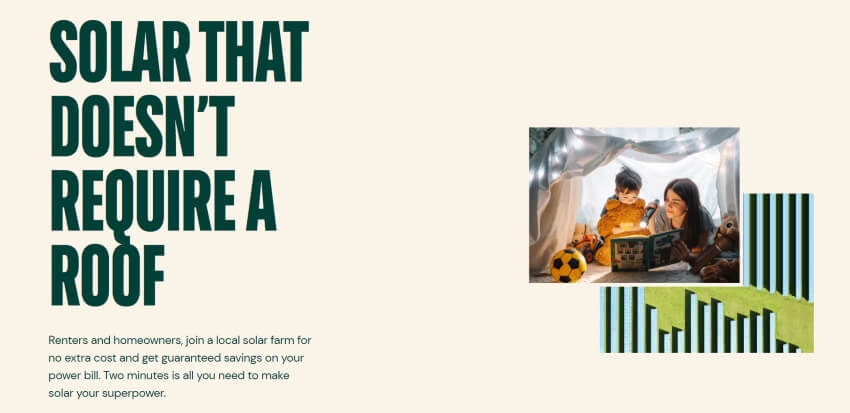 All 50 states have access to Arcadia Power, however, there are some reports that certain cities throughout the country are unable to use Arcadia for undisclosed reasons that may be related to how small the city is. Check the availability in your particular area by visiting Arcadia Power's website.
Renewable Energy Customization
The Arcadia Power dashboard gives you the latitude to customize the kind of energy used. This dashboard affords you the ability to choose between solar and wind power. Depending on your plan, they can adjust the power usage from 50 percent to 100 percent.
At the moment, there's no way to choose where the power is sourced. Currently, approximately 17 percent of all the energy that goes into the grid owes its source to renewable sources.
Arcadia Power is a terrific option for individuals who want to use renewable energy for their homes but don't have the means to set up wind devices or solar panels.
This is because it's not uncommon for people living in homes, apartments, or condos to struggle to afford to buy solar panels.
Arcadia can direct renewable energy to your home by using existing power lines. What's more, the dashboard allows you to see how much renewable energy you've used. To sum it up, this is a very cost-efficient way to use renewable energy.
See Related: Solar Fram Income per Acre: How Much Can You Earn?
Ratings Based on Arcadia Power Reviews
This Arcadia clean energy review rates four critical areas of the company based on personal experience and consumer reviews.
● Ease-of-Use: ⭐⭐⭐⭐ (4.5)
● Features:⭐⭐⭐⭐ (4.1)
● Customer Service: ⭐⭐⭐⭐ (4.7)
● Value for Money: ⭐⭐⭐ (3.8)
Arcadia is a company you can trust, and they boast a 4.9 rating on TrustPilot. This company has over 250,000 members, and they can proudly say that they do business in all 50 states.
Arcadia Solar Power Reviews
According to Arcadia Power solar reviews from customers, they feel that Arcadia is a legitimate company worth investing in.
Many consumers mentioned that they were happy with Arcadia regardless of whether they saved money or not. For people that lived in areas where price alerts were available, they were particularly pleased by being able to save a few bucks on their bill while also receiving the REC each month.
For those that had any issues with the company, it was related to customer service problems that they experienced.
Some felt that the communication wasn't as open and clear as they had hoped, they didn't save money as advertised, or they incurred charges that they didn't understand.
Final Verdict
If you don't have a preference for who generates your energy and can't access the price alerts, you may not consider Arcadia an investment worth making.
On the other hand, according to Arcadia reviews, if you wish to use renewable energy, this company is a great option to choose.
You can take advantage of Arcadia even if you already have solar energy because there are still hours when you use the grid throughout the day. Moreover, if you're in an area where you can receive price alerts, this is an excellent way to save money potentially.
Keep in mind that Arcadia will pay for you each month. This may take some getting used to at first, especially if you've never set up automatic payments before
Otherwise, our Arcadia Power review concludes that the company is worth trying. See if you can save on your bill and simultaneously contribute to a good cause.
Frequently Asked Questions
Here are the responses to the most commonly asked questions concerning Arcadia Power:
How do I cancel Arcadia?
To cancel your Arcadia membership and discontinue your Community Solar savings, contact Arcadia's Member Experience team at [email protected]. You can also reach them by phone at (866) 526-0083 between 9 am and 5 pm EST, Mondays through Fridays.
Is Arcadia an energy supplier?
Arcadia is not a retail or utility supplier. So signing up with Arcadia will not change who supplies your energy.
How many customers does Arcadia have?
As of 2020, Arcadia had signed up 300,000 customers covering all 50 states.
What energy sources are used to power Arcadia?
Arcadia uses lean power as a default for all of its customers. This power provides about 36% renewable energy at around a 1-2 percent discount.
How do renewable energy credits work?
Renewable energy credits are created when renewable energy sources generate one MWh of electricity and transfer it to the grid. For instance, if an onshore solar power facility makes five MWh of electricity, they will receive five renewable energy credits that they can choose to keep or sell.
Related Resources
Kyle Kroeger, esteemed Purdue University alum and accomplished finance professional, brings a decade of invaluable experience from diverse finance roles in both small and large firms. An astute investor himself, Kyle adeptly navigates the spheres of corporate and client-side finance, always guiding with a principal investor's sharp acumen.
Hailing from a lineage of industrious Midwestern entrepreneurs and creatives, his business instincts are deeply ingrained. This background fuels his entrepreneurial spirit and underpins his commitment to responsible investment. As the Founder and Owner of The Impact Investor, Kyle fervently advocates for increased awareness of ethically invested funds, empowering individuals to make judicious investment decisions.
Striving to marry financial prudence with positive societal impact, Kyle imparts practical strategies for saving and investing, underlined by a robust ethos of conscientious capitalism. His ambition transcends personal gain, aiming instead to spark transformative global change through the power of responsible investment.
When not immersed in the world of finance, he's continually captivated by the cultural richness of new cities, relishing the opportunity to learn from diverse societies. This passion for travel is eloquently documented on his site, ViaTravelers.com, where you can delve into his unique experiences via his author profile.