When it comes to cash management, where you keep your money matters. That is particularly true with the increasing need for sustainable investing. You need a banking option that assures you of environmental and social sustainability. But do we have such banks? Do they even exist?
While not a bank, Aspiration came in to fill the space. Aspiration is a personal finance company that allows you to spend and save in ways that are good for the planet. Unlike big banks, Aspiration never uses your deposits to fund fossil-fuel projects or other harmful industries.
So, is Aspiration sustainable? Is it legit and better than traditional banks? What are the benefits and advantages of choosing Aspiration over others? Read on as we reveal everything in this Aspiration review!
Aspiration Overview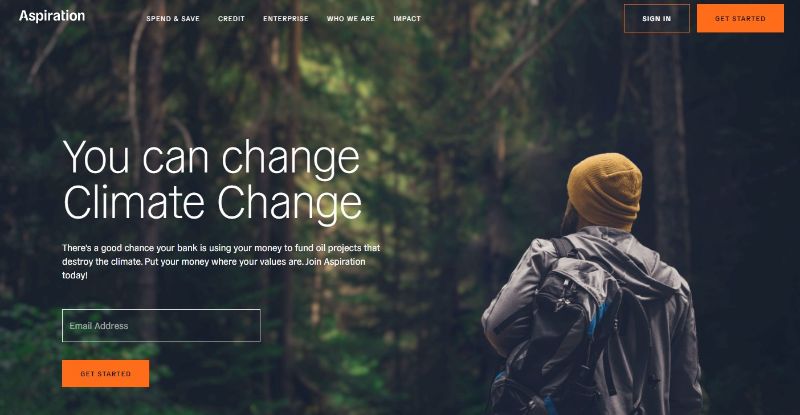 Aspiration Bank is a US-based financial services company founded in 2013. It offers cash management services that include branchless and investment products. But how is it different from other banking options?
This financial institution is one of the best you can opt for if you need sustainable investing. It focuses only on socially and environmentally conscious operations with positive impacts.
Aspiration is an online financial institution known for its unwavering commitment to supporting environmentally and socially conscious causes. It never uses the client's money to fund the oil and fossil fuel industry for example.
All the money they invest goes to projects that aid positive environmental impacts. Clearly, Aspiration is for you if you want your personal finances to make the planet a better place for now and in the future.
Aspiration was founded as an online-only financial firm that focuses on helping people make ethical choices when saving and spending their money. Unlike the traditional checking and savings accounts, customers of Aspiration use Spend and Save Cash Management Account (CMA) to meet their daily transaction needs.
See Related: Best B Corp Banks to Open an Account
How Aspiration Works
As mentioned, Aspiration works differently from traditional banks. However, there is nothing complicated in its operation.
The Aspiration Spend account (similar to a regular checking account) offers withdrawal and top-up features. On the other hand, a Save (similar to savings) account generates interest from your funds.
When opening an account with Aspiration, you choose either a basic plan or Aspirational Plus.
The main difference is the unwearable account maintenance fee charged on the latter. Regarding the benefits, Aspiration Plus comes with many advantages over the basic plan and is the most recommended option. We will get more details later.
Aspiration Account Opening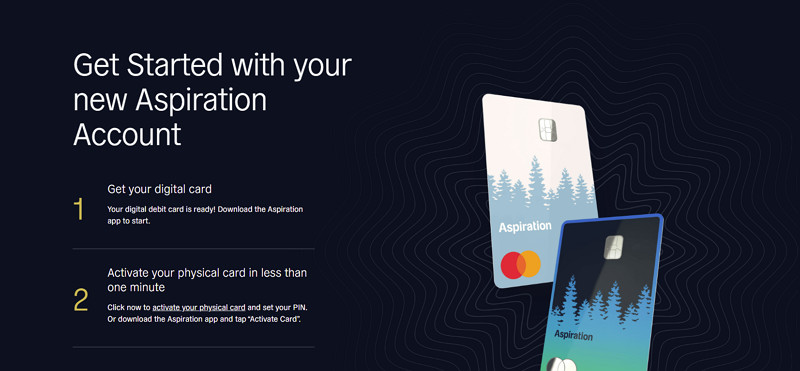 The account opening process takes a little time. The signup form is simple, but it will take several days before your account can be ready for transactions. There are steps you need to follow, which include the following:
Step 1: Filling the Signup Form
The form requires your name, email address, social security number, bank account number, and other fields to be filled. You can do this on the website or on the mobile app. Once done, submit the details and move to the next step.
Step 2: Account Verification
This is done in two steps.
The first one is bank account verification. Aspiration sends a small amount of money to your bank account, which takes about two days to arrive. Once you receive it, you need to send a minimum deposit of 10 dollars to your newly-created Aspiration Bank account.
The next phase of the verification process is confirming your identity. Aspiration requires you to send a scanned copy of your ID, driver's license, or a photo of yourself. It may take 1-2 days to be reviewed.
If the documents provided are unsatisfactory, you may be asked to provide more. You will have to wait for a couple more days again to get your response.
See Related: Lightstream Review: Is It Legit & Sustainable?
Step 3: Registration Completion
Once the verification steps are completed, your Aspiration Bank account is ready for more transactions! The minimum $10 you sent earlier should show up in your account at this stage.
Note that you can only open your Aspiration account in USD. That's the only accepted currency.
See Related: Community First Credit Union Review: Is It Green & Sustainable?
Who is Aspiration Best Suited For?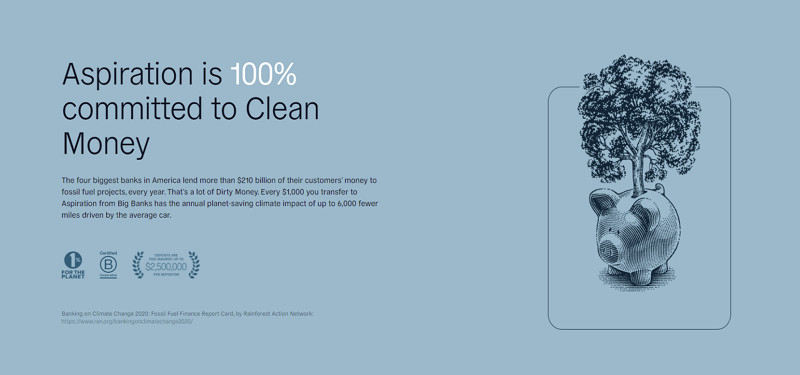 Aspiration is the go-to finance management institution for all socially and environmentally conscious customers.
If you are not inconvenienced using a non-traditional banking option, you can really benefit from Aspiration. You may also prefer this financial institution if you:
Don't often deposit cash into your account
Comfortable operating an online-only bank
Need to access an extensive network of fee-free ATMs
Want to enjoy the incentives provided by ethical companies and retailers for spending your money
Want flexibility in deciding your monthly fees
Want to support positive environmental and social causes
Prefer to get more profit in a cash management account
See Related: Different Millennial Banking Habits to Know About
Aspiration Services
What else does Aspiration offer you as the customer? Does it present a better saving plan than other options? Let's get into details.
As we've covered, Aspiration offers a main account with two features: a cash management and savings account in one.
Other products you can get from this online-only financial institution include managed investment portfolios and individual retirement accounts.
Cash Management Accounts
There are two Aspiration Cash Management Accounts. You can choose between Aspiration spend and save and Aspiration Plus. Each of these has its features and benefits. Let's check the details.
Aspiration Spend and Save
This is managed by Aspiration Finance and not a chartered bank. It allows you to complete all your transactions in one place.
The Aspiration Spend and Savings account comes with the following features:
A network of fee-free ATMs at different locations.
Digital debit card accessibility before you receive your actual Aspiration card.
Up to 5% Aspiration cash back on all debit card purchases through the Spend section of the account.
Flexibility in choosing your monthly fee.
Identity fraud expense reimbursement.
Up to 3.00% annual percentage yield (AYP) earnings on the first $10,000 or 5.00% APY for Aspiration Plus
This is a unique account incomparable to what traditional banks offer. You get cashback on what you spend and earn interest on your savings.
However, you don't earn cashback from just any expense. You must spend the money on the list of 28 companies in the Aspiration Conscience Coalition programs and those with Aspiration Impact Measurement (AIM) scores.
Aspiration gives you a sustainability score for every purchase you make, depending on where you shop. Businesses are also given the scores based on how they treat their employees, customers, community, and environment.
The companies in the Conscience Coalition program build strong businesses and help make the planet better. The cashback amounts vary and are expressed as a percentage of your expenditure.
The following chart has detailed information about the companies and cashback rates.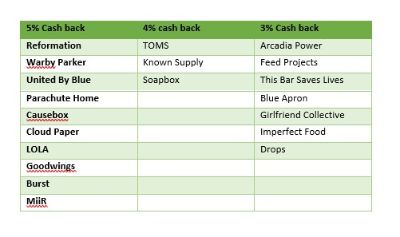 You can still get Aspiration cash back by shopping at businesses with ethical practices. Those with the highest scores will earn you or any other Aspiration debit card purchaser a 0.5% cashback. The ones with lower scores give you a lower percentage.
This is a strategy of Aspiration to help you support socially conscious and environmentally responsible businesses.
What also makes this account unique is that you set your own monthly maintenance fee. You can even choose zero dollars. The only charges are for wire transfers if you have no account maintenance fee. But again, Aspiration only charges what it costs to offer such services without any profit.
If you are also to give back to society, Aspiration allows you to do that. The company commits to donating 10% of the fees you choose to pay to charitable organizations and never funds fossil fuel projects.
See Related: Aspiration Bank vs Chime: Which is Best?
Aspiration Plus
The Aspiration Plus account holders enjoy more benefits from Aspiration's Cash management accounts than the basic plan. However, it also has drawbacks compared to the traditional spending and saving account.
In Aspiration Spend and Save Account, there is a flexibility to choose your own monthly fees for managing the account. You can even set it to zero.
That is not the case with Aspiration Plus. If you opt for it, you pay a fixed monthly fee of $5.99 billed annually, or $7.99 is billed monthly.
The benefits of Aspiration plus include higher cashback rates and planet protection. This means if you shop at any company that is a member of the Conscience Coalition, you get 10% cashback. However, the rates for businesses with high AIM scores remain the same.
What is an Aspiration Planet Protection? This program helps individuals offset their carbon footprint from carbon fossil fuel usage. Every time you use your Aspiration debit card at a gas filling station, Aspiration buys carbon offsets equivalent to the gallons of gasoline purchased.
The interest rates are also higher with Aspiration Plus checking accounts. You earn 0.25% APY on your savings if you spend less than $1,000 per month on your debit card for a balance up to $10,000 and 0.1% afterward. But if your monthly expenses exceed $1,000, you earn 5.00% APY on savings up to $10,000 and 0.10% above that.
Users get one ATM out-of-network fee reimbursed each calendar month and purchase protection for damaged or stolen items within 90 calendar days.
Clearly, you are better off choosing an Aspiration Plus savings account. It has lucrative benefits and helps achieve carbon neutrality.
See Related: Most Unethical Banks You Need to Avoid
Aspiration Savings
We have already discussed the earnings on your savings in any savings accounts you open with Aspiration. We will present a comparison table as a recap to make it easy to understand the differences between Basic and Aspiration Plus.
At a glance, you get more APY with the Aspiration Plus Save account.

See Related: Best Banks for Low-Income Earners
Other Financial Services by Aspiration
Apart from cash management accounts, Aspiration also provides individual retirement accounts and managed investment portfolios.
Aspiration IRAs allow you to invest your money in sustainable companies that focus on long-term investment and care more about the environment and people. That shows how Aspiration is committed to making a better world you would wish to see.
And if you are still asking if it is legit, yes, Aspiration is legit.
See Related: The Procter & Gamble Company ESG Profile (PG): Is It Sustainable?
Exciting Features of Aspiration Bank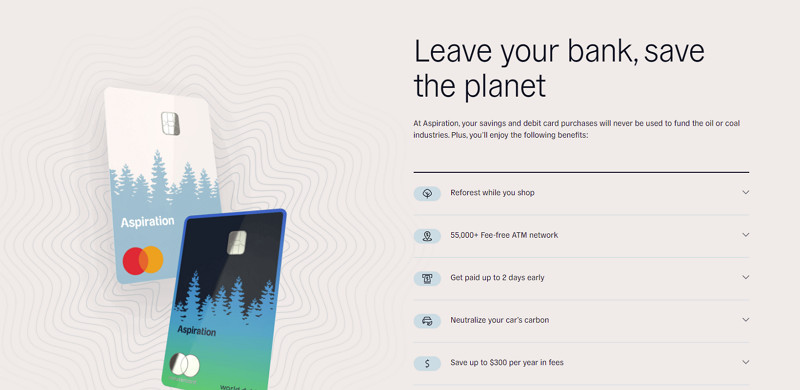 Apart from the cash management accounts, this online finance institution also has many features that give you reasons to use them. It is better than many options out there because of these additional features:
Aspiration Bonuses
The bank bonuses take all shapes and sizes. However, you have to meet minimum requirements to earn them. Aspiration has a referral bonus program.
Referral Bonuses
Referral bonus is a promotional program. You get $50 when you invite your friends and family members to open a checking account with your referral link.
Your account should be open and active for at least 10 business days to qualify for a referral bonus. The referred friend should also use their Aspiration debit card to make at least $250 cumulative transactions in the past two months. You can guess how long it will take to receive your bonus after a successful referral.
Also, the Aspiration referral bonus is capped at $1,500 per month per person. That implies that you only get paid up to the 300th invite in a month.
See Related: How to Invest in Private Equity: A Step-by-Step
Aspiration Customer Service
Aspiration customer service is pretty darn great – when you can get it. And since this is an online-only finance institution, all customer support services are provided online or over the phone.
You can submit an inquiry through an online form or air your concerns through a phone call. The customer support representatives are usually available in the Pacific Time Zone. So, make your calls from 6 am to 6 pm on weekdays and from 8 am to 4 pm on weekends.
The Customer representatives are responsive and typically respond to inquiries within 24 hours – which can seem a lifetime when dealing with finances.
See Related: 16 Best Neobanks in the World
Deposits and Withdrawal
Aspiration gives you flexibility in topping up or withdrawing money from your savings account. There are many convenient options to choose from, and most of them are accessible. Let's discuss them separately.
Aspiration Top-Up Methods
You can use any of the following methods to deposit money to your Aspiration checking account:
Direct deposit from your employer – This is the most convenient method because you don't handle the process or pay any transaction fees.
Electronic bank transfer – You can also deposit money into your Aspiration savings account from your local bank. However, it will take about 3-4 business days to reflect on your online account.
Wire transfer – This is the fastest method to use because the money will get to your account within a day after initiating the transaction. However, Aspiration charges you a small fee for the service. Where you are wiring the money from may also charge you. So, you can consider other options if you don't want to incur these extra transfer fees.
Mobile check deposit – You can also use an Aspiration Bank mobile app to deposit checks. The processing time is about 1-2 days, but you will have to wait for up to 5 days for the first 30 days. This method may not be convenient if you want it to get to your Aspirant Bank account faster.
Third-party apps – You can top up your account using PayPal, Venmo, Mint, Square Cash, Uber, Lyft, Zelle, and Acorns.
Withdrawal Options
You can conveniently withdraw money from your Aspiration Bank account using various methods. The most recommended is ATM withdrawals. Aspiration has an Allpoint ATM network consisting of 55,000 machines, where you can make unlimited withdrawals at no service fees. Other methods you can use to withdraw money from your Aspiration Bank account include the following:
ACH transfer
Wire transfer
Request a mailed check
Point-of-sale withdrawal
See Related: MetLife, Inc. ESG Profile (MET): Is It Sustainable?
Deposit Secured Through FDIC Insurance
Federal Deposit Insurance Corporation (FDIC) insures deposits. It examines financial institutions for safety, soundness, and customer protection. Your deposits at the Aspiration account are FDIC-insured.
The Aspiration Spend and Save accounts are cash management accounts, not saving accounts or traditional checking accounts. The deposits can be insured for up to $2 million per depositor. But how is that possible?
Aspiration bank deposits your funds in different bank accounts at partner banks, which is not possible with traditional checking accounts. And since more than one bank is involved, FDIC insurance can cover more than the standard limit of $250,000. That's because of the reduced risks since it is spread over several banks.
Aspiration assigns different banks to your account based on priorities. However, it's good to know which banks will probably manage your account. Fortunately, all Aspiration partners are members of FDIC. They include the following:
Coastal Community Bank
EagleBank
Ion Bank
Bremer Bank, NA
ProgressBank
Bank of New Hampshire
Manufacturers Bank
C3Bank, NA
The Freedom Bank of Virginia
Bridgewater Bank
Nano Banc
See Related: Tesla Auto Loan Overview: How to Get the Best Terms From Tesla
Mobile Application
Aspiration bank also boasts a highly-rated mobile application for Android and iOS devices. Its customers can access it on Play Store or App Store and use the app to deposit checks, send money to friends, and pay bills.
The app has 4 stars rating on Play Store as one of the best banking apps. Those who have problems with it also get a timely response from the Aspiration technical team. Overall, the app serves Aspiration customers as it was intended to.
Investment Options
Besides the cash management accounts, Aspirations also provide customers with other options. These include investing in the Redwood Fund. Redwood Fund is a fossil-fuel-free fund and invests only in environmentally and socially conscious companies. And as mentioned, you can also save for your retirement through Aspiration.
The only requirement is a minimum deposit of 10 dollars for any investment account. You don't need a cash management account to open your investment account through Aspiration.
Aspiration Pros and Cons
Aspiration has its advantages and disadvantages. If you open a cash management account with this online bank, you should be aware of the following:
Advantages of Aspiration
Impressive APY on savings: Aspiration bank is the most promising online bank with lucrative APYs, especially if you choose an Aspiration Plus account. You get higher rates than what you can get in other financial institutions.
Huge cashback: A traditional bank cannot offer you a high cashback rate if it does. Aspiration bank boasts of up to 5% cashback if you choose the top-tier plan. But the lower tier will still give you a significant percentage of your expenses.
Free ATM withdrawals: You can withdraw your money at any of the 55,000 ATMs that form part of the Aspiration Bank network. These teller machines are evenly distributed throughout the United States for accessibility and convenience.
All-in-one cash management account: Aspiration Bank account comes as a package consisting of a checking account and savings account. That allows you to manage your finances on the same platform.
Exciting bonuses: There is a referral bonus. You can earn any of these by maintaining your account and asking your friends to open an account with Aspiration bank.
Social and environmentally conscious: The bank doesn't fund fossil fuel exploration projects and only ensures your funds go to sustainable companies. It also helps you offset your carbon footprint by planting a tree every time you swipe the Aspiration zero card at a filling station.
Early payment: If your paychecks are deposited directly into your Aspiration Bank account, you can access those funds two days earlier than traditional banks.
Guaranteed security of the deposits: All deposits at Aspiration Bank are FDIC insured. So, you don't have to worry about it because you will never lose your money.
Disadvantages of Aspiration Bank
No physical location: Aspiration Bank is an online-only financial institution. Some people may find this inappropriate, especially if you need one-on-one consultations.
Limited account options: The bank offers only two bank account options: Basic Aspiration and Aspiration Plus.
Limits on international debit card use
Highest cashback only available with a higher fee account
No cash deposits
Aspiration Bank Ratings
We focused on various products and features in this Aspiration Bank review. It is now time to give our verdict and overall ratings of this online-only banking institution. Based on our experience and research, we can rate it as follows:
Overall rating: 4.4/5
Products and features: 4/5
Customer support service: 3.9/5
Top up and withdrawal methods: 4.9/5
Deposits security: 5/5
Usability: 4.5/5
Account opening: 4/5
APY rates: 4.8/5
Aspiration Fees: 5/5
See Related: Reasons Why Ethical Banking is Important
Aspiration Bank, Is it Legit and Sustainable?
Let's now answer the big question. After reading this Aspiration Bank review, we know you are still asking yourself if it is legit or not. Yes, Aspiration Bank is legit and sustainable. It offers socially and environmentally conscious customers cash management accounts and ways to offset their carbon footprints.
The bank also does not fund fossil fuel exploration and related projects. Your money will go to companies with ethical business practices, including taking care of the environment and giving back to society.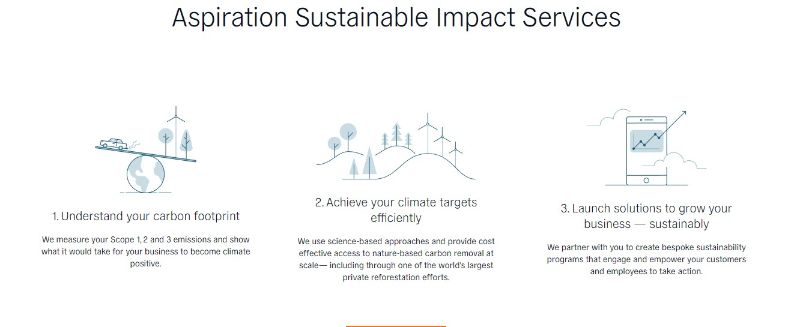 Aspiration bank also provides impact investing options through management investment portfolios and IRAs. So, if you want to sustainably manage your finances, Aspiration Banks is a great option.
The Aspiration Save Account's up to 5.00% Annual Percentage Yield ("APY") with up to 71x the national interest rate is variable, subject to change, and only available to customers enrolled in Aspiration Plus after conditions are met. Customers not enrolled in Aspiration Plus receive 3.00% APY after conditions are met. Terms & FAQ. The Aspiration Spend & Save Accounts are cash management accounts offered through Aspiration Financial, LLC, a registered broker-dealer, Member FINRA/SIPC, and a subsidiary of Aspiration Partners, Inc. ("Aspiration"). Aspiration is not a bank.
Related Resources:
Kyle Kroeger, esteemed Purdue University alum and accomplished finance professional, brings a decade of invaluable experience from diverse finance roles in both small and large firms. An astute investor himself, Kyle adeptly navigates the spheres of corporate and client-side finance, always guiding with a principal investor's sharp acumen.
Hailing from a lineage of industrious Midwestern entrepreneurs and creatives, his business instincts are deeply ingrained. This background fuels his entrepreneurial spirit and underpins his commitment to responsible investment. As the Founder and Owner of The Impact Investor, Kyle fervently advocates for increased awareness of ethically invested funds, empowering individuals to make judicious investment decisions.
Striving to marry financial prudence with positive societal impact, Kyle imparts practical strategies for saving and investing, underlined by a robust ethos of conscientious capitalism. His ambition transcends personal gain, aiming instead to spark transformative global change through the power of responsible investment.
When not immersed in the world of finance, he's continually captivated by the cultural richness of new cities, relishing the opportunity to learn from diverse societies. This passion for travel is eloquently documented on his site, ViaTravelers.com, where you can delve into his unique experiences via his author profile.