Aspiration and Chime are two different financial platforms that can help people save money. However, the difference between Aspiration and Chime lies in who benefits from their unique services.
For people that want to boost their credit scores, Chime is a great platform to do so thanks to the Chime debit card. For people that want to help plant trees, make eco-friendly investment choices, and increase their savings through a high annual percentage yield or APY, Aspiration is the better choice.
It's important to note that neither Aspiration nor Chime are banks. However, like banks, you can open a savings and spending account with them and even enjoy other benefits such as using free ATMs and increasing your savings.
Below are some of the best benefits of Chime and Aspiration, and why customers are suddenly choosing these platforms to make transactions.
What is Aspiration?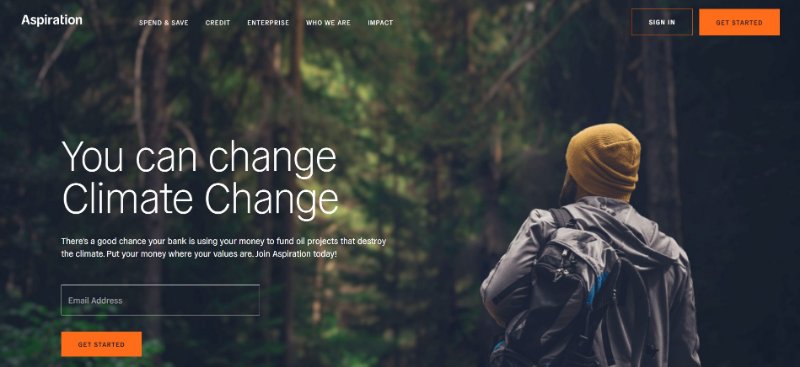 Aspiration is a personal finance company offering cash management accounts (CMA), that provides a wide range of client services similar to a traditional bank account. Services offered by Aspiration include:
Savings Account with up to 5% Annual percentage yield when you spend $1,000 a month
Checking account with no monthly fee attached
Cash back on debit card purchases
Cash back on credit card purchases
Access to 55,000 ATMs
Purchase protection on any newly purchased items within 90 days
No overdraft fees
Traditional taxable account or traditional IRA account
Money insured for up to $2,000,000 by the Federal Deposit Insurance Corporation (FDIC)
These services might seem like those offered by a traditional bank account, and they are similar in many respects. However, Aspiration is not a federally insured or chartered bank. Instead, Aspiration provides you with a CMA to manage your savings and monitor your spending online. Deposited money is insured for up to $2,000,000 because it is held with partner banks that are FDIC insured.
In addition, Aspiration's debit card and investment accounts are geared toward making environmentally and socially conscious causes. Below are some of the services that Aspiration offers and how they incorporate eco-friendly and environmentally conscious initiatives.
Aspiration Debit Card – Cash Back For Environmentally-Friendly Purchases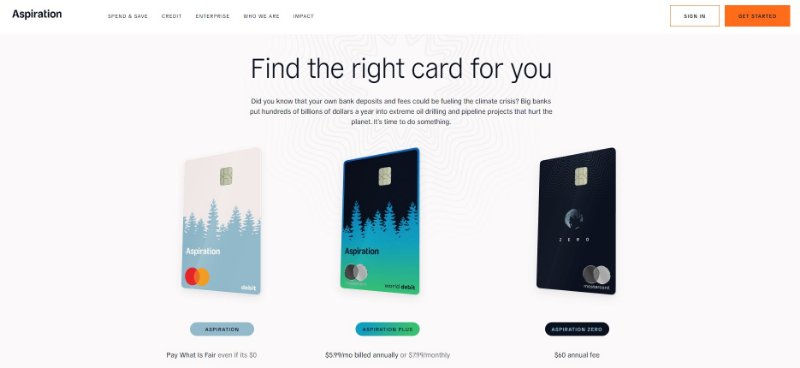 Aspiration customers can open a checking and savings account and "pay what is fair." Aspiration's "pay what is fair" initiative means that if people want to spend $0 on their checking or savings accounts, they are free to do so.
The Aspiration debit card is free for users with only a $10 minimum deposit. Customers also have access to 3-5% cash back on all debit purchases made to Conscience Coalition businesses.
These companies aim to positively impact the environment, and Aspiration has determined them to be socially conscious. Conscience Coalition companies include food, retailers, clothing brands, and even eco-friendly chocolate candy companies! Aspiration customers can feel good about spending their money with these companies, some of which include big name brands like:
Blue Apron
Toms
Imperfect Foods
Lola
Allbirds
Aspiration Plus Card – Plant a Tree With Every Swipe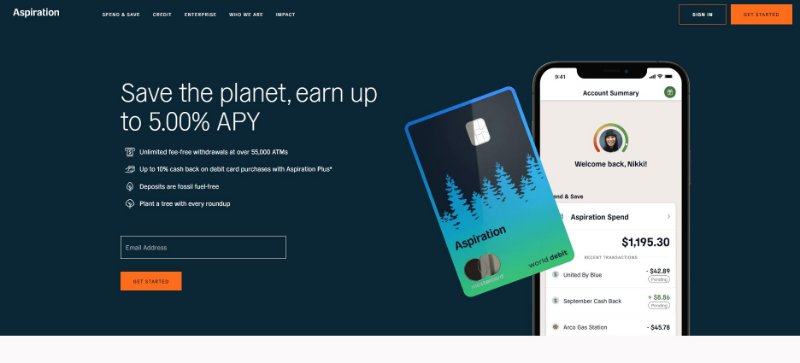 While some Aspiration customers opt for a free debit card and account, most customers choose to pay a fee and opt for their Aspiration plus card, which is $5.99 billed annually or $7.99 monthly. Users can also choose to pay a $60 annual fee instead of paying month to month with Aspiration.
With an Aspiration Plus card, customers get 10% back on eco-friendly debit card purchases for every Aspiration plus card transaction instead of the 3 to 5% back with the free Aspiration card. In addition, every time a customer swipes their debit card, Aspiration will plant one to two trees on their behalf!
Customers also have the option of rounding up their purchases to the nearest dollar and putting the difference into their Aspiration save account. This round-up savings feature is an excellent opportunity for people to increase their savings and enjoy one of the market's largest annual percentage yield (APY) rates.
See Related: Best Online Banks Like Chime
Investment Account- Investing in Sustainability
In addition to their incredible spend save account, debit card perks, and low monthly fee, Aspiration also offers investment opportunities through a Traditional IRA or taxable account. Customers can open up either investment account with only $10 down.
Opening an investment account with Aspiration allows customers to invest in the Aspiration Redwood Fund or REDWX.
The Aspiration Redwood Fund invests in ESG companies with high growth potential. These companies incorporate environmental, social, and governance (ESG) factors into their business practices. You can invest in REDWX and know that your money will fund a company with a high return on investment and will not go toward companies that use fossil fuels in their practices.
Bonus Benefit – Aspiration Savings Accounts
Aspiration also offers a savings account with a 5% APY. This high APY means that for a savings account with $1,000, people will earn $50 by the end of the year through interest rates. Having a higher yield APY is an excellent way to help people who have trouble saving up enough money in case of emergencies.
See Related: Aspiration Review: Is It Sustainable & Legit?
What is Chime?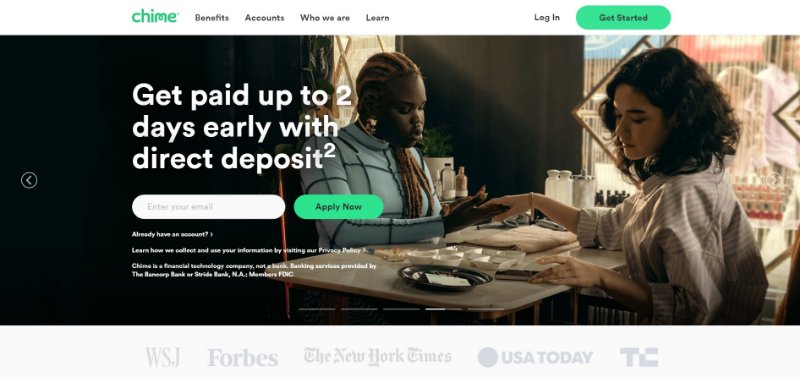 Like Aspiration, Chime is another financial institution that is not a federally insured bank but works with other federally insured financial institutions to ensure your deposits are safe. The purpose of Chime is to help people with little or no credit improve their credit scores.
Some of the perks offered by Chime include:
Round-up savings to the nearest dollar, similar to Aspiration spend and save account
Zero overdraft fees
Overdraft spot me up to $100
Direct deposits are available up to 2 days early
Partner banks that insure deposits up to $250,000
1.5% APY
Credit builder card that improves credit scores
No late fees
No minimum balance
No monthly service fees
No foreign transaction fees
No transfer fees
By far, Chime's most popular service is their credit card credit builder, which requires no background credit check to open. Using Chime's credit builder card is an excellent way for people to increase their credit scores and, arguably, improve their lives!
See Related: Most Unethical Banks You Need to Avoid
Chime Credit Builder Card
The Chime credit builder card is a pre-loaded card where users can spend money just like a traditional credit card. There is no minimum credit score to open up a credit card, which makes this an excellent choice for people with poor credit or no credit that need help improving their credit score ratings.
The credit builder card helps people jump an average of 30 points, which can mean the difference between someone having poor credit and fair credit or fair credit and good credit. Or to put it in relatable terms, that might be the difference between you getting on the property ladder or that new car, or not.
However, the one requirement to open up a credit builder card is a recurring transfer or direct deposit paycheck coming to your bank account within the past 365 days. Deposits must be made from an employer, payroll provider, or benefits payer by Automated Clearing House (ACH) deposit. Payments from PayPal, Cashapp, or other similar apps will not qualify you to open a credit builder card.
See Related: Best Investments for Young Adults
Chime Mobile App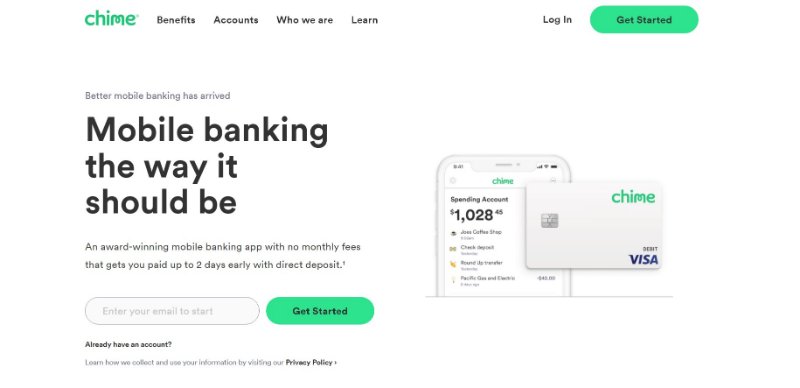 Chime also offers a simple app and user interface that makes it easy to keep track of your money by helping you check your Chime savings account and check your spending account purchases.
The app also allows you to transfer money to other people with a Chime account, and there is no monthly account maintenance fee or transfer fees to worry about!
See Related: Best Credit Cards for Bad Credit to Rebuild Your Score
Chime Savings Account
The Chime savings account also offers a high annual percentage yield of 1.5%. That's not bad, considering the current national average on savings accounts currently sits at around 0.13%.
Chime customers also find it easy to increase their savings with the round-up savings feature, which rounds up your purchases to the nearest dollar and automatically transfers the difference into your Chime savings account.
Chime also offers the "Save when I Get Paid" feature, which allows people to save 10% of their paycheck and transfer it to their savings account. While you can't deposit an entire paycheck into your savings account, you can transfer this extra 10% into savings and watch your money grow. You can also move money back and forth between your checking account and savings account.
See Related: Best Credit Builder Loans
How are Aspiration and Chime Different?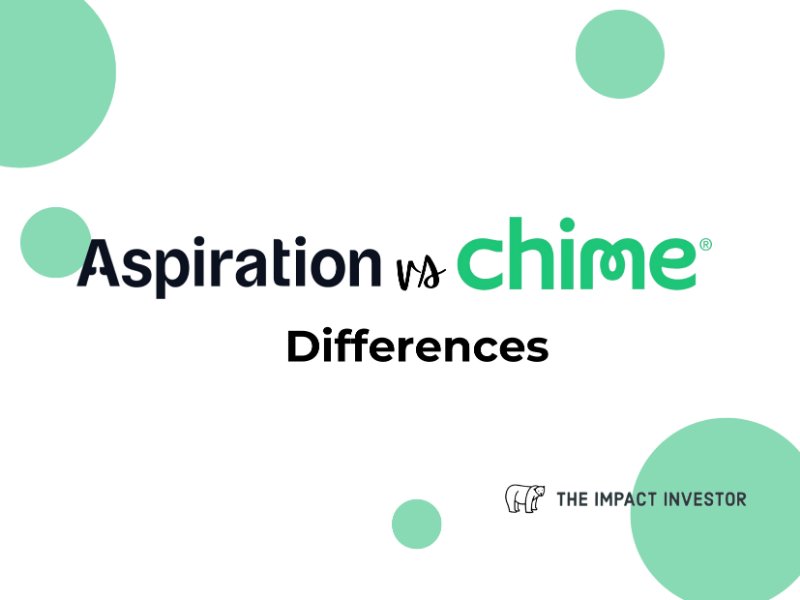 Aspiration and Chime both have very different customer bases. While people that want to build up credit might go with Chime, Aspiration customers are more worried about gaining back their spending power by supporting eco-conscious companies. Below are some other key differences between both companies.
See Related: Chime Review: Unbiased Insights on Features & Benefits
Savings Accounts – Higher APY with Aspiration
Aspiration financial customers can enjoy a higher yield savings account than Chime customers. While Chime does offer a high 1.5% APY, this is much less than what Aspiration offers at 5% APY.
Account Fees – None with Chime
Aspiration charges higher monthly fees of around $7.99 per month for the Aspiration plus account, while Chime customers enjoy no fees at all. While Aspiration offers a free spend and save account for its customers, or they can pay what is fair, Aspiration plus customers enjoy perks such as higher cash back on purchases and refunds on ATM withdrawal fees that are made out of the network.
On the other hand, Chime offers its customers a free debit card, a free account, and some of the same perks that Aspiration offers such as access to over 60,000 ATMs and free atm withdrawal access.
Aspiration offers Greener Initiatives
The main difference is that Aspiration is more geared toward environmental and socially conscious initiatives. With every swipe of their Aspiration plus debit card, Aspiration plants a tree on behalf of their customers. In addition, Aspiration offers investment options that allow customers to invest in ESG companies, while also offering cash back on purchases from companies that are also considered to be part of their Conscience Coalition Program.
Chime is best for Credit Building
Aspiration does not help users build up their credit. While they do offer a credit card, their credit card has a minimum credit score rating requirement and requires good credit.
Chime prides itself on helping its customers build their credit scores through their credit builder card. This credit builder card has no annual fee and can increase a customer's credit by around 30 points (on average).
Mobile App – User-Friendly with Chime
There are also differences between the mobile apps offered by these two financial institutions. While both Chime and Aspiration offer a mobile app, Aspiration users might find the mobile app a bit outdated.
Chime offers an updated mobile app that allows users to transfer money easily to other users with a Chime account. Money transfers with an Aspiration account are made through wire transfer, and it's best to call a customer service agent to help complete your request.
Until recently, Chime customers also did not have access to a live agent and needed to rely on chat text options. Now, however, users can access phone support with a 24/7 live human on the other pine. Unfortunately, some Chime users claim to experience longer than usual hold times.
Below are some of the main key differences between both Chime and Aspiration.
| | Aspiration | Chime |
| --- | --- | --- |
| Investment Account | Yes | No |
| Help Build Credit | No | Yes |
| APY on Savings | 5% | 1.5% |
| Monthly Fees | Yes | No |
| ESG Initiatives | Yes | No |
| Mobile App Money Transfer | No | Yes |
| ATM Access | 55,000 | 60,000 |
How are Aspiration and Chime Similar?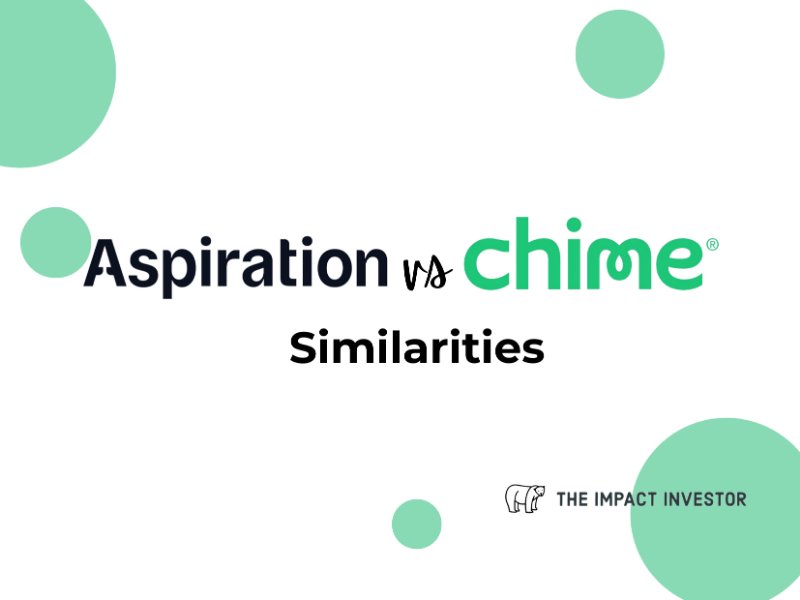 While Chime and Aspiration might have some differences, especially regarding ESG investments and credit-building options, they also have many similarities in their services.
Savings
Aspiration and Chime allow customers to round up their savings, which means rounding their purchases up to the nearest dollar and putting the difference away in savings. While this may seem like a small initiative, users will notice that their savings will increase quickly when using this option.
Chime also allows users to put a portion of their paycheck into their savings accounts, increasing their savings this way. Both financial companies also offer APY percentage rates, with Chime offering an APY of 1.5% and Aspiration offering an APY of 5%.
Both Aspiration and Chime's APY rates are higher than the national average, which currently sits at around 0.13%. The savings accounts for both these companies are a good choice for people who want to increase their savings through APY and round-up savings.
Free Debit Card
Both Aspiration and Chime also offer free debit cards to their customers. The debit card provided by Chime is not the same as their credit builder card. Their free debit cards allow customers to spend money just like a regular debit card, but with the added benefit of using the round-up savings feature.
The debit card that Aspiration offers comes with cash back rewards of up to 3 to 5% at Eco-friendly companies. Aspiration plus users experience more cash-back rewards of up to 10% but must pay a $7.99 monthly or $60 annual fee.
Chime also offers users rewards for their purchases, but these are sporadic and not guaranteed like Aspiration's debit cards.
ATM Access
Aspiration and Chime offer free ATM access at over 55,000 ATMs nationwide. Aspiration offers just over 55,000 ATM locations, while Chime offers over 60,000 ATM locations.
Aspiration plus users can get refunded for ATM fees used outside the network, but again, they must pay a monthly fee to enjoy this advantage.
FDIC Insurance
For people using a Chime or Aspiration account, it's important to note that these institutions are not banks. However, your money is insured through their partnership with other partner banks. For instance, if you use Aspiration, your money is insured up to $2,000,000.
Chime users also enjoy FDIC insurance of up to $250,000. The amount of insured money is lower than that of Aspiration users. Still, most customers won't need to worry about the difference if they only use Chime to build up their credit and deposit most of their money with a commercial bank.
See Related: Reasons Why Ethical Banking is Important
FAQs
What's better about Aspiration?
There are certainly some pros and cons of Aspiration. Most people use Aspiration because they want to know their investments and transactions will go toward greener initiatives. Customers want to take back their spending power and put their money toward companies that will help instead of harm the environment.
Aspiration offers many environmentally-friendly initiatives to help people feel good about their spending habits, including planting trees for every purchase, supporting companies in the Conscience Coalition, and investing in companies that will not fund fossil fuel exploration.
Aspiration also offers its users a high-yield savings account of 5%. That is relatively high compared to Chime and other similar CMAs and is one of the perks of using their savings account feature. Users can deposit money into their accounts knowing their savings will grow at higher rates at the end of the year. The higher insurance coverage is also a plus.
What's better about Chime?
Just like there are specific pros and cons of Aspiration, there are also pros and cons of Chime. Chime users can enjoy a credit-building program tailored to help people boost their credit scores with ease. Their credit card, unlike Aspiration's credit card, doesn't require a minimum credit score and is impossible not to pay off.
Chime customers can pre-fill their credit cards and spend what they have. In addition, Chime does not report high utilization to credit agencies. This means customers can use all the money on their credit cards without fear it will hurt their credit scores.
Chime users also don't have to pay any monthly fees for using their debit card or credit card builder, checking, or savings accounts. Customers can also enjoy their simple-to-use mobile app. Chime also makes it easy for people to transfer money to others with a Chime account, a feature currently unavailable on Aspiration.
While these are all excellent features of Chime, one of the downsides is the lack of customer service and the inability to deposit a check. Users will need to find a green dot store to deposit their paycheck, which can be inconvenient. In addition, Chime users will also need to call a busy customer support line to get help should they encounter any issues. These customer support lines can have long wait times, and the customer service features on their app are also subpar.
See Related: Sustainable Finance: Different Types of Green Financing
Who should get Aspiration and why?
If you're wondering what is better between Chime and Aspiration, Aspiration will be the best choice for people that want to:
Enjoy higher savings with a 5% APY
Spend their money on socially conscious initiatives and earn cash-back rewards while doing so
Have a CMA that incorporates a checking account, savings account, and investment account
Want to help fight global and environmental impacts
Have money up to $2,000,000 that they wish to insure
Aspiration is not for people that need to build up credit. While Aspiration does have a credit card, this credit card is not meant to help improve credit scores and requires good credit before applying.
Aspiration customers can rest assured their money is not being spent on companies that engage in fossil fuel exploration. With Aspiration, customers can also enjoy perks such as a debit card made from recyclable materials, tree-planting initiatives, and investment opportunities for ESG companies.
Who should get Chime and Why?
Chime is the best option for people that want to build up their credit scores and want to do so with ease. The Chime credit builder card can help people get out of their financial rut and enjoy the many benefits of good credit.
Chime is also free and best reserved for people who need extra help saving and learning how to manage their money wisely. Unlike Aspiration, Chime has no environmentally-friendly initiatives. However, most Chime customers aren't looking for green initiatives as a priority. Instead, their priority is building up credit and savings fast, using Chime's services to do so.
Chime also offers a 1.5% APY on savings, which is not as high as Aspiration's APY but still a good percentage rate compared to other CMAs. If you need help building up your credit and are new to saving money, then Chime will be the better option.
Related Resources
Kyle Kroeger, esteemed Purdue University alum and accomplished finance professional, brings a decade of invaluable experience from diverse finance roles in both small and large firms. An astute investor himself, Kyle adeptly navigates the spheres of corporate and client-side finance, always guiding with a principal investor's sharp acumen.
Hailing from a lineage of industrious Midwestern entrepreneurs and creatives, his business instincts are deeply ingrained. This background fuels his entrepreneurial spirit and underpins his commitment to responsible investment. As the Founder and Owner of The Impact Investor, Kyle fervently advocates for increased awareness of ethically invested funds, empowering individuals to make judicious investment decisions.
Striving to marry financial prudence with positive societal impact, Kyle imparts practical strategies for saving and investing, underlined by a robust ethos of conscientious capitalism. His ambition transcends personal gain, aiming instead to spark transformative global change through the power of responsible investment.
When not immersed in the world of finance, he's continually captivated by the cultural richness of new cities, relishing the opportunity to learn from diverse societies. This passion for travel is eloquently documented on his site, ViaTravelers.com, where you can delve into his unique experiences via his author profile.