How does the Aspiration Zero Credit card work? Is it a worthy route for eco-conscious users who wish to reduce their carbon footprint? Read on and find out.
Aspiration Zero Credit Card from the fintech company, Aspiration, focuses on making the planet a better place by reducing its carbon footprint. Aspiration is all about meeting social and environmental goals. And they do this by planting a tree any time you buy something with the card, meaning that your money goes to good use.
Usually, the card is issued by the Beneficial State Bank, a bank known for its socially responsible goals. This is because Aspiration is a fintech company and not a bank, so they do not have the mandate to offer credit cards. However, they still offer other financial services such as IRAS, investment accounts, fossil-free mutual funds, or even a checking/savings account.
Unlock Sustainable Investing Opportunities 🌿
Join the green revolution by investing sustainably with our top partners. Discover platforms that align with your values and offer remarkable opportunities for growth.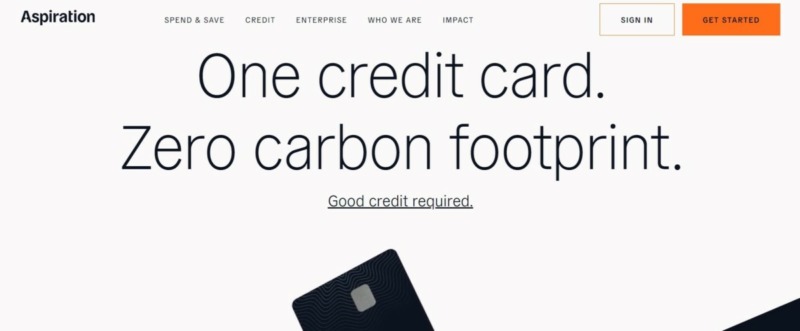 How Does it Work?
Aspiration Zero credit card works by planting a tree for every purchase made with the card. And, it goes an extra mile by planting an extra tree when you roll over the amount to the nearest dollar. This way, if you are eco-conscious and want to take care of the environment, every purchase you make with the card takes you one step towards achieving that goal!
To keep the promise to plant trees, Aspiration works with reforestation partners such as Eden Reforestation Projects and One Tree Planted. The goal of using this card is to become carbon neutral. Aspiration estimates this can be done by planting 60 trees a month or an equivalent of 720 trees in a year.
Once you become carbon neutral, the credit card offers you a 1% cash back reward for all your purchases. You can always track your progress by going to the Aspiration app and seeing your performance.
It might be impossible to reduce our carbon footprint completely since carbon-emitting activities are still rampant in the world. However, Aspiration believes that it is possible to counter the effect of these emissions. And the only way to do it is by planting more trees and funding green activities.
Aspiration also stays away from funding fossil fuels that are dangerous to the environment. So, by your Aspiration Zero Card, you'll be discouraging the use of fossil fuels while encouraging the use of renewable green energy.
Aspiration Zero Credit Card Fees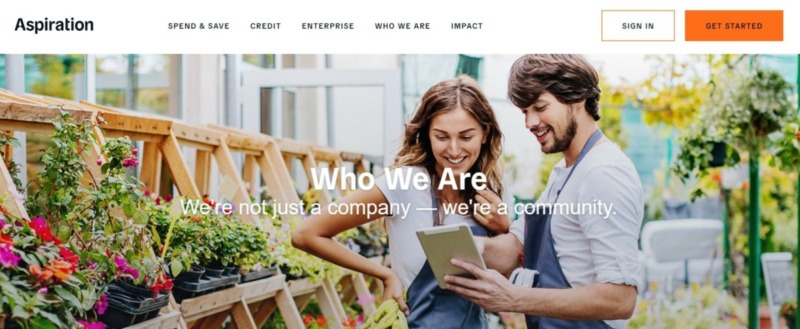 When you sign up for the credit card, you get a $300 bonus. However, you must use $3,000 in the first 90 days of opening the account to get the bonus.
The credit card has an annual fee of $60, and you get a foreign transaction fee of 2%. They also charge a returned payment fee of $35 and a late payment fee of $10.
And did we mention the cash advance fee of $10 or 5%, whichever is higher? Yes, there is that one too. Lastly, there you are also charged $5 or 3% for your balance transfers, whichever is higher.
See Related: Aspiration Bank vs Chime: Which is Best?
Key Features
$0 fraud liability – If something happens and you lose your card, you will not be charged anything. All unauthorized purchases are not charged due to the zero fraud liability feature.
Credit bureau reporting – the credit card reports to all the major credit bureaus, so it is ideal if you're seeking a good credit report or want to improve your credit score.
Mobile tracking app – comes with a mobile tracking app for carbon performance. It is compatible with both Google Pay and Apple Pay.
Why Choose Aspiration Zero Credit Card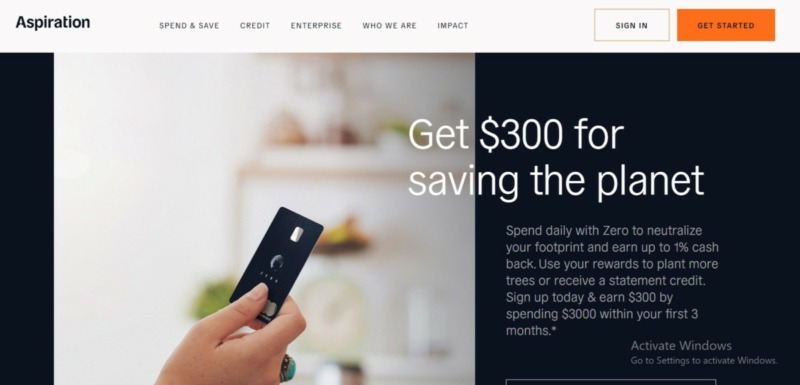 1. Social and Environmentally Responsible Company
The credit card is from the fintech company, Aspiration, founded in 2013. The company aspires to be socially and environmentally responsible by helping make the planet a cleaner place.
Therefore, if you are committed to reducing your carbon footprint and the use of fossil fuels, this is the right company for you. They have also partnered with other sustainable companies like Beneficial State Banks as they share the same goals.
2. Built with Sustainable Materials
Sounds far-fetched, right? But, it's the bare truth!
We all know the harm that plastic is doing to the environment. Aspiration understands this, too. They too are committed to reducing the use of plastic as much as possible.
One way they do this is by building a card that uses sustainable materials. Believe it or not, the Aspiration Zero credit card is made using plant-based materials and not plastic! Using such materials is more sustainable and does not harm the environment.
See Related: Aflac Incorporated ESG Profile (AFL): Is It Sustainable?
3. Giving Back to Society
Apart from being focused on eco-friendly living, Aspiration also gives back to society. For their checking and savings accounts, they allow you as the customer to give what you think is right.
They also give 10% of the fees collected to nonprofits that help the American people.
4. Secure Transaction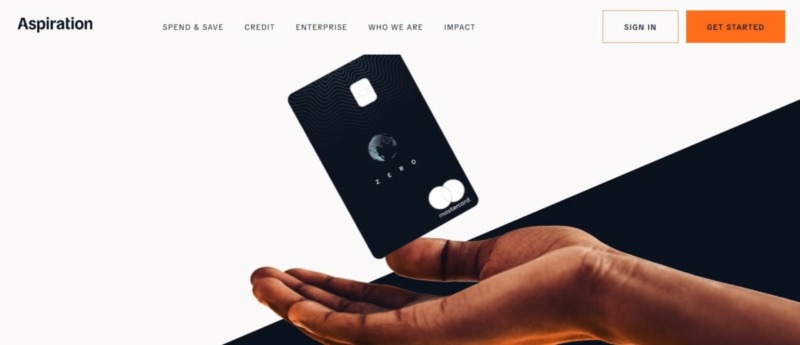 With the rise of credit card fraud, Aspiration does not compromise on security. Their Aspiration Zero card is FDIC insured to make sure that your money is safe.
They also use SSL encryption to make sure that you are safe when using the internet. The two-factor biometric verification also adds to the layers of security when doing your transactions.
See Related: Best Portable Solar Panels for Home
5. Aspiration Plus Benefits
You can get more cashback rewards by enrolling for Aspiration plus, where you get a cashback reward of 10%. When you use your Aspiration debit card in businesses that are members of the conscience coalition, you get a high cashback reward.
See Related: Quotes About Sustainability to Know
6. Good Online Experience
We cannot over-emphasize the importance of a good online experience when doing transactions on the internet. Fortunately, the Aspiration Zero credit card does not disappoint on this.
They have a mobile application that makes it easy for you to have information at hand without logging into your computer. Their website is also user-friendly and has everything you need to get information. This is also crucial for transparency purposes.
7. Simple Sign-Up Process
The process of signing up for a credit card is simple. You can do it online, and it will take you less than five minutes for the entire process. However, you must be at least 18 years old with a social security number to be eligible.
You also need a minimum of $10 to sign up for the card. Lastly, it's currently available in all 50 states.
8. Attractive Sign-Up Bonus
New users get a bonus when they sign up. Aspiration gives a huge bonus of $300 to new customers who sign up and use at least $3,000 in their first 90 days of signing up. This can be a good boost and encouragement for new users.
9. Good for Foreign Transactions
If you do a lot of foreign transactions, the Aspiration Zero MasterCard is the best credit card for you. It supports foreign transactions and only charges 2% of foreign transaction fees.
See related: Aspiration Bank Review: Is It Sustainable & Legit?
Downsides of the Aspiration Zero Credit Card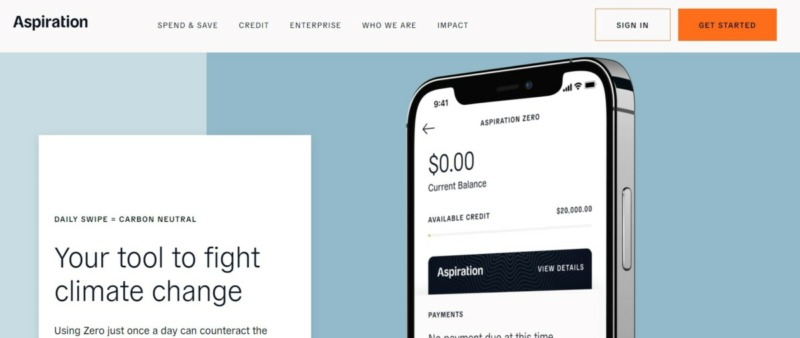 1. Not ideal for everyone
Unfortunately, the Aspiration Zero Mastercard is not ideal for everyone. It is a good option for people who have a good or excellent credit score.
Therefore, if you are still struggling to build up your credit score, this card might not be your best option. They only encourage people with good credit scores to sign up for the card.
2. High Fees
The Aspiration credit card has some of the highest fees on the market. Their charges include $60 per year for the credit card, with several other fees that you have to cover.
For instance, there is the late payment fee of $10 and a return payment of $35. These two are pretty high compared to what other credit cards are offering. So, if you are keen on getting the cheapest credit card to use, this one might not be right for you.
2. Minimal Credit Card Benefits
Many modern credit cards come with a lot of bells and whistles. Conversely, the Aspiration credit card is as basic as it gets. They do not offer customers many extra benefits apart from the promise to reduce carbon footprint.
You get a 1% cash back benefit, but this only happens when you meet the threshold of planting at least 60 trees in a month. For purchases up to that magic mark, you only receive a 0.5% cashback. Consequently, if you are not a regular user, you do not enjoy the full benefits of a cash back reward.
3. Poor Customer Service
The only way to reach customer service is by writing them an email. This might not be sufficient in the modern world as many people look for easier and faster ways of communication.
4. Limitations with the Sign-Up Bonus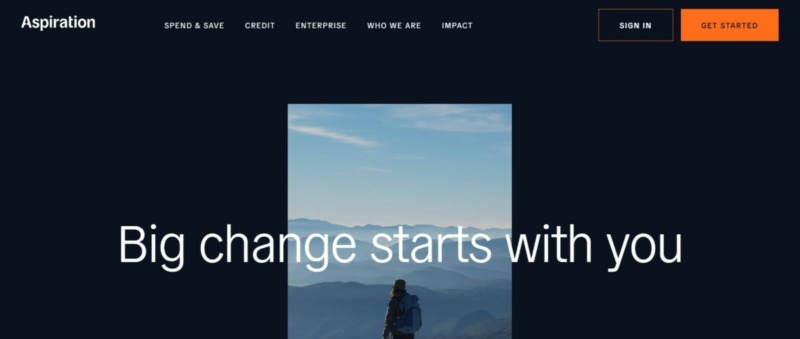 They have a $300 sign-up bonus for new users who want to start using the card. Unfortunately, this sign-up bonus is not for everyone.
If you want to be eligible for the bonus, you have to spend at least $3,000 on the card in the first 90 days of obtaining it. This can be a huge limitation considering not everyone can keep up with the pace.
5. Low CashBack Rewards
Aspiration offers a cash back reward of 1% on your purchases. However, you need to meet the threshold of planting 60 trees per month so that you get the cashback reward. If you are not able to meet the threshold, you will only get a cashback reward of 0.5%.
The rewards are quite low compared to other credit cards that offer much more without conditions. Fortunately, if you do not want to use the cash rewards, you can opt for the planting of more trees!
See Related: Centene Corporation ESG Profile (CNC): Is It Sustainable?
Is the Aspiration Zero Credit Card Right for You?
The Aspiration of a zero credit card might not be ideal for everyone, but overall it is an excellent credit card. It is suitable for people with a good credit score of 670 and above. Unfortunately, this locks out people with poor credit scores or those struggling to build their credit scores.
Since Aspiration focuses on planting trees to make the world a better place, using their credit card makes you an environmental champion! You can enjoy some peace of mind knowing that someone somewhere is using your money right by planting more trees.
This credit card is also ideal for people who want to give back to society. Part of the money goes to nonprofits that help those in need around the country.
If you are looking for a credit card from a bank, this might not be ideal for you. Aspiration is not a bank; they offer their credit card through a third-party bank account.
See Related: FarmTogether Review
Is Aspiration a Legit Bank?
Aspiration is not a bank, but that does not mean that it is not legit. Aspiration is a financial institution that works with a third-party bank that shares similar ideologies on eco-consciousness.
Aspiration might not be a bank account, but you can be sure that your money is safe. They still have all the features that you get from a traditional bank account because they work closely with Beneficial State Banks.
Also, most of the transactions are done online, so they have invested heavily in their online presence, just like any other financial institution.
FAQ
Does Aspiration Charge a Monthly Fee?
The best thing about Aspiration is that they do not have a monthly fee. Even when running an account with them, you do not have to worry about paying a standard monthly fee.
Since they are a sustainable fintech, they allow you to pay what you think is right for you. The freedom to pay what you think is right is good as you can always pay higher amounts, and the money will go to charitable courses.
Does Aspiration have Any Physical Branches?
Unfortunately, Aspiration does not have any physical branches. Everything is done online, and your credit card will be shipped. If you have any issues, the only way to get in touch with them is by writing an email to the customer support team.
However, they have a good online platform, so you will not feel the need to visit a physical account. Everyone in the 50 states can get access to a credit card.
Is the Aspiration Zero Credit Card Worth It?
Yes, this card is certainly worth it. If you have a credit score of above 700, then you can apply for a credit card. You also need to meet other requirements like the age limit of 18 years.
Aspiration Company is committed to reducing its carbon footprint, and it does it by planting more trees. Apart from planting trees, they also donate some of the money to charitable organizations. Therefore, this credit card is good for eco-conscious people, as it helps them care for the environment.
However, Aspiration has some downsides, such as the high fees. The credit card fee of $60 per year is significant. This is considering that there are other credit card companies that have relatively lower fees.
Related Resources