Are augmented reality stocks the best stocks to invest in now? If yes, what are the best stocks in the AR market? Read on to discover more as we share all the facts about investing in AR stocks.
No one wants to invest their money in a product or asset that doesn't offer an attractive return on investment (ROI). That's a fact! For this reason, savvy investors toil every day, looking for new financial assets that will guarantee good returns.
One trend that is blowing up the market, leaving every investor talking, is augmented reality stocks. That's besides climate change stocks!
Unlock Sustainable Investing Opportunities 🌿
Join the green revolution by investing sustainably with our top partners. Discover platforms that align with your values and offer remarkable opportunities for growth.
As the world turns digital, so does the way we invest. Advancement in technology has seen the emergence of new investment assets that seem to be the future of investing.
But are augmented reality stocks a good investment idea? Do these stocks offer attractive returns on investment?
Well, some experts project that the augmented reality market will grow immensely in the future – more on this in a bit.
But first, let's get an overview of these famous new stocks.
What are Augmented Reality Stocks?
It's no secret that many people don't understand augmented reality stocks. For this reason, most people might be missing the opportunity of their lifetime to make it big in the investment world. That's why I'm prepared to explore deeper what an Augmented Reality stock is, as well as the best AR stocks you can invest in.
So, what are Augmented Reality stocks?
If you've heard about virtual reality and augmented reality, then you have an idea of what these stocks can be. They are simply stocks or trading assets of companies specializing in producing augmented reality software and hardware.
For instance, these are companies that manufacture AR chipsets, headsets, VR or AR headsets, smart glasses, etc. The market is quite huge for these AR and VR products, although some might be pretty famous than others.
In fact, most of these companies, you know them. For example, who doesn't know Facebook (Meta)! While most people might only know it in the light of social media, the company also produces augmented reality products. And if you know Oculus, the company that produces Oculus Quest VR headsets, then Facebook owns it.
This means that you can invest in augmented reality stocks through Facebook.
What Is Augmented Reality?
This is a mixed reality tech that incorporates a digital environment into the actual real-world environment through computer-generated images and AI (artificial intelligence). AR users interact with the digital elements in real-time. These elements offer an experience that visually alters the real-world environment around them.
However, you should note that augmented reality is somewhat different from virtual reality. With AR, you'll not experience a totally new environment. Instead, you will have a mix of the two, offering the best physically realistic virtual worlds. On the other hand, virtual reality generates an entirely new environment through the virtual reality headset.
Today we explore the augmented reality stocks market to identify the best AR stocks to risk your money on, as well as how you can go about it.
Top Augmented Reality Stocks to Invest in Right Now
When it comes to augmented reality companies' stocks, some people are skeptical about their projected bright future. However, the rate at which the technology is advancing by the day should be a clear sign that these stocks might be tomorrow's investors' gold mine.
Right now, I want to share a list of AR companies' stocks that have passed the test of time and proven that this market is only budding.
1. Google
Almost everyone knows about Google and the enormous strides it has made over the years. Interestingly, the company also features among the most renowned players in the AR and VR market. Investors interested in investing in AR stocks, have probably come across Google AR stocks during their research.
The fact that Google's technology seamlessly integrates with numerous other platforms has made it quite successful in almost every frontier. In addition, the ARCore, Google's AR developer, creates innovative AR experiences that outrank most of its competitors. This way, the company's AR stocks continue to be a lucrative investment option.
Google's main AR offerings include Google Maps and Google Lens. These two applications significantly enhance the experience on maps and search – two of the most popular Google features.
Adding the great minds that Google works with, Google augmented reality stock will undoubtedly soar even higher in the future.
See Related: Best 5G Stocks to Invest in Today
2. Meta Platforms
Formerly known as Facebook, this tech giant is another company with a significant share in the AR and VR market. While the company still makes a chunk of its revenue from ads, analysts feel that this can change in the future.
As mentioned earlier, Meta owns Oculus, the company that makes and sells the Oculus Quest series (VR headsets). Oculus also has VR software.
Generally, Oculus is the foundation of metaverse by Meta platforms. And with Horizon Workrooms, an extension of the metaverse ecosystem, other video conferencing apps like zoom will have a hard time matching with Meta's VR meetings.
The introduction of smart google glass, capable of taking photos, videos, and even calls, was a big addition to Meta's growth strategies.
This means that Meta's augmented stocks will only continue an upward trend, making it an ideal investing option.
See Related: Best Green Companies to Invest in 2023
3. Snap Inc.
Snap Inc. is a renowned American camera and social media company founded in 2011. The company has created some of the world's most popular tech products and services, such as Bitmoji, Snapchat, and Spectacles.
For years now, Snap Inc. has also been venturing into the AR market. Its first creation was the filters, used in creating effects on someone's face in a selfie. The release of the AR glasses is also an excellent move to ensure that people always have content in front of their eyes.
Generally, Snap Inc. has proven that AR can offer value to users and generate money for investors. For instance, the shoppable lenses enable users to try out various fashion pieces without stepping a foot out of their houses. This is an advanced way of connecting with consumers.
Researchers found out that consumers who use AR apps are more likely to buy beauty and skincare products than those who don't.
Another research by Snap and Deloitte found out that AR shopping is increasingly growing over time, meaning that the company's AR stocks remain lucrative.
See Related: Best Artificial Intelligence ETFs to Invest in Today
4. Qualcomm Incorporated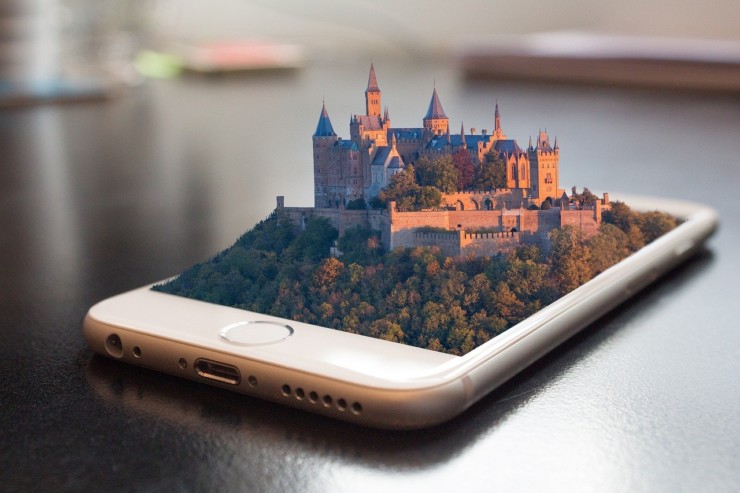 Qualcomm is among the leading wireless tech innovators globally. It focuses on developing and selling foundational technologies, mainly used in computers, mobile devices, and numerous other wireless products.
The company invents groundbreaking technologies aimed at transforming the way we communicate, connect, and compute. In essence, we connect with Qualcomm's technologies every day, including 5G smartphones that also doubles as gaming devices and pro-level cameras. With such innovation and tech, Qualcomm is undoubtedly one company with a bright potential future.
Qualcomm is also ideally positioned to exploit the growing augmented reality market. And with the introduction of the company's first AR, the AR smart viewer, the company is set to grow its revenue and market reach even further.
5. Microsoft
Microsoft is another company that couldn't miss on our best augmented reality stocks list. Like other leading AR inventors, Microsoft boasts several incredible AR products in this promising market.
One feature that makes Microsoft a great place to invest in is its ability to invent products that appeal to both individual consumers and businesses.
Its products are used globally in almost every sphere of business. For instance, the technology can easily augment a simple game's experience on Xbox or even help companies that maintain our security and defense systems.
If you are searching for a company that shows immense growth potential, Microsoft is one of them. Its technology is already being used in the healthcare, manufacturing, and education sectors. For example, major companies like Mercedes Benz, Airbus, and Lockheed Martin use the HoloLens 2 technology.
HoloLens is quite useful when assembling a product and can be a great industrial or commercial tool. Instead of manually browsing through an assembling manual, this technology guides you through the process directly from your eyes. How awesome is that!
With such progress, you can see why Microsoft is among the best augmented companies to invest in.
6. Apple
Apple has been a major name globally for decades. It is one of the few companies that have remained strong despite several controversies and has come out strong.
Apple has a great growth potential both in AR technology and many other lines of production. And, if there's a company whose stocks can be relied upon is Apple.
Therefore, if you want to invest in AR companies' stocks, whether now or in the future, you can include Apple on your most preferred list.
Apple's acquisition of Akonia Holographics, a company that makes lenses for AR displays and headsets, is a huge step towards achieving a piece of the AR market. Akonia developed the HoloMirror technology, an immersive platform that integrates full-color imageries into AR headsets' lenses.
Such moves are a clear show of how Apple doesn't intend to be left behind in the augmented reality movement. Since Apple has had numerous other successes in the past, it wouldn't be prudent to dismiss its entrance into the AR market.
7. Vuzix
Even without a big name, Vuzix is a company that has displayed great potential and clinched a spot among the big players in the AR market.
With just several years in this market, the company has produced and sold numerous AR headsets targeting companies, original equipment manufacturers, and even the mainstream consumers.
For instance, the company's AR headsets, such as the M-series, are popular with healthcare workers, the military, and various remote workers. On the other hand, its Blade AR headsets are designed for home users. These ones are tethered to Google Assistant by Alphabet and Amazon's Alexa apps.
One clear sign of its growth potential is its surged demand for the M-series during the 2020 pandemic. It might not be as big as Microsoft, Google, or Meta, but its practical approach towards gaining a considerable share of the AR market is admirable.
8. Etsy and AR Shopping
Not many people would expect Etsy to feature among the best augmented reality stocks. However, it does.
While it might not be a trillion-dollar enterprise, Etsy still has a great potential to make it big in the AR market. Through its simple but effective online marketplace, the company went public in 2015. Interestingly, investors are quite impressed by the strides Etsy has made.
Etsy targets to use AR technology to improve its customers' online shopping experience. And, with the continued growth it has experienced over the years, its AR stocks are projected to do even better in the future.
See related: Best Environmental Stocks to Invest in Today
How to Invest in Augmented Reality Stocks
Investing in AR stocks means that you purchase stocks of a company or companies in which you wish to own shares. The ownership rights are what you are given as stocks.
Generally, you can buy your AR stocks through the company itself, stockbrokers, or agents. But before you make the purchase, there are some considerations that you should make.
These include:
1. The Company
You should do thorough research on the company you wish to invest in to determine if it's the best place to invest your money.
For instance, what is that company's annual income? How long has it been in business? And, how stable are its businesses?
Only risk your money on a company that is worth it.
2. Current Stock Market Trends
If the stock market was on a downward trend, you should rethink buying your stocks at this time. If the trend is positive, then it might be just the right time to make the purchase.
3. Stocks Yields
This is the percentage rate of return for a certain stock. You can easily achieve this when you divide the dividend by the stock price. Higher-priced stocks have lower yields and vice versa.
4. Price-to-book Ratio
The price-to-book ratio compares the stock's price to the company's book value. It's calculated by taking the total assets, subtracting the liabilities, then dividing the figure by the total outstanding shares.
Pros and Cons of Investing in Augmented Reality Stocks
Like any type of investment, investing in AR stocks has its upsides and downsides. Taking a look at both will help us understand this market better and be able to determine if it's worth our efforts and money.
Pros
Helps you capitalize on a growing economy: If there's any growth in the economy, stocks allow you to benefit from those gains. AR stocks are not any different. And since they are just in the budding stage, investing in them now could offer attractive returns with time.
Easy to buy: There are numerous platforms that allow you to invest in various companies' stocks anytime. For example, TD Ameritrade, Webull, Fidelity, Vanguard, etc., are excellent options.
Easy to sell: Like most other stocks, selling your AR stocks is easy and you can do it any time of any day.
Keeps you ahead of inflation: Most AR stocks have an average annual return of around 10%. Since the inflation rate is mostly lower than this, it means that you can make money even when the economy is not doing so well.
Cons
Risky: The AR stocks may not have been in the market for long. This means that there are still some uncertainties about how they will perform in the future.
Time-consuming: While it's easy to buy AR stocks using various online platforms, the research process is always lengthy. It may take some time to conclude on the best stocks, especially if you are doing it on your own.
Fluctuations: Like any other type of stock, AR stocks keep on fluctuating. This means that you are not certain whether you'll gain or lose money in the long run.
Is Investing in Augmented Reality Worth it?
When it comes to investments, it all boils down to whether it's profitable or not. Everyone wants to put their hard-earned money into an investment that will offer good returns in the long run.
So, is investing in AR stocks worth your time and efforts? Absolutely yes!
The AR stocks are and continue to be some of the most popular stocks in the market. This is mainly due to the increased number of AR products hitting our shelves each passing day.
Big companies and corporations like Microsoft, Apple, and Meta have taken on the production of AR technologies, an indication that the AR market is exponentially growing and that everyone wants a share.
If such big platforms see the need to invest so much in the augmented reality market, it means that there are certainly some foreseen profits. Therefore, AR stocks might be the next gold mine for many investors.
As technology continues to advance, the global economy also changes. Augmented reality stocks are one such change that will probably fetch millions of dollars, if not more for investors.
So, if you are still wondering whether augmented reality technology stocks are the ideal option, you are probably too late.
Related Resources