Online and mobile banking is gaining popularity in the United States. While online banking is still preferred, mobile banking is gaining ground, according to American Banker. As online and mobile banking gain popularity, consumers now have banking options beyond those of traditional banks to consider.
Digital banks and financial institutions often offer higher interest accounts with fewer fees instead of providing brick-and-mortar banking centers.
Best Online Banks Like Chime
1. Chime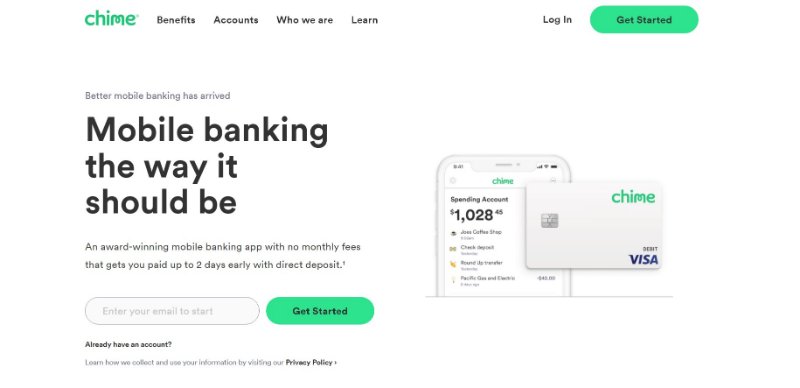 Chime is a financial technology (fintech) company, not a bank. Fintech companies use new technology to compete with traditional financial methods with the goal of delivering the same or similar services.
Unlock Sustainable Investing Opportunities 🌿
Join the green revolution by investing sustainably with our top partners. Discover platforms that align with your values and offer remarkable opportunities for growth.
Chime was founded in 2012 and launched publicly in 2014. It partners with The Bancorp Bank and Stride Bank NA to provide online banking services.
Chime's mission is to offer financial peace of mind to everyone by making money management easier. Its online bank accounts have no minimum balance requirement and no fees, even for overdrafts, unless you exceed $200. Customers (known as "members" in Chime's parlance) can manage their checking accounts entirely through a mobile banking app.
Members can sign up for direct deposit, use mobile deposit, or make deposits at several national retailers such as Walgreens, Walmart, or Family Dollar. They can also transfer funds from a traditional bank account. They can withdraw cash at over 60,000 fee-free ATMs nationwide.
Chime also offers high-yield savings accounts with current interest rates of 1.5 %. Those who sign up for a savings account also receive a checking account with a free debit card.
Debit card purchases can be rounded up to the next dollar, with the extra money automatically deposited into the savings account. Chime also offers services to those who are rebuilding or establishing credit through its secured Visa card. The card has no fees and no interest.
While Chime is an excellent choice for many, it's not for everyone. Several other online banks and fintech companies are similar to Chime. Some people may find them better alternatives, depending upon their needs. Online banks have low overhead.
They use that low overhead to provide high-interest accounts or banking without fees. Online banks and fintech companies like Chime are usually affiliates or partners with other financial technology companies. Some traditional banks, like Capital One and Barclay's, also offer online accounts with fewer fees or higher interest than their standard accounts.
What Chime is Best For
High-yield savings accounts, with a current interest rate of 1.5%.
No fee checking accounts with fee-free overdraft protection up to $200.
Rebuilding credit with the secured Visa card.
Those who struggle to save benefit from automated rounding up of purchases.
Chime isn't the only fintech with banking partners or the only online/digital bank. Let's look at 14 online banks that are similar to Chime. While many of them have identical products and services, each has distinctive offerings.
See Related: Aspiration Bank vs Chime
2. Aspiration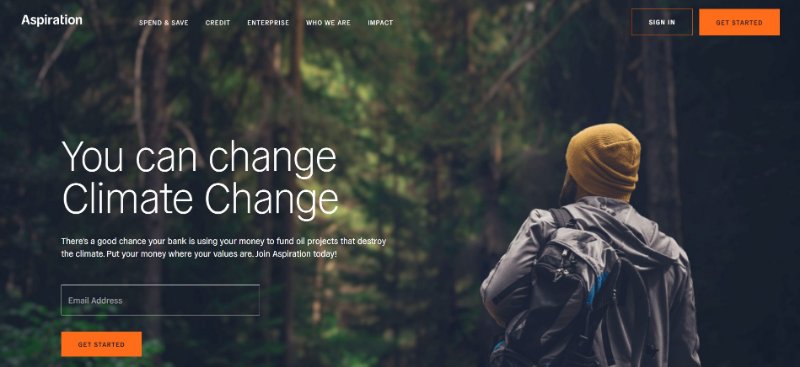 Aspiration is an eco-friendly alternative to big traditional banks. Traditional banks often use deposits to fund environmentally harmful projects, such as oil pipelines or fossil fuel projects. Aspiration is unique because of its program called "Pay What Is Fair."
The program allows customers to choose their fee (even zero) for most transactions. The company gives a portion of the fees customers pay to charitable causes.
Aspiration offers a cash management account, which rolls a savings and checking account into one. The account offers a debit card with up to 10 percent cash-back when you spend at sustainable businesses.
It also provides a MasterCard (Zero) because it has zero carbon emissions. For every swipe, Aspiration ensures a tree is planted on your behalf.
Customers can also upgrade to Aspiration Plus for $5.99 a month. Among the Plus benefits are an offset to every gallon of gas you buy as part of the Planet Protection Program, up to 5 percent interest on your savings account, and a debit card made from recycled ocean plastic.
Like what you are hearing? Read more in our full Aspiration review.
What Aspiration is Best For
Those who are passionate about eco-friendly and social causes.
Providing no fee banking.
Providing cash-back debit cards that give money back for sustainable purchases.
See Related: Upgrade Loan Review: Is It Legit to Use?
3. Revolut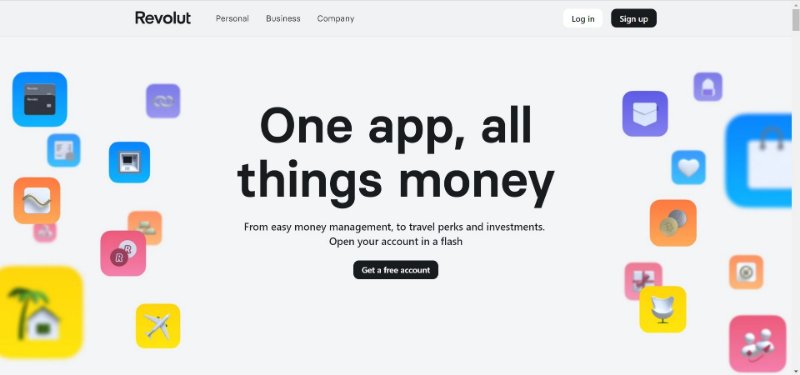 Revolut markets itself as a financial super mobile app for all things money. The bank offers everyday spending, short-term and long-term savings, and investing in one mobile banking app.
Its mission is to create a borderless economy, and it is in more than 200 countries. The app also has built-in budgeting tools.
Customers can choose from four plans:
Standard Plan – This free plan offers the opportunity to split the bill with friends, make payments to friends, and the ability to send and receive payments in different currencies. The account has a debit card that offers cash-back for hotel stays. It has one free stock trade a month. The standard plan is available in the US and Europe.
Plus – 2.99 euros per month. It offers all the benefits of the standard plan plus some extra benefits, including more free stock trades and the ability to withdraw money for free. (Plus is only available in Europe).
Premium – $9.99 a month. It offers all the benefits of the previous level plus the opportunity to withdraw larger sums for free and to make unlimited global currency, exchanges, travel insurance, and additional free stock trades. It is available in the US and Europe.
Metal – $16.99 a month. Metal offers even larger withdrawals, more free stock trades, and 10 percent cash-back for hotel stays, in addition to the benefits of the previous levels.
Another distinctive feature of Revolut is that you can make investments in increments of as little as $1. Revolut also offers a version of its product for teens. Like what you are hearing? Read our full Revolut review for more information on this banking product.
What Revolut Is Best For
Someone who frequently travels internationally because of the travel perks. Free currency exchanges and sending and receiving payments in various currencies.
Someone who wants an all-in-one app that includes checking, savings, and investment options.
See Related: Best Green Apps for a More Sustainable Life
4. Varo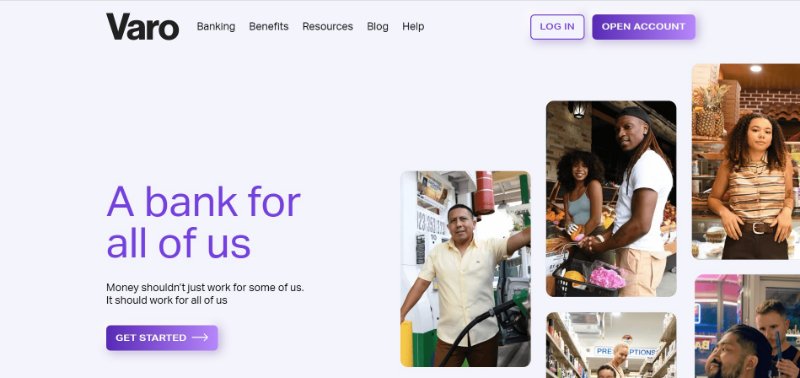 Varo is another all-digital bank. Its slogan is "a bank shouldn't just work for some of us. It should work for all of us."
Varo offers a checking and high-yield savings account with no credit check, monthly fees, or minimum balance requirements.
The account starts at 2% interest and goes up to 5% if you have at least one direct deposit of $1,000 or more and have $1.21 in a 31-day month and $1.25 in a 30-day month. Once they qualify, those with regular direct deposits can claim additional benefits, including small cash advances.
Each account comes with a Visa debit card that allows free ATM withdrawals at AllPoint machines nationwide and provides cash back for certain purchases. Banking customers can also obtain a credit-building credit card with no interest or annual fees.
What Varo Is Best For
The potential of very high yields (up to 5%) on savings accounts with direct deposit.
Credit building with the credit card.
Cash-back debit cards.
See Related: Most Unethical Banks You Need to Avoid
5. SoFi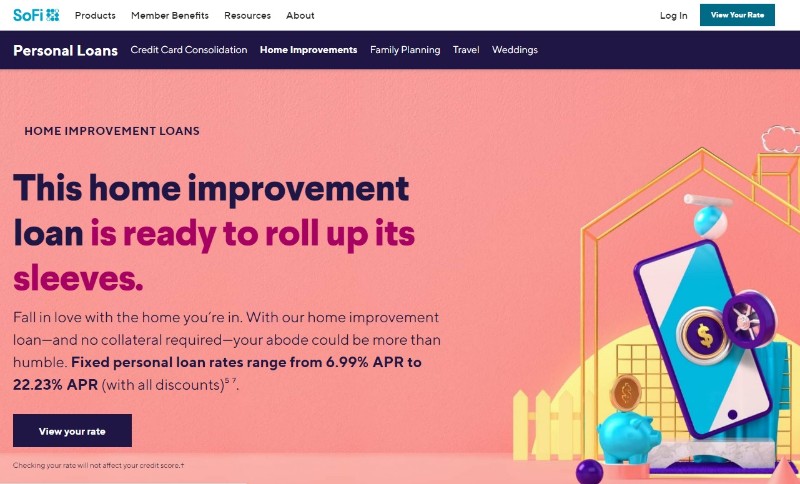 Stanford University business students founded Social Finance Inc. as an alum lending platform in August 2011. Less than a year later, the financial technology company offered to refinance student loans. From there, it moved to mortgages and personal loans.
In January 2019, it launched SoFi Money and SoFi Invest. The online bank's mission is to "help people get their money right."
The company offers several free benefits, including financial planning and career services. Its online free combined savings and checking account is new, accessible through a mobile app, and pays 2% annual interest. It provides 15% cash back when you use the debit card at certain businesses.
It's also fee-free! It provides no fee overdraft coverage up to $50. Members can apply for a no-fee MasterCard card with up to 3% cash-back.
What SoFi is Best For
Access to free financial planning and career services.
A debit card that provides up to 15% cash-back at certain businesses and no fee cash-back MasterCard.
Financing and refinancing student loans.
High-yield combined savings and checking accounts that currently pay 2% interest.
See Related: Best Stock Apps for Investing
6. Ally Bank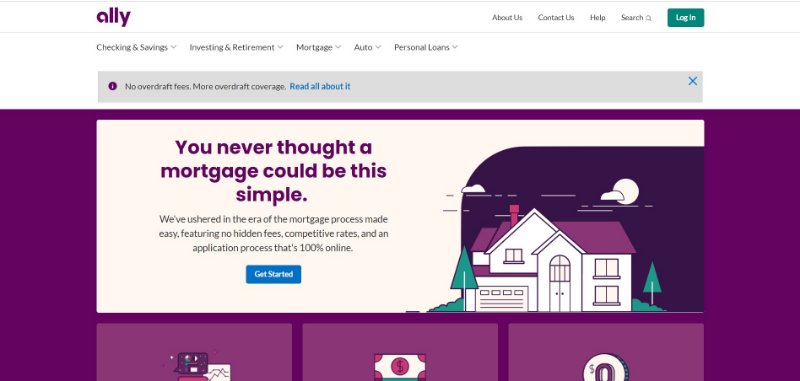 Ally Bank is another online bank that offers many of the services of traditional banks. Its slogan is "It's not about finding a place for your money. It's about finding the right place for your money." It offers several financial accounts, including
High-yield savings accounts that currently pay 2% interest annually.
Money market accounts.
Interest-earning checking accounts.
High yield, raise your rate, and no penalty certificates of deposit.
Self-directed investment account.
Loans for medical treatments or renovations.
Mortgages.
Vehicle financing.
Like most other online banks, it has no minimum balance requirements or fees for its savings or checking accounts. Unlike some online banks, it does not accept cash deposits. You can make direct deposits, remote check deposits, online transfers, and wire and mail deposits.
What Ally is Best For
High-yield savings accounts that currently pay 2% interest.
Those who want a variety of traditional banking services offered online.
7. Discover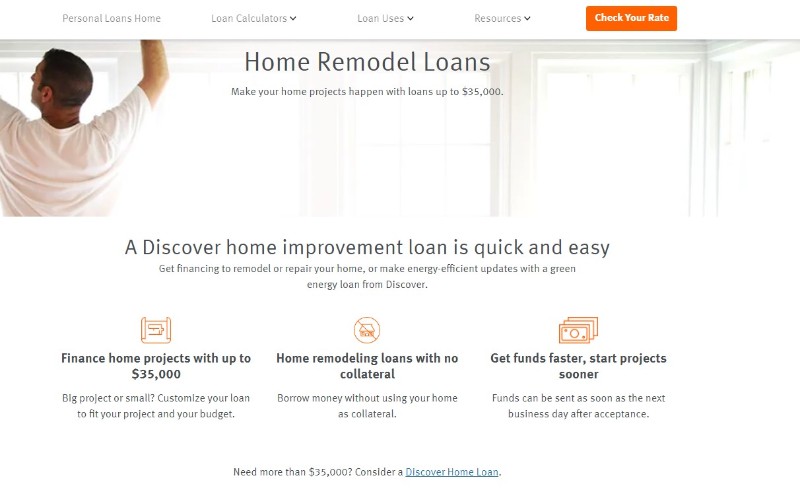 Discover offers several financial services, in addition to its well-known credit card. These services include online banking, personal, student, and mortgage loans. Its motto is "Banking On Your Terms," and the types of accounts are varied, including the following:
A cash-back online checking account with no fees, even for overdrafts, and free ATM use at over 60,000 locations.
A Discover online savings account that currently pays 2% interest.
Certificates of deposit.
Money market accounts.
Retirement account options, including IRAs and a retirement savings account.
What Discover is Best For
Cash-back debit card.
High-yield savings account that currently pays 2% interest.
The option to have a retirement account.
Those who want a wide array of traditional services.
See Related: Best B Corp Banks to Open an Account
8. Axos Bank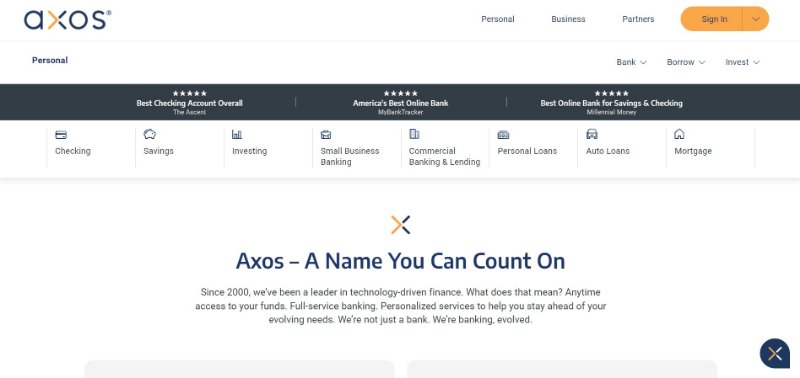 Axos Bank is a digital bank headquartered in California. It offers many online checking accounts, some with no fees or minimum balance requirements.
It provides peer-to-peer payment, rewards, and cash-back checking with no fees. However, it requires a $50 minimum balance. Axos offers Golden Checking, an interest-earning checking account for senior citizens.
Axos also offers a high-yield savings account, a money market account, loans, and a self-directed savings account. It has zero lender fees on mortgages.
What Axos is Good For
Peer-to-peer payments.
Wide choice of checking accounts, including cash-back and interest-bearing.
An interest-bearing checking account for senior citizens.
Loans, including a mortgage with no lender fees.
9. Capital One 360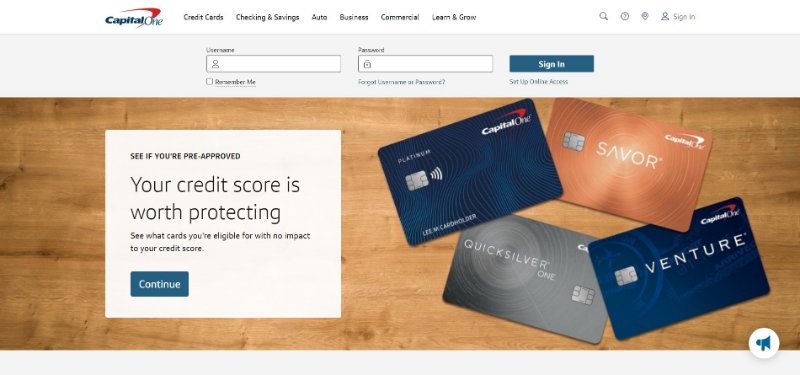 Capital One is a traditional bank offering an online checking account equivalent to digital banks or fintech companies. Its digital offering is the 360 checking account.
It has bill-paying features, a debit card, deposit capabilities, and money transfer options. The account has no fees to open and no monthly or foreign transaction fees.
The bank generally declines overdrafts but doesn't charge overdraft fees if it accepts them. The 360 account also pays some interest, currently .10% APY on balances less than $49,999. You can deposit cash at any CVS location or Capital One banking center.
Capital One also offers 360 Performance Savings and a 360 CD. Performance Savings is a no-fee account that offers 1.9% interest and no minimum balance requirement. They claim that transfers to linked Capital One or external accounts are easy on its mobile app.
Because Capital One is a traditional bank, it also offers other services, including a wide variety of credit cards, auto loans, business banking and loans, and commercial banking and loans. It provides in-person support if you live in an area with bank centers or Capital One cafes.
What Capital One is Good For:
The opportunity for in-person service in certain areas.
Bill pay features.
High-yield savings.
No overdraft fees.
See Related: Sustainable Finance: Different Types of Green Financing
10. Upgrade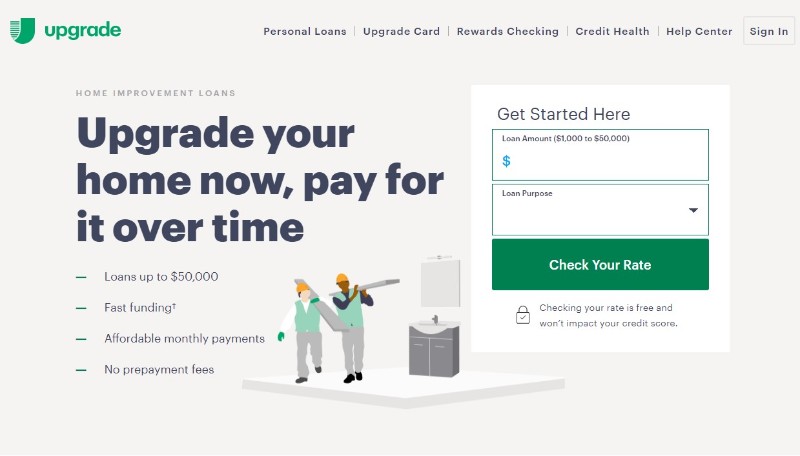 Upgrade's goal is to offer users more value and a better experience than they could have with a traditional bank.
Upgrade is an online lending business, with more than 15 million people applying for loans or the Upgrade Card, which works like a rewards credit card but is a low-interest installment loan. Loans are available for refinancing credit card debt, home improvement, or significant purchases and can be up to $50,000.
Upgrade also offers rewards checking accounts that provide up to 2% cash-back on everyday expenses and 1% cash-back on everything else. Checking account customers receive a 20% discount on loans and cards.
Like most online banks, Upgrade's checking account charges no monthly maintenance fees, no overdraft fees, and no ATM fees. You can fund your card through transfers or direct deposits.
What Upgrade is Good For
Rewards checking accounts.
Low-interest loans.
No overdraft fees.
11. Go2Bank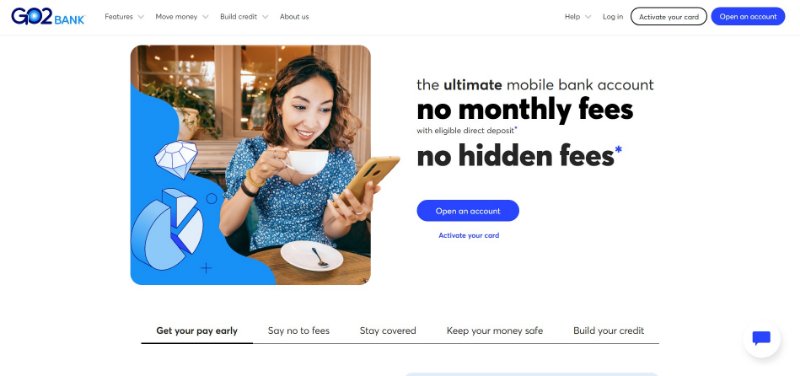 Go2Bank is a digital bank affiliated with the financial technology company Green Dot and boasts 22 years of banking innovation. Green Dot's mission is to make modern banking and money movement accessible to all.
Go2Bank offers a mobile bank account with no monthly fees if you have direct deposits. You can deposit checks with your mobile phone or cash at over 90,000 national merchants. The account offers free ATM withdrawals at a nationwide network of machines.
It also provides up to $200 overdraft protection if you have a direct deposit. You'll avoid overdraft fees if you return the account to good standing within 24 hours.
Go2Bank also offers a secured credit card for those who need to build or rebuild credit. The account requires no credit check and has no annual fee. You must be a Go2Bank customer to qualify for the card.
What Go2Bank is Best For
Overdraft protection with direct deposit.
Secured credit cards for those who are rebuilding their credit scores.
See Related: Best Betterment Alternatives | Apps Like Betterment
12. One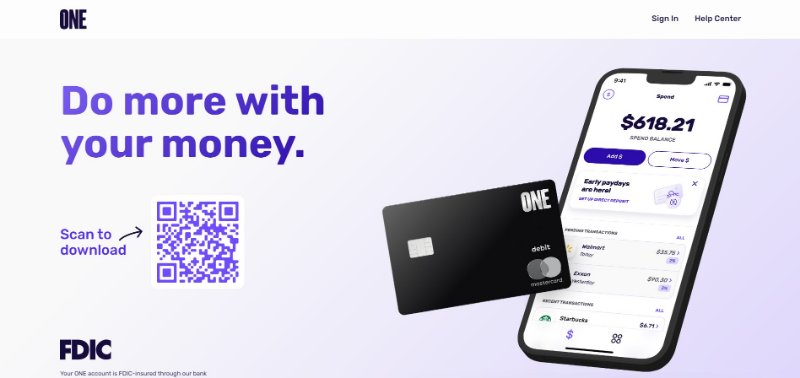 One provides a single financial services mobile app for budgeting, savings, checking, and lending. One of its axioms is "Stress less about money so you can focus on what matters most." It partners with Coastal Bank for banking services.
It allows you to customize your account with "pockets" for various expenses such as utilities, groceries, and rent. You also have the option to share your pockets with others for support in reaching budgeting goals.
The account offers no fees and no minimum account balance requirements. It currently provides:
1% interest.
Free ATM access at AllPoint locations nationwide.
The option to prevent ACH debits.
A virtual card.
What One is Good For:
Those who want a single app for many financial services.
Budgeting.
Option to prevent ACH debits.
13. Bank5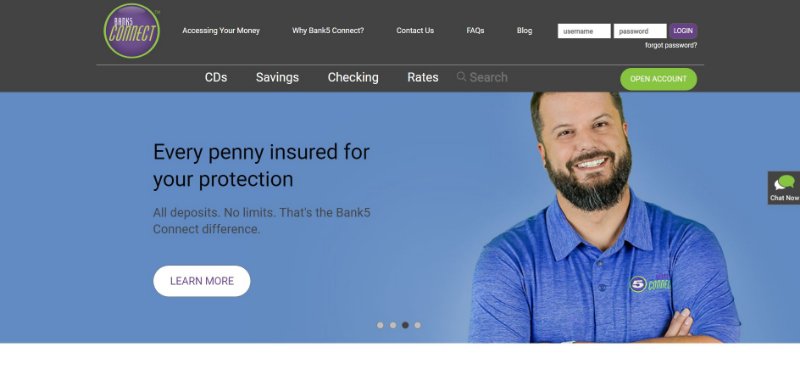 Bank5 Connect is an online bank that offers checking and savings accounts and CDs. The high-interest checking account offers 0.70% interest with a minimum balance of $100. It offers free transfers, no monthly fees, free access to thousands of ATMs nationwide, and no fees for ATMs outside the network, up to $15.
The account also offers online bill pay, the first order of checks free, and cash-back on debit card purchases at certain participating retailers. You can also send money to friends through the mobile app.
The savings account currently offers 1.5% interest if you maintain a $100 minimum balance. It is also fee-free. The CDs provide flexibility and incur no maintenance fees.
What Bank5 Is Best For
Bill pay.
Cash-back debit cards.
Peer-to-peer payments.
14. MoneyLion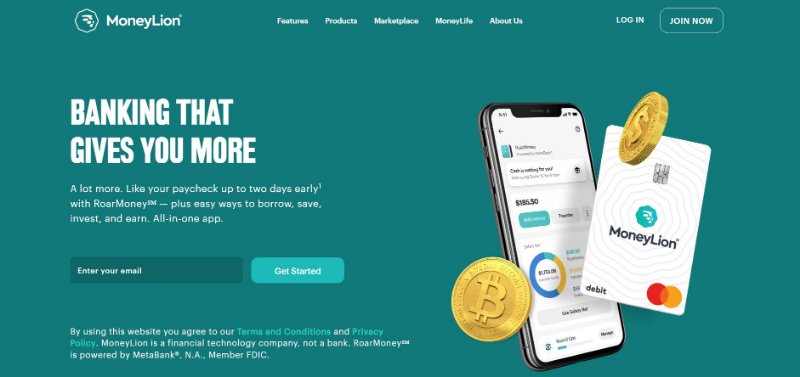 MoneyLion is a financial technology company, not a bank. It provides a personal finance digital app with accounts through its partner MetaBank. It also provides an instant $250 interest-free loan with no credit check for those with linked bank accounts. It has a credit builder loan program.
The checking account is called RoarMoney. It rounds up purchases and deposits the money into your linked Investment Account.
It has no stop payment fees or ATM fees at Allpoint locations. It also has no minimum balance requirement or fees. One unique benefit is its price protection, which will give you up to $250 back if you find a product you previously bought selling for a lower price within 90 days. You can access up to $250 back up to four times a year.
The investment account offers personal portfolios, zero fees, and no minimum balance requirements. You can choose themed portfolios based on interests such as sustainability.
What MoneyLion is Best For
Instant loans.
Price protection.
Rounding up debit card payments to an investment account.
Ability to choose themed portfolios.
See Related: Best E-Trade Alternatives | Similar Sites & Apps
15. Barclays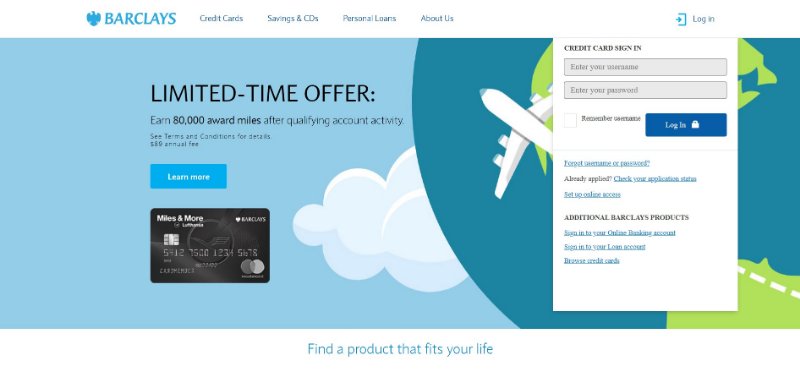 Barclays' online banking business is headquartered in Delaware. The company offers a high-yield online savings account and an online CD.
The online savings account currently has an annual interest rate of 2%. Like most online savings accounts, it offers no minimum balance requirement or fees.
Deposit options are direct deposit, transfers from other banking accounts, remote deposit, and mail. Withdrawals require a transfer to another bank account.
CDs are offered for periods of 12 to 60 months. Although they are generally fee-free, the bank charges an early withdrawal fee.
What Barclays is Good For
High-yield savings accounts.
A wide array of CDs.
Name recognition.
Are Online or Digital Banks A Good Choice?
Online banks are safe, economical choices. They provide easy account management because of their technology and 24-hour-a-day availability. They also typically offer high annual yields on accounts. Going completely online or mobile can be very convenient.
For the most part, online banks are not good choices for those who require the personal interaction they receive from a teller. Online banks sometimes have fewer products or services than traditional banks, although that isn't universally true.
Choosing an Online Bank
The number of online bank choices may seem overwhelming. Most offer a fee-free experience regardless of minimum balance, although a few require small balances. They offer the convenience of a mobile banking app, and some provide online banking via your computer.
Many online bank choices also offer the opportunity to transfer money to friends. All provide direct deposit, and most also offer remote deposit. Some offer the opportunity to deposit cash at retail stores, while others limit deposits to electronic and mail transactions.
Almost all offer higher yields on savings accounts than you would find at traditional banks. Many also provide interest-earning checking accounts and debit cards with cash-back options. Some also offer to round up debit card purchases and automatically deposit the extra in a savings or investment account.
When choosing an online bank for a checking or savings account, first check whether the Federal Depositors Insurance Corporation insures your money and, if so, to what amount. The FDIC was created in 1933 after the Great Depression when more than 9,000 banks failed.
It protects your money in the event of bank failure. FDIC does not protect investments, however.
Second, check the institution's history. Has the bank been around for a while? If the bank hasn't been around, has its parent fintech company operated for a while?
A bank that offers fee-free ATMs at various locations will also provide the best value. If the bank doesn't offer fee-free ATMs, check if it reimburses fees paid at out-of-network ATMs.
Another option to consider is the bank's online or mobile system security. Does it require two-factor authentication, for example? Also, does it provide alerts when transactions are made?
Consider whether you'll need paper checks, and, if you do, are they available, and what does the bank require to issue them? Consider how you receive your deposit money and whether the bank will easily accommodate that.
Finally, no matter how good the bank's app or the technology behind the website, technical glitches will almost always occur. You may have difficulty using the site or app at some point.
When you do, connecting with a live person by phone or online chat will be important. When deciding which online bank you'll use, consider how difficult it might be to reach a customer service representative if you have to.
Ultimately, the best online banking choice depends on your needs. For example;
If you have trouble budgeting your money, consider One or Revolut because the app has budgeting features.
If you need to rebuild your credit, Chime, Go2Bank, Varo, or MoneyLion might be good options because they offer credit builder loans or credit cards.
If investment options are essential to you, choose one of the banks providing investment services, such as MoneyLion, Ally, or Axos.
If environmental friendliness is important to you, Aspiration is a good choice.
Final Thoughts
Monthly fees, overdraft fees, and minimum balance requirements at big traditional banks are still common. Few traditional banks offer free checking, especially for customers with small balances. Even fewer offer interest-earning checking or high-yield savings accounts. Mobile and online banks offer these services.
Previously, mobile and online banks offered fewer services other than savings and checking accounts. However, that is changing.
Many digital banks offer self-directed investment offerings, loans, budgeting, and personal finance help. Many also offer credit cards, money market accounts, and CDs.
Previously, those who preferred digital banks had few choices. However, now the options are diverse and wide-reaching. With all the choices and distinctive offerings, digital banks offer something for just about everyone.
Related Resources