When you're trying to save money, a checking account is something of a saving grace. It's a place where you can store your hard-earned cash, keep track of your spending habits, and ensure no one steals your money.
Unfortunately, not all banks are created equal when looking for the best bank for low-income earners. Some charge high fees for basic services like ATM withdrawals or printing out checks, while others offer things like a cashback debit account and no out-of-network ATM fees.
That said, if you're on a tight budget or want to keep costs low while still getting everything else an online bank provides—like free bill pay—then it pays to search around for an affordable account that fits all your needs.
To help with this process, we've created a list of the best banks for low-income earners.
Best-Of by Category
Best Banks for Low-Income Earners
1. Aspiration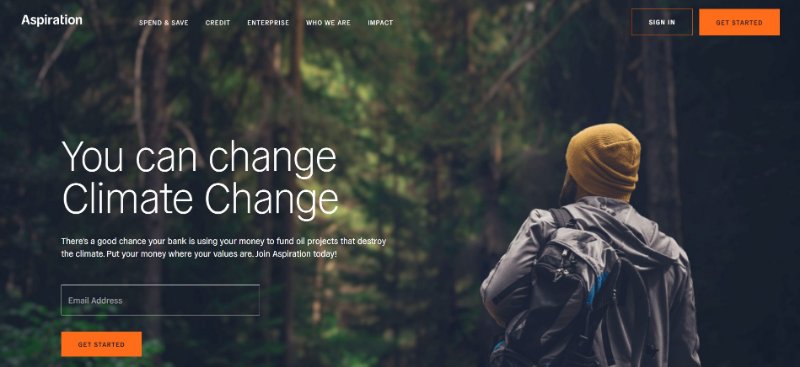 Aspiration is a digital bank with no monthly fees that offers a savings account with an APY (annual percentage yield) of 3.00%. With their Aspiration Plus plan, the APY can get up to 5.00%. Customers enrolled in Aspiration Plus may receive one out-of-network ATM fee reimbursement per month.
With an initial qualifying direct deposit of $10, both of these bank accounts are options. Aspiration is also an excellent choice for people who want to invest, as it allows you to open an IRA or Roth IRA with no minimum balance requirement and low fees.
In an ideal situation, you won't need to access your IRA money until you hit the minimum age of 59 ½. With that said, if you find yourself in a tough spot financially, you can access your money with a 10% penalty for early withdrawal, plus other federal and state taxes that are due.
Aspiration has no overdraft fees, which means that if you try to make a purchase and don't have enough money in your account, they will decline the transaction rather than charge any extra charges. Aspiration encourages customers to regularly check their balances on the mobile app or online to avoid fund availability issues.
This differs from some other banks where they may charge an NSF fee of anywhere between $35-$100 per overdraft transaction, depending on how much money was involved in the first place. Like what you are hearing? Read our full Aspiration Review.
See Related: Best Chime Bank Alternatives
2. Varo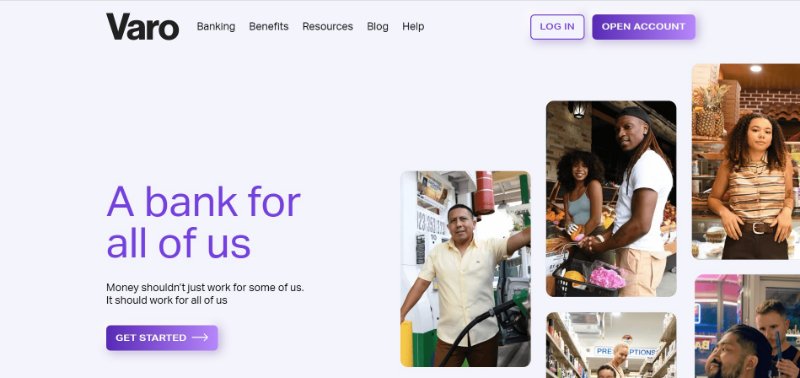 One of the best things about Varo is that you don't have to worry about minimum balances, monthly direct deposits, or monthly maintenance fees. They also have no overdraft fees and no foreign transaction fees.
This is a huge deal for lower-income earners looking for a checking account because these savings and checking accounts often come with minimum account balances and/or monthly fees, which can seriously eat into your income if you're struggling to make ends meet.
Varo has lots of benefits, including free ATM access at 55,000+ Allpoint ATMs nationwide, free online banking and bill pay, 24/7 live customer service, and a mobile banking app available for download (and they don't charge any additional fees).
See Related: Most Unethical Banks You Need to Avoid
3. Ally Bank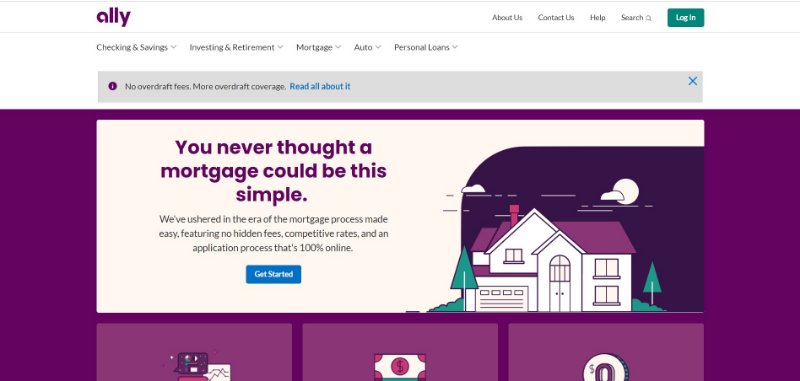 Ally Bank is a good choice for people who want a checking account with no fees. Ally Bank has no overdraft fees, monthly maintenance fees, or minimum balance requirements.
There is also no minimum daily balance required to maintain the account. You can even earn interest on your cash deposits if you open an online savings account and make automatic transfers into it each month.
Ally Bank also provides mobile check deposits with their mobile app. Use any Allpoint ATM in the U.S. for free, and Ally Bank reimburses up to $10 per statement cycle for fees charged at any other out-of-network ATM nationwide.
For those interested, Ally Bank also offers a Money Market Account. These differ from your traditional checking and savings accounts, so you'll want to research the differences before signing up.
See Related: Best Socially Responsible Banks
4. Chime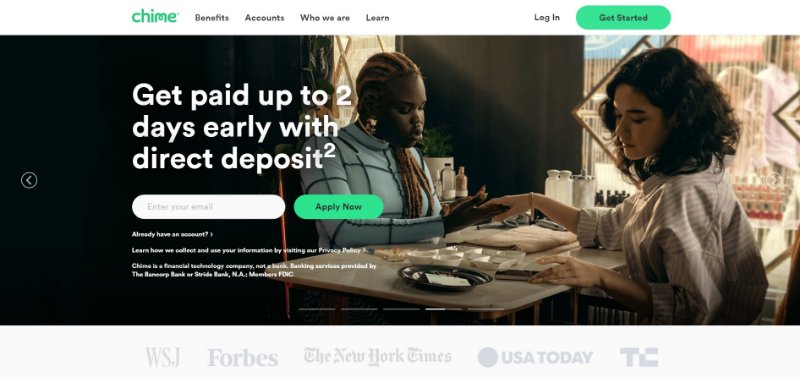 Chime is a no-fee checking account that offers direct deposit, a debit card, and a rewards program. You can open an account with Chime in minutes through the mobile app (available on iOS and Android devices) or online—the process is simple, fast, and straightforward.
The bank has no minimum balance requirement, monthly or overdraft fees. It also doesn't charge you to make ATM withdrawals at any of its 60,000 fee-free ATMs. For an out-of-network ATM, you'll be charged $1 to $3 per withdrawal, depending on where you withdraw.
Chime offers both personal checking accounts as well as business checking accounts for companies looking for more robust options than what traditional banks offer them today.
See Related: Reasons Why Ethical Banking is Important
5. Axos Bank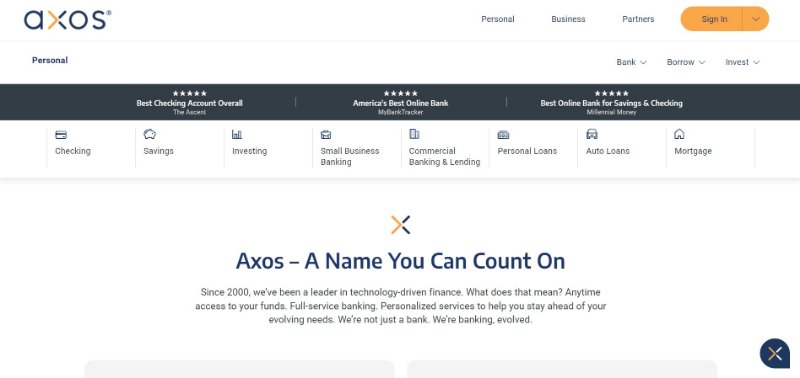 Axos Bank is a digital bank that provides low-cost banking services through its FDIC-insured Axos Savings Account. The account has no monthly fees and no minimum balance requirements. If you're looking for a high interest rate on your savings, this may be your account.
Axos' Essential Checking, Rewards Checking, and CashBack Checking customers also receive unlimited reimbursements for all domestic ATM fees.
If you often make debit card purchases at retailers like Target and Walmart, you might get cash-back rewards on those purchases with a rewards checking account from Axos.
In addition, if a non-sufficient funds fee (NSF fee) is something you are concerned about, Axos has eliminated these fees. These are some of the best checking accounts around.
The standard interest rate on the Axos Savings Account is up to 0.61% APY. Grow your savings faster with interest compounded daily. No monthly maintenance fees. No minimum balance requirements. Plus a free ATM card upon request.
See Related: Axos Invest Review: Is It a Good ESG Option?
6. Capital One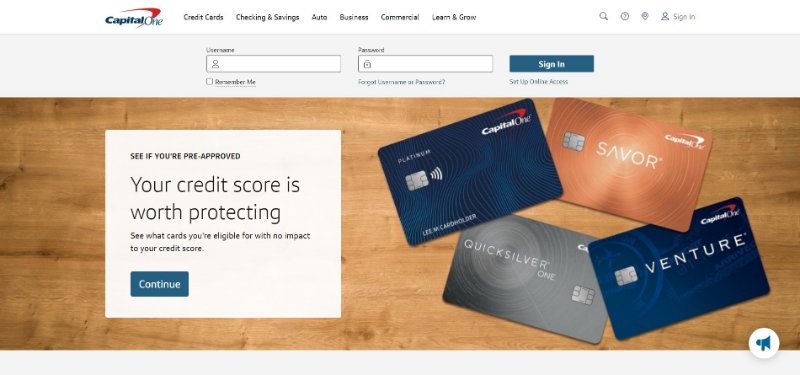 If you're looking for a checking account with no minimum balance and no monthly maintenance fee, the Capital One 360 Checking Account is the way to go.
The bank offers its customers free online and mobile banking services, free checks, mobile check deposit (which allows you to scan checks directly from your phone), bill pay service, no out-of-network ATM fees, and access to 70,000+ ATMs nationwide.
Also, beginning in 2022, the Capital One 360 Checking account will charge no overdraft fees or non-sufficient funds fees. Also, with your linked savings account, they offer Free Savings Transfer overdraft protection.
The Capital One 360 Performance Savings Account has an APY of 1.90%, no monthly maintenance fee, no monthly service fee, and no minimum daily balance. There's no minimum to open & keep your high-yield online savings account.
See Related: Best Ethical & Sustainable HSA Accounts
7. Revolut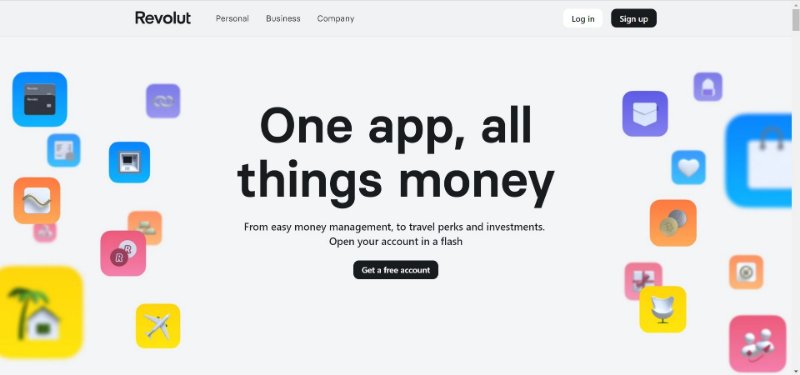 Revolut is a digital online bank that offers its services to customers in the European Economic Area (EEA), Australia, Singapore, Switzerland, Japan, the United Kingdom, and the United States. You can use it to send money, make payments, and exchange currencies at the interbank exchange rate.
If you travel frequently and need to keep your money in different currencies, Revolut is a good option. If you're not sure about using it for your main bank account yet but want to see how it works, start by opening a personal current account with them first.
Then, if things don't go well or if they aren't what you expected (or if they're even better!), move some cash into their savings account or invest with them via their stocks & shares ISA product.
See Related: Solar for Low-Income Households: Financing Options
8. Alliant Credit Union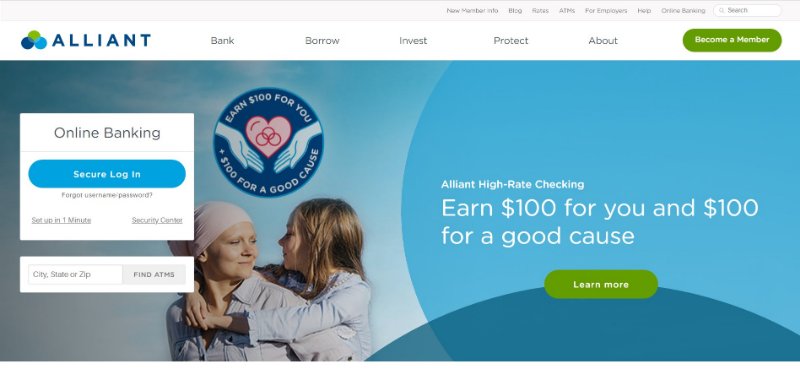 The Alliant Credit Union High-Rate Checking Account is a good choice for people who want to keep their balances and fees low. This account does not charge monthly service fees, ATM withdrawals, or mobile deposit fees. You'll also get free checks, online banking, and bill pay services with this account.
The Alliant Credit Union has three savings accounts: High-Rate Savings, Kids Savings Accounts, and Supplemental Savings. With their High-Rate Savings Account, there is no monthly fee is you elect eStatements.
Otherwise, they may charge account fees and a paper statement fee. With these accounts, customers have access to thousands of fee-free ATMs nationwide.
See Related: Neobank vs Digital Bank: What's the Difference?
9. Financial Resources Federal Credit Union
The FRFCU offers six different types of checking accounts. Their most basic, free online checking account comes with a free debit card, free foreign ATM usage, free access to over 55,000 Allpoint network ATMs, free online banking with bill pay, free mobile banking, free e-statements with online check images, free personalized checks, overdraft fee protection, no monthly maintenance fee, and no minimum daily balance. This is one of the best free checking accounts.
Financial Resources Federal Credit Union Free Checking Account allows you to use your debit card at any ATM nationwide without incurring additional charges on non-FRFCU ATMs.
Financial Resources charges may apply for using another financial institution's or ATM operator's ATMs for accounts opened before July 18, 2016.
Additionally, other financial institutions and/or ATM operators may charge for using their ATMs. You can access this account through online banking or mobile banking, which allows you to view balances and make transfers on the go—perfect for anyone who wants more convenience in their financial life!
The Financial Resources Federal Credit Union also has three savings accounts: Regular Savings, Youth Savings, and Simple Club Savings. Each has a minimum daily balance requirement of $10, $5, and $0, respectively.
There are no monthly maintenance fees with these accounts. They offer free online banking, mobile banking with mobile check deposits, and unlimited deposits and transfers.
See Related: Best Credit Builder Loans
10. SoFi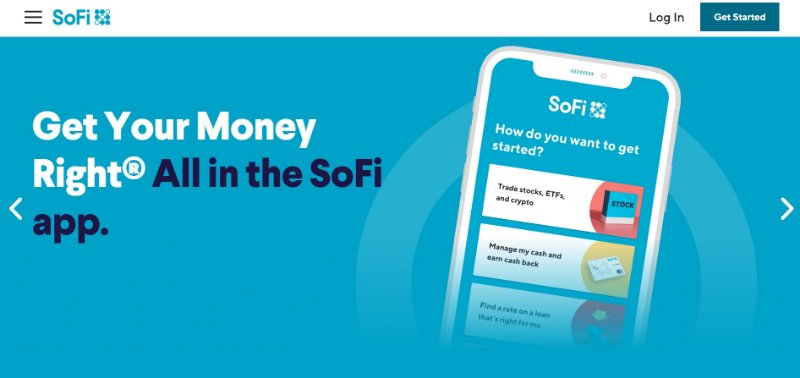 If you're looking for an account to earn interest, spend, and save all in one place, you may want to consider opening a checking and savings account, such as SoFi Checking and Savings.
With SoFi Checking and Savings, you can separate your savings from your spending while earning competitive interest on all your money. Plus, you won't pay any account fees and will have access to 55,000+ fee-free ATMs worldwide.
SoFi also offers a number of different financial services and loan options: Student Loan Refinancing, Private Student Loans, Personal Loans, Mortgage Loans, and Auto Loan Refinancing. In addition, SoFi has a variety of different investment options available to customers as well.
See Related: Best Auto Loans for Tesla
What Are No-Fee Checking Accounts?
A no-fee checking account is a checking account that does not charge monthly fees. These accounts are usually offered by online banks and credit unions, although some major brick-and-mortar banks have followed suit in recent years.
No-fee checking accounts are a good option for people who don't want to pay monthly fees on their checking accounts, particularly if the alternative is paying for overdraft protection.
There are other benefits of using a no-fee checking account instead of a traditional one:
No minimum balance requirement
No monthly maintenance fee
No minimum deposit each month
No fees for using your debit card to make purchases (or a limited number of purchases)
No fees for depositing checks via mobile app or online bill pay
See Related: Best Investments for Low-Income Earners
Alternatives to Big Banks
Credit Unions
Credit unions are not-for-profit financial institutions. They are member-owned, and their earnings are returned to members through lower interest rates, lower fees, and better service.
Most credit unions offer a variety of services to their customers at low or no cost, including checking accounts and debit cards.
However, if you have a poor credit rating or have been turned down by other banks in the past—credit unions may not be able to help you either.
See Related: Are Personal Loans Bad? Here's What You Should Know
Online Banking
Online banking is a convenient, safe, and easy way to manage your finances. It's also usually free, and you can do it from anywhere. Online banking has some advantages over traditional in-person banking:
Convenience—you can access your accounts 24/7, so long as you have an internet connection. You won't have to wait until business hours or drive across town to get money from the ATM or make a deposit.
Security—online transactions are generally safer than cash because they use encryption technology that protects personal information from theft or tampering by unauthorized parties. This is especially important if using an unsecured network like public WiFi at a coffee shop!
Flexibility—online banks often offer additional conveniences like remote check deposit capabilities through mobile devices (e.g., smartphone apps) and payment alerts via text message (in addition to email). These features allow users more control over their finances without physically visiting their bank every day or week.
See Related: Best Investments for Young Adults
Neobanking
Neobanking is a relatively new form of banking, and it's gaining popularity as more people look for ways to make their financial lives easier. In many ways, neobanking resembles traditional banking: you open an account online and deposit money into it.
But unlike traditional brick-and-mortar banks with physical locations throughout the country, most neobanks are digital-only—you won't find them on your corner or in your neighborhood.
So, if you are someone who likes official bank checks or to deposit cash, these may not work for you. Many neobanking account holders combine deposit accounts and transfer money between them.
Neobanks provide a number of benefits over a traditional financial institution, including lower fees and higher interest rates on savings accounts (although these benefits may vary depending on which bank you choose).
They also offer other perks like mobile check deposits, 24/7 customer service via phone or email, balance alerts via text message when you're close to reaching your spending limit for an account (for example), free bill pay services for employees who work at companies that don't offer direct deposit options themselves—and more!
Current examples of neobanks include Chime, Aspiration, Varo, and Revolut.
See Related: Best Neobanks in the World
Final Thoughts
The good news is that there are many banking options for low-income earners to find something that meets their needs without costing them an arm and a leg.
No matter what your financial situation looks like, plenty of banks will help you save money while not sacrificing quality services. We hope this article has helped you understand how to choose the best bank for your needs.
Related Resources
Kyle Kroeger, esteemed Purdue University alum and accomplished finance professional, brings a decade of invaluable experience from diverse finance roles in both small and large firms. An astute investor himself, Kyle adeptly navigates the spheres of corporate and client-side finance, always guiding with a principal investor's sharp acumen.
Hailing from a lineage of industrious Midwestern entrepreneurs and creatives, his business instincts are deeply ingrained. This background fuels his entrepreneurial spirit and underpins his commitment to responsible investment. As the Founder and Owner of The Impact Investor, Kyle fervently advocates for increased awareness of ethically invested funds, empowering individuals to make judicious investment decisions.
Striving to marry financial prudence with positive societal impact, Kyle imparts practical strategies for saving and investing, underlined by a robust ethos of conscientious capitalism. His ambition transcends personal gain, aiming instead to spark transformative global change through the power of responsible investment.
When not immersed in the world of finance, he's continually captivated by the cultural richness of new cities, relishing the opportunity to learn from diverse societies. This passion for travel is eloquently documented on his site, ViaTravelers.com, where you can delve into his unique experiences via his author profile.