Are you considering investing in the climate change economy but feel like you need more information? Here is a list of the best climate change stocks that won't disappoint.
It's no longer a secret that climate change is real. And, its implications on the planet are also devastating. That's why everyone, including individuals, companies, and governments, is doing all they can to combat it.
Efforts to turn the wheels around on climate change have seen even the investors focus more on companies that promise a greener future. For instance, numerous companies, which support clean energy, have become an attraction for many investors.
Unlock Sustainable Investing Opportunities 🌿
Join the green revolution by investing sustainably with our top partners. Discover platforms that align with your values and offer remarkable opportunities for growth.
Subsequently, green stocks have since become quite popular among eco-conscious investors. However, even as the global economy turns green, you cannot go throwing your money at any company.
You have to identify companies that promise a good return on your investment. That's why we've gone out of our way to help you identify the best companies to invest in. Here is a list of the best climate change stocks that will not only allow you to meet your environmental conservation goal but also your financial growth goals.
It's worth noting that the solar subsector produces some of the best climate change stocks for investors.
Best Climate Change Stocks
1. NextEra Energy
NextEra Energy is the biggest generator of wind and solar power in the world. Its power plants are based in Florida. But it also runs other power resource segments. NextEra trades under PPAs and also sells to end-users.
Subsequently, having seen continuous growth over the years, the company's shareholder value track record is undoubtedly impressive. NextEra earned the Aristocrat Distinction by raising its annual dividend rate for more than 25 consecutive years.
Based on its steady investment in climate change, the company projects an even brighter future, which is certainly, what investors look for. The company's continuous growth puts its stock right at the top of the best green stocks list globally.
See Related: Ethical Dividend Stocks to Invest in Today
2. Enphase Energy
Enphase is an energy technology company whose signature specialty is the unification of power generation, storage, control, and communication functions.
This is piloted by its semiconductor-based microinverter, which converts energy without a stand-alone inverter. This seamlessness avails the customer of advanced monitoring and control.
Interestingly, in late October 2021, it launched the all-in-one Enphase Energy System with IQ8TM solar microinverters for its North American market. IQ8 is able to create a microgrid during an electric blackout by the utilization of sunlight alone.
The company asserts that it possesses the most innovative microinverter in the world. And there's certainly some truth in this. The company has shipped millions of solar microinverters, mainly to the European, Australian, and North American markets.
With its experience in the field, its high revenue, and the continued need for a greener planet, you can almost be certain that its stocks will continue to fetch more money for investors.
See Related: How to Handle a Tesla Power Outage
3. Brookfield Renewable Partners
Brookfield Renewable is a world leader in green energy. It's one of the biggest providers of hydroelectric energy, which has proven to be a great substitute for fossil fuels.
On top of hydropower, Brookfield also has wind farms, adding wind power and storage credentials to its name. It sells a larger proportion of its power under long-term PPAs, and the remainder to end-users, hence netting consistent income.
Since its founding, its yearly returns have continued to grow, creating an impressive track record. Furthermore, its acquisitions and progressive projects have been the bedrock of its steady portfolio expansion.
In the future, favorable factors such as growing energy rates and infrastructure modernization are likely to facilitate yearly cash flow boosts that will be a great plus for investors
See Related: Best ESG Funds to Invest in Today
4. First Solar
First Solar is a US solar company, which manufactures economically efficient solar panels. It has taken the fight against global warming a notch higher by producing panels lower in carbon and silicon content. Its ultrathin but powerful photovoltaic (PV) panels are truly representative of the future of solar technologies.
Among climate change energy stocks, First Solar has made a huge leap, securing one of the top positions among its competitors. Additionally, its prospects have been brightened further by the soaring demand for its cadmium telluride technology.
The company has designed, engineered, and constructed some of the world's largest PV power plants. And, its vast experience is an added advantage to securing the investors a profitable future. With solar power becoming preferred to many other sources of energy, the future looks even greener for the company.
See Related: How Much is a Wind Turbine? Here's What to Know
5. SolarEdge Technologies Inc.
Founded in 2006, SolarEdge is an indisputable climate change market leader in the solar inverter market. It designs, makes, and sells solar system conductors.
Among its products are SolarEdge Monitoring Software SolarEdge Inverter, SolarEdge Power Optimizer, and StorEdge Solutions. These products have seen the company's stock value rise over the years, something that is projected to continue in the future.
With the number of US households using SolarEdge inverters rising by the day, the company's revenue potential remains a sure hit. Furthermore, its launch of "SolarEdge Home" in North America will further solidify its market foothold.
With that hindsight, there should be no doubt about SolarEdge Technologies having among the best climate change stocks globally. Its upward stock trajectory easily makes it the ideal choice for climate change stock investment.
See Related: Best Green Companies in the World
6. Sunrun
Sunrun specializes in domestic solar. It designs, produces, installs, sells, and offers maintenance of domestic solar energy equipment in the US. Additionally, the company is a renowned producer of battery storage systems.
According to Sunrun's own press release, its customer base continues to expand with each passing day. And, so does its net annual turnover. Sunrun is indeed a lucrative climate change stock investment alternative for you.
Interestingly, Sunrun's move to collaborate with SPAN is certainly a big one that guarantees mutual growth. Just a curt introduction, SPAN is the company that made the solar panel compact enough for home use. They also trail-blazed the electric car revolution.
Sunrun boasts as the largest direct installer of home solar systems in the US. It formalized its complete purchase of Vivint Energy in July 2020, the second-largest solar installer, increasing its market share even more.
7. Clearway Energy
Clearway energy is one of the biggest generators of clean energy in the US, offering investors some of the best climate change stocks. Besides its wind and solar portfolio, it runs highly profitable natural gas plants and regional power assets. Just like Brookfield, Clearway trades its energy through PPAs, ensuring a stable income flow.
Since its establishment, it has enormously grown its market reputation and market share, making it a great choice for lucrative climate change stocks.
It's crucial to note that Clearway ceded control to the private equity company Global Infrastructure Partners, a move that more than doubled its annual income. Additionally, that partnership came with numerous investment opportunities.
The firm predicts steady growth of its portfolio, income, and dividend. It's eyeing a future of annual dividend increase without compromising on its financial profile.
See Related: How to Invest in Hydrogen (Step-By-Step Guide)
8. Canadian Solar, Inc.
Canadian Solar, Inc. is known for designing, making, and selling solar panels. And it runs massive solar projects globally.
The company has numerous subsidiaries in almost every continent, making it one of the most successful green energy companies globally.
This publicly-traded company pocketed around $64 million from the sale of its Yamaguchi Prefecture plant in Japan. And, because it had secured ownership of the land, the company reported that it would benefit from rent alongside maintenance fees from the plant.
If you are looking for the best climate change stocks, Canadian Solar certainly offers an excellent choice.
See Related: Solar Farm Income Per Acre: How Much Can You Earn?
9. Ballard Power Systems Inc.
This is another company whose products aim at hitting the net-zero emissions mark for a better environment. It designs and manufactures PEM (proton exchange membrane) fuel cell products for various markets, including heavy-duty motive, material handling, engineering, and portable power services.
And, while its stocks have not been doing so well in the recent past, Ballard is one of the companies that shows great potential for growth.
As many analysts put it, Ballard's stocks are currently excellent stocks for holding.
See Related: Best Electric Vehicle Charging Station Stocks
The Pros and Cons of Investing in Climate Change Stocks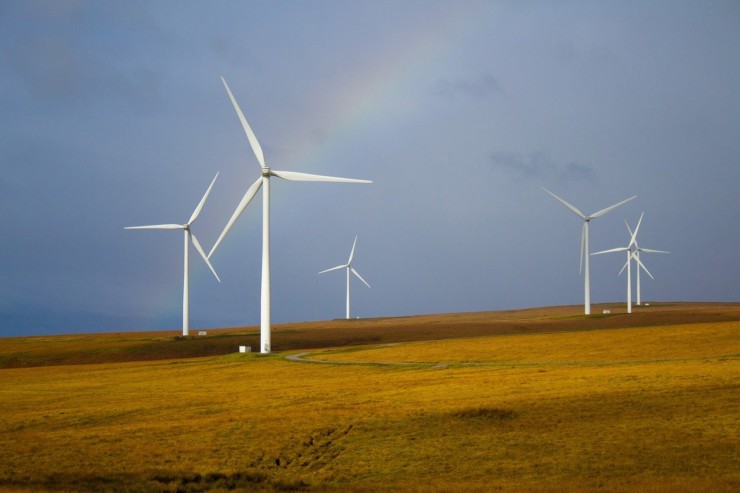 Are climate change stocks a good investment, or are they a risky gamble? Is there a solid assurance of return on investment? Is the gain worth the capital outlay? I have tackled these and other persistent questions in this objective analysis of the pros and cons of this type of investment.
Pros
Let's take a quick look at the advantages of investing in sustainable stocks. Shall we?
It is Sustainable
There is no recurrent raw material cost with natural energy, apart from the one-time manufacture and installation of systems. Since it's naturally renewable, there are no supply shortages. For this reason, people, governments, as well as the global economy are getting attracted to sustainable energy.
It's Clean
Sustainable energy doesn't degrade the land as rapidly as fossil fuels (coal and oil) do, nor do they emit any greenhouse gases. It's evident that coal mining and oil drilling have caused untold environmental pollution to the air, land, and sea. This is in sharp contrast to renewable alternatives.
Causes Minimal Environmental Impact
Such energy source alternatives as oil leave a thick carbon footprint from the production to the consumption stages. Climate change energy sources, on the other hand, are safe and relatively cheaper to harvest and store. The environmental impact of manufacturing green energy, supply, and storage components cannot be comparable to the impacts of fossil fuel use.
It is Cheaper in the Long Run
The price of sustainable energy equipment is admittedly high. However, the total amount of money spent on monthly energy bills will, over the years, exceed the cost of purchasing and installing clean energy systems.
What's more, the prices are coming down by the day, but the demand is evidently soaring. So the prices still go higher.
It's Ethical
It gives you the gratification of investing in the advancement of the values that you stand for.
Cons of Investing in Green Stocks
But as with every other investment, the green economy has its unique drawbacks. Let's look at a few.
Interrupted Energy Supply
Windmills mills grind to a halt on a calm day. Solar battery controllers blink and die off on cloudy days. If the storage batteries lack the capacity to supply power for prolonged periods, a power outage surely throws households and businesses into darkness.
It Produces Hazardous Waste
Most governments have not yet formulated or instituted elaborate natural energy equipment disposal policies. Even manufacturers and vendors fail to instruct you on how to dispose of your old battery or solar panel.
You usually are not aware of which components are recyclable and which ones are disposable. And as long as the metals and plastics lie in the ground, they are a sure source of pollution.
Will Require Too Much Space
Your roof-top solar panel is not inconveniencing anyone for now. But think of numerous massive panels out in the field or the large offshore wind farms designed to generate electricity for hundreds, perhaps thousands of homes, businesses, and factories. They tend to occupy enormous pieces of land, which could have been used in a more productive way.
Where to Buy Climate Change Stocks
Now you know about the best performing climate change stocks. You are also aware of the merits and demerits of this kind of investment.
Next, it's time to check out the best places to find authentic advice and actual investment options.
1. Betterment
Betterment is a reputable investment robo advisor. Besides your chosen ventures, it gives you the freedom to choose from selected exchange-traded funds. However, it retains the role of choosing your climate change investment alternatives on your behalf.
Additionally, it won't allow you to turn your entire portfolio into climate change. Instead, it will determine the least feasible of your current assets and trade them with climate change replacements of its choice.
Like what you are hearing? Read our review of Betterment's SRI options.
2. Motif
Motif examines companies' carbon footprints and then offers you a prepared-themed investment portfolio. However, it also allows you to build your own portfolio from scratch by choosing which companies to invest in.
With a hierarchical list of businesses' environmental impact figures, you acquire adequate information to make profitable and yet environmentally-sustainable investment choices.
3. EarthFolio
EarthFolio is another climate change investment Robo advisor. It asks you leading questions regarding your investment and sustainability objectives. Your capital is managed by a registered investment advisor known as Blue Marble Investments, while TD Ameritrade holds the funds.
Though they charge a fee a little higher than most market players, it is still lower than the cost of venturing into climate change investment mutual funds directly. Like what you are hearing? Read our full Earthfolio Review.
See Related: Best Portable Solar Panels for Home
4. Your Stock Agent
Most brokers deal in the traditional bonds and securities sector. However, they may be having a climate change portfolio too. Alternatively, they may refer you to the best player in the sustainable investment subsector.
So, talk to your current traditional investment agent first. You may as well save a few administrative bucks by dealing with an all-in-one broker. Besides, you already enjoy an established relationship and trust with them. Also, check into the Environment, Social, and Governance department on a stock screener for befitting investment opportunities.
Additional Climate Change Investment Opportunities
Apart from the opportunities listed above, you can also buy ETFs that trace global indices, such as:
S&P Global Clean Energy Index, which comprises a group of renewable energy stocks from all over the world.
The Nasdaq Clean Edge Green Energy Index, whose member companies, including Tesla, are publicly traded in the US market.
How to Invest in Climate Change Stocks
The world is going green. And so will the economy. Therefore, investment opportunities abound. But are these opportunities for everyone?
Below are some points to ponder while you get into this promising enterprise.
Only invest what you know you may lose; technology is volatile.
Diversify your portfolio; divest in alternative market products as well.
Strike a balance between sustainability and profit objectives; be clear about your motivation for investing in the climate change business.
Do due diligence; carry out online research on actual company performance. Visit websites such as Real Impact, FossilFuelFunds, and Morningstar for accurate statistics.
Above all else, investing in the best climate change stocks is equal to saving the planet. Yes, you will truly be following the money, at the same time putting your much-needed effort into the reduction of carbon emissions.
What are Hedge Funds?
In a nutshell, hedge funds refer to money pooled, managed, and invested in extraordinary ventures and assets, with the objective of making more profit than is available in normal exchange-traded funds (ETFs) and stocks such as mutual funds and securities.
These choices are, however, considered to be riskier than the traditional investment options. The funds are managed by a Fund Manager, also referred to as Portfolio Manager. He makes all the decisions regarding investment choices and methods on behalf of the investors. And his compensation comes from hedge funds and profits.
These funds come from Accredited Investors. These are investors who have permission to trade in securities that are not strictly regulated by the Securities and Exchange Commission (SEC). An accredited investor must comply with at least one of the following requirements:
The person, spouse, or collectively must have a net worth of more than $1 million.
The person, spouse, or collectively must have made more than $200,000 for each of the past two years. They must demonstrate that they will maintain these earnings in the present year.
Having grasped that, let's unveil this year's stellar publicly traded renewable energy companies that offer the best climate change stocks. This is a hierarchical list placing each company in its deserving position.
FAQs
Which stocks to buy for climate change?
Investing in stocks related to renewable energy and clean technology is a good way to support climate change efforts. These stocks include companies that produce solar panels, wind turbines, and electric vehicles. It is important to do thorough research and consult with a financial advisor before making any investment decisions.
What big companies are helping climate change?
There are several big companies that are helping to combat climate change. For example, Apple has committed to being carbon neutral by 2030 and has already achieved carbon neutrality for its operations. Amazon has pledged to be carbon neutral by 2040 and has invested in renewable energy projects. Microsoft has also committed to being carbon negative by 2030 and removing all the carbon the company has ever emitted by 2050.
What is the largest climate change ETF?
The largest climate change ETF is the iShares Global Clean Energy ETF (ICLN). This ETF invests in companies involved in the production and distribution of clean energy, including solar, wind, and hydroelectric power. As of May 15, 2023, the ICLN has over $10 billion in assets under management and holds over 100 companies in its portfolio.
Who are the biggest climate change investors?
The biggest climate change investors are individuals, organizations, and institutions that invest in companies and initiatives focused on mitigating the impact of climate change. These investors prioritize environmentally sustainable investments and often consider the long-term impact of their investments on the environment. Some of the biggest climate change investors include pension funds, sovereign wealth funds, and impact investment firms, which allocate significant resources towards environmentally sustainable investments.
Related Resources