Looking to invest in the future? Enter electric vehicles. Diversify your investment with these best electric vehicle ETFs.
Electric vehicles are one of the hottest investments of the decade, with popular companies like Tesla Inc in high demand for international investors.
Estimates say there are more than 5.6 million electric cars on the road right now, with more being sold each minute as EVs (or electric vehicles) become a mainstream sight. The market share of investment vehicle companies (like Tesla) is only expected to rise in the next couple of years.
Unlock Sustainable Investing Opportunities 🌿
Join the green revolution by investing sustainably with our top partners. Discover platforms that align with your values and offer remarkable opportunities for growth.
Clever investors have already moved their money to some of the best EV ETFs to make sure they are already invested when these companies hit even bigger milestones.
Electric vehicle stocks are reliable, steady, and better for the environment. The best electric vehicle companies reduce carbon emissions but maximize their potential investment. Right now, electric vehicles have been consistently called one of the best things that you can invest in.
Why put any of your money into so-called sin stocks when an investment with EV funds like Global X or Fidelity could have the potential to cruise so much further?
Exchange-Traded Funds, ETFs for short, allow investors a "blanket-wide" investment that dips into several companies that all trade into the same fund.
ETFs are popular right now because they carry less risk, and more potential return, than buying just single company stocks based on a prediction or gut feel.
We've put together a comprehensive list of the top EV ETFs to get you on the road to investment. The EV funds on this list are responsible, safe – and all have a proper track record of success. That's what qualifies each entry to be mentioned!
Electric vehicle stocks are the way forward, and the numbers don't argue. EV stocks have performed consistently well in the past 5 years, and it's very likely that they will continue to do well.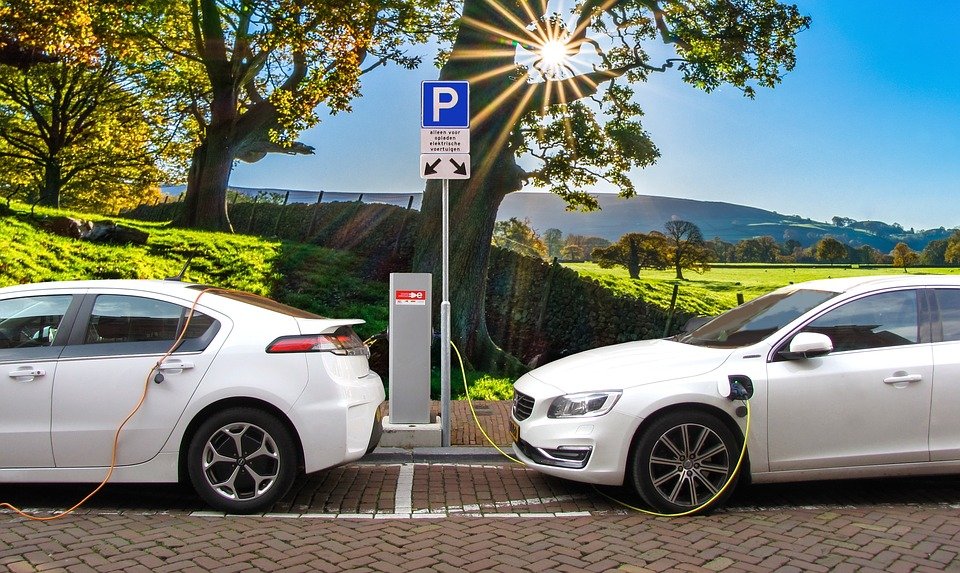 Here's a brief look at why electric vehicle ETFs are a good investment, and our guide to finding the right EV ETFs to buy today.
Best Electric Vehicle ETFs to Invest in Today
Need an electric vehicle ETF to invest in? Electric vehicle ETFs are popular right now – and their value is only expected to increase as electric vehicles become more commonplace. It's the best time to invest in ETFs Here's our EV ETFs list of the best electric vehicle ETFs to invest in today, from GlobalX to Fidelity.
1. Global X Autonomous and Electric Vehicles ETF (DRIVE)
The Global X Autonomous and Electric Vehicles ETF was first introduced to the market in 2018 and has shown consistently strong performance.
This makes it one of the oldest vehicle funds of its type, and you'll see it first on many recommendations: this is why. It seeks to invest in companies that manufacture, sell, and promote autonomous vehicles and electric cars.
Self-driving vehicle development is an essential part of this ETF: it's a winning factor that not all vehicle funds contain. For many, this is a decisive plus. Net assets of this ETF are estimated at $1.32 billion in total, with a turnover expected to be better than last year.
See Related: Best ETF Brokerage Options
2. Ideanomics NextGen Vehicles & Technology (EKAR)
The Ideanomics NextGen Vehicles &Technology ETF was first launched to the investor market in February 2018, more or less at the same time when electric vehicles really hit the mainstream market.
EKAR focuses on any next-generation vehicles – and the parts that go in them. Companies involved in the manufacturing and selling of next-gen vehicle parts (or the cars themselves) can list with EKAR – that's this specific ETF's focal point.
With a low buy-in with potentially very high returns, the Ideanomics EKAR ETF is hailed as one of the best in the next-gen vehicle market.
Whether this is your first experience with the vehicle market or you want to add to an existing portfolio, EKAR is a very common recommendation.
See Related: Best EV Charging Station Stocks
3. iShares Self-Driving and Tech ETF (IDRV)
The iShares Self-Driving and Tech ETF (IDRV) is one of the most popular ETFs right now for investors who want to dive straight into some of the biggest available companies listed on the market.
IDRV contains megalith companies like Tesla, NVIDIA Corp, Advanced Micro Devices Inc, and more. These are all trusted companies with a solid reputations – and good performance since their own individual beginnings.
The companies that make up IDRV are the "big guys" – and investors practically can't go wrong with an investment in this ETF. More than 20 large companies guarantee good, sustainable returns – and look towards the future with new technology developments. If you want to invest in brand-name electric vehicle companies, IDRV might be the ETF for you.
See Related: Best Nickel ETFs to Invest in Today
4. KraneShares Electric Vehicles and Future Mobility ETF (KARS)
KraneShares Electric Vehicles and Future Mobility ETF (KARS) was first opened to the public in 2018 and has shown almost consistent excellent performance.
KARS is a strong competitor to DRIV – and the two are very often compared side-by-side. Their focus is the same, and their individual listings are similar – though these are, frankly, two very different fund types.
The KraneShares ETF has its own benefits that set it apart. While DRIV is recommended for people who want brand names, the benefit of KARS is an investment in more diverse companies.
See Related: Best Fossil Fuel Free Funds
5. SPDR S&P Kensho Smart Mobility ETF (HAIL)
The SPDR S&P Kensho Smart Mobility ETF (HAIL) is one of the most popular electric vehicle funds at the moment: more than 20 groups makeup HAIL, of which one is the ever-popular and continuously growing Tesla.
The HAIL fund is recommended often, not just because of its high-level names but because of its high-return performance. The Smart Mobility ETF isn't just focused on autonomous driving and electric cars, but also has a focus on branching out into other forms of developing technology. This makes it a comprehensive tech ETF and a vehicle fund at the same time: perfect for a diverse investment.
See Related: Best Electric Vehicle Mutual Funds
6. Fidelity Electric Vehicles & Future Transportation Fund ETF (FDRV)
The Fidelity Electric Vehicles & Future Transportation Fund ETF was first launched in 2020, which makes it one of the newest exchange-traded funds on this list.
Fidelity launched this ETF with a press release that emphasizes its focus on clean energy and sustainable development – this makes it a perfect type of eco-investment. FDRV is not just a vehicle ETF but focuses on green transportation and the companies that help to support it.
Fidelity is a well-known fund manager, and the options in this ETF have been hand-selected by their financial experts to make sense – and earn. While the FDRV ETF is powerful, it's new.
See Related: Best Investments for Teachers to Make Today
7. Global X Lithium & Battery Tech ETF (LIT)
The Global X Lithium & Battery Tech ETF (LIT) is an exchange-traded fund that was founded with a focus on sustainable energy – and thus, this isn't just a fund filled with electric car companies, but branches out into more.
More than 25 companies make up the Lithium & Battery Tech ETF: each company performs well on its own, and as part of the ETF they all guarantee a high-performance investment.
Batteries power more than you could possibly imagine: can you imagine what powerful returns lie with their investment? Global X has performed well over the past couple of years and shows no signs of slowing down.
See Related: Similar Stocks Like Tesla (TSLA) to Invest in Today
8. Amplify Lithium & Battery Technology ETF (BATT)
Amplify Lithium & Battery Technology ETF (BATT) is an investment fund with a more broad focus than "just" electric vehicles. The companies that make up this EV and tech ETF are ones that invest in sustainable energy and batteries – thus, the parts that go together with electric vehicles and other equipment.
The investment potential of BATT is being recognized by an increasing amount of fund managers. BATT has several high-ticket battery-powered companies as part of its catalog, including Contemporary Amper, Tesla Inc, and BYD Company Ltd.
Companies within BATT have performed well – and if projections are right, will certainly continue to in the future. While BATT isn't as famous as others like DRIV just yet, don't discount it because it's new.
See Related: Best Apps for Automatic Investing in ETFs
9. Simplify Volt RoboCar Disruption and Tech ETF (VCAR)
The Simplify Volt RoboCar Disruption and Tech ETF (VCAR) is a powerful exchange-traded fund with a strong focus on the future of transportation, mainly autonomous vehicle technology.
Large companies like Netflix and Intel are part of this ETF – and investors will notice that it has a reputation for picking up "big players".
Companies that have anything to do with progressive, future technology can be found here: the focus, of course, of this ETF, is focused on electric vehicles and future sustainable transportation like autonomous vehicles. VCAR is newer than some (like DRIV) but deserves a look for its powerful holding companies.
10. Xtrackers Future Mobility ETF
The Xtrackers Future Mobility ETF is one of the newer ETFs on the list and was first launched to investors in 2019. Even though it's one of the fresher funds, it has already managed to climb to the top of fund manager recommendations. Simply said, it's a good investment – and branches out into more than 20 different companies as part of the future mobility field.
As far as a sustainable investment goes, many say that you can't go wrong with the Future Mobility ETF. The fund's assets are pretty solid and the prospects for a strong future performance look solid.
How to Buy Electric Vehicle ETFs
Before you choose an electric vehicle ETF that suits the rest of your investment portfolio, read this section of the article first.
Electric Vehicle ETFs might not be for everyone, but if they can be for you, then you might have a very smooth road ahead – who wouldn't want to say they invest in a sustainable future?
EV stocks are a type of sustainable investment. All the companies on this type of exchange-traded fund focus on their environmental responsibility and overall eco-friendliness – that is just one good reason to choose them. While it's true that there are other great investments out there, EV ETFs are likely to climb in the near future
Electric cars are the future, as fossil fuels are a declining investment for many. Here's a first look at ETFs, and more specifically, why electric vehicle funds could be a great choice for your next investment.
See Related: Best Space Travel Stocks
What's an ETF?

Exchange-traded funds (or ETFs) are a type of blanket-wide investment: your investment isn't just in one company, but instead covers several companies that all have the same core theme or subject – in this case, electric vehicles.
ETFs are a good way to spread your investment over several companies, often ones with a proven and successful track record for good returns. ETFs are open to investment from the direct public, or through a fund manager who keeps track of which funds you have invested in.
Investment in single stocks has a ton of drawbacks: when this one company does badly, an entire investment group gets kicked when it's down.
But investment in an ETF avoids this, by spreading the investment out. ETFs are more likely to be a hit. ETF investment is like trying to hit a target from a distance: with a spread-out shot, you are more likely to hit the right spots.
See Related: Best ESG ETFs to Invest In Today
How do ETFs work?
ETFs don't just put an investor's money into a single stock, but the investment gets spread out through several successful companies that all share the same idea. In this case, electric vehicles are the concept the specific funds will apply to – although there are many other ETF types.
Investment in an ETF can be done through a fund manager, but ETF investments are also open to the public. This was not the case decades ago, though today investment in an ETF is a very fast and easy process. Exchange-traded funds are one of the easiest ways to invest in the here and now.
While jumping into stock investments can get complicated fast, putting your money towards an ETF is as simple as selecting the amount and choosing your fund: from there, the individual stocks your money will go to are already selected by each fund.
That's just some of how ETFs have become popular investments right now.
Why are ETF investments great?
Exchange-traded fund investments are great because they carry high returns and much less risk. Specifically, ETF investments are also preferred because they are more accessible to everyday people (and not just fund managers or floor traders).
An ETF is diverse: instead of investing in just one, potentially risky company, ETF investment is split into several successful companies under the same group.
Exchange-traded funds are also picked because they allow investors to centralize their interest around a singular topic. For example, there are ETFs specifically for environmentally friendly investors – and then, ETFs that cover other specific topics, like investment in electric vehicles.
What's an EV ETF?
An EV ETF is a specific type of exchange-traded fund that focuses on companies in the electric vehicle sector. These exchange-traded funds contain companies that buy, sell, rent, or manufacture electric vehicle or their parts.
Let's say that someone wants to invest some of their money in a company like Tesla, but also money in similar companies that aren't Tesla: this is where they will rely on an Electric Vehicle ETF – or EV fund – to connect them to the best companies.
The best electric vehicle ETF can have high returns and low risk, plus as an investor, you know you are doing something for the environment and future.
Why invest in EV funds?
Electric Vehicle funds are a very specific choice of investment, and it's worth saying that they are not for every investor. But an increased amount of younger investors (and socially conscious older ones) are dipping into EV funds – especially now that companies like Tesla have shown that electric vehicles can be sustainable.
EV funds make a good investment first because of their high-return and low-risk model: it's almost impossible to go wrong! An EV ETF is a type of green investment. For many investors, this is a benefit that makes them more than worth buying. When you invest in an EV ETF, you are doing something good for the environment – and for your budget.
Electric vehicles have shown particularly strong performance in the past few years: at the current climate, we can certainly guess that most EV funds will continue to do well.
Again, it's a case where a potential investor cannot go wrong. If you're in the market, there are plenty of EV funds to put your money into.
How do I find the best electric vehicle stocks?
It can be difficult to find the best electric vehicle stocks, especially if you have never invested in any EV funds before. We've cut out all the hard work and put some of the best electric car ETFs to invest in today in this article.
All of the electric vehicle ETFs in the article makes a great choice for any investor: you just have to find the best one for you.
Related Resources