Environmental concerns have never been as much of a necessity as they are now, no matter the industry you are in. Everything that affects us, is affected by our changing environment.
When environmentally conscious customers want to buy an item or pay for a service, they prefer a brand with an environmental management system.
It is now public knowledge that every organization should put measures to reduce their carbon footprints.
Fortunately, there is environmental management software to make this work easier. This post will highlight some highly reputable software to help you automate that process.
Read on for more information about the best environmental software programs available.
How Does Your Business Gain from the Environmental Management System?
Implementing a functional environmental management system (EMS) has many benefits to your business. Let us quickly highlight them.
Cost Savings
By managing or reducing the waste you produce from your business operations, you spend less to dispose of them. The hauling, compliance, storage, and disposal-related costs are cut by half. You will also cut these expenses once you become carbon neutral.
Achieving International Standards
An environmental management system is not optional if you are an international trader. You have to follow the international industry standards to freely trade in the global markets. And the best way of doing it is using environmental software.
Improving Productivity
An environmental software helps you identify potential areas to improve on. These, in turn, conserve and reduce energy consumption. That will lower the production cost.
Complying to Local Standards
Environmental conservation is not just a concern of the international community. Local agencies set standards for corporate and startups that operate within their jurisdictions. You should follow them to get the license and take your products to the market.
Setting Standards
Every industry has competition. Regardless of your business size, you will have to face your competitors. So, how do you stand out? An EMS can be the only differentiating factor that gives you an edge over others.
Gaining Financial Support
Every business needs support from either stakeholders, investors, local banks, or government funds. These financial sources are only willing to commit if you provide proof of responsibility in your business operation. They like to partner with people that show environmental compliance.
Preventing Insurance Hikes
You can prevent insurance hikes for your business by having a certified EMS. Insurance companies are aware of the high costs of managing risks that come with environmental cleanup.
What Are the Best Environmental Software to Consider?
Tech giants have many intelligent software programs in the market. These programs help businesses of all sizes to reduce their environmental footprint.
You can be overwhelmed by the available options. So, we will highlight features of the best environmental compliance management software.
Intelex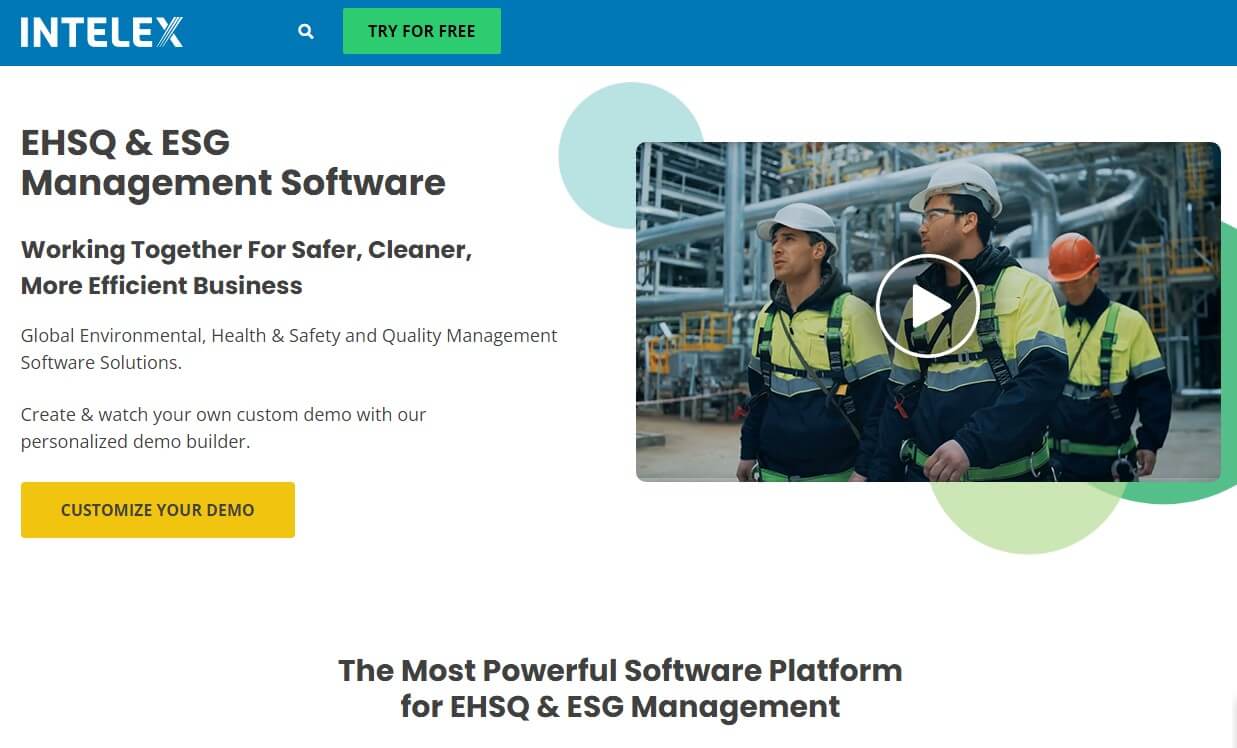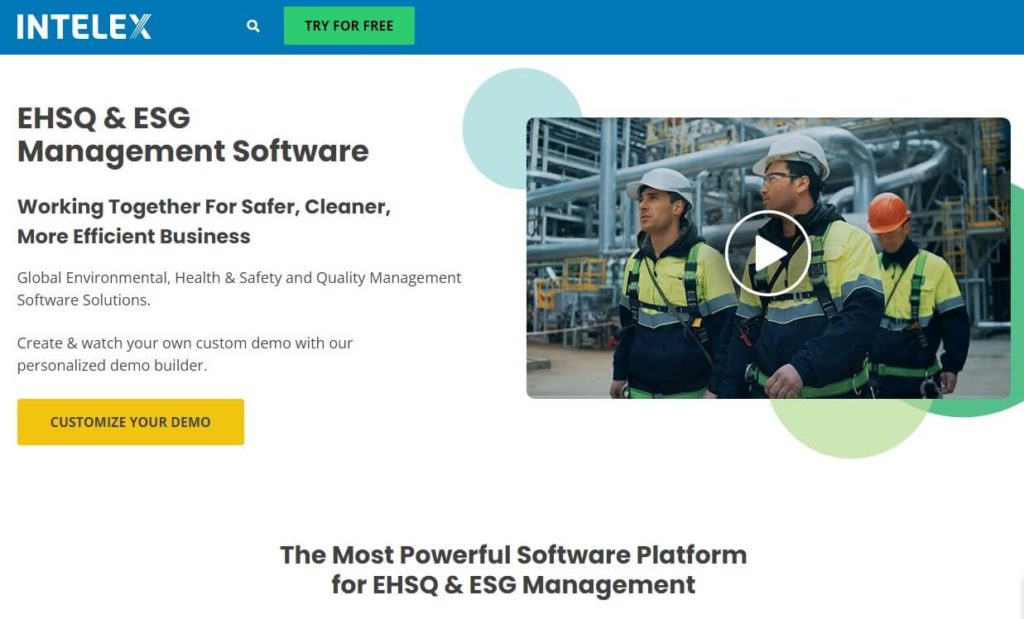 Intelex environmental software helps streamline environmental compliance and sustainability reporting across your entire organization. It is an online SaaS software solution for EMS.
Intelex technologies simplify the management of air emissions, water quality metrics, soil contamination, and hazardous waste tracking. You will easily track your environmental footprint just by signing up for Intelex.
This SaaS solution boasts the smartest reporting. You can import data in Word, Excel, or XML file formats. These meet the requirements of international regulatory reporting and safety management. And you can do that with a click of a button.
Intelex sustainability management software collects sustainability data from all your business activities. It then organizes everything in a central location. That makes it possible to view your key environmental performance indicators remotely. Tracking the progress and generating mandatory reports also becomes easy.
Merge, track, and report your organization's air, water, and waste emissions from anywhere with Intelex. It will also help you run your corporate sustainability program smoothly and effectively. In summary, Intelex is all you need for your environmental management system.
Feature summary:
Environmental Aspects and Impacts
Sustainability Performance Indicators
Compliance Assurance
Regulatory Content Gateways
Permits Management
Legal and Other Requirements
Refrigerant Management
Asset and Compliance Tracking System (ACTS)
Air Emissions Management
Water Quality Management
Waste Management
Document Control
Communications Management
Meetings Management
Root Cause Analysis
EHS Insight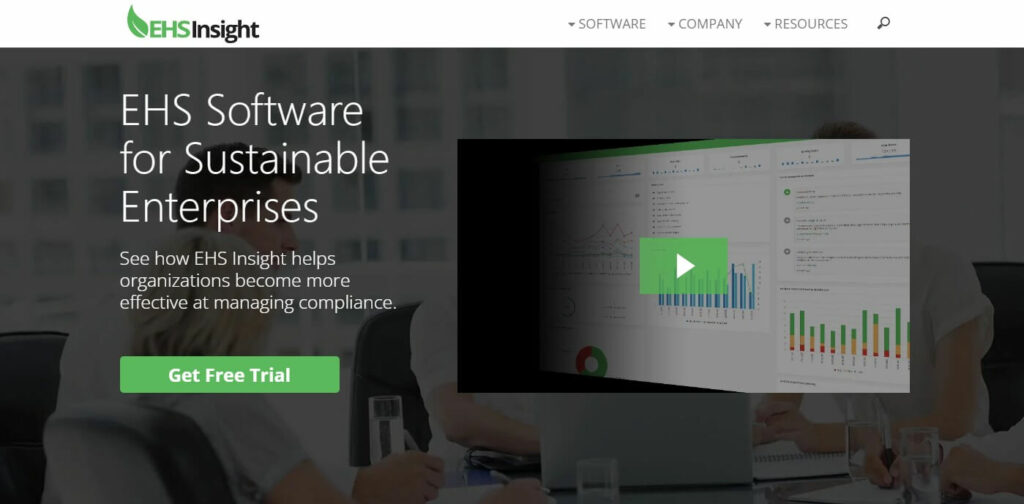 This EHS management software has everything you need to manage risk, health, safety, and sustainability. Its advantage is that you can run it offline and on any device. So, you are not locked by lack of internet connectivity.
EHS Insight has many features, making it an ultimate choice for small startups and corporate businesses. You can use it for incident, audit, training, and sustainability management.
You can report and track injuries and illnesses while complying with regulations. This environmental software ensures that you meet the least requirements of OSHA, WCB, RIDDOR, and MSHA.
EHS Insight allows you to collect data you need to measure and track your sustainability pogroms. You will use key performance indicators to determine your progress and check trends.
EHS Insight is an all-in-one platform for panning and defining your actions and tasks in advance. That will help you to comply with every regulation in your industry. Also, you can identify areas where you can put more effort to improve your environmental performance.
Feature summary:
Offline Capable App
Air, Water, and Waste Management Software
ISO 14001 Software
Secure Cloud Solution
Mobile Apps
Compliance Obligations
Employee Training Tracking & Management Software
Dashboards and Reports
Key Performance Indicators
Automatic Email Notifications
Permit Management and Compliance
Environmental Releases and Spills
Audit Management Software System
Chemical Inventory & Waste Management System Software
Highly Configurable
Enablon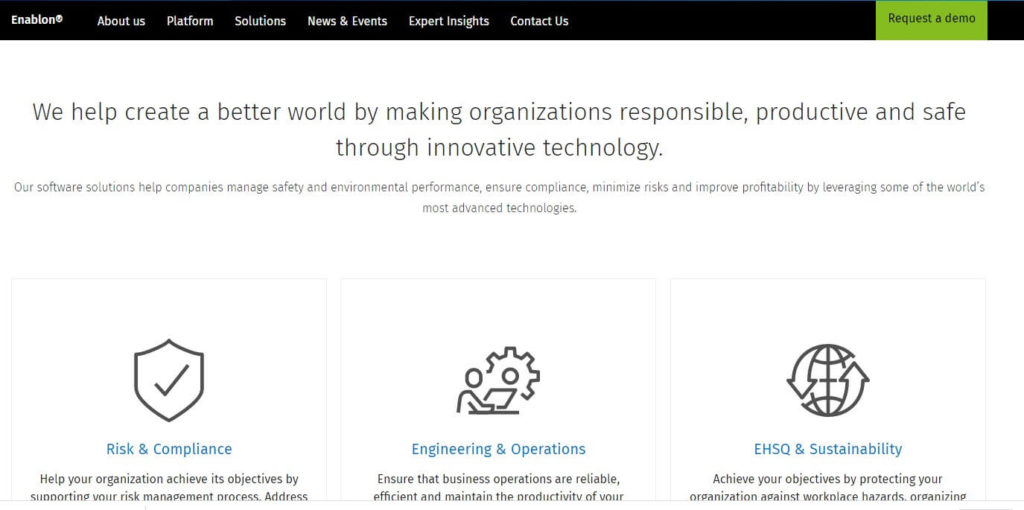 Different businesses around the world have implemented Enablon. What is evident is the versatility and adaptability of this environmental software program. You may consider it for your organization regardless of the size and industry.
Enablon creates a better business environment for your organization. And it does that by making it responsible, safe, and productive. The solution offered has the most advanced technology to ensure compliance risk management.
Enablon also ensures all business operations are reliable and efficient. You can use it to maintain the productivity of your workforce and achieve perfection. It helps you manage risks and track operational effectiveness in real-time.
This software promotes data transparency across your organization and regulatory bodies. You always provide your ESG report confidently.
Take advantage of the integrated platform to promote your corporate goals. You will still remain environmentally responsible and productive.
Feature Summary:
Reduce Environmental Impacts
Meet and Surpass ISO 14001 Requirements
Improve Environmental Performance
Mitigate Environmental Risks
Cority One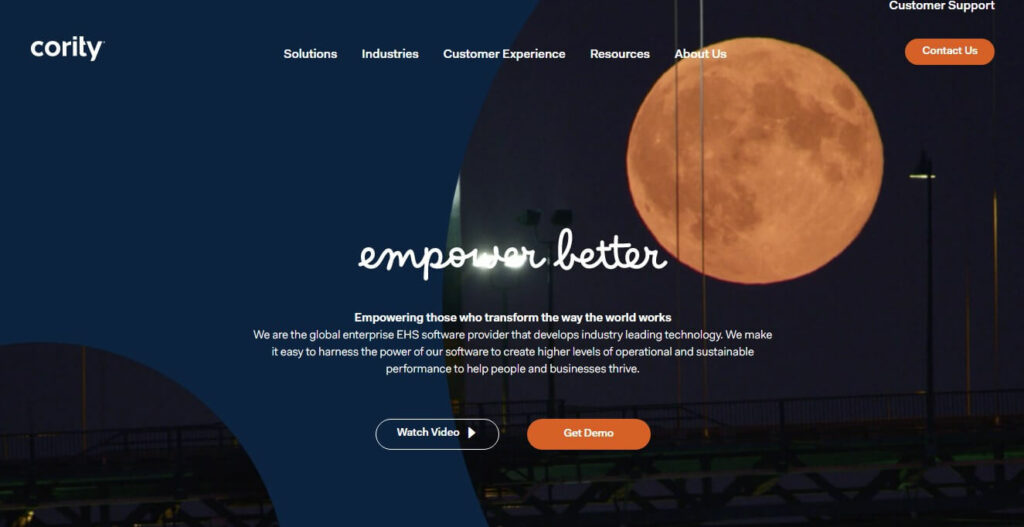 This is one of the most comprehensive SaaS platforms designed by experts for EHS activists and business leaders. It promotes healthier, safer, smarter, and more sustainability. You can use it today to create a better business empire for tomorrow,
Cority is a globally-recognized EHS quality software and solutions. It is used by organizations of all sizes worldwide to enhance their EMS. It has been around for over 35 years, helping more than 1,300 businesses globally.
Though it is online software, Cority is designed, deployed, and supported by a team of professionals. These experts have hands-on experience in different industries. They are ready to customize the software solution to match your needs. They are also available to help you manage the risk and challenges you face.
Cority has the most comprehensive mobile application for EHS professionals and individual users. It empowers every employee to improve EHS performance and give instant results.
Cority One will help you centralize and streamline tracking and data collection. Setting your sustainability strategy also becomes easy.
Feature Summary:
Compliance Management
Waste Management
Chemical Management
Business Intelligence
Audits
Management of Change
Metrics
Air Emissions
Waste Water
Inspections
See Related: Sustainable Investing vs Impact Investing
IdeaGen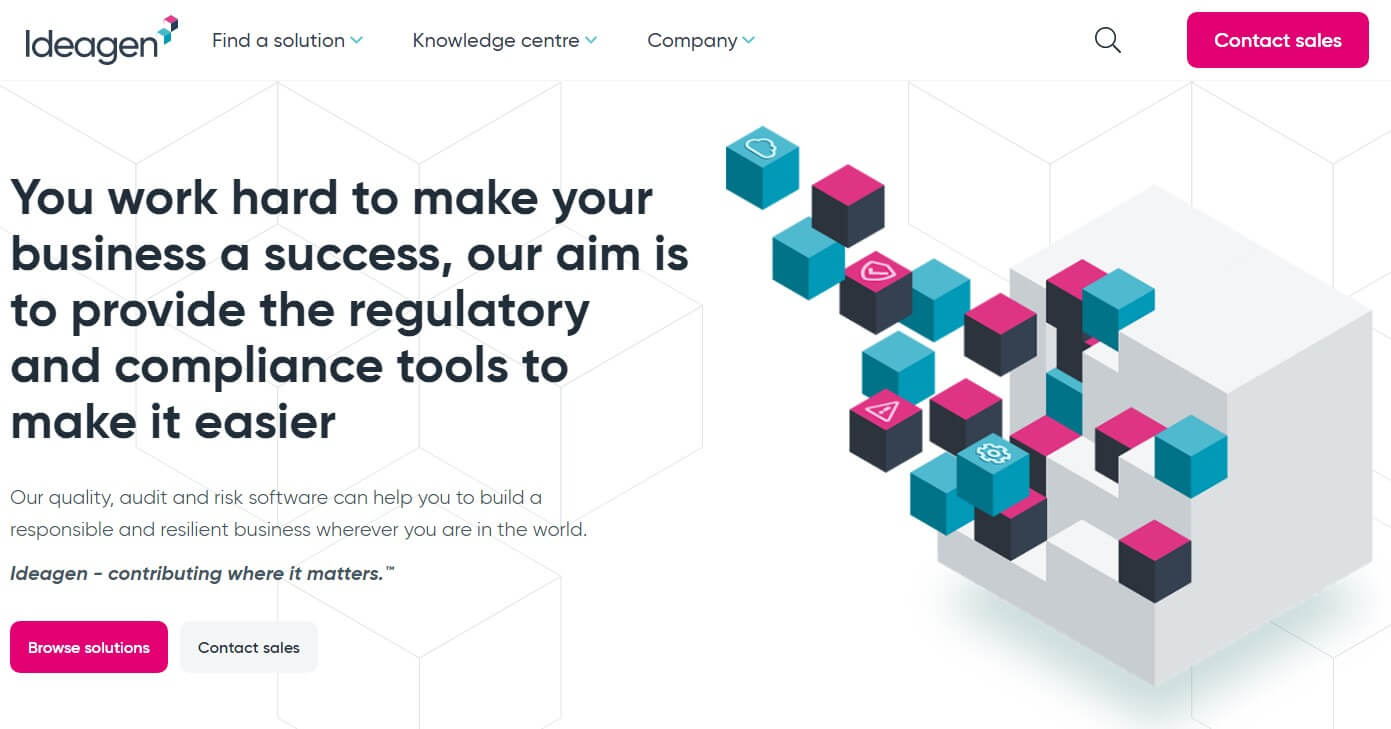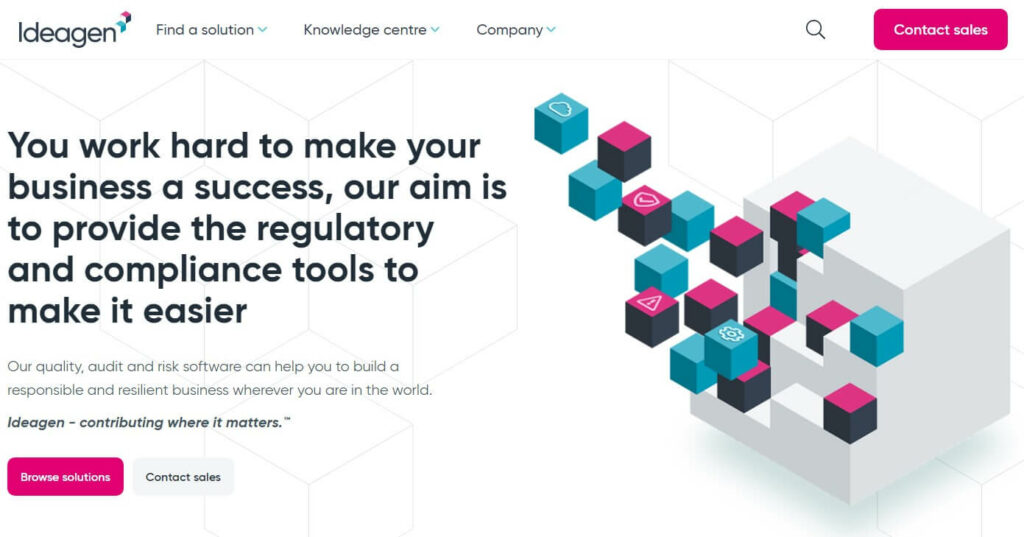 Ideagen supports you to achieve your business success by handling most of the tasks. It aims at offering the best regulatory and compliance software solution to all business leaders.
IdeaGen has quality, audit, and risk software for building a responsible and sustainable business. You will find it useful regardless of your region on the planet. It also provides APQP, CAPA management, and the first article report.
Ideagen is a centralized platform with all the software you need to establish a sustainable business. It not only brings you an environmental software program but also many others. You can access audit, documents, risk, regulatory, and safety management tools.
Choose IdeaGen to find everything under one roof. You will also access all your data in one place, thereby saving you time and reducing data breaches.
Feature Summary:
Document Manager
Supplier compliance management software
Bespoke modules
Risk Manager
Training records management software
Equipment maintenance software
Accident and Incident Manager
INX Software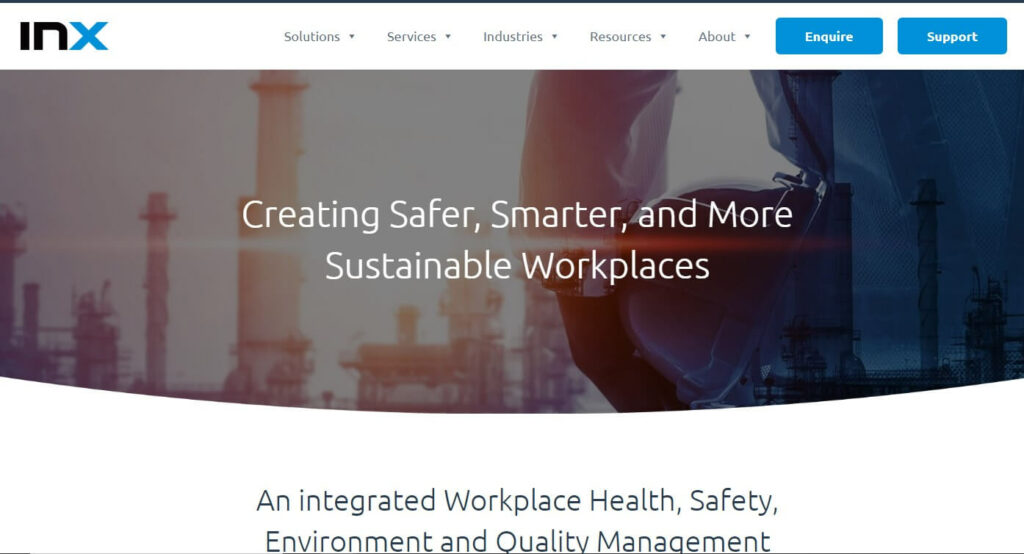 INX Software helps teams of all sizes to create safer, smarter, and more sustainable business environments. It is a global leader in offering an integrated solution that improves environmental performance and quality management.
INX Software offers a digital platform to help you achieve regulatory compliance. It will guide you through operational adherence to international and local standards.
If you are looking for an EHS software to streamline your business operations for efficiency, INX is a worthy choice. It is a master in enhancing organizational transparency and reporting. INX also tracks performance and accountability.
Choose INX Software to simplify your workforce and environmental management. It is one system that addresses all your environmental concerns and future-proof your businesses. You will no longer worry about compliance because INX ensures you meet all EHS requirements.
Feature Summary:
Track changes through the system for auditing purposes
Capture environmental data using various import tools
Measure and manage sustainability indicators
A platform for tracking changes for auditing reasons
GIS viewer for real-time data visualization
Enhanced data collection and management features
ERA EMS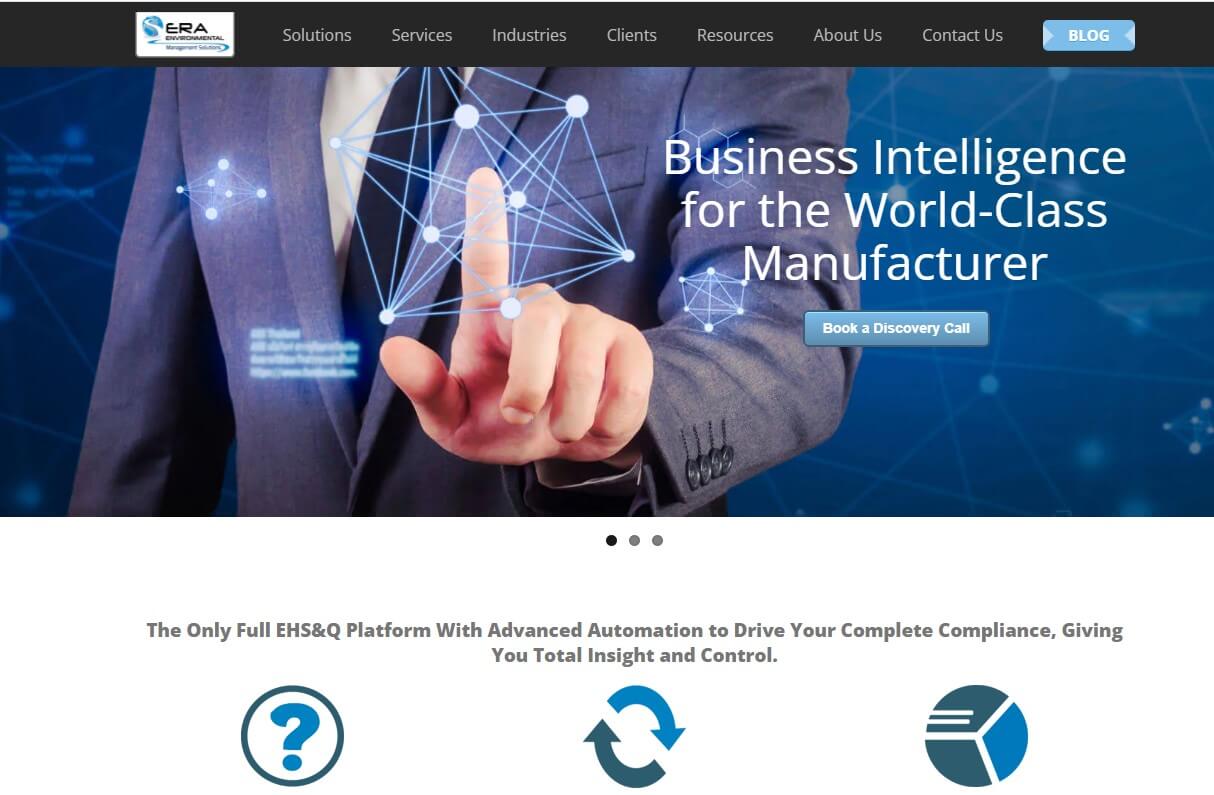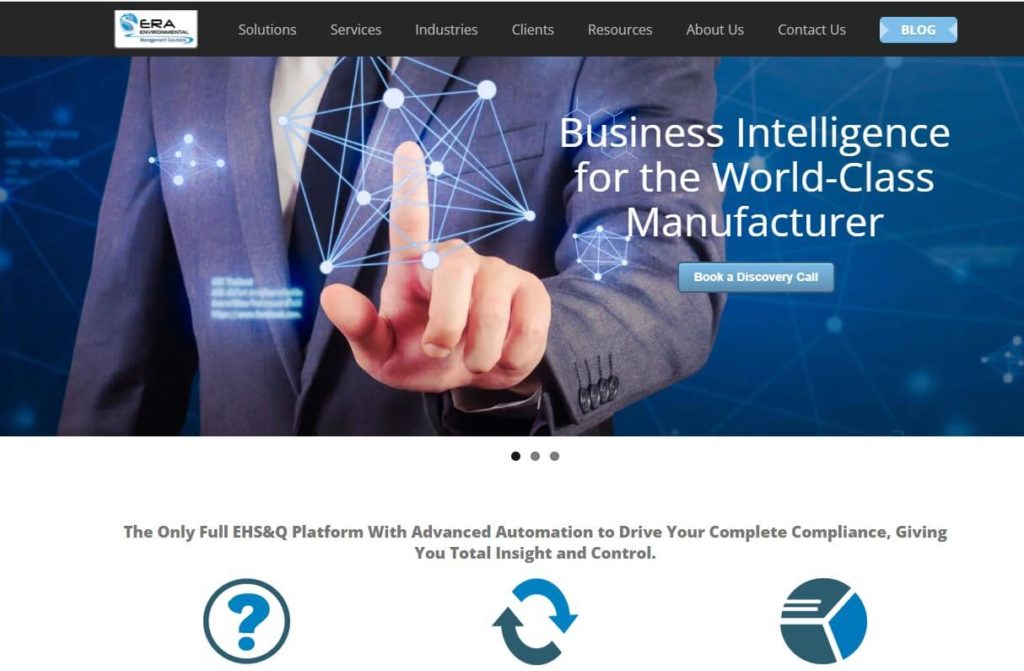 ERA provides a comprehensive environmental management system for every business leader. That is regardless of the industry. It is one of the best environmental management software to go for if you need air, water, and waste reporting and compliance management.
It offers a centralized platform that gives you an insight into your environmental performance. It is trusted and expertly designed EHS software to help you reduce environmental impact.
This environmental reporting software helps you meet regulatory requirements and implement sustainability strategies. Additionally, you can automate your environmental management system for quick reporting, data analysis, and supply chain data collection.
With ERA EMS, you can improve your reporting accuracy and efficiency. These are the critical factors for improving your performance and reducing environmental impact.
Feature Summary:
Every environmental report you need
Automated data management
Direct uploads for easy environmental compliance
Cost-efficient environmental management
Improve reporting accuracy and efficiency
Track any process, any emission
A centralized platform provides superior, secure data management
Accurate air, water, and waste reporting and compliance management
Dakota Soft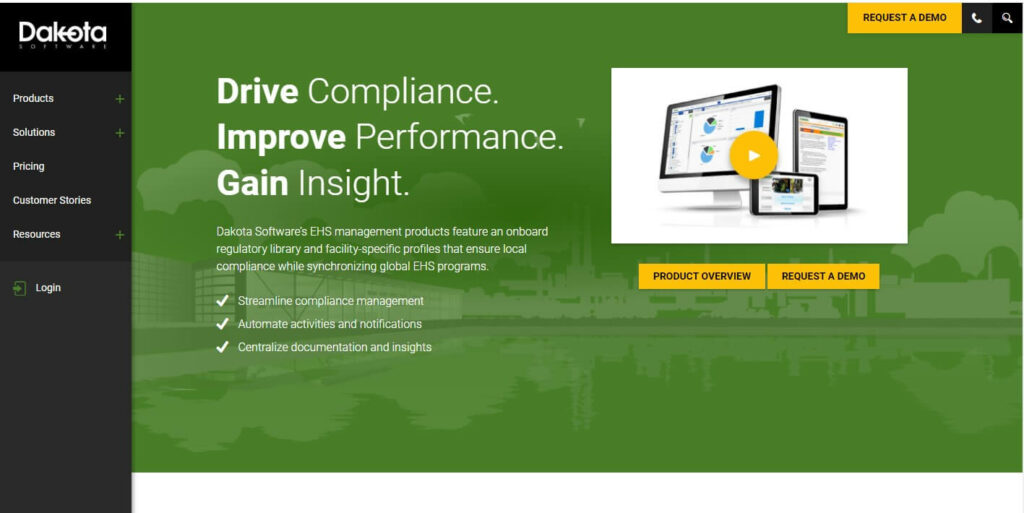 Dakota Soft is an environment management software for driving compliance and improving performance. It features an onboard regulatory library and facility-specific requirements. That helps in quality control and ensures your management systems comply with standards.
Like all other environmental management software, Dakota simplifies management and reporting. You can engage staff members with online training programs. That improves the compliance and safety performance of your management systems.
Dakota is also a centralized platform where you can streamline all your compliance activities. You can identify issues affecting the environmental health and safety of your employees.
Dakota is a trusted enterprise report production platform that guarantees the best result. It uses combined curated regulatory data and easy-to-use software to offer the best solution.
This software helps you understand your regulatory obligations. Its library and applicability engine ensures your compliance strategies are always on point.
Feature summary:
Health and safety
Proactively manage EHS regulatory registers and compliance calendars
Track emissions, energy, and other ESG data
Air Emissions
Permit Management
Refrigerant Management
Track, trend, and analyze incidents and
Verify EHS compliance
Compliance Planning
Corrective And Preventive Action Management
EHS Auditing
Incident And Accident Management
GHG Energy Management
Waste Management
Donesafe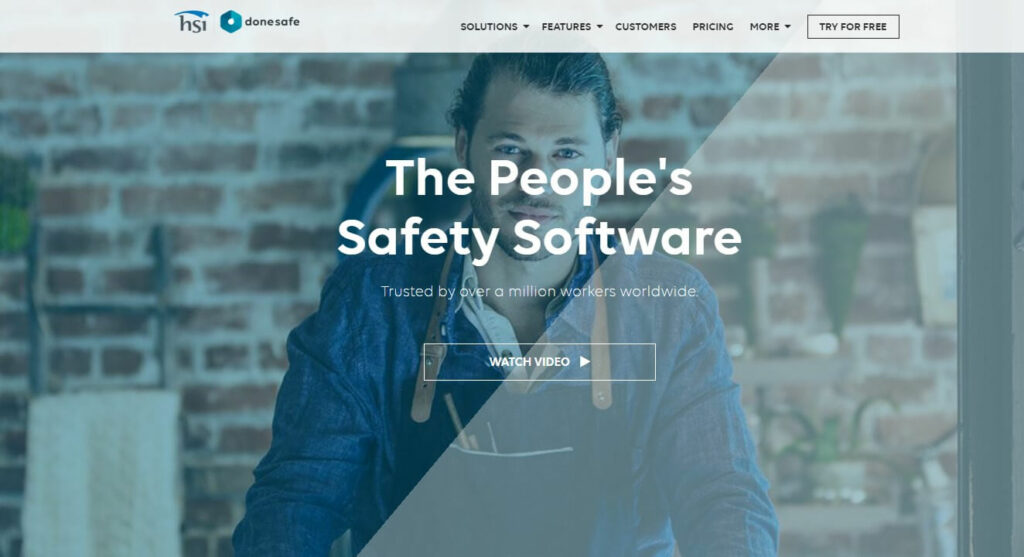 Donesafe is an intelligent reporting software. It does more than just help your business to avoid environmental fines. In fact, the best description should be a centralized platform for all software solutions. It will help you to create a sustainable business.
Donesafe is an all-in-one compliance platform. It consists of over 30 apps to help you manage your business and reduce your carbon footprints. It creates a complete solution to meet your organization's needs, regardless of the size.
Its various apps help you handle health, safety, environmental, risk, and supplier-related activities. You can automate Donesafe to connect with your compliance management system in every department. With this app, you collect field data.
With Donesafe, you can identify ESG risks from field data. You can also optimize your ability to reduce your environmental impact and possible damage to people and society.
With this cloud-based software, you can ensure compliance with environmental regulations. It is the leading EHS software for business leaders.
Feature Summary:
Process efficiency and automation
Gain insight and predict
Process efficiency and automation
Merge and configure your compliance systems into one adaptable platform
Empower your workforce
Connect your apps, data, and people
Reports and dashboards
Manage your safety from anywhere
Design workflows and forms
Training and learning
Mango Live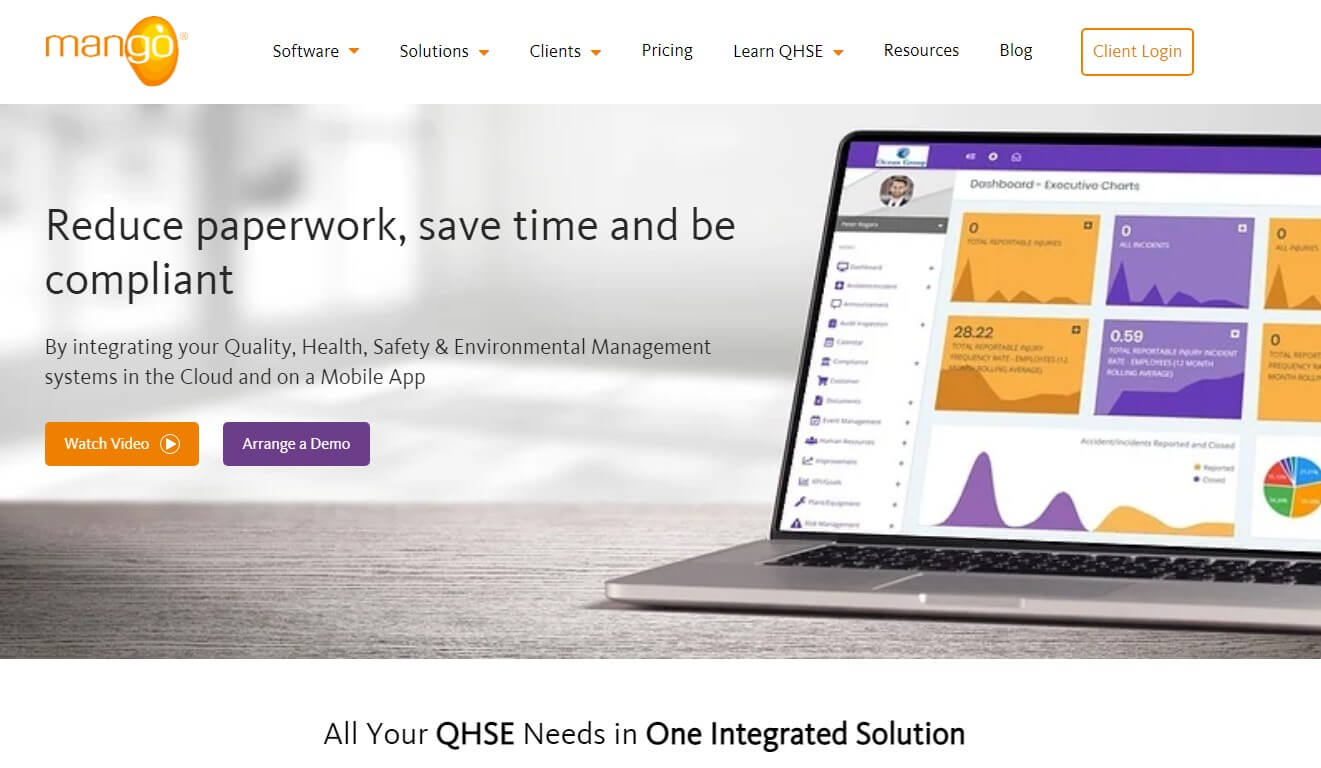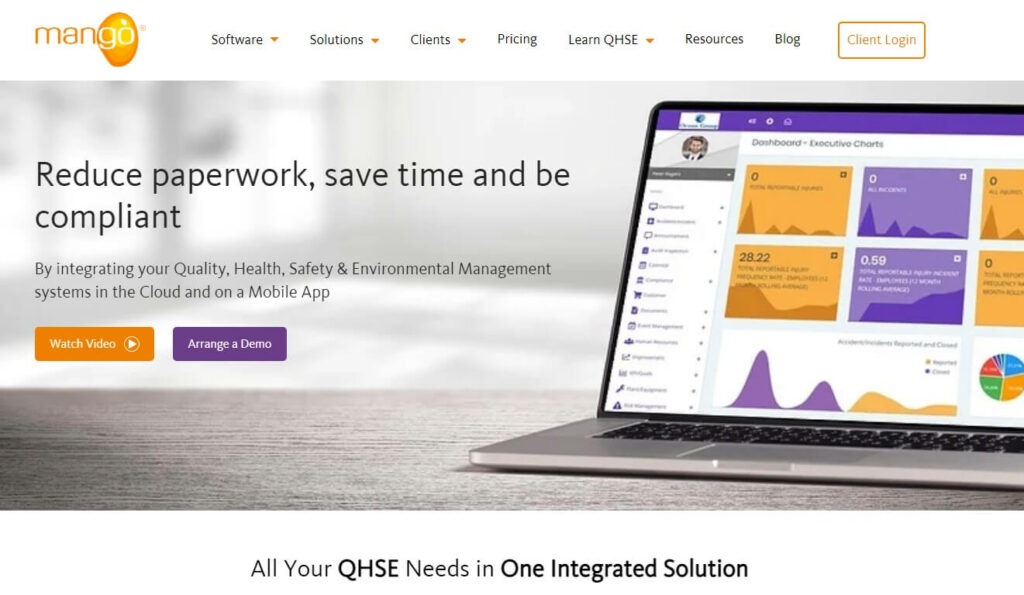 Mango Live is a cloud-based, intelligent software that dynamically integrates your quality, health, safety, and environmental management systems. You can also do the same with a mobile app, Making Mango Live a portable solution.
All you are expected to do is sign up for your Mango account to access fantastic features. You can register unlimited users, access all modules, get the free app, technical support, and quick and easy implementation.
Mango is designed to integrate all your QHSE compliance in one software solution. That helps you to be QHSE compliant.
Mango helps businesses manage inspections and take sustainability initiatives to reduce their carbon footprint.
Mango is intelligent software for risk assessment, submitting safety reports, enhancing health safety, and sustainability reporting.
Feature Summary:
integrate all your QHSE compliance in one solution
successful in QHSE compliance
First-class, personalized, and ongoing technical support
make your QHSE compliance activities enjoyable
Free mobile app
Unlimited users
Chemical Safety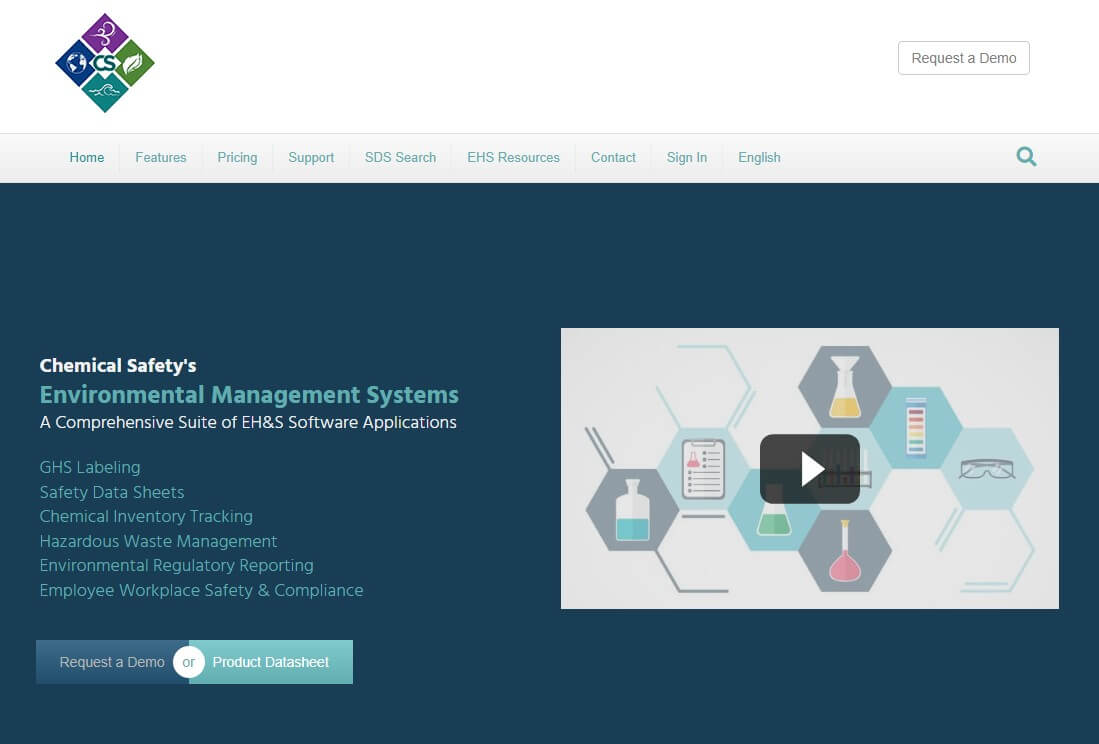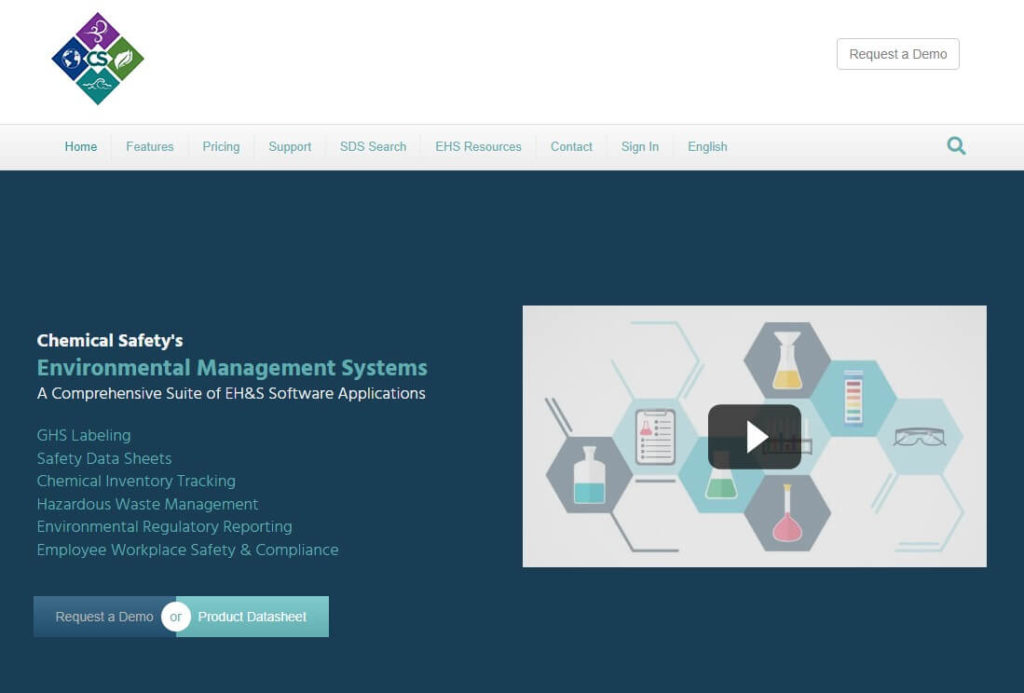 Chemical Safety is the best EHS software for chemical inventory tracking and ESG data management. It helps maintain your collection of safety data sheets in a highly accessible cloud-based platform. You can track everything from delivery to disposal.
Chemical Safety's integrated environmental health and safety software modules make it quicker for you to achieve your sustainability objectives. You also save money by purchasing only the modules you want to use.
This environmental reporting software has key features that make it one of the best on this list. Though it comes last, that is by no means a sign of its ineffectiveness. It also has document management and environmental performance enhancement.
Feature Summary:
Print GHS labels and secondary container labels
Track your chemical inventory
Maintain your collection of safety data sheets
Cradle-to-grave hazardous waste management
Employee training, incidents and accidents, audit and inspections, and OSHA compliance
Preconfigured federal and state environmental regulatory reports
EHS software solutions for all professionals in any industry
Environmental Regulatory Reporting
EHS Mobile Applications
Kyle Kroeger, esteemed Purdue University alum and accomplished finance professional, brings a decade of invaluable experience from diverse finance roles in both small and large firms. An astute investor himself, Kyle adeptly navigates the spheres of corporate and client-side finance, always guiding with a principal investor's sharp acumen.
Hailing from a lineage of industrious Midwestern entrepreneurs and creatives, his business instincts are deeply ingrained. This background fuels his entrepreneurial spirit and underpins his commitment to responsible investment. As the Founder and Owner of The Impact Investor, Kyle fervently advocates for increased awareness of ethically invested funds, empowering individuals to make judicious investment decisions.
Striving to marry financial prudence with positive societal impact, Kyle imparts practical strategies for saving and investing, underlined by a robust ethos of conscientious capitalism. His ambition transcends personal gain, aiming instead to spark transformative global change through the power of responsible investment.
When not immersed in the world of finance, he's continually captivated by the cultural richness of new cities, relishing the opportunity to learn from diverse societies. This passion for travel is eloquently documented on his site, ViaTravelers.com, where you can delve into his unique experiences via his author profile.