As the global economy becomes more inclined towards sustainability, investors are more interested in companies with high environmental and social responsibility. Impact investing has taken shape in recent years, with individuals and companies investing more in things that bring positive change.
These global trends, which seem to grow even stronger, especially due to the devastating state we have put our planet in over the past decades, are likely to continue for several decades.
That's why, if you want to become a leading impact investor, you should become more acquainted with the impact investing ecosystem to ensure you generate favorable returns.
Best Impact Investing Courses from Universities
1. Social Business Model and Planning for Social Innovation – Copenhagen Business School in Denmark
The Social Business Model and Planning for Social Innovation is a remarkable course by Denmark's prestigious Copenhagen Business School. Designed for individuals interested in social impact and sustainability, this learning program equips students with the necessary skills to design and implement effective strategies within the impact investing ecosystem.
Delving into key topics such as green bonds, private equity, and the role of financial advisors in driving sustainable investments, the course provides a comprehensive understanding of the various components of impact investing.
As part of the curriculum, Module 4 focuses on the intersection of sustainability and profitability, enabling participants to create and evaluate social business models that generate financial returns and contribute positively to society and the environment.
Participants in the course can expect an engaging learning experience through expert-led lectures, interactive workshops, and collaborative group projects.
These learning methods prepare students for practical applications while positioning students to get an impact investing certificate with Chartered Financial Accountants (CFA). This enables a deep and broad understanding of the complex relationship between business and social objectives.
2. Business Strategies for Social Impact – University of Pennsylvania
The University of Pennsylvania offers a course called "Business Strategies for Social Impact," which is a part of their Coursera offerings. This course delves into the innovative and effective business strategies that can be used to develop positive social impact worldwide.
Taught by renowned Wharton professors Katherine Klein and Chris Geczy, the course is designed to help individuals, organizations, and investors bring about substantial societal change.
In this course, students learn the fundamentals of impact investing and explore how businesses can strategically invest in social good. The course empowers participants to create positive change within various sectors, including non-profits, for-profits, government agencies, and community organizations, by focusing on business strategies and social impact.
The faculty's expertise in sustainable investing and hands-on approach provides students with a strong knowledge base. Participants are encouraged to collaborate, share their experiences, and access the university's resources.
Some key topics covered in the course include understanding the different types of social impact, identifying the various stakeholders involved, and learning how to create a sustainable, impactful business strategy.
Through practical case studies, students can analyze real-world examples and learn from the successes and challenges of various organizations.
3. Impact Investing: Making Use of Finance to Change The World – Galileo International Investing Centre
Galileo International Investing Centre offers a comprehensive introduction to Impact Investing, a rapidly growing sector of the finance industry where investors prioritize generating positive social and environmental impact alongside financial returns. This approach is increasingly gaining traction among players like the leading impact investors themselves, funds, asset owners, and asset managers.
One of the primary vehicles for impact investments is microfinance, which provides small loans to economically disadvantaged individuals, fostering financial inclusion and entrepreneurship.
Asset managers like Morgan Stanley and Nuveen have developed funds channeling capital into microfinance investments. Another way to support social and environmental causes is by allocating funds to mission-related investments, which align a portfolio with an organization's mission and values.
As the landscape of impact investing continues to evolve, responsible investing practices are becoming more mainstream. Adopting these approaches to finance can help catalyze positive change in the world while also providing attractive investment opportunities.
Galileo International Investing Centre's commitment to education will empower the next generation of investors to make knowledgeable, impactful decisions in their financial lives.
4. Impact Investing – Jindal Centre for Social Innovation
The Jindal Centre for Social Innovation and Entrepreneurship (JSiE) offers a notable online course on impact investing. This course delves into the fundamentals of this emerging sector, which focuses on generating both financial returns and positive societal impacts. This course will give participants insights into the impact investing profession and renowned investors' funding and investment approaches.
Throughout the 4-week duration, learners are exposed to video interviews featuring leading investors in the field. Represented organizations include the Michael & Susan Dell Foundation, Acumen Fund, Omidyar Network, Grameen Capital, and Aavishkaar, giving students unparalleled access to expertise and in-depth knowledge.
The course encompasses a range of topics that are imperative to impact investing, such as environmental, social, and governance (ESG) factors that investors consider during decision-making processes. Participants also learn how to measure the impacts and outcomes of their investments, ensuring both sustainable financial growth and genuine contributions to societal well-being.
Through this comprehensive course, the Jindal Centre for Social Innovation affirms its dedication to sustainable development. By equipping participants with the skills and understanding required in person and navigating the impact investing landscape, they aim to stimulate the growth of socially responsible enterprises and foster long-term change.
JSiE's online offering has garnered global interest, with over 52,000 students from 159 countries pursuing sustainable development and impact investing education.
5. Lending, Crowdfunding, and Modern Investing – Wharton School of Business
Offered by the prestigious Wharton School of Business, Lending, Crowdfunding, and Modern Investing stands out as an excellent online course for anyone looking to dive into the realm of impact investing. Students enrolled in this course can expect to gain a solid understanding of the foundational theories behind cutting-edge financial innovations such as robo-advising, crowdfunding, and marketplace lending.
Professor David Musto has designed the course with a practical focus in mind, delving deep into investment decisions and optimization. This approach helps learners grasp the theoretical frameworks of Modern Portfolio Theory, enabling them to make informed choices when navigating the dynamic world of financial investment.
In today's evolving financial landscape, crowdfunding plays an integral role. The course explores this avenue in-depth, shedding light on the impact of crowdfunding on financial performance and highlighting its contribution to the democratization of finance. From Kickstarter initiatives to equity crowdfunding platforms, students will be exposed to various forms of crowdfunding and their implications.
As a crucial aspect of financial innovation, the course also discusses the emergence of marketplace lending. This segment covers the workings of peer-to-peer lending and its disruption of traditional banking, paving the way for novel investment opportunities.
6. Investment Strategy – Indian School of Business
The Indian School of Business offers a comprehensive Investment Strategy course that equips students with valuable knowledge of capital markets and various investment frameworks. This course is specifically designed for individuals seeking to develop and manage their portfolios across asset classes strategically.
Throughout the course, students will learn to evaluate different financial instruments and understand the unique challenges associated with investment management. Participants will thoroughly understand the economic factors influencing investment decisions by incorporating practical examples and expert insights.
To ensure a well-rounded curriculum, this online course focuses on key elements such as:
Capital Markets: A deep dive into market structures, regulations, and the role of capital markets in driving economic growth.
Frameworks: In-depth exploration of various investment approaches and models, enabling students to personalize and optimize their investment strategy.
Evaluate: Analyzing different financial instruments, such as stocks, bonds, and mutual funds, to help students make informed investment choices.
Challenges: Facing the multi-faceted obstacles that investors encounter and adapting one's strategy to overcome them.
Investment Management: Acquiring the skills to develop, maintain, and adjust investment portfolios in response to changing market conditions.
Ultimately, the Indian School of Business Investment Strategy course prepares students to excel in sustainable investing. With the knowledge and skills obtained from this course, graduates will be well-equipped to make confident, informed decisions in managing their financial portfolios and navigating the dynamic terrain of economic markets.
7. Investment Management – University of Geneva
The University of Geneva offers a comprehensive Investment Management Specialization designed for individuals seeking to deepen their understanding of investment strategies and governance.
This curriculum focuses on the dynamics of financial markets, the importance of professional management, and the roles of institutional investors and money managers. The program suits many learners, from beginners to experienced investment professionals.
One of the available courses, "Make Smart Investment Decisions in a Global World," is a Massive Open Online Course (MOOC) developed in partnership with UBS, the world's largest wealth manager.
This program comprises four courses and a capstone project covering various aspects of investment management, such as finance, risk management, probability & statistics, investment analysis, and business psychology. These modules provide a solid foundation for mastering investment stewardship and effectively managing assets in an increasingly complex global market.
In addition to the MOOC, the Geneva Master of Advanced Studies in Finance (GEMFIN) is another excellent program offered by the University of Geneva. This master's degree focuses on key topics like sustainable finance, artificial intelligence, private equity, and advanced hedge fund strategies.
Graduates from this program are well-prepared to tackle the challenges of the investment management world and have successful careers in finance and related fields.
Best Online Impact Investing Courses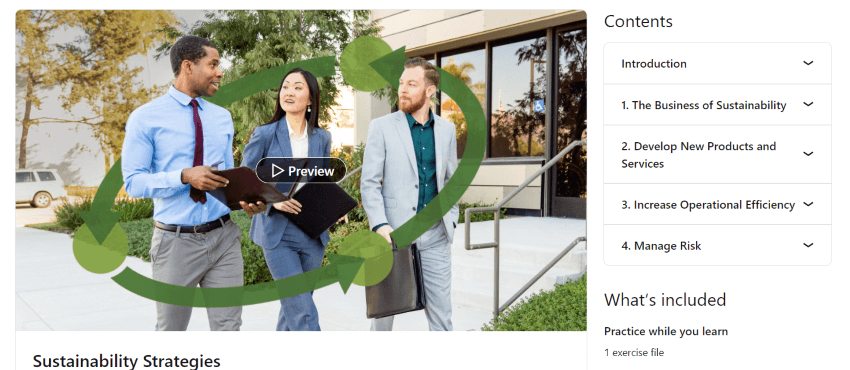 Sustainability Strategies is a course that introduces you to the changing business climate. This course is available on Linkedin and was created by David Bennell, a consultant in sustainability and ESG practices. Introducing sustainability is important for business owners to help them build successful strategies that will grow the company brand.
In the course, you will learn how to develop smart sustainability practices. The course takes 56 minutes to complete and covers four chapters.
Why you should take this course:
Certificate of completion – You get a completion certificate after the course. The certificate appears on your LinkedIn profile, which will help you when searching for a job or clients.
Created by an expert – David Bennell, who is in the field of sustainability and is currently a consultant. He has the knowledge and skills on sustainability and impact investing.
Short course – the course takes 56 minutes to complete.
Learning resources – you will get a project file with all the resources. The course is also available on your tablet or phone.
You should try this one if you are looking for the best impact investment course.
See Related: Best Artificial Intelligence Stocks to Buy Now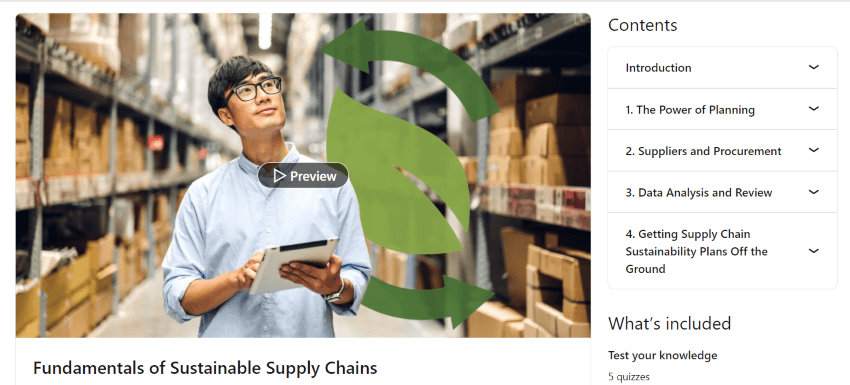 Fundamentals of Sustainable Supply Chains is a course that addresses product sourcing, manufacturing, distribution, and delivery concerns.
These are areas of concern for investors, and learning how the supply chain works can be important when making investment choices. In the course, Sarah Barnes-Humphrey talks about her 20 years of experience in the field using case studies and real examples.
These examples are important to help business owners create sustainable business strategies. Barnes addresses issues like environmental impact, human rights, ethical labor practices, and anti-corruption in the course.
Why take this course:
It gives you insights on business sustainability – the course helps you understand what happens in the business supply chain to understand sustainability from a business point of view.
Addresses social and environmental issues – in the course, Barnes addresses social and environmental issues that businesses face. Impact investors will be intruded on by these issues.
Short course – the duration is under one hour so finishing it should not be a problem.
Written by an expert – Sarah Barnes has been in the field for over 20 years, so she is an expert.
See Related: Ways to Start Investing in Small Business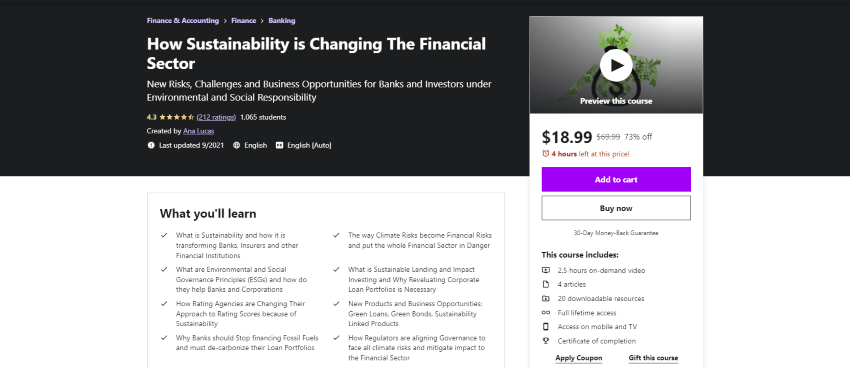 This course addresses sustainability from the viewpoint of fund managers of banks and other financial institutions. It gives insights into how climate affects the financial sector and the changes that are bound to happen. It discusses the environmental issue of banks funding fossil fuels that harm the environment.
You will learn how financial institutions can make positive changes through sustainable finance. This is the funding of good company projects that promote sustainable development.
The course might not be ideal for people without a finance background since it touches on serious issues in the financial sector. People already in the field will find the course intriguing since it explains what happens in the financial sector and how banks adopt green portfolios.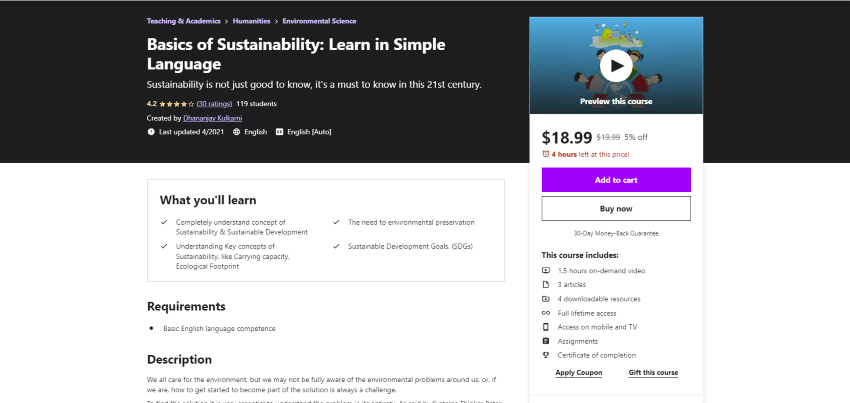 Basics of Sustainability is another incredible impact investing course you should try. It offers insights into environmental problems around us but in a simple language. This course will be helpful for impact investors who are passionate about the environment.
It will help investors understand deep issues like sustainable agriculture, development goals, ecological footprint, and environmental preservation.
These are important issues for sustainable investing. This course was created for environmental activists, people passionate about climate change, and anyone interested in sustainable development goals.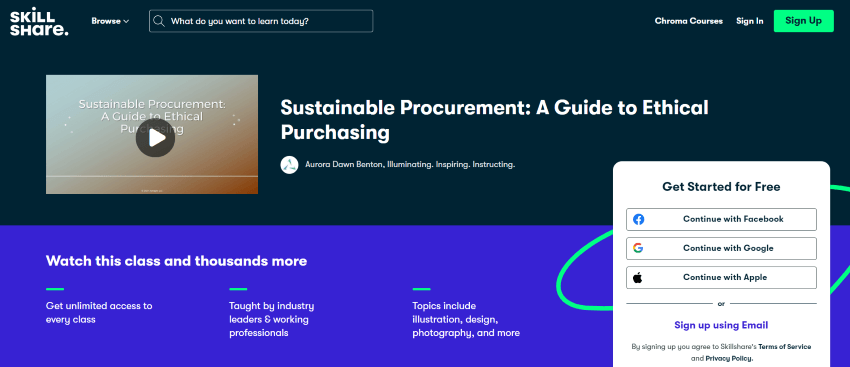 Sustainable procurement is important for every business. And investors should understand the importance of sustainable procurement before investing in any business.
This course is ideal for impact investors because it offers insights into sustainable procurement. The course takes 2 hours and 51 minutes, covering 21 lessons.
Aspiring impact investors will love the topics covered in this course, such as carbon emissions, humane working conditions, supplier diversity, economy, plastics, and toxic chemicals. The course was created for small business owners, procurement professionals, and anyone interested in sustainability in the business world.
See Related: How to Invest in Renewable Energy
Relevant Skills Needed for Impact Investing
Problem-solving skills – You need to be able to find problems in your community and around the world and solve them accordingly. This is about looking for societal problems and solving them to profit.
Financial skills – Investing is still part of the investment. It is advisable to have some experience in finance to make the right investment decisions.
Relationship-building skills – investment is about interaction and building relationships. Building relationships with other investors and companies would best determine what is available. These impact investment online courses help you do that.
Evaluation skills – impact investment will need a lot of evaluation. You need to evaluate the projects worthy of your time and those not. Good assessment skills will help you to make the right investment choices.
Knowledge in different sectors – it is advisable to know when you're making an impact investing in different sectors such as renewable, recycling, and green energy. Before putting your money into any investment, make sure that you know the area.
What are the top universities offering impact investing courses?
Several universities and institutions offer impact investing courses, including top-tier business schools. Some of these institutions are:
Harvard Business School: Their offerings include a Social Impact Investing and Sustainable Finance course.
Wharton School of the University of Pennsylvania: This renowned institution provides a program on Impact Investing and Social Finance for Business Leaders.
Stanford Graduate School of Business: Stanford offers a course called Social Entrepreneurship and Impact Investing.
How to Get a Job in Impact Investment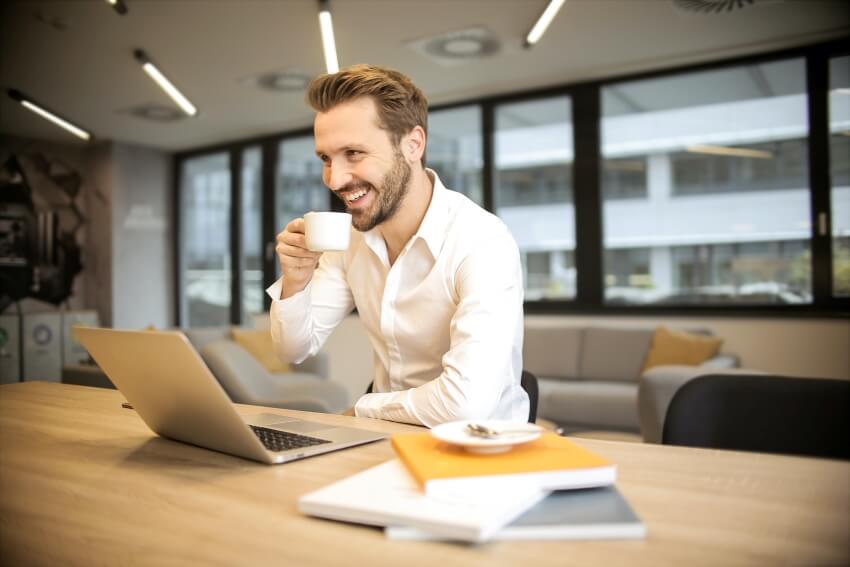 There are a lot of jobs in the impact investment world. Unfortunately, many people do not know how to get these job opportunities. Here is a guide to help you get a job in the impact investing industry.
1. Expand Your Skillset
The first step to more targeted investment decisions is to grow your skills. You will need to have the right skills to do the job right. Most of the skills you need to be successful in impact investment are listed above.
Fortunately, most of these skills can be learned through practice and research. Having the right skills will make the process easier.
2. Identify the Opportunities
Understanding how to identify opportunities is always a good idea. You need to know where to find jobs so that you can actively look for them.
For instance, you can find career opportunities in non-government organizations and community projects. These areas are best suited for impact investment because they focus on bringing positive change to the world.
3. Networking
The best way to get any job is to build networks, and impact investing is not any different. If you are looking for a job in the impact investment sector, build networks with people and companies in the field.
Identifying opportunities once they come up if you are already in the field will be easy. You can build networks by attending conferences on climate change, social issues, and other fields you are passionate about.
4. Think Big
Think big when looking for a job. The field is vast, and thinking big will help you find a job even in the least expected places. Do not limit yourself to one field because you might miss opportunities.
Even if you do not find a job, you can start a freelance career by being an impact investment consultant advising clients on opportunities related to impact investment.
If you want to become an impact investor or are interested in working in the field, taking some of these courses will be helpful. You can take courses on finance, investment, and environmental sustainability.
What's the difference between ESG and impact investing courses?
While both ESG (Environmental, Social, and Governance) and impact investing focus on incorporating social and environmental factors into investment decisions, the two approaches differ in a few key ways:
ESG courses generally evaluate and integrate ESG factors to minimize risk profiles and identify opportunities primarily within public markets. ESG is often used as a more comprehensive approach to ethical investing.
Impact investing courses emphasize proactive investments in projects, organizations, or businesses that generate measurable positive social and environmental outcomes alongside financial returns. This focuses on private markets and often targets specific projects or organizations.
FAQs
How do I learn impact investing?
Impact investing is investing in companies, organizations, and funds to generate social and environmental impact alongside financial returns. One can take online courses, attend workshops and seminars, and read books and articles on impact measurement. Understanding the principles of impact investing, the various investment strategies, and how to measure impact is important.
Does impact investing pay well?
Impact investing is a type of investing that aims to generate positive social or environmental impact alongside financial returns. While financial returns may not always be the primary objective of impact investing, studies have shown that impact investments can be profitable and may perform similarly to traditional investments. However, the financial returns of impact investing can vary depending on the specific investment and impact goals.
What is the difference between ESG and impact investing?
ESG (Environmental, Social, and Governance) investing is a strategy considering a company's performance in these three areas when making investment decisions. On the other hand, impact investing is a strategy that seeks to generate measurable social or environmental impact alongside financial returns.
While ESG investing focuses on evaluating a company's sustainability and ethical practices, impact investing is more proactive in seeking out investments that create positive change in specific areas, such as renewable energy or affordable housing.
How much does an impact investor make?
An impact investor is an individual or organization that seeks to generate social or environmental impact alongside a financial return. The amount of money an impact investor makes can vary widely depending on the investment strategy, the size of the investment, and the success of the more targeted investment decisions. Impact investors may earn returns comparable to traditional investors, but they also prioritize their investments' social and environmental outcomes.
Related Resources
Kyle Kroeger, esteemed Purdue University alum and accomplished finance professional, brings a decade of invaluable experience from diverse finance roles in both small and large firms. An astute investor himself, Kyle adeptly navigates the spheres of corporate and client-side finance, always guiding with a principal investor's sharp acumen.
Hailing from a lineage of industrious Midwestern entrepreneurs and creatives, his business instincts are deeply ingrained. This background fuels his entrepreneurial spirit and underpins his commitment to responsible investment. As the Founder and Owner of The Impact Investor, Kyle fervently advocates for increased awareness of ethically invested funds, empowering individuals to make judicious investment decisions.
Striving to marry financial prudence with positive societal impact, Kyle imparts practical strategies for saving and investing, underlined by a robust ethos of conscientious capitalism. His ambition transcends personal gain, aiming instead to spark transformative global change through the power of responsible investment.
When not immersed in the world of finance, he's continually captivated by the cultural richness of new cities, relishing the opportunity to learn from diverse societies. This passion for travel is eloquently documented on his site, ViaTravelers.com, where you can delve into his unique experiences via his author profile.