If you're looking for a new bank account, then you'll want to check out this list of the best neobanks in the world. These banks offer great features and benefits that are perfect for millennials who are looking to save money.
Neobanking is having a moment. From nimble startups to established industry disruptors, everyone wants a piece of the action in digital banking. But what exactly is neobanking? And more importantly, which neobank is right for you?
This guide should answer those questions and give you all the information you need to open an account with your new favorite financial technology company.
Neobanks are important because they can help you find new cash management options that have great features and benefits. A neobank is a great option for millennials who want to save money.
Neobanks are gaining popularity due to their many benefits, such as lower fees, no minimum balance requirements, and great mobile apps. In addition, neobanks are often more innovative than traditional banks, offering budgeting tools and investing products.
Remember that most of these are not a bank per se but rather an extension of banking. This article will cover the best neobanking options in the world and why they are a great choice for savers.
Best-Of by Category
| Category | Product |
| --- | --- |
| Best for Investment | Unifimoney |
| Best for Ease of Use | Simple |
| Best for Teens and Young Adults | Current |
| Best for Environmentally-Conscious Investing | Aspiration |
Best Neobanks Around the World
So, without further ado, here are the best neobanks from around the world:
1. Aspiration (United States)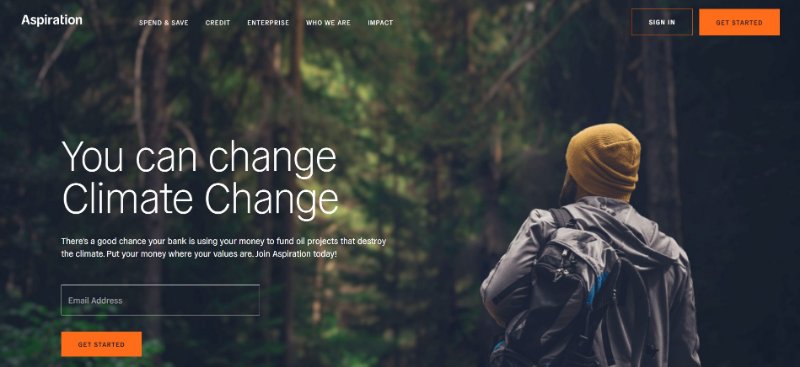 Aspiration is a fintech company that offers a suite of financial products and services in the United States. The company's mobile app allows you to seamlessly manage your money, giving you access to cash management and credit accounts under one platform.
Aspiration also provides a debit card to spend your money wherever MasterCard is accepted. Their Spend & Save s account allows customers to deposit cash into their Aspiration account at any time.
Features:
Neobank, with a particular focus on the environment and sustainability
Low-cost cash management account with no fees for ATM withdrawals, overdrafts, or monthly maintenance
A Spend and Save account that offers up to 3.00% APY interest or 5.00% for Aspiration Plus
A debit card that gives you up to 10% back on all purchases
A credit card that focuses on environmental rewards to combat climate change
The Aspiration Save Account's up to 5.00% Annual Percentage Yield ("APY") with up to 71x the national interest rate is variable, subject to change, and only available to customers enrolled in Aspiration Plus after conditions are met. Customers not enrolled in Aspiration Plus receive 3.00% APY after conditions are met.
Terms & FAQ. The Aspiration Spend & Save Accounts are cash management accounts offered through Aspiration Financial, LLC, a registered broker-dealer, Member FINRA/SIPC, and a subsidiary of Aspiration Partners, Inc. ("Aspiration"). Aspiration is not a bank.
See Related: Aspiration Bank Review: Is It Sustainable & Legit?
2. Chime (United States)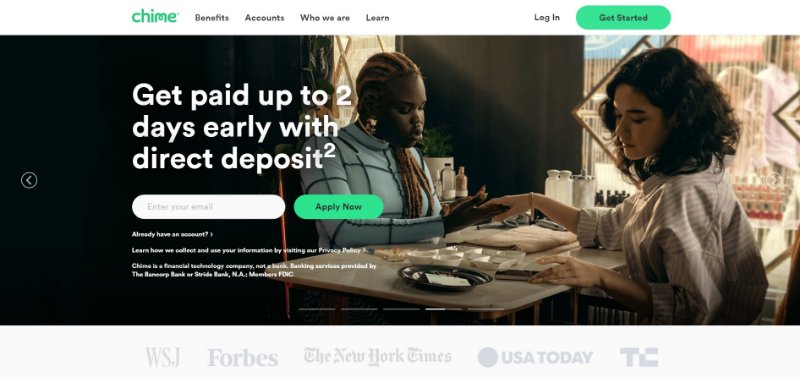 Chime is one of the best neobanks you can use today. It partners with Bancorp Bank and offers a spending account, savings account, and debit card. All of which is very easy to manage from their finances app.
Chime was founded by Bill Harris (who previously co-founded PayPal) and Ryan Steelberg (who had worked at both Google and Facebook prior to his role at Chime). The company launched its first product in 2016 but didn't begin offering customers their own debit cards until 2017.
Chime has no monthly fees for a checking account and the Chime savings account pays up to 3% interest on balances over $10,000. It's also one of only two neobanks available in all 50 states, the other being Simple – we'll get onto them later.
Features:
Early direct deposit to help you get ahead with your finances
No monthly account fees
Savings accounts with up to 3% interest on balances over $10,000
An automatically-updating budgeting tool
Secured credit card
See Related: Aspiration Bank vs Chime: Which is Best?
3. Wealthfront Cash (United States)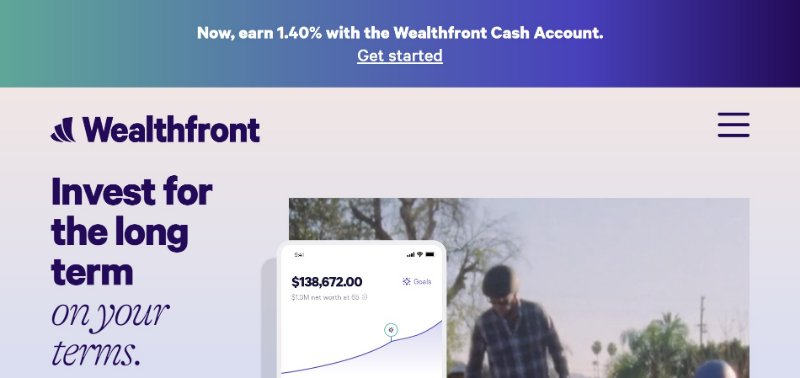 Wealthfront Cash is a cutting-edge cash management account that offers a host of features and perks designed to make your life easier. For starters, there's no minimum balance and no monthly fees. You'll also have free access to over 30,000 ATMs across the country.
And if you need to deposit a check or pay a bill, you can do so easily and free of charge with the Wealthfront Cash mobile apps for iOS and Android devices.
All of this comes with the added security of online banking so you can be sure your money is always safe and accessible when you need it. Wealthfront Cash is the perfect solution for anyone who's looking for a simple, convenient, and completely fee-free way to manage their personal finances.
Features:
No monthly fee
No minimum balance
Fast, easy to use, and secure
See Related: Best Wealthfront Alternatives
4. Revolut (United Kingdom)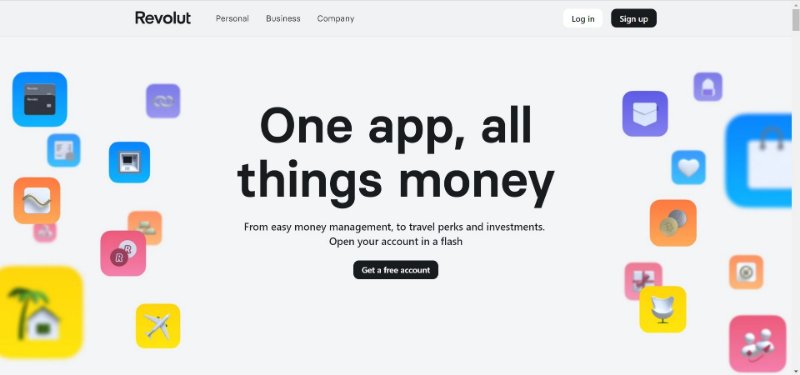 Revolut is a UK-based financial technology company that offers international money transfers, currency exchange, and payment cards. The company was founded in 2015 by Nikolay Storonsky and Vlad Yatsenko.
Established in 2015 with a focus on traveling cards and low exchange rates, the company expanded to America and Europe in 2016 with plans for opening a subsidiary in Hong Kong. Revolut's mission is to empower people to take control of their finances with the best value-for-money banking services on the market today.
They believe that banks are too expensive, outdated, and not transparent enough with their customers so they set out to provide something better: low fees, instant payments & withdrawals around the globe at real exchange rates (no hidden markups).
Also access to over 70 (and counting) currencies at all times with no extra charges, UK & EU customer support 24/7 through live chat or phone calls. Read our full Revolut review for more information on this banking option.
Features:
Save money on currency exchange and international payments
Get more for your money with complimentary payments and budgeting support
Easily invest in stocks and crypto
Get a card that rewards debit card purchases
They offer overseas medical insurance
See Related: Best Ethical & Sustainable HSA Accounts
5. Simple (United States)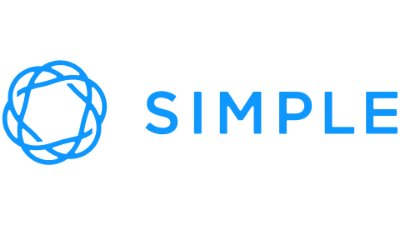 Simple is an American neobank that was founded in 2009. Simple has over 2 million customers and is available in all 50 states in the US as well as Canada.
Simple offers free bank accounts with no monthly fees, no foreign transaction fees, and no minimum balance needed on cash management accounts.
Simple also offers a great mobile app that allows you to manage your finances on the go. The Simple mobile app is available for iOS and Android devices, and it's one of the most user-friendly finance apps on the market. Simple is a great choice for anyone looking for a free, user-friendly banking solution.
Features:
Available in the US and Canada
Free personal accounts
No minimum balance
No monthly fee
See Related: Best Socially Responsible Banks
6. Varo Money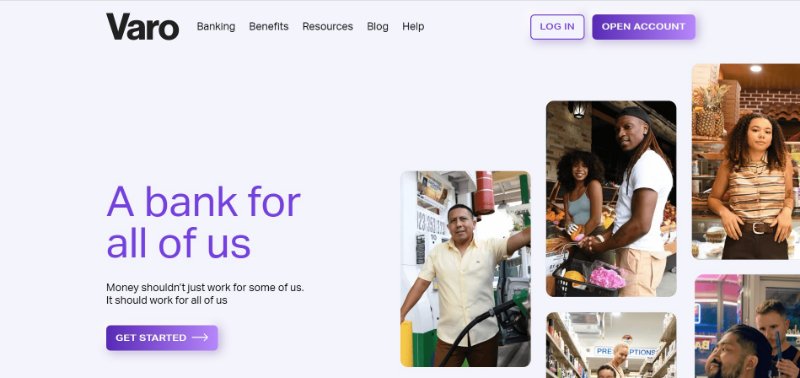 Varo is a digital-only bank that is designed for the digital generation. Varo has been around for a few years, and it's one of the most popular neobanks out there.
The platform offers no-fee banking services to its customers, including debit cards with spending categories, savings accounts, and ATM fee reimbursements (up to $400 per year).
It also has many other features that make it an attractive option:
You can transfer money without leaving your home if you have Varo's mobile app on your phone and someone else's.
Varo will notify you when your card is used outside of the country or at an international ATM. This means you avoid overdraft fees!
See Related: Most Unethical Banks You Need to Know
7. Current – Best for teens and young adults! (United States)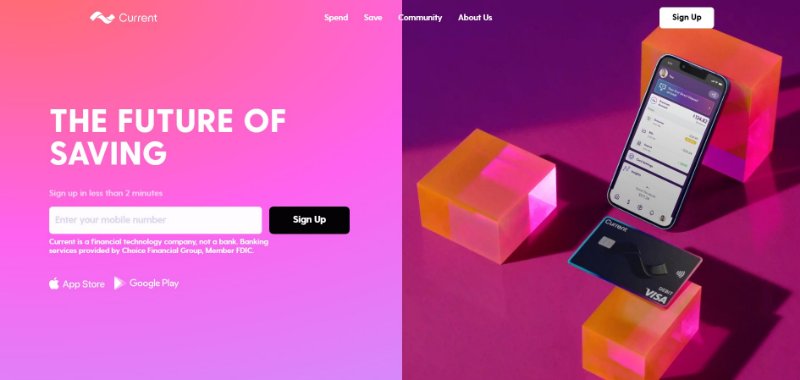 Current was established by American investors in 2015 and targeted young users. Current is not an investment firm. Deposited money gets FDIC insurance from the issuing bank Choice Financial Group, a member of the FDIC.
A key feature is the current interest account which allows for a 4.0% Annual Percentage Yield (APY) on deposits up to $6,000. This is one of the best savings accounts offered by neobanks out there.
Current's much better than you'd get with a traditional bank account. There's also the risk that you might not get the expected rate. Still, if you're looking to stash your cash somewhere safe and earn a bit of interest on it, Current is definitely worth considering.
Features:
Easy-to-use mobile app
High-interest savings account
No fees whatsoever
Debit card with cash-back rewards
Personal loans and student loans
See Related: Lightstream Review
8. SoFi (United States)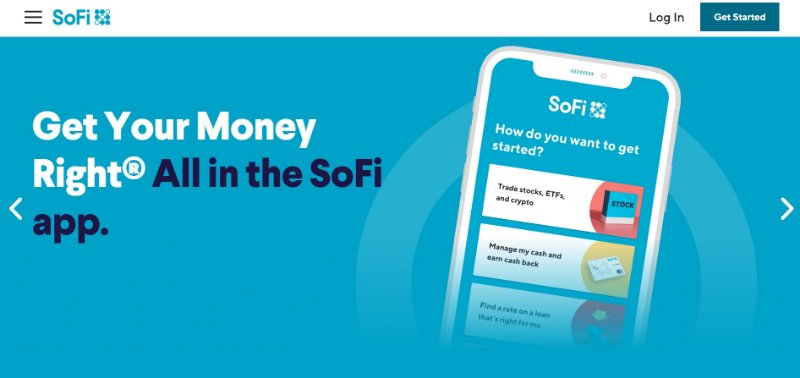 SoFi has always been a great option for those looking for an alternative to the traditional banking system. SoFi offers free online payments,1.35% interest on direct deposits, and the option to have overdrafts refunded up to $50.
SoFi customers also get free withdrawals at the Allpoint ATM network. SoFi is constantly innovating and its latest product is a checking account that offers all of the above features and more.
Features:
Earn 1.35% interest on direct deposits
Free online payments
Get reimbursed for your overdrafts up to $50
Withdraw money for free at over 55,000 ATMs in the US
See Related: What Are Green Personal Loans – Examples & Key Principles
9. Unifimoney (Sweden)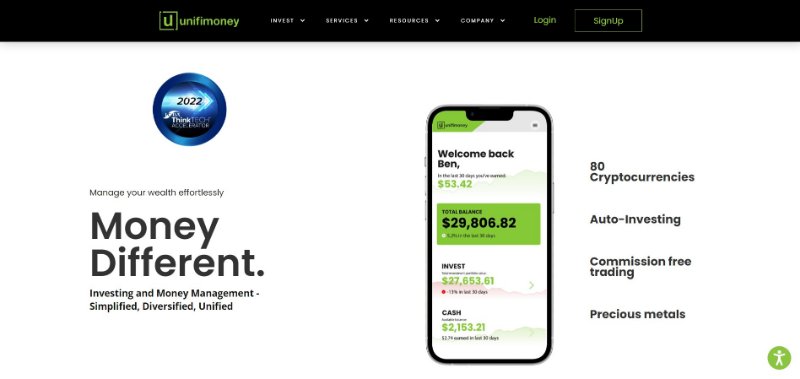 Sweden's Unifimoney is a neobank that offers no fees and a free Mastercard. It also accepts digital currencies like Bitcoin, Ethereum, Litecoin, and Monero. The bank is mobile-only, with an app for Android and iOS that lets you manage your funds in real time.
Unifimoney has partnerships with Mastercard and Visa so that you can use your card in over 100 countries wherever they're accepted (note: there may be additional fees).
Features:
Award-winning mobile app
No fees whatsoever
Free Mastercard with no foreign transaction fees
MoneyBeam allows you to transfer money to friends and family instantly, using just their email address or phone number
See Related: Best Eco-Friendly, Green Cryptocurrencies to Invest
10. N26 (Germany)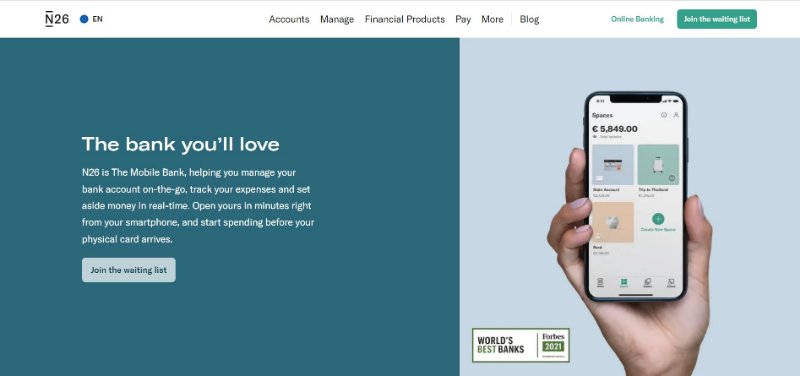 N26 is a German-based bank that is available in the UK, France, Spain, and Italy.
They offer free checking accounts with a free Mastercard as well as an app that's available on both iOS and Android devices. They also provide an online web app that can be accessed directly from your desktop browser.
N26 has a few different features that make it stand out from other neobanks, such as a built-in budgeting tool that lets you track your spending, the ability to set up sub-accounts for different goals or savings targets, and instant transfers to other N26 users in real-time.
Features:
Free account
No monthly maintenance fees
Free ATM withdrawals (including fee refunds) at any ATM in Europe
Free worldwide money transfers (including currency exchanges for those made outside of the Eurozone)
See Related: Best Socially Responsible Banks
11. Monzo (United Kingdom)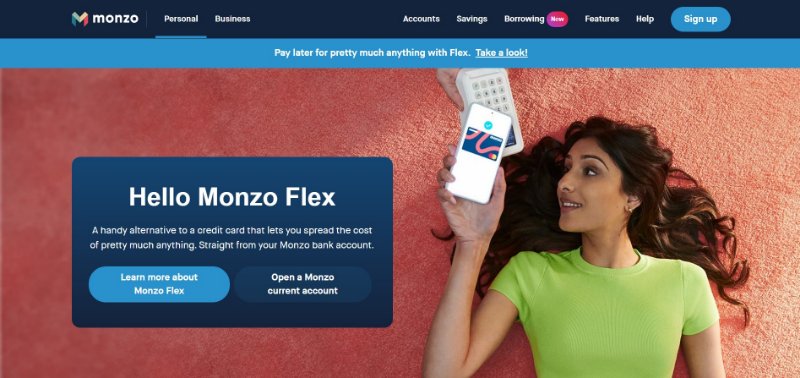 Monzo is a mobile-only online bank that was founded in 2015. It provides a free current account, which means users can access their cash and manage their spending with no fees. The company is based in London.
Monzo is a member of the Financial Services Compensation Scheme, which covers up to £85,000 per customer if it collapses.
The company will also reimburse any fees incurred by customers who use rival banks while they wait for Monzo's money to be returned after it goes bust — although this has never happened yet!
The bank has no overdraft fees and offers users a travel insurance policy at no extra cost when they pay with Apple Pay or Android Pay at certain retailers during trips abroad (such as Airbnb).
Features:
Free banking account
Fee-free overdraft
They offer overseas medical insurance
See Related: Best Investments for Young Adults
12. Atom Bank (United Kingdom)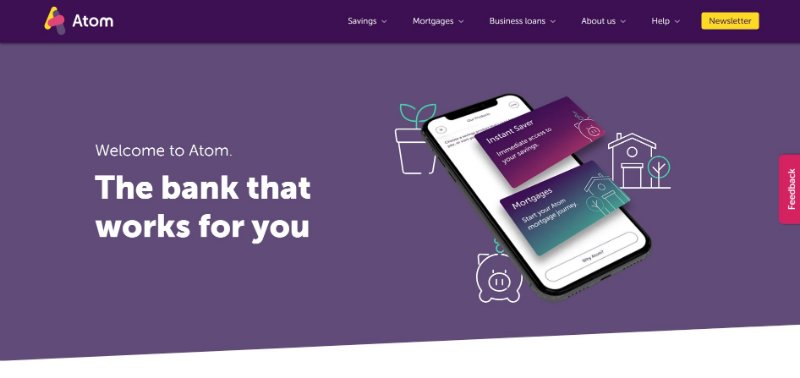 Atom Bank is a new digital retail bank in the UK that provides banking services to its customers through a mobile app or online.
It is part of the Atom Group, (which was founded by Derek White and Giles Andrews) and the bank itself was founded by Anthony Thomson, (co-founder of Metro Bank) and Mark Mullen, (former CEO of First Direct) in 2013.
The banks are owned by the same parent company, which means they have access to each other's resources and expertise.
Atom Bank is honored to be the United Kingdom's first digital-only challenger bank to be granted a full UK regulatory license. They are one of the solely digital-only banks on this list, allowing for savings of up to £100,000. Up to 2.9% interest is paid monthly in their Saver Accounts.
Features:
Online only, accessed through their handy app
Good range of fixed Saver accounts
See Related: Best Credit Builder Loans
13. Holvi (Finland)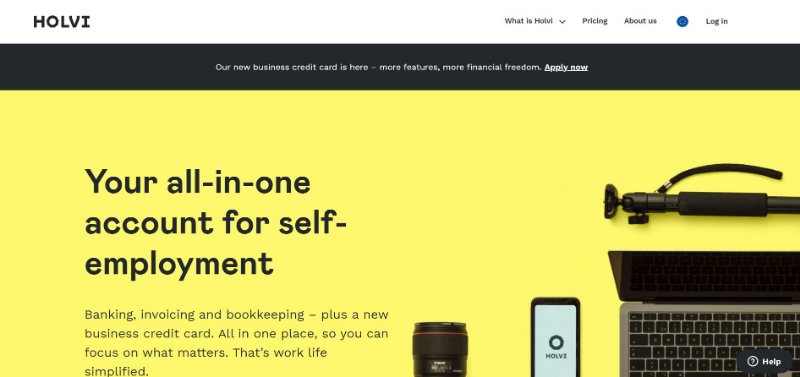 Holvi is a Finnish neobank that's been around since 2014, and it's a great alternative to traditional banks. Holvi is a mobile-first bank, so you can run your entire account from your smartphone. The company also has an app for Apple Watch.
Holvi offers a free current account and a prepaid Mastercard. You can also get a virtual card for online shopping. The company has no monthly fees, and you can withdraw cash for free at any ATM worldwide.
Features:
Save time and money with one account for all your finances
Easily manage your money with beautiful, easy-to-use tools
Get helpful insights about your spending and saving habits
Make smart investments and grow your money
Free withdrawals from any ATM in the world
See Related: Best Banks for Low-Income Earners
14. Monese (United Kingdom)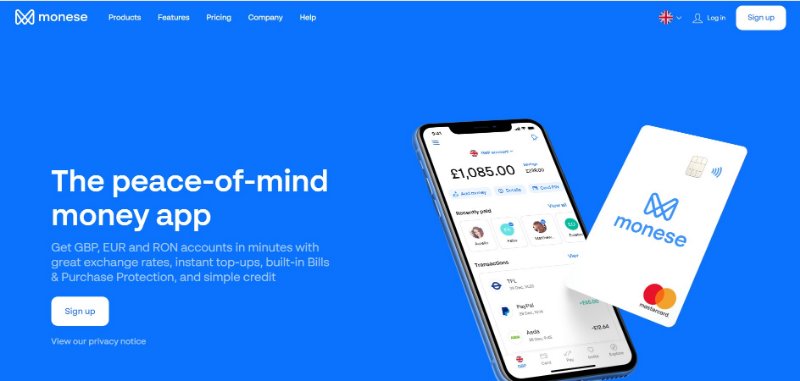 Monese is a UK-based mobile bank for migrants and ex-pats. It provides a digital banking service to those who live abroad, including immigrants, students, and foreign workers.
Monese is one of the best neobanks in the world because it was designed specifically to make it easier for migrants to maintain financial independence while living outside their home countries.
Monese offers a variety of features that make it an attractive choice for migrants and ex-pats, including low fees, multiple currency accounts, and support for a variety of languages. This neobank also makes it easy to open an account from anywhere in the world, which is a significant advantage for those constantly moving.
Features:
Save time and hassle by not having to go to a physical bank location
Easily pay bills in different currencies no matter where you are in the world
Get access to your account anywhere through their mobile app
Keep track of your spending and budgeting on the go
See Related: How to Invest in Community [Step-by-Step Guide]
15. Starling Bank (United Kingdom)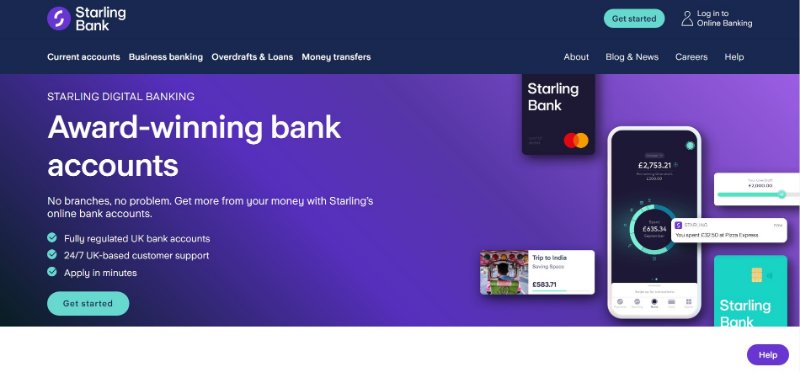 Starling Bank is a neobank that has a strong focus on personal banking. It's a UK-based bank and is available in the United States and Europe. Starling Bank has a mobile app that lets you manage your finances on the go.
The company also offers free ATM withdrawals, no foreign transaction fees, and a variety of other features that make it a great choice for those who travel frequently.
Get instant notifications for all your transactions, so you're always in control
No hidden fees or charges when using your account abroad
The annual fee of £10 ($12) per month is waived if you make a transaction each month
Chat or phone customer support 24/7
See Related: Best Alternatives to Chime Bank
16. Bluevine (United States)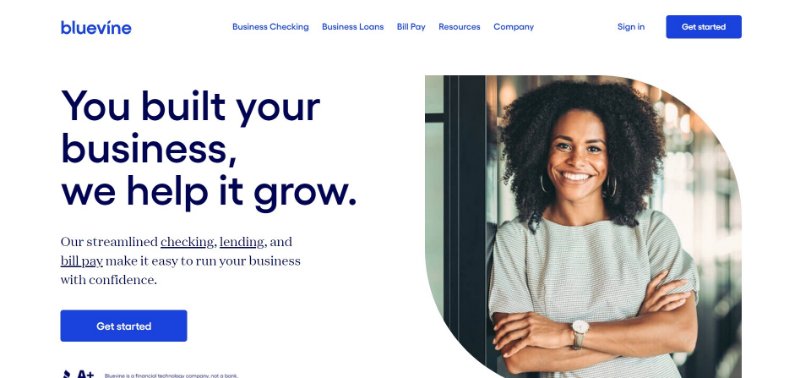 Bluevine is a company that offers entrepreneurs banking services that streamline business banking. The Bluevine Business Checking account is the main product offered by Bluevine.
It is an open account that allows unlimited transactions and is not very common within the business checking industry.
Bluevine business accounts earn a decent rate of return, without a fee, which is also uncommon for business bank accounts. For account balances under $100,000, they generate up to 1.50% annual percentage returns for the year.
Features:
Get access to features like online bill pay, mobile check deposit, and direct deposit
Use Bluevine's fraud protection services
A great option for entrepreneurs who are looking for a convenient and easy-to-use business checking account
See Related: Best Green Companies to Invest In
What are Neobanks?
Neobanks are financial technology (fintech) companies that partner with traditional banks to offer banking services. Neobanks focus on developing mobile and online apps, and e-commerce solutions, while traditional banks provide access to new customer accounts and FDIC protection.
This partnership allows neobanks to concentrate on their core competencies while still providing their customers with a full range of banking services.
Neobanks are quickly becoming popular for borrowers with varying needs, as they offer a convenient and user-friendly way to manage your finances. If you're considering switching to a neobank, be sure to do your research to find the right partnership for you.
See Related: Bank of America Corporation ESG Profile (BAC): Is It Sustainable?
Who are the top neobanks?
Neobanks are digital banks that operate solely online without physical branch locations. They offer a range of banking services, such as checking and savings accounts, loans, and credit cards. Some of the top neobanks include Chime, Varo, SoFi, and Ally Bank.
Neobanks vs. Digital Banks vs. Challenger Banks
A neobank differs from a digital bank in that it does not use e-payment. Digital banks are primarily traditional banks that offer banking services online and through mobile apps.
Some are primarily online but some are brick-and-mortar businesses offering online services, too – these are sometimes known as challenger banks. Digital banks typically provide complete banking services like deposits and credit cards.
Unlike the neobanks, they operate mostly through technology businesses working closely with traditional banking companies. These often provide a limited number of account types with the objective of providing specific services to freelancers, for example, designing specific accounts for freelance writers.
See Related: Chime Review: Unbiased Insights on Features & Benefits
What type of accounts do neobanks offer?
Generally, a nonbank will concentrate on particular financial accounts such as checking and savings. Unlike many traditional banks, neobanks operate on mobile devices or offline.
The lower the cost, the neobank offers a chance to reduce interest and boost savings rates. For example, if you are looking for an account that allows you to manage your money better, a neobank could be a good choice.
They offer features like budgeting tools and automated savings to help you stay on track with your finances. Additionally, their fees tend to be lower than those of traditional banks. If you are looking for an alternative to a traditional bank, a neobanks could be a good option for you.
See Related: Best Socially Responsible Mutual Funds to Own
How safe are Neobanks?
As a general rule, neobanks have a good reputation because they are subject to the same regulations as traditional banks. However, there are a few things you should keep in mind if you're thinking of using one.
First, make sure you check the bank's jurisdiction. The same laws and regulations may not protect you if it's located in another country.
Second, many neobanks offer FDIC-insured accounts but often charge a higher fee for this service. You'll need to weigh the safety of using a neobank against the cost. But overall, neobanks are a safe and convenient way to manage your finances.
Neobanks are a novel approach to saving and spending money. They provide several benefits over traditional banks and make banking more accessible.
With so many neobanks on the market, you'd want to do your homework before joining any of them. We hope our list of the top neobanks in the world has assisted you in narrowing your options!
FAQ
What is a neobank?
A neobank is a digital bank that offers online-only checking and savings accounts. Neobanks are similar to traditional banks in that they provide many of the same financial products and services, but they differ in that they are entirely online and often have lower fees.
What are the benefits of a neobank?
There are many benefits of neobanks, including no or low fees, higher interest rates, greater accessibility, and more.
What are some of the best neobanks?
Some of the best neobanks include Chime, N26, Simple, and Revolut.
Related Resources
Kyle Kroeger, esteemed Purdue University alum and accomplished finance professional, brings a decade of invaluable experience from diverse finance roles in both small and large firms. An astute investor himself, Kyle adeptly navigates the spheres of corporate and client-side finance, always guiding with a principal investor's sharp acumen.
Hailing from a lineage of industrious Midwestern entrepreneurs and creatives, his business instincts are deeply ingrained. This background fuels his entrepreneurial spirit and underpins his commitment to responsible investment. As the Founder and Owner of The Impact Investor, Kyle fervently advocates for increased awareness of ethically invested funds, empowering individuals to make judicious investment decisions.
Striving to marry financial prudence with positive societal impact, Kyle imparts practical strategies for saving and investing, underlined by a robust ethos of conscientious capitalism. His ambition transcends personal gain, aiming instead to spark transformative global change through the power of responsible investment.
When not immersed in the world of finance, he's continually captivated by the cultural richness of new cities, relishing the opportunity to learn from diverse societies. This passion for travel is eloquently documented on his site, ViaTravelers.com, where you can delve into his unique experiences via his author profile.