The best podcasts for real estate investing will help you improve your cash flow. Besides reading real estate books, listening to podcasts on investment property strategies can give you an edge over competing real estate investors. Learning the basics before delving into the best residential and commercial real estate podcasts is a good idea, which we've
Best Podcasts for Real Estate Investing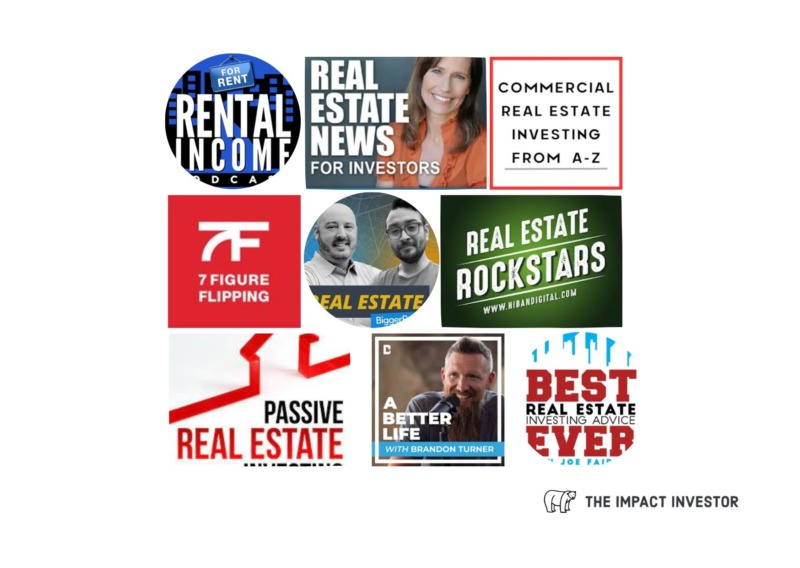 | Podcast Name | Host | Average Length (Minutes) | Description |
| --- | --- | --- | --- |
| BiggerPockets Podcast | Josh Dorkin and Brandon Turner | 80 | A podcast that features off-the-cuff interviews with investors and other wealth building professionals. |
| The Real Estate Guys Radio Show | Robert Helms and Russell Gray | 60 | Discusses a variety of topics in the real estate sector from different perspectives. |
| The Real Wealth Show | Kathy Fettke | 45 | Kathy brings together experts from the real estate investing field to share their experiences. |
| Real Estate News for Investors with Kathy Fettke | Kathy Fettke | 15 | Provides daily real estate news and market highlights for investors. |
| Lifetime Cash Flow Through Real Estate Investing | Rod Khleif | 50 | Offers insightful conversations with industry leading experts on how to invest in real estate. |
What are you considering when it comes to real estate investing? Let's look at the best podcasts for real estate investors who want to earn big, whether from rental income, property management, or even establishing a real estate career as a broker and agent.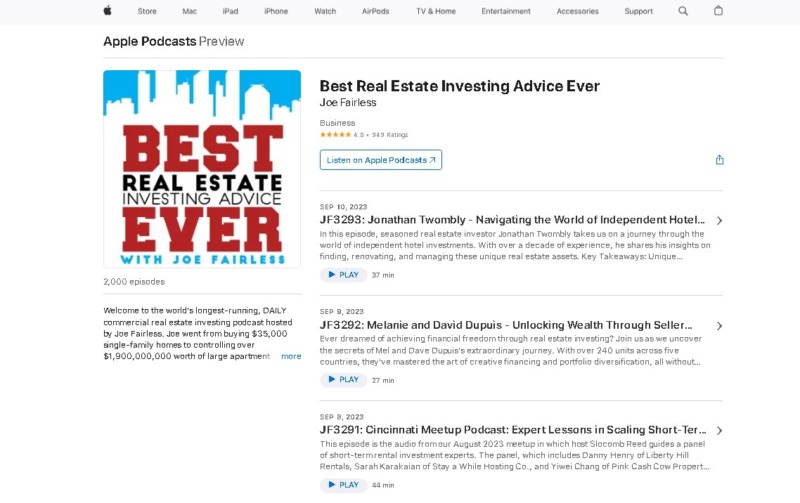 Noted for saying, "The more you know, the more you grow." – Joe Fairless is one of the best to listen to when you need to generate a positive cash flow. As one of the most well-known and longest-running real estate podcasts in the world (not just a local market), this is an excellent choice for those looking to learn about various topics. Easily the best podcast for real estate investing.
Unlock Sustainable Investing Opportunities 🌿
Join the green revolution by investing sustainably with our top partners. Discover platforms that align with your values and offer remarkable opportunities for growth.
The topics covered include multifamily investing, generating rental income in difficult market conditions, investment real estate decision-making, wholesaling, flipping, and managing rental properties.
Some of the best reasons to listen to this podcast include:
Interviews with industry players
Excellent, real-world advice and guidance you can apply at any stage of your real estate investments
Daily podcasts that are about 20 minutes long, keeping it short and to the point.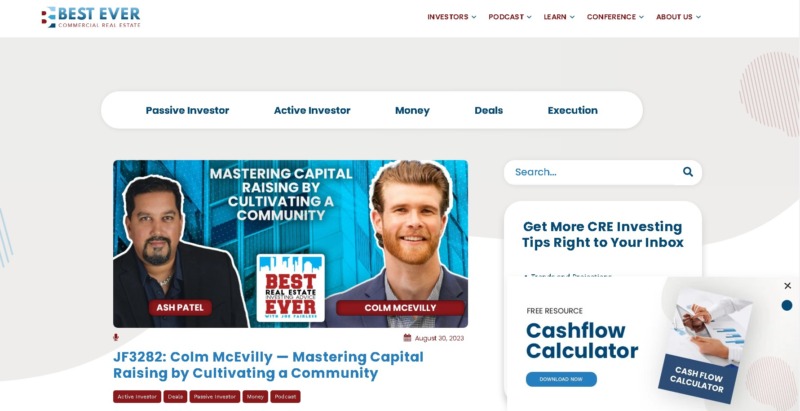 For those interested in mastering capital raising and doing it by building their own network, Colm McEvilly is the go-to resource. He offers tools for success, including trends and projection insights and instructional videos to create a hands-on approach to building your profits.
Reasons to listen to this podcast include:
Improving risk assessment and decision-making processes
Creating personal goals and establishing yourself as an expert
The art of raising capital and connecting with accredited investors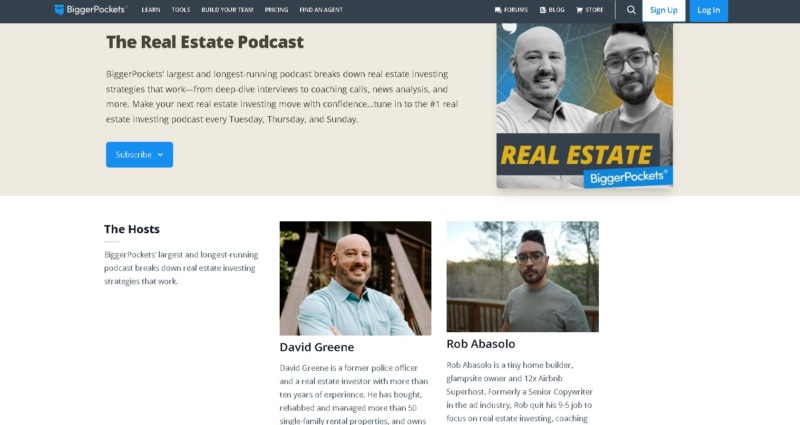 The BiggerPockets podcast is an excellent real estate podcast for those who want help creating or improving real estate investment strategies.
They offer good investment advice and guidance, including choosing investment real estate, making more money with current opportunities, and building financial freedom. The podcast also offers great content on news analysis (not just the news itself), and they do coaching calls.
The best features of this podcast include the following:
Many new investors learn how to build passive income
They tackle real-work concerns about money and how to invest in real estate while mitigating risk
The deep-dive interviews and coaching calls are fantastic on topics as far ranging as managing operating expenses to building positive cash flow on a limited budget
See Related: Best Sustainability Podcasts You Need to Listen To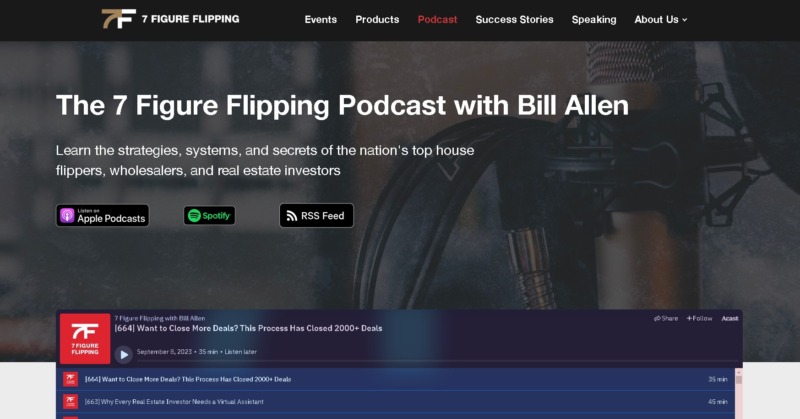 The 7 Figure Flipping podcast is packed with information and resources, including strategies for finding properties, managing changes in market conditions, and wholesaling. With more than 200 deals per year, the host, Bill Allen, knows what he is discussing regarding real estate investing. The content isn't challenging, so those just starting in real estate investment can find help here.
Some of the best content available includes:
Deciding to sell or rent property
How to navigate price appreciation
How to find properties for investing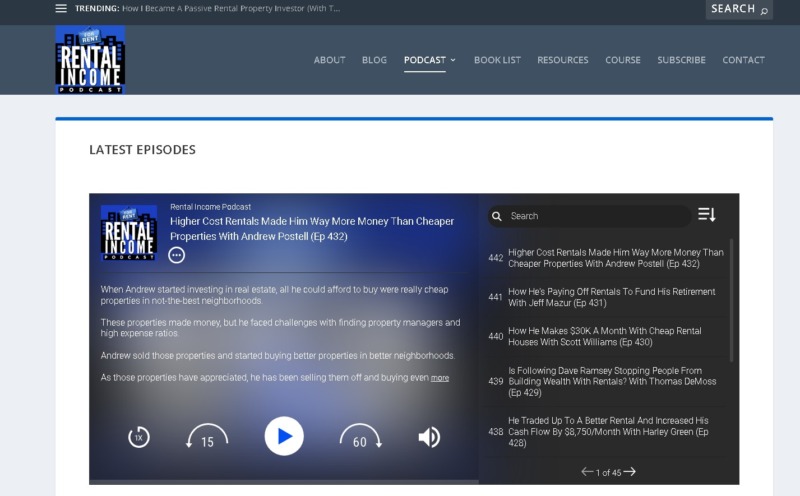 Another excellent real estate investing podcast is the Rental Income Podcast, which is available twice a week. Dane Lane speaks to real estate investors from a range of perspectives, including property management, managing tenants, how buying rentals is "like playing a game of chess," and the hard stuff like managing personal financial and mortgage payment concerns.
Some of the best content here discusses:
How to navigate higher costs
How to buy your first rental properties
How to finance investments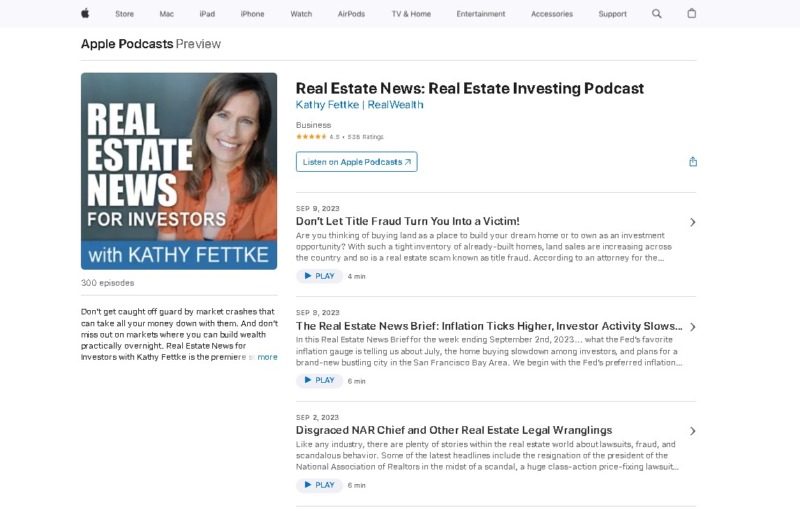 Kathy Fettke offers an interesting perspective on market insights, how to make money during changes in real estate trends, real estate investment strategies, real estate law topics, and economic condition changes.
Some of the best content from this podcast includes:
Insights into what's coming for investors in the market
Real estate investing topics related to economics
How real estate investors can navigate changing real estate climates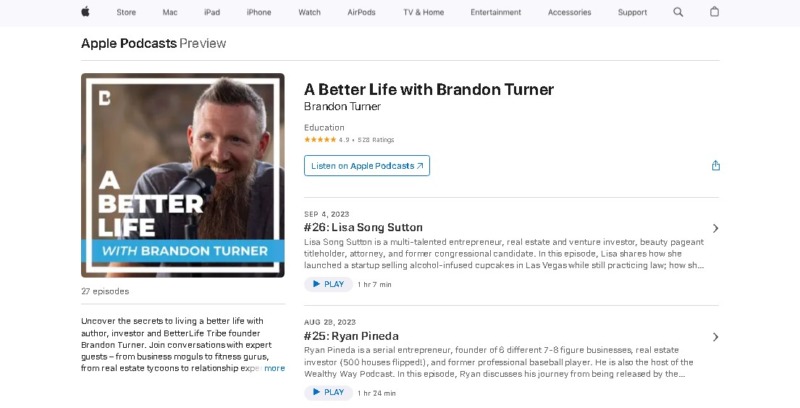 While many investors focus heavily on money and building financial freedom, Brandon Turner and his podcast are about creating a better life. They talk about a lot of things, including various aspects of investing and money management, but also about how to balance everything in life, and that is an important factor for many people starting out.
Some of the best details about the Brandon Turner podcast include:
How business moguls build a better life
Interviews with celebrities, real estate tycoons, and relationship experts – it's always different
How to be a serial entrepreneur moving beyond just real estate investing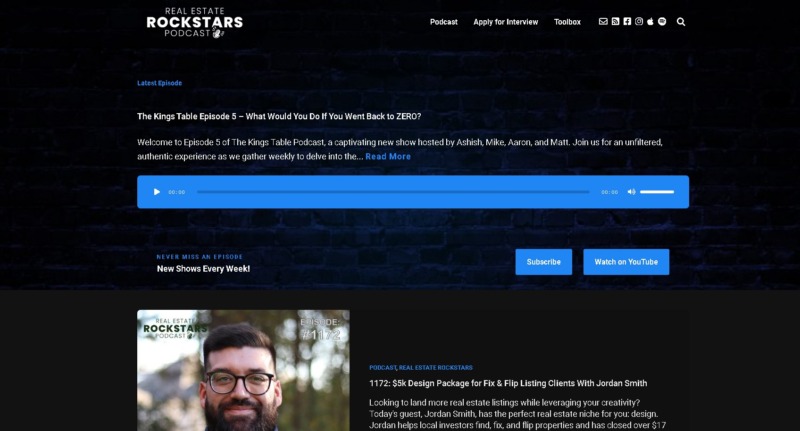 Real Estate Rockstars has had more than 4 million downloads for a reason. This is a go-to podcast for real estate investors looking for a highly competitive "in" and how to build their best future. The podcast happens thrice a week and is often designed for more seasoned brokers and up-and-coming real estate agents looking to do more than just get started.
Some of the best content here includes:
Analyzing current trends in real estate
Conversations with online marketing and sales training professionals
Notable guest conversions, including with industry leaders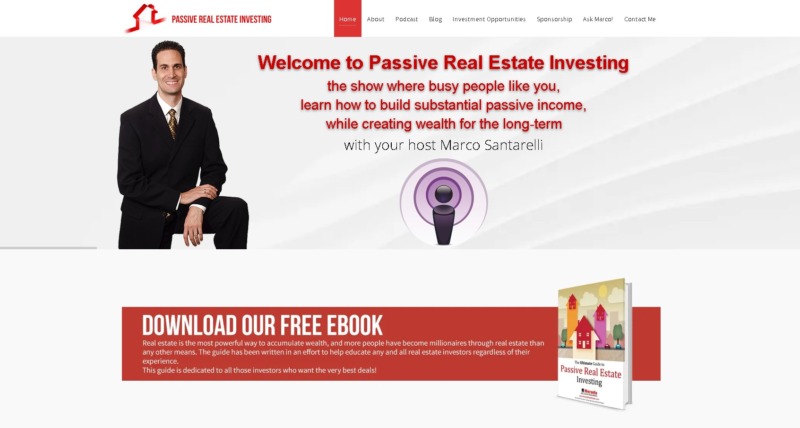 Those who want to do more than be a property manager or are looking to increase their real estate investing skills beyond a basic flipping strategy will want to check out this podcast. If you want to invest in real estate that's highly competitive, or you want to grow your gross income and gross rent to new heights, this is an excellent podcast.
Some of the best details here include:
How to buy property from a passive perspective
How to move from day-to-day management into more comprehensive real estate investing
Personal finance topics and meeting financial goals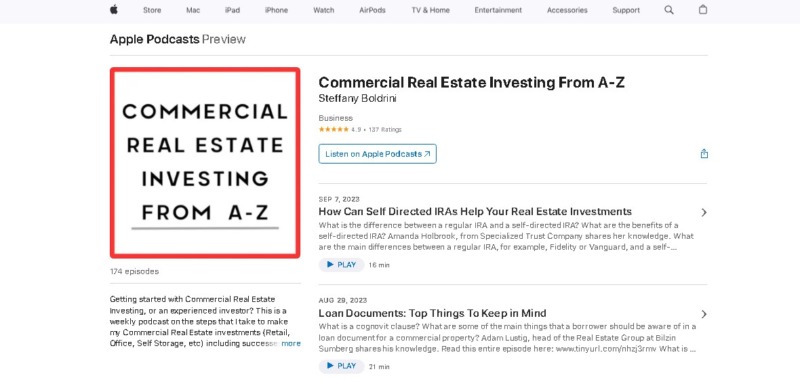 This podcast is excellent for beginners who want to dive into real estate investing hard. It overviews the commercial real estate process, including asset classes such as self-storage, rental, and office space.
It is not a podcast to learn how to be a property manager but more about building your real estate investing skills to achieve your long-term goals. Consider this option if you wish to invest in real estate from a commercial property perspective.
The best features in this real estate investing podcast include:
Flipping property in a downturn
Common mistakes and how to avoid them
Deciding to rent or sell
Tips and Tricks to Understand How to Find Investment Properties
Do you know the 1% rule in real estate? If you only have $ 1,000, what's the best way to invest it? Keep reading to build your knowledge of the real estate business.
What are the four real estate investment strategies? How can I invest $1000 in real estate? Who is the best real estate investor of all time?
One Percent Rule in Real Estate
The one percent rule in real estate applies to rental property investing. It gives you a guideline of potential profitability.
If you're interested in some rental properties that cost $200,000 each, make sure you can get at least 1% of the price in rental income. In this case, that's $ 2,000. Use this to help you evaluate a rental property before you buy it.
What Is Digital Real Estate?
Real Estate Investment Trusts (REITs) are partnerships, trusts, or associations that pool the resources of online investors to buy properties or mortgages. This is a great way to invest in real estate if you lack capital for large residential or commercial properties.
What is the 10% rule in real estate investing?
The 10% rule in real estate investing can help you decide how much of the purchase price to put down on the home. Your down payment will ideally be 10% or less of the sales price. This gives you money cash to make renovations or to maintain the property.
Never put more than a 10% down payment on a property. This allows you to use leverage and increase your returns.
Buy at least 10% under the market price. This gives you a margin of safety and instant equity.
Avoid paying more than a 10% interest rate on your mortgage. This keeps your financing costs low and your cash flow positive. You can find more details about this rule in this article.
Four Main Real Estate Investment Strategies
The four main real estate investment strategies are:
Core: a low-risk, low-return strategy focusing on stable, high-quality properties in prime locations with long-term leases and reliable tenants.
Core plus: low-to-moderate risk, low-to-moderate return strategy that involves properties similar to the core but with some value-added potential or higher leverage.
Value-added: moderate-to-high risk, moderate-to-high return strategy that involves properties needing improvement or repositioning to increase their income and value.
Opportunistic: high-risk, high-return strategy that involves properties that require significant development, redevelopment, or turnaround to achieve their full potential. You can learn more about these strategies from this article.
Why Podcasts are a Must for Today's Real Estate Investors
Whether you are considering your first venture into real estate deals or have rental property already and want to maximize your earnings, it helps to have more information, better insight, and a different perspective for your investment decisions. Podcasts can offer that.
It's like having a dozen (or more) professionals surrounding you to help you make better decisions for maximum profits, improve monthly rent payments, and even invest in mutual funds or other strategies to expand your portfolio.
You will also find that podcasts create an opportunity to minimize the risk of making some of the most common mistakes others have learned, like not considering tax planning or lacking financial education before jumping in.
With podcasts, you have a leg up. You can easily find hidden profits, stay ahead of industry and real estate trends, and maximize on that one percent rule mentioned earlier. Podcasts are created for new investors, but they can also be ideal for those seasoned pros who may have the goal of having fewer headaches along the way to building their business.
See Related: Proven Ways to Start Investing in Apartment Complexes
Key Tips for Maximizing Learning from Podcasts
As a goal to creating the ultimate beginner's guide, the following tips can further enhance your ability to succeed, earn extra cash, and achieve your biggest goals in real estate investment. Here's how to make the most of any podcast you are listening to.
Consistency in listening
You must listen to them regularly and consistently to learn effectively from podcasts. This means choosing podcasts that match your interests and goals and setting a schedule for when and how long you will listen to them.
For example, you could listen to a podcast every morning while commuting or every evening before going to bed. You could also use a podcast app to subscribe to your favorite shows and download episodes automatically. By listening consistently, you will build a habit of learning and expose yourself to new ideas and perspectives.
Taking notes to remember key points
While listening to podcasts, it is helpful to take notes of the main points, insights, or questions that arise. This will help you remember what you learned and review it later. You can use a notebook, a digital device, or a voice recorder to capture your thoughts.
You can pause or rewind the podcast to clarify something or listen again. Taking notes will also help you identify the gaps in your knowledge and the areas where you want to learn more.
Implementing learned strategies and evaluating the results
Learning from podcasts is about acquiring and applying information to your life and work. Therefore, you should try to implement the strategies, tips, or advice that you hear from the podcast hosts or guests.
For example, if you listen to a podcast about productivity, you could try out some of the tools or techniques they recommend. You should also evaluate the results of your actions and see if they improve your performance or satisfaction. Doing this will reinforce your learning and make it more meaningful and relevant.
See Related: Proven Ways to Invest in Hotels
Tap Into Your Future in Real Estate Investing
Are you ready to start investing? Are you thinking about expanding your current system? Do you want a proven system that can help you achieve better success?
You can find all that and much more in the podcasts available today. Investors miss opportunities when they don't continue their education. Podcasts make it easier for you to continue that education over time.
Frequently Asked Questions
What is real estate investing? 
Real estate investing is the process of purchasing real estate, either residential or commercial, with the goal of earning from it. However, there are a wide range of ways to do so to create wealth. That could include buying homes to repair and sell, locating the right properties to purchase and create rental properties, or even investing in mutual funds.
How can podcasts help with real estate investing?
Podcasts are a great starting point for those just getting ready to invest, but they also have resources to help those who need to scale or build their business over time. Most investors know that real estate knowledge is growing and changing as the market does, and this is one of the best ways for you to tap into that knowledge source that others who have great success are using.
Related Resources