Real estate investors seek profits from rental property income or resale. Real estate investor software helps property speculators track their investments and find opportunities to increase profits or reduce losses.
The software does more than maintain records of rental payments and equity growth. It collects data and provides insights that property owners can use to make informed decisions about their assets.
Real estate investor software can also automate bookkeeping and make complex calculations. These features allow owners and their assistants to reduce time spent on manual data entry and lower the chances of human error.
A property owner must manage payment information, tax records, legal documents, and access information at any time. Quality software is essential for real estate investing.
Best-Of by Category
Best Software for Real Estate Investors
The best software for real estate can vary depending on the type of property investment and strategies. For example, some investors need to calculate monthly rent or other expenses, while others need data-driven property analysis to make purchase price decisions.
Full-featured products can provide the needed software solutions, and software packages let you access different tools in one place. You need to define needs and seek software that meets them.
Here is a look at the best software options for real estate investors.
1. Landlord Studio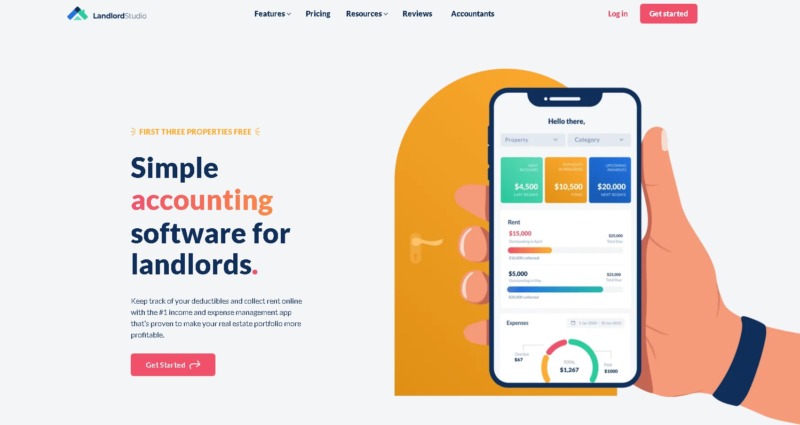 Landlord Studio focuses on the management of rental properties. Its first advantage is scalability. The software works for single-family home rentals, multi-unit properties, and commercial buildings.
You can track operating expenses and collect rent automatically. The platform saves time by calculating taxes and filling documents automatically.
Maintenance tracking features are also in the package. You get a complete picture of all property management tasks on one platform. The user interface is intuitive. You can plug in properties and start managing them without a learning curve.
Landlord Studio has marketing and analytics tools to create rental listings. It can also screen applicants for suitability. Landlord Studio provides value. It is a software-as-a-service (SaaS) tool, so you pay monthly.
You can connect three units for free. After this trial, the price starts at $12 per month. You can add more units for $1 each. 
See Related: Best States for Real Estate Investing
2. AppFolio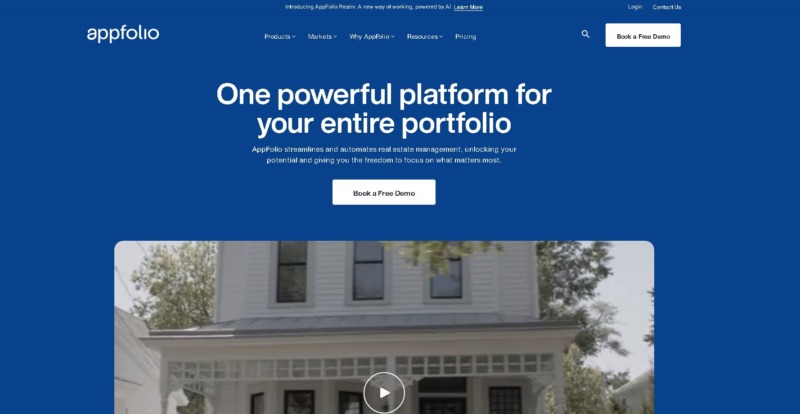 AppFolio is a good option for investors with a large portfolio or a mix of property types. It provides functions for single and multi-unit investment properties. You can connect specific property types, including student housing and commercial spaces.
AppFolio's features also apply to homeowner's associations and condo buildings where tenants own the unit but pay maintenance fees.
AppFolio automates financial and legal document creation, helps calculate minimum monthly rent, and collects data for tenant screening. The cloud-based software allows you to access it anywhere and manage properties remotely.
Property owners seeking simple solutions might not find value in AppFolio's many features. However, those with complex portfolios may like the all-in-one functionality.
Monthly prices start at $0.80 per unit for homeowner's associations. Residential and commercial units are $1.40 and $1.50 per month respectively.
See Related: Best Stock Apps for Investing
3. Buildium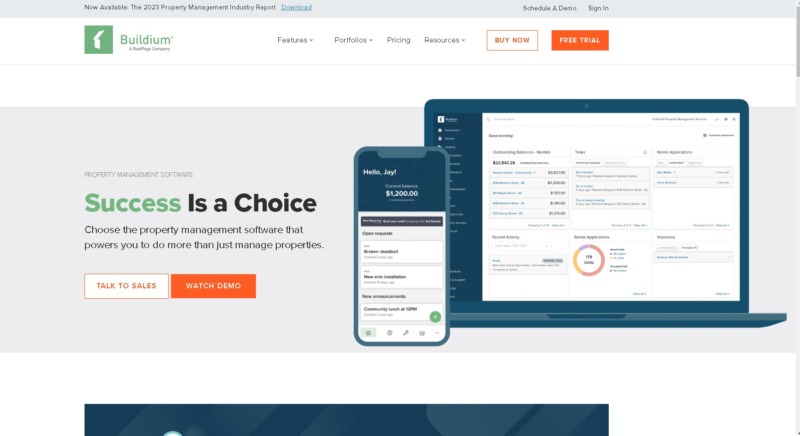 Buildium offers all the tools landlords and investors need to manage their properties and track key financial metrics. It is one of the best software options for those who use data to inform decisions. Users can access business performance features through the software.
Buildium also has an open API. Developers can create customized tools to work with the software. This feature is valuable for investors seeking specific insights or solutions.
Buildium also has a marketplace for existing applications. You can find and add what you need to your platform with a few clicks.
Buildium has three pricing tiers. Basic packages are $52 per month, mid-level functions are $166, and the Premium package is $479.
These price ranges are expensive for smaller investors. However, those using the open API and other tools may find value in Buildium.
4. Avail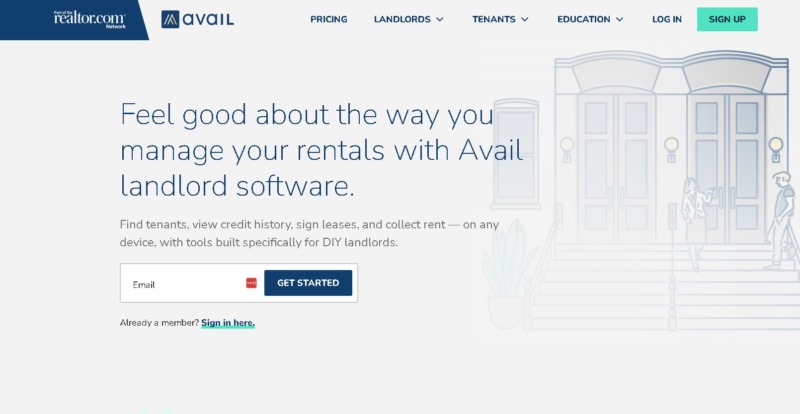 Buildium and AppFolio cater to large-scale investment property. Avail is for smaller operations. Those with a smaller portfolio, a few commercial buildings, or single-family residential homes will appreciate Avail's simplicity and reasonable pricing ranges.
Avail's is part of the Realtor.com network. This trait is an advantage. You can use it to find property owners interested in selling or buying. You can also advertise rental property across a network of sites with a few mouse clicks.
Avail offers sophisticated lead management tools, such as background checks and automated renter profiles. These tools are ideal for do-it-yourself landlords and property owners without professional property management.
Renters can also use Avail to research properties and landlords, unlike other platforms. Avail is free for investors who want to use the services individually. Comprehensive packages cost $7 per month per unit. Premium services include automated lease agreements, fee-free rental and money-wiring functions, and customized property websites.
5. RealData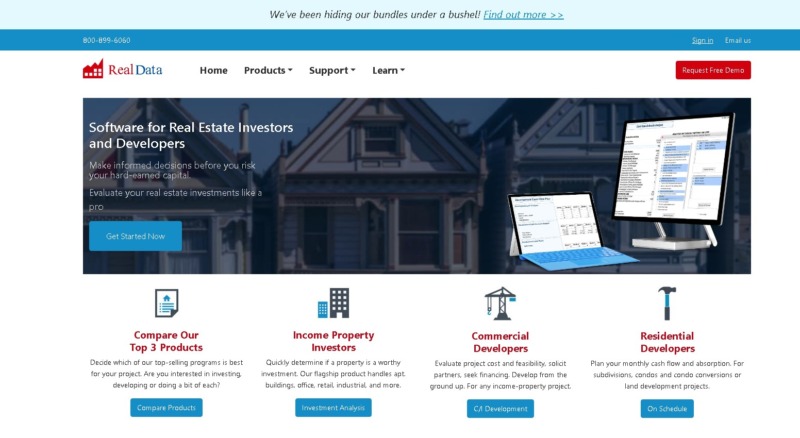 RealData is for investors seeking high-powered analytics software. This tool moves well beyond cash flow property investing functions.
It offers tools for evaluating all property types. You can calculate the average rent for a property based on existing market data or analyze potential deals using market forecasts.
RealData also allows you to search for opportunities based on specific variables and estimate potential financial performance. Comparative leasing analysis and positive cash flow and-on-cash return estimates can help you make informed choices when purchasing a property.
RealData is a good choice for developers and real estate investors. It provides advantages for market players of all sizes. However, those seeking robust rental management tools will not find them here.
RealData has three versions, available for a one-time licensing fee. The license prices range from $50 to $595.
You can try features for a partial 30-day fee. This fee applies to license costs if you decide to buy the software.
See Related: Best Green Apps for a More Sustainable Life
6. Property Evaluator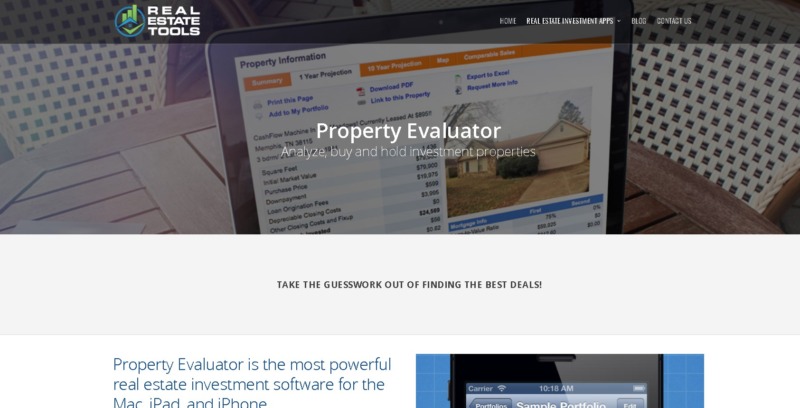 Property Evaluator is a real estate investment tool for desktops and mobile devices. It is exclusive to the iOS and Mac operating systems. Investors who prefer iPhone and Apple products can benefit from this unique application.
Property Evaluator's biggest strength is its ability to organize data in one place and use it to assess potential purchases against other costs. For example, you can use it to weigh purchase prices against potential costs to renovate a rehab property.
You can also use Property Evaluator to assess financing options and perform personalized reporting to inform decision-making. The software can help you calculate the maximum allowable offer for a property. This step helps ensure profits and avoid real estate deals leading to losses.
The main drawback of Property Evaluator is that it is tied to a single operating system. It functions best for small investors who do not need input or assistance from others who might have other device types.
A free version is available for this app. However, its functions are limited. Full features and unlimited reports cost $39.99 per month.
7. Rentometer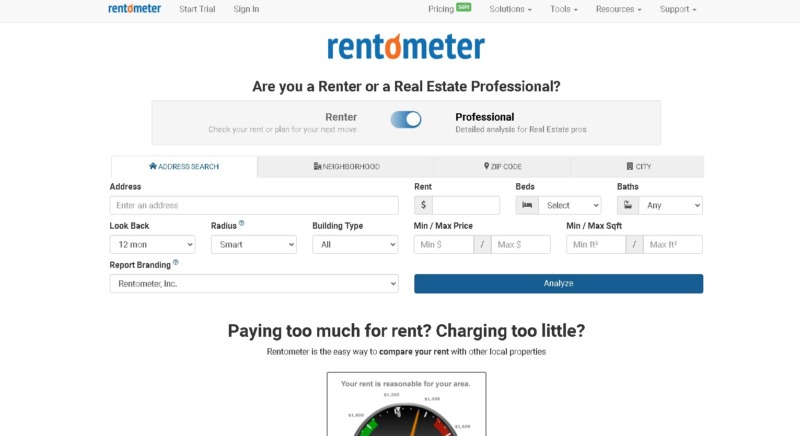 Rentometer is a unique real estate investor software that has features for both renters and investors managing rental property. While other rental applications focus on property management, this helps you maximize profits. Rentometer uses data to help calculate the best rent prices and decide on how much rent to charge.
This tool is vital for smart money management. You use its insights to find the right property to turn into rental units. You can select the ideal price to attract and keep tenants without undercharging them.
Rentometer has an open API that investors can use to create customized insights. The provider also offers data solutions so you can ensure the information matches your needs and isn't contaminated with irrelevant info.
Rentometer currently offers a 7-day free trial. Monthly access is $29 for premium features, and the company has deals for annual subscribers. Regular prices are $79 to $199 per year, but you may find promotional offers to lower this cost.
8. Mashvisor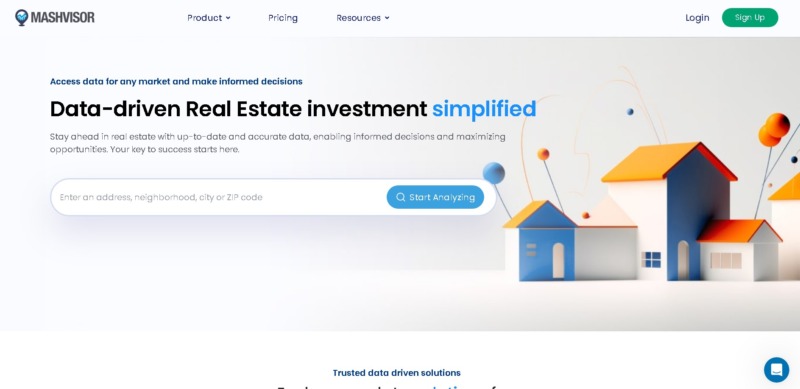 Mashvisor is another software tool focused on data analysis. Unlike other tools, which focus on specific investment types, this one offers insights for different markets. For example, it is one of the only options offering analytics for Airbnb investors.
You can calculate potential profits based on the occupancy of short-term rentals and price data for the location. These insights can inform purchase decisions.
Mashvisor searches for specific properties based on your perimeters. It can also zoom out to search for different markets based on your needs.
This feature helps hone searches for good investment properties. This strategy proves more efficient in many cases.
Mashvisor has its property marketplace where you can look for motivated sellers and find potential deals from ambitious buyers. Mashvisor offers annual subscriptions.
Costs are $29.99 to $99.99 per year. Premium paid plans provide access to nationwide analytics, while cheaper versions are for those working in one area.
9. DoorLoop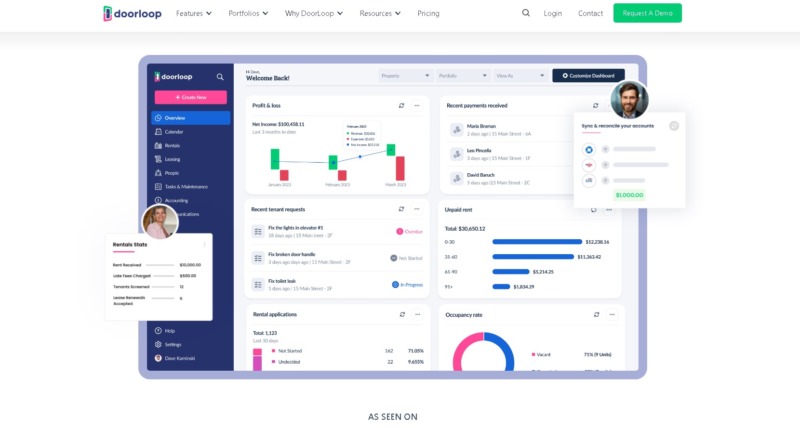 DoorLoop is a new software option. Many investors need help organizing legal documents and paperwork for running a rental property business. DoorLoop specializes in this area with auto-filling options and a document storage and searching platform.
The software also has property management features, including rental payment and gross rent tracking and automated bookkeeping. These features can help with tax documentation.
DoorLoop is a good option for people seeking a simple platform that has scalability. The software works for commercial, residential, and specialized situations (low-income and student housing). It is also available to association managers.
DoorLoop costs $49 monthly for basic service and $199 for premium software solutions.
See Related: Best Betterment Alternatives | Apps Like Betterment
10. TurboTenant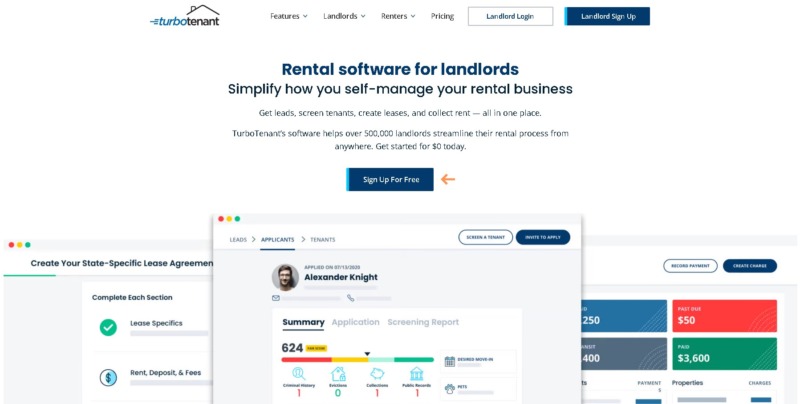 TurboTenant is for property investors who serve as their landlords. It has all the necessary tools to handle every aspect of the business in one place. The software can automatically track income and collect rent.
Users can even design marketing campaigns from TurboTenant and place ads on sites where renters search for new homes.
The software focuses on remote management, so you can handle most tasks virtually. The features include the ability to communicate with tenants.
The basic version of TurboTenant is free. It offers decent features and provides enough functionality for some investors. The paid version is $99 per year. It offers access to advanced tools like automated lease agreements and tenant screening.
What Qualities Should Real Estate Investor Software Have?
If you have a real estate investing business, you need your software to handle specific tasks and provide insights into every aspect of your operation. Here are the qualities to expect from your software.
Versatility: The software should handle different real estate situations, from flipping homes to managing long-term rental properties.
Scalability: The software should be able to handle businesses of all sizes. Successful investors may start small and add properties as they gain experience and succeed. Good software can grow and expand with them without requiring changes or data migrations to new systems.
User-friendliness: Real estate investments take time. You want to concentrate on purchase decisions or your rental property business. You do not want to spend time understanding complex software. The best digital tools have intuitive interfaces that are easy to learn and operate.
Accessibility: The software should offer the same features, whether accessed from a smartphone, laptop, or desktop. In today's remote workplaces, cloud-based tools are ideal. Everyone involved in managing your real estate portfolios should have access to and be able to use tools outside of the office. Sometimes, the best feature is finding something as simple as a property address or listing price on your smartphone.
Functionality: Good software unifies all functions in one place. You should be able to see rent payments, gross rental income data, and legal documents in one place. Unified information makes management easier and keeps you from searching for essential insights in different places.
You should also ensure the software has the functions you need. For instance, you can benefit from maintenance request tracking tools if you have a large property.
The best software bundles range from all-in-one property investment management and platforms to specialized tools for niche investors. Investors need to select the option that meets their specific needs. Price is a factor, but you should consider overall value. Good software solutions can reduce workload, increase cash flow, and find opportunities you'd miss otherwise.
Related Resources
Kyle Kroeger, esteemed Purdue University alum and accomplished finance professional, brings a decade of invaluable experience from diverse finance roles in both small and large firms. An astute investor himself, Kyle adeptly navigates the spheres of corporate and client-side finance, always guiding with a principal investor's sharp acumen.
Hailing from a lineage of industrious Midwestern entrepreneurs and creatives, his business instincts are deeply ingrained. This background fuels his entrepreneurial spirit and underpins his commitment to responsible investment. As the Founder and Owner of The Impact Investor, Kyle fervently advocates for increased awareness of ethically invested funds, empowering individuals to make judicious investment decisions.
Striving to marry financial prudence with positive societal impact, Kyle imparts practical strategies for saving and investing, underlined by a robust ethos of conscientious capitalism. His ambition transcends personal gain, aiming instead to spark transformative global change through the power of responsible investment.
When not immersed in the world of finance, he's continually captivated by the cultural richness of new cities, relishing the opportunity to learn from diverse societies. This passion for travel is eloquently documented on his site, ViaTravelers.com, where you can delve into his unique experiences via his author profile.