Solar project management software handles some of the most challenging aspects of solar companies' workflows. It helps with different solar project estimating, tracking, and reporting.
Above that, such software also helps companies save time and money by providing a big-picture view of ongoing, completed, and upcoming solar projects. It also allows companies to mitigate risks and boost efficiency. There're many different aspects involved in project management software.
Thus, choosing the right software to manage solar projects is impossible. To help you pick the one that's right for you, we've compiled a list of the best solar project management software.
Best Solar Project Management Software Options
Solar Project Management is an integral part of the solar industry, and having the right software can make a huge difference in your business. Here's some of the best solar project management software to help with your green projects so you can be more efficient at work.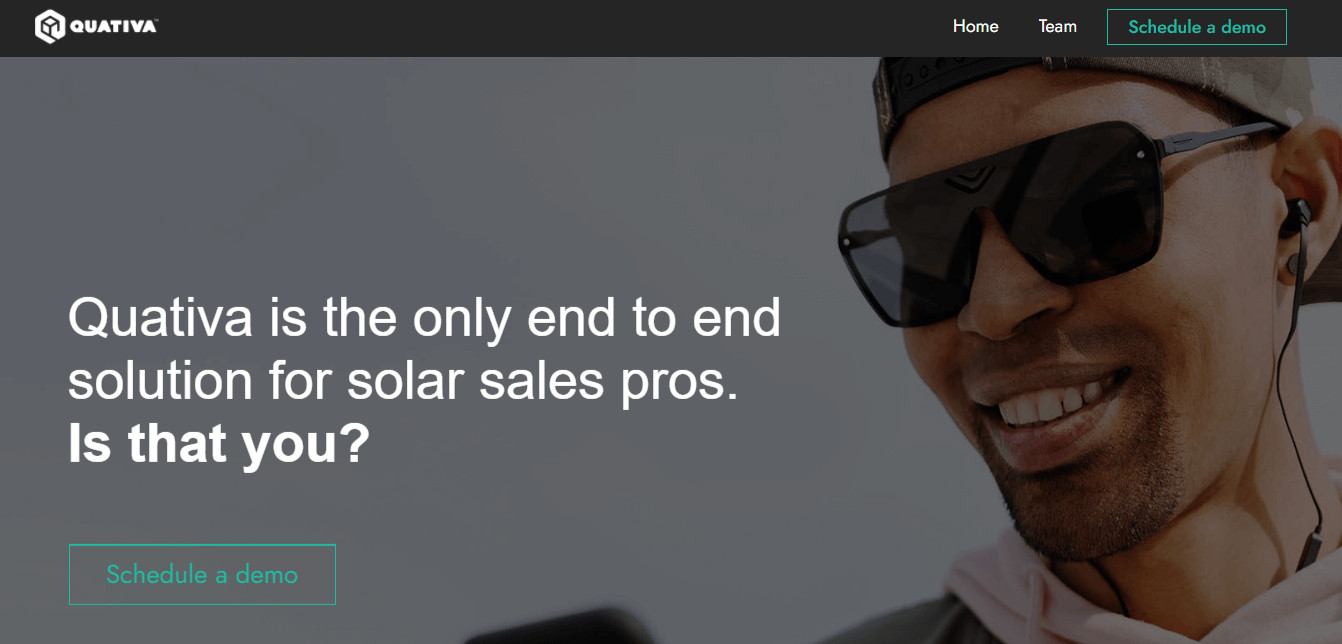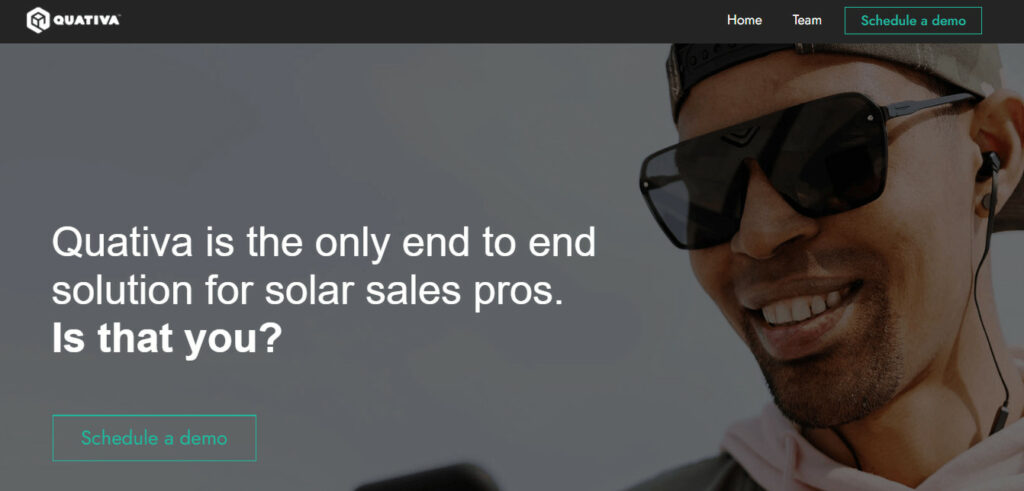 | | |
| --- | --- |
| Best For | Managing Multiple Solar Projects |
| Price | Free |
| Annual Discount | No |
| Promotion | Use For Free |
When it comes to managing your solar projects, you need software that's powerful yet user-friendly and easy to use.
Quativa is one of the best solar project management software designed to care for your business. It's an all-in-one solution for solar contractors who want to manage multiple projects easily while ensuring they're on top of every task. From helping you manage your leads to converting them into winning proposals and then managing the projects, Quativa simplifies everything for you.
Key Features:
Canvassing and Prospecting: You can create territories, get data on potential clients, and schedule appointments right in the app. It's like having your office in your pocket!
Lead Management: With Quativa, you can quickly view your leads, write notes about them, and follow up with them via email or text, all from your phone.
Proposal & Financing Management: Quativa offers a streamlined proposal process to ensure you're the provider the homeowner trusts for their next project. Apply for financing, get approved, and sign documents—all within minutes.
Sales Teams/Organizations Management: With Quativa, you can also create a price range that team members can set for each project and check their job performance at a glance.
Project Milestone Tracking: You can easily create new proposals, track previous ones, manage employees, schedule tasks, and make sure your projects are running smoothly from start to end.
Pricing Plans:
You can download the Quativa app for free.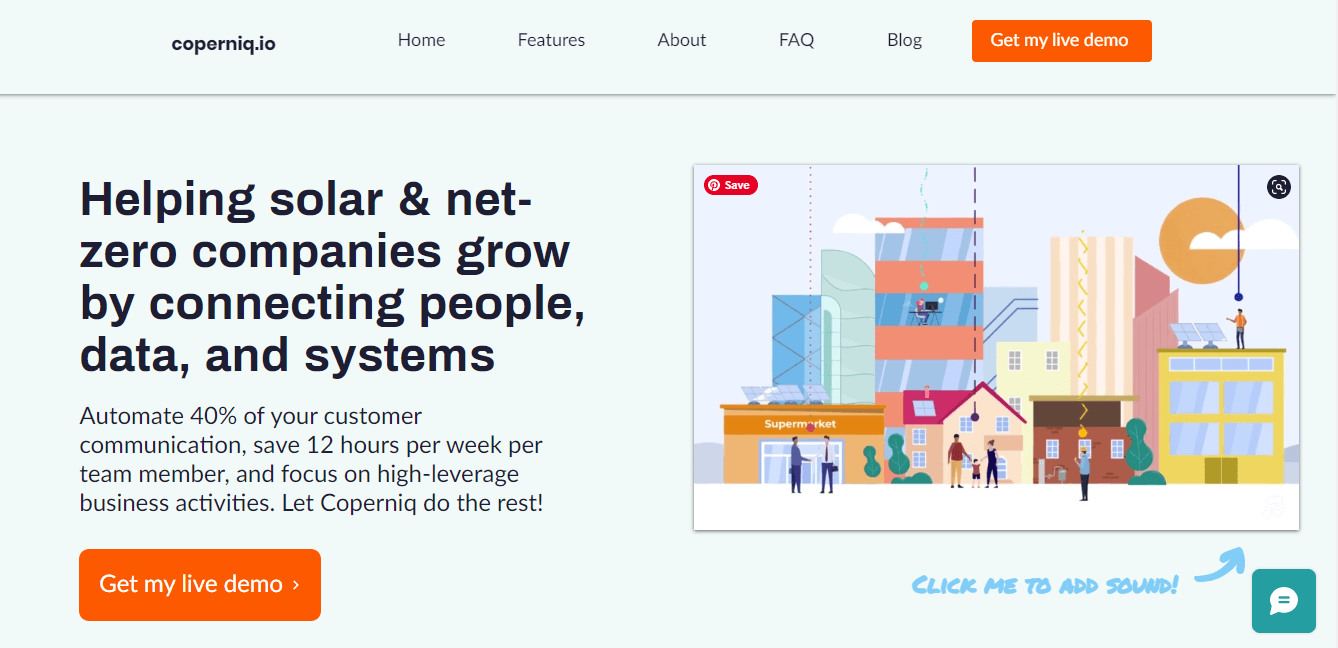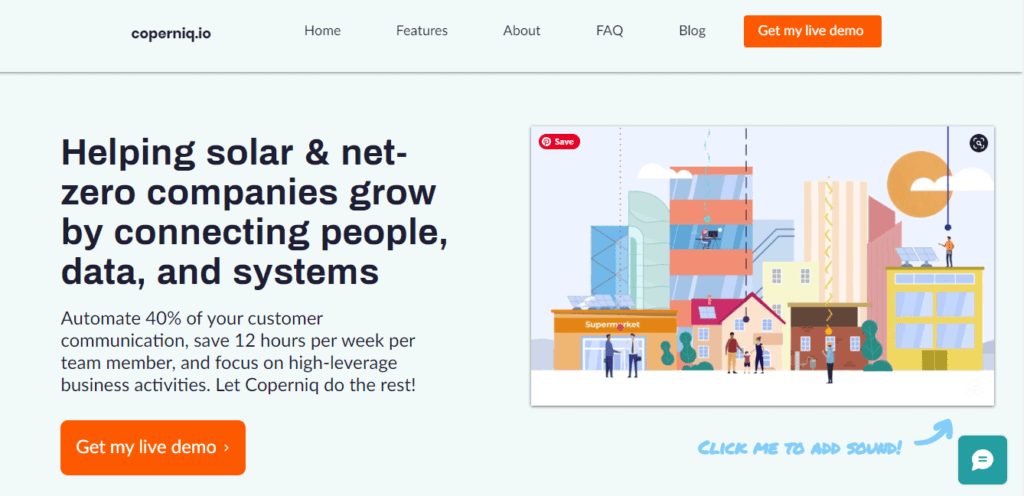 | | |
| --- | --- |
| Best For | Team Collaboration and Project Tracking |
| Price | Call To Get a Quote |
| Annual Discount | No |
| Promotion | Live Demo |
Coperniq is a cloud-based solar project management software. It allows you to manage teams and projects, organize information, and access your data wherever you go. Coperniq's integrated solution will keep you organized and productive in every stage of the installation process, from lead management to proposal generation and project completion.
Key Features:
Project-Level Visibility: Coperniq provides a holistic view of all your projects and even those of your teammates. With it, teams can access customized dashboards, check the status of their projects and assignments, and get real-time notifications on changes and updates.
Flexible: Coperniq is a next-generation project management tool that provides flexible solar portfolio management. It offers the flexibility to customize the platform to fit your operational requirements and management style.
Real-Time Collaboration: Coperniq digitally connects your office and the field. Thus, you can reduce time spent compiling data, develop faster feedback cycles, and experience improved communication within your team.
Pricing Plans:
Coperniq offers a live demo and a quote per team/feature. They also bill you in advance regularly. The subscription billing cycle is quarterly or annually, depending on which plan you choose when purchasing a subscription.
See Related: Sustainable Robo-Advisors for SRI & ESG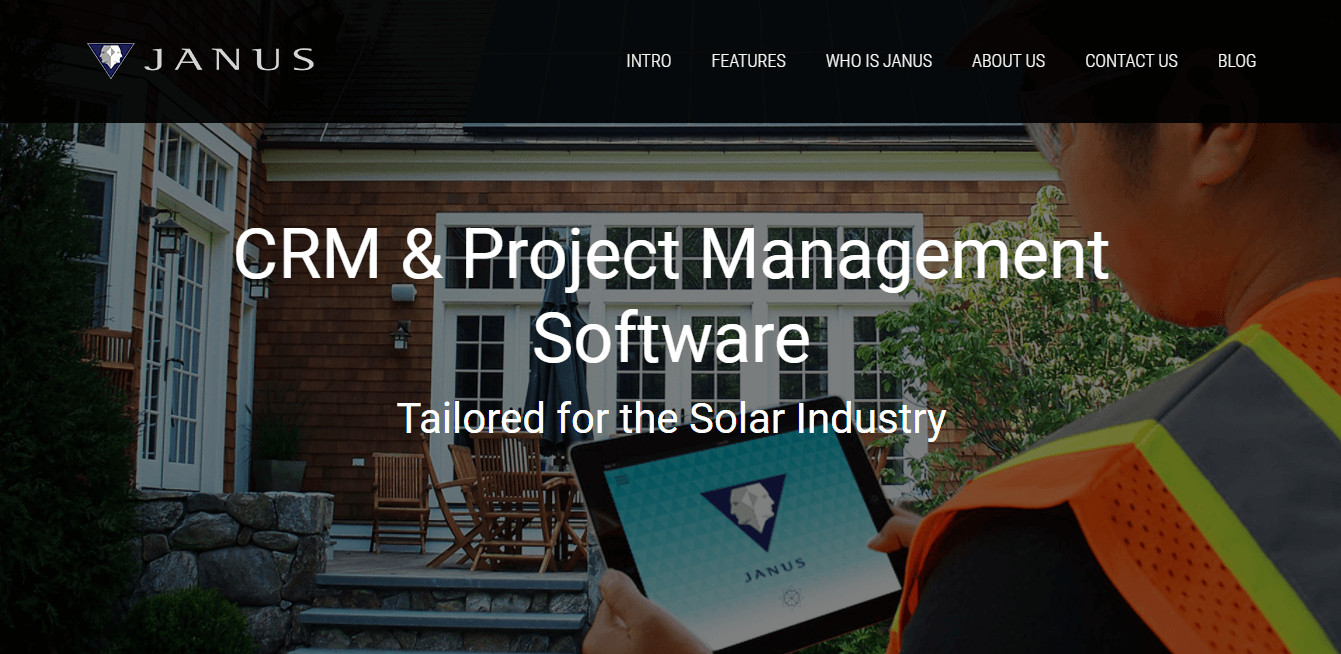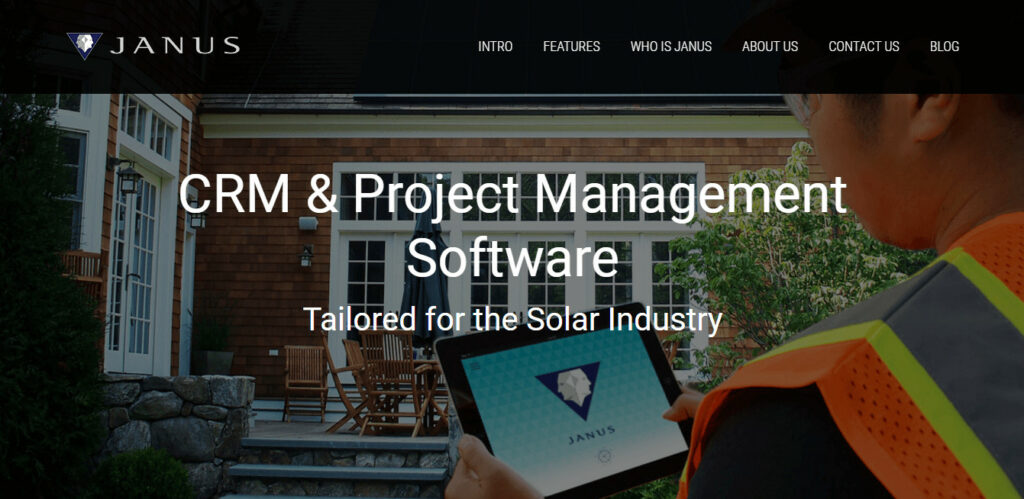 | | |
| --- | --- |
| Best For | User-friendly Interface and CRM |
| Price | Call To Get a Quote |
| Annual Discount | No |
| Promotion | Live Demo |
Janus Software is a computer software company based in California, US. They provide cloud-based solar project management software along with CRM services. The software helps with planning and budgeting, forecasting, and reporting. The user interface is straightforward, easy to use, and doesn't need any knowledge about programming or technical terms.
Key Features:
Customizable Templates: Janus Software gives you flexibility in managing your project tasks by allowing you to customize task templates and modify them as necessary.
Collaboration Tools: Janus' collaborative workspace lets you delegate tasks to other members of your team and track the progress in real-time.
Lead Management: It also helps with lead management by providing conversion tracking to help you make sure that you're getting the most out of your leads.
Milestone Tracking: Janus also helps in keeping track of milestones and deadlines. It shows you every aspect of your projects— from costs, estimated vs. actual time, and profit margins to resource allocation. Everything you need to know about your projects at a glance!
3rd Party Installer Integration: Janus Software offers a marketplace where third-party vendors can provide products to end-users.
Pricing Plans:
You'll need to call to request a demo and a quote.
See Related: Solar Farm Income Per Acre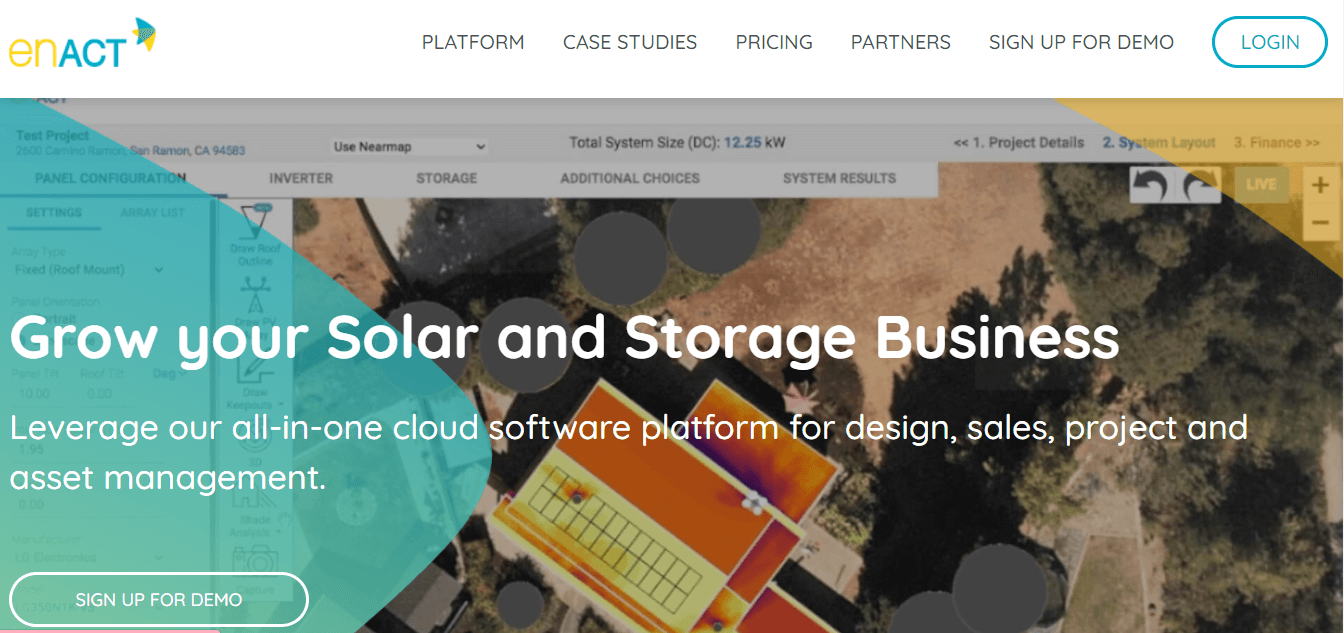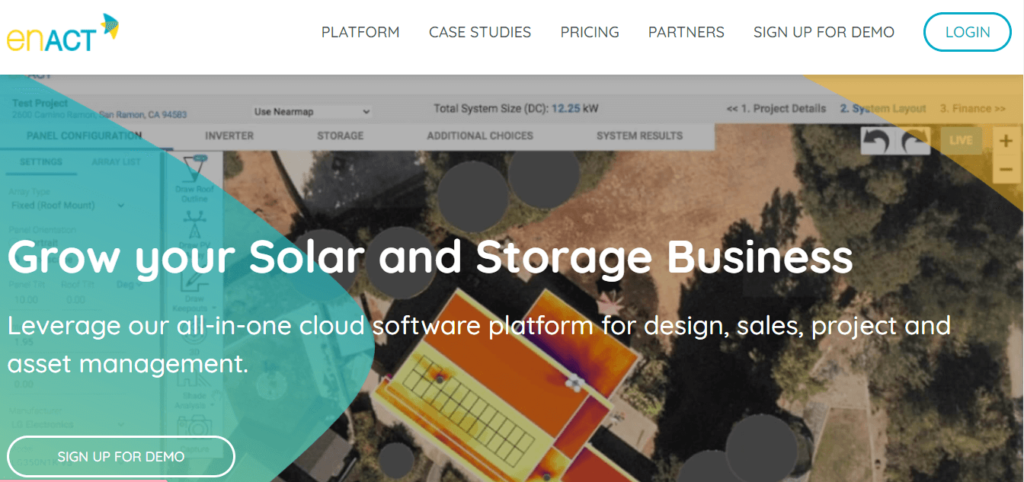 | | |
| --- | --- |
| Best For | Managing Documents and Leads |
| Price | Starting at $99/user/month |
| Annual Discount | Yes |
| Promotion | Live Demo |
ENACT is more than a solar project management software. It's a cloud-based software that's perfect for remote design, pricing, energy and performance analytics, seamless project management, and almost anything else you need to manage your solar projects effectively.
Key Features:
Project and Lead Management: ENACT's task-management tool allows you to track your leads and manage your teams in multiple ways. You can integrate and upload a large lead database in one click. The system provides an interactive project dashboard that makes it easy to communicate with your team members.
Document Management Integration: The software also allows you to organize your documents and manage them in one place. You can generate templates with electronic signatures and can easily access site photos from your electronic devices.
Analytics and Reporting: The ENACT reporting feature allows you to analyze your solar projects in detail. You can create customized reports and categorize them according to what is relevant to you.
Customer Relationship Management: The ENACT ENGAGE app keeps you connected with your customers and supports your customer relationship management as well.
Pricing Plans:
Here are the pricing plans:
Premium: $99 per user/ per month (billed annually)
Scale Pack: $199/3 users per month (billed annually)
Enterprise: Contact the team to get a quote
See Related: How to Store Solar Energy for Later Use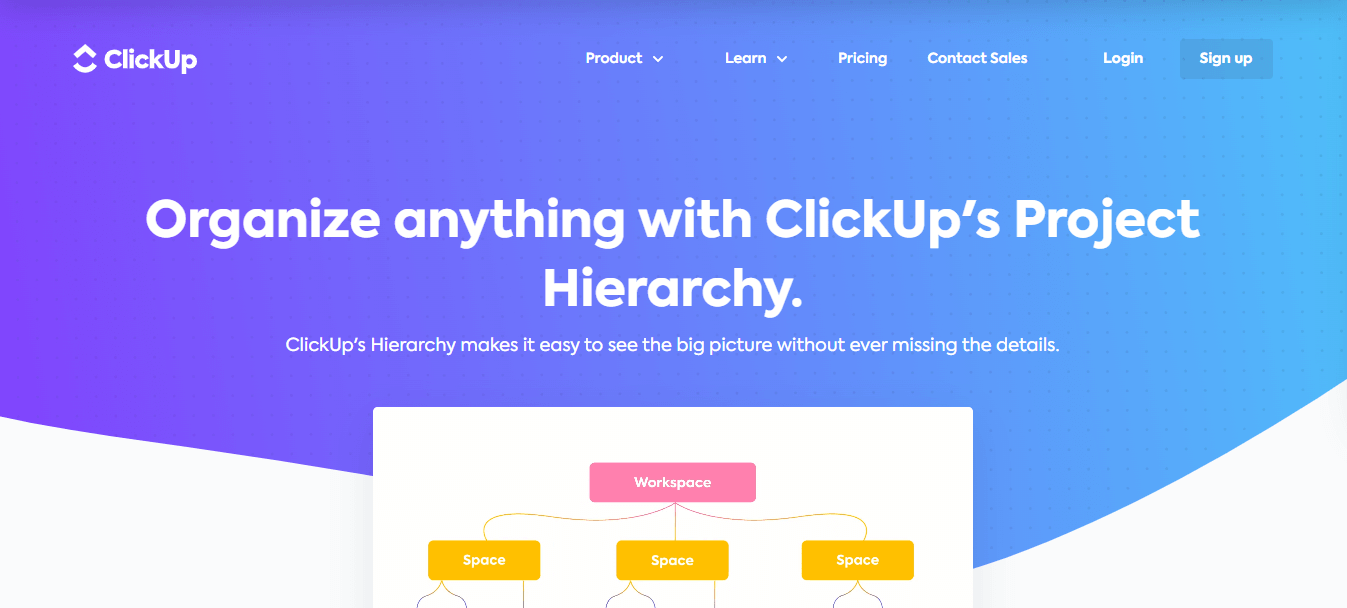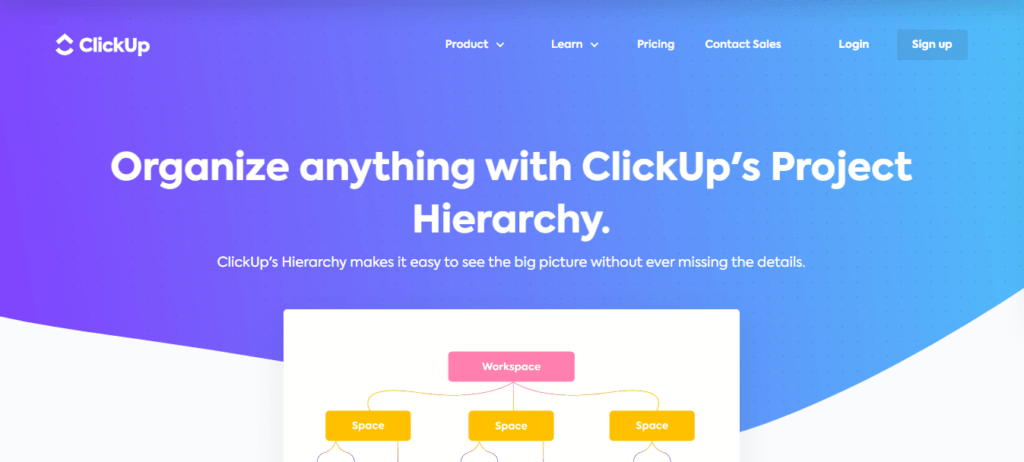 | | |
| --- | --- |
| Best For | Workflow Management Tools |
| Price | Free |
| Annual Discount | Yes |
| Promotion | Free To Use |
ClickUp project management software has pro-level features and provides an easy-to-use interface. It lets teams organize their projects, collaborate, and share information. It combines documents, reminders, goals, calendars, scheduling, and the inbox. ClickUp can fit into any team.
Key Features:
Ready-Made or Customizable Templates: ClickUp lets you create templates from scratch or use one of their pre-made templates, such as agile, marketing, remote work, and many more.
Activity Dashboard: ClickUp brings your most important project metrics into one easy-to-read dashboard. Keep track of your progress in tasks, sprints, time tracking, statuses, and more with everything from Gantt charts to visual widgets for team members.
Collaboration Tools: The project software also provides a real-time system that lets you chat with project members, share files and documents, and assign tasks to teammates. You can also delegate responsibilities based on each person's role within the project.
Project Tracking: ClickUp helps teams manage their projects with real-time updates and over ten customizable views from start to finish. You can track your project's tasks, deadlines, and resources on Lists, Boxes, Gantt Charts, or set up your custom project workflow.
Pricing Plans:
Here are the pricing plans:
Free Forever: For Personal Use
Unlimited: $5/member/month
Business: $12/member/month
Business Plus: $19/member/month
Enterprise: Contact the team to get a quote
Related Articles: Reasons Why You Need ESG Investing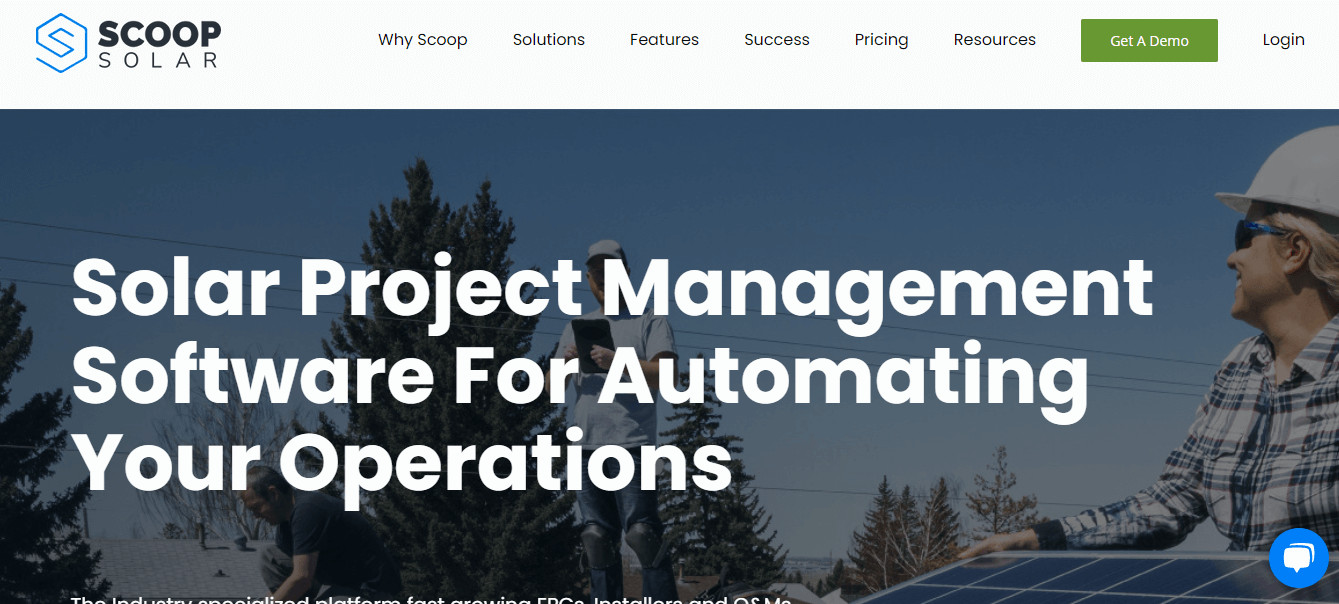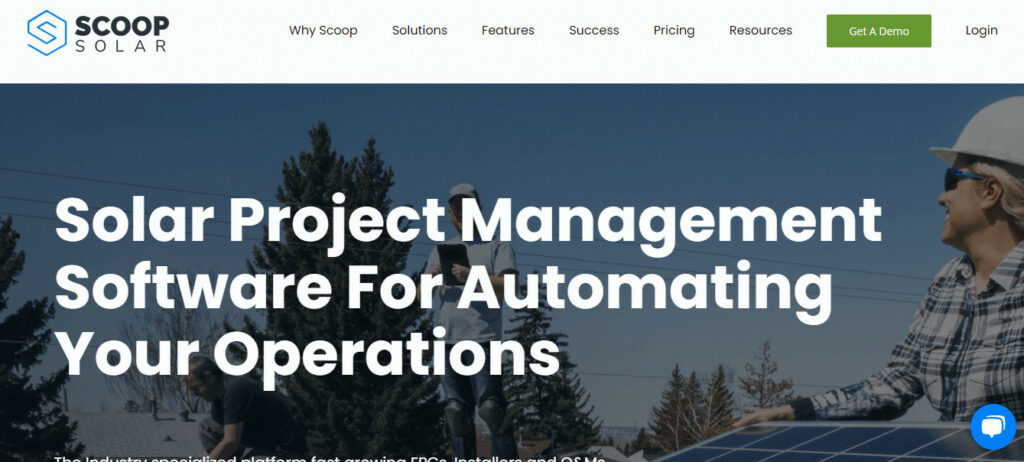 | | |
| --- | --- |
| Best For | Team collaboration features |
| Price | Starting at $695/feature/month |
| Annual Discount | No |
| Promotion | Live Demo |
Scoop Solar is a capable project management software, especially for the solar industry. It offers a user-friendly platform for all solar professionals to manage their workflow. Scoop Solar provides everything you need to run your residential or commercial solar business. It'll help you close more sales, streamline your operations, and reduce costly errors.
Key Features:
Customized PDF or Excel Reports: You can generate and send PDF or Excel field reports to one or more email addresses anytime.
Workflow Automation: Let you track your solar projects from start to finish. The system is designed to simplify the phases of every solar project. You can get immediate notifications of all activities and track your progress.
Document Management Integration: You can store documents on a project or client basis. Update it once, and the software will automatically update changes for the rest of your team.
Change Order Management: Scoop Solar offers a rich suite of options for creating work orders, schedules, and assignments. All your created work orders, schedules, and projects are backed up automatically so you can access the data on the go with the mobile app.
Pricing Plans:
The Scoop Solar project management software is available at a monthly subscription of $695 per feature.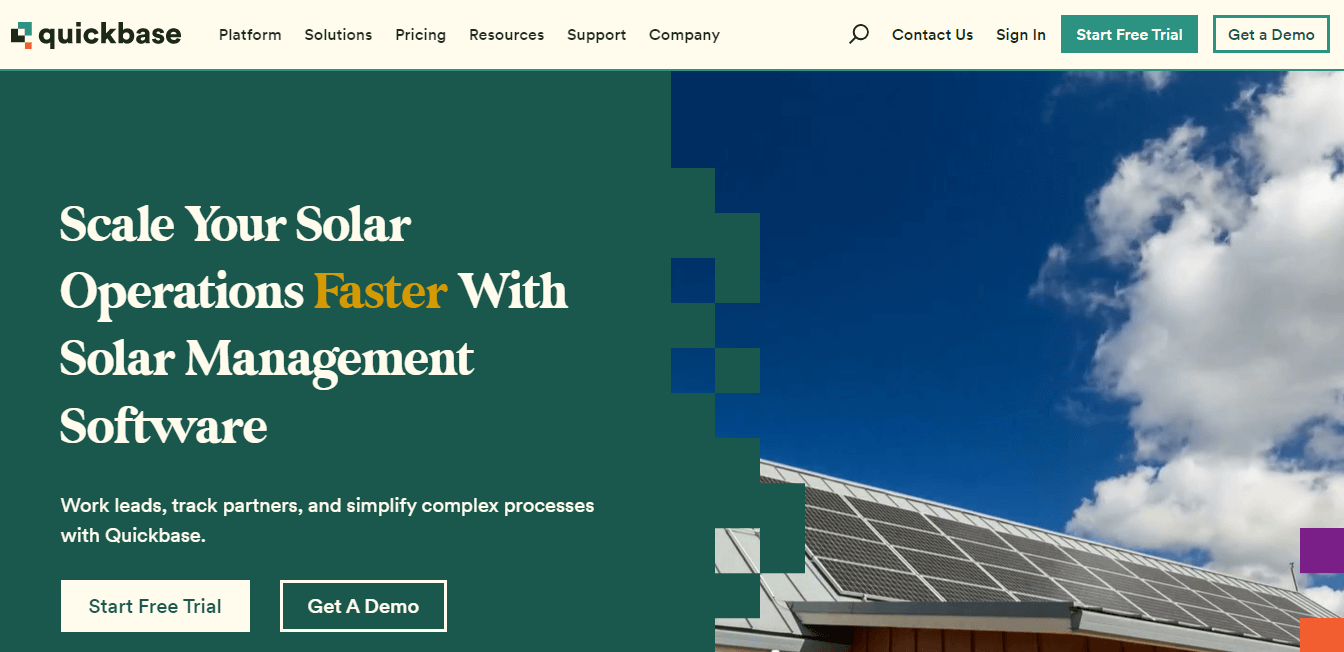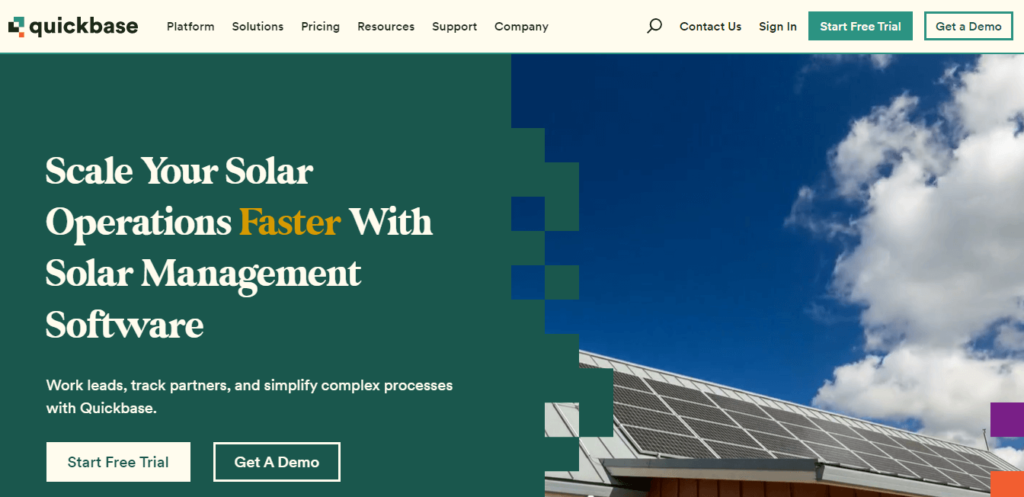 | | |
| --- | --- |
| Best For | Flexibility and customizability |
| Price | Starting at $600/month |
| Annual Discount | Yes |
| Promotion | 30-Day Free Trial |
Quickbase project management software is the best to get more done fast. Using it, you see where projects are and aren't working for you.
It offers real-time visibility into ongoing initiatives' status, progress, and performance. Also, let you keep tabs on initiatives across many projects, campaigns, and programs.
Key Features:
Project Management Dashboards: Quickbase offers interactive project management dashboards to provide quick and easy access to information about solar projects.
Automated Reports: Once you've created a subscription, your reports will be generated and sent automatically based on your selected timeframe. You will receive an email notification when each new report is generated and sent.
Access Controls/Permissions: You can organize your team to make it easier for your teammates to finish the job. You can easily create and manage custom roles on your boards and sections with different permission levels. Assign a role to anyone in your organization, or invite new people directly into a specific part.
Pricing Plans:
Here are the pricing plans:
Team: $600 per month (billed annually)
Business: $2000 per month (billed annually)
Enterprise: Contact the team to get a fully customizable quote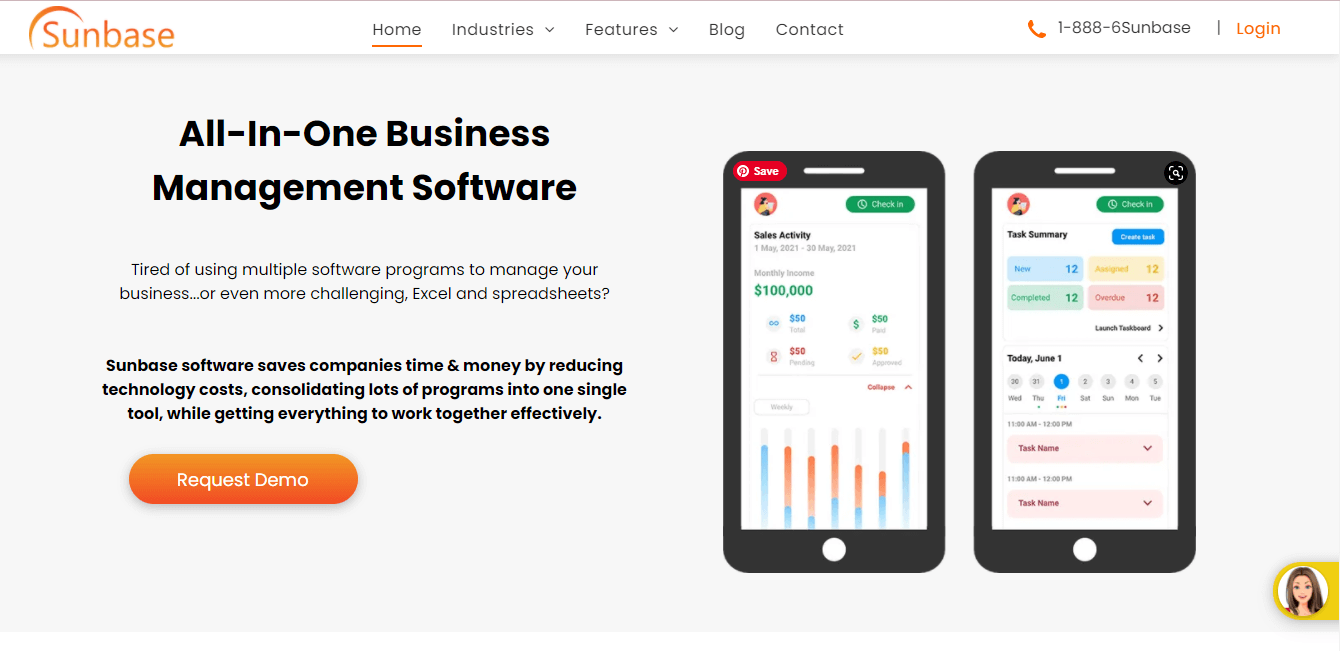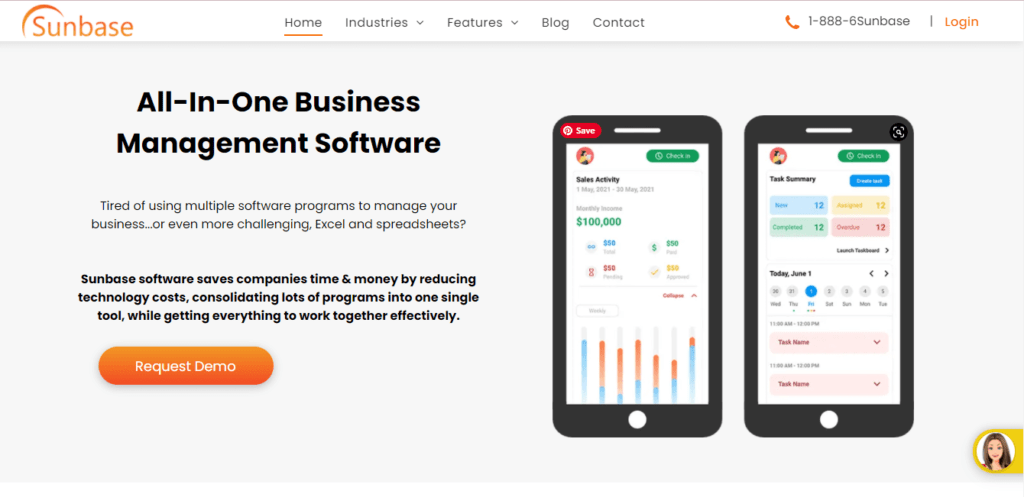 | | |
| --- | --- |
| Best For | Features |
| Price | Call To Get a Quote |
| Annual Discount | No |
| Promotion | Demo |
Sunbase is a good option if you're looking for an all-in-one solar project management software. It provides a single, unified platform that integrates all of your business tools, reducing costs and improving productivity.
Sunbase reliable automation allows you to automate and streamline project tasks by reducing manual effort.
Key Features:
Lead Management & CRM: The all-in-one solar software suite includes a customer relationship management (CRM) module, smart web forms, SMS/email notifications, and automated follow-ups. It is the best way to keep track of your leads and generate more sales.
Collaboration Tools: The software lets you create notes stored in the company's database. This enables you to track the history of leads, prospects, and customers. You can also schedule follow-up reminders to yourself or even important dates for your clients.
Project Tracking & Performance Management: You can access real-time data across various performance metrics, allowing you to understand what's working and what's not. You'll also be able to track your sales with greater accuracy by using the drag-and-drop stage board, which allows you to see your sales pipeline at a glance.
Group and Account Management
Pricing Plans:
You'll need to call Sunbase to request a demo and a quote.
See Related: Best Commercial Solar Finance Companies
Takeaway
As we said earlier, many different aspects are involved in project management software. Therefore, the choice of solar project management software is not easy. But relax! Before choosing solar project management software, here are some essential things to consider:
Does the software have solar expertise?
Is the software compatible with your business?
Will you require a lot of training to use the software?
Does the software provide transparency and accountability to your team?
Does it allow you to monitor and control costs?
After thinking over these things, you'll have no trouble making the best decision for your solar company.
FAQs
solar project management software
Solar project management software is a specialized software designed to help manage and streamline the planning, design, and construction of solar energy projects. It provides tools for project scheduling, resource allocation, budgeting, and tracking project progress. This software is essential for solar energy companies to efficiently manage their projects and ensure timely completion within budget constraints.
What does a solar system project manager do?
A solar system project manager is responsible for overseeing the planning, design, and implementation of solar energy systems. They work with engineers, contractors, and clients to ensure that projects are completed on time, within budget, and to the client's satisfaction. Additionally, they may be responsible for ensuring compliance with local regulations and safety standards.
How to do a solar project?
Solar project refers to the process of planning, designing, and executing solar energy systems. It involves several steps, including site assessment, system sizing, equipment selection, and installation. It is important to consider factors such as location, shading, and energy needs when designing a solar project. Additionally, obtaining necessary permits and ensuring compliance with local regulations is crucial for a successful solar project.
What is solar RFP?
Solar RFP is a request for proposal specifically for solar energy projects. It is a formal document that outlines the requirements and specifications for a solar project, such as the size, location, and timeline. Solar RFPs are typically used by organizations and governments to solicit bids from solar energy companies for the construction and installation of solar projects.
Related Articles
Kyle Kroeger, esteemed Purdue University alum and accomplished finance professional, brings a decade of invaluable experience from diverse finance roles in both small and large firms. An astute investor himself, Kyle adeptly navigates the spheres of corporate and client-side finance, always guiding with a principal investor's sharp acumen.
Hailing from a lineage of industrious Midwestern entrepreneurs and creatives, his business instincts are deeply ingrained. This background fuels his entrepreneurial spirit and underpins his commitment to responsible investment. As the Founder and Owner of The Impact Investor, Kyle fervently advocates for increased awareness of ethically invested funds, empowering individuals to make judicious investment decisions.
Striving to marry financial prudence with positive societal impact, Kyle imparts practical strategies for saving and investing, underlined by a robust ethos of conscientious capitalism. His ambition transcends personal gain, aiming instead to spark transformative global change through the power of responsible investment.
When not immersed in the world of finance, he's continually captivated by the cultural richness of new cities, relishing the opportunity to learn from diverse societies. This passion for travel is eloquently documented on his site, ViaTravelers.com, where you can delve into his unique experiences via his author profile.