Whether you're into day trading or long-term investing, finding the best stock screener for your unique style is essential. With thousands of different stocks on the U.S. exchanges alone, stock scanners can save you a huge amount of time when it comes to narrowing down your options.
Many beginning investors often rely on options like the yahoo finance stock screener. And why not? Yahoo finance offers plenty of nice lists, like the most undervalued stocks, gainers and losers, and the best growth stocks of various market caps.
But what if you're looking for something a little more in-depth or geared toward the tools you most often use to trade stocks? Here we've pulled together breakdowns of some of the most popular options out there to help you find the best stock screener for you.
Unlock Sustainable Investing Opportunities 🌿
Join the green revolution by investing sustainably with our top partners. Discover platforms that align with your values and offer remarkable opportunities for growth.
What Is a Stock Screener?
Stock screeners, aka stock scanners, help investors and traders by screening for stocks that best match a given set of criteria. Basically, a stock screener allows you to specify what you're looking for and then shows you the best matches.
A good stock screener will allow you to search by descriptive filters such as stock price, market cap, sector, dividend yield, etc. Or by fundamental and technical criteria such as P/E ratio, trading volume, or even stock chart indicators.
Ranking the Best Paid and Free Stock Screeners
As opposed to ranking the following stock screeners in order from best to worst, we're going to leave things a bit more open. This is due to the fact that finding the best stock screeners can be incredibly subjective based on your particular style of investing.
Long-term investors, for instance, may be interested in things like dividend yield, earnings, and in-depth analysis. If you're into day trading, however, these considerations may mean absolutely nothing to you.
That's why we've attempted to pull together a wide array of scanner options, from complex to straightforward. We've also attempted to create a good mix of free options and paid services for a variety of different budgets.
See Related: Best Stock Apps for Investing
How to Find the Best Stock Screener for You
As you peruse the list, you may want to consider things like:
Which equities and markets are you interested in? In addition to stocks on the U.S. exchanges, some scanners also cater to assets such as crypto, international stocks, options, ETFs, mutual funds, etc.
What is your skill level? Some scanners cater to traders who are into in-depth stock chart analysis, while others offer beginner-friendly features like rating systems.
How active a trader are you? If you only scan the market on an occasional basis, then spending a fortune to sign up for a premium platform may not make as much sense for you as it would for an active day or swing trader.
No idea what you're looking for? No problem! Just be on the lookout for features that appeal to you. Without further ado, let's explore some of the best stock screeners out there today.
Best Stock Screeners to Use
1. Morningstar
Morningstar began its rise to fame in the mid-1980s when it began issuing reputable ratings for mutual funds. Since then, Morningstar's team of analysts has become one of the most respected sources of information for both professional and retail investors alike.
Morningstar now has two different online stock screeners covering various securities, from stocks and ETFs to bonds and mutual funds. While the basic version is free, it's admittedly pretty limited, but worth checking out just to get a feel for the layout.
But if you want to get the most out of what Morningstar offers, then it's Premium paid stock screener is the way to go. Users enjoy stock research reports, easy-to-read ratings, and plenty of technical screening criteria.
Morningstar Premium also offers personalized screening tools and portfolio analysis that can help you find trading opportunities based on personal strategy. If you're an active trader looking for a good mix of stock data and commentary, then Morningstar is a good stock screener to check out.
Pros:
Highly respected team of analysts
Very comprehensive mix of screeners and commentary
Great for professionals and self-directed retail investors alike
Cons:
Free stock screener is limited
Paid stock screener is pricey and may not be worth it for those with smaller portfolios
See Related: Best Artificial Intelligence ETFs to Invest in Today
2. Finviz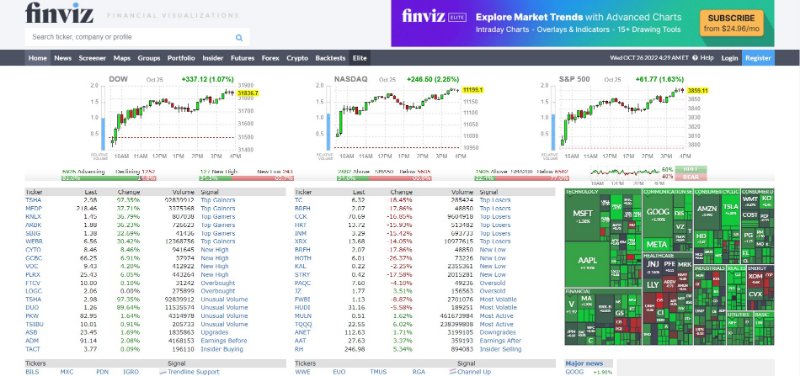 While Finviz offers both paid and free versions, we must say that its free edition is impressively comprehensive. One of the main differences is that the paid plan offers real-time data while the free one does not.
You may want to consider the upgrade if you're a day trader or swing trader looking to use the many research tools that Finviz's Elite version has to offer during live trading hours. But if you are a buy-and-hold investor or are merely looking for a great way to get trade ideas, then the free option won't disappoint.
Both versions offer comprehensive performance maps as well as a huge range of screening options. You can screen stocks based on customizable fundamental and technical filters, performance, sector, market cap, volume, and much more.
The Finviz stock screener even allows you to save your customized screens to your account for future use. All around, Finviz offers one of the best free stock screeners for long-term investors, as well as swing or day traders that don't mind not having access to live data. Of course, there's always the option to upgrade if the Elite version sounds like a better choice for you.
Pros:
Quite possibly the best free stock screener for trade ideas based on fundamental and technical criteria
Elite version offers more advanced tools, including live data for day trading and swing trading
Powerful, yet user-friendly. You can use multiple filters or just one or two, depending on what you're looking for.
Cons:
Backtesting is only available on the paid version
Paid version can be pricey for less active traders or those with a lower amount of capital in play
See Related: Best 5G Stocks to Invest in Today
3. Zacks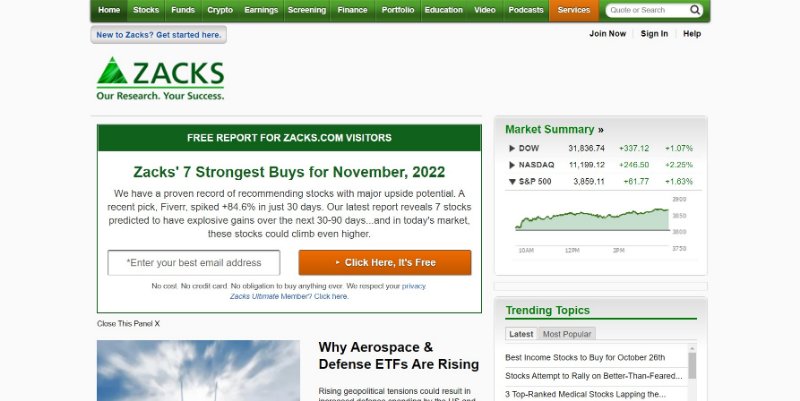 Zacks is yet another great choice that offers a generous free stock screener as well as a premium option. Zacks' free stock screeners include a nice range of free filters, including technical screening criteria like EPS ratings and growth, analyst consensus, REI, and more.
Zacks was also one of the first stock screeners to develop a comprehensive ranking system that grades each stock and classifies it by style (growth, value, momentum, etc). These ratings make the Zacks stock screener incredibly easy to navigate, but therein lies both the good and bad news.
In order to use Zacks' popular ranking systems as search filters, you'll need to upgrade from the free to the premium version. That said, not all hope is lost for stock traders looking to score some of Zacks' best stock tips for free.
Zacks also offers a free portfolio tracker, where you can track your current or watchlist holdings. Either way, each stock you include will automatically reveal its Zacks ratings so that you can get a taste of the action. Zacks also offers a free daily newsletter and a featured "bear and bull of the day" section on their home page.
Pros:
Comprehensive stock screener, particularly if you know what you're looking for
Free portfolio tracker offers access to Zacks stock scores and rankings
Beginner friendly and great for a variety of trading styles
Cons:
Only premium members can use Zacks ratings as search filters
The Premium version may be pricey for casual investors
See Related: Best Stock Trackers to Use Today
4. ChartMill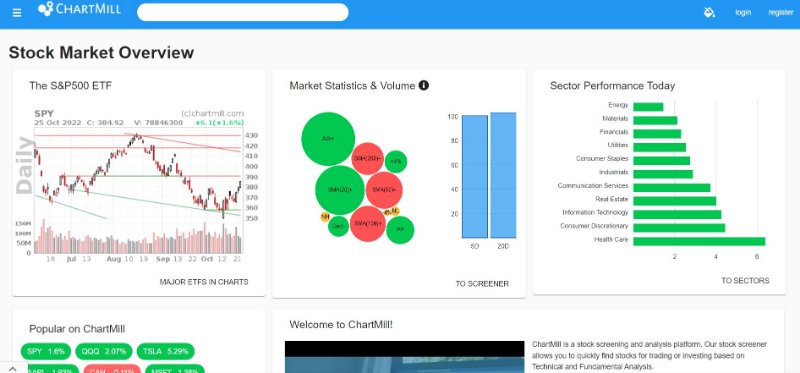 Chartmill is a stock scanner and analysis platform that tends to be particularly popular among swing traders due to its trend-tracking features. Part of what makes Chartmill a great choice for any type of investor, however, is that it uses a unique payment system based on credits.
When you sign up for a free account, you'll get 6,000 free credits each month which never expire. All of Chartmill's features are free until you've used up all your credits, which can be a fantastic set-up for anyone who doesn't necessarily haunt the stock market on a daily basis.
Users can choose to spend their credits in a variety of different ways. For instance, viewing an intraday chart will cost you 20 credits, saving a watchlist item will cost you 1 credit per day, running a fundamental analysis report costs 250, and so on.
Traders who use Chartmill more regularly to find trading opportunities for things like day trading may want to consider upgrading to a monthly or annual unlimited plan. But you also have the option to purchase additional credits as you go.
Chartmill's scanner offers plenty of filters to help you find trade ideas based on anything from stock price and performance to indicators and fundamentals. It also uses a nice rating system that makes understanding the quality of each setup incredibly straightforward.
Pros:
Best paid stock screener that allows you to pay as you go
Great tools for swing traders and day trading. Scan based on trading volume, setups, gap ups and downs, indicators, and more
One of the few stock screeners that allow free users access to all features for up to 6,000 free credits each month. Seeking Alpha also offers plenty of great articles and even the ability to contribute pieces of your own.
Cons:
No mobile app
15-minute data delay may not be ideal for day trading beyond watchlist ideas
See Related: Best Robotics Stocks
5. Seeking Alpha Premium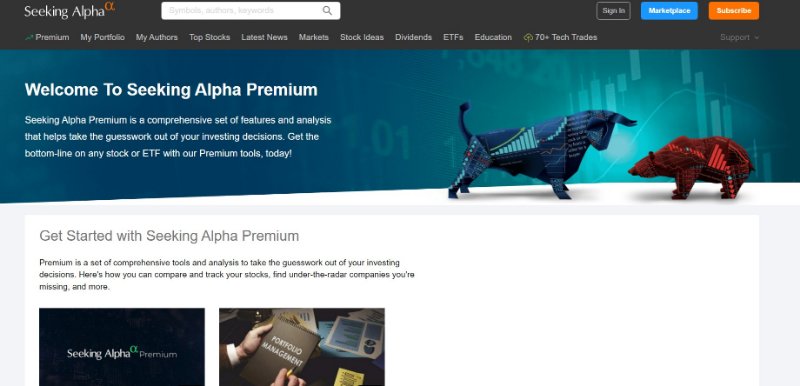 While Seeking Alpha is best enjoyed with a Premium subscription, it may be worth it if you're looking for an incredibly straightforward service that doesn't require a huge amount of technical knowledge. While Seeking Alpha's free features are limited, they do include a free portfolio tracker that will give you an idea of what the platform has to offer.
If you decide to upgrade to the Premium option, you'll enjoy a comprehensive stock screener with plenty of technical indicators and filter options. Seeking Alpha also offers plenty of great articles and even the ability to contribute pieces of your own.
You'll also gain access to pre-designed filters that make it easy to find the best growth stocks, value stocks, and dividend yields. Seeking Alpha Premium's curated filters can also point you towards the top stocks in various sectors, as well as the most shorted stocks or those with the strongest short squeeze potential.
Whether you're into day trading, swing trading, or looking for a few good long-term holds, Seeking Alpha Premium is a great way to find stock ideas no matter what your skill level.
Pros:
Great mix of customizable stock screener options and pre-curated lists make stock picking easy
A unique sense of community and insights from other investors
Access to proprietary Quant ratings, stock and dividend ratings, and premium content
Cons:
Limited free offerings
Seeking Alpha's Pro stock screener is an investment, but is occasionally available at great discounts that can save you up to half the full annual membership price
6. TD Ameritrade's Think or Swim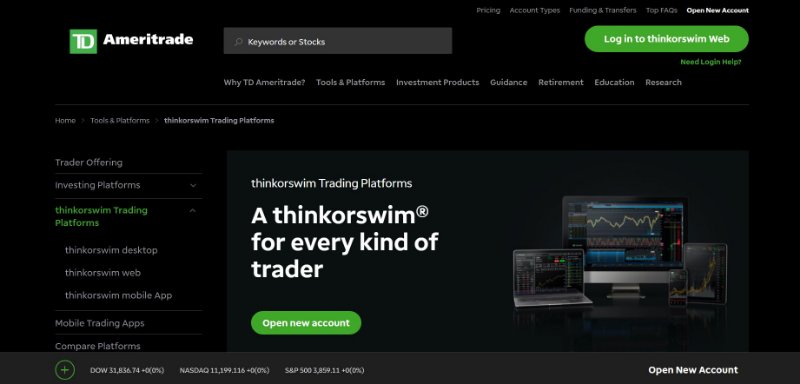 If you're looking for one of the most powerful free stock screeners out there, then check out TD Ameritrade's Think or Swim platform. But first, allow us to clarify what we mean by "free."
Technically, you do have to have a TD Ameritrade brokerage account in order to use Think or Swim. But the good news is that you can sign up for one for free and there's no account minimum. The perk of using Think or Swim alongside a TD Ameritrade account, however, is that you can place trades right from inside the platform.
Either way, once your TD Ameritrade account is in play, you can create a Think or Swim account and access it from the web, the desktop app, or the Think or Swim mobile stock screener app. Think or Swim is an excellent stock screener for active traders and one of the best stock screeners for day trading that doesn't require a paid subscription.
It allows users to access a full suite of tools, including filters based on everything from technical screening criteria to technical patterns. It also includes a stock hacker tool and a free paper trading platform that's great for gaining experience without risking actual money.
Pros:
Free when you sign up for a TD Ameritrade account (also free)
Think or Swim is so comprehensive it's almost hard to believe it's a free stock screener
Includes free educational tools, videos, insights, and real-time data
Cons:
So comprehensive that it may be overwhelming for beginners. Be prepared to spend a little time researching how to use it.
See Related: Best Artificial Intelligence Stocks
7. Stock Rover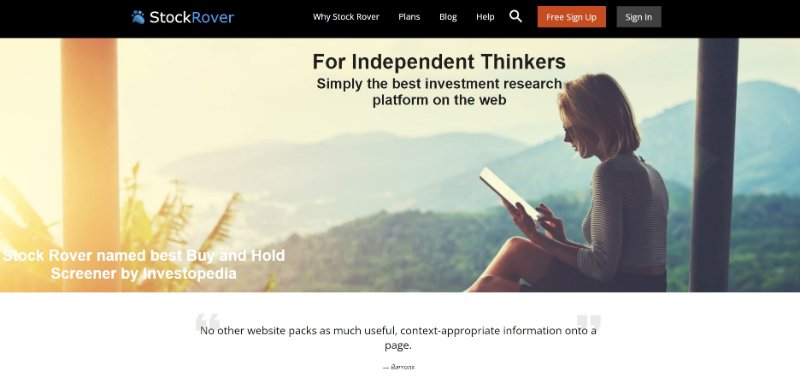 Next up in our list of the best stock screeners is the Stock Rover platform, which has plenty of great things going for it. Stock Rover has not one, not two, but four different subscription options. The first is to simply sign up for a free Stock Rover account, which is awesome if you're just looking to track your portfolio, create watchlists, or research stocks you already have in mind.
If you want access to the platform's stock screeners, however, you'll want to upgrade to one of the next three levels. The good news is that Stock Rover Essentials, the next level up, is incredibly affordable, especially compared to the paid versions of some of the other best stock screeners on our list.
Stock Rover Essentials grants you access to a customizable stock screener, 260+ metrics, and 5 years' worth of historical data to help you find the best stock for your next investment. You'll also enjoy perks like portfolio tracking, real-time alerts, stock correlation analysis, advanced screeners, expert example portfolios, and more.
The highest two subscription options include Stock Rover Premium and Stock Rover Premium Plus. As far as stock screening features go, Stock Rover Premium includes a handy ranking system for stocks and ETFs, while Stock Rover Premium Plus also factors in Equations. For more information, check out this full comparison of Stock Rover's subscription options.
Pros:
Stock Rover's stock screening capabilities are among the best in the industry and include comparison capabilities
Stock Rover allows users to analyze trade ideas with considerations such as fair values, economic indicators, sentiment, value, quality, and more
Multiple subscription options with reasonable pricing.
Cons:
No mobile app
The free edition is limited. While great for research, it does not include stock screening capabilities.
8. Trade Ideas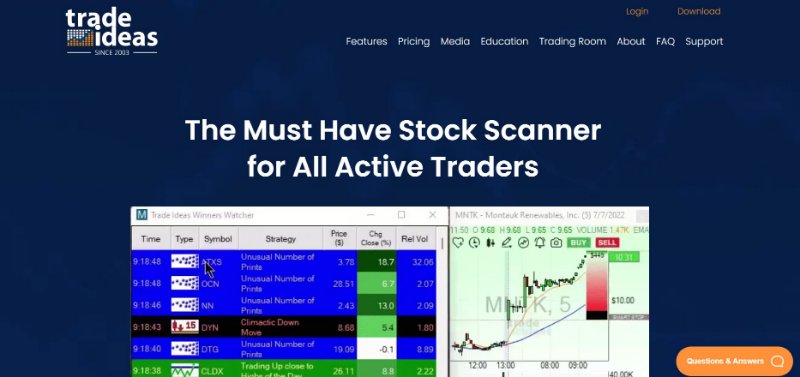 While Trade Ideas may not be for the casual investor, it's one of the best stock screeners available for day traders. Trade Ideas was founded in 2003 by a group of fintech experts who were looking to solve some of the biggest problems that day traders face on a regular basis.
While the rise of the DIY brokerage account has opened up more opportunities for day traders than ever before, there's still the challenge of not only finding the perfect trades but executing them in real-time. Trade Ideas has developed A.I.-powered solutions with unique algorithms that weed out some of the best possible trade ideas each day.
The algorithms then use everything from backtesting to statistical analysis to continuously update real-time data on stocks and ETFs. They even generate entry and exit signals to give day traders the information they need to stay on top of their game.
Users also enjoy a live trading room, brokerage account integration, and automated trading features. Trade Ideas is definitely an investment, but if you're into day trading stocks on a professional or very consistent basis, it may be one that's worth it to you.
Pros:
Incredibly powerful AI tools with real-time data from U.S. and Canadian stock markets
Simulated trading tools and live trading room
Instantly computes complex data analysis to give day traders a competitive edge
Cons:
Expensive and likely only worth it for serious day traders with a hefty amount of capital in play
See Related: Best Cobalt Stocks to Invest In
9. Benzinga Pro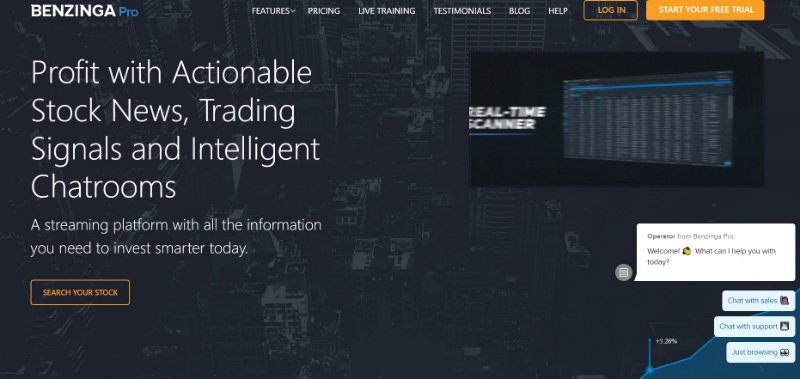 If your brokerage account has a news feed, then it's likely you've come across articles by Benzinga. Over the years, the financial news source has developed a reputation for being on top of the latest news to hit the stock exchange.
Benzinga also offers a full suite of investing tools with Benzinga Pro, including a stock screener and scanner that can be tailored to any trading or investing style. Whether or not Benzinga Pro is the best stock screener for you will largely come down to which level of subscription you choose.
Benzinga offers four different options, including a free version and a reasonably priced basic plan. Upgrading will grant you access to features such as Benzinga's latest financial news, pre-market data and lists, a stock market heat map, calendars, and more.
But if you want to make use of Benzinga's real-time stock scanner, screener, signals, and unique audio squawk feature, you'll want to go with at least an Essential package. The last membership tier is even pricier but comes with a full-on options mentorship program and access to an exclusive chat room.
Pros:
Best stock screener for staying on top of market-moving news
Stock scanner is designed for active traders and includes incredibly up-to-date reports
Nice mix of categories; fundamental and technical analysis, news, and live alerts
Cons:
Free and Basic plans are limited but are still an excellent source of the latest news to hit the stock exchanges
Essential plans and up are very pricey and not ideal for casual investors
10. Trading View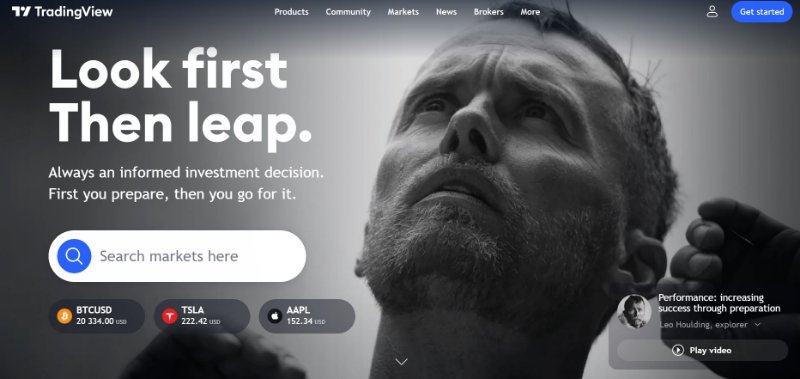 If you're looking for the best stock screener that won't break the bank, then Trading View may be a great option for you. Trading View not only offers incredibly comprehensive stock screeners, but also an extensive community complete with live streams, trade ideas, and educational resources.
You can gain access to all these features even with a free account, as long as you don't mind having to contend with occasional ads. You'll also enjoy forex, crypto, and stock screeners complete with access to over 70 exchanges around the world.
If you choose to upgrade to Pro, Pro+, or Premium subscription options, you'll enjoy more charts per tab, more indicators, the ability to save more chart layers, and other perks. One of Trading View's biggest perks is that even if you do decide to upgrade, the plans are all affordably priced.
Overall, Trading View offers one of the best free stock screeners out there. Its low subscription rates also make it a great choice for more casual investors who want to enjoy additional features without cutting into investment returns.
Pros:
The best free stock screener when it comes to wealth of features
Offers affordably priced subscriptions, even for higher tier plans
Crypto, forex, global stock, and dividend stock screener
Cons:
More advanced users may find the free version somewhat limited.
11. Investor's Business Daily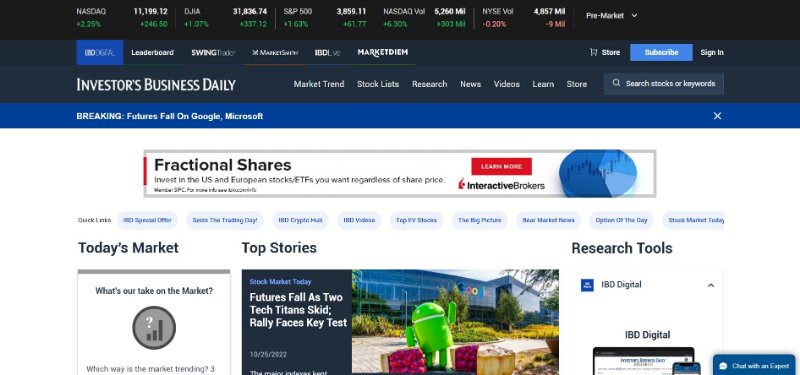 Investor's Business Daily (IBD) is an interesting platform because it was devised around the strategy of founder and legendary investor William O'Neil. O'Neil spent years studying the markets for a way to find the stocks with the highest odds of beating the market.
He summarized his findings on what to look for when screening for stocks in the acronym CANSLIM, which stands for:
Current Quarterly earnings
Annual Earnings
New Product, Management, Service (basically a catalyst of some sort)
Supply/Demand
Leader or Laggard status
Institutional Ownership
Market Direction
While O'Neil's findings were definitely legit, who wants to spend that much time researching the stock exchanges for trade ideas? That's where IBD's stock screeners and other research tools come in. IBD Digital offers a system that makes it easy for investors to see how stocks stack up to the CANSLIM system at a glance.
IBD also offers additional tools, such as a professional-level research platform called Market Smith, a stock screener/planning tool called Leader Board, and a swing trading platform called Swing Trader. If you're into CANSLIM trading or willing to get familiar with it, then IBD is definitely a solid option, particularly for swing trading and long-term investing.
Pros:
Different tools to choose from based on your style and goals
Makes finding and tracking the right stocks very easy
Hands down the best stock screener for CANSLIM investing
Cons:
Requires working knowledge of the CANSLIM system or willingness to learn
IBD tends to be a bit miserly when it comes to free content and isn't shy about advising you to upgrade
See Related: Best EV Battery Stocks to Invest In
12. TrendSpider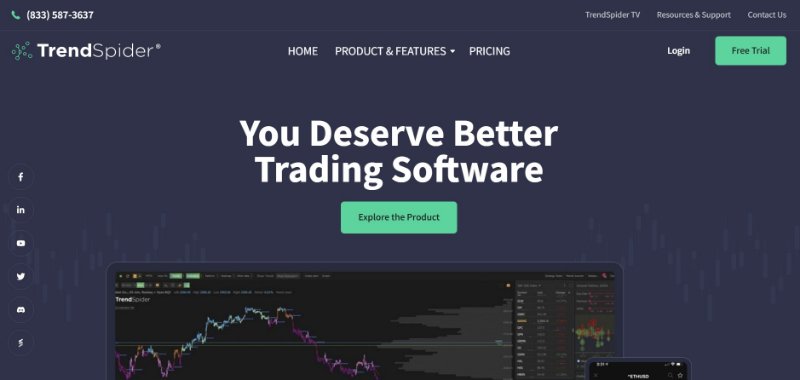 If you're looking to take the grunt work out of fundamental and technical analysis, then TrendSpider may be the stock screener for you. The automated technical analysis platform allows users to automate everything from trendline detection and indicators to breakout detection and alerts.
TrendSpider uses AI-assisted algorithms that can automatically do the things many traders waste hours doing manually. From a fully customizable stock screener to backtesting and chart pattern recognition, TrendSpider is a great choice if you're tired of staying glued to your screen for fear of missing all the action.
While quite possibly one of the best stock screeners for advanced active traders, beware that TrendSpider may require a little research for newer traders. That said, TrendSpider does offer a full range of Youtube videos and blog posts to help you get familiar with how to get the most out of their software.
If you're willing to put in the legwork to learn how it works, however, TrendSpider can save you a great deal of time in the long run. While a free trial is currently available, you'll have to sign up for one of TrendSpider's three paid subscription options if you do decide to take the plunge.
Pros:
One of the best stock screeners for automated trading assistance
Unique features such as Raindrop charts
Alerts, automated trading bots, and plenty of customization options
Cons:
No free version
Potential to be overwhelming for beginning traders
13. Atom Finance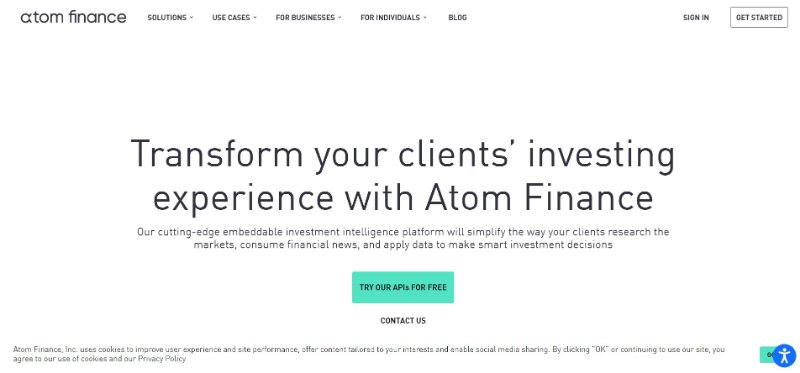 Traditionally, it's been argued that institutional investors have an edge in the market due to the high quality of their pricey resources. That's why Atom Finance designed its desktop and mobile stock screener app with the aim of offering institutional-grade market data at a price that anyone can afford.
Atom Finance's stock screener allows users to search for the best stock investing opportunities with dozens of metrics, ratios, and other financial data. You can also filter selections by sector, growth rate, historical data, and more.
Monitor your investments and watchlists, enjoy access to institutional grade company data and SEC filings, and perform fundamental and technical analysis in real-time. If you're into researching detailed financial data history, then Atom Finance could be the missing piece of your stock trading puzzle.
Its mobile version is a definite candidate for the best stock screener app on the market, as it allows users access to important stock research tools on the go. While there's no free version, there is a free trial available.
Pros:
Great for stock investors who trade based on a company's financial indicators and historical data.
Best stock screener app for real-time streaming data at an unbeatable price
A solid mix of up-to-date research and analysis tools
Cons:
See Related: Best Energy Storage Stocks
14. Ziggma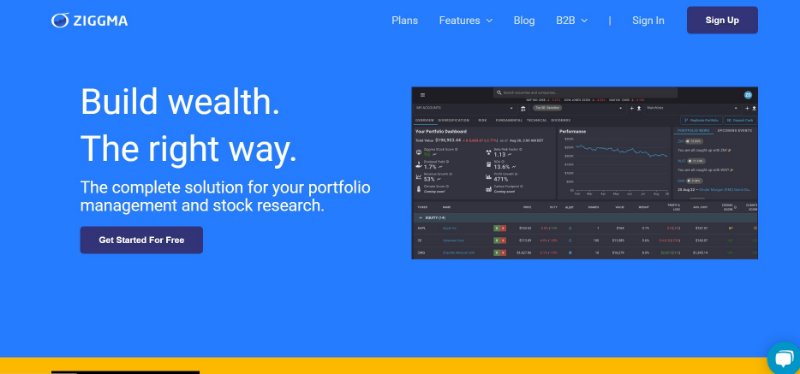 Released in 2021, Ziggma is one of the newest stock screener platforms on our list. Nonetheless, it's got plenty to offer whether you go with a free Basic account or upgrade to the surprisingly affordable Premium Plan.
Both versions offer a portfolio tracker that syncs with your brokerage account, high-grade stock profiles, stock comparison tools, and a market dashboard. Basic users even gain access to Ziggma's ETF and stock screener.
The cool thing about Ziggma's stock screener is that it allows users to specify their filters by customizing a selection of sliding scale ratings for things like growth, valuation, and profitability. If you decide to upgrade to the Premium plan, you'll also get access to pre-curated lists such as the Ziggma Top 50 stock list.
Each day, the list is updated to feature the 5 best stocks in the 10 fastest-growing industries based on Ziggma's official score system. If you're looking for a straightforward stock screener with plenty of great tools, then Ziggma is definitely worth checking out.
Pros:
The basic version is free and surprisingly generous with features
Nice list of preset filters to choose from, such as Best of NASDAQ 100, Top Russell 3000 stocks, and High Growth Small Caps.
The sleek interface is great for investors of all levels
Cons:
More advanced investors may want more stock screening features
15. TC2000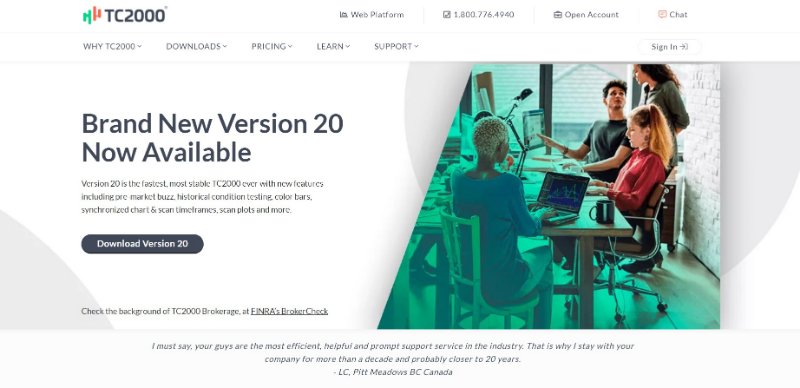 TC2000 has been around for over 25 years and is still considered by many to be the best stock screener in the industry. You can sign up for a free basic account just to get a feel of the platform and what it has to offer. But if you really want to get the best out of it, you'll want to choose from one of three subscription options.
The silver subscription includes options & stock screeners with plenty of technical criteria filters and indicators. You'll also be able to do things like create customizable layouts and take notes. TC2000's Gold and Platinum memberships, however, include most of the features that really make the platform shine.
You'll enjoy EasyScan options and stock screening capabilities, drawing tools to map out chart patterns, sortable watchlists, alerts, pre-market data reports, and much more. With multiple filters and plenty of technical data, TC2000 is a very comprehensive stock market scanner for any style of trader.
If you do decide to go with TC2000, you might also consider signing up for a TC2000 investment account so you can place trades right on the platform. You'll enjoy perks like the ability to place numerous exit orders on the same trade and drag-and-drop limit orders.
Pros:
Includes screeners for ETFs and Options
Established reputation as one of the best stock scanners of the last 25 years
Advanced stock screening capabilities with plenty of filters and tools
Cons:
Doesn't cover international stocks
May initially be a bit confusing for beginners
See Related: Best LED Lighting Stocks
16. Black Box Stocks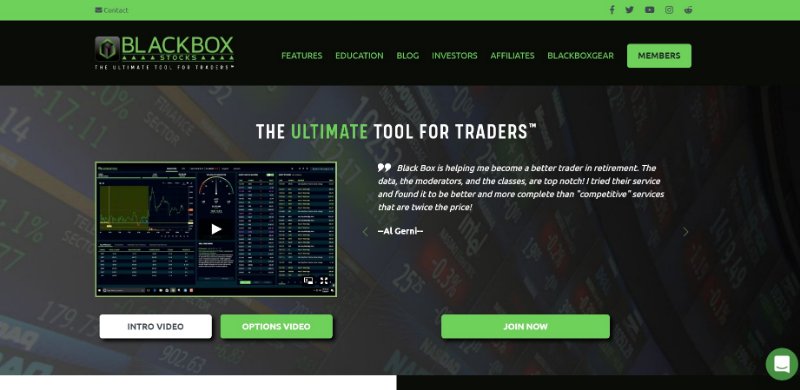 Black Box Stocks is well worth a look, especially for day traders, swing traders, and options traders. Its algorithms actively take the guesswork out of finding the hottest gainers and losers of the day based on trading volume and price movement.
But one of its crowning features is an unusual options activity tracker that reveals Wall Street activity that was traditionally beyond the reach of independent traders. Black Box users gain access to dark pool transactions, a real-time options flow tracker, and alerts.
Users can also scan for any stocks listed on the U.S. exchanges using an array of different filters, as well as monitor their trades using real-time streaming data. Black Box also offers impressively comprehensive educational resources and a chat room where traders can connect with other community members.
Overall, it's a great choice for options, day, and swing traders looking to profit off major Wall Street moves.
Pros:
A good candidate for the best stock screeners for options traders
Offers up-to-date insights that can be very lucrative for day and swing traders
Integrates high-frequency trade strategies from advanced algorithms
Cons:
No free option
Pricey and best suited to active traders
Related Resources