Whether you use a single brokerage or multiple stock trading apps, a portfolio tracker can be a great tool for any investor. But just as there are now plenty of different platforms that allow you to trade stocks, there are now multiple options when it comes to keeping tabs on your portfolio.
So how are you supposed to find the best stock tracking app for you? Rest assured you've come to the right place. Here we'll give you a thorough breakdown of some of the best options out there, complete with a list of pros and cons for each.
Our Stock Tracking App Methodology
As experienced investors ourselves, we realize that ranking things like the best stock trading apps or portfolio trackers can be an incredibly subjective endeavor. If you just signed up for your first commission-free trading account, then a platform that costs more than your entire portfolio value may not be the best stock tracking app for you.
Unlock Sustainable Investing Opportunities 🌿
Join the green revolution by investing sustainably with our top partners. Discover platforms that align with your values and offer remarkable opportunities for growth.
On the other hand, if you're a seasoned investor looking for in-depth data or independent financial advice from seasoned analysts, then it may make sense to invest in a stock-tracking app with more features.
That's why we've included a wide range of options for investors of all levels and budgets. The goal is less to single out the best stock tracking app of all time and more to give you the information you need to figure out which is the best for you.
How to Choose the Best Stock Tracking App for You
Finding the best stock tracking app for you largely comes down to understanding your personal goals and investing style. Here are some considerations to keep in mind along the way:
Are you looking for a beginner-friendly stock-tracking app to help you track all your accounts in one place? Or a more robust platform with analysis, research, and ratings?
Would your ideal stock tracking app also be able to track crypto or NFT assets?
What about net worth? Should your stock tracking app also include the ability to give you an overall picture of your assets, debt, and other forms of income?
Do you want your tracking platform to be able to help you diversify your investments?
Are you mostly interested in U.S. stock exchanges or are you looking for a stock tracking app that offers access to international exchanges and currencies?
Does the app or platform you're interested in offer a free version or at least a generous free trial so you can make sure it's right for you?
What is your budget? There is now a range of great stock tracking apps that are very reasonably priced. The most expensive option may not be the best for everyone.
These are just a few things to keep in mind along your journey. Overall, just be on the lookout for trackers that seem the most relevant to your goals and needs.
See Related: How to Start Investing With Purpose
Best Stock Trackers to Use Today
1. Personal Capital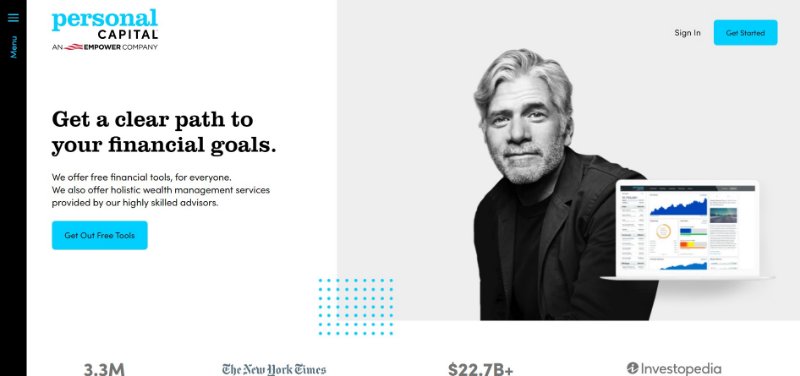 Personal Capital is a particularly impressive choice because not only does it offer one of the best stock tracking apps around, but it also offers it for free. Among Personal Capital's suite of free financial tools, you'll find a range of investment tools that allow you to keep track of all your accounts from one place.
Upon signing up for a free account, simply sign in to your accounts to connect them all to the platform. The cool thing about Personal Capital's approach is that it doesn't limit users to brokerage accounts alone. You can also connect your bank accounts, and even factor in your home value to get an overall look at your total net worth.
You'll also enjoy handy tools that can give you a clear view of the allocation percentage of various asset classes, assess the risk and performance of your investment accounts, and more. One of the more unique but brilliant features that Personal Capital offers is its fee analyzer. The fee analyzer takes a look at the costs, such as mutual fund fees, to help you get the most out of your investments.
Overall, Personal Capital is a great overall solution for investors of all styles. With a robust selection of offerings, it's almost hard to believe it's free.
Pros:
Personal Capital provides a huge array of tools so robust it's hard to believe they're free
Best for tracking overall net worth
Free recommendations to help you make the most out of your investments
Cons:
Very few when it comes to Personal Capital's free tools. Their wealth management services require a hefty minimum investment, but even non-clients can use their free tools.
See Related: How to Store Solar Energy for Later Use
2. Investors Observer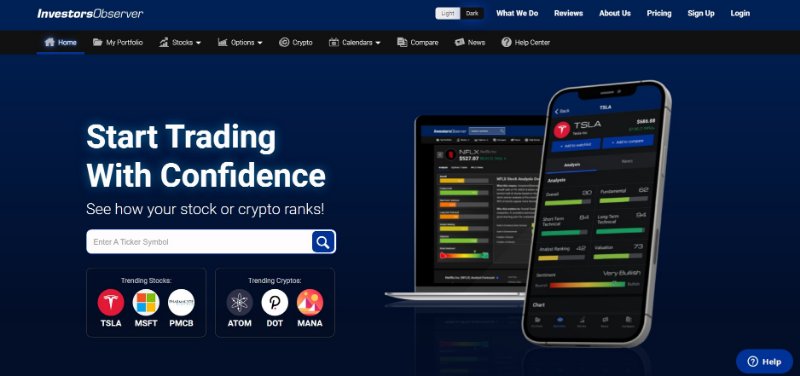 Investors Observer is another excellent portfolio tracker that offers users the ability to effortlessly connect their portfolios via a secure Plaid sign-in. One of the platform's strengths is that it's not only great for stocks but also for crypto portfolio monitoring.
With a free account, you'll only be able to connect to one brokerage account, but it's a good way to get an overview of what the platform has to offer. You'll enjoy basic screening functions, including a rating of each stock in your portfolio based on a scale of 1 to 100. Free users also gain the ability to create a watchlist, access a news feed, and up to 5 free stock, crypto, or option reports.
The good news is that if you do decide to upgrade to a Premium account, you'll find the subscription rate very reasonably priced. The Premium account comes with the ability to link unlimited stock and crypto investment accounts, in-depth analysis, interactive charts, reports, news, and more.
Pros:
Great way to track and compare multiple stock and crypto investment accounts
Free comparison tools to help you find the best stock from a range of up to 4 choices
Stock and option analysis tools available
Cons:
A free account provides a nice overview, but you'll want to upgrade in order to enjoy Investors Observer's best features
See Related: Best Artificial Intelligence Stocks to Buy Now
3. Seeking Alpha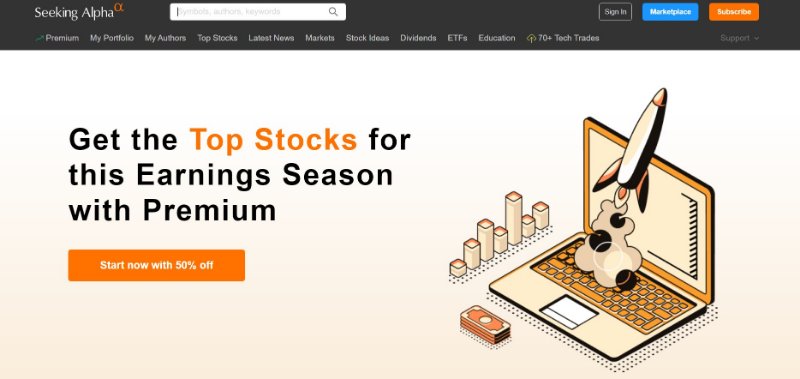 Seeking Alpha is a strong contender when it comes to candidates for the best stock portfolio trackers. Like many other stock tracking apps and platforms, Seeking Alpha is available in multiple subscription levels. The first is the free version, which allows you to either create your own portfolio manually or by connecting to your brokerage account.
Once your portfolio is set up, you can then track your holdings, dividend rates, valuation, growth data, and more. You'll even get a free portfolio health check that will score the overall health of your holdings from 1 to 5.
If you decide to upgrade to the Premium account, you'll enjoy Quant ratings for all your investments, as well as access to Seeking Alpha's performance and dividend grades. For the average investor, the premium comes with plenty of great perks that should have you covered.
For the die-hard or professional investor, however, there's also the VIP level Pro subscription option.
Pros:
Easily connect your brokerage account to Seeking Alpha's stock tracker
Free overall portfolio analysis health grade
Easy overview of data such as ownership, growth, momentum, earnings, and more
Cons:
The free version gives you just enough information to make you want to sign up for the paid Premium version
See Related: Best Stock Screeners to Use
4. Morningstar
Morningstar has long been a trusted name in the financial industry ever since it first began rating ETFs and mutual funds decades ago. Morningstar has since expanded its horizons and now offers users one of the most comprehensive investment portfolio tracking tools available.
The Morningstar Portfolio X-Ray can instantly give you a throughout overview of your investing account, asset allocation, and sector diversification. The platform also offers an easy-to-follow rating system and a screener that can be customized to help you find the best stock and investment choices for you, no matter what your trading style.
While Morningstar used to offer a free basic account, it seems to have moved away from this model and now only offers a free trial. If you're looking for a trusted tool that can help you round out the edges of your investment strategy, then it may be worth signing up for full membership.
Just be aware that Morningstar is on the pricier side. If you're a casual investor, then it may be worth trying out other free or lower-priced stock tracking tools before taking the plunge.
Pros:
Highly regarded financial resource
Stock tracking, analysis, and screening tools
Includes tools for mutual funds
Cons:
Free trial, but long-term use requires membership
Can be pricey for casual or beginner investors
See Related: Best Desalination Stocks to Invest in Today
5. Ziggma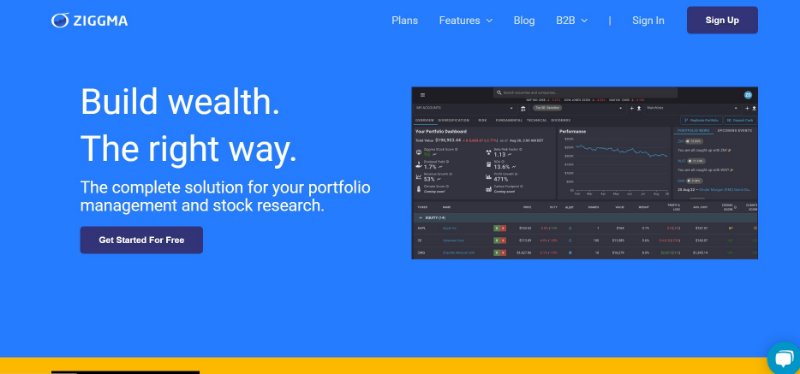 If you're looking for a solid stock tracking tool that won't break the bank, then Ziggma is a great choice. While there is a paid premium option, a free Ziggma account offers an impressive number of tools.
Free users enjoy the ability to link an unlimited number of investing accounts to create a comprehensive portfolio tracker analytics dashboard. Ziggma will then provide detailed investment tracking information that analyzes everything from a portfolio's performance to its carbon footprint.
Free account users even enjoy Ziggma stock scores on their holdings and access to an innovative stock and ETF screener. Ziggma's reasonably priced Premium plan includes additional features like smart alerts, back-testing, model portfolios, and more. If you decide to check it out, you can take it for a full 30-day test drive without even entering your credit card information.
Pros:
One of the most generous free investment research tools
Free ratings on your portfolio holdings
Designed to both monitor and optimize stock portfolios
Cons:
While some features require an upgrade, Ziggma offers one of the most generous sets of free features
See Related: Best Artificial Intelligence ETFs to Invest in Today
6. Sharesight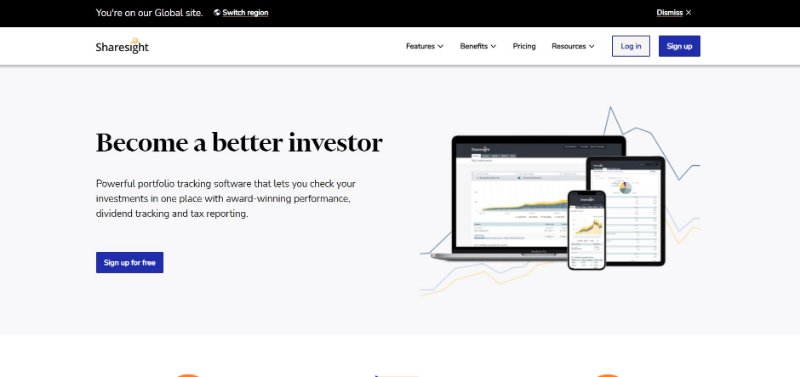 If you want to track all your assets on one platform, then Sharesight is a great tracking app for you. Keep an eye on your investments from anywhere with the online platform, iOS, or Android app.
Sharesight is capable of not only tracking stocks and ETFs from over 40 global exchanges but also mutual funds, cash, crypto, and over 100 other currencies. It also helps create an overall picture of your financial accounts by factoring in things like fixed interest and property investments.
Sharesight can even help you keep track of taxable accounts to make reporting a far easier endeavor. With advanced reporting and diversification tools, Sharesight is a great way for active traders to track multiple asset classes through a single account.
The platform also offers four different subscription options from free to expert, in order to help you find the perfect option for your needs.
Pros:
Great for tracking stocks from over 40 global exchanges
Excellent tracking app for unlisted investments such as properties and fixed income
Tax reports for local and foreign income can make filing a great deal easier
Cons:
Free and standard versions do not offer unlimited holdings
See Related: Best Edge Computing Stocks to Invest In Today
7. Stock Rover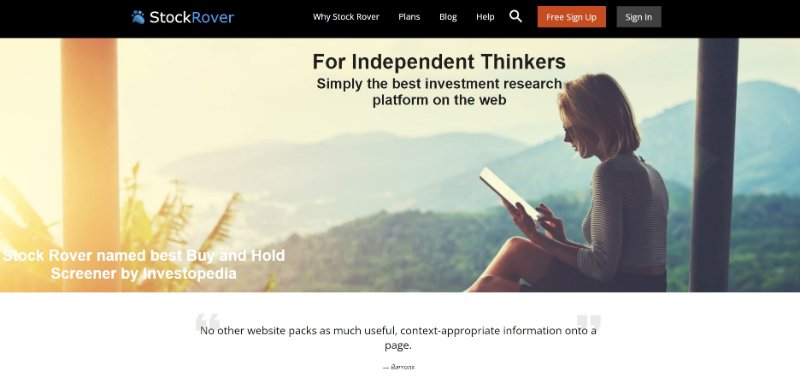 Stock Rover is another great platform for stock tracking and beyond. It's available in either a free account or via a number of subscription options, each of which offers a different level of features.
It may require a bit of a learning curve for beginning investors, although its automated portfolio syncing capabilities do make it track stocks currently in your portfolio. While a free account is a good way to get a feel for the platform, experienced investors will likely want to upgrade in order to enjoy the more advanced features the portfolio tracker has to offer.
But once you get the hang of it, you'll discover that Stock rover offers a powerful set of tools, including detailed investment performance data and analysis tools that can calculate your rate of return (IRR) over any given length of time. With future simulation capabilities, stock ratings, and target allocation tools, Stock Rover is a great way to track your financial performance.
Pros:
Great for retirement planning or just charting your path to financial freedom
Monitor stock prices, track performance, and enjoy charting tools with plenty of technical indicators
Great for growth, value, and long-term investors
Cons:
Beginner investors may find it a bit complicated initially
Higher-tier plans can get very pricey and may not be best suited for casual investors
8. Yahoo Finance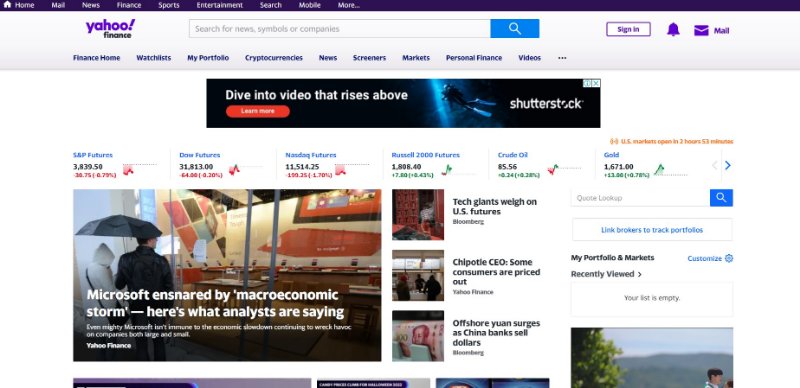 Yahoo Finance is one of those stock tracking apps that is easy enough for beginners but customizable enough for experienced investors. If you already happen to have a Yahoo! account, you can use it to sign into Yahoo Finance on your desktop or on the mobile iOS or Android app. If you don't yet have a Yahoo account, rest assured that it's both free and easy to create one.
Once you're logged in, simply create your portfolio tracker either by linking to your investment accounts or by creating your own portfolio manually. You'll also be able to create watchlists, compare and evaluate stocks, access plenty of market data, and enjoy real-time market tracking. Yahoo finance is also great for getting personalized news on the assets of your choice, from stocks to cryptocurrency.
Should you decide to upgrade, Yahoo Finance also offers two paid versions of its stock tracking app. Their Lite and Essential versions come with additional features like daily trade ideas, in-depth analysis, enhanced alerts, and more.
Overall, Yahoo Finance is a nice, straightforward investment checkup tool that can help keep you on top of the stock market from any device.
Pros:
A free account is great for casual or beginning investors
Highly rated mobile stock trading app that works on your phone or computer
Lots of great tools and news to help you navigate the stock market based on your own interests
Cons:
Yahoo is a great tool for stock tracking and does offer a stock screener, but it may be a little limited for advanced users.
See Related: Best Yieldco Stocks to Invest in Today
9. Kubera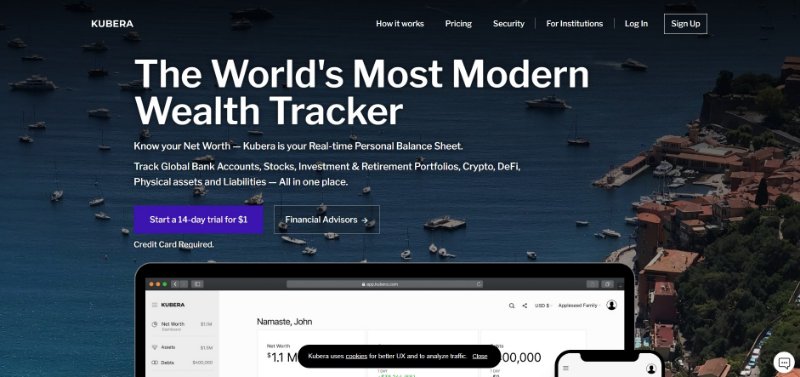 Kubera claims to be the "world's most modern net worth tracker," and it honestly may not be wrong. While it's great for stock tracking, it doesn't stop there. Kubera allows users to connect to banks, brokerages, crypto exchanges, and over 20,000 other financial institutions from around the world.
No matter how many financial accounts you want to add to your investment portfolio, Kubera can probably seamlessly connect with them. If you're into blockchain technology, then Kubera may be one of the best stock-tracking apps for you. From multiple DeFi assets to NFTs, Kubera can take pretty much everything you own into account when calculating your net worth.
It will give you an accurate rate of returns (IRR), access to real-time market tracking, charts, and reports. You can even share a read-only link with your CPA or financial advisor. The downside is that while a free trial is available, you'll have to upgrade if you want to use it long-term.
Pros:
One of the best stock tracking apps for blockchain and Defi fans
An unbelievably comprehensive investment portfolio that accounts for multiple assets
Bank-grade security and innovative features
Cons:
No free option and a limited free trial
While Kubera may be one of the best overall portfolio management apps out there, it may be a bit much if you're simply looking to track stocks
10. SigFig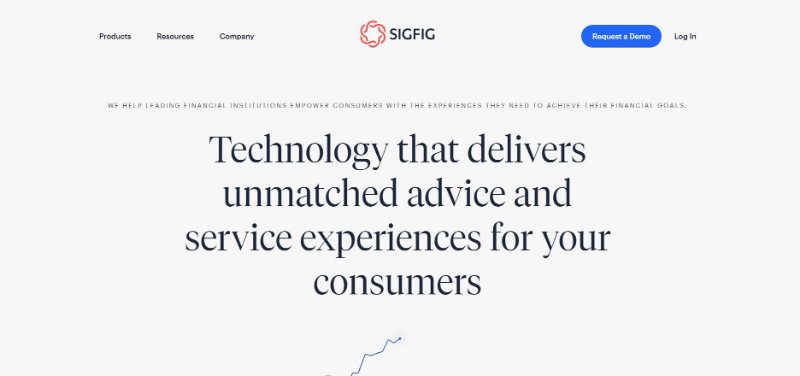 If you're looking for a free stock tracking platform that's straightforward and easy to use, then SigFig's stock tracking platform is worth looking into. While SigFig offers a full suite of wealth management solutions, its stock tracker is free for anyone to use, whether you happen to be a customer or not.
Just create a free account, sync it to your investment accounts, and enjoy the ability to track all your holdings in one place. The SigFig stock tracking app will also give you a solid overview of your accounts based on things like performance, fundamentals, and recommended guidance.
While it's not incredibly complex, this may come as we welcome relief for investors who are looking for a simple stock tracking tool that cuts right to the chance.
Pros:
Free, even if you're not a SigFig client
Incredibly straightforward platform
Ability to add and track your accounts from multiple brokerages
Cons:
It doesn't come with a huge number of features, which may be a con for more advanced investors
See Related: Best Robotics Stocks to Buy Now
11. AssetDash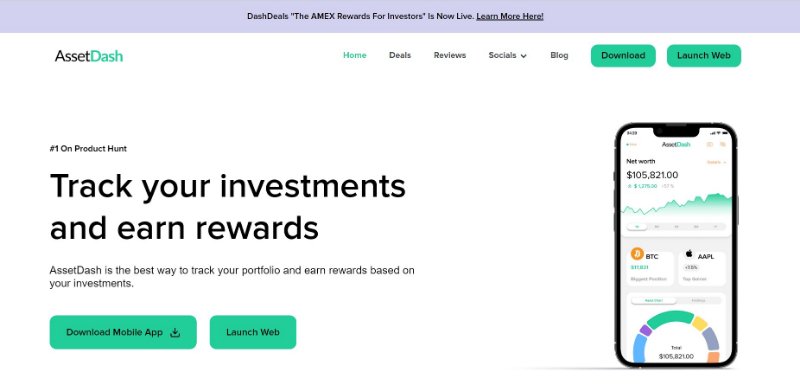 Like Kubera, AssetDash is an awesome stock tracking app to look into if you're into Web 3.0 investing. Available as a desktop platform or as an iPhone or Android app, AssetDash allows you to sync traditional stock trading accounts, crypto exchanges, DeFi apps, NFTs, and more.
You can even add in assets like real estate or physical collectibles to get an overall view of your investments. Users can even earn rewards for their investments and enjoy real-time price change updates.
If your investments are spread across multiple financial accounts and blockchains, then AssetDash may be a great stock-tracking app for you. Best of all, it's completely free.
Pros:
One of the best stock tracking apps that also allows users to track crypto and DeFi investments
For a free app, it's incredibly comprehensive
Real-time data from multiple financial markets
Cons:
If you're looking for more traditional stock monitoring, it may not be the right stock-tracking app for you
12. Interactive Brokers PortfolioAnalyst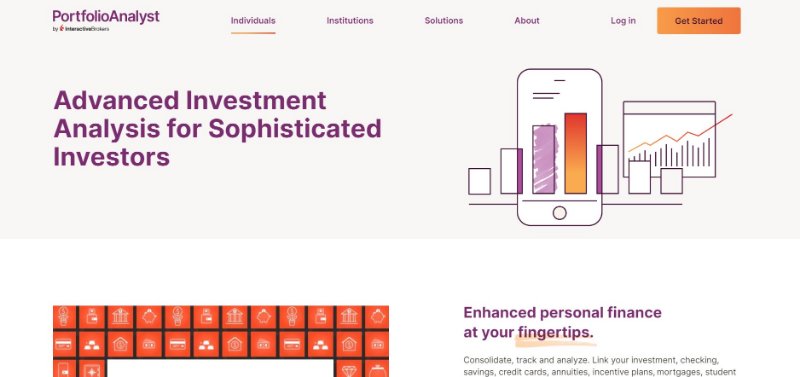 PortfolioAnalyst brings all the power of Interactive Brokers' stock market portfolio tools to a robust, free stock tracking app. PortfolioAnalyst allows you to link all your investment and banking accounts, credit cards, mortgages, and other loans to help you make more informed financial decisions.
Use the investment checkup feature to assess everything from key analytics and risk measurements to diversification by asset class, sector, and even ESG rating. PortfolioAnalyst includes all the information you need to help you decide whether to sell stocks and redistribute or hold for the long haul.
Users also enjoy real-time stock tracking data and comparison features to see how their portfolio's market value stacks up against a variety of different benchmarks. If you're a sophisticated investor looking for a great free option, then PortfolioAnalyst may be the best stock tracking app for you.
Pros:
Free, which is impressive considering its range of tools
Good stock tracking app for experienced investors
Wide range of tools, analysis, and real-time market data
Cons:
Maybe a bit overwhelming for casual or beginning investors
13. EquityStat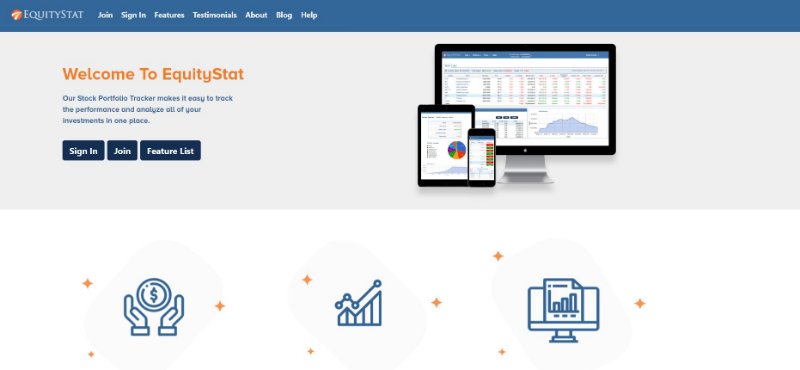 While EquityStat may not be quite as complex as many stock tracking apps designed for advanced investors, it's a solid free tool that can help make stock tracking a breeze. Accessible from your desktop, smartphone, or tablet, EquityStat allows you to track stocks, ETFs, mutual funds, and more from multiple brokerages.
Analyze your portfolio by factors such as past performance, expected dividend income, and valuation, with intuitive, easy-to-read graphs and data. You'll also get all the information you need to trade stocks at the perfect time with up-to-the-minute price quotes on all your holdings.
One of the other cool features that EquityStat offers is the ability to generate tax reports, which can definitely come in handy when it's time to report.
Pros:
A great tracking app for investors of all levels
A very generous selection of features, particularly for a free tracking app
Generates tax reports for all your accounts in one place
Cons:
It doesn't sync with external accounts, so you have to create your portfolios manually. But did we mention it's free?
See Related: Best Self-Driving Car Stocks to Invest in
14. Delta Investment Tracker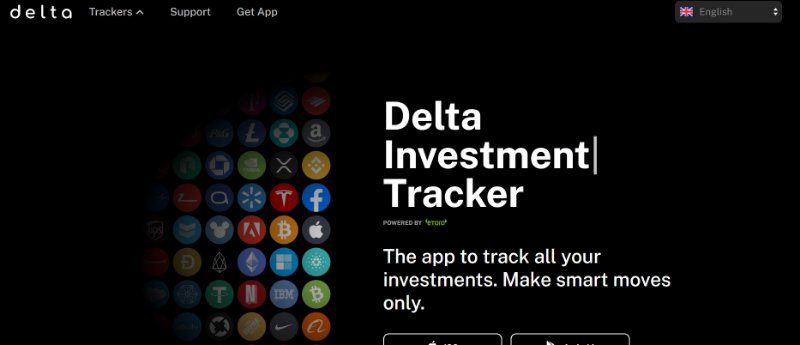 Delta Investment Tracker is another great candidate for the best tracking app for investors who want to keep an eye on multiple assets. Available for iOS and Android devices, Delta was designed by eToro and includes a robust crypto tracker that comes with access to everything from Bitcoin and Ethereum to over 7,000 altcoins.
It's also a great tracking app for NFTs and, of course, stock market assets. Sync it to multiple accounts and exchanges and enjoy analysis, live streaming data from exchanges around the world, and detailed trading analysis.
Delta comes with a generous set of innovative features that make crypto and stock tracking incredibly easy. If you're looking for a great tracking app that includes access to one of the largest stock and crypto libraries out there, then Delta is hard to beat.
Pros:
Great candidate for the most comprehensive crypto tracking app available
A great stock tracking app with access to international exchanges around the world
Incredible set of offerings for free
Cons:
A Pro version is also available but may be a bit pricey unless you're really into crypto
Related Resources