With so many people changing their spending habits and looking for ways to build their wealth, investing has become more trendy than ever. The pandemic has changed the way people think, shop, do business, and even invest. Just about every activity has been taken online, including seeking financial advice and investing.
Robo-investing platforms have been around for several years, but with more people looking online for just about everything, the number of platforms has grown tremendously. For first-time investors or even seasoned investors who are new to online portfolios, knowing who to trust can be difficult.
Betterment is one of the bigger names that has grown in popularity in recent years. In fact, it is one of the largest platforms, which is one of the main reasons we are writing a Betterment Socially Responsible Investing (SRI) review.
While some robo-investing platforms offer basic algorithms to build investment portfolios, this is a step above the rest.
It targets new investors and seasoned veterans alike with low fee options and available human advisors on hand if you need some extra advice.
They also offer management accounts for cash reserves so you can house your investments and your supplementary funds all in one place.
What is Betterment?

To have a comprehensive Betterment review, we first need to talk about what Betterment actually is.
Betterment is an online financial advisor that provides automated investing services. They offer a variety of services, including retirement planning, goal setting, and tax-efficient investing.
They offer cash management services in addition to sustainable and socially responsible investing services to the public.
Based in New York City, the company is a Financial Industry Regulatory Authority member and registered with the SEC.
In short, this company is a money management service that offers modern options for investing. It is also one of the largest online advisors fully independent and focused on the generation of positive returns for its customers.
How Betterment Works
Betterment allows customers to invest in diversified portfolios by offering socially responsible investing stocks and ETFs of both local and international companies.
Clients can invest according to whatever risk level they are comfortable with and handle both buying and selling on your behalf. More than just an online brokerage house, the platform works with clients to help them reach their financial goals.
You can set a monetary goal or set a time frame for which you would like to see returns on your investment. They have a range of tiers and options for investment that range from high yield to long-term bets.
The tools on the platform are goal-oriented, and the company even offers tax strategies to help users maximize their returns.
With additional investment or a higher rate plan, clients can also avail themselves of human advisor feedback if required.
What are the account types offered by Betterment for their SRI portfolios?
Betterment offers both retirement and non-retirement accounts for their SRI portfolios. This includes traditional IRA, Roth IRA, SEP IRA, rollover IRA, and taxable accounts. Trust services are also available.
See Related: Best ESG Stocks to Invest in Today
Betterment Socially Responsible Features
Betterment offers some of the best in breed socially responsible investing options, including broad impact fund and financial planning geared towards socially responsible means.
Climate Impact Portfolio
Betterment's new Climate Impact Portfolio is an investment option for investors who want to make their portfolios more sustainable without sacrificing portfolio diversification or balance of costs.
The fund was designed to allow people with different perspectives on climate change, such as those looking at environmentalism from a scientific perspective or religious beliefs surrounding stewardship over nature respectively, to invest equally well into strategies focused exclusively on reducing global warming through reduced consumption patterns and technological innovation.
The Climate Impact Portfolio is a fund that allows you to channel your money into companies whose practices and products are known to have a positive impact on the environment.
The fund contains over 50 stocks and ETFs including those of large tech companies such as Apple, Microsoft, and Google as well as electric car manufacturer Tesla.
The fund is currently only available to US-based investors but will be made available to international clients in the future.
See Related: Most Unethical Banks You Need to Avoid
Gender Diversity Portfolio
The Gender Diversity Portfolio is an investment option for those looking to invest in companies with a commitment to gender diversity.
The portfolio invests in companies that have a high proportion of women in leadership positions and/or a commitment to increasing the number of women in leadership positions.
The fund contains over 50 stocks and ETFs including those of large companies such as IBM, Verizon, and Coca-Cola as well as smaller companies such as Stitch Fix and The Knot Worldwide.
The portfolio is currently only available to US-based investors but will be made available to international clients in the future.
See Related: Best Edge Computing Stocks to Invest In Today
Betterment Charitable Giving Tool
Betterment's Charitable Giving Tool allows users to donate to their favorite charities using Betterment's Shares Account.
Betterment selects the shares that have appreciated the most and have the longest term capital gains. This allows users to make a tax-free donation and receive a receipt of their contributions through their Betterment account.
Donation through Betterment also assists charities by avoiding processing fees, which can be as high as 5% on some platforms. With Betterment's Charitable Giving Tool, users can easily and efficiently donate to their favorite charities while helping those charities avoid costly processing fees.
Sustainability Score
The Sustainability Score is a metric used by Betterment in order to evaluate how well a company is doing from a sustainability standpoint.
The score is based on publicly-available data and measures things such as a company's carbon footprint, water usage, and waste production.
The score is intended to be used as a way to compare different companies' sustainability efforts and to help investors make more informed decisions about where to put their money.
Betterment's Sustainability Score is available for all companies in the US stock market and will be expanding to include international markets in the future.
Betterment Innovative Technology Portfolio
The Betterment Innovative Technology Portfolio is designed to increase your exposure to companies that are pioneering cutting-edge technologies.
These innovations have the potential to reshape the way we work and play, and in the process shape the market's next generation of high-performing companies.
Some of the companies you may be invested in include:
3D printing – 3D Systems Corporation (DDD) and Stratasys Ltd. (SSYS)
Autonomous vehicles – Tesla Motors, Inc. (TSLA), Alphabet Inc. (GOOGL), and Nuance Communications, Inc. (NUAN)
Cloud computing – Amazon.com, Inc. (AMZN), Microsoft Corporation (MSFT), and International Business Machines Corporation (IBM)
Cybersecurity – FireEye, Inc. (FEYE), Palo Alto Networks, Inc. (PANW), and Symantec Corporation (SYMC)
The Innovative Technology portfolio is a low-cost, long-term investment that takes on greater risks to produce higher profits. The same as Core but with an allocation into the SPDR S&P Kensho New Economies Composite ETF (Ticker: KOMP).
See Related: eToro Review: Is It Legit and Worth Using?
Other Betterment Features
Betterment features a number of other options for investor accounts, including a Betterment checking account, cash management accounts, and the well-known tax-loss harvesting.
Betterment Core Portfolio
The company offers Vanguard stocks and bond ETFs including Vanguard US Developed Markets (VEA), Vanguard United States Large-Cap Value (VTM) et al. Aside from its core portfolio, Betterment also provides the BlackRock Target Income Portfolio and a Goldman Sachs Smart Beta portfolio.
Betterment's Core Portfolio is a selection of Vanguard stocks and bond ETFs that are designed to provide diversification and long-term growth potential. The portfolio includes Vanguard US Developed Markets (VEA), Vanguard United States Large-Cap Value (VTM) et al.
Betterment also provides the BlackRock Target Income Portfolio and a Goldman Sachs Smart Beta portfolio.
Each of these portfolios has a different risk level and investment objective, so it's important to select the one that is right for your specific goals. Betterment's Core Portfolio is a good choice for investors who are looking for diversification and long-term growth potential.
According to the MSCI ESG Quality scores, the Broad Impact Portfolio is very socially responsible. The average company score is 6.4 out of 10 with only 2% of companies scoring below a 5. This demonstrates that the companies in the portfolio are generally doing well when it comes to social responsibility.
Some of the social themes covered by the MSCI ESG Quality scores are human rights, health and safety, and the environment.
Responsible investing is important to many people, and the Broad Impact Portfolio offers a way to invest in companies that are doing their part to make a positive impact on society.
Tax-Loss Harvesting
Betterment's Tax-Loss Harvesting feature is a great way to reduce your tax burden while preserving your investment strategy.
With Betterment, you can sell stocks and funds that have realized losses and use the proceeds to purchase similar securities, preserving your asset allocation while realizing significant tax savings.
Betterment also offers free automated tax-loss harvesting in ETFs, making it easy to take advantage of this powerful tax reduction strategy. If you're looking for even more tax savings, Betterment also offers options for selling individual shares with losses (also known as direct indexing).
You can easily and efficiently reduce your taxes without sacrificing your investment goals.
How to Sign up For Betterment

Betterment Sign Up Form
As part of our efforts to create a highly detailed Betterment SRI review, we will also let you know how to sign up and start investing on the platform. It takes about 15 minutes from start to finish, so you will be on your way to investing in your future in no time.
There are 10 screens that you will encounter during sign-up, each of which will have a couple of questions. These questions will not only guide you through the process but will help the platform build a profile for you that will best suit your investment needs.
On the homepage, you will start by clicking the signup button and choosing which type of investment plan is best for you. It will ask if you are a first-time investor or if you are a seasoned investor.
Next, you will be guided to select your first investment goal. Generally, this will be a retirement income figure and a suggestion for stock allocation that will best help you reach your investment goal.
You have a chance to choose between 4 accounts; SEP IRA, Traditional IRA, a Regular taxable account, or a Roth IRA. You can look deeper into each choice or even the goal projection if you prefer.
In the next step of your account creation, you will be tasked with reviewing your selected goals, and you will also get to look at the offered features of your chosen account type. If you don't understand any of the terms, simply clicking on the term will give you a deeper explanation.
Next, you will be taken to the portfolio asset allocation menu. In this area, you will be shown the ETFs used to build your portfolio and a detailed analysis of each one.
You can always do your own research on each ETF that will be in your investment portfolio before committing. The screen will also let you know what the allocated percentages with be. Once you are satisfied, you will be asked to continue your sign-up process.
At this point, you will need to give some basic information about yourself. Namely, your email, password for the account, and personal identification information. You will also need to give your legal address, phone number, and optionally, who or how you came to know about the platform.
In the next step, you will need to verify your identity by providing your DOB, gender, and social security number. Once you have verified this information, you will need to fill out your financial information, such as your income, assets, and work details. You will also need to answer some mandatory regulatory questions.
Next, you will need to set up security questions, read the terms of use for the platform, and create your account.
Once your account has been created, you will need to add a bank account and make your first deposit. From there, you are on your way to building an ESG portfolio that will help you secure your future.
See Related: Reasons to Start Social Impact Investing
Is Betterment Legit?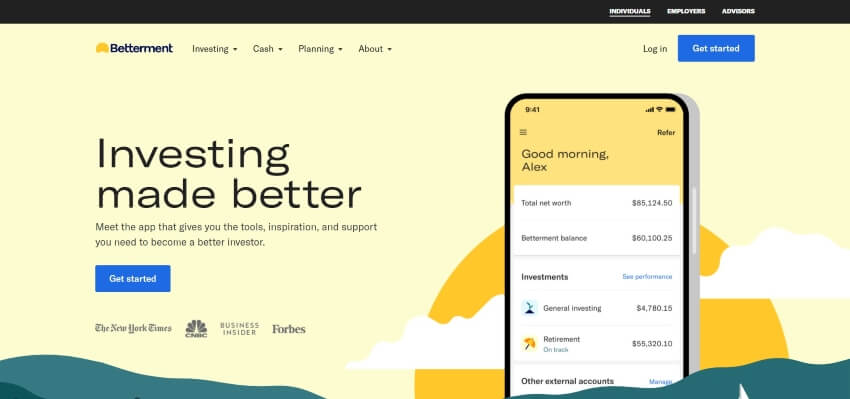 Betterment Website
Betterment is a legitimate investment tool. The company is licensed and registered to conduct financial transactions both locally and internationally.
The business falls under the regulations of the SEC, among others. Betterment, like most robo-advisors, has joined FINA (Financial Industry Regulatory Authority).
Though this is a self-regulatory organization, it allows investors to check the legitimacy and performance records so that a human advisor can be cross-referenced.
As far as the SEC is concerned, robo-advisors retain the same legal status and responsibilities as traditional human investment advisors. They must be legally registered and in good standing with the SEC to provide services to the public.
They are also subject to the same rules, regulations, and securities laws as traditional investment brokers. Consumers can look up Betterment on BrokerCheck to find more detailed information regarding their services and status with the SEC.
It is important to note that any assets held or managed by Betterment on your behalf are not FDIC insured since they are investment funds and not traditional deposits.
See Related: Examples of the Collective Impact Model
Betterment Pros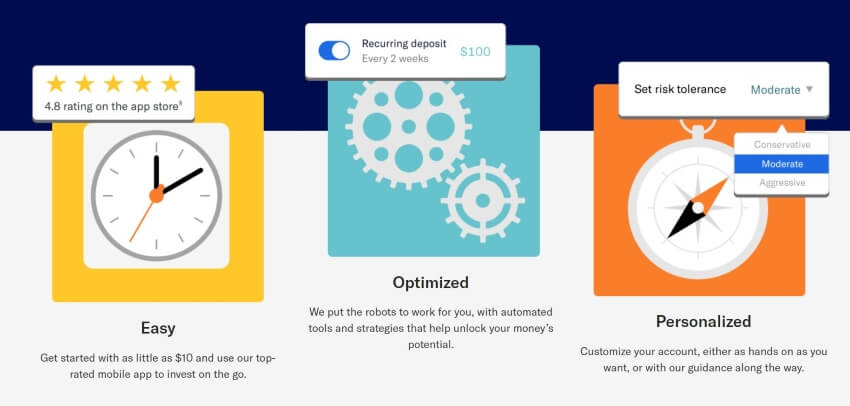 Highlights in Betterment
Of all the Robo-advisors out there, Betterment offers great minimums on deposit. Specifically, for their digital offerings, there is no minimum required.
The premium with human access carries a $100,000 minimum balance, however. That being said, the platform has so much to offer for all levels of investors to get and maximize the ROI.
The platform does offer a vast array of portfolio customization options in line with modern ideas regarding stock portfolios. It is easy to ensure your portfolio is diverse and balanced at the same time.
They also use exchange-traded funds that cover 14 different asset classes. In keeping with customization, their offerings also cover a range of risk tolerance parameters.
It has never been easier to reach your investment goals than through the help of the Betterment robo-advisor.
There is also a flexible portfolio tool that allows customers to control more of where their money goes. If you favor a particular ETF, you can adjust your settings to funnel more of your investment dollars into that particular holding. For risk-takers, there are also options for
the system to chase higher-risk stocks or funds. Of course, you can make a portfolio that is all bonds or even one made up of all ESG rated options.
Along these lines, customers can create a Climate Impact portfolio or a Social Impact portfolio according to their moral values.
Automatic rebalancing is one of the system's best features, which is performed daily.
See Related: Investing in Carbon Credits: Do they Leave an Impact
Betterment Cons
Similar to other robot advisors, Betterment has a tax loss harvesting option on accounts.
Every day the platform will check for tax exposures on your investments, but it doesn't offer a tool for direct indexing. This means that you will often miss out on opportunities that can save you money.
They do feature a tax-coordinated portfolio that works to fill the gap this problem creates.
Still, you will already need to have tax-advantaged retirement accounts and taxable accounts with the platform for this gap feature to be effective. It also falls short in the safety net goals feature.
The 85% bond and 15% stock option are there to help deal with inflation, but actual advice is that the funds in an emergency account should not be used.
Although the company claims this fund is better than using cash, it can actually force investors to sell during a market slump instead of the stocks being held until there are gains.
One thing that is also not often mentioned is that using Betterment Cash Reserve may end up causing you to face some capital gains taxes, which will often be at the higher short-term rate as opposed to long-term rates.
If you would instead take money out of your savings account, there would be no gains taxes to consider.
See Related: What's the Real Impact of Climate Migration?
Betterment Fees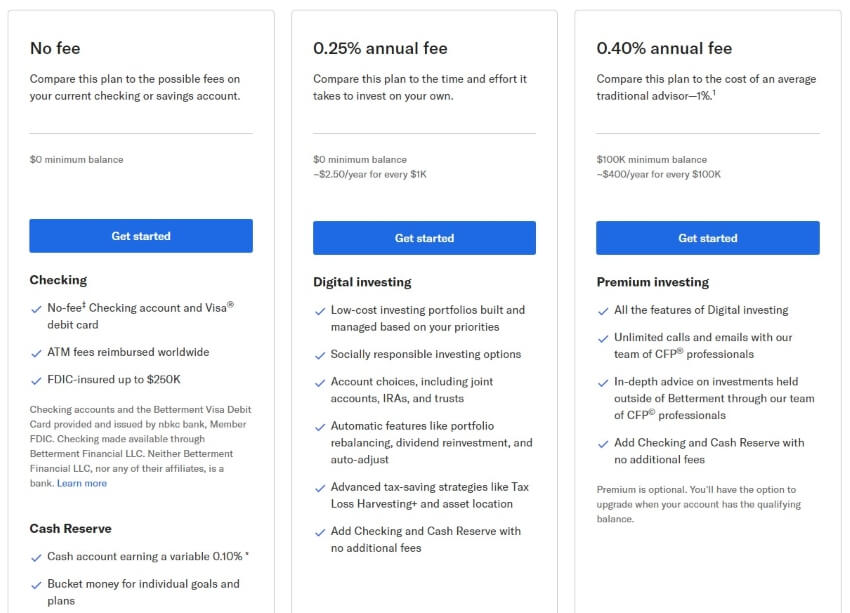 Betterment Pricing
Betterment Digital has a $0 minimum investment and charges an account management fee.
0.25% annually regardless of account level. On par, the investment expense ratio is an average of 0.11%.
Betterment Premium has a $100,000 minimum investment and charges an account management fee of 0.40% annually regardless of account level. On par, the investment expense ratio is an average of 0.11%.
If your Betterment account has assets over $2 million, Betterment Digital has a management fee of 0.30%.
There are stand-alone live advisor packages for account holders and non-account holders as well. For a 45 minute session, the cost is $199. For a one-hour session, the cost is $299.
See Related: ESG vs. SRI vs. Impact Investing: What's the Difference?
Betterment's customer service and support
Betterment has excellent customer service and support. They offer 24/7 customer service via email and live chat, and they are always quick to respond. They also have an in-depth FAQ section on their website that covers a wide range of topics related to investing.
Overall, we were very impressed with Betterment's performance. They have a very user-friendly platform with a great selection of investment options. They also have some of the lowest fees in the industry and their customer service is excellent.
If you're looking for a robo-advisor that can help you reach your financial goals, we highly recommend Betterment.
See Related: Best Tesla Financing Rates in the Market
Betterment SRI Performance Ratings
Betterment is one of the better robo-advisors on the market. It offers two options for service, digital, and premium. Both have their own fee schedules, which set them apart and offer each account type.
There is no minimum investment for their digital account, making it a great option for those just getting started on building their investment portfolio.
For others who are seasoned investors or who have a higher amount to invest, the premium option with a 100k minimum is also available.
For both types of accounts, some tools are goal-oriented to help users set up their accounts and make the most out of their investments. Account-holders and non-account holders alike can also purchase a live advisor package, which most robo-advisor sites don't offer.
Ease-of-Use – 4/5
Features – 5/5
Customer Service – 5/5
Value for Money – 4/5
Several different options will allow you to customize your profile, and you also can invest in fractional shares.
The low fees are a bonus that makes this platform ideal for hands-off, retirement, and new investors.
See Related: How to Invest in Electric Car Charging Stations
Betterment Referral Program
Betterment is one of the biggest ESG robo-advisors on the market and with good reason. They have been attracting quite a crowd of new clients in the past two years thanks to the easy-to-use features and goal-oriented options it offers.
Unlike other purely automated services, this one is a hybrid of automated and human advisors. For investors who are retired, new investors, or those simply looking for an affordable option to diversify their existing investment portfolios, Betterment is a creative option.
The human advice option makes Betterment stand out, especially since the service cost remains affordable. You can sign up for a referral bonus, or you can sign up with the website directly at full price.
FAQ
Since its inception, the company's SRI portfolios have outperformed the market, with an average annual return of 9.31% compared to the S&P 500's 7.25%. This is thanks in part to their diversified investment approach, which includes exposure to both domestic and international companies across a variety of sectors.
What are the fees for Betterment's SRI portfolios?
Betterment's SRI portfolios have the same low fees as their other investment options, with an annual fee of 0.25% for balances under $10,000 and 0.15% for balances over $10,000. There are no additional charges for buying or selling stocks or ETFs.
What is the minimum investment for Betterment's SRI portfolios?
The minimum investment for Betterment's SRI portfolios is $10. This is one of the lowest minimum investments of any robo-advisor.
Related Reviews
Related Resources
Kyle Kroeger, esteemed Purdue University alum and accomplished finance professional, brings a decade of invaluable experience from diverse finance roles in both small and large firms. An astute investor himself, Kyle adeptly navigates the spheres of corporate and client-side finance, always guiding with a principal investor's sharp acumen.
Hailing from a lineage of industrious Midwestern entrepreneurs and creatives, his business instincts are deeply ingrained. This background fuels his entrepreneurial spirit and underpins his commitment to responsible investment. As the Founder and Owner of The Impact Investor, Kyle fervently advocates for increased awareness of ethically invested funds, empowering individuals to make judicious investment decisions.
Striving to marry financial prudence with positive societal impact, Kyle imparts practical strategies for saving and investing, underlined by a robust ethos of conscientious capitalism. His ambition transcends personal gain, aiming instead to spark transformative global change through the power of responsible investment.
When not immersed in the world of finance, he's continually captivated by the cultural richness of new cities, relishing the opportunity to learn from diverse societies. This passion for travel is eloquently documented on his site, ViaTravelers.com, where you can delve into his unique experiences via his author profile.