If you want to invest money, a robo-advisor can be a good option. However, you may want to consider Betterment vs. Ellevest before signing up with one. Both platforms offer unique features and advantages.
One isn't always better than the other, but one might win out for your specific situation. Whether you want to start with a general investing account or set more specific goals, robo-investing is great. You should compare a few platforms to decide which is right for you.
Be sure to read some Ellevest and Betterment reviews. Then, you can determine, is Betterment better than Ellevest for your needs.
Review Methodology
To compare Betterment vs. Ellevest, we looked at both investing apps. We looked at what each program is and what they can do. Our review involved learning about the features and how to access your money. We considered the fee structure as well as what the fees cover.
Then, we outlined the pros and cons of each investing platform. After that, we rated the features and other benefits of Betterment and Ellevest. That helped us determine who each app is for and if one is better than the other.
What Is Betterment?

Betterment is an investing and cash management app and website. The company developed its app to make investing easy on any budget. Once you get started, you can diversify your investments and put money into different accounts.
You can also connect any outside accounts to view all of your finances in one place. The app shows you your total net worth, which can help you track your financial health.
As a fiduciary, Betterment acts in the best interest of users. It's an excellent app to use for investing, but you can also set up a checking account or savings account. That way, you don't have to manage multiple banks.
Betterment is a member of the Securities Investor Protection Corporation (SIPC). When you deposit into a checking or savings account, that money will have FDIC insurance. The program also partners with industry experts to select portfolios.
Short Version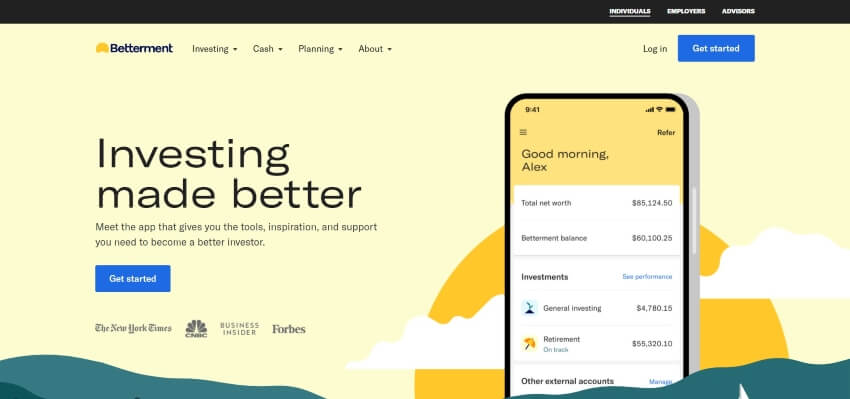 If you're looking for a place to invest your money, Betterment is great. The app offers multiple features to help you build wealth. You can invest for retirement or any other goal, and the minimum balance is $0.
Syncing external accounts is easy, so you can view all of your accounts from one place. If you ever need help, you can contact customer support. Betterment even has financial advisors you can call by paying an extra fee.
The program is accessible on the Betterment app and website. After you connect an outside bank account or deposit into a Betterment Checking account, you can transfer money into your investment accounts.
A high-yield savings account is also available. Like other robo-advisors, Betterment can choose where to invest your money. However, you can customize your investments if you want to.
Pros
Multiple accounts available
No minimum deposit
Customizable portfolios
SIPC and FDIC protection
Connect outside accounts
Cons
$100,000 minimum for the premium plan
No customer service on weekends
See Related: Upgrade Loan Review: Is It Legit to Use?
Key Features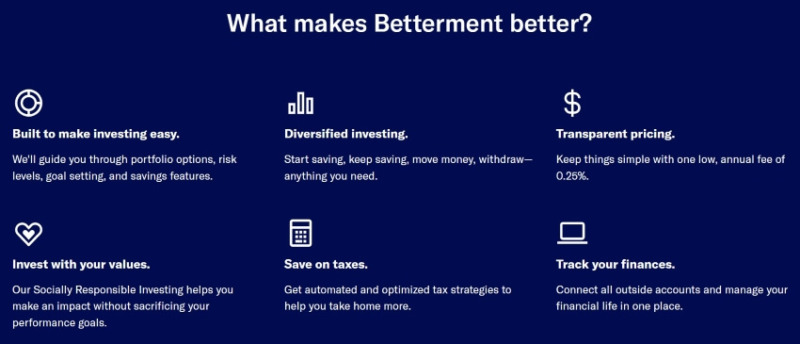 Before you set up a Betterment account, you should know about its features. Creating an account is easy, and you can do so on the website or in the app. You'll need to fill out a questionnaire about your investing goals to get started.
Betterment lets you invest for retirement or set up general investing accounts. If you want to keep all of your money in one place, checking and savings accounts are also available.
Consider more of the features and how Betterment works with each feature.
See Related: Best Investments for Young Adults
Mobile App
One of the best features of Betterment is its mobile app. If you want to deposit or withdraw funds on the go, the app is convenient. The app shows you your balance for each of your accounts, and you can view more information by selecting an account.
Depositing into an account is simple, and you can set up recurring deposits. One of the great things about the app is that it automatically logs you out when you leave the app. Some apps will keep you logged in for a while, which can be bad if someone gets control of your device.
You can do just about anything in the app that you can do on the website. If you don't want to get on your computer to check your accounts, Betterment is perfect. The app is free to download and use.
Goal Setting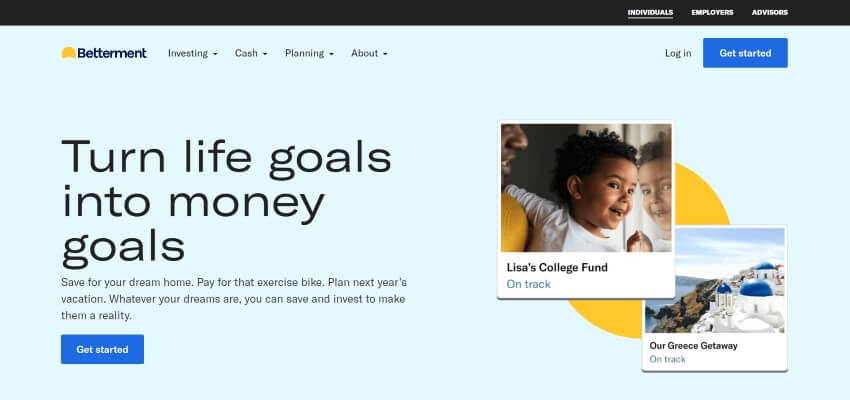 When you create an account in Betterment, you get to select a goal. Options include investing for retirement, education, a major purchase, or a safety net. If you don't have a specific goal, you can also set up a general investing account.
Then, you'll be able to personalize the name of the account. You can set the date when you'll need the money and how much you'll need. This is an excellent way to hold yourself accountable for saving money regularly.
As you contribute money to your accounts, you can view your progress. Betterment will tell you if you're on track or not. That can help if you're looking to save money and need to reach a goal by a specific date.
The goals you set can also affect the Betterment returns you get. Betterment will invest money for shorter-term goals more conservatively. On the other hand, the app may take a more aggressive approach to investing money for your retirement.
See Related: Best Betterment Alternatives
Automated Deposits
If you know you want to save or invest a certain amount each month, Betterment is great. You can set up recurring deposits to occur monthly, weekly, twice a week, or every other week. That way, you don't have to worry about missing a deposit.
You'll need to watch the account that you connect to that deposit. Then, you won't overdraft on your checking account.
Still, automated deposits are useful for things like retirement. If you want to max out your IRA contributions, you can divide the annual limit by 12 and contribute that amount each month.
Recurring deposits are useful when you're building a safety net or saving to buy a house or go back to school. While you can make individual deposits as much as you want, the automated service can save you a lot of time.
See Related: Best Alternatives to Chime Bank
Easy Transfers
To put money into any of your Betterment accounts, you'll need to connect an outside account. After you do that, you'll be able to easily transfer the money. Transfers take one to three business days but usually happen on the shorter end of that timeline.
Whether you set up individual or recurring deposits, your money will reach Betterment quickly. That means you can start earning money on your investments sooner.
If you want to withdraw money, you can also transfer the funds within a few days. Be sure to account for weekends and holidays when making your transfer requests. Those don't count as business days, so it may take longer for your funds to move.
Robo-Advisor
Betterment's robo-advisor is one of the best features of the app. When you set up an investment account, you'll be able to select from a few investment portfolios. Then, you'll only have to pay advisory fees instead of other Betterment management fees.
The Core portfolio is an excellent place to start. It includes ETFs, from Schwab, Vanguard, and some other companies. This portfolio has some flexibility if you want more control over your investments.
Another option is the Smart-Beta portfolio, which offers more diversification for your investments. It focuses more on momentum and volatility.
You can also choose a Socially Responsible portfolio. Within that, your options include Broad Impact, Climate Impact, and Social Impact. That way, you can invest in companies that are working to better the world.
See Related: Varo vs Chime: What is Better?
Cash Management
Along with investing, you can use Betterment for other banking needs. You can set up a checking account and make purchases with a debit card. Betterment will refund ATM fees, and there aren't any minimum balance requirements.
If you want to save money but not in investments, the Cash Reserve account is great. It offers a higher interest rate than many savings accounts, so you can still earn a bit of money.
You can even get an alert when your balance is higher than your target, so you can take money out or move it to investments.
Both the checking and savings accounts have FDIC insurance. Checking accounts have insurance on up to $250,000 per person on the account. If you have a Cash Reserve account, the insurance goes up to $1 million for individuals and $2 million for joint accounts.
Security
Betterment takes multiple steps to secure your account and finances. The app has strong encryption and browser protection. You can set up biometric identification, such as facial recognition or fingerprint sensing.
Two-factor authentication is also available, and Betterment has procedures to protect against fraud. The company also doesn't share your data with third parties. And it keeps your data on a server in a facility with plenty of security.
Combine those benefits with SIPC and FDIC protection, and you can be safe investing your money with Betterment. It's an excellent option for beginner investors and those who want to invest more money.
Education
You can also use Betterment's website to learn about finances and investing. The website features a section full of articles on various money topics.
This section is an excellent place to learn more about saving and investing. Plus, you can contact Betterment and schedule a meeting with a financial advisor. If you have a Premium account, you get unlimited meetings for free.
Other users can pay for an Advice Package. That way, you can get more help than some robo-advisors can offer.
Ratings
Ease of Use: 4.9/5
Features: 4.9/5
Customer Service: 4.6/5
Value for Money: 4.8/5
Verdict
Betterment is an excellent tool for beginner advisors. It's relatively affordable, and you can set up as many accounts as you want. The app helps you invest for retirement or other goals, and you can transfer money in and out easily. But you should consider Betterment vs. Ellevest for a full picture.
See Related: Betterment vs Personal Capital: Which One is Better?
What Is Ellevest?

Ellevest is an investing app and website by women, for women. Instead of charging advisory fees, the company charges flat-rate monthly membership fees. With three membership tiers, you can get as many features as you want.
Cash accounts are also available for savings outside of investments. That can help you take more control over your finances by keeping your accounts together. If you have a payroll job (not self-employed), you can set up automatic deposits straight to your Ellevest accounts.
The app considers salary curves for different genders to influence investing strategies. It's open to women and men, so it's great for anyone looking to support women. Along with investing and saving, Ellevest offers coaching to help you with your finances.
See Related: eToro Review: Is It Legit and Worth Using?
Short Version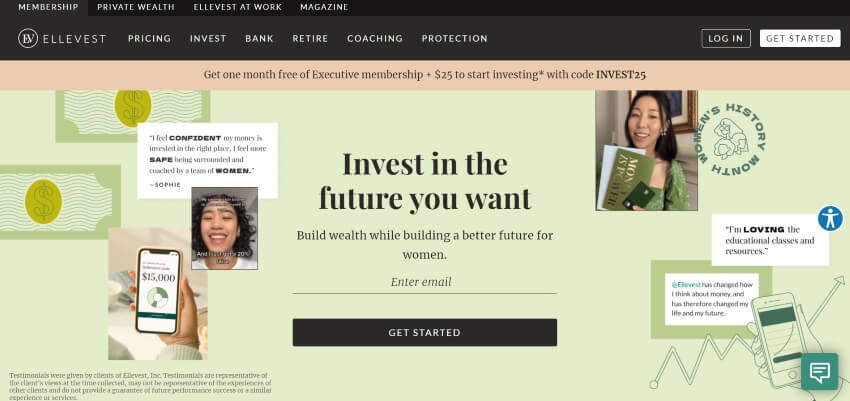 If you're looking to support a women-owned business and invest, you should use Ellevest. The app offers three membership tiers, so you can get the services you need each month. Because of that, you don't have to worry about paying advisory fees.
You can set up an account online, and you can view the portfolios before you complete the signup process. Retirement accounts are available on the higher tiers, and anyone can use Ellevest for a general investing account.
Ellevest Save and Spend accounts are also available. The Spend account comes with a debit card and no minimum balance. While you can earn interest on a Save account, the rate is a bit lower than some other accounts.
When comparing Betterment and Ellevest, you will have a bit less flexibility with Ellevest. However, it's set up for women specifically. Consider what is more important to you before selecting a robo-advisor.
Pros
Flat-rate fees
Suited for women
Different goals available
Customer service via social media
No minimum balance
Cons
Not much customization
Retirement accounts aren't available on all plans
See Related: Acorns Sustainable Portfolio Review: Is It Worth It?
Key Features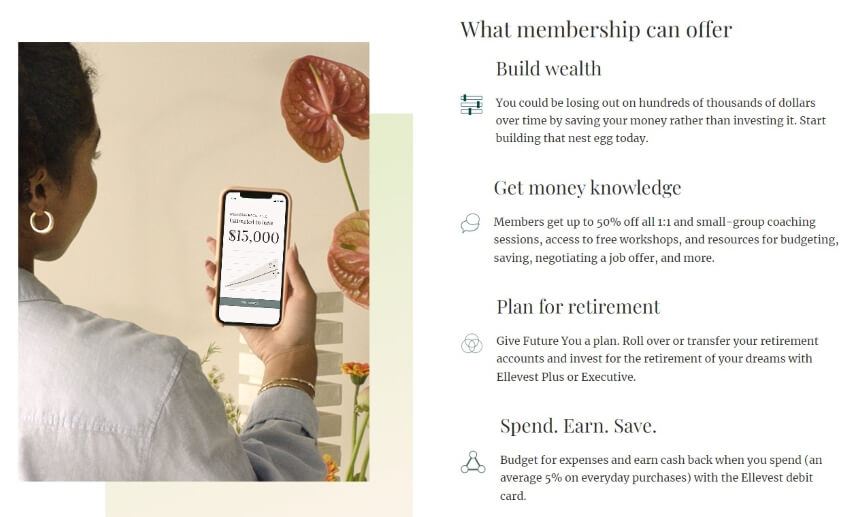 While it helps to know the basics of how Ellevest works, you should know more about the features. That can help you decide for yourself, is Ellevest better than Betterment?
Its focus on women sets Ellevest apart from other investing platforms. Like Betterment, it's a good option for beginners, and it offers a lot of the same investing options.
However, the way each program structures accounts and fees is different. You should consider some of the features when reading Ellevest reviews.
Mobile App
Like Betterment, Ellevest features a mobile app that you can use to view your accounts from anywhere. It's a free app, so you don't have to pay extra to access it. You can use the app to sign up for an account, or you can download it after joining on your computer.
The app works on both iOS and Android, so anyone can use it. In the app, you'll be able to personalize your profile to help the platform invest for you. It will ask your name, age, where you live, and other details.
Once you have accounts going, you can view your investment portfolio. The app also lets you access educational resources to help you learn about money.
See Related: Best Banks for Low-Income Earners
Goal Setting
Depending on the Ellevest management fees you pay, you may have access to more investing goals. The basic tier only offers a general investing account. If you upgrade one tier, you'll also get access to a retirement account.
At the top level, you get access to up to five more investing goals. You can create separate accounts for things like paying for a house or saving money for your kids.
If you join with an Executive account, you'll also be able to view goal forecasts. That can help you decide to change your investing strategy to reach certain goals.
Savings Account
If you don't want to invest all of your money, Ellevest offers a Save account. Unfortunately, Ellevest returns on Save accounts are pretty low.
But the account is a good option if you want to save money for a short-term goal. You can also use the account by rounding up all of your transactions. Ellevest will automatically transfer the change into your savings account.
Then, you can easily transfer your money to an investment account. You can also transfer your investments to your savings account.
Robo-Advisor
Regardless of the membership tier that you select, you get access to a robo-advisor. Ellevest will automatically invest for you, so you can put your money to work and invest in women.
You also get to choose if you want to invest in environmental, social, and governance (ESG) investments. That way, you can have your money help the planet in some way. Another customization is the option to adjust your risk tolerance.
Unfortunately, Ellevest doesn't offer many other customizations. While that can be nice for beginners, you may eventually want to put your money somewhere else to have more control.
Financial Advisor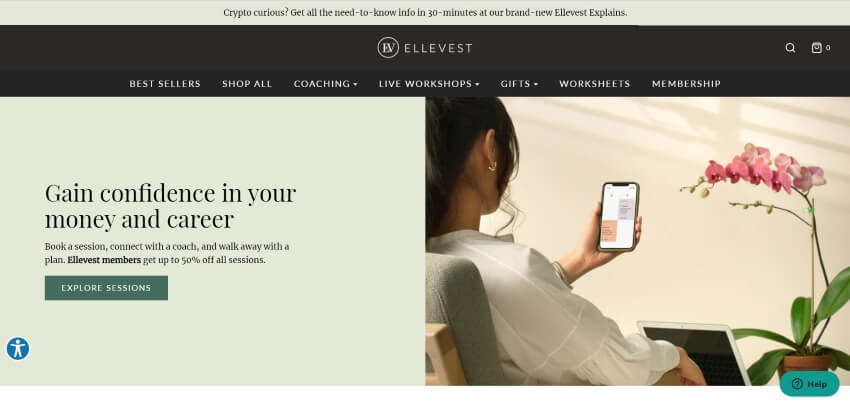 Another excellent feature of Ellevest is access to a financial advisor. Like the basic account from Betterment, you will need to pay for each meeting with the advisor.
However, Ellevest offers discounts on these meetings to all membership tiers. Depending on the tier you select, you can get 20 to 50 percent off the cost of financial coaching.
The same discount applies to individual sessions and workshops. If you want to learn more about money, those sessions are an excellent tool.
Security
When comparing Betterment and Ellevest, you should consider Betterment security vs. Ellevest security. Ellevest requires two-factor authentication for you to open a new account or to withdraw money from an existing account.
Like Betterment, Ellevest features encryption to protect your data online. And you get FDIC insurance up to $250,000 on your savings and checking accounts. Ellevest is a fiduciary so will invest in your best interest.
The app also offers network security and secure software development. That way, you can make sure your money and data will be safe.
Education
Whether you enroll in an individual coaching session or a workshop, you can learn more about money with Ellevest. The Ellevest Magazine is also available as a free resource to learn about various financial topics.
Anyone can read the magazine, whether or not they have an Ellevest account. If you want even more tips and information, you can subscribe to the Ellevest newsletter.
Ellevest makes it easy to learn how to manage your money. It's perfect for people who haven't had much financial education but who want to learn more.
Other Services
Ellevest has partnered with PolicyGenius and Lemonade. PolicyGenius offers life insurance while Lemonade has renter's insurance and pet insurance.
Part of managing money involves planning for the worst. You can use PolicyGenius to compare life insurance policies and find an affordable one.
Meanwhile, Lemonade offers insurance for renters and pets. Policies are very affordable, and the company will pay claims quickly.
Ratings
Ease of Use: 4.9/5
Features: 4.7/5
Customer Service: 4.8/5
Value for Money: 4.5/5
Verdict
When comparing Betterment performance vs. Ellevest performance, Ellevest is a bit more limited. However, it's an excellent choice if you want to support women. Plus, you get access to discounts on coaching sessions, and membership fees are more predictable than advisory fees. The app also offers partnerships with insurance, which Betterment doesn't have.
FAQs About Betterment vs. Ellevest
If you still have questions, you're not alone. Here are some common queries and their answers.
Can Men Invest With Ellevest?
Anyone can invest with Ellevest, so you don't have to be a woman. However, you do have to be okay with investing in women and businesses that support women.
Is Betterment or Ellevest Cheaper?
It's hard to compare the cost of Betterment and Ellevest because of the fee structures. For smaller investments, the Betterment advisory fee is probably lower. However, the flat Ellevest fee is more predictable and may be more cost-effective for larger investments.
Consider Betterment vs. Ellevest returns to figure out if one will save you money over the other.
Related Resources
Kyle Kroeger, esteemed Purdue University alum and accomplished finance professional, brings a decade of invaluable experience from diverse finance roles in both small and large firms. An astute investor himself, Kyle adeptly navigates the spheres of corporate and client-side finance, always guiding with a principal investor's sharp acumen.
Hailing from a lineage of industrious Midwestern entrepreneurs and creatives, his business instincts are deeply ingrained. This background fuels his entrepreneurial spirit and underpins his commitment to responsible investment. As the Founder and Owner of The Impact Investor, Kyle fervently advocates for increased awareness of ethically invested funds, empowering individuals to make judicious investment decisions.
Striving to marry financial prudence with positive societal impact, Kyle imparts practical strategies for saving and investing, underlined by a robust ethos of conscientious capitalism. His ambition transcends personal gain, aiming instead to spark transformative global change through the power of responsible investment.
When not immersed in the world of finance, he's continually captivated by the cultural richness of new cities, relishing the opportunity to learn from diverse societies. This passion for travel is eloquently documented on his site, ViaTravelers.com, where you can delve into his unique experiences via his author profile.