Banks and credit unions play a vital role in the financial lives of countless Americans. From checking accounts to mortgages and auto loans, financial institutions provide many services that make life much more manageable.
Unfortunately, finding a great financial institution hasn't always been easy for everyone, as the history of banking services in America is littered with racial discrimination and redlining. Less than a century ago, government financial policies were blatantly designed to promote racial segregation and fuel the wealth gap between whites and minorities.
These financial injustices ultimately inspired the creation of Black-owned banks and credit unions. Join us to learn about the history of Black-owned banks in America, the recent #BankBlack trend, and where to find a great black-owned bank or credit union near you.
A Brief History of Black-Owned Financial Institutions
In 1865, at the end of the Civil War, President Abraham Lincoln sought to establish the Freedman's Savings and Trust Company, also known as Freedman's Savings Bank. The aim was to provide financial services for the newly emancipated.
A leading bank in New York City, Jay Cooke & Company, was essentially Freedman's bank since it predominantly managed the financial accounts of African Americans.
Unfortunately, Jay Cooke & Company met with financial ruin during the financial panic 1873 and pulled Freedman's Savings down with it. In 1888, Capital Savings Bank became the first Black bank in the U.S. By 1934, over 130 other Black banks had been established.
The Tulsa Race Massacre
Still, the battle for equality was far from over. By the 1920s, the Greenwood District of Tulsa, aka "Black Wall Street," had become one of the wealthiest African-American communities in the U.S.
But that all came to a tragic end between May 31 and June 1, 1921, when white supremacist terrorist mobs descended on the community in what would be known as the Tulsa Race Massacre.
While a devastating blow to the quest for economic equality, it didn't stop black leaders from fighting on. Today, there's even a black-owned online banking platform called Greenwood, designed with the needs of the Black and Latinx communities in mind.
MLK and the Bank Black Movement
Decades later, civil rights leader Dr. Martin Luther King Jr. would lay the grounds for the Bank Black movement in his last speech on April 3rd, 1968.
The day before his assassination, King urged activists to support Black-owned banks like the Tri-State Bank of Memphis in his famous "I've Been to the Mountain Top" speech.
In 2016, the #BankBlack challenge began making the rounds on social media to encourage support for black-owned financial institutions.
Today, the Bank Black organization continues to provide resources that champion Black-owned banking and support financial literacy and education among the African-American community.
Why Are Black-Owned Banks Important?
While we'd all like to believe racial financial inequality was a historical problem, the reality is that it's still alive and well in America. However, a recent paper published by the Samuel Dubois Cook Center on Social Equity revealed that the net worth of the average White family is still roughly 7x that of the average Black family.
"Black household heads with a college degree hold $22,000 less wealth than White household heads who lack a high school diploma," the study reveals. "And Black household heads with advanced degrees hold about half the wealth of White household heads with a Bachelor's degree."
Many studies have debunked the lie that racial income inequality comes down to differences in education or ambition. Instead, its roots can largely be traced back to a nation that has long offered its citizens different opportunities based on race.
Banking Inequality
While you'll be hard-pressed to find a bank that openly admits to racial discrimination, reality too often tells a different story. As recently as 2023, major banks have been forced to pay out multi-million dollar settlements for avoiding lending to Black and Latino community members.
"A week after the CEOs of our largest banks sat before this Committee and promised to fight against discrimination, the American Bankers Association sued the Consumer Financial Protection Bureau for updating its examination manual to scrutinize unfair discrimination," U.S. Sen. Sherrod Brown revealed in a committee meeting in a 2022 Senate Committee meeting.
"Let that sink in, in 2022… in the United States of America, you can be turned away at a bank because of your skin color," Brown remarked. "The wealth and income disparities between white and minority households are a consequence of the unequal access and treatment minorities have faced."
The Benefits of Black-Owned Banks
Black-owned banks not only play a foundational role in ending systemic racism but also offer opportunities for people of color that some larger banks don't. A recent FDIC report on minority depository institutions (MDIs) revealed that MDIs tend to issue a larger percentage of mortgages and small business loans to minority communities.
MDIs are also eligible for benefits such as training and educational programs and assistance that can help create more jobs in underserved communities. By leveling the economic playing field, Black-owned banks are finally giving more Americans the opportunity to bridge a wealth gap that was centuries in the making.
Black-Owned Banks and Credit Unions Across America
If you want to take action by supporting minority-owned banks, we'll help get you started with an introduction to black-owned banks and credit unions. We'll give you a breakdown of each financial institution, complete with the latest statistics from the Federal Deposit Insurance Corporation (FDIC) annual report on MRIs.
1. Alamerica Bank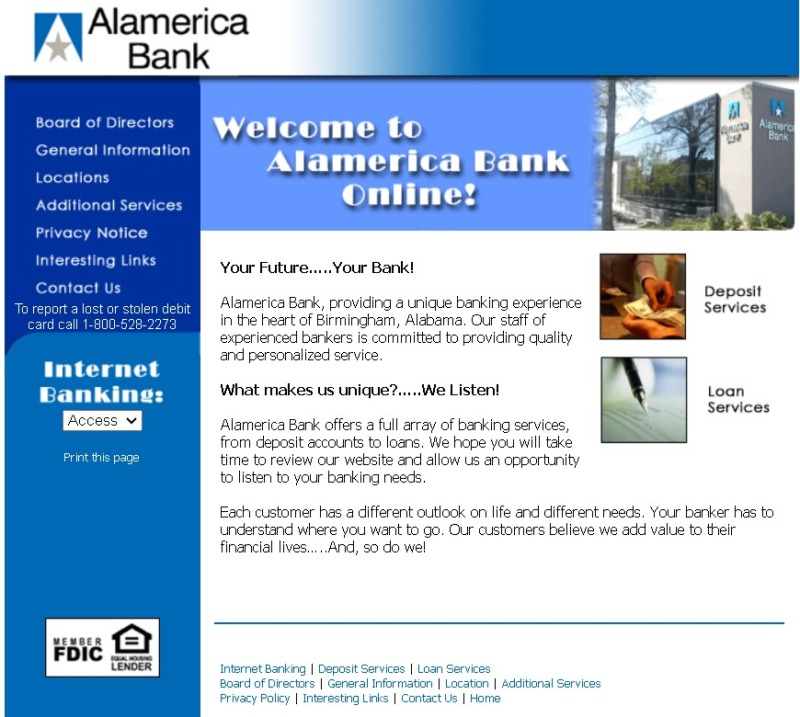 Alamerica Bank is a small but mighty Alabama community bank where everybody knows your name. It was created in January 2000 by a group of community leaders who wanted to create a friendly, personalized banking experience for a diverse family of customers.
Alamerica offers an impressive range of personal and business accounts, money market accounts, certificates of deposit, and MasterCard debit cards. Customers also enjoy online banking services and checking image statements.
See Related: Are Personal Loans Bad? Here's What You Should Know
2. Carver Federal Savings Bank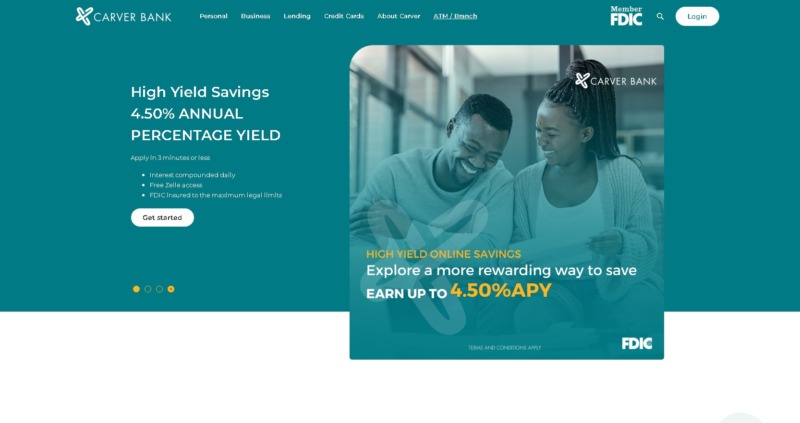 Headquarters: New York City, NY
Branches: 7 NYC locations and online service in 9 states and D.C.
Total Assets: $712 million
Carver Federal Savings Bank was founded in Harlem in 1948 to serve African-American communities with limited access to mainstream banks. The bank has since grown into one of the largest Black-owned banks in the country.
It offers seven full-service branches in low to moderate-income communities and online account offerings in nine states and Washington, D.C. Customers enjoy a nationwide network of over 80,000 ATMs through the bank's partnership with JPMorgan Chase and Wells Fargo.
From business and personal bank accounts to loans, lending, and credit cards, this bank covers you with a wide range of services. Carver Federal Savings Bank has also earned an amazing reputation for reinvesting 80 cents of every dollar back into the community through small business loans.
See Related: Aspiration Review: Is It Sustainable & Legit?
3. Carver State Bank

Headquarters: Savannah, GA
Branches: 2 branches in Savannah
Total Assets: $83 million
Carver State Bank traces its roots all the back to 1927 and has since grown into a full-service bank that offers personal and business bank accounts, loans, and investment services like IRAs and CDs. Today, the bank proudly serves a customer base that identifies as 92% African-American.
Additionally, 48% of the bank's customers identify as low to moderate-income (LMI), and 40% are female heads of their households. The bank also has an impressive lending track record, with 99% of all loans in 2022 going to minority borrowers and LMI individuals or community organizations.
See Related: Best Tesla Financing Rates in the Market
4. Citizens Savings Bank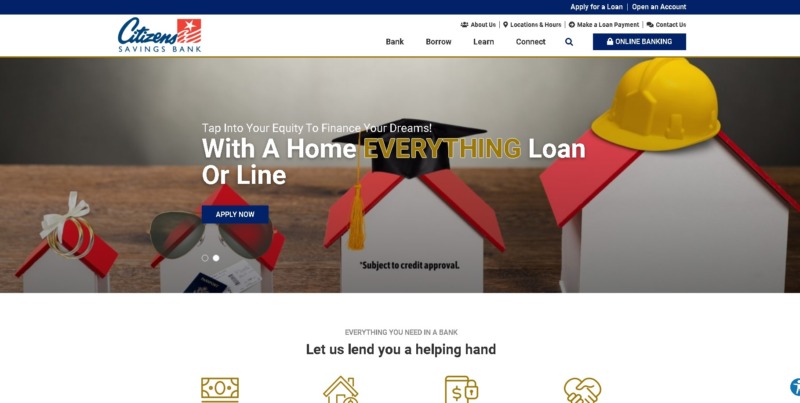 Originally founded in 1904 as the One Cent Savings Bank, Citizens Savings Bank is now the oldest continuously operating minority-owned and operated bank in the United States. Over a century after its founding, Citizens Savings still puts community support and empowerment at the heart of everything they do.
Citizens Savings has developed a strong reputation for assisting LMI individuals as minority communities and investing in lending that supports affordable housing, community facilities, and more. With a focus on mortgages and personal or business bank accounts, this small but mighty black-owned bank is making a large impact.
See Related: Best Auto Loans for Tesla: Top Financing Options
5. Citizens Trust Bank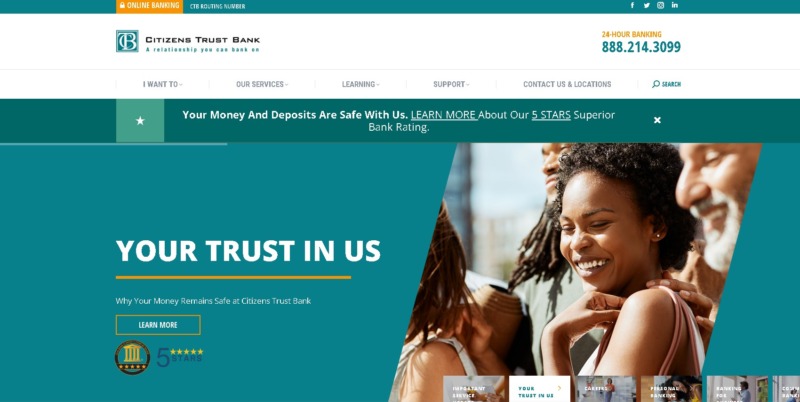 Headquarters: Atlanta, GA
Total Assets: $725 million
In 1919, five businessmen who have come to be known as "The Fervent Five" set out to create a black-owned and operated bank for the citizens of Atlanta. Over a century later, Citizens Trust Bank still upholds its founders' vision with multiple branches throughout Georgia and Alabama.
Citizens Trust Bank offers personal, business, and commercial bank accounts, credit cards, and a nice range of wealth-building options. Customers also enjoy online and mobile banking solutions, as well as excellent educational resources on everything from building credit to saving for retirement.
See Related: Chime Review: Unbiased Insights on Features & Benefits
6. City First Bank (Formally Broadway Federal Bank)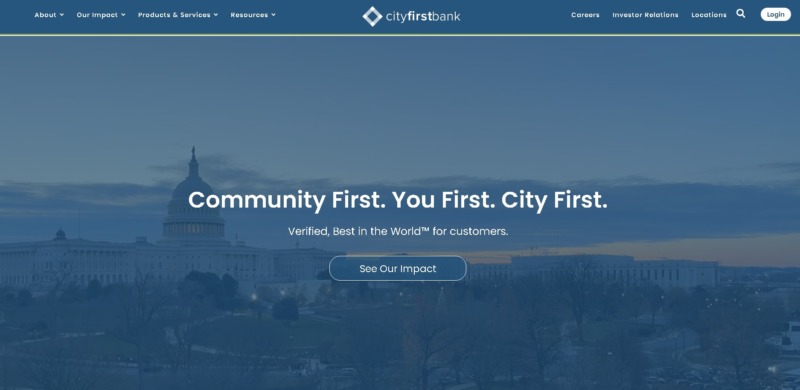 Headquarters: Washington DC
Branches: One in Washington D.C. and three Los Angeles branches
Total Assets: $1.2 billion
In 2021, City First Bank merged with Broadway Federal Bank to create the first Black-led financial institution to reach over $1 billion in assets. Now the largest Black-owned bank in the country, City First Bank is fully dedicated to its mission of closing the wealth gap in historically underserved minority urban communities.
City First Bank offers customers a wide range of bank accounts, online banking services, cash management features, and financing options. City First furthers its annual impact by lending hundreds of millions of dollars to LMI communities' small businesses and affording housing projects.
7. Columbia Savings and Loan Association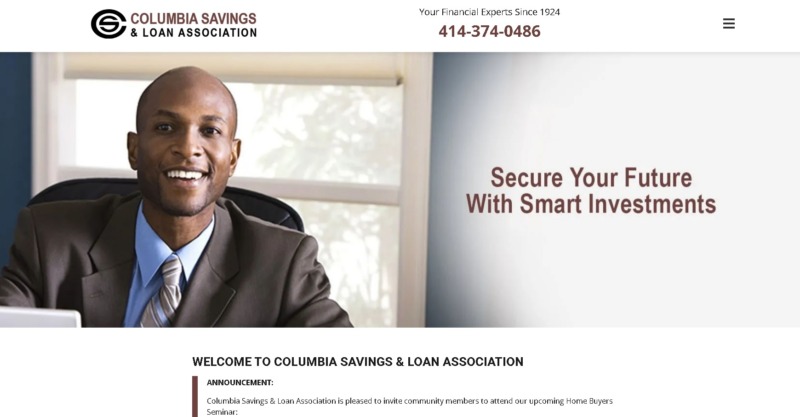 Headquarters: Milwaukee, WI
Branches: Single Milwaukee branch
Total Assets: $26 million
Columbia Savings and Loan has been serving the citizens of Milwaukee's inner city since 1924. Rather than traditional bank services like checking accounts, the bank specializes in things like mortgages and church loans.
Columbia Savings and Loan also offers options such as individual retirement accounts (IRAs) and certificates of deposit (CDs) to help customers build wealth. With a strong reputation for helping first-time home buyers, the Columbia team has your back in achieving your financial dreams.
See Related: Best Online Banking Platforms & Services
8. Commonwealth National Bank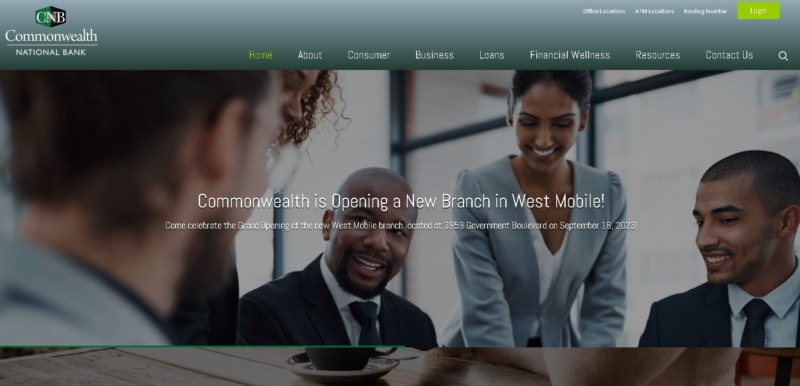 Headquarters: Mobile, AL
Branches: Three branches in Mobile, AL
Total Assets: $68 million
Founded in 1976, Commonwealth National Bank has earned a stellar reputation for friendly service and community support. Sign up for a bank account, money market account, or CD online within minutes and enjoy convenient online banking and bill pay any time.
Commonwealth National Bank also offers business services and is one of the leading loan providers in the Mobile area. We also love Commonwealth's great selection of free educational and financial resources to help anyone realize their financial goals.
9. Faith Cooperative Federal Credit Union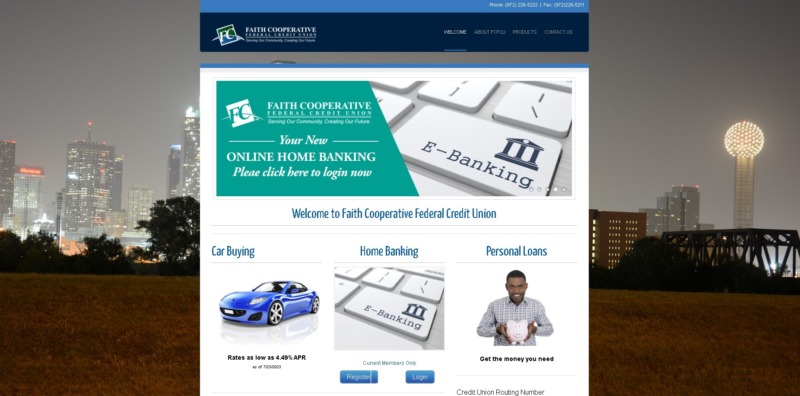 Headquarters: Dallas, TX
Branches:
Total Assets: $1.9 million
In 1959, a pastor and civil rights leader named Dr. E. C. Estell founded the St. John Federal Credit Union to help empower underserved black communities in the Dallas era. Meanwhile, Friendship-West Baptist church envisioned a micro-loan association to help combat the predators offering payday loans in the area.
Ultimately, the two groups of visionaries merged to create Faith Cooperative Federal Credit Union. Today, the credit union offers a selection of straightforward savings accounts, auto loans, mortgages, and personal loans.
10. First Independence Bank

Headquarters: Detroit, MI
Branches: Two branches in Detroit and two in Minneapolis, MN
Total Assets: $581 million
First Independence Bank covers you whether you're in the market for a checking or savings account, business account, loan, or life insurance. Sign up for an account online or at one of the bank's four locations in Detroit or Minneapolis.
As the only Black-owned bank headquartered in Michigan, First Independence Bank has become a trusted leader in the community since opening its door in 1970. The bank also offers a selection of free financial calculators and online educational resources.
11. First Security Bank and Trust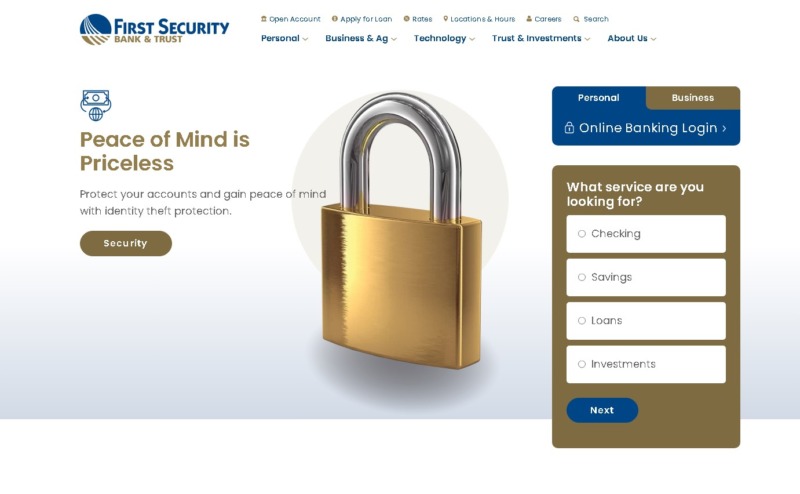 Headquarters: Oklahoma City, OK
Branches: Oklahoma City branch
Total Assets: $102 million
First Security Bank, the only Black-owned bank in Oklahoma, specializes in personal and small business banking services. Supporting small business development and opportunity is the heart of the bank's mission, so they've helped create a diverse range of micro-businesses across the community.
During the COVID-19 pandemic, First Security Bank stepped up to the plate through the Paycheck Protection Program (PPP), with over 95% of their loans going to minority-owned small businesses. This is where someone will take the time to sit down with you one-on-one to help you figure out how to make your business idea a reality.
12. Greenwood (online only)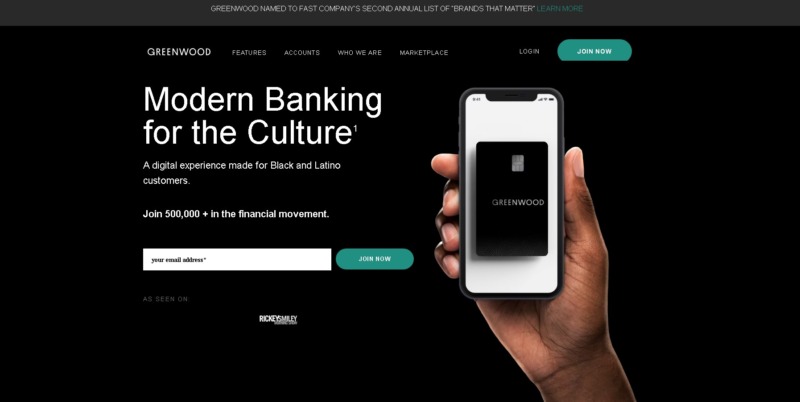 What do an Atlanta Mayor, a rapper, and a record label founder have in common? The founding of an excellent black-owned online banking platform developed for the Black and Latinx communities.
Named for the historic Greenwood financial district, the app offers numerous perks like digital saving and spending accounts, no hidden fees, early direct deposit, and a large free ATM network. Opt-in to automatic change round-ups to dona
13. GN Bank
Headquarters: Chicago, IL
Branches: Two Chicago branches
Total Assets: $68 million
GN Bank was created in 1934 to serve Chicago's South Side community. To this day, the bank primarily focuses on offering elderly and low-income customers services that other banks and credit unions do not.
Their personal and business services include a full range of checking and savings accounts, investment accounts, and loans and credit cards. Customers also enjoy a great collection of mobile/online banking and bill pay features.
14. Hope Credit Union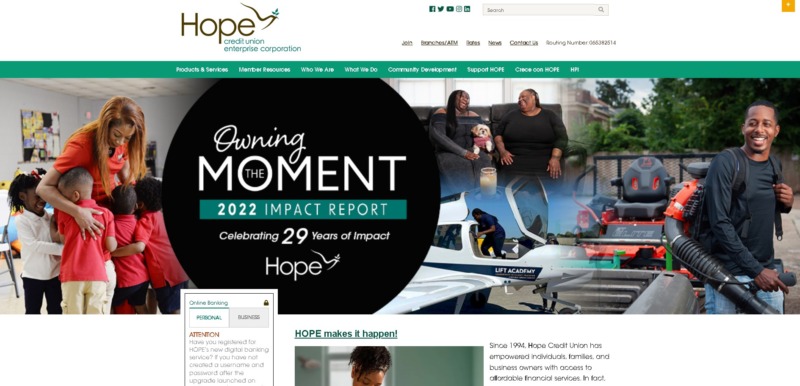 Headquarters: Jackson, MI
Branches: 23 locations across the Deep South
Total Assets: $540 million
Headquartered in Mississippi, Hope Credit Union was created to provide financial services to underserved communities in the Deep South. Since the mid-1990s, Hope Credit Union has empowered customers with low-cost checking and savings accounts, credit-building loans, financial literacy, and education tools.
In 2020, Netflix was so impressed by Hope's legacy of supporting Black communities that it invested $10 million to help. Check out Hope's annual impact reports to learn more about the difference they're making in local communities!
15. Industrial Bank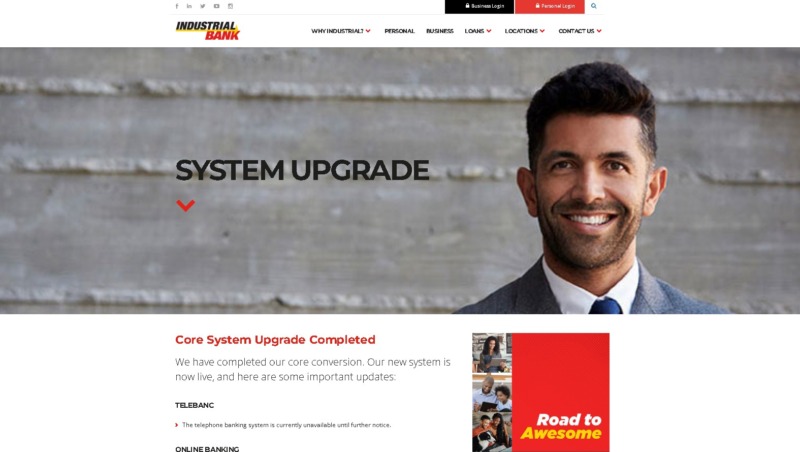 Headquarters: Washington D.C.
Branches: Multiple branches throughout D.C., Maryland, New Jersey, and New York
Total Assets: $707 million
Industrial Bank offers a great selection of services and goes above and beyond to support black communities. Since its founding in 1934, Industrial Bank has partnered with an impressive range of non-profits, schools, and social justice programs.
From sponsorships to financial literacy education programs, this black-owned bank takes making a difference seriously. Whether you're looking for personal or business services, Industrial Bank is an excellent choice.
See Related: Varo vs Chime: What is Better?
15. Liberty Bank and Trust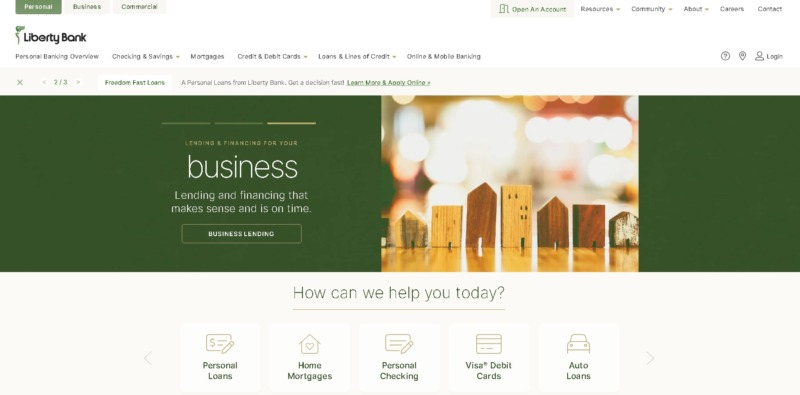 Headquarters: New Orleans, LA
Branches: Large network of branches in LA, TX, MI, AL, GA, TN, KS, MS, IL, and MI
Total Assets: $1 billion
Liberty Bank and Trust was founded in 1972 and has since become one of the largest Black banks in the United States. After acquiring Tri-State Bank of Memphis, Liberty Bank offers an impressive range of branches in ten states throughout the South and Midwest.
Liberty Bank offers services ranging from checking and savings accounts to personal, business, and commercial loans. For decades, the bank has supported black communities through low-interest mortgages, commercial real estate loans, community restoration programs, and free financial literacy education.
See Related: Best Banks for Low-Income Earners
16. MoCaFi (Online Only)
While MoCaFi is less a traditional bank and more of an online financial platform, the premise behind it was too brilliant not to mention. The MoCaFi app was specifically designed for the 110 million Americans dealing with financial hardship.
At MoCaFi, getting an FDIC-insured bank account is as easy as verifying your identity. You'll also gain access to a prepaid debit card with a large fee-free ATM network, credit-building tools, personal financial coaching, and more.
17. Mechanics & Farmers Bank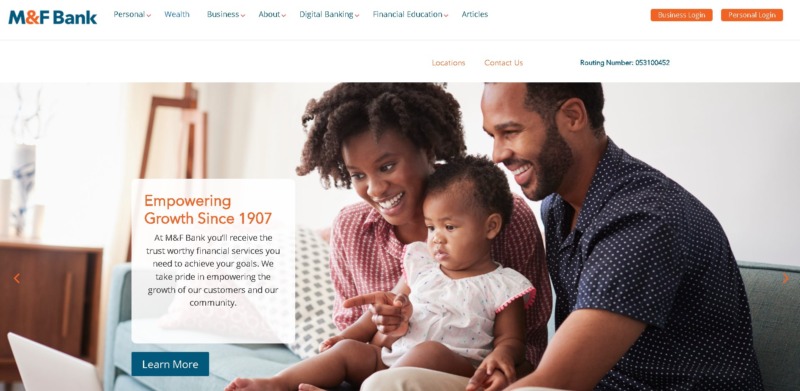 Headquarters: Durham, NC
Branches: Seven NC branches or online-only banking options
Total Assets: $418 million
Mechanics & Farmers Bank, or M&F Farmers, was first formed as a state-charted commercial bank 1907 by nine area businessmen. Today, the Black-owned bank offers a solid collection of checking, credit, and savings services for individuals and businesses.
While primarily located in North Carolina, M&F has developed an online banking platform that allows you to sign up for an account from anywhere. With mobile check deposit accounts, Zelle money sending, and free access to 44,000 ATMs nationwide, M&F is an excellent option, regardless of location.
18. OneUnited Bank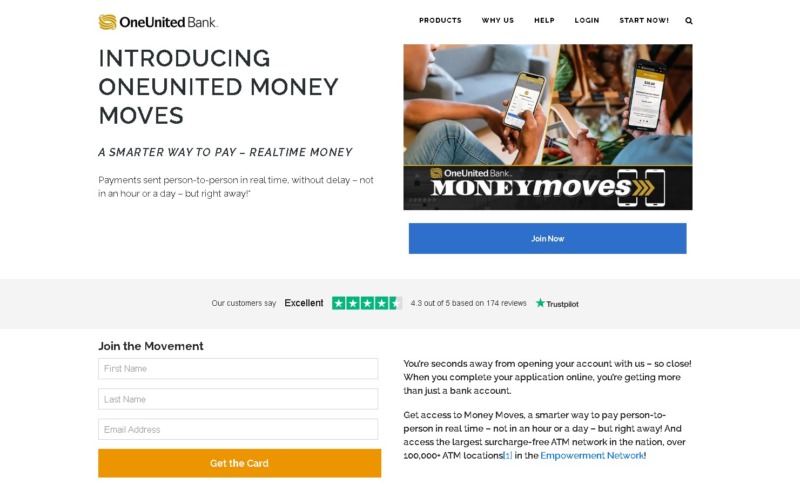 Headquarters: Boston, MS
Branches: Primarily online
Total Assets: $600 million
OneUnited Bank was created when several Black-owned banks from across the country combined to form one of the largest Black-owned banks in the U.S. While OneUnited Bank now has offices in Los Angeles, Boston, and Miami, its real genius lies in creating the country's first online Black-owned bank.
The OneUnited Bank Empowerment Network offers customers over 100,000 free ATMs nationwide and real-time cash deposits through local retailers. The bank's online accounts include many great perks like early direct deposit, CardSwap, remote check deposit, and more.
OneUnited Bank is a huge champion of the #BlackMoneyMatters movement and offers one of the most impressive collections of free financial education resources we've come across. From fee-free checking and savings accounts to credit-building secured credit cards, Oneunited Bank is the way to go if you're looking for a solid online banking platform.
19. OPTUS Bank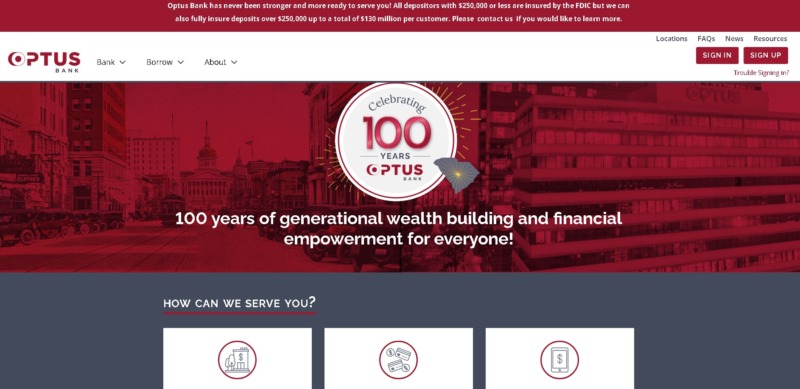 Headquarters: Columbus, SC
Branches: Full-service Columbus branch
Total Assets: $344 million
Originally known as Victory Savings Bank, OPTUS Bank was founded in South Carolina in 1921 by a group of Black leaders who believed the American Dream should be attainable for everyone. For over a century, the small but mighty community bank has remained committed to ensuring that "wealth building is not just for the wealthy."
OPTUS primarily focuses on personal and small business banking and lending. Whether you're looking for an auto loan or a real estate business loan, OPTUS covers you with friendly, personalized service.
20. Self-Help Federal Credit Union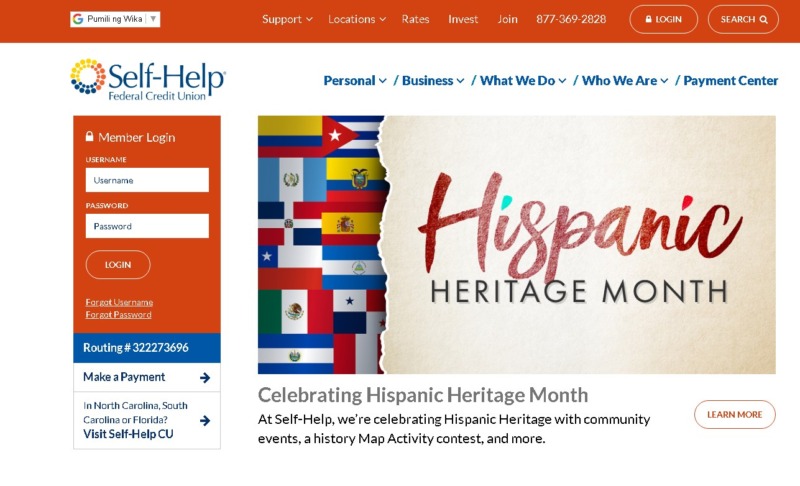 Headquarters: Modesto, CA
Branches: 38 branches in CA, IL, WA, and WI
Total Assets: Over $2 billion
Self-Help Federal Credit Union was created in 2008 through mergers with organizations like First Legacy Community Federal Credit Union. By combining their powers, the credit unions were able to forge a network of community development financial institutions that service historically marginalized customers.
Today, the Self-Help Federal Credit Union offers everyone free or low-cost membership options. You will enjoy access to first-rate financial services and the opportunity to make a real difference in local communities.
See Related: Reasons Why Ethical Banking is Important
21. St. Louis Community Credit Union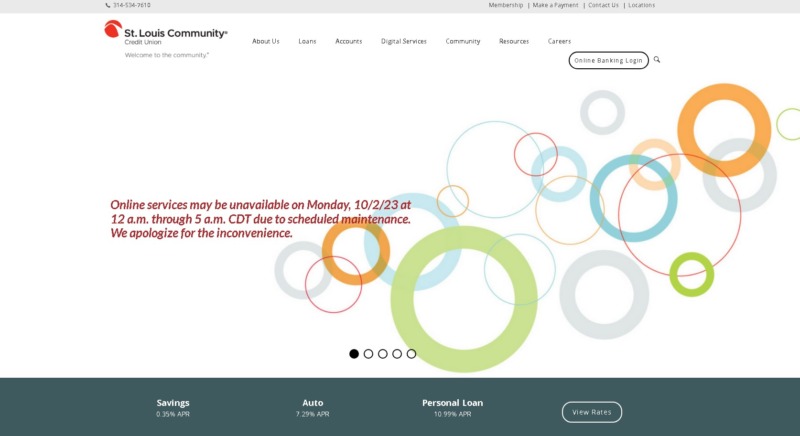 Headquarters: St. Louis, Missouri
Branches: Multiple branches throughout St. Louis county
Total Assets: $404 million
St. Louis Community Credit Union (SLCCU) is a not-for-profit financial cooperative owned by its Black majority membership base. When it comes to services, SLCCU offers something for everyone.
Choose from a large range of checking and savings accounts, home and vehicle loans, and more. You'll also enjoy access to your money anytime with SLCUU's convenient online and mobile banking services.
22. United Bank of Philadelphia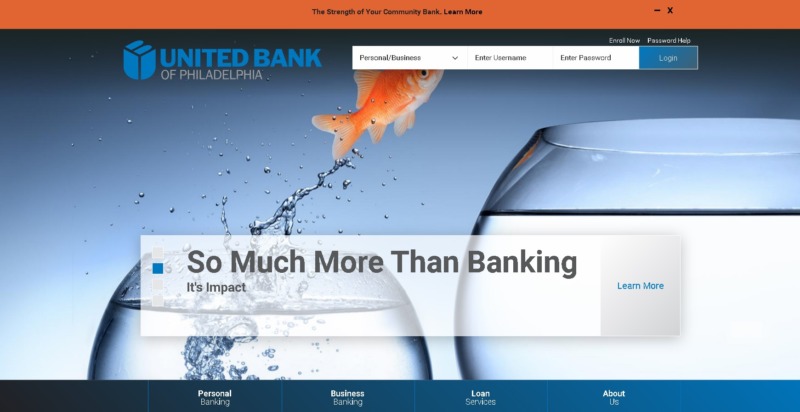 Headquarters: Philadelphia, Pennsylvania
Branches: Two Philadelphia branches
Total Assets: $56 million
United Bank of Philadelphia supports economic inclusion by financing small businesses in urban Philadelphia. From SBA and commercial real estate loans to business banking, the United Bank of Philadelphia hopes to foster job creation and empowerment in underserved communities.
The bank also offers a solid collection of personal checking and savings accounts. Customers enjoy online banking, bill pay, and statements.
23. Unity National Bank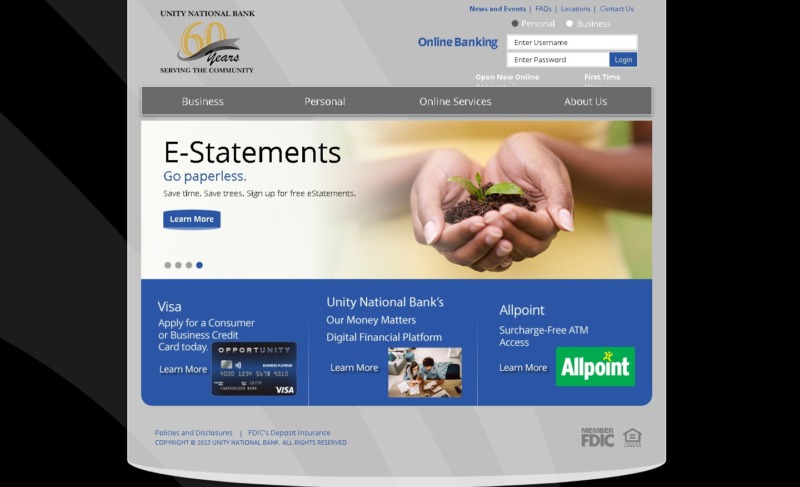 Headquarters: Houston, Texas
Branches:
Total Assets: $200 million
Unity National Bank is the only Black-owned financial institution in the entire state of Texas. For over 60 years, Unity National has been helping rebuild communities with a focus on mortgage and small business loans.
But like many other Black-owned financial institutions across the country, Unity National also offers direct support to organizations like the YMCA, NAACP, United Negro College Fund, Boy Scouts of America, Third Ward Redevelopment Council, and many more. In addition to loans, the bank also offers a well-rounded selection of personal and business banking services.
Related Resources
Kyle Kroeger, esteemed Purdue University alum and accomplished finance professional, brings a decade of invaluable experience from diverse finance roles in both small and large firms. An astute investor himself, Kyle adeptly navigates the spheres of corporate and client-side finance, always guiding with a principal investor's sharp acumen.
Hailing from a lineage of industrious Midwestern entrepreneurs and creatives, his business instincts are deeply ingrained. This background fuels his entrepreneurial spirit and underpins his commitment to responsible investment. As the Founder and Owner of The Impact Investor, Kyle fervently advocates for increased awareness of ethically invested funds, empowering individuals to make judicious investment decisions.
Striving to marry financial prudence with positive societal impact, Kyle imparts practical strategies for saving and investing, underlined by a robust ethos of conscientious capitalism. His ambition transcends personal gain, aiming instead to spark transformative global change through the power of responsible investment.
When not immersed in the world of finance, he's continually captivated by the cultural richness of new cities, relishing the opportunity to learn from diverse societies. This passion for travel is eloquently documented on his site, ViaTravelers.com, where you can delve into his unique experiences via his author profile.