Capitalism and the environment – are often considered two very different topics, often fueled against each other. Can you be for capitalism and still want to live in a healthy and thriving environment? Is the current economic system that is based on economic growth causing the impact of climate change? Can they both survive together?
Understanding the Details: How Does Capitalism Affect the Environment?
The impact of capitalism on the environment is not a new concern. It can be changed back to the foundation of capitalism in various ways. The fundamental function of capitalism is the competitive exchange of products or services to create a profit.
While capitalism used to be a more localized factor, where people produced what they needed and sold locally today, we've moved very much to a global economy. That scale has led to the overproduction of products and, in many ways, the building up of waste while polluting the environment simultaneously.
The globalization of the labor market is not in itself a bad thing. It has good benefits, including improving efficiencies in how goods and services are provided to those in need. It also helps to encourage improvement in living standards for many people.
Yet, capitalism and environmental degradation go hand in hand in various ways. That includes the increased amount of inequality in wealth and income.
That can be looked at from a localized impact but also between nations. There is also the risk of instability in financial systems and, of course, the negative impact on the environment leading to environmental damage.
The Fundamentals of Capitalism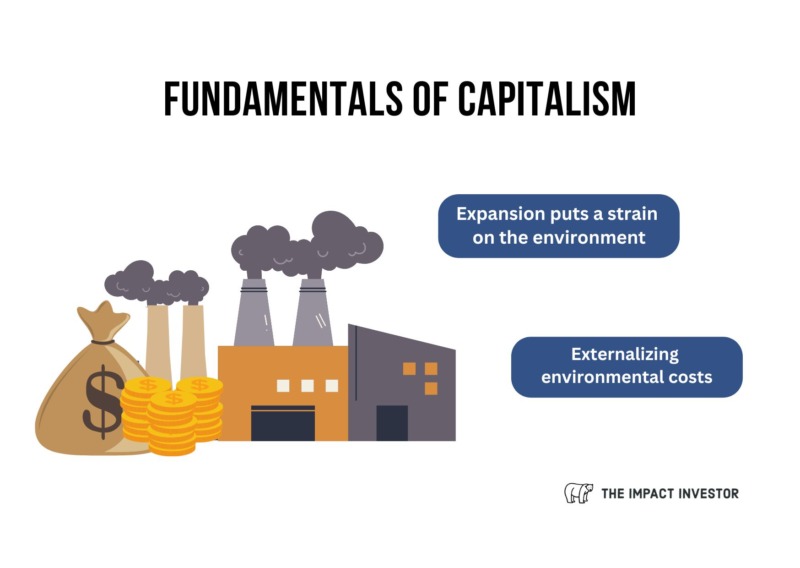 How does capitalism affect the environment? Consider its fundamentals. In this economic method, a capitalist takes steps to organize labor.
The goal is to use natural resources of some type then to create the products desired. Those products are then sold to customers who wish to buy them.
The sale of those products leads to an increase in income for the capitalist. It also covers the cost of production. Ultimately, it enables expanding the development of more products and services, creating an endless cycle.
Expansion puts a strain on the environment
Producers are pushed to expand, offering more products, newer items, and different solutions to meet the buyer's needs better. There is enough competition in the market to encourage this that it happens at a rapid rate. Capitalist production is one of the core components of this market system, yet industrial growth fuels environmental problems.
As expansion occurs, it pushes companies to develop new ways to remain competitive. The competitive nature of this industry is what causes refinement and growth. Over time, it is not just about creating products but refining methods to create better options, more efficient efforts, and higher profits.
Expansion can create numerous risks. For example, the overproduction of agriculture creates environmental issues, including soil degradation. It can lead to the use of water at an unsustainable level to maintain the production process.
Externalizing environmental costs
Another component of capitalist production and environmental performance is who is to blame. Even though scientific evidence may point to the production of greenhouse gases as due to the fossil fuel compensation process, which is behind the modern economy, the company creating the carbon emissions is not blamed.
It does not have to pay the cost of climate change. Instead, they often take drastic measures, like moving production to a country that may have fewer environmental rules and regulations.
Toxic substances still enter the environment even when produced in other countries. This often leads to damage worldwide, though, by human activity.
There is a strong correlation between the growth of the capitalist economy and the damage to the world's ecosystems. The question is, what can be done about it? Are these natural systems going to remain at risk for years to come? Is there a way to create change?
See Related: Capitalism vs Socialism: What are the Differences?
What Capitalist Mode Means to the Planet
The capitalist economy negatively impacts the natural environment. That is due, in part, to the profit-maximization goals that are linked with this type of economy.
It encourages entrepreneurs to grow profits by providing more products. Human beings seek out these products for various reasons, but most do not realize the impact that such a society has on the planet itself.
The problem with this process is that it just continues. The dynamics of capitalism is that to continue it; it requires endless growth.
That means production that continues to increase to raise the standard of living. That pushes people to work at a younger age, causes environmental issues, and leads to entire cities sprouting up to support the growth of an industrial revolution. This ultimately leads to an increase in the world population.
Big corporations are doing what they know how to do – working to increase production to better meet demand, refining profits as they do, and increasing the capitalist state. Yet, there is a cost. And, at some point, a tipping point will occur when the finite planet's health will suffer beyond repair.
The Impact of Capitalism on the Environment
Consider the many ways that economic growth negatively impacts the world itself. The capitalist system pushes the increasing production of products. What does that do to the world?
Fossil fuels and their impact
In order to continue to produce, it is necessary to use fossil fuels. That means that we are pulling those materials out of the ground, and ultimately there are limits to what is available in the natural environment.
More so, burning fossil fuels creates carbon emissions. Those emissions damage the atmosphere and lead to numerous environmental issues.
Production using fossil fuels leads to air pollution from the carbon emissions produced. Air pollution impacts the health of the environment and the air that people breathe in.
As the greenhouse gases continue to increase in the environment, that leads to an inability for the planet to regulate heat generation. Over time, that leads to global warming, a genuine occurrence causing numerous complications.
Global warming, for example, is responsible for the polar ice caps melting. As that occurs worldwide, islands and coastal cities are lost. There has never been a time in history that more animals have been at risk of extinction due to factors like global warming.
The planet suffers from this ongoing production of products and using scarce resources. Yet, this is only one aspect. It can be multiplied numerous times based on other processes, including environmental issues related to land overuse, water scarcity, and water pollution.
See Related: Anti-Capitalist Investing
What Happens Next? Is It Possible to Maintain a Capitalist Society and Save the Planet?
Recognizing the risks of capitalism may be important, but knowing what to do about it is far more complex. Often, this leads to more questions.
How do you maintain a capitalist system that continues to remain stable and growth rates occur to meet society's needs while minimizing environmental hazards?
See Related: Best Globalization Jobs & Careers
Stop cutting costs with the goal of reinvestment
It may seem impossible, but for many people, the answer is to stop pushing to cut costs. Here's why.
One of the fundamental concerns with a capitalist society is the constant need to refine and improve to reduce costs. Companies have to do this to remain competitive. If they do not find ways to reduce costs, their competitors will push them out of business.
Companies that continue to cut costs can then put that money right back into their business, growing it faster and increasing the overall production of products as it does. Consider what could happen if just one company stops doing this. That company could be pushed out of business.
However, if companies take some of those saved costs and project on reducing environmental costs, it may offer some help. For example, consider that the average person may not want to pay for trash pickup service, so they dump their trash on the side of the road.
If they stop doing that, then they are helping the environment. Now, apply the same concept to large businesses.
In some countries, especially in the West, social influences can help. For example, economic growth is impacted when social groups within the capitalist system take a stake in change.
That could include not working with or buying from companies linked to environmental destruction or the free use of natural resources at dangerous levels. In this way, consumers have a level of economic freedom – they can choose who to buy from based on the environmental quality of that company's products.
More so, environmentalists can push nation-states to make changes through regulations that impact the country's environmental performance overall. This takes a lot of effort and in a competitive market can be hard to do. Yet, international organizations and domestic ones are working to make those changes.
Valuing natural resources more accurately
In a capitalist system, the value of any product is really only based on the cost of the production of that system and the profit goals of the company. Yet, in reality, there is some scarcity that should be a part of the process.
For example, in a competitive market, when there is not enough of a product in demand, the value of that item goes up. That is the law of demand. Yet, that can be applied in the same way to environmental problems.
Capitalism typically only focuses on the value in the short term. Yet, there's very little accounting for the availability of these future natural assets.
Yet there is a finite amount of resources available. At some point, a critical threshold will be reached.
Consider a country's environmental performance, for example. Since 1990, there has been an increase in the amount of greenhouse gas emissions produced worldwide.
Yet, the highest risk factors for this are in developing countries. In those countries like India, China, and the Soviet Union, there is massive use of natural resources, including gas, oil, and minerals.
These non-renewable natural resources are directly linked to environmental quality in those areas and environmental problems worldwide, thanks in part to the burning of fossil fuels.
These raw materials are limited. Recognizing this, their value should be priced based on how available they are right now and how available they will be to future generations.
Another way to look at this is to see that using natural resources like this – in limited supply – does not impact the value of those items as it should. Oil companies can be a good example of this. Overproduction of these raw materials limits future generations, so the cost of those natural resources should be significantly higher.
See Related: Capitalism and Homelessness: Is There a Correlation?
The Need for Non-Market Intervention
Big business will not change how it produces products, which is a part of the central problem. There is no component of the capitalist setting that encourages companies to do better for the environment and minimize environmental issues like these. That means that some non-market intervention must occur to create real change.
In some ways, this is already to some level. In some countries, the state levies high taxes on companies that do not take steps to minimize risks and meet environmental regulations.
Still, there are many instances in which countries ignore this step, sometimes because big businesses pressure them or because of the need to build the country's financial well-being. Many countries are limited in their reach simply because they must adhere to the pressures from business groups that keep them in power, making capitalism even more prominent.
In these countries, the nation-state needs to find some way to incentivize the move to better use of natural systems and resources. They need to find some way to encourage companies to engage in better practices to protect the finite planet and its resources by making it worthwhile, not limiting their ability to be profitable.
Without a doubt, capitalism will continue to push countries to make decisions around hundreds of millions of dollars in profits. The needs of a billion people are many, which encourages the continued growth of capitalism.
So, what can be done?
It is hard to know what answers are out there, but one thing remains effective: social forces. Companies have to listen when a billion people have a viewpoint on something.
Similar movements have happened over generations to make significant changes occur, pushing against the "norms." Society does not make these changes easily, and countries, especially developing countries, do so even slower.
Environmental activities in countries with environmental freedoms should speak out and work to educate. These people can compel the state to take steps to impose restrictions and create regulations that are more stringent than ever before. Many would say that doing so in the coming decades is critical to preserving the planet.
Considerations for Improving the Economic System and Minimizing Environmental Destruction
Climate change is occurring. There is ample evidence of this. Yet, people have economic freedom, the ability to buy what they want and live life how they want. How can human nature, then, help to support change?
Social activism is a core component of this. Educating people about using natural resources, the risks of carbon dioxide in the air, and the too-quickly growing global population is a core component of this process.
A core component of change will come from international cooperation, many believe. Though this is not easy to do, to minimize the impact of climate change, it will be increasingly essential to support the needs of smaller countries that contribute the most heavily to environmental pollution and the global population.
Countries hesitate to make significant changes like this worldwide, especially in a welfare state. The key, then, is to find ways to encourage society to change and for the world to pay close attention to the value of making profound changes in environmental policies. The passing of the Paris Agreement on Climate Change is a good starting point as it encourages a large group of 195 countries to make changes in the same period, sharing knowledge and support as they do.
Is Capitalism Bad, Then?
Many factors contribute to environmental destruction and the climate change that comes with it. Capitalism is a core component of that destruction. As an economic system, it is set up to fuel the ongoing demand for products, and since people have the economic freedom to choose what they want to buy, capitalism isn't going anywhere.
Yet, there are still steps that people can take, and in many ways, human nature makes this possible. For example, social activism can push governments to make changes, such as moving towards better uses of power. Businesses can be encouraged, including in smaller countries, to move to better power resources, like wind power, that may not only be better for limiting climate change but also more affordable.
Young people play a big role in this type of change, and in society as a whole, they can foster a sense of change with sustainable investments. While it may seem radical to get rid of capitalism, and most people will be unable to recognize the value of that, there are ways that society can see a significant improvement. Much of that comes from educating about the risks.
See Related: What Are Conscious Capitalists? Definition & Key Principles
The Bottom Line Is Not as Clear as It Could Be for Capitalism and the Future of the World
Capitalism has no component of encouraging change to minimize environmental destruction or improve the planet itself. The world is not going to walk away from capitalism, either.
That means that, for the planet to survive and for the future to be positive, significant social pressures must be applied around the globe to support the change to environmentally friendly policies. That is not a simple process.
Is capitalism bad? It is hard to say that it is in itself the cause of environmental harm. Yet, without significant change in the way society encourages and pushes for the production of "more," it may be hard to limit the destruction to the planet and minimize climate change's long-term impact on the planet.
Related Resources
Kyle Kroeger, esteemed Purdue University alum and accomplished finance professional, brings a decade of invaluable experience from diverse finance roles in both small and large firms. An astute investor himself, Kyle adeptly navigates the spheres of corporate and client-side finance, always guiding with a principal investor's sharp acumen.
Hailing from a lineage of industrious Midwestern entrepreneurs and creatives, his business instincts are deeply ingrained. This background fuels his entrepreneurial spirit and underpins his commitment to responsible investment. As the Founder and Owner of The Impact Investor, Kyle fervently advocates for increased awareness of ethically invested funds, empowering individuals to make judicious investment decisions.
Striving to marry financial prudence with positive societal impact, Kyle imparts practical strategies for saving and investing, underlined by a robust ethos of conscientious capitalism. His ambition transcends personal gain, aiming instead to spark transformative global change through the power of responsible investment.
When not immersed in the world of finance, he's continually captivated by the cultural richness of new cities, relishing the opportunity to learn from diverse societies. This passion for travel is eloquently documented on his site, ViaTravelers.com, where you can delve into his unique experiences via his author profile.