Small businesses and large enterprises are leading the fight against climate change. Most of them use carbon accounting tools or greenhouse gas emissions software. These tools make it easier for decision-making when determining carbon strategy.
With the best carbon accounting software, you can stay away from choices in your supply chain with insignificant impacts on your carbon reduction goals. You can reduce your carbon dioxide footprints while enhancing cost savings.
Many businesses worldwide strive to become carbon neutral by using some of the most advanced tools. These tools help to monitor greenhouse gas emissions.
But what is carbon accounting, and why is it beneficial for your business? What is the best carbon emissions management software to consider? Continue reading to find answers to all these questions.
What is Carbon Accounting?
Carbon accounting is a way of determining how much carbon or greenhouse gas your company releases into the atmosphere. It is generally divided into the following categories:
Physical carbon accounting
Financial carbon accounting
Physical carbon accounting measures direct and indirect carbon emissions of your company. It is sometimes referred to as greenhouse gas (CHG) inventory.
On the other hand, financial carbon accounting details the financial expenses for the stated carbon emissions.
Carbon Accounting Scopes
Carbon accounting is divided into scopes 1, 2, and 3. These cover all activities of your company that cause greenhouse gas emissions.
Scope 1 emissions: defined as direct GHG emissions from production processes. Sources include boilers, furnaces, machinery and equipment, fuel combustion, and vehicles that use fuel. Reporting scope 1 emission is mandatory in many regions around the world.
Scope 2 emissions: defined as indirect emissions from company assets and resources. They come from processes such as heating, cooling, transportation. These are done using electricity, gas, or steam. Reporting scope 2 emissions is compulsory in many countries.
Scope 3 emissions: defined as other indirect emissions not classified under scope 2 that come from the company's value chain. There are 15 subcategories of scope 3 emissions.
Why is Carbon Accounting Important for Your Business?
Carbon accounting has been there for quite some time now. However, it has become a necessity or an industry-standard requirement for almost every business.
Reporting scope 3 emissions is optional, but it is still beneficial. You can use the information to make better decisions when choosing resources, vendors, carriers, distributors, etc.
It enhances data collection on the amount of carbon dioxide or greenhouse gasses your company emits to the environment. You can use that data to set your carbon emission reduction target.
Secondly, you need carbon accounting to assist your company in assigning roles to every department regarding reducing your environmental carbon footprints.
Carbon accounting is often overlooked, but it is something that your company should take seriously. Most companies have made mandatory carbon reporting to help you in decision-making when setting carbon and mitigation strategies.
With the best carbon emissions management software, you can know the amount of carbon your company releases into the atmosphere. You will identify the part of the supply chain responsible for it.
Besides, it becomes easy to identify carbon reduction opportunities in various departments in your organization or institution.
How Can You Undertake a Comprehensive Carbon Accounting?
There are many drivers in your business to consider for carbon management. These are not limited to the following:
Mandatory carbon reporting
Financing due diligence
Engaging stakeholders and shareholders
Engaging staff
Green messaging, etc.
List of the Best Carbon Accounting Software
Cutting-edge tools for managing carbon emissions are on the market.
Different tech leaders work day and night to bring you the best carbon management tools to monitor, track progress, and calculate carbon emissions. The software can also offer carbon dioxide reduction suggestions across your supply chain.
Many tools are introduced daily to meet the increasing demands for carbon reporting software. That can be overwhelming. However, we have ranked the best to help you narrow down your options.
If you are looking for carbon accounting software for carbon management, consider the following:
1. ESG Enterprise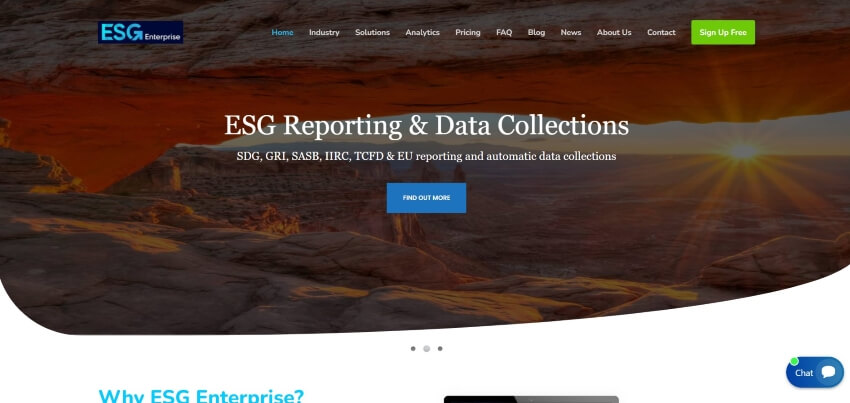 ESG Enterprise sits in the first position on our list of the best carbon management tools for its capabilities. ESG Enterprise offers software solutions that make the carbon emission goals of businesses and various institutions attainable.
ESG Enterprise enhances your operational efficiency and business risks mitigation related to climate change. With it, you can ensure compliance with regulatory requirements.
This carbon emission management software makes all processes in carbon accounting simple. You can automate almost every department in your organization.
That helps you identify carbon emission levels and adopt appropriate measures for combating climate change.
ESG Enterprise can help you capture greenhouse gasses, fossil fuels, natural gas, carbon dioxide, and any other element contributing to your carbon emissions.
You can control your greenhouse gasses emissions through data collection and regular inventory taking. The software enhances sustainability reporting and carbon mitigations regardless of the size of your business.
Start your decarbonization journey with ESG enterprise. It is one of the most popular carbon accounting tools in the world today.
Features and functions summary:
Automating data collection for sustainability reporting
Supports most reporting frameworks, including GRI, CDP, SASB, TCFD, NFRD, and SFDR.
Built-in carbon mitigation models and financial analysis tools
Automated process for capturing carbon dioxides and methane emissions
Strict adherence to industry standards, such as GHG Protocol and ISO 14064.
Automation of GHG Scope 1, 2, 3, and inventories
See Related: Best ESG Rating Agencies – Who Gets to Grade?
2. NetO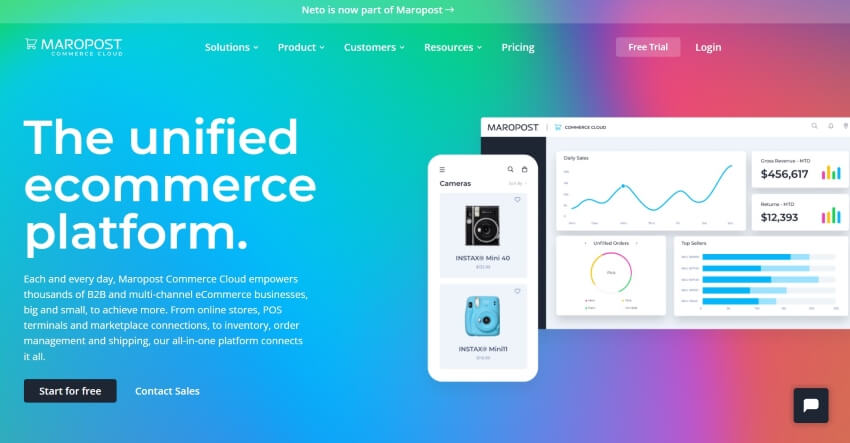 NetO comes second on our list of the best carbon emissions management software for the right reasons. If an accountant budgets for the future, NetO uses Artificial intelligence to help businesses make the best carbon dioxide emission reduction strategies.
NetO takes your company into the future by offering world-class carbon accounting software solutions. This tool allows you to measure carbon emissions and identify new opportunities in your business for greener operations.
You can change your company for the better with NetO. Tracking emissions becomes easy provided you have the data. It also provides steps to help you reduce your greenhouse gas footprints and steer your carbon reduction journey.
NetO helps you win clients and grow your business by showcasing your carbon emission reduction efforts. The software provides a verifiable dashboard that displays your carbon data in real-time.
This carbon emissions management software opens your business to more customers, investors, and partners. That is possible through real-time carbon emission monitoring and integrated carbon offset programs.
NetO makes carbon measurements simple. You don't need a climate consultant to help you do it and offset your emissions. The software is accessible to the entire team and requires no experience to achieve carbon neutrality.
Features and functions summary:
Supports scopes 1, 2, and 3 emissions measurements
All-in-one platform for comprehensive carbon footprint tracking
Investor-grade reporting – compliant with GHGP and local regulatory requirements
AI-assisted data integration for automatic carbon reporting
Real-time carbon emission monitoring
Carbon emissions reduction steps and offsets
See Related: Best Green Apps for More Sustainable Life
3. Enablon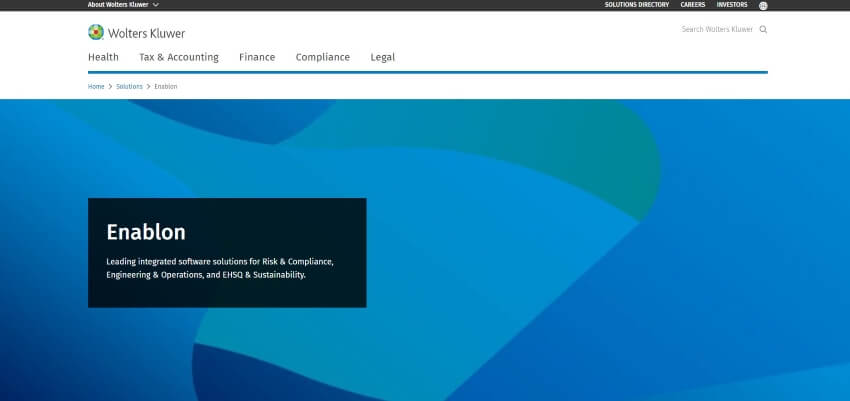 Enablon offers accounting software solutions that help companies and businesses to become more responsible, manage risk, and enhance productivity. If you care about your environmental performance, choose Enablon.
Enablon has the world's most advanced technologies to ensure you reduce your GHG emissions and manage environment-related risks. It also ensures EHSQ and sustainability by steering your organization towards meeting its carbon emissions target.
Enablon has a community of like-minded customers. It allows its clients to collaborate and be part of the team researching carbon management solutions of the future.
Many firms worldwide are benefiting from Enablon in different ways. Some have simplified their product compliance in the supply chain, turned their data into information and insights, risk identification better, etc.
There is no limit to what you can do with Enablon to achieve your GHG emissions footprint with this Enablon. Let it help you walk the journey towards a greener operation.
Features and functions summary:
Supporting risk management process
Promoting data transparency across your organization with regulatory agencies
It has an AI-enabled solution to ensure consistent risk management
All-in-one integrated platform to promote corporate and operational goals
Advance technology to manage safety and enhance environmental performance
Software solution for small and medium-sized enterprises.
See Related: Best Green Jobs to Start a Sustainable Career
4. Cority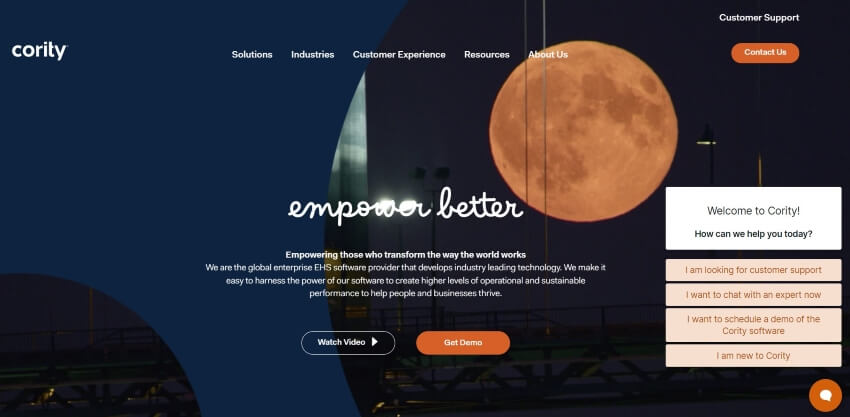 Cority is a cloud-based platform that helps you manage compliance and help you through the processes of reducing your carbon footprints. It will enhance your performance towards a cleaner, greener future while focusing on cost savings.
With Cority, you can gain visibility. The compliance plan helps customers reduce risks by aligning everything according to regulatory requirements. You will get consolidated information to help you gain insights into your organization's environmental performance.
Cority's environmental health and safety solution support the managing systems approach to operations. It makes your company meet international standards, such as ISO 14001, 45001, and 31001, OHSAS 18001, and. ANSI Z10. And the good news is that you find everything in one system.
Cority's reporting capabilities turn your carbon emission reduction strategies and operational objectives into measurable success indicators. It will help you determine the efficiency of your program.
What's more? Cority's Air Emissions Management solution offers comprehensive tools to make reporting to agencies easy. You can collect data on air pollutants, greenhouse gasses, and ozone depletion pollutants.
Simply put, Cority ensures you comply with international standards and regulations.
Features and functions summary:
Air Emissions Management solution for reporting to agencies
Compliance Management solutions that use advanced features and integrations
A holistic approach to reporting your carbon footprint in your sustainability and ESG reports
A User-friendly EHS for business risk mitigation for cost savings
All-in-one platform with all environmental performance software
5. Carbon Metrix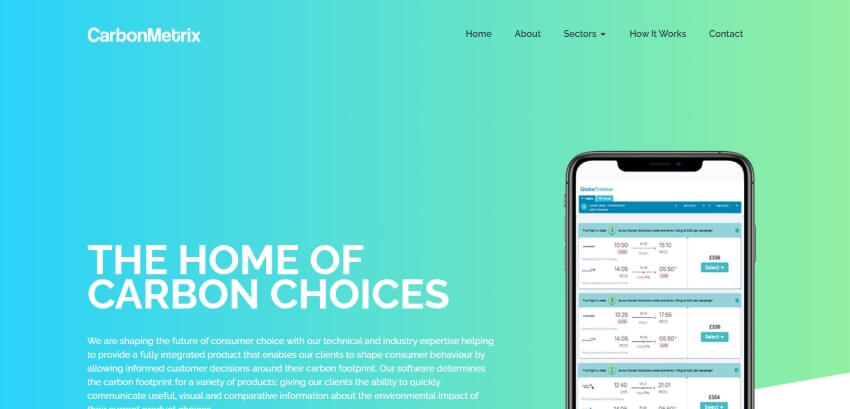 Carbon Metrix is an Australian-based carbon accounting software company. It helps businesses of all sizes with an integrated environmental management system.
The system offers a platform for managing energy accounts, usage, cost, power plants, and data for financial and environmental reporting purposes.
Carbon Metric provides users with control to manage their utility accounts. With it, you don't need to hire an energy management consultant because you are in charge of everything.
The carbon Metrix platform is ideal for businesses in any industry. It is a one-tool-suit all for customers in finance, sustainability, environment, sports, building and construction, and others.
Features and functions summary:
A centralized online utility database
Stores data on consumption, cost, and emissions from the vehicle, LPG, waste, and paper
User profile creation for better team management
Generation of environmental and financial reports
User-friendly interface for better data management and reporting
Save financial data, including cost centers, account codes, leasing arrangement, and budget
6. Greentelli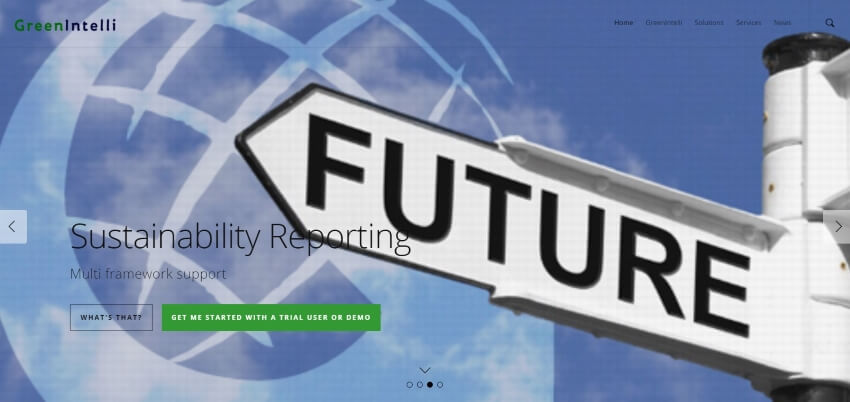 Greentelli is a global provider of software solutions to small and medium businesses. It is among many tools that simplify reporting. It will allow companies to track, manage, and report sustainability.
Greentelli's Carbon Management and Reporting tool helps you calculate your carbon footprints, manage energy usage, and enhance cost savings. Additionally, you can report on GHG scopes 1, 2, and 3.
Another advantage of choosing this carbon management software is that it is easy to use. You don't need any past experience with using such software to track emissions factors. It is also fully adaptable to any organizational structure.
The Greentelli management software is built on the GHG protocol to give actionable insights. You can rely on it for sustainability reporting. It gives you a more reliable way of handling GHG scope 1 emissions reporting and ensuring compliance.
This carbon management software helps you through your journey to carbon neutrality. Track any greenhouse gas from your company that can cause global warming using Greentelli.
Greentelli software has a free or trial version that allows you to evaluate its features. Once expired, you can choose to or not buy. But we are sure you will be amazed by how it helps you ensure compliance and its other features.
Feature and functions summary:
Dedicated carbon management and sustainability reporting tool
Covers green gas emissions scope 1, 2, and 3
Tracking key performance indicators for better carbon reporting
Integrated carbon management and reporting
Meets the internal and international reporting standards
Pre-defined conversion variables of CHG protocol
Consolidation to MTCO2e and pre-defined GHG Inventory dashboard
7. SmartWay Truck Carrier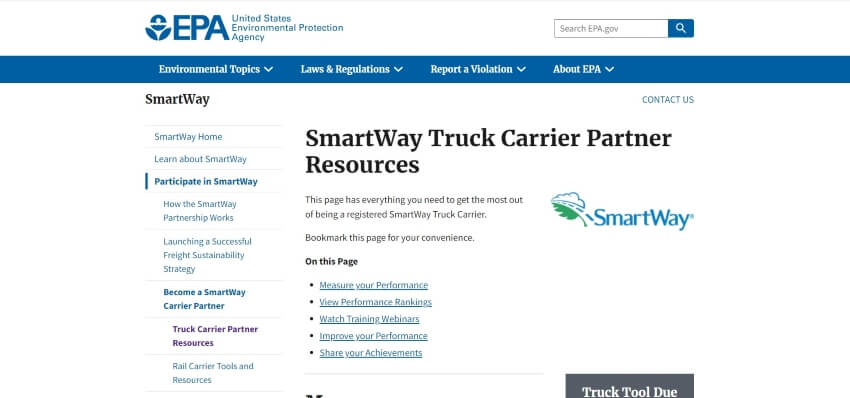 This EPA tool helps companies make informed decisions regarding their freight transportation choices. It is an integrated set of peer-reviewed sustainability and tracking online software.
The SmartWay Software allows different businesses to measure, benchmark, and report emissions and improve their environmental impacts. The aim is to reduce carbon footprints while enhancing cost savings.
You can achieve carbon neutrality much faster by using SmartWay carbon management software.
All partners access the SmartWay Truck tool on the portal. Even if you are new to it, you will find guidance to help you submit your data. You will also have resources to help you understand the data collection and submission process.
However, SmartWay carbon management software is only for fleet managers. You also need to have at least 20 trucks in your fleet.
All SmartWay partners are ranked by their environmental performance considering all emissions factors. The better your rating, the more clients you get for your freight services.
Features and functions summary:
Available for free to all SmartWay carrier truck partners
Helps track greenhouse gas emissions and meet sustainability targets.
Ensure compliance with the regulations
Enhances data collection
Streamlined energy consumption
Best carbon accounting software
See Related: Best Impact Investing Apps
8. enVIZI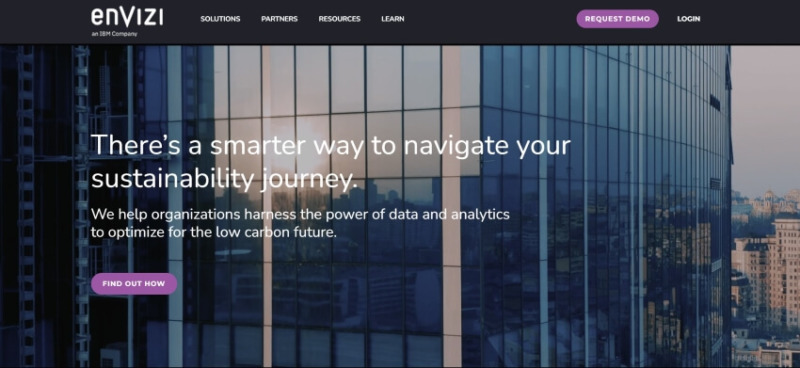 enVIZI is an advanced cloud-based platform you can use to gain powerful insights from sustainability data collected. These can help you ensure compliance with environmental standards and regulations.
enVIZI has new features such as a sustainability and data management reporting module. These allow you to manage hundreds of data types and calculate greenhouse gas emissions in every GHG scope. That includes even market-based emissions.
The integrated software modules support tracking, analysis, management, and reporting ESG and sustainability performance metrics. The design makes your ESG data collection and reporting consolidated, easy, and secure.
enWIZI helps you to capture data across the supply chain. You can use that business information to analyze material risks and opportunities across your organization.
If you want a better carbon management tool, choose enWIZI. It is an all-inclusive software that eliminates the need for different platforms, spreadsheets, documents, and email exchanges. This will help improve data security and convenience.
All your data will be consolidated in a single system. It is easier to trust it when reporting to the agencies because you will always meet disclosure requirements.
enVIZI also allows you to benchmark your value chain. You can access the third-party data you need to evaluate your organization's ESG performance and set environmental footprint reduction targets.
Features and functions summary:
Digital platform for ESG data submissions
Assessing third-party risks to increase the visibility of your value chain's performance.
Driving team engagement
Monitoring ESG performance
Sustainability program tracking
Risk and materiality assessment
See Related: Shareholder vs Stakeholder: What's the Difference?
9. Carbon Trust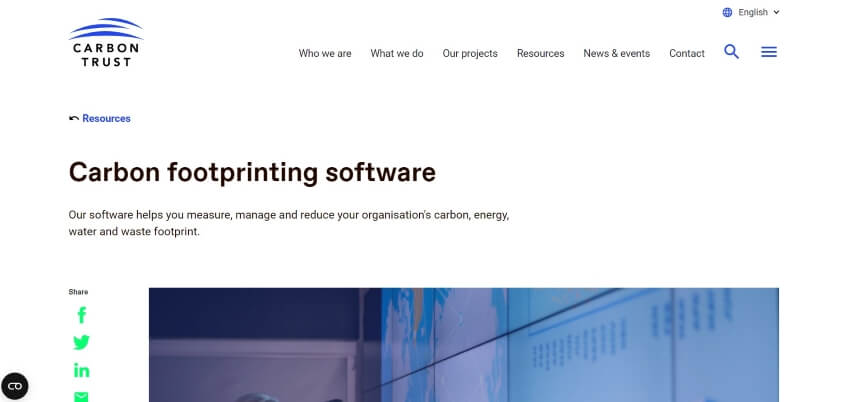 Carbon Trust offers software solutions that allow companies to measure, manage, and reduce their carbon, energy, water, and waste footprint. It is an all-in-one tool for reducing the environmental pollution.
Carbon Trust has a footprint manager, a cloud-based tool for reporting your carbon trails to the agencies. It is backed up with human intelligence to allow data collection and analysis on GHG scope 1, 2, and 3 emissions. These are done according to the GHG protocol.
Carbon Trusts help businesses in different ways. You can use it to meet voluntary reporting and disclosure programs and comply with mandatory carbon reporting. It is all you need to also comply with streamlined energy and carbon reporting legislation.
Choose Carbon Trust to improve your company's image. It will help you benchmark, track, and monitor environmental and energy performance.
Another feature of Carbon Trust to mention is the Data Analytics Manager. It helps organizations change from reporting to advanced big data analytics. The actionable insights from detailed analysis of the data drive decision-making on sustainability strategy.
Features and functions summary:
Cutting-edge business intelligence
Powerful insights through data visualizations
Data analytics manager
Consolidating sustainability data from various sources to one platform
Regular monitoring of business activities
Powerful insights on data through advanced techniques
Easy document sharing in different formats
Environmental footprint manager
AI and human intelligence
10. Sustrax
Sustrax offers an easy-to-use and cost-effective software solution to meet all your environmental reporting needs. It is adaptable and scales up as your business grows, and integrating it into the system is a breeze.
Sustrax can simplify tracking and reporting progress to achieve ISO 14001, energy, Greenhouse Gas emissions, and other sustainability targets. It touches on all key performance indicators.
You can use Sustrax for mandatory reporting, supply chain reporting, and voluntary reporting. It helps you with the following:
Annual Greenhouse gas reporting
Energy Savings Opportunity Scheme
Climate Change Agreements
Streamlined Energy and Carbon Reporting
EU Sustainability Reporting
GRI Sustainability Reporting
Use Sustrax to pave the way towards achieving carbon neutrality in your company.
Features and functions summary:
Support ISO 14001, ISO 14064, ISO 50001, OHSAS 18001
Mandatory reporting
Voluntary reporting
11. Carbon Analytics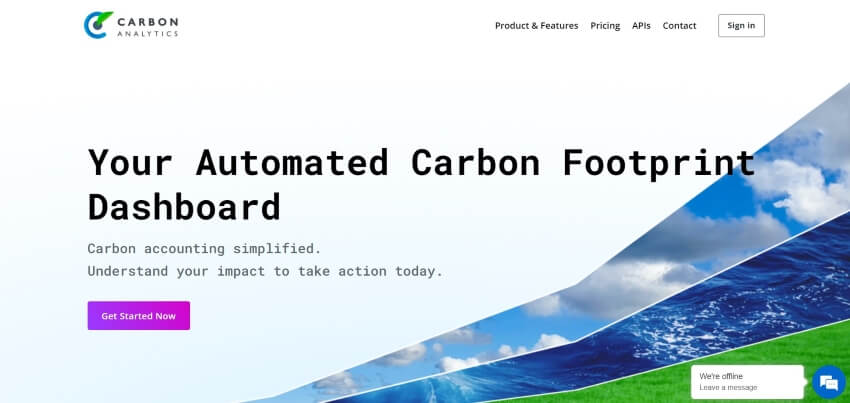 Carbon analytics simplifies carbon reporting. It helps you understand your environmental impacts and take necessary actions to meet your sustainability target.
Carbon Analytics is the carbon management software to rely on to reduce your carbon footprint. You can measure, improve, communicate, and amplify your presence.
You can better understand your carbon footprint from the sustainability data of the company, take action, and track the progress. Everything is put open to meet the standards and regulations.
Carbon Analytics is the best choice for small and medium businesses. It integrates with your accounting software to provide comprehensive sustainability data. You can use that data in reporting and performance improvement.
Carbon Analytics is an accurate and automated carbon reporting software. It operates on the leading international standards built on WRI and GHG Protocol Corporate Accounting and Reporting principles.
Carbon Analytics uses technology to automate complex processes in carbon management and reporting. It gets data from your accounting systems or different data sources. That makes the task easy and less time-intensive.
Functions and features summary:
Turn-key analysis for process automation
Automated carbon reporting
Produces comprehensive footprint data for reporting, marketing, and improvement
Progress tracking with full transparency
Understand the carbon footprint of your accounting data
See Related: Best Green Companies to Invest In
12. GHG Management Software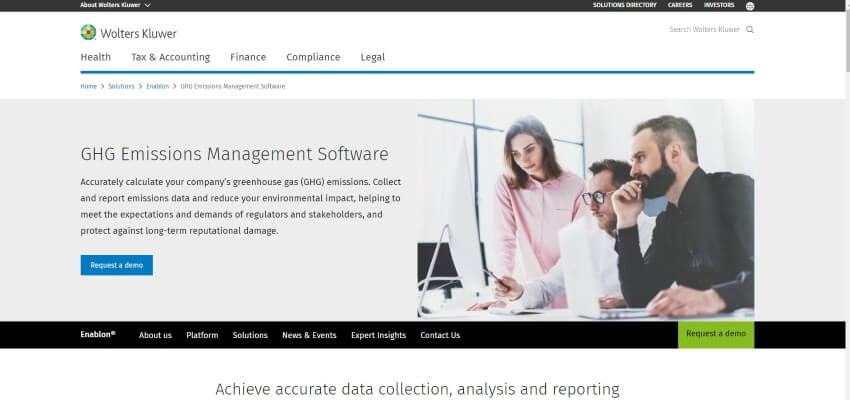 GHG management software by Locus Technologies is a scalable online tool built for multiple reporting programs. It makes it easy to manage emission inventory and permit compliance programs.
This software integrates with compliance tracking, asset tracking, and automation modules.
You can get started with GHG management software in a flash. It has in-built emissions data calculations to get you started or easily configured to meet your business needs.
GHG carbon management software saves you time. You only input data into the system once and report to all agencies. These include federal, state, and voluntary reporting programs.
There are also in-house professionals with hands-on experience. They are ready to help you if the software solutions do not work for you.
GHG software allows you to link multiple data sources to its cloud platform That makes it easier to validate and export your data to the recipient.
It also has an in-built automatic alert tool that automatically alerts you of any non-compliance to regulations. This tool will trigger a custom workflow for correction and track the progress to completion.
Features and functions summary:
Scalable to meet the growing demand for carbon accounting reporting
Built-in emissions data calculations
Parallel reporting to multiple agencies
Experts to offer human assistance when needed
Easy linking of different data sources for easy validation and exportation
Customized dashboard for quick comparison of emission results and operational data values
Built-in automatic status tracking tool
13. Carbon View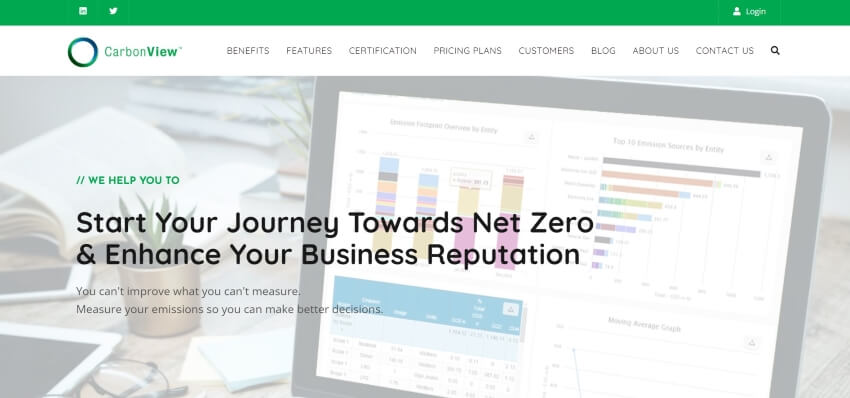 Carbon View offers transparent carbon reporting that will protect and improve your reputation. It will help you gain a competitive advantage and ensure compliance. You will always stay a step ahead f the mandatory environmental reporting regulations.
Global warming is a worrying problem, and now you can join in the fight to restore our plane with carbon View. This tool works in three simple steps. It allows you to measure carbon emissions, understand results, and set targets.
The insightful information you get spearheads your approach towards a sustainable future.
Carbon View can walk with you on the journey regardless of the size of your business. Use it to understand the sources of carbon emissions and minimize them to achieve your target.
The Carbon View's data collection method shoulders your pain of carbon footprint calculations. You can then spend more time on other things for the progress of your business. With its user-friendly interface, you will find it interactive to use.
Carbon View will help you identify the opportunities for mitigating greenhouse gas emissions while considering cost savings.
Features and functions summary:
Better environmental performance management
Compliance and user-friendly
Efficient data capturing
Interacting and dynamic data reporting
Data visualization to meet voluntary and regulatory environmental needs
Compliant with local and international GHG reporting standards
14. e-Bench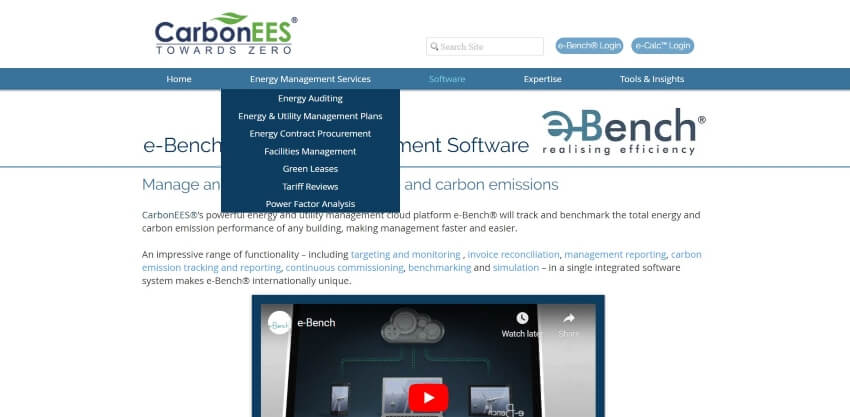 e-Bench is one of the best tools for GHG or carbon emission tracking and reporting out there. It has come second last on our list, but we still have to say that its new features warrant it a better ranking.
e-Bench can track and report GHG emissions according to ISO 14064. You can use this feature at a corporate or organization level to track your scope 1 and 2 emissions. It will help you identify your energy usage and suggest ways to reduce them.
e-Bench is effective in tracking scope 1, 2, and 3 emissions.
Take advantage of this to manage your carbon footprint and environmental impact as you move towards carbon neutrality. And with the sustainability information beforehand, you can focus more on efficiently improving your performance in those areas.
e-Bench also helps you stay on time for any climate-related risks. As the climate changes, your business risks also change. This tool makes it easy to interpret data and reports to identify any information you need.
Features and functions summary:
Compliance with international standards such as ISO 14064
Easier tracking and reporting
Easy carbon emission management
Interactive user interface for better data interpretation
Free demo account for evaluating features.
15. EnergyCAP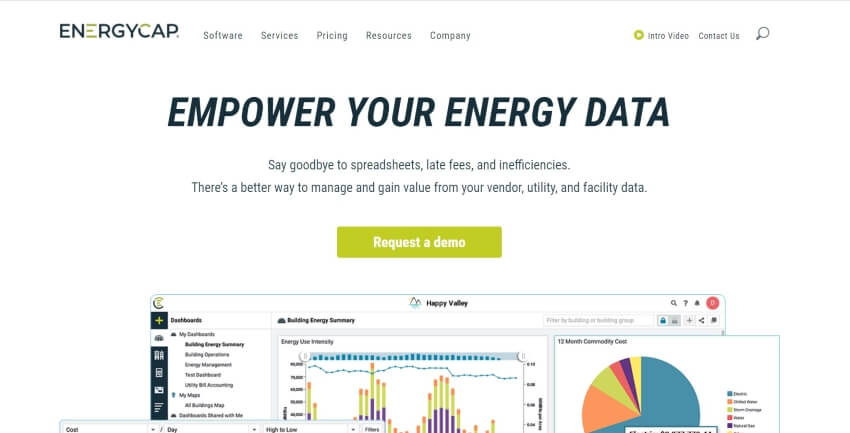 EnergyCAP boasts powerful analysis and reporting functions with guaranteed value across energy management, sustainability, accounting, and building operations. It is a hub for your vendor, utility, and facility data.
EnergyCAP helps you streamline your accounting workflow by consolidating information in one place. You no longer need separate spreadsheets, manual data entry, and other inefficient processes.
It provides you with more than accounting, energy management, and sustainability. If you are a facility manager, you can access the data you need through its user-friendly surface.
EnergyCAP software and related services help you work smarter for better performance.
Features and functions summary:
Better data visualization and carbon reporting
Data consolidation in one platform for easy analysis and enhanced security
Utility bill accounting
Energy data access
Interactive user interface
Related Resources
Kyle Kroeger, esteemed Purdue University alum and accomplished finance professional, brings a decade of invaluable experience from diverse finance roles in both small and large firms. An astute investor himself, Kyle adeptly navigates the spheres of corporate and client-side finance, always guiding with a principal investor's sharp acumen.
Hailing from a lineage of industrious Midwestern entrepreneurs and creatives, his business instincts are deeply ingrained. This background fuels his entrepreneurial spirit and underpins his commitment to responsible investment. As the Founder and Owner of The Impact Investor, Kyle fervently advocates for increased awareness of ethically invested funds, empowering individuals to make judicious investment decisions.
Striving to marry financial prudence with positive societal impact, Kyle imparts practical strategies for saving and investing, underlined by a robust ethos of conscientious capitalism. His ambition transcends personal gain, aiming instead to spark transformative global change through the power of responsible investment.
When not immersed in the world of finance, he's continually captivated by the cultural richness of new cities, relishing the opportunity to learn from diverse societies. This passion for travel is eloquently documented on his site, ViaTravelers.com, where you can delve into his unique experiences via his author profile.