Different local and international regulations on greenhouse gas emissions are a significant challenge to many businesses and organizations. Achieving global compliance has become a priority, and that has its benefits.
In this era, different organizations are putting in place new measures to reduce carbon emissions and other hazardous air pollutants. Fortunately, there is air emissions software to simplify reporting and carry out complex calculations.
Let's look at how your business benefits from carbon emissions management software. We will also list some of the best tools for carbon emissions reporting.
What is Carbon Emissions Management Software?
Carbon emissions management software is designed with features to help corporate organizations and manufacturing companies maintain compliance. The software does that through emissions monitoring, data collection, and sustainability reporting.
They also help in strategic planning and decision-making by analyzing historical data to predict the future. The insights provided are crucial for ensuring operational excellence.
What Can Air Emissions Software Do?
You can achieve a lot with the most appropriate air emissions software. Different tools have varying capabilities, but all aim at helping you reduce your carbon footprint. Environmental professionals have relied on them for the following:
Air emissions data analysis and estimation
Compliance management by closely monitoring emission factors
Automatic compliance reporting and documentation
Emissions trading and collaborative scenarios
How Does Your Organization Benefit from Carbon Management?
Every organization is fighting to become carbon neutral or, at least, reduce air emissions. Why is that important for your business sustainability?
Greenhouse gas emissions management enhances business performance among other benefits, including the following:
Lower operating costs
Meet customer demands
Improve brand perception
Respond to investor pressure
Comply with regulations
Mitigate the business risks of climate change
Communicate business metrics to stakeholders
Best Carbon Emission Management Software
Carbon emissions management software enhances your business intelligence by automatically tracking your emissions factors. Luckily, there are many such tools. You can use them for emissions flow modeling and real-time data collection. Here is a list of such software that also gives you actionable insights:
Net0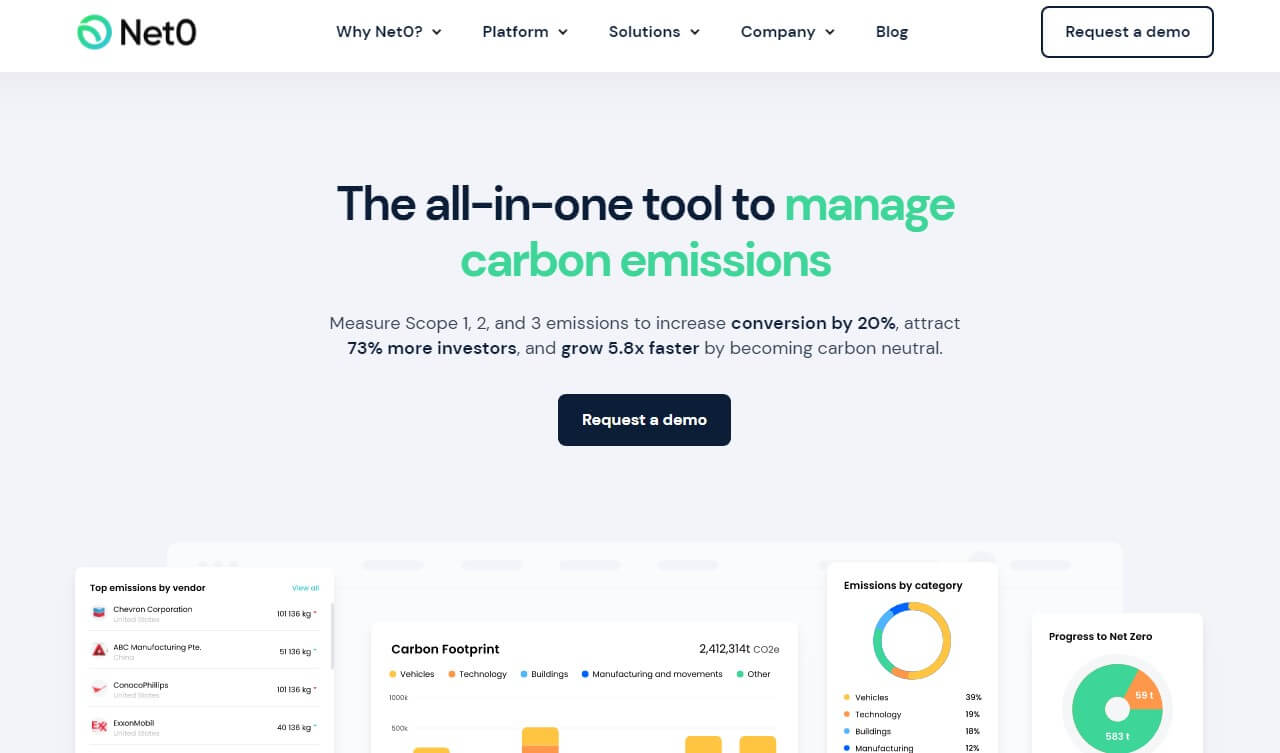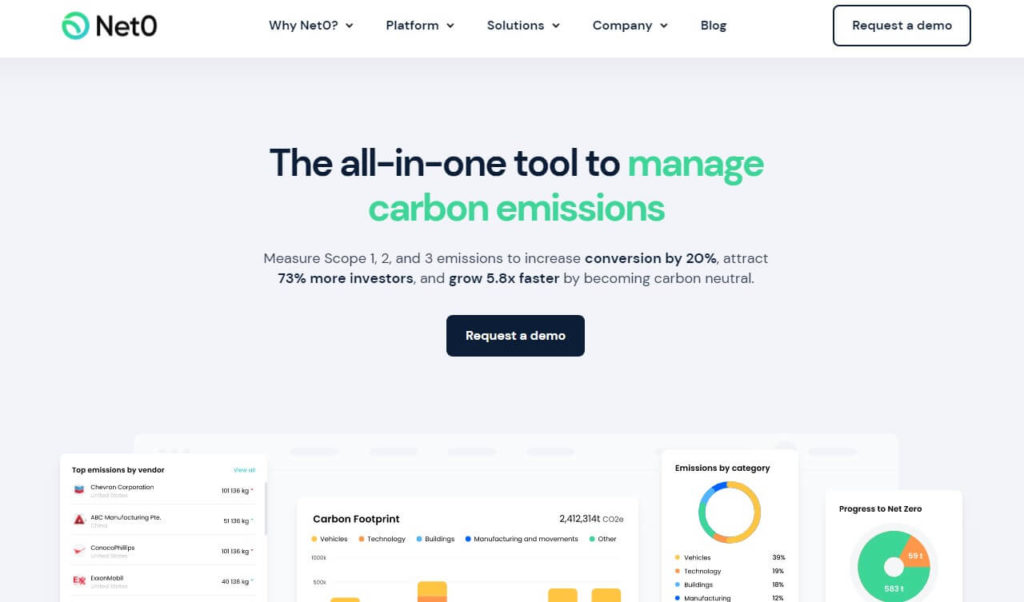 Net0 simplifies carb emissions management and enhances continuous improvement to ensure compliance. You don't need additional tools or climate consultants to measure and offset your emissions. This emissions software can single-handedly steer your organization towards sustainable performance.
Net0 sets itself apart from other emissions management software in the market with automated features. Many business leaders have and still use it to drive operational excellence.
Your entire team can use Net0 emissions management software without additional training. It is designed to help achieve carbon neutrality faster and simply reporting. Furthermore, it supports scopes 1, 2, and 3 emissions measurements. That aids in extensive emissions data collection.
Net0 helps you grow your business faster by boldly displaying your carbon footprint reduction efforts. It is one of the best carbon emissions management tools with real-time monitoring. Tracking your air emissions also becomes easy.
Make your business carbon neutral and reap the benefits of the green economy. Net0 is designed to take you there.
Feature Summary:
Track carbon emissions and become greener
Get recognition by showcasing your air emissions reduction efforts
Real-time carbon emission monitoring
Integrated carbon offset programs
Supports scopes 1, 2, and 3 emissions measurements
Automation and AI-assisted data integration
Investor-grade reporting
Comprehensive carbon footprint tracking
See Related: Best ESG Rating Agencies – Who Gets to Grade?
Emex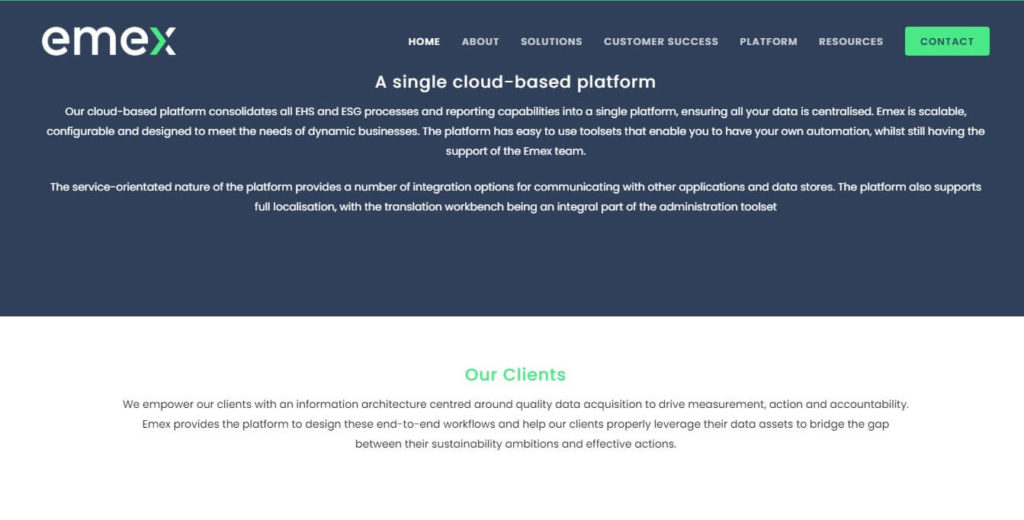 Emex comes second on our list of the best carbon emission management software for its fast integration capabilities. It can easily sit within any ERP environment and contribute towards your greenhouse gases emissions reduction.
Emex boasts high performance and scalability. It is your solution for the future. Once you integrate it into your emissions management system, it will grow with your needs. And it can also be figured out and ascended to meet any increasing demands.
Emex consolidates all EHS and ESG processes and reporting into a single, cloud-based platform. It guarantees emissions data integration. Emex additionally has an easy-to-use toolset that allows you to automate everything to meet reporting requirements and sustainability goals.
Emex ensures comprehensive emissions data collection. That covers the environment, supply chain, people, and governance. It tracks and assesses your environmental impact through qualified performance metrics.
Emex's AI carbon emissions software performs analytics that makes sense of the massive emissions data. It then provides actionable insights for better decision-making.
Optimize your business performance and simplify complex carbon emissions management processes with Emex. It offers ESG and EHS solutions that suit any business model. And if you run into any problems, Emex support will be on standby to help you.
Feature Summary:
Allowance Management
Automatic CO2 Calculation
Emission Inventory
Emission Reduction Planning
Emissions Monitoring
Permit Level Maintenance
Risk Management
Hazardous Materials Control
Document Management
Emissions Inventory
See Related: Best Artificial Intelligence Stocks to Buy Now
ProcessMAP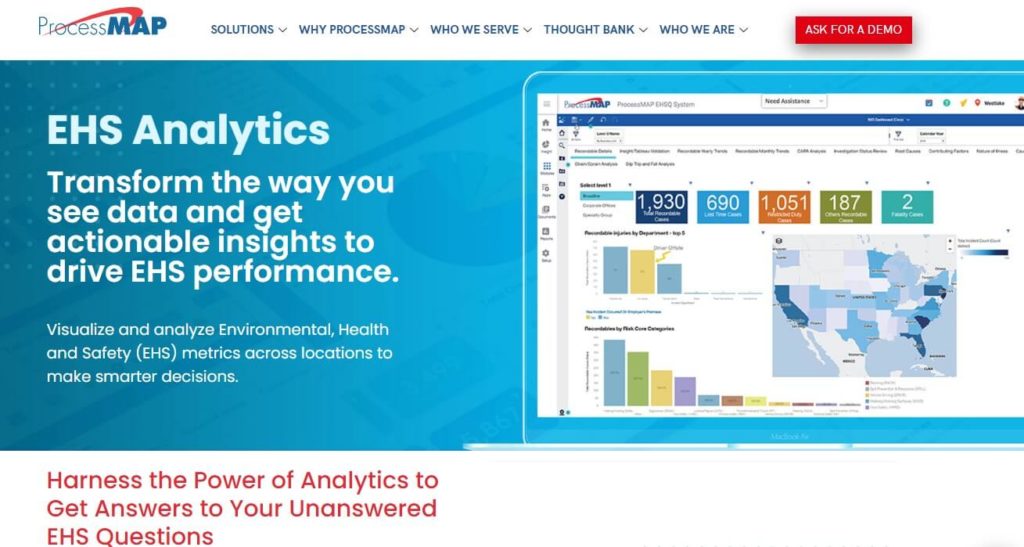 ProcessMAP is one of the pioneering cloud-based software in the industry. It can transform how you assess your emissions data and get actionable insights to enhance your emissions management.
ProcessMAP helps business leaders and environmental activists to visualize and analyze EHS metrics and ESG data across locations. You can expect extensive data on greenhouse gas emissions and hazardous materials. You can use the information to make better decisions.
ProcessMAP helps you to communicate your environmental performance quite easily. You create dashboards, which you can also customize to meet your needs.
The carbon emissions software helps you identify any potential future risks. Its built-in machine-learning algorithms bring any EHS issue to your attention. You can then take the necessary steps to mitigate the risks before bringing your business down.
Also, ProcessMAP allows you to automate corrective and preventive actions across all emission units to protect people, assets, and profits.
Feature Summary:
FDA, HIPAA, OSHA, and ISO compliance
Workflow / Process Automation
Corrective and Preventive Actions (CAPA)
Document Management Software
Automatic CO2 Calculation
Emission Reduction Planning
Emissions Monitoring
Turn Data into Actionable Insights
Automate corrective and preventive actions management
FigBytes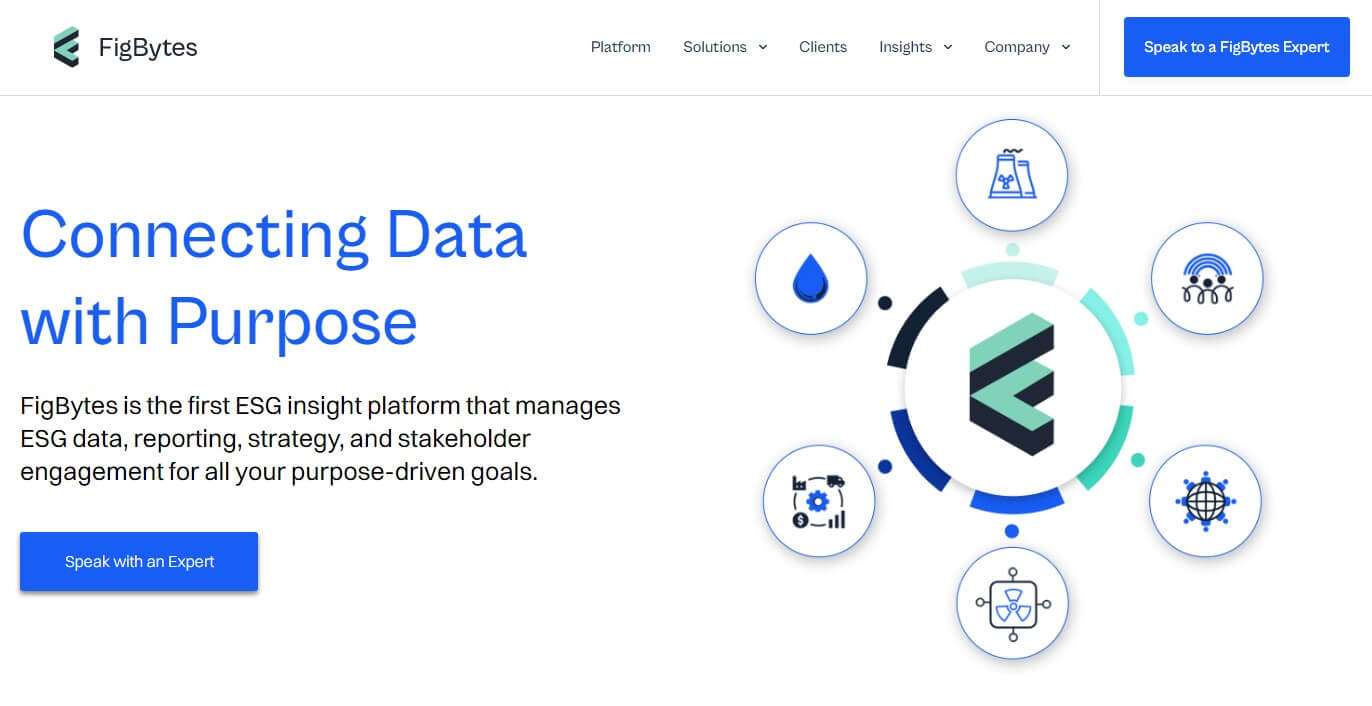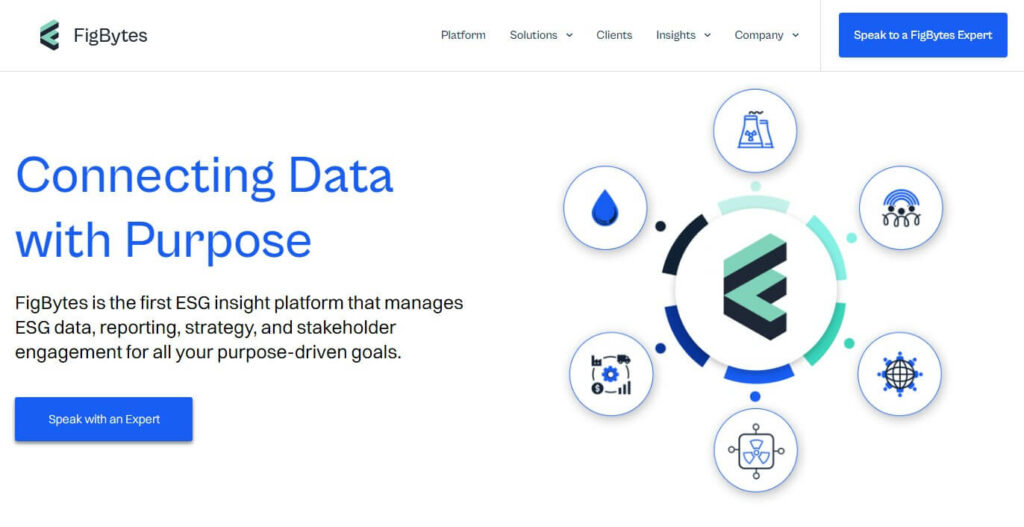 FigBytes is another emissions management software that has managed a high ranking on our list. It is an ESG insight platform for managing ESG data, reporting, strategy, and stakeholder engagement. Many people have used it to achieve their sustainability goals and enhance ESG performance.
Manage your carbon and all other air emissions data in one system. FigBytes is a SaaS platform that integrates all your operational data across all pillars of ESG. It is designed to make your ESG and sustainability goals a reality within the shortest time possible.
With all your emissions data consolidated in one system, you can take the necessary steps to combat climate change. FigBytes makes it possible by making it easy to engage stakeholders, report performance, align data, and map strategies.
Meet all your goals with FigBytes. Your customers, partners, and employees are now paying more attention to the environment. And that is where this software comes in. You can track emission factors and meet reporting requirements.
It will help you solve all ESG challenges regarding air emissions and compliance. FigBytes also scales up with your business. So, it will never be overwhelmed by the increasing regulations in the industry.
Feature Summary:
Strategy Management
Capture and manage data across your organization
Compliance Management
Turn complex data into actionable insights
Go from static, outdated sustainability reports to dynamic communication tools.
Secure, scalable, and certified
Investor-grade ESG data management
Reduce your climate impacts with AI tools
CorityOne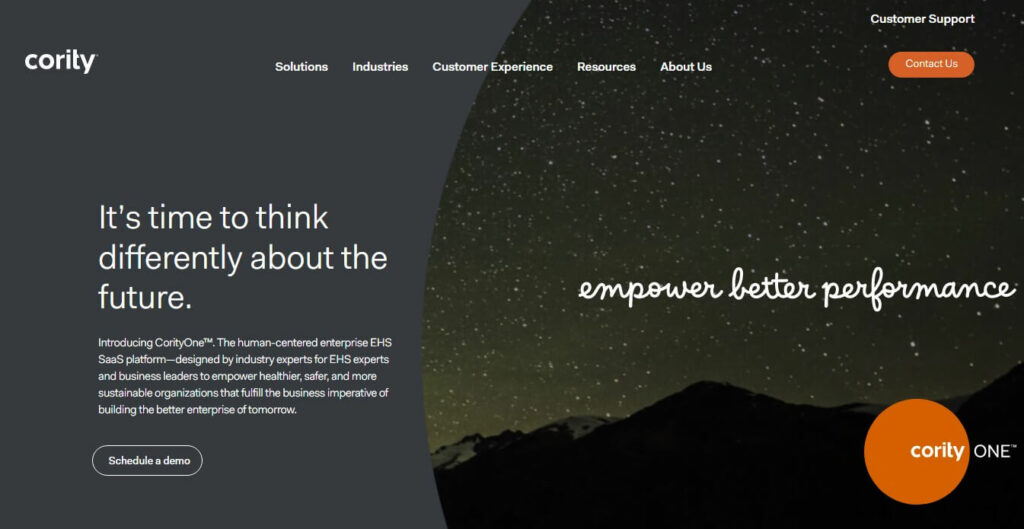 CorityOne is a human-centered enterprise SaaS platform designed by industry experts. It features new technologies to empower EHS experts and business leaders to establish more sustainable organizations. Many companies worldwide use this emissions management software to track, manage, and report air emissions data.
Choose Cority for better suitability. The management software covers Environmental, Health, Safety, Quality, and Analytics across organizations. That helps people to thrive in their various businesses by meeting expectations.
CorityOne is uniquely designed to provide flexibility, improve collaboration, and enhance business intelligence. It will reduce the tasks you have to perform to manage your carbon emissions and disposal of other hazardous materials to the environment.
Cority offers data visualization and predictive analytics solutions to the world's top companies and businesses. It has purpose-built workflows that make it the leading EHS software in the industry. It does more than just air emissions management and sustainability reporting.
Cority unlocks the value of technology solutions in your EHS system. You can engage employees and stakeholders and better visualize your data.
CorityOne ensures you get the best from your software investment.
Feature Summary:
Integrated platform
Compliance Management
Incident Management
Sustainability and ESG
Management of Change
Audits and Inspections
Risk Management
Document Control
Advanced analytics
CSRware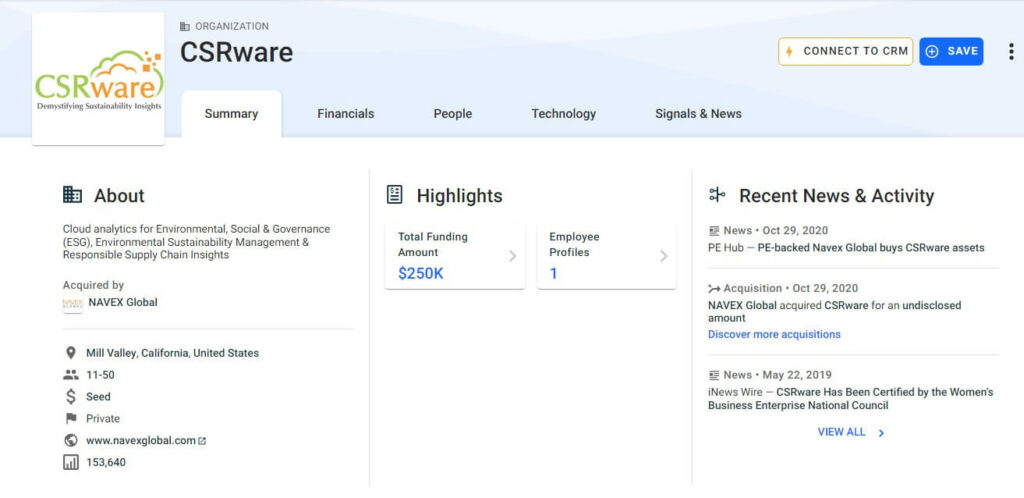 CSRware remained one of the best emissions management software in the industry. It is a cloud-based platform that allows organizations to control their carbon footprints.
CSRware helps better manage air quality, greenhouse gas emissions, and other hazardous materials. It is the go-to air emissions management software for companies that want to gain insights into environmental risk. Different businesses use it to achieve higher standards of accountability and transparency.
CSRware provides ESG and sustainability reporting module with data management that meets regulations of:
World Foundation of Exchanges (WFE)
United Nations Global Compact (UNGC)
Global Reporting Initiative (GRI)
Carbon Disclosure Project (CDP)
SASB (Sustainability Accounting Standards Board)
Those who use CSRware can automate quantitative calculations, task assignments, and global currency management. Users can also track and calculate greenhouse gas emissions.
CSRware is pivotal in ensuring compliance with air emission regulations. The solution offered is trusted by different companies across all industries. It produces air quality results that you can easily integrate with sustainability reporting practices.
Feature Summary:
Reporting & Statistics
Document Management
Reporting/Analytics
Water Management
Compliance Management
Risk Management
Bill Database, importing, and audit
Corrective and Preventive Actions
Emissions Inventory
Emissions Monitoring
Energy Price Analysis
Environmental Compliance
Automatic CO2 Calculation
Benchmark ESG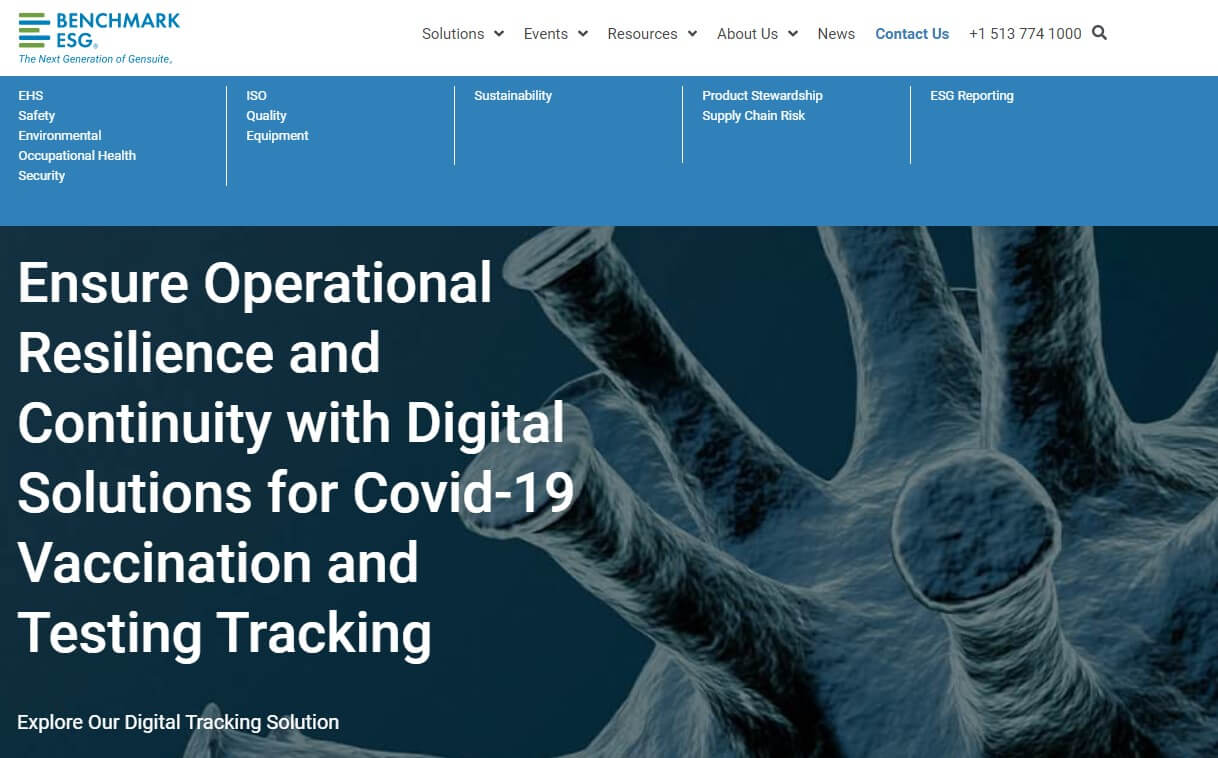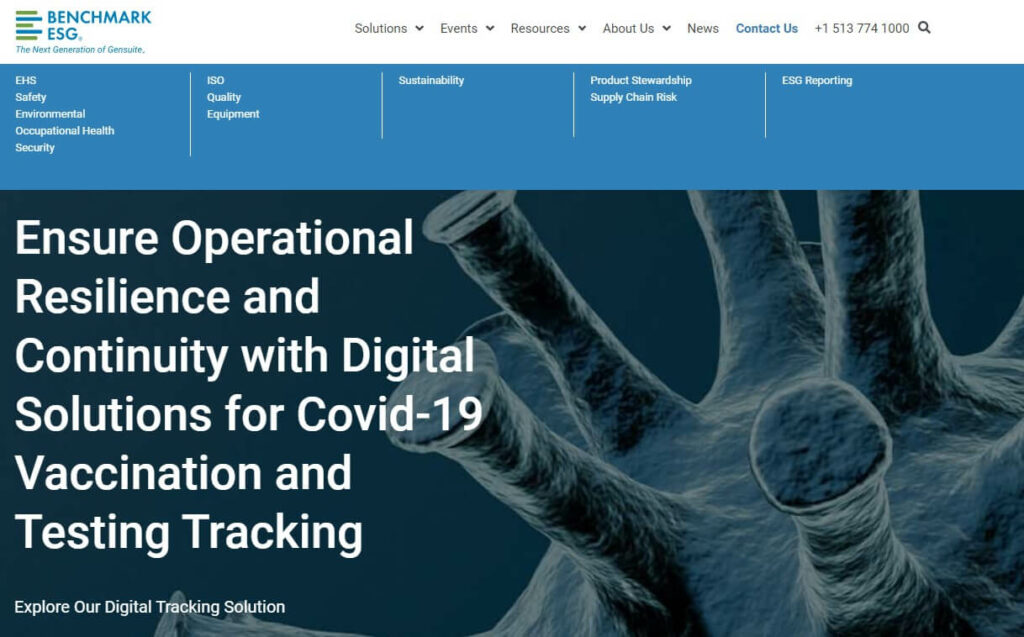 Benchmark offers a solution to operational leaders, enterprise users, management members, and teams. It is designed to meet the needs of environmental professionals in organizations of all sizes in any industry.
Benchmark ESG is the leading software in ESG reporting. You will become confident disclosing your ESG KPIs and managing performance with investment-grade data. It also makes it possible to share insights with stakeholders, customers, investors, employees, and the community.
The Benchmark ESG uses advanced tools to help reduce risk and ensure compliance with laws and regulations. You will meet all air emissions standards and corporate policies through a digital environmental management system.
Lastly, Benchmark ESG promotes your company's sustainability performance. It has sustainability tools for tracking, goal setting, reporting, and assessing your emission factors to reduce climate change.
Feature Summary:
Document Management
Inventory Management
Task Management
Customer DataBase
Performance Metrics
Compliance Management
Incident Management
Data Management
Maintenance Management
Benchmarking
Safety Management
Quality Control
Reporting & statistics
Training management
Application Development
See Related: What is the Sustainability Accounting Standards Board?
CarbonOps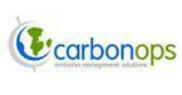 CarbonOps is a web-based emissions management software that serves both startups and agencies. It provides end-to-end solutions to companies determined to reduce their air emissions and other pollutants.
This online EHS system is famous for being a reliable provider of permit-level maintenance, risk management, emissions monitoring, etc. Choosing it will help your organization enhance operation efficiency and limit the carbon waste it emits into the environment.
Becoming carbon neutral is a dream of every company. And with CarbonOps, you can achieve it to be among the green businesses in the world. It helps you evade carbon risk and reduce your emissions to the environment.
CarbonOps software is supported by many devices. You can access it on your PC or mobile phone, provided you are internet-connected. It also allows for customizations. Once you choose it, you can personalize features to meet your needs.
Feature Summary:
Risk Management
Emissions Monitoring
Allowance Management
Automatic CO2 Calculation
Emission Inventory
Frequency-Based Tasks
Permit Level Maintenance
Emissions Trading
Locus Technologies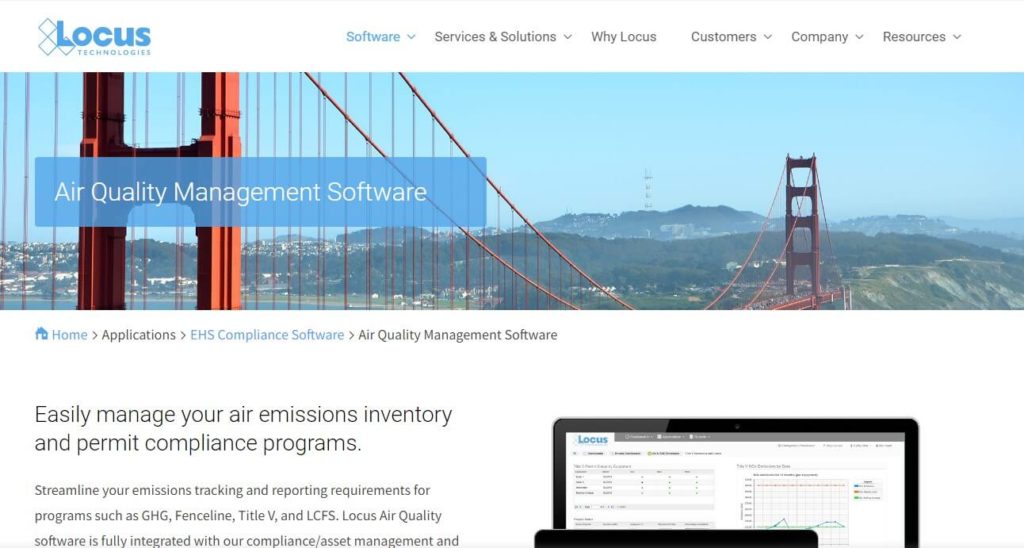 Locus Technologies allows you to manage your air emissions inventory and permit compliance programs. It analyzes your sustainability data to streamline your emissions tracking and reporting requirements. Locus also ensures your compliance with GHG, Fenceline, Title V, LCFS, and other regulators in your region.
Locus Technology is a leader in the industry, redefining how companies organize, manage, and report their air and vapor intrusion data. Big names are partners and subscribers. All are now gaining the benefits of using Locus technology to enhance ESG performance.
Locus also scales up with your business and new laws introduced by regulators. You can quickly adapt to these changes. And even to the starters, everything can be set in just a few minutes. It has built-in emissions data calculations to get you started.
You can minimize your reporting workload when you incorporate Locus into your system. You can link data from emission sources and schedule regulatory reports. Everything will be automated to offload your task and save you time.
Feature Summary:
Task Management
Health & Safety / Incidents
Waste Management
Spill Management
Custom Apps
Risk Management
Frequency-Based Tasks
Audit Trail
Emissions Monitoring
Accuvio Sustainability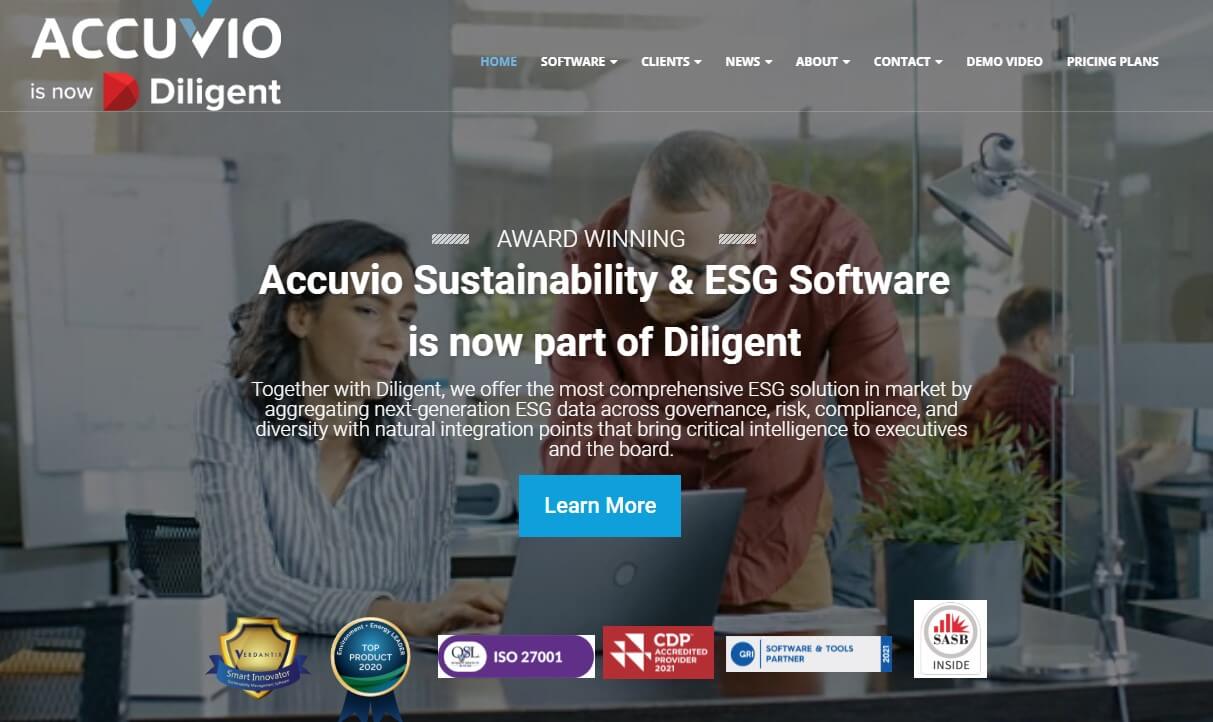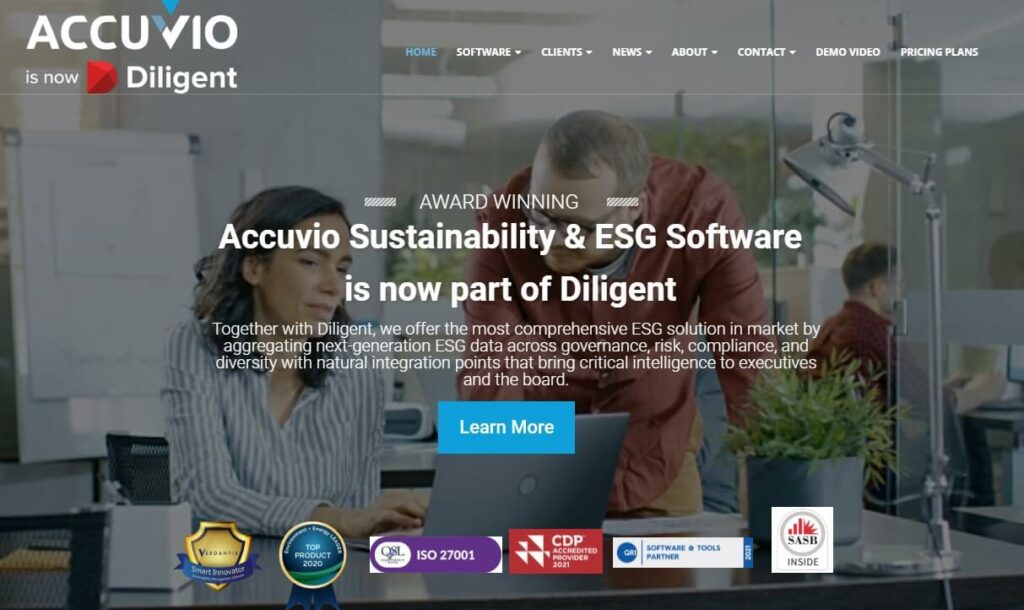 Accuvio Sustainability is a cloud-based software for sustainability data collection, cleansing, analysis, and reporting. It gathers data from multiple emission sources, including GHG emissions, carbon, energy, waste, water, transport, etc.
Accuvio Sustainability offers the most comprehensive ESG solution by consolidating data across different emission units. That ensures proper governance, risk management, compliance, and diversity. It naturally integrates facts that enhance business intelligence.
Accuvio is the best carbon emissions monument software when it comes to reporting. It improves your confidence by ensuring report accuracy. This tool will also boost your ESG performance among investors while reducing your environmental risk.
Choose Accuvio Sustainability to streamline your data collection. It increases the scope of reporting and reduces the burden on your employees or colleagues. And with its 24/7 customer support, you will find it easy to use.
Who uses Accuvio? Accuvio offers a solution to small businesses, mid-size organizations, and large enterprises.
Feature Summary:
Streamlined Data Collection
Increase Reporting Frequency
Demonstrate Financial Grade Controls
Improve Investor Sentiment
Comprehensive reporting for Scope 1, 2, and 3 emissions
Reporting/Analytics
Third-Party Integrations
Document Management
Access Controls/Permissions
Compliance Management
ioTORQ EMIS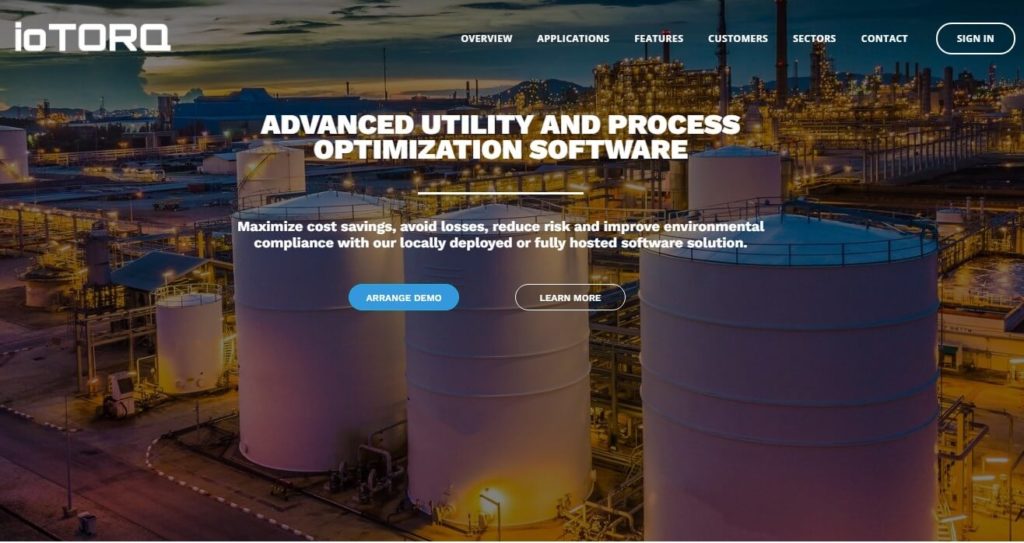 ioTORQ EMIS is an all-in-one utility and process optimization tool that can help you reduce your carbon emissions. It will help you maximize cost-savings, avoid losses, reduce risks, and improve environmental compliance.
ioTORQ EMIS can be locally deployed software or a fully hosted version. You can choose any of them according to your needs, but a hosted software solution is the most preferred.
ioTORQ EMIS provides energy and resource management, utility bill management, lean manufacturing, and corporate reporting. It does all these by integrating data from multiple emission sources and AI-driven analytics. ioTORQ EMIS also avails a real-time dashboard that engages stakeholders and maximizes performance gains.
The flexible ioTORQ EMIS dashboard is its major highlight. It features advanced target setting, automatic notification, and tracking. You also access automated bill processing, error checking, rate optimization, and procurement insights.
ioTORQ EMIS also allows you to track emissions, manage waste, ensure compliance, and generate auditable reports. Choose it to improve your environmental performance.
FAQs
What is emissions management software?
Emissions management software is a tool designed to help organizations monitor and reduce their carbon emissions. It provides real-time data on an organization's greenhouse gas emissions and allows them to track their progress towards emissions reduction goals. The software typically includes features such as emissions reporting, data visualization, and compliance tracking to help organizations stay on top of their environmental impact.
What is carbon management software?
Carbon management software is a tool that helps organizations track and manage their carbon emissions. It provides a comprehensive view of an organization's carbon footprint and helps identify areas where emissions can be reduced. Carbon management software can also assist in setting goals, monitoring progress, and reporting on emissions to stakeholders.
What platform is used to track carbon footprint?
Carbon footprint tracking platforms are software tools that help individuals, companies, and organizations measure and manage their carbon emissions. These platforms typically use data inputs such as energy usage, transportation, and waste generation to calculate carbon emissions and provide insights into ways to reduce them. Some popular carbon footprint tracking platforms include Carbon Footprint, Carbon Trust, and ClearTrace.
How do you track emissions?
Emissions tracking is the process of monitoring and recording the amount of pollutants released into the environment by a particular source. This can be done through the use of specialized equipment such as emission analyzers or through the collection of data from energy and fuel consumption. Emissions tracking is essential for organizations to comply with environmental regulations and to identify areas where improvements can be made to reduce their carbon footprint.
Feature Summary:
Advanced analytics module that uses machine-learning
On-sight and web-hosted software solution
Automated notifications
Flexible data integration
Advanced analytics
User customization
Energy and resource management
Utility Bill Management
Kyle Kroeger, esteemed Purdue University alum and accomplished finance professional, brings a decade of invaluable experience from diverse finance roles in both small and large firms. An astute investor himself, Kyle adeptly navigates the spheres of corporate and client-side finance, always guiding with a principal investor's sharp acumen.
Hailing from a lineage of industrious Midwestern entrepreneurs and creatives, his business instincts are deeply ingrained. This background fuels his entrepreneurial spirit and underpins his commitment to responsible investment. As the Founder and Owner of The Impact Investor, Kyle fervently advocates for increased awareness of ethically invested funds, empowering individuals to make judicious investment decisions.
Striving to marry financial prudence with positive societal impact, Kyle imparts practical strategies for saving and investing, underlined by a robust ethos of conscientious capitalism. His ambition transcends personal gain, aiming instead to spark transformative global change through the power of responsible investment.
When not immersed in the world of finance, he's continually captivated by the cultural richness of new cities, relishing the opportunity to learn from diverse societies. This passion for travel is eloquently documented on his site, ViaTravelers.com, where you can delve into his unique experiences via his author profile.