Protecting the planet is one of the most important aspects of living a sustainable lifestyle, and tracking your carbon footprint is an excellent way to do just that. With the right app, you can easily monitor and manage your carbon emissions to make more informed decisions about how you live. These are the best carbon tracking apps and sites to monitor your footprint.
By measuring your carbon footprint, you can identify which areas of your lifestyle are most impactful and consider ways to reduce your greenhouse gas emissions.
Here are our top picks for the best carbon-tracking apps to help you stay organized and mindful of your environmental impact.
Unlock Sustainable Investing Opportunities 🌿
Join the green revolution by investing sustainably with our top partners. Discover platforms that align with your values and offer remarkable opportunities for growth.
Best Carbon Footprint Tracking Apps & Software
1. JouleBug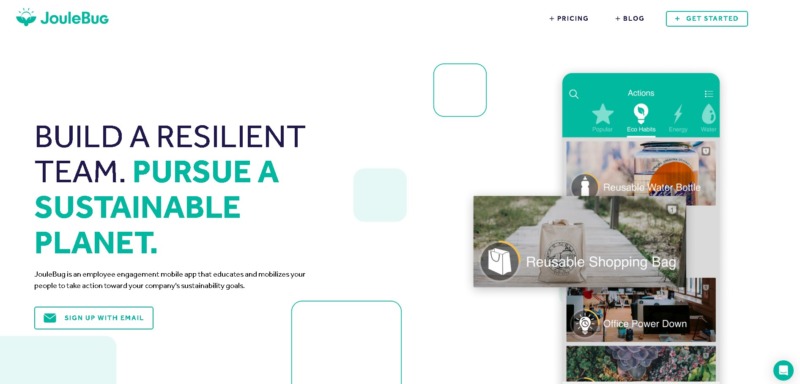 This sustainability app gamifies reducing your carbon footprint, awarding points for making eco-friendly choices. It tracks energy usage, waste production, transportation habits, and more. You can even compete against other like-minded individuals and earn badges for completing each activity.
Pros:
Makes being sustainable fun
Build a community through the app
Available on iOS and Android
Cons:
See Related: How to Buy Carbon Credits [Step-by-Step Guide]
2. GreenPerk API by TravelPerk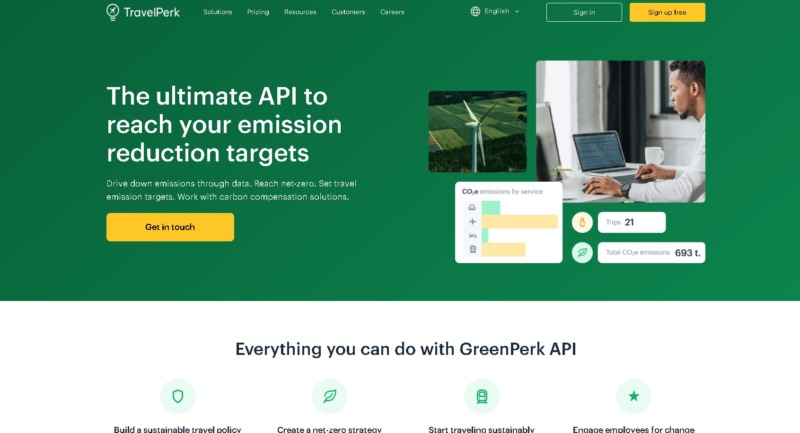 The GreenPerk API is a carbon tracking software that's perfect for businesses that want to keep track of their emissions. It allows you to assess the environmental impact of your travel expenses and find eco-friendly alternatives. The API also gives you access to data about other corporate sustainability initiatives, such as hotel recycling systems and green policies.
Pros:
Ideal for businesses with large travel budgets
In-app carbon offsetting
Convenient tracking and reporting within the same platform
Cons:
Not available as a stand-alone app
3. Green Karma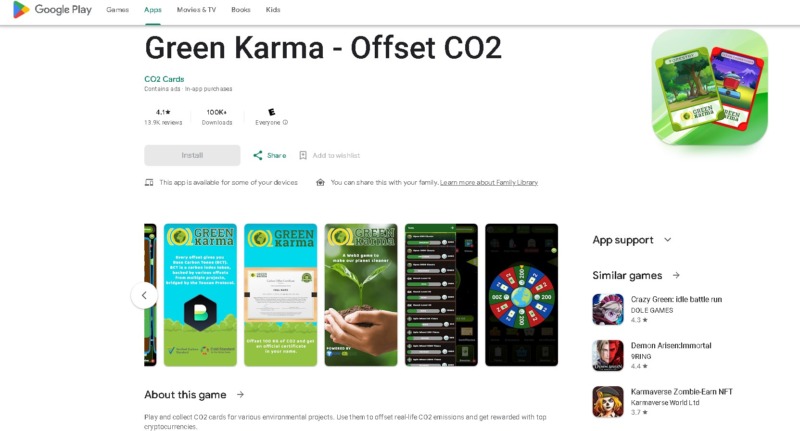 Green Karma is a gamified carbon footprint calculator app that helps you monitor and reduce your carbon footprint. You can track energy usage, transportation methods, food waste, and more through their easy-to-navigate dashboard. The app also rewards you with cryptocurrency for completing tasks so you can stay motivated to reach your sustainability goals.
You can also support real-life environmental projects like reforestation and water conservation through the app.
Pros:
Gamified experience to calculate your data and set targets to keep you motivated
Supports real-world environmental initiatives
Real cryptocurrency rewards
Cons:
Only available on Android
Users report that the app can be buggy
4. Joro
Joro helps you calculate and compare your carbon footprint to the global average by analyzing your purchasing data. You can track your personal and business emissions and access insights on how to reduce them. Joro's unique algorithm integrates your data with its expansive global carbon database to give you an accurate estimation of your emissions.
Pros:
Accurate calculations using real-world data
Excellent for businesses and individuals
Automatically updates as your habits change
Cons:
US-centric app can be difficult for international users
Could use more features for deeper insights
See Related: What is Ethanol's Carbon Footprint?
5. Capture Carbon Footprint and CO2 Tracker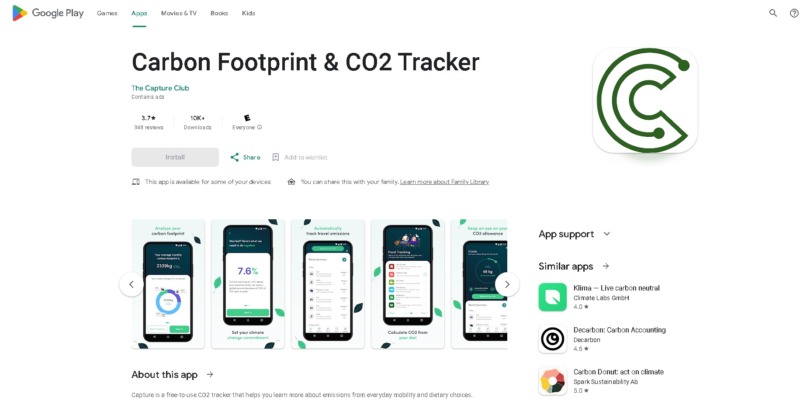 Capture teaches you how to track carbon emissions and increase your eco-friendliness by analyzing your daily habits. It offers tips on how to reduce emissions in each category, as well as challenges you to reach new sustainability goals. The app also provides detailed insights into the impact of your lifestyle changes and allows you to set personal goals for reducing emissions.
Companies can benefit from Capture, too. The app guides your team through interactive challenges and offers detailed reporting that shows the cumulative impact of your sustainability initiatives.
Pros:
Offers personalized tips and insights
Great for businesses as well as individuals
Challenges keep users engaged
Available on iOS and Android
Cons:
Limited options for green alternatives
6. Klima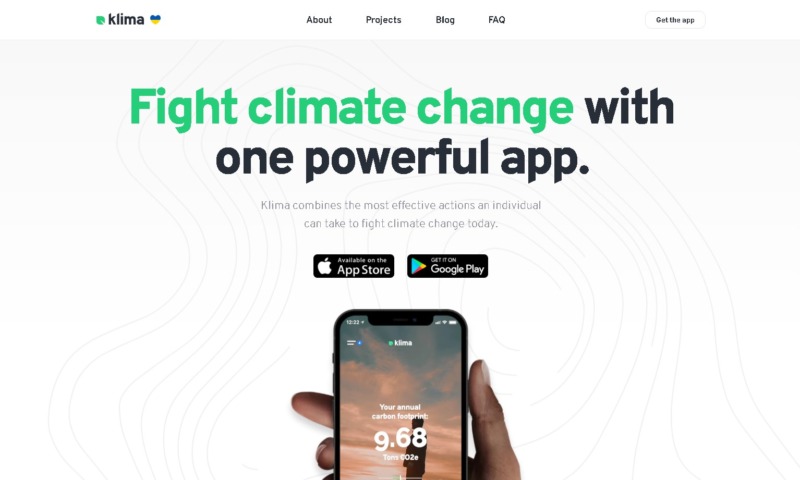 Klima is a simple and effective app for measuring your carbon footprint and finding ways to counterbalance it. It tracks energy use, transportation methods, and food miles to offer personalized tips on reducing emissions. You can compare your footprint to other users or browse through the app's extensive list of carbon-offsetting projects that support renewable energy sources.
Pros:
Offers green alternatives for sustainable living
Easy emissions tracking and reporting
Supports carbon offsetting
Available on iOS and Android
Cons:
Limited offsetting options for rural users
7. Adva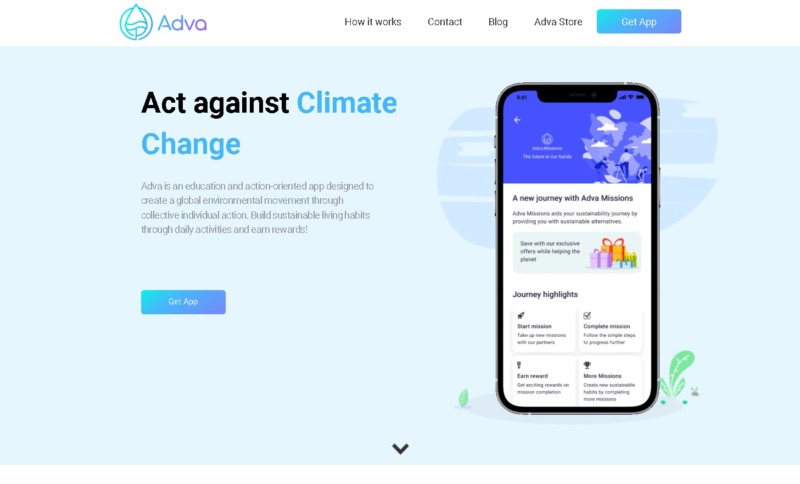 If you want to take action on climate change, Adva is the app for you. It can teach you how to reduce your emissions and connect you to local environmental initiatives. You can also use the app to find eco-friendly products, track your progress towards sustainability goals, and donate to green causes directly from the platform.
Pros:
Supports a wide range of activities
Connects you with green initiatives in the area
Very customizable carbon reporting software
Cons:
Only available for Android devices
8. CoolClimate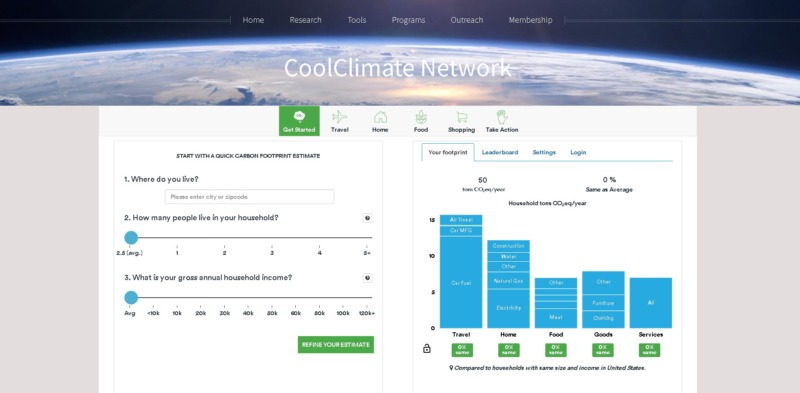 One of the first carbon footprint apps developed, CoolClimate helps you track and reduce your footprint. The app allows you to set goals, monitor energy consumption, and find green alternatives for everyday items. It also provides a detailed data analysis to better understand your decisions' environmental impact.
Pros:
Easy-to-use interface
Comprehensive data insights
Provides personalized action plans
Cons:
Only available as an online tool
See Related: Best Carbon Emissions Management Software Programs
9. MyEarth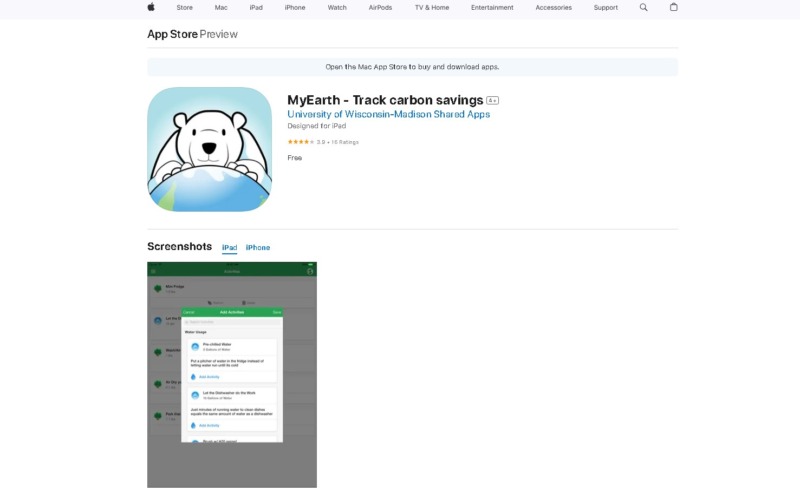 MyEarth makes tracking and understanding your daily habits easy. The app provides personalized tips on reducing emissions in each category, from transportation to energy use. You can also connect with other users and take part in eco-friendly challenges.
Pros:
Fun way to learn about sustainability and track progress
Simple, user-friendly interface
Offers detailed insights into your carbon footprint
Cons:
Limited activity categories to choose from
10. Pawprint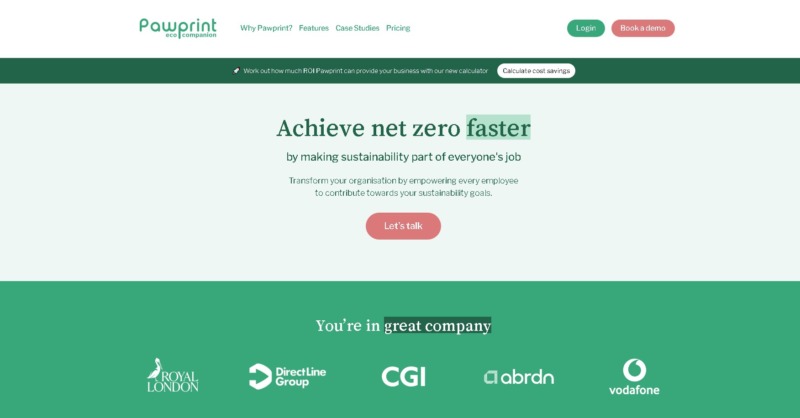 This app calculates your carbon footprint and provides feedback on reducing it. The app also offers discounts for green products and services that make sustainable living more affordable.
Companies can also benefit from the app's detailed carbon reporting, as employers and employees can set sustainability targets, track their activities, compete in challenges, and fight against climate change together through the app.
Pros:
Available on Android and iOS
Perfect for businesses and individuals alike
Fun challenges keep you engaged
Cons:
Newer app that may have glitches as it is updated
Quick Tips for Reducing Your Carbon Footprint
Although these apps are great for tracking and reducing your carbon footprint, you can do a few things to reduce your emissions without downloading any new tools. Here are some quick tips to get you started:
Reduce the number of car trips – use public transport or cycle instead to reduce your carbon emissions.
Eat locally sourced produce – this reduces food miles – a term used to describe the distance your food travels before it reaches you and the carbon emissions associated with that distance.
Travel more sustainably – avoid flying whenever possible, as this significantly impacts your carbon footprint, and look for carbon offsetting programs to use when you do have to fly.
Switch to renewable energy sources – look for renewable energy options in your area and switch over if they are available.
Reduce water consumption – try to limit your shower time, opt for low-flow fixtures, and only run full loads of laundry. Consider watering your lawn less often, and skip a few car washes to save some water.
Reuse and recycle – reduce your consumption of single-use products like plastic bags, straws, and cutlery. Buy secondhand whenever possible, and look for ways to swap or donate items you no longer need.
Be mindful of your thermostat – set your temperature to a few degrees lower in the winter and higher in the summer. This will help you reduce your energy consumption significantly throughout the year. It's also a huge cost savings!
Try Meatless Mondays – by reducing the amount of meat in your diet, you can reduce your carbon footprint significantly since livestock production significantly contributes to emissions.
Plant trees – planting trees helps reduce your carbon footprint and benefits the environment in many other ways. You can plant a tree in your garden or look for local groups that organize tree-planting events.
What is Carbon Footprint Tracking?
Before we dive into the best apps for monitoring your carbon footprint, let's quickly review what a carbon footprint is. A carbon footprint is an estimate of how much carbon dioxide (CO2) and other greenhouse gases are released into the atmosphere due to your activities. These emissions can come from burning fossil fuels for electricity, driving gas-powered cars, heating and cooling buildings, etc.
Verdict
If you're looking to reduce your carbon footprint, plenty of apps available can help. From tracking and analyzing your energy use to connecting with green initiatives in the area, these apps offer a variety of features tailored to meet different sustainability goals.
Through gamified experiences, discounts, and challenges, these apps make keeping your carbon footprint in check easier. So whether you're looking for a comprehensive app that supports businesses or individual users, there's an app out there to suit your needs. With so many choices available, you can find the right one and start making a difference in the fight against climate change.
Related Resources