Tesla is among the top car manufacturers saving the world from fossil fuels with electric vehicles. But can you charge a Tesla with solar to make it even more environmentally friendly? Read on to find out.
After buying a Tesla, the next crucial thing is knowing how to charge it. And many EV car owners will often ask this question – can I charge my Tesla with solar panels?
Well, we will soon find out! Charging a Tesla takes a few steps. And with that, you have enough energy to drive around. But to charge it with solar, there are a few things you must do.
Unlock Sustainable Investing Opportunities 🌿
Join the green revolution by investing sustainably with our top partners. Discover platforms that align with your values and offer remarkable opportunities for growth.
First, you must set up a complete solar charging station, which generates and stores solar energy. You also need an inverter on the battery storage to convert the DC to AC that Tesla and other electric vehicles use. Sounds like a lot of work, right?
Not to worry! This article gives you a detailed guide on exactly how to charge Tesla with solar.
Step by Step Guide to Charge a Tesla with Solar Technology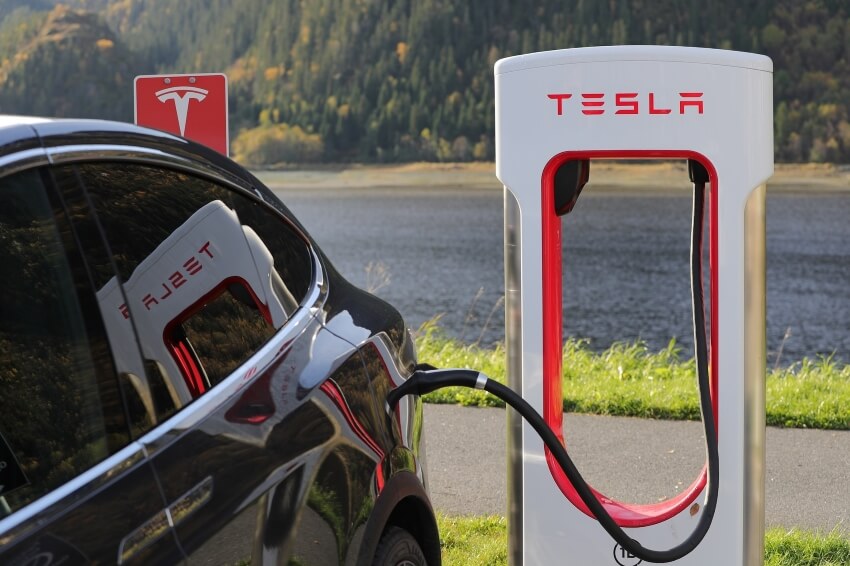 When you want to charge a Tesla at home, there are a few steps you need to take. First, you must ensure there's a mobile or wall connector in place to plug your car into. After your car has a full charge, you disconnect and are good to go.
However, for this to work, you need to install a home-based charging station. And this requires solar cells or panels on your home's roof to generate that renewable solar energy. You can also build a solar carport for that purpose.
Finally, store the energy in a backup battery pack, then use an inverter to convert it to AC. Below is a step-by-step guide to charging Tesla with solar panels.
1. Setting up a Tesla Solar Charging Station
The first step to charging a Tesla with solar panels is setting up a charging station. This work will require several items such as:
Solar cells/panels
Solar cables (red and black)
Solar Controller
Inverter
Battery cables (red and black per battery)
Choose the structure you want to build after having all these essential items. Since the charging station is for a Tesla, you can set up a carport with solar panels on top. The best carports have a storage area where you have the batteries and other charging station necessities.
Proceed to mount the solar panels. Ensure these panels are secure so they won't move or fly off the roof with strong winds.
Next, you must set up the battery system and ensure the batteries are in a dry area away from the elements. Once the batteries are in place, add the solar controller.
This is a crucial device that lets you know how much energy your solar panels generate from the solar cells. Then you can connect all the different parts, including the inverter that turns DC energy to AC that your Tesla needs.
If you are not up to this task, ensure that you engage the services of a professional. This way, you can get your solar car charging as fast as possible.
2. Get a Tesla Mobile Connector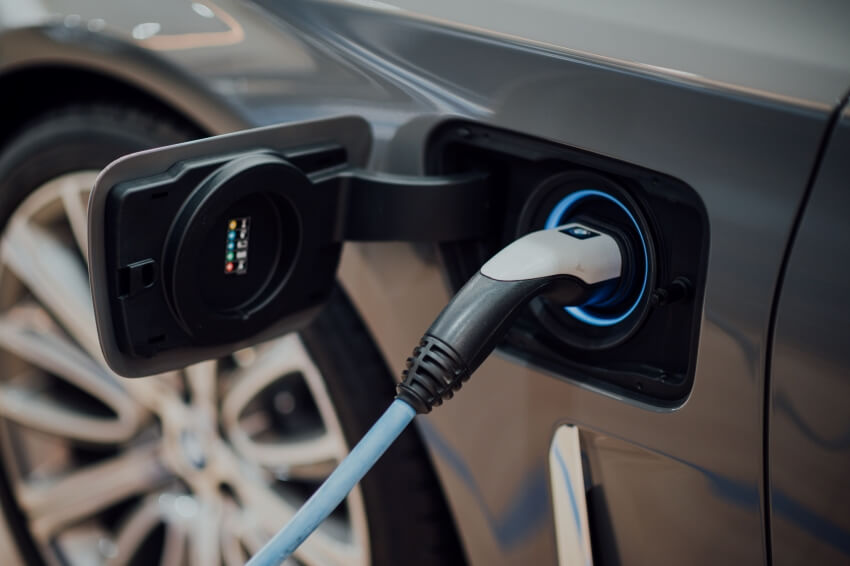 Does your Tesla have a mobile connector? When you want to charge your Tesla with solar power, you need a mobile connector to connect the car to the charging station. It's easy to note the Tesla mobile connector since it resembles a laptop charger.
Connect the mobile connector to a wall plug in your charging station. Ensure that the pins of the mobile connector align with the plug for efficient use.
Note: It's better to use a 240V plug-in with the connector since this ensures faster charging. Push the adapter into the wall socket of your charging station to start charging your Tesla.
See related: Best Tesla Car Insurance Options
3. Plug the Mobile Connector to the Tesla
The other end of the mobile connector should attach to your Tesla. Find the car's charging port on the driver's side and plug the connector in. Usually, the charging port is in the same location as the gas tanks.
Hopefully, at this time, your solar panels have generated energy that you can use to charge the Tesla. And thanks to the inverter, it's possible to use this energy to charge any of your sun-powered vehicles. The inverter ensures that the solar energy generated as direct current (DC) converts to usable AC power.
See Related: What is the Average Tesla Repair Costs? Full Budgeting Guide
4. Leave your Car to Charge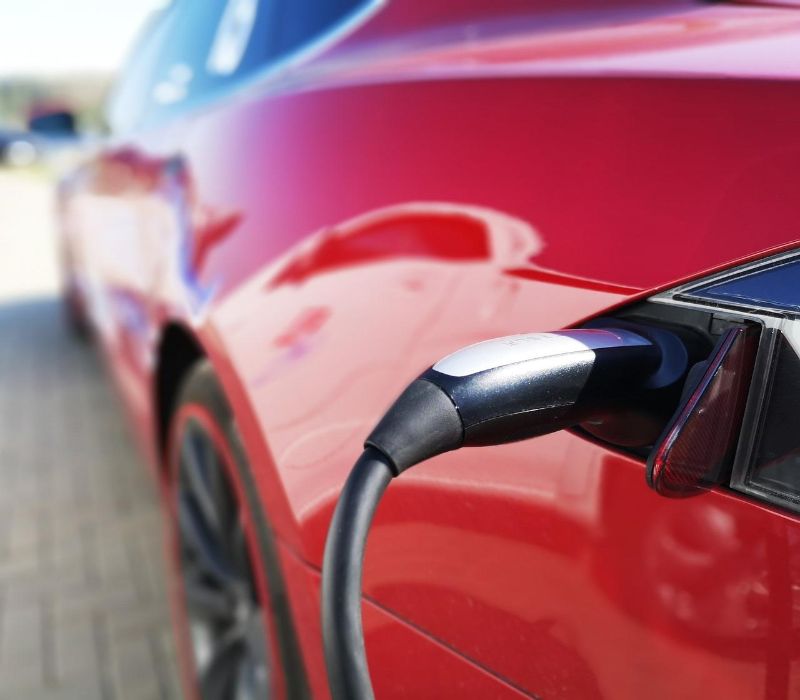 Step 4 is giving the Tesla time to charge. If you use a 240V adapter, it will undoubtedly take lesser time to charge the vehicle. Otherwise, with a 120V adapter, you must give it time. A full charge can take up to 6 hours, so perhaps plug in your Tesla at night to be ready for use in the morning.
Once you have a full charge, unplug the handle. Locate the button on the charging handle and press it down. Wait for the light to turn white then you can proceed to remove it.
After disconnecting the handle, the charging area door on your Tesla closes automatically.
How Many Solar Panels Do I Need to Charge a Tesla?
By now, we already know that it's possible to charge a Tesla car with solar. Now the next question should be – how many solar cells do you need to make that solar charging station?
Well, you'll require at least 10 PV cells if you want to charge your Tesla efficiently at home. This might be different for other solar cars, but it shouldn't vary too much. Subsequently, before setting up a solar charging station, determine the number of kW your electric vehicle needs.
Installing the right number of photovoltaic cells will ensure that your station can generate enough power to charge your car. And for a Tesla, this number is around 10 panels – although it might vary depending on the Tesla model and the distance you wish to travel.
Generally, the EPA uses a straightforward formula to calculate this. For starters, it equates the number of kWh a solar-powered car requires for a 100 miles trip to miles per gallon in a normal car. This helps in determining the number of panels you need since their power output is also measured in kW.
Let's take an example of a homeowner in the US. If a homeowner in the US has a 5000 Watt (5kWh) solar system, they will get around 6071 kWh annually.
If the system is made of 250-Watt panels, it means that the system has 20 panels to be able to generate the 5000 Watts. 250 Watts * 20 panels = 5000 Watts.
In this example, the charging time is less as the station generates more electricity. However, if you have 10 panels, you can still charge your Tesla for twice as long. For this reason, it's ideal to know the energy requirements of your Tesla and its model for easier calculations.
See Related: Solar Loan Calculator
How Many Solar Panels to Charge a Tesla Model 3?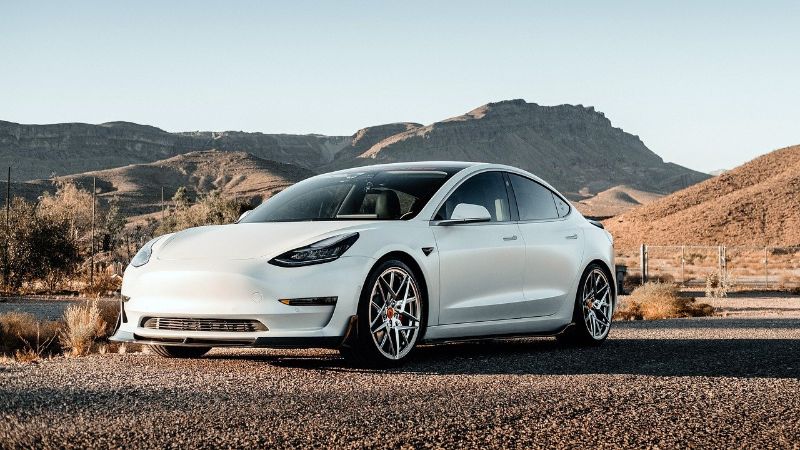 There are different Tesla models on the market, and Tesla Model 3 is one of them. And you need approximately 6 solar panels, each producing 400 Watts, to make an efficient Tesla Model 3 solar charging station.
The Tesla Model 3 is among the company's most popular and lovely designs. It comes with a dual motor and is among the unique AWD (All-Wheel Drive) electric cars. On top of that, this model takes you from 0 to 60 mph in 3.1 seconds.
As for energy consumption, this electric car requires 7.75 kWh per day to enable you to conduct your daily chores, according to EnergySage. Understanding this is quite important when figuring out the number of panels to install when building a solar-powered Tesla charger.
How Much Do Solar Panels Cost?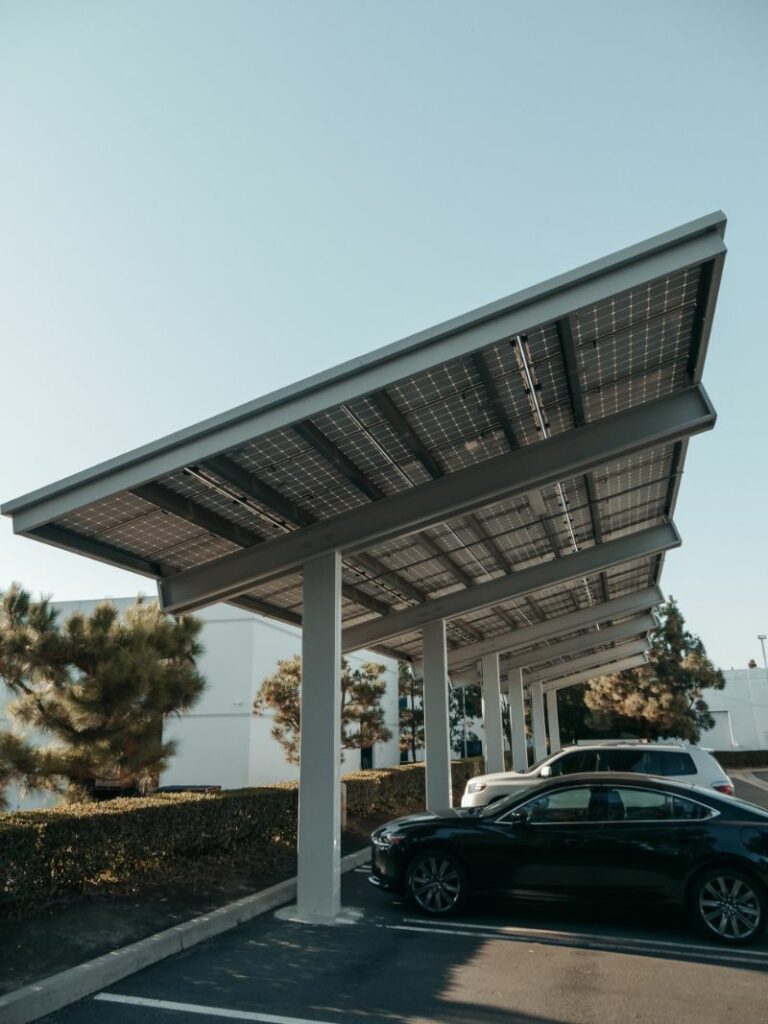 On average, solar panels in the US cost between $3,500 to $35,000. But, the amount you pay for solar panels depends on the type and model you want. It's important to note that you need a startup budget when you want to charge your Tesla car with solar panels.
Setting up a Tesla charging station requires a sizeable investment to get solar panels and other equipment. So, while solar energy helps you save in the long run, you incur a startup cost at the beginning.
Apart from buying the solar panels and other items necessary for a proper charging station, note the installation costs of solar. It can cost you up to $25,000 to install solar panels. The price experts charge will depend on your location.
But, with a solar car, your visits and expenses at the gas station are over, meaning more savings. Now, that sounds awesome.
See Related: Best EV Charging Stocks to Buy Today
Can You Charge a Tesla with Portable Solar Panels?
What about when you're on the road? Can you charge electric cars with portable solar panels?
The general rule is to have 10 solar panels set up when you want to charge a Tesla or other electric motors successfully. These can generate around 300 Watts and above to power your solar vehicle. So, it's impossible to charge your Tesla with portable solar panels.
But is it practical? Truthfully, this isn't practical considering the number of solar panels you need to add to your car. Tesla needs plenty of energy to keep functioning to get you from point A to B. Having just a few solar panels on your vehicle won't do much to fulfill its energy requirements.
Not only do you need many solar panels on your car, but there's also the issue of uninterrupted sunshine. Charging your vehicle with portable solar panels demands full sunshine from dawn to dusk. Any clouds blocking the sun means your energy production drops.
Today, portable solar panels only produce an average of 150 to 200 Watts. It takes many more portable solar panels set on the roof of your Tesla to meet your vehicle's demands.
You have to set up a conversion station in the Tesla and add an inverter. This is necessary to convert the solar power DC to the AC that Tesla and other electric vehicles need.
Still, having some portable solar panels isn't the worst idea. Imagine you're far away and are yet to reach any charging station. The energy you get from portable panels might not fully charge the huge Tesla battery pack, but it can save you from an emergency.
See related: Tesla Lease vs Buy: What's the Best Option?
What Happens if Your Tesla Runs Out of Charge?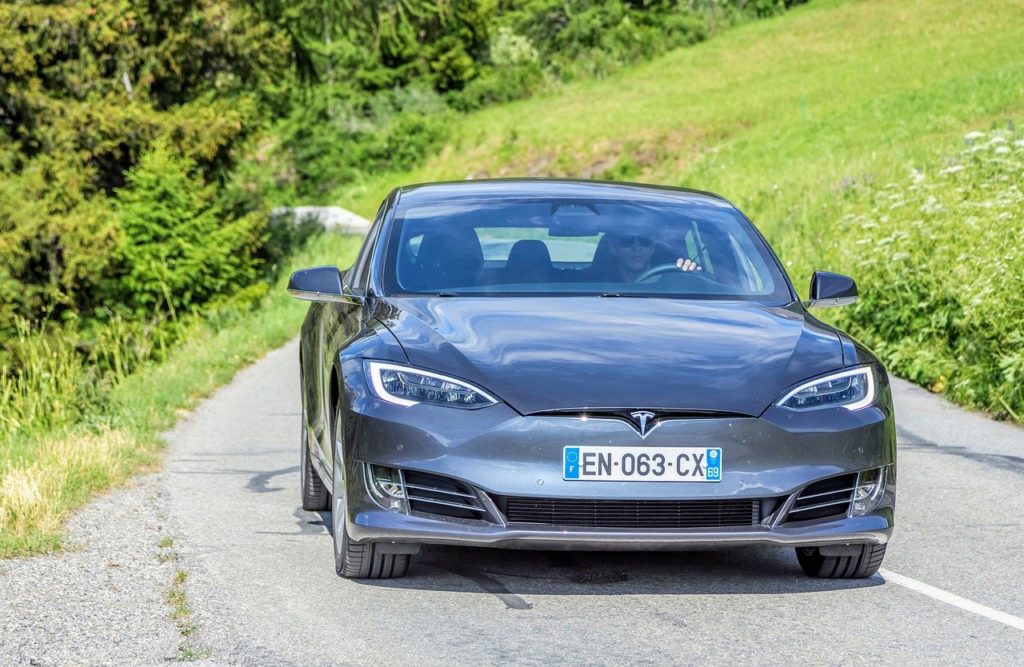 After leaving home with a full charge, it's not uncommon for your Tesla to run out. When this happens, the car will let you know the battery life is almost out. Check for a battery warning 'Battery power is very low, Heating and AC reduced.'
This means you can't access your Tesla's ample or normal heating or cooling. At this point, the best thing to do is to head to the charging station to top up your solar vehicle. If you continue driving after the warning comes on, you'll see 'Car shutting down, pull over safely.'
Wait for a car alarm that lets you know battery life is down. This is why it's crucial always to note the battery level and head to a charging station when it's low.
It's important not to let your Tesla battery run out of charge. Always ensure you have at least 80% charge capacity to maintain proper battery life.
Consider having a portable solar panel set up on your Tesla. These come in handy during emergencies. As mentioned earlier, a movable solar panel won't fully charge your Tesla. But, it can save you from such emergencies in the middle of nowhere.
Having an EV running out of battery energy is a no-no. While some solar-powered cars allow towing, a flatbed is the only way to move a Tesla out of charge. This means you can only move it with all 4 wheels off the ground.
Usually, this requires calling a flatbed company that will charge you to transport the vehicle to the charging station. Towing a Tesla can lead to issues like overheating and other damages since the wheels maintain ground contact for the whole duration.
Are Cars with Solar Worth It?
Absolutely yes! While solar cars cost quite a fortune, especially Tesla, their objective and the effect they can have on the world is immense. Also, they reduce your trips to the gas station, which is a relief to your pocket.
Generally, solar cars are the way to go. And while Tesla has not won the World Solar Challenge yet, the company is certainly a leader in this industry.
Related Resources