In the world of personal finance, finding the right financial solutions can make all the difference. Chime, a financial technology company, has become popular as an alternative to traditional banks. They specialize in providing seamless online banking services, catering to the evolving demands of today's digital-savvy customers.
Chime partners with two established banks to offer checking and savings accounts with no hidden fees, making it an attractive option for those who value simplicity and transparency. Their user-friendly platform has garnered positive reviews, but it's essential to understand the pros and cons when deciding if Chime is the right fit for your financial needs.
This review will dive into Chime's offerings, evaluating the features and benefits that set them apart, as well as potential drawbacks.
We'll examine how Chime compares to traditional banking institutions and whether this financial technology company lives up to its promise of revolutionizing how we bank.
What is Chime?

Chime represents a new breed of financial institutions: an online-only fintech aiming to disrupt traditional banking.
Launched in 2013, it provides customers with fee-free checking and high-yield savings accounts designed to serve everyday people in a better, more modern way.
Neither a bank itself nor holding its own banking license, Chime collaborates with partner banks, namely Stride Bank, N.A., and The Bancorp Bank. These FDIC-insured institutions enable Chime to offer app-based services, ensuring secure customer deposits.
Compared to traditional banks, Chime focuses on technology, offering user-friendly mobile and web platforms. This allows them to streamline their services and reduce overheads, passing the savings onto customers through lower fees. Chime's core offerings include a fee-free checking account, a "spending account," and a high-yield savings account.
It's essential to recognize that Chime is a fintech rather than a standalone bank. While this distinction might concern some users, it opens the door to innovative financial services, catering to a new generation of customers accustomed to digital-first solutions.
By partnering with established banks, Chime maintains a solid foundation in traditional banking practices while striving for continuous innovation.
Banking Services Offered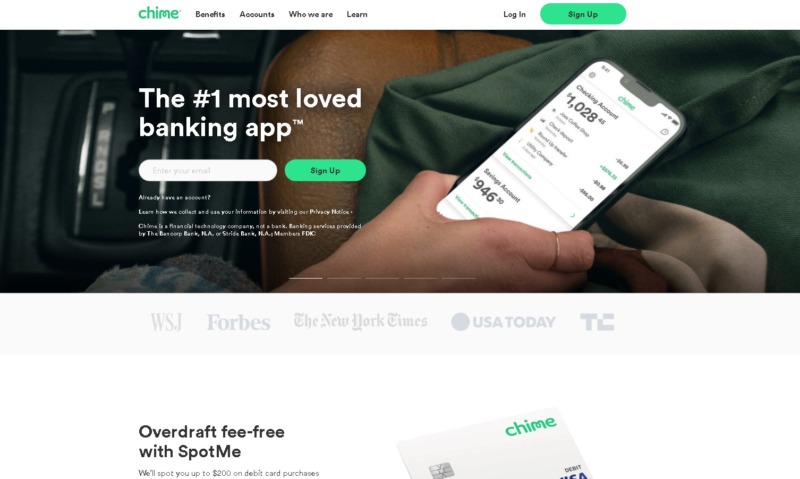 Chime is an online financial technology company partnering with Bancorp Bank, N.A. and Stride Bank, N.A., which provide a range of banking services. These services include the Chime Checking Account and Chime Savings Account. Chime offers a convenient and seamless online banking experience through the Chime app.
A significant advantage of Chime's banking services is the Visa debit card, which has various unique features. Among those features is SpotMe®, which enables eligible Chime account holders to overdraft without accumulating fees. The Chime Card also allows users to access their funds with no hidden fees, making it a popular choice among those seeking an affordable option.
Chime's checking accounts are user-friendly and seamlessly integrated with numerous online platforms. Customers can manage their accounts, including bill payments, deposits, and transactions, through the Chime app. Chime also offers early direct deposit, allowing customers to receive their paycheck up to two days before the standard processing time.
The Chime Savings Account sets itself apart by offering a competitive APY (Annual Percentage Yield). This attractive offering encourages customers to save money and grow their wealth over time. Additionally, the savings account features automatic savings options, enabling customers to round up their transactions to the nearest dollar and transfer the difference into their savings account.
For those interested in joint accounts, Chime offers the option to share an account with a partner or family member. This joint account feature allows both parties to maintain their individual Chime accounts while enjoying the benefits of shared expenses and financial management.
In summary, Chime's comprehensive suite of banking services, such as checking and savings accounts, the Visa debit card, and the option for joint accounts, make it an appealing choice for customers seeking a modern, accessible, and affordable approach to online banking.
See Related: Varo vs Chime: What is Better?
Account Features
SpotMe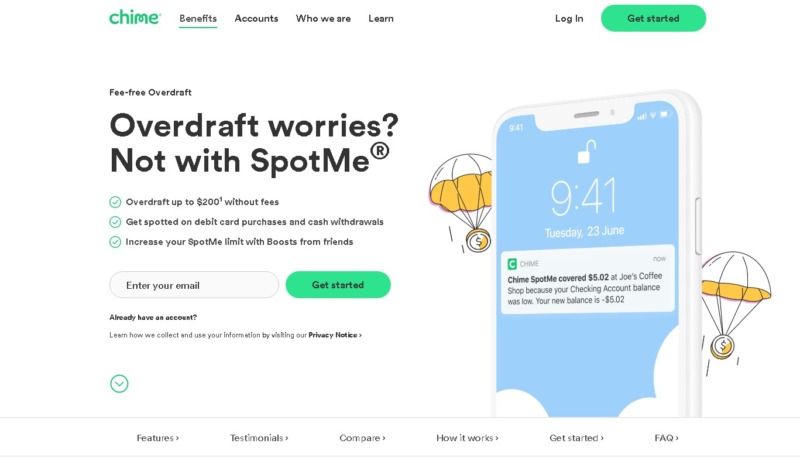 SpotMe is a feature that allows Chime users to make debit card purchases even when their balance is low, effectively covering a temporary overdraft. This allows users to make transactions without fear of overdraft fees. Chime will notify the user and automatically cover the transaction, giving them the time to repay the amount.
Save When I Get Paid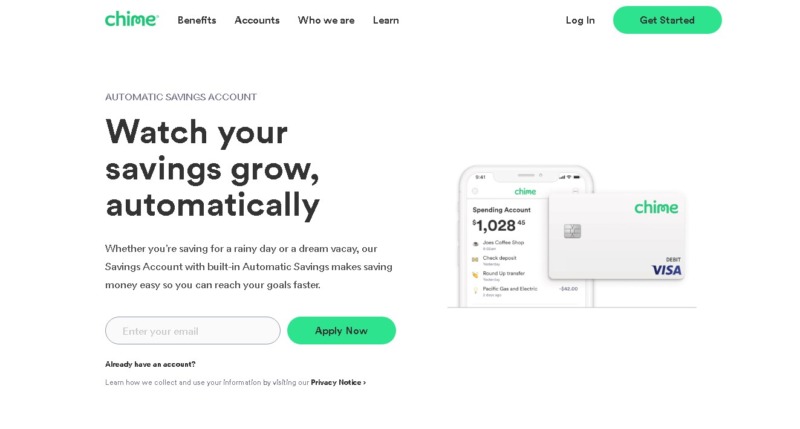 Chime's "Save When I Get Paid" feature is an automated savings tool that helps users save money by enabling them to automatically transfer a percentage of their direct deposit paychecks into their Chime Savings Account. This option allows users to grow their savings consistently and effortlessly.
Round Ups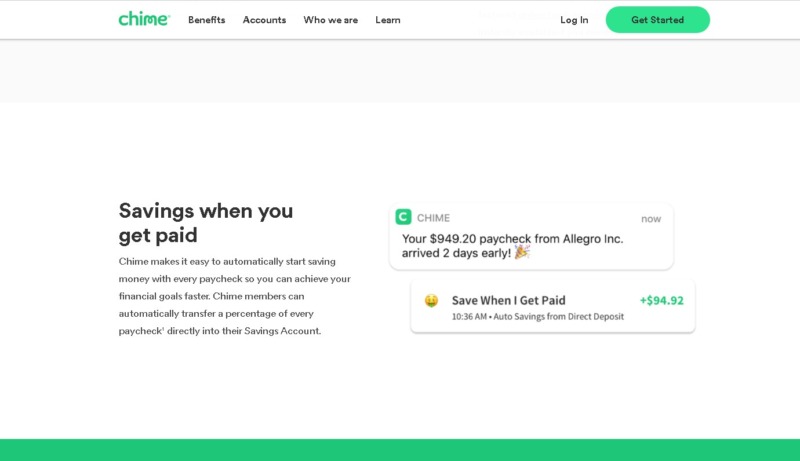 Chime's Round Up feature helps with savings by rounding up debit card transactions to the nearest dollar and transferring the change to the user's Chime Savings Account. This encourages users to save each time they spend and contributes to long-term financial goals.
Chime Checkbook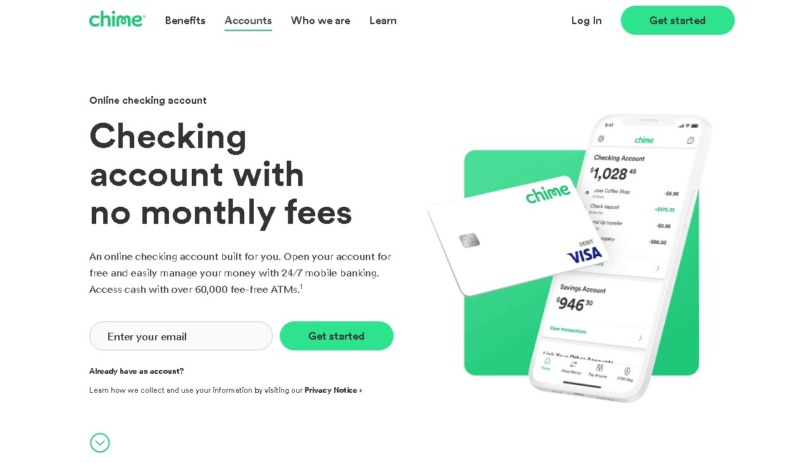 The Chime Checkbook allows account holders to pay bills through the Chime Mobile App (available on Android and iOS). Users can send checks to any payee, eliminating the need for physical checks. This digital checkbook can be accessed from anywhere and makes it easy to manage payments.
Chime Credit Builder
The Chime Credit Builder is designed to help users build their credit scores without a traditional credit check. By opening a Chime Credit Builder account and connecting it to their Chime Spending Account, users can purchase a secured credit card without a security deposit. Chime reports these transactions to the credit bureaus (Experian, Equifax, and TransUnion), which can help improve the user's credit score over time.
Direct Deposit
Chime allows users to set up direct deposits for their paychecks, providing them early access to their funds. Users can receive their pay up to two days early, offering more flexibility in managing their finances.
No Minimum Balance or Monthly Fee
Chime has no minimum balance requirements or monthly maintenance fees, making it a great option for users looking for a low-cost financial institution without balance restrictions.
Visa Plus Alliance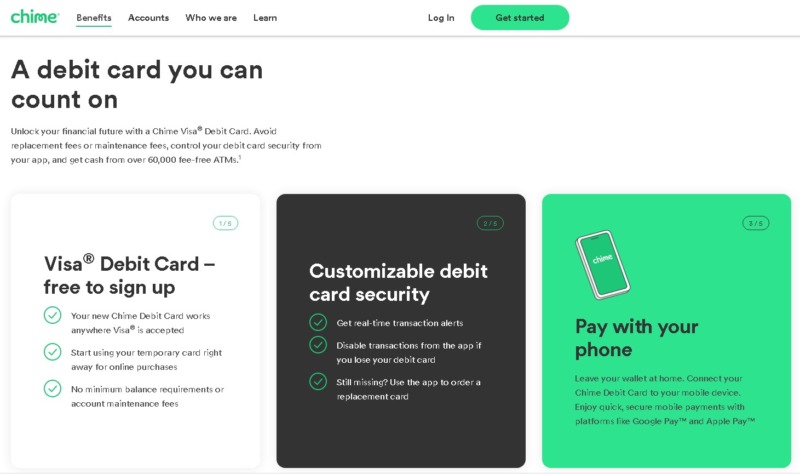 Chime cardholders benefit from the Visa Plus Alliance, which grants access to over 60,000 fee-free ATMs in the MoneyPass and Allpoint networks. This vast network minimizes the need for a physical branch and saves users from ATM withdrawal fees.
FDIC Insured
Chime partners with two banks, The Bancorp Bank and Stride Bank, which means Chime accounts are FDIC insured up to $250,000. Users can trust their funds are secure under the Federal Deposit Insurance Corporation's coverage.
ATM and Banking Network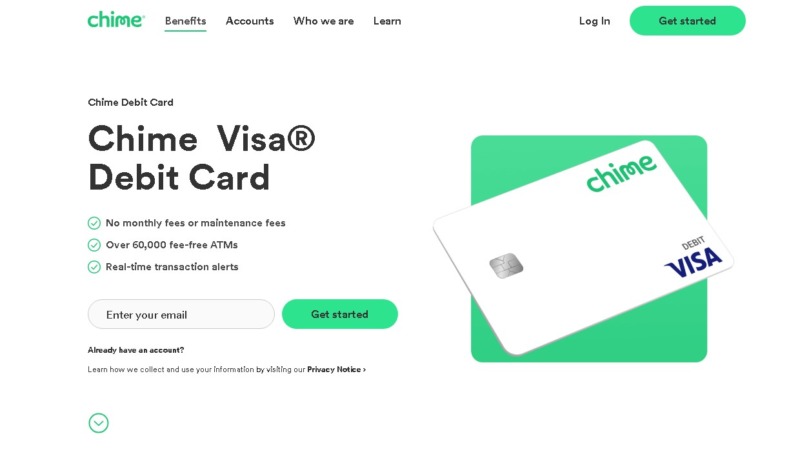 Chime's extensive ATM network makes it easy for users to access their money without incurring fees. Additionally, Chime offers a mobile app that functions as a complete banking platform, offering services such as mobile check deposits and cash deposits at select locations.
Financial Transfers and Transactions
Chime allows users to make ACH transfers and pay bills directly from their accounts without additional fees. Moreover, Chime does not charge foreign transaction fees, making international transactions more affordable.
Fees and Rates
One of the major benefits of using Chime is its low fees and competitive rates. Chime has no maintenance or transaction fees and offers a solid annual percentage yield (APY) on its savings account.
Mobile Check Deposit and Cash Deposit
Chime's mobile check deposit and cash deposit features allow users to access their accounts and make deposits using their Chime Visa Debit Card. This eliminates the need for a physical bank branch, offering convenience to users.
Experian, Equifax, and TransUnion Involvement
Chime reports users' Credit Builder account activity to the three major credit bureaus – Experian, Equifax, and TransUnion. This helps users improve their credit scores by demonstrating responsible financial behavior.
See Related: Best Online Banks Like Chime: Top Alternatives to Consider
Chime Mobile App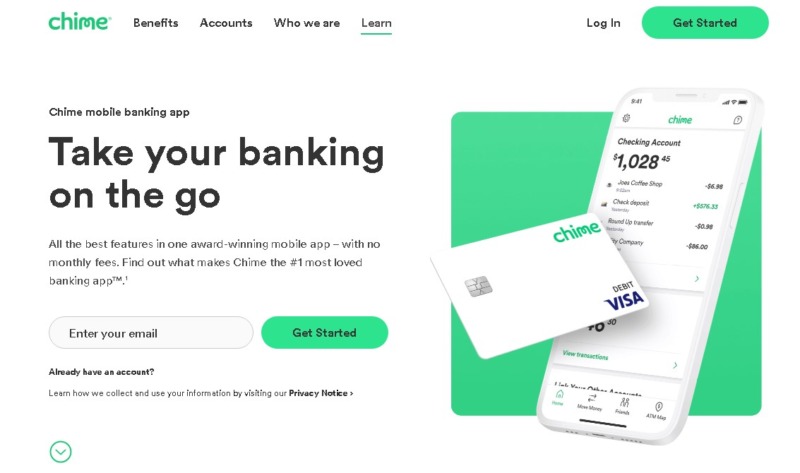 Chime offers a highly functional mobile app, available for both Android and iOS devices. The app provides users with seamless access to their checking and savings accounts, allowing them to manage their finances efficiently and without any hassle. With an intuitive user interface and a variety of helpful features, the Chime mobile app stands out as a top contender in the digital banking space.
One significant advantage of the Chime mobile app is the ability to access accounts without any fees, enabling users to save money while managing their finances. This is a welcome departure from traditional banking, which often comes with a variety of fees for basic services.
The Chime mobile app also focuses on providing a high level of convenience. Users can quickly check their account balances, view transaction histories, and transfer money between accounts with ease. Furthermore, Chime's mobile app offers a well-designed budgeting tool that allows users to set spending limits and track their expenses against these limits more effectively than usual.
In addition to the features mentioned above, the Chime mobile app offers other valuable tools and options that cater to the diverse financial needs of its users:
Mobile check deposit: Swiftly take a snapshot of a properly endorsed check and deposit it directly into a Chime account
Person-to-person transfers: Instantly send money to friends and family members who also have Chime accounts
Chime SpotMe: Overdraft protection, which lets qualified users make debit card purchases even with insufficient funds, without incurring any overdraft fees
Given the array of useful features and a user-friendly interface, the Chime mobile app is an excellent example of digital banking. Catering to Android and iOS users, Chime offers a flexible and convenient way for individuals to manage their finances without the typical hassles associated with traditional banks.
Customer Service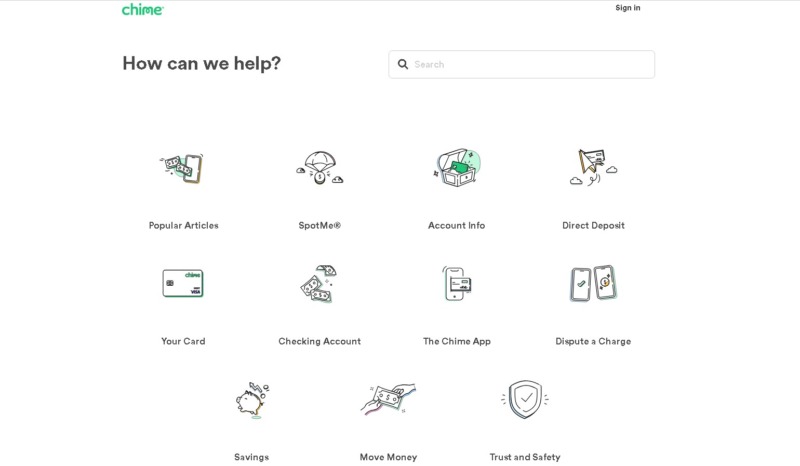 Chime takes pride in offering member-first features to help users manage their money seamlessly. However, customer service reviews have painted a different picture. Based on the search results, Chime has mixed reviews on trusted platforms like Trustpilot and ConsumerAffairs. Many customers have reported issues, some even receiving a poor rating of 2.7.
One of the issues clients report revolves around the quality of the customer support team. Some users experienced being hung up on despite not engaging in offensive behavior. This can negatively impact the user experience and deter potential clients from signing up for Chime's services.
To contact Chime customer support, there are various options available, including in-app chat and phone calls. The Chime app offers a chat function, allowing users to access assistance conveniently. This 24/7 support gives users the peace of mind that help is readily available in case of any issues.
Chime should consistently improve its customer support, as the mixed reviews may deter potential clients and hamper trust. Providing top-notch customer service is integral to fostering loyalty, trust, and user satisfaction. Addressing client concerns and complaints with professionalism and empathy not only reflects the brand's values but also helps in building credibility and retaining clients.
Security Features
Chime ensures the safety and security of its users' financial information through multiple layers of protection. To start, the platform maintains robust encryption standards to safeguard sensitive data, whether it's in transit or stored on Chimes's secure servers.
Furthermore, Chime employs two-factor authentication (2FA) for safeguarding account access. Users must verify their identity by entering a unique code sent via text message or email in addition to their usual login credentials. This added layer of security helps keep unauthorized individuals from accessing user accounts.
Additionally, Chime takes proactive measures to keep user funds safe by offering a security deposit feature. This optional feature allows users to set aside funds in a separate, dedicated account for added security. By doing so, users can maintain a buffer to cover unexpected expenses or emergencies without dipping into their primary checking or savings accounts.
Lastly, Chime also offers real-time transaction alerts to help users stay informed about their account activities. Users receive instant notifications about account deposits, withdrawals, and suspicious transactions. Users can quickly spot unauthorized activities through these alerts and take appropriate action to resolve the issue.
In conclusion, Chime's multiple layers of security features provide users with the confidence and peace of mind they need to effectively manage their finances. The platform's dedication to keeping customer data secure demonstrates its commitment to providing a safe and reliable financial experience for all users.
Banking Comparison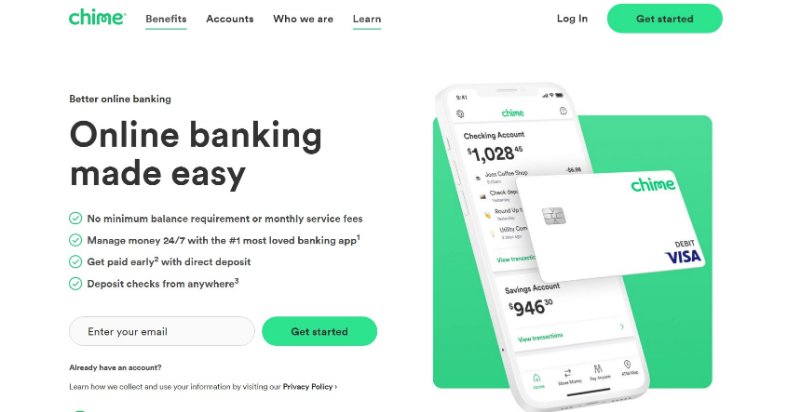 When comparing Chime to traditional banks, several factors come into play. Chime, being a neobank, operates entirely online which means it does not have any physical branches.
This might come as a disadvantage for those who prefer the in-person services offered by brick-and-mortar banks. However, Chime's online nature allows it to reduce overheads and pass those savings onto its customers through low fees and competitive interest rates.
Traditional banks offer a wide range of financial products, such as mortgages, credit cards, and loans, which Chime currently does not provide. However, Chime focuses on its core checking and savings accounts, catering to customers who desire a simple, straightforward banking experience. Chime also offers access to a network of more than 60,000 fee-free ATMs, providing convenience and easy access for cash withdrawals.
On the other hand, brick-and-mortar banks also have advantages. For instance, they often boast long-established reputations and better access to customer service through their physical branches. In contrast, Chime offers 24/7 customer support via phone or live chat, which might not be everyone's preferred assistance method.
In terms of financial technology, Chime stands out with its mobile app which boasts a 4.5-star rating on Google Play and 4.8 stars on the Apple App Store. The app provides users various features, including instant transaction notifications and automatic savings options. Traditional banks, although catching up, generally do not have as cutting-edge and seamless mobile banking experiences.
Ultimately, choosing Chime and a traditional bank depends on an individual's preferences and needs. Those who prioritize digital banking experiences, fee-free ATMs, and low fees may lean towards Chime, while those who value a comprehensive product offering and the stability of a well-established banking institution might prefer a brick-and-mortar bank.
See Related: Aspiration Bank vs Chime: Which is Best?
Insights for Prospective Customers
When considering Chime as a potential banking option, it focuses primarily on its personal banking products and services. As a prospective customer, it's essential to note that Chime offers competitive saving Account APYs and has a solid reputation for customer loyalty, boasting a Net Promoter Score of 80 in the "opening an account" episode.
For those seeking a low-fee account, Chime's Checking Account features no monthly service fees, foreign transaction fees, or overdraft fees, making it an attractive option for individuals who prefer easy access to their funds. Additionally, Chime is known for its convenient mobile-only, no-fee model that emphasizes member experience.
Chime's Savings Account sports a 0.5% variable interest rate, allowing customers to grow their savings while keeping their funds liquid. The absence of minimum deposit requirements and physical branches allows Chime to focus on its digital-first approach, paving the way for innovative features like SpotMe overdraft protection, which provides a safety net of $20 to $200 with no extra fees.
A Visa debit card complements Chime's banking services, enabling customers to make cash deposits and withdrawals at over 60,000 fee-free ATMs. Unfortunately, Chime does not currently offer money market accounts or loan options, which might limit some customers searching for a more expansive set of financial products.
In conclusion, Chime leads the pack in the online banking industry with competitive rates, low fees, and user-friendly mobile experiences. It caters to customers who value convenience and savings account growth. However, those who seek loans or require the services of a physical branch may need to explore other options.
Footnotes
"How Chime Is Leading the Way in Customer Loyalty"
"Chime Review 2023 – Business Insider"
"Latest 515 Chime Reviews (2023) | ConsumerAffairs®"
"Chime Review 2023 – Forbes Advisor"
"Audience How Chime uses a research-first approach to grow their business."
"Chime Review 2023 – Forbes Advisor"
Pros and Cons of Chime
Chime excels in providing user-friendly banking services with several noteworthy advantages. To begin with, this fintech company charges no minimum balance fees, monthly fees, or foreign transaction fees, allowing clients to manage their finances without incurring unforeseen costs.
Furthermore, Chime offers access to an impressive network of over 38,000 fee-free ATMs through its partnerships with Visa Plus Alliance and MoneyPass. Users also benefit from the company's direct deposit feature, which enables them to receive their paycheck up to 2 days early.
Adding to Chime's merits are its competitive savings APY and automated saving tools, which empower individuals to develop healthier financial habits. With more than 60,000 ATMs available, clients have ample opportunities to access their funds conveniently. Moreover, Chime's credit builder program helps customers establish their credit history without undergoing the usual troubles associated with traditional credit establishments.
However, no financial institution is without its drawbacks. Despite its growing customer base of over 12 million users, some might argue that Chime lacks the range of products and services offered by traditional banks. Additionally, Chime is not a bank in the traditional sense despite its partnership with bank providers; therefore, it might not cater to everyone's banking needs.
In conclusion, Chime is a modern, user-friendly alternative in the financial industry, ideal for those who prefer minimalist banking without unnecessary fees. Nevertheless, clients seeking a more comprehensive suite of banking services should carefully consider these limitations before committing to Chime as their primary fintech solution.
See Related: Aspiration Review: Is It Sustainable & Legit?
Frequently Asked Questions
Is Chime a good bank for students?
Chime can be a suitable option for students, as it offers online-only financial services through partner banks. Its app-based banking system provides features to help students manage their finances more efficiently.
They can leverage automated savings tools and early access to direct deposits, benefiting those on a tight budget. However, it's essential for students to compare Chime with other banking options to ensure they choose the one that best suits their needs.
Are there any fees associated with Chime?
Chime prides itself on its fee-free structure, which means no monthly fees, overdraft fees, or foreign transaction fees. They also offer access to over 60,000 ATMs without charging additional fees. This fee-less approach makes Chime a cost-effective choice for those seeking a budget-friendly banking option.
Is Chime a trustworthy banking option?
While Chime is not a bank, it is a financial technology company that partners with other reputable financial institutions. The banking services provided by Chime are insured by the FDIC, which means your deposited funds are protected up to the maximum amount allowed by law. As an established fintech firm, Chime has gained the trust of many users since its inception in 2013.
Does Chime impact your credit score?
Chime offers a feature called Chime Credit Builder, designed to help users build or improve their credit scores. By using Chime's Visa credit card for everyday expenses and making on-time payments, customers can demonstrate responsible credit behavior and potentially improve their scores over time. Chime reports payments to major credit bureaus, which can have a positive impact on one's credit history if managed responsibly.
How does Chime's lending feature work?
Chime's lending feature, called SpotMe, allows eligible members to overdraw their checking accounts without incurring any fees. The overdraft limits can range from $20 to $200, depending on the user's account history and direct deposit frequency.
When the member receives their next direct deposit, Chime automatically deducts the overdrawn amount to clear the negative balance. It's a convenient feature for those who need short-term financial assistance without the added burden of fees or penalties.
Related Resources
Kyle Kroeger, esteemed Purdue University alum and accomplished finance professional, brings a decade of invaluable experience from diverse finance roles in both small and large firms. An astute investor himself, Kyle adeptly navigates the spheres of corporate and client-side finance, always guiding with a principal investor's sharp acumen.
Hailing from a lineage of industrious Midwestern entrepreneurs and creatives, his business instincts are deeply ingrained. This background fuels his entrepreneurial spirit and underpins his commitment to responsible investment. As the Founder and Owner of The Impact Investor, Kyle fervently advocates for increased awareness of ethically invested funds, empowering individuals to make judicious investment decisions.
Striving to marry financial prudence with positive societal impact, Kyle imparts practical strategies for saving and investing, underlined by a robust ethos of conscientious capitalism. His ambition transcends personal gain, aiming instead to spark transformative global change through the power of responsible investment.
When not immersed in the world of finance, he's continually captivated by the cultural richness of new cities, relishing the opportunity to learn from diverse societies. This passion for travel is eloquently documented on his site, ViaTravelers.com, where you can delve into his unique experiences via his author profile.