Over the past few decades, global interest in fighting climate change has surged. As the effects of global warming grow more apparent than ever before, local communities around the world are uniting in an effort to create a more sustainable future.
There are now plenty of exceptional climate change charities tackling the climate crisis in their own unique ways. That's why it can be tricky to know where to start when it comes to giving green donations to charities that align with your values.
Join us as we break down a list of organizations that are dedicated to everything from environmental justice to clean energy solutions. From up-and-coming groups of climate activists who could really use the support to large global organizations with established track records, here are some of the best charities to support in their efforts to fight climate change.
Unlock Sustainable Investing Opportunities 🌿
Join the green revolution by investing sustainably with our top partners. Discover platforms that align with your values and offer remarkable opportunities for growth.
Best Climate Change Charities
1. Clean Air Task Force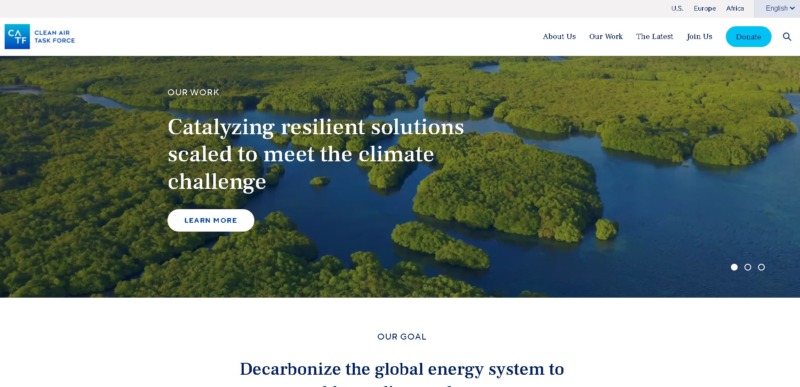 The Clean Air Task Force or CATF is a fact-based organization that has been on a mission to reduce greenhouse gas emissions since its founding in 1996. In its earliest days, the Clean Air Task Force utilized climate politics at the state and federal levels to force older coal plants to significantly limit their emissions.
Through policy advocacy, the organization was able to achieve impressive success in reducing pollution levels from coal-fired power plants, oil and gas producers, and even vehicles. These days, the Clean Air Task Force has widened its scope to a global level.
The group is now on a mission to reduce global greenhouse gas emissions to a net-zero level by the year 2050. While the goal is a noble one, CATF will need plenty of help to achieve it so be sure to explore the different ways you can offer your support.
2. Good Energy Collective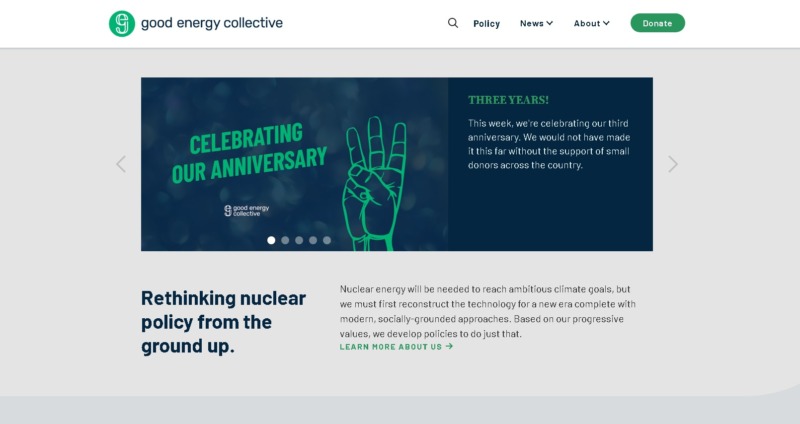 Okay, so traditional nuclear power may not necessarily be the solution to addressing climate change. That's why Good Energy Collective focuses on climate solutions geared toward advanced nuclear power.
The nonprofit was designed to support research and policy advocacy surrounding energy innovation in advanced nuclear technology. While wind and solar power have both proven great ways to reduce air pollution, neither may be up to the task of tackling global emissions alone.
By reshaping nuclear power from the ground up, Good Energy Collective hopes to achieve solutions that offer clean energy technologies to communities everywhere. Check out how you can get involved with Good Energy or support their mission.
See Related: Net Zero: Achieving Global Climate Goals Efficiently and Effectively
3. Rainforest Foundation US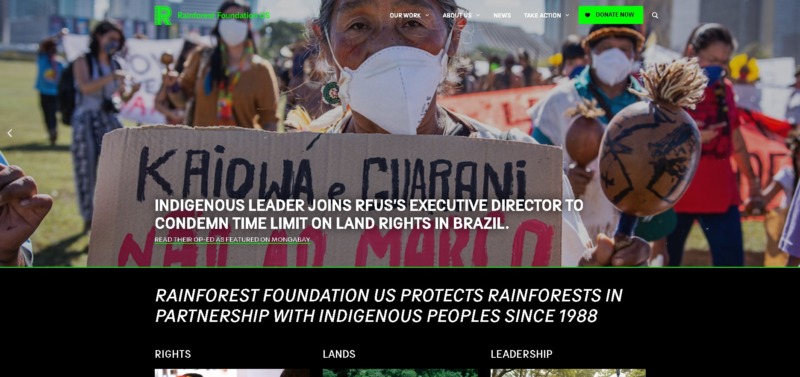 Want to donate to a non-profit that's equally dedicated to protecting nature and human rights? Look no further than the Rainforest Foundation US, a nonprofit that's been partnering with Indigenous peoples since 1988.
The Rainforest Foundation works in Peru, Brazil, Guyana, and Panama to champion four key priorities. These include not only fighting for healthy rainforests and the rights of Indigenous peoples, but also sustainable development and climate action.
The nonprofit approaches its mission through tactics ranging from legal action and political advocacy to territorial monitoring through partnership with Indigenous organizations. Explore the many ways that you can take action, whether it be through making a donation or going over the Kid's Corner resources with your children.
See Related: Best Climate Change Mutual Funds
4. Amazon Frontlines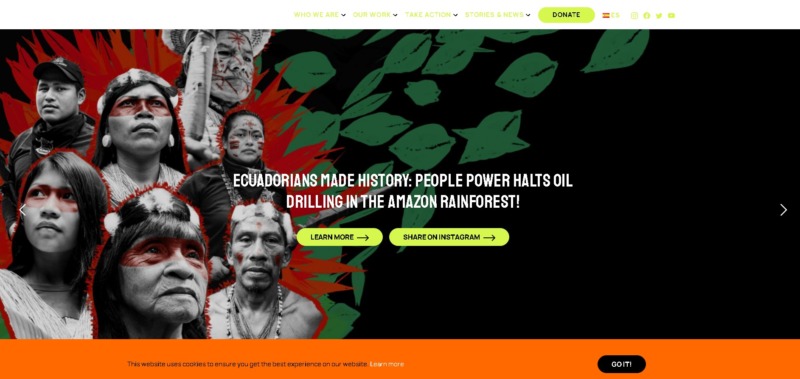 Amazon Frontlines is another great organization that shares a similar mission as the Rainforest Foundation. The team is made up of a unique international collection of specialists from a variety of different backgrounds.
Here you'll find environmental health scientists, activists, human rights lawyers, and forestry specialists working side by side with journalists, farmers, filmmakers, and anthropologists. But each member of the diverse crew shares the same mission: supporting the land, life, and cultural rights of the indigenous peoples of the Amazon Rainforest.
Through clean water and solar initiatives, the team partners with Indigenous forest communities to protect the natural systems that have been put at risk by Ecuador's largest oil fields. Learn more about the mission of Amazon Frontlines and find out how you can offer your support.
See Related: Best Globalization Jobs & Careers
5. WECAN International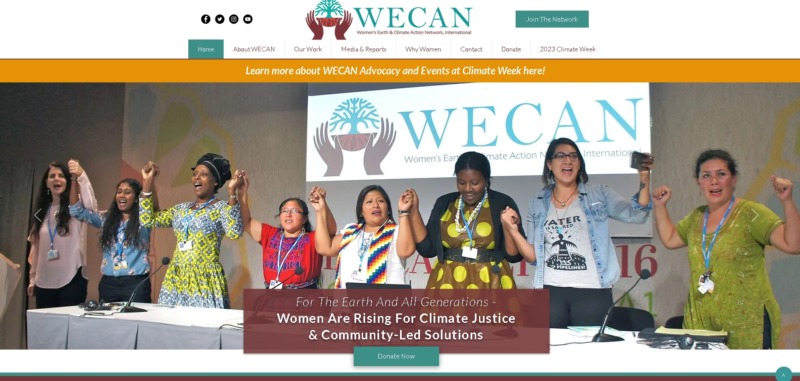 Did you know that scientific research has revealed that women are more vulnerable to the impacts of global warming than men? This is particularly true for women of color, Indigenous women, and those from Global South countries.
That's why the Women's Earth and Climate Action Network (WECAN) International decided to create a global alliance of women who work together to address climate change. With a targeted focus on training and on-the-ground projects, the movement seeks to provide women everywhere with the tools they need to make a lasting environmental impact.
WECAN offers several diverse programs that focus on everything from environmental protection initiatives to advocacy, forums, and events. Find out more about how you can make a tax-deductible donation or sign up to become the organization's newest member.
6. Carbon180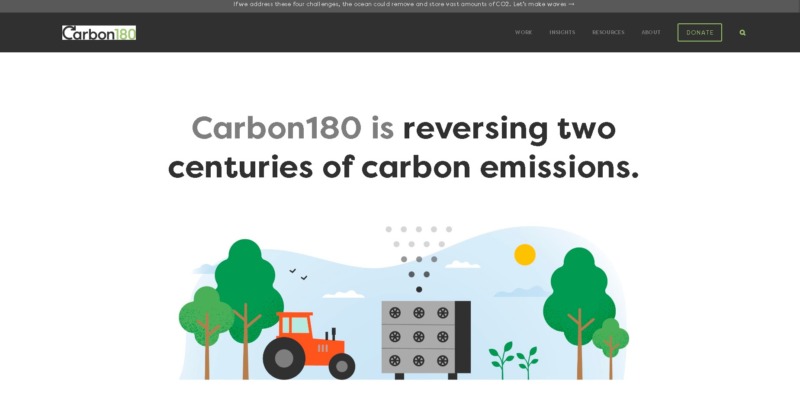 Carbon180 is a unique NGO that's not only dedicated to reducing carbon emissions in the future but also reversing the effects of those left over from the past. The group uses science-based resources to develop and champion legacy carbon removal solutions.
The organization has created strong relationships that allow them to make new connections between scientists, policymakers, and environmental justice groups. From supporting carbon capture start-ups to conducting the research needed to achieve a carbon-neutral future, Carbon180 has become a respected leader in the quest to offset the effects of carbon dioxide.
If you're interested in learning more about carbon offsets or carbon removal technology, be sure to check out the organization's resources. You can also help support research by making a tax-deductible donation.
See Related: Best Carbon Tracking Apps to Monitor Your Footprint
7. TerraPraxis
While we all know that reducing carbon emissions is an essential part of fighting climate change, making the switch to renewable energy is not yet a realistic option for many people. At the same time, a billion people still experience energy poverty and remain without access to electricity systems.
TerraPraxis is dedicated to bridging the gap by repurposing existing infrastructure to create renewable energy solutions. TerraPraxis missions include plans to develop clean synthetic fuels, decarbonize electricity systems, and replace coal fleets with emission-free heat technology – all by 2050.
With a vast network of contacts and an innovative approach to developing carbon offsets, TerraPraxis is on a mission to make clean energy a viable solution for people around the world. Donate to TerraPraxis to support their mission of tackling environmental challenges through energy innovation!
8. Climate Emergency Fund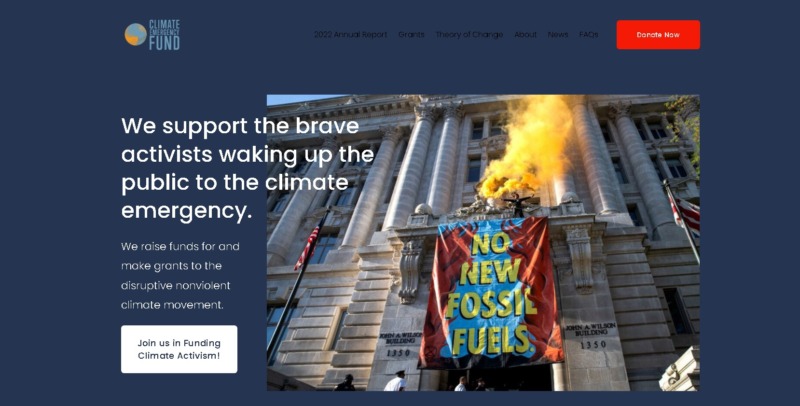 While some climate nonprofits operate behind the scenes, the Climate Emergency Fund was developed to help activists who prefer a more public approach. Established in 2019, the organization funds groups that use non-violent yet disruptive forms of protest to increase awareness of the climate crisis.
What type of protests are we talking about exactly? Think hunger strikes in support of the Inflation Reduction Act or scientists chaining themselves to the fence of the White House to protest fossil fuels.
While there's certainly plenty of room for climate policy change, never underestimate the power of public activism and protests! Making a donation to the Climate Emergency Fund is a great way to support grassroots activist groups that are making big impacts all over the world.
9. Good Food Institute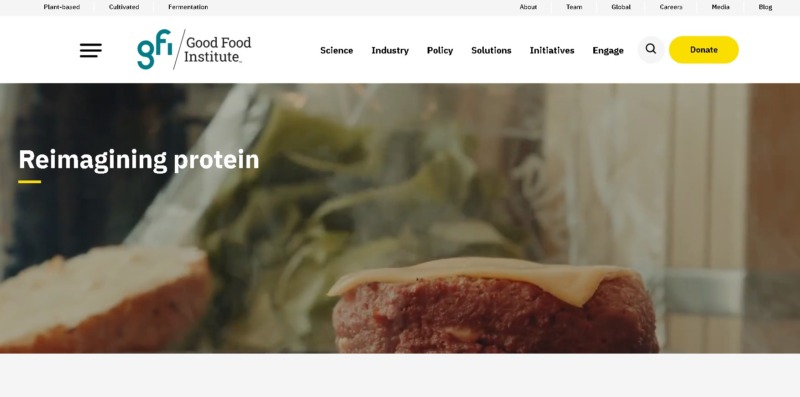 The Good Food Institute (GFI) takes a unique approach to climate change by making alternative protein more accessible. The idea is that by making plant and cell-based meat more available, we'll ultimately be able to mitigate climate change by feeding more people with fewer resources.
While the organization isn't necessarily out to ban traditional meat once and for all, they do raise some valid points about the environmental perks of plant-based protein. Not only does it help reduce livestock consumption and agricultural emissions, but it can also help preserve ecosystems and even reduce deforestation.
Whether you happen to be vegan or not, it's worth checking out the group's research on how alternative protein contributes to climate philanthropy. If you find yourself interested in joining GFI's mission to transform the future of food, consider showing your support with a one-time or monthly donation.
See Related: Best Green Credit Cards to Support the Environment
10. Evergreen Collaborative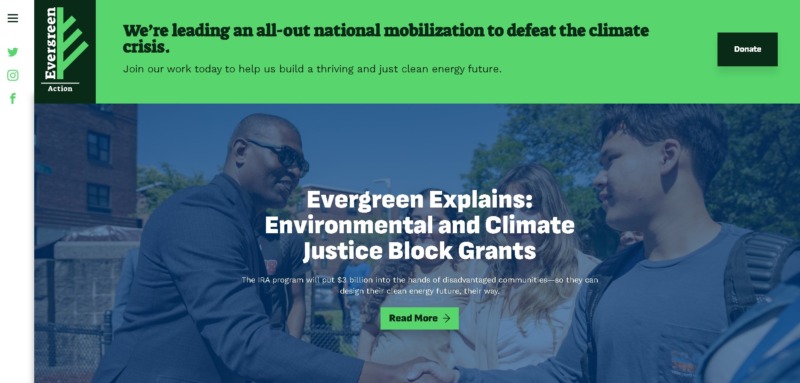 Founded in 2020, the Evergreen Collaborative is one of the younger climate organizations on our list. That said, the group of scientists, policymakers, and advocates is already off to a great start on its mission to bump climate change to the top of the U.S. government's agenda.
By pairing government advocacy and campaign tactics, the group hopes to create an all-out government effort to reduce greenhouse gases and create a more sustainable future. After successfully advocating for the Inflation Reduction Act (IRA), the group is now shifting its focus to ensuring its implementation.
With an excellent network of connections, the Evergreen Collaborative is well-positioned to join the climate fight at a government level. Check out the Evergreen Mission to find out more about what the group hopes to achieve or jump right in and make a donation today.
11. Industrious Labs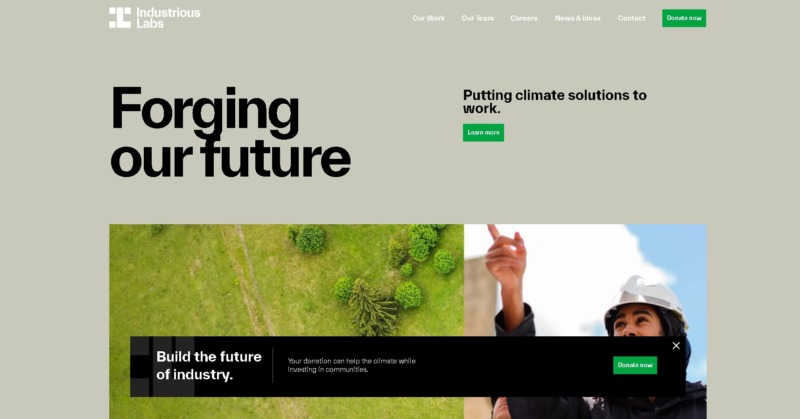 Industrious Labs is an organization that's tackling climate change by reimaging the future of the industrial sector. While industry is currently responsible for 40% of the world's greenhouse gas emissions, it's also a major source of jobs, not to mention buildings, energy, roads, and other necessities.
That's why Industrious Labs has created a team composed of leaders and policy experts from the fields of government, clean tech, labor, and the climate movement. The team members combine their powers not to demonize the industry sector but to help it move forward by prioritizing recycling, waste reduction, and sustainable building materials.
Some of their past projects have included everything from scaling up electric heat pumps and trucks to fighting for women's rights, racial justice, and more. Check out the organization's news and ideas page to learn more about their work or show your financial support with a one-time or monthly donation.
12. Earth Island Institute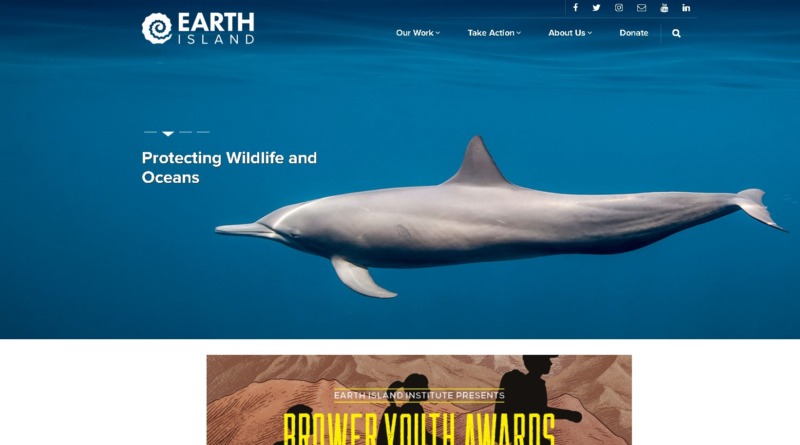 Earth Island was founded in 1982 by David Brower, who is largely considered one of the most prolific leaders the environmental movement has seen yet. Earth Island has its own highly-respected publication called the Earth Island Journal, a youth leadership team called New Leaders Initiative, and a huge project support network.
Throughout the years, Earth Island has earned a strong reputation for championing marine and wildlife protection, climate crisis solutions, environmental justice, and more. Whether you're looking for environmental volunteer and job opportunities or in search of funding for your own project, Earth Island may be able to help.
Sign up for IslandWire, the organization's free monthly newsletter to get the latest on what Earth Island is up to. If you decide to make a donation of at least $20, you'll even get a free subscription to the Earth Island Journal!
See Related: How Does Ethical Responsibility Play a Role in Environmental Sustainability?
13. Environmental Defense Fund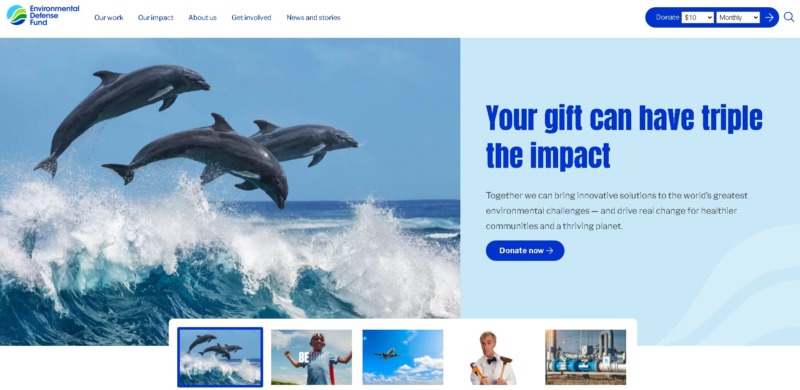 When it comes to big names in the fight against climate change, the Environmental Defense Fund is definitely near the top of the list. The global organization boasts three million members and over 50 years of environmental action projects.
From promoting clean air and energy transition to reducing carbon emissions and toxic chemicals, you name it and the Environmental Defense Fund is on top of it. Not only is the organization incredibly well-established and well-connected, but they offer broad support for many of today's most pressing climate issues.
While donations are always welcomed, the organization offers plenty of ways for anyone who's interested to get involved. Show your support by signing a petition for one of the group's current campaigns, sign up for their free newsletter, or stay on top of the latest news on the fight against climate change.
14. Natural Resources Defense Council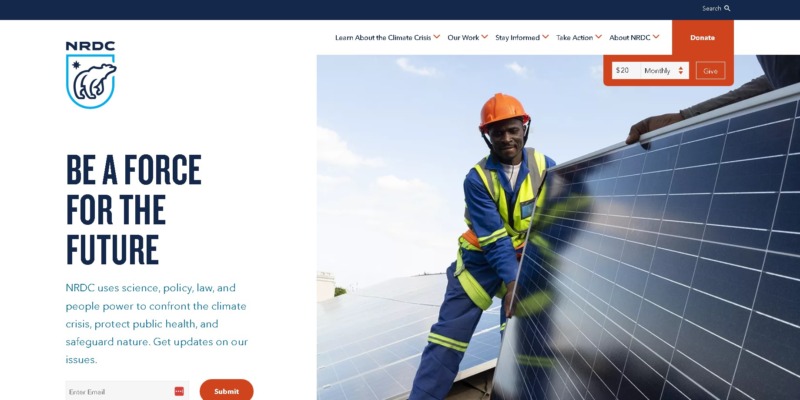 First established in 1970, the Natural Resources Defense Council (NRDC) is yet another big name on the climate change scene. The NRDC got its start as the nation's first environmental advocacy group to hone in on the power of legal action.
Since then, it's amassed an impressive resume of achievements including advocating for landmark legislation like the Clean Water Act. Now three million members strong, the NRDC has forged industry partnerships with scientists, policymakers, and experts on climate change, human health, forestry, and more.
The NRDC is also an excellent resource when it comes to staying on top of the latest environmental news and policies as well as upcoming events. You can also show your support financially by making a donation or checking out toolkits that can help you make an everyday impact.
15. Greenpeace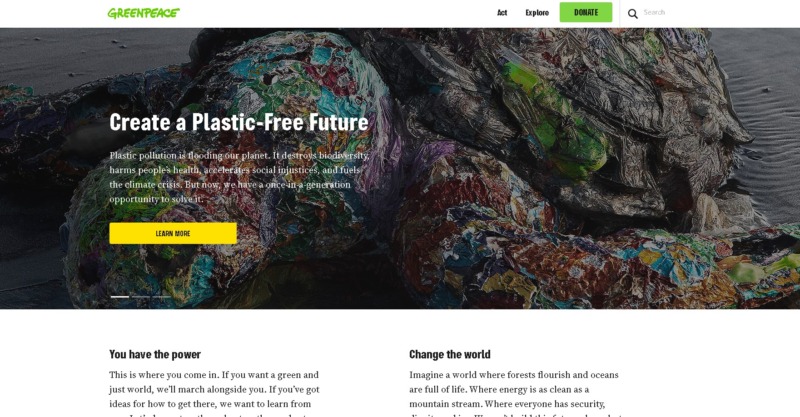 Greenpeace is yet another huge name on the environmental front, with roots that trace back to 1971. Greenpeace has been fighting everything from plastic pollution to big oil and gas for over 50 years and shows no signs of backing down anytime soon.
The group is also active on the political scene, whether they are staging protests in support of low carbon commitments or the right to protest itself. One of the great things about Greenpeace is that they always welcome new members and even provide a new volunteer orientation to get you up to speed on what they are all about.
Join a group global network of like-minded individuals on the mission to create a cool earth or make your voice heard by signing a petition. If you prefer to show your support financially, then sign up to donate to Greenpeace today.
See Related: Best Environmental Justice Jobs | Top Careers
16. Giving Green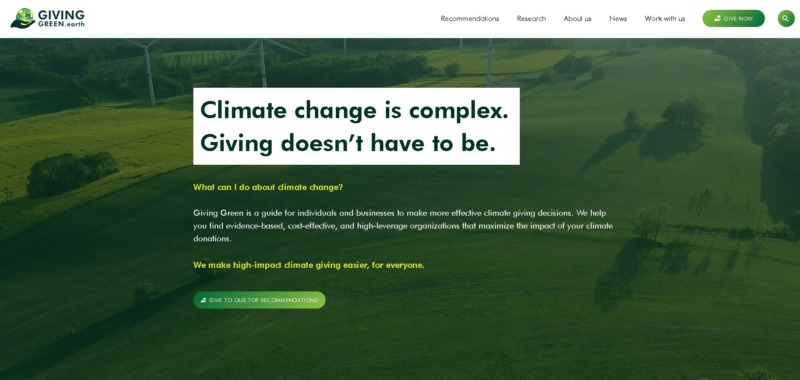 Giving Green is both an organization in itself and a great source for further research into the best companies and nonprofits striving to build a cool earth. No matter how big or small a donation you intend to make, it's important to ensure it goes toward the causes that matter to you the most.
That's where Giving Green comes into play. The Giving Green team conducts rigorous research into charities devoted to battling the climate crisis so they can provide evidence-backed advice on which are the most deserving of your donation dollars.
Giving Green not only offers sound advice on the top climate nonprofits (many of which are included on our own list) but also on donation opportunities for businesses. Head to Giving Green's donation page to make a contribution to one of their recommended nonprofits, a portfolio of climate giving opportunities, or to the research organization itself.
Related Resources