These days many companies, and businesses are now switching to green energy harnessed from the sun using solar panels. The recent rise in solar energy is to meet the need to achieve carbon neutrality.
Fortunately, you don't have to pay the high upfront costs of buying panels outright if you cannot afford them. Many commercial solar financing companies can fund your solar projects.
If you need solar farm financing, you can simply turn to your preferred financier to start using solar power. However, making the right choice may be a big deal if you have limited knowledge of the renewable energy sector.
This article focuses on the best solar financing companies to consider for financing commercial solar projects.
Best-Of by Category
How We Chose the Best Solar Financing Companies
There are many factors to consider when choosing the best commercial finance options. These include the type of commercial solar finance and the flexibility of the terms.
You don't even need to sign a contract for a commercial solar loan with a company that will make it look like the worst business decision of your life. Let's briefly discuss each factor to be on the same page when highlighting different companies.
Commercial Solar Financing Options
When looking for commercial solar panel financing, you will look at the various options available. Though many, we will again discuss the most common ones.
Cash and Solar Loans
Cash is the first and most recommended option for financing solar projects. It involves paying in cash for the solar panels and equipment needed to run a solar system. If you can afford the upfront cost, this is what you should go for. You pay for it once and that's it.
The other is commercial solar loans. This involves financing commercial solar energy systems without paying for the solar panels and equipment. You can use your property as collateral or credit to acquire solar systems.
In both cases, you or your business ends up owning everything in the solar farm and is entitled to tax incentives. When you are done paying the loan, the solar system becomes your property.
Solar Leasing
Another most common commercial solar financing option for those who want clean energy sources. It involves a solar financing company funding everything and charges fixed monthly lease payments.
The difference between commercial solar loans and leasing is that the client or customer doesn't own the solar system. The financier does. That means the tax and depreciation benefits go to the solar company or the financier.
Power Purchase Agreements (PPA)
A power purchase agreement works in the same way as a solar lease. The only difference is you pay monthly fees for the power the system produces.
That means you may have to pay higher bills in some months than others. Once again, you don't own the solar system, and tax benefits go to the third-party owner.
The advantage is that the net cost over the long term is lower than the usual utility bill, and you don't maintain the solar project. You live everything to the system owner.
Commercial Property Assessed Clean Energy (C-PACE)
Commercial property assessed clean energy is another commercial solar farm financing option for you if you want to enjoy an investment tax credit. It is currently available in some states and is accessible to people who want to make energy efficiency upgrades.
C-PACE helps property owners to harness renewable energy, conserve water, and shield against the storm. But how does it work? It is similar to solar loans. What makes it unique is solar finance is repaid through a tax assessment of the commercial property.
But the good news is that you own the solar system after you paid out the loan and enjoy tax incentives, unlike a solar lease or PPA.
Energy Service Agreement (ESA)
The energy service agreement is similar to a solar lease in many ways. Customers pay a fixed rate for the solar energy service they receive, including energy-saving services using equipment owned and operated by ESA.
This is also a type of off-balance-sheet financing that has become popular with businesses.
Terms of Commercial Solar Project Financing Options
Different solar financing companies have their terms and conditions. If you want to finance any solar projects through this method, consider the contract that will bind you together.
We checked the reliability, versatility, and flexibility of these commercial financing options.
See Related: Best Solar Asset Management Software
Solar Financing Options Comparison Chart
| | Solar Lease | Solar PPA | Solar Loan |
| --- | --- | --- | --- |
| Benefits | Zero upfront costs | Zero upfront costs | |
| System owner? | No | No | Yes |
| Receive tax credits/SRECs | No | No | Yes |
| Uses net metering | Yes | Yes | Yes |
| Responsible for maintenance | Solar Company | Solar Company | Homeowner |
| Monthly Payment | Fixed with an annual price escalator | Varies depending on solar energy production | Fixed |
List of the Best Commercial Solar Financing Companies
No upfront costs for solar projects? No worries! You can still access solar energy with no initial capital through the solar finance options mentioned.
If you are ready to start your commercial solar projects, consider the following companies:
1. SunPower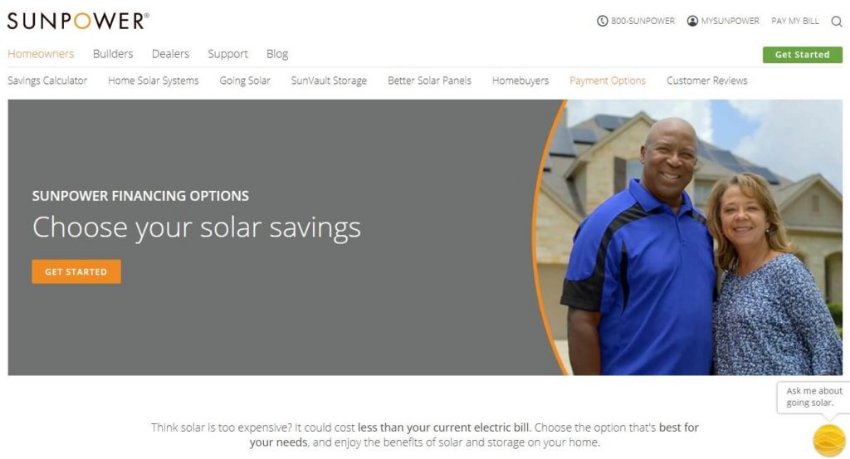 SunPower offers solar loans and solar leases and is available in some states. So, you should confirm with the company when inquiring about their services. Residents of IL, LA, MA, MD, NJ, NV, NY, OR, TX, AZ, CA, CT, FL, and HI can consider SunPower as the solar project financier.
How do the commercial solar energy systems financed by SunPower work? The company helps residents of the mentioned states to find an installer, design the solar system, and advise on the best financing options.
For solar leases by SunPower, the contract length is usually 20 years. The company will be responsible for all maintenance and repair of the system while clients pay fixed monthly fees. An annual escalator may also be included depending on the size of the solar project. As a property owner, you can get profits through net metering.
SunPower also offers solar loans. They have two terms for this package: a 15-year 0.99% annual percentage rate and a 25-year 1.99% rate loan. To qualify for this, you need a credit score of at least 640.
See Related: Tesla Auto Loan Overview: How to Get the Best Terms From Tesla
2. SunRun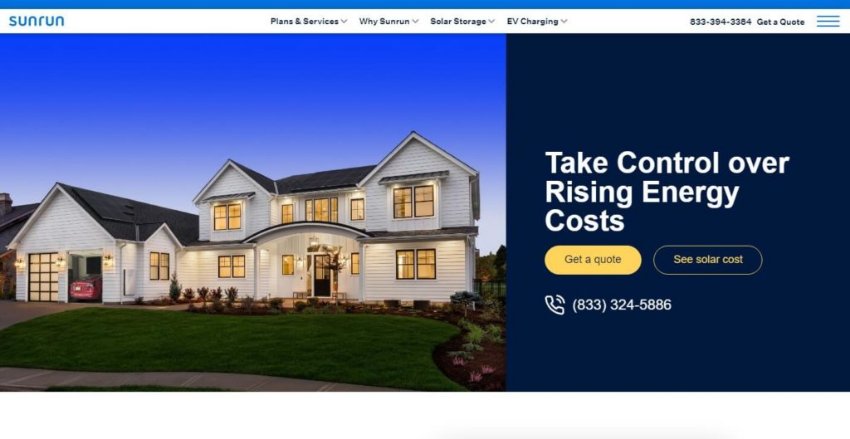 SunRun offers all three most common solar project financing options: solar leases, solar PPAs, and solar loans. These are available to businesses and residents in different states, including MD, MA, NV, NH, NJ, NM, NY, PA, RI, SC, TX, VT, WI, etc. Contact the customer support team to know the availability in your state.
For solar leases and PPAs, SunRun does all the paperwork for clients. And with zero down payment, you can start using solar energy on your property. They also take care of design and installation. SunRun will maintain and repair the system throughout the typical 20-year lease period.
SunRun has an in-house financing system for clients opting for solar loans. The Bright Advantage allows property owners to acquire commercial solar energy systems without collateral. This unsecured loan has helped qualified individuals throughout the country. The rates are also competitive.
See Related: How to Refinance A PACE Loan
3. SunRenu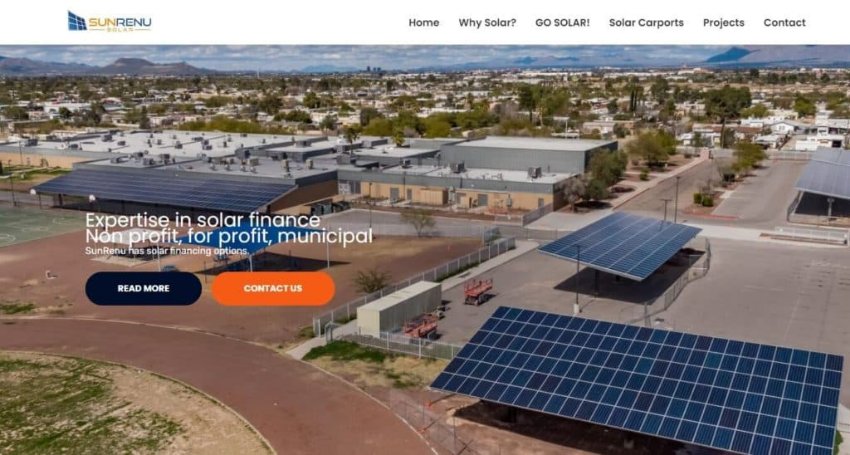 SunRenu was established in 2008 to serve residential, commercial, and government customers in the Phoenix metropolitan area. However, it has expanded its operations to cover the whole of Arizona and neighboring states.
SunRenu has a wide variety of solar project financing options to meet the needs of every client. Its packages include solar PPA/SSA, leasing, prepaid financing, and solar loans. These are ideal finance options for solar contractors and business owners.
If you need clean energy from solar, you can get it through SunRenu financing with zero down payment. You only need credit approval if you choose solar loans.
This solar financing company also offers installation and contracting services that increase the rate of return on your solar investment.
See Related: Best Credit Builder Loans
4. Sustainable Capital Finance (SCF)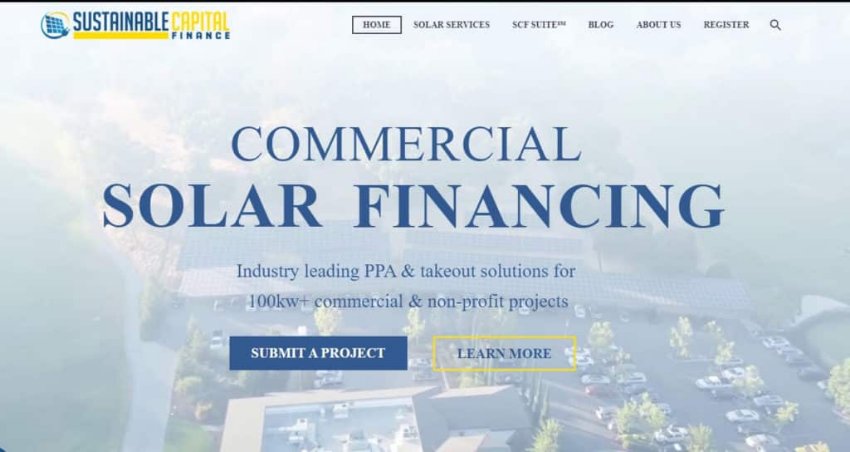 SCF is an industry-leading PPA and takeout solution for commercial and nonprofit entities that need financing for solar projects. The company is determined to provide improved savings and clean, reliable energy.
SCF services are available throughout the country. It offers solar power purchase agreements and solar loans that allow business leaders to handle commercial solar projects with zero upfront costs. Once the system is up and running, monthly lease contributions are made through a safe and secure cloud-based platform.
Different packages offered by SCF include solar PPAs, solar for C&I, solar for municipalities, native tribes, etc. The company also finances community solar projects or shared solar energy plants.
SCF plays a crucial role in helping different institutions and organizations to achieve their environmental goals. Solar generates affordable and clean electricity. That lowers the utility bills and keeps the environment in check.
See Related: Can You Claim Solar Credit Twice?
5. CED Greentech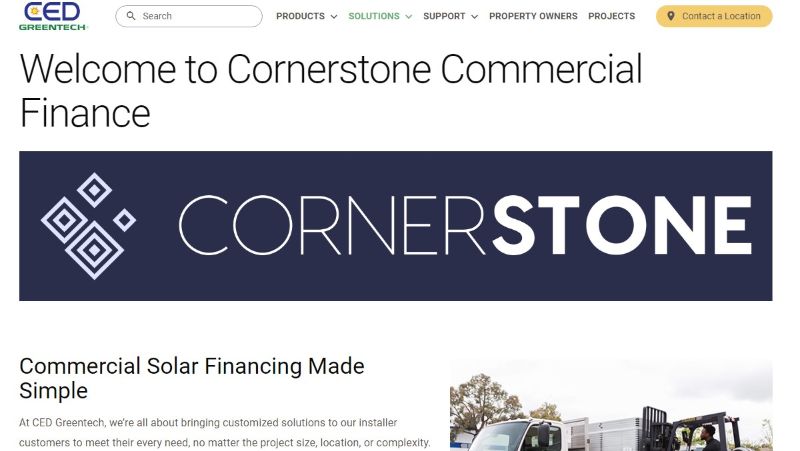 CED Greentech prides itself on being the best and most trusted distributor of solar panels and other solar system equipment. The company is part of the Consolidated Electrical Distributor Inc family, one of the largest electrical wholesalers in North America.
CED Greentech has had success in business since 1957 with an extensive inventory of solar products for residential and commercial projects. That, however, is not the reason we include it here today. It is also one of the most reliable solar financing companies in the United States.
CED Greentech has made solar financing simple with its cornerstone product. It caters to all solar projects, regardless of the size, location, or complexity. The company has solar financing tools that offer the right solutions to property owners.
The company's solar financing options also include solar loans, PPAs, non-profits, and C-PACE. Customers choose what suits their needs to fund their solar projects. If you are interested, you can send an inquiry to get started with your project.
See Related: Best Tesla Financing Rates in the Market
6. LightStream Financial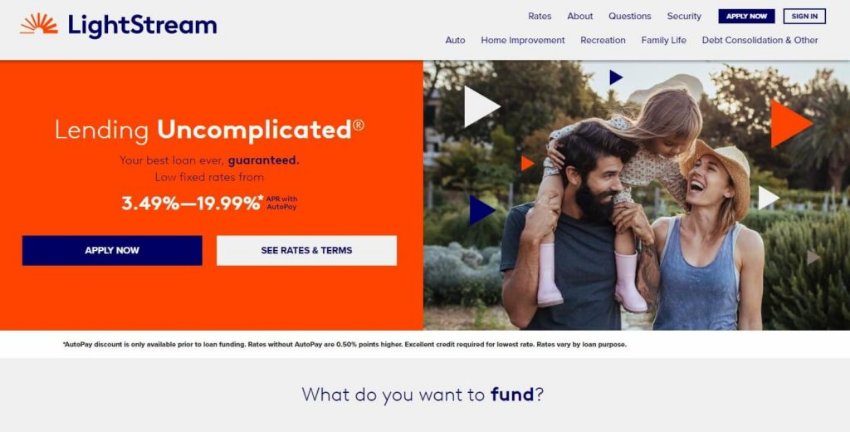 LightStream Financials only offers solar loans. These are available in all 50 states to qualified individuals. Unlike many commercial solar project financing options, LightStream does not design or engage in solar installation.
After solar loan approvals, the agreed amount is disbursed to your account so that you can take care of finding solar system designers and installers. You are also responsible for maintenance and repair in case of any malfunctions.
To qualify for a LightStream loan, you must have a credit score of at least 660. Fortunately, the company offers flexible loan terms, ranging from 2 to 12 years. That depends on the amount funded and your preference.
LightStream boasts the fastest disbursement rate. You can have your solar loan approved and your account funded in 24 hours. There are also no fees and prepayment penalties.
However, this unsecured solar loan may be lower than you could get if you use your property as collateral. As such, it may not be feasible for large solar projects.
See Related: Best Community Solar Companies for Subscriptions
7. SolarCraft Clean Energy Solutions
SolarCraft offers flexible solar financing options for every business. The company can help you transition smoothly to solar energy by providing the best financing solution for your commercial solar project.
The company offers solar loans, leases, and PPAs. Each of these has its benefits and drawbacks. However, many businesses prefer PPA for cash flows. For SolarCraft, the contract duration is typically between 15 and 20 years.
This third-party-owned solar system seems to be the preferred choice because clients don't maintain or repair the system. But regardless of your commercial solar financing option, SolarCraft Clean Energy Solution will be at your service.
The company offers friendly loan rates and client-favored lease terms. The disbursement is also quick for loans. And if you opt for lease or PPA, SolarCraft will dispatch a team to the site to design and install the solar system.
See Related: Tips for Buying a House with Solar Panels
8. Coldwell Solar
Coldwell Solar is the leading California solar financing for businesses. The company has a team of experts to attend to every client's needs and help them choose the best commercial solar financing option. Whether in agriculture, commercial, or industrial business, you can access solar finance from Coldwell Solar.
Coldwell Solar offers solar leases, PPAs, and solar loans. The first two solar financing options allow you to have a solar system installed on your property with a zero-dollar down payment. But if you want tax incentives and financial benefits such as federal tax credit (ITC), choose solar loans by Coldwell Solar.
Choose Coldwell Solar to go green with zero initial cost. Technicians at this company will respond to your inquiry and attend to your needs. The company prides itself on the fastest turnaround time.
See Related: Ways to Subscribe to Community Solar
9. Sunlight Financial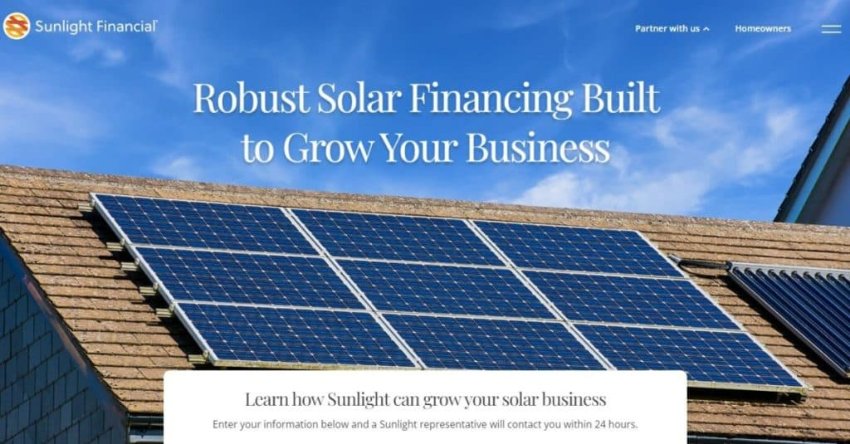 Like LightStream, Sunlight Financial only offers solar loans. The difference is that this direct lender has a network of solar installers to help in setting up a solar project. Additionally, Sunlight loans can fund solar battery storage systems and roof replacements.
How do solar loan terms compare with others?
One outstanding feature of Sunlight Financial is the zero or low-interest rates for homeowners who want clean electricity from solar. It offers three loan options, which include the following:
12-year loan with interest rates as low as 0.00%
20-year loan with rates as low as 0.49%
15-year loan with rates as low as 1.49%
However, the credit score requirement is slightly high compared to most lenders. You have to get a score of at least 650 and a debt-to-income ratio of at most 55%.
Can choose Sunlight Financial as your solar project financier for instating credit approvals, minimal documentation, and integration with sales and operations tools.
See Related: Best Portable Solar Panels for Home
10. GoodLeap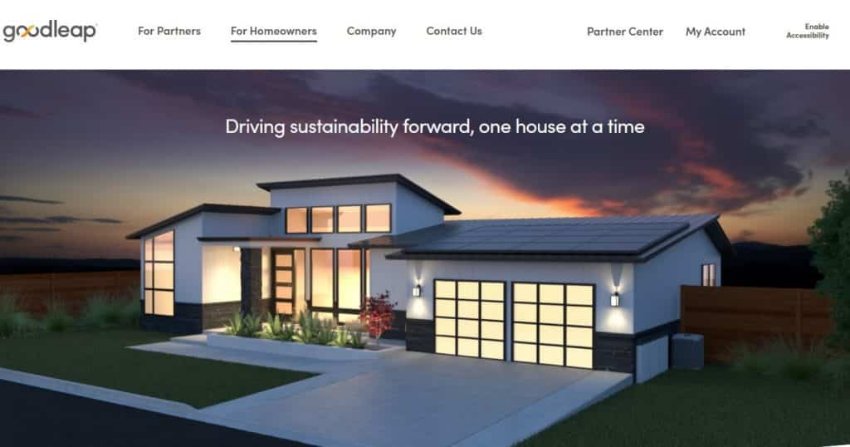 GoodLeap, formerly Loanpal, is a direct lending company servicing clients from all 50 states. It offers loans at fixed interest rates to fund solar systems and energy storage battery installations. It also covers some home improvement and energy-efficient upgrades.
Goodleap loan terms are flexible. You can choose between 7 and 25 years as the repayment period at the lowest interest rates possible. The FICO scores required to qualify for the loan are the lowest, starting from 600.
Drive sustainability forward in your business with solar loans from Goodleap. Enjoy the best rates and most flexible repayment terms.
See Related: Most Unethical Banks You Need to Avoid
11. Duke Energy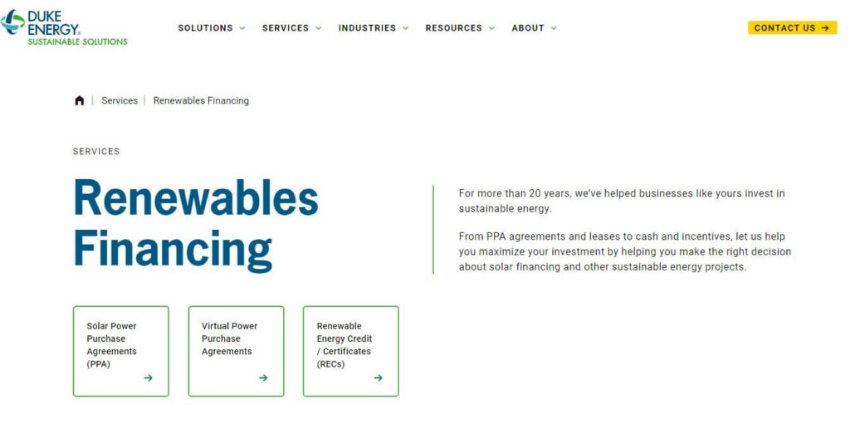 Duke Energy has been in the industry for about 2 decades, financing solar projects for different businesses around the country. It also helps clients make informed solar finance decisions to meet their needs. From PPAs and leases to cash and incentives, you will get experts to assist you from this company.
Duke Energy offers solar power purchase agreements, virtual solar power purchase agreements, and renewable energy credits. You will access a wide range of short and long-term clean energy financing options.
Businesses choose Duke Energy as the solar financing partner for flexibility, in-house solar finance, and better return on investment.
With the help of this company, you can achieve your sustainability goals with no upfront costs. Go solar with zero dollars in starting capital by getting 100% financing from Duke Energy.
See Related: Reasons Why Ethical Banking is Important
12. Pope Energy
Pope Energy is another commercial solar financing option to consider if you live in New England. Massachusetts, Rhode Island, Vermont, Connecticut, New York, and New Hampshire.
The company leverages many years of expertise and a local network to provide the best solar financing solution.
At Pope Energy, you can choose the following commercial solar finance options: C-PACE, PPA, and tariff agreement.
Besides financing commercial solar projects, Pope Energy can also help in solar installations for all commercial projects. The company has a professional team that can design, source solar panels and other equipment, provide labor, handle paperwork, etc.
See Related: Best Auto Loans for Tesla: Top Financing Options
13. West Coast Solar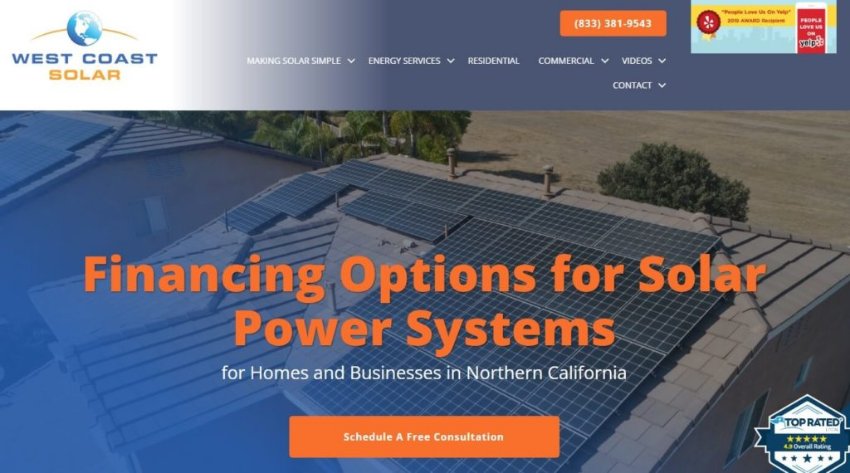 West Coast Solar offers financing options for solar power systems for homes and businesses in North California. If you are looking for a financier that will work with you in financing your solar energy projects, consider West Coast Solar.
West Coast Solar offers solar installation and system design in addition to solar financing. Have your solar system designed by experts for substantial cost savings. You can start gaining profit from your solar system after the tenth year.
This company allows clients to purchase solar panels outrightly or acquire them through PPA, solar loan, or PACE. West Coast Solar is your solar financing California of choice.
FAQs
How are commercial solar projects financed?
Commercial solar projects are financed through a combination of debt and equity financing. Debt financing involves borrowing money from a lender, while equity financing involves raising funds from investors in exchange for ownership in the project. Typically, commercial solar projects are financed through a mix of both debt and equity financing, with debt financing making up the majority of the funding.
What is the average ROI commercial solar?
Is commercial solar ROI the return on investment that businesses can expect from installing solar panels? The average ROI for commercial solar depends on several factors, including the location of the installation, the cost of electricity in the area, and the size of the system. On average, businesses can expect an ROI of 3-7 years for their commercial solar investment.
Is commercial solar profitable?
Commercial solar is a form of solar energy that is used by businesses to power their operations. It is profitable because it can significantly reduce a business's energy costs and provide a reliable source of clean energy. Additionally, many governments offer incentives and tax credits for businesses that invest in solar energy, further increasing the profitability of commercial solar.
What is the average commercial solar payback period?
The average commercial solar payback period is the amount of time it takes for a business to recoup the initial investment in a solar energy system through energy savings. This payback period typically ranges from 3 to 7 years, depending on factors such as the size of the system, the cost of electricity in the area, and available incentives. Investing in commercial solar can provide substantial long-term financial benefits beyond the payback period, including reduced energy costs and increased property values.
Related Resources
Kyle Kroeger, esteemed Purdue University alum and accomplished finance professional, brings a decade of invaluable experience from diverse finance roles in both small and large firms. An astute investor himself, Kyle adeptly navigates the spheres of corporate and client-side finance, always guiding with a principal investor's sharp acumen.
Hailing from a lineage of industrious Midwestern entrepreneurs and creatives, his business instincts are deeply ingrained. This background fuels his entrepreneurial spirit and underpins his commitment to responsible investment. As the Founder and Owner of The Impact Investor, Kyle fervently advocates for increased awareness of ethically invested funds, empowering individuals to make judicious investment decisions.
Striving to marry financial prudence with positive societal impact, Kyle imparts practical strategies for saving and investing, underlined by a robust ethos of conscientious capitalism. His ambition transcends personal gain, aiming instead to spark transformative global change through the power of responsible investment.
When not immersed in the world of finance, he's continually captivated by the cultural richness of new cities, relishing the opportunity to learn from diverse societies. This passion for travel is eloquently documented on his site, ViaTravelers.com, where you can delve into his unique experiences via his author profile.