Community First Credit Union is a member-owned institution that focuses on building communities through innovative banking solutions. Headquartered in Wisconsin, Community First Credit Union dedicates itself to its neighbors and banking partners.
In this CFCU review, you will see what sustainability banking entails, what is Community First Credit Union, and how environmental, social, and governance (ESG) concerns fit the banking world.
Community First Credit Union Reviews
How does Community First Credit Union work?
The credit union is a member-owned banking institution that offers more competitive products for its clients. CFCU fees are also lower, and all profits get reinvested for the benefit of the members.
The institution is one of the premier credit unions in Wisconsin.
Community First Credit Union rates and account services benefit the community members around it and society at large. As a community-focused group, the bank readily aligns itself with socially responsible projects.
Here are some of the key features of Community First Credit Union:
Focus on maintaining member trust
Earnings growth for members
Community-focused.
Balanced environment for customers and employees
CFCU focuses on socially responsible investing. The institution is one of many across the United States that strives to create community-centered options that promote good corporate citizenship.
Community First Credit Union Background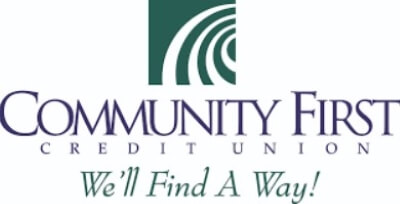 A banking institution from the state of Wisconsin, the credit union went through various iterations since it first began under Maurice Dresang.
What started as Appleton Credit Union Service Center in 1970 became Community First Credit Union in 1983.
The bank began as a credit union for county employees in Outagamie County. Dresang ran the credit union for more than 20 years as the manager and treasurer. In 1970, he combined the union with two others in the area.
What was now the Appleton Credit Union Service Center would serve the community for over ten years before members voted to join together as one entity.
Joining together allowed the institution to offer better services and rates to its members.
The name changed to Community First Credit Union to reflect the institution's belief that community is the most critical entity.
With an increased focus on community development and betterment, the credit union turned to socially responsible investing opportunities.
See Related: Most Unethical Banks You Need to Avoid
Socially Responsible Investing
Socially responsible investing focuses on more than financial gains alone. Socially responsible investing seeks to incorporate social change into economic opportunities as an investment strategy. The goal is to make positive social changes as well as sound investments.
Also known as ethical investing or values-based investing, socially responsible investing depends on the social quality of the company or institution in which the investment is made.
Companies or investment funds that focus on creating a positive social impact tend to be the subject of socially responsible investments.
The potential for return needs to be weighed for socially responsible investments, just as they would be for any other investment.
Making socially accountable investments does not mean that the return on the asset no longer matters. However, you weigh the return alongside the social impact of the investment opportunity.
Socially responsible investing has gained popularity in recent history. The increased desire for social responsibility at a corporate level has spawned the change, producing investment opportunities geared toward community betterment and societal good.
Generally, socially responsible investing has more to do with the company's values. If a business's business practices align with an individual's personal beliefs or values, they are much more likely to invest in that company than another.
CFCU dedicates itself to empowering members to live better lives through socially responsible investing opportunities.
By focusing on ESG issues like climate change and human rights, CFCU gives members a chance to invest in worthwhile causes that yield good returns.
Why Are Credit Unions Important?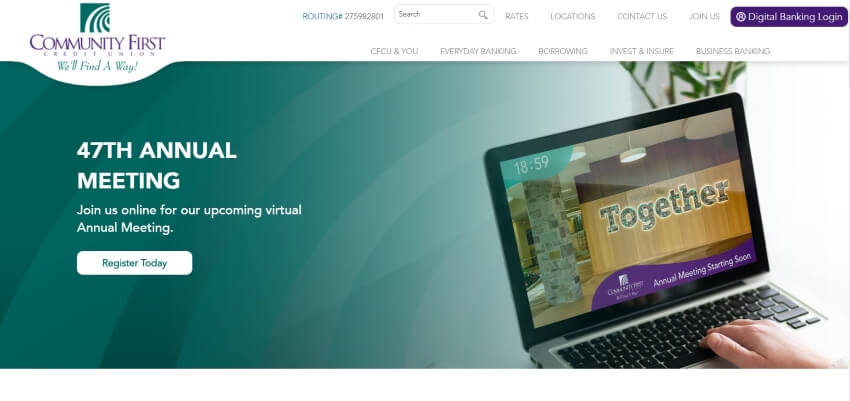 The credit union is a financial institution that operates as a cooperative, member-owned unit where the members are also the customers.
Instead of answering to shareholders who profit from the institution, the credit union only responds to its members.
With over 122 million Americans as credit union members, it seems apparent that credit unions have something traditional banking institutions do not, or can not, offer.
Credit unions are federally insured, pay interest to members (called "dividends"), and provide more reasonable rates than other banking institutions.
Credit unions like Community First Credit Union are essential because they offer members a reasonable alternative to traditional banking institutions. They provide a means through which members might save more money and make better investments without the concerns of a prominent banking corporation.
Credit unions tend to have better rates on loans and savings accounts, which means better money-making opportunities for every member.
Credit unions can focus all their profits and earnings on reinvestment for the members with no shareholders to pay.
Small business owners have an easier time finding a line of credit with a credit union. While big banks might overlook some small businesses, credit unions generally allow small businesses to acquire loans quickly.
CFCU operates in this way, providing small businesses and community members in need with helpful resources. With a desire to help grow community and business, CFCU plays a critical role in helping small businesses thrive in Wisconsin.
See Related: Are Personal Loans Bad? Here's What You Should Know
Community Focus
One of the primary reasons credit unions are so important is their community focus.
Almost half of the credit unions around the United States are involved in community development in some form. Community involvement can mean anything from serving low-income needs to supporting diversity and inclusion.
One of the primary ways Community First Credit Union focuses on the community is through information sharing and helpful tips through the blog. With a staff dedicated to serving the community, it's easy to see why CFCU is so loved by its members.
See Related: Arcadia Power Review: How Much Can You Save
Key Features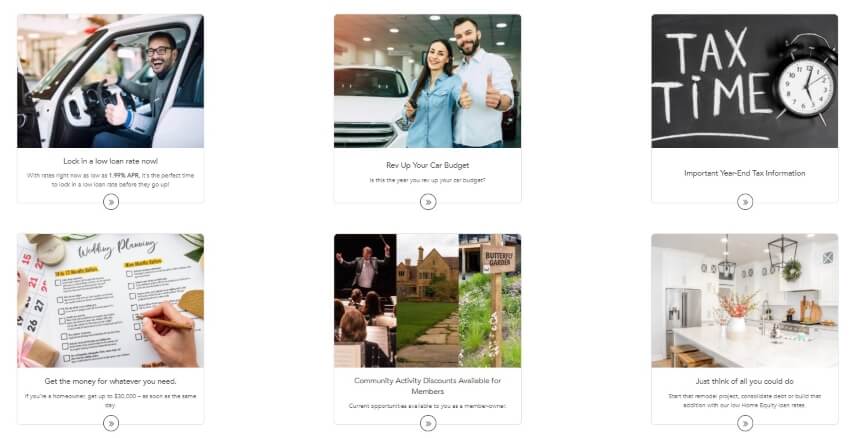 The key features of Community First Credit Union include its dedication to customer service, knowledgeable financial experts, and everyday banking experience.
Members can feel safe and secure working with CFCU.
Not only does the credit union invest in the community, but it strives to invest in every member. Whether through greater access to information or more open communication, the staff at CFCU makes banking easy and, (dare I say it) fun.
Community First Credit Union Pros And Cons
CFCU's pros and cons are largely related to the same pros and cons you might find at any credit union.
In general, a credit union can provide better options at better rates than a large banking institution can. There are, however, some things that make working with a credit union more difficult than a bank.
Community First Credit Union Pros
CFCU is a safe, secure, and environmentally conscious institution. The staff is dedicated to community service and takes great pride in bettering the place in which they live. Here are five of the best reasons to work with CFCU.
Financial Well-Being

Because of its community-focused nature, CFCU proves itself dedicated to the financial well-being of each of its members. And these means more than simply providing savings opportunities.
At CFCU, members have various tools and resources that help point them in the right direction to reach financial goals.
There is also an opportunity for members to work with a financial counselor who can provide helpful insight into stressful situations. Counseling includes help with debt management and financial education.
Reasonable Rates
Most credit unions offer more reasonable rates for their members than regular banking institutions. One of the primary things that CFCU is known for is offering reasonable rates for deposits, loans, credit cards, and more.
CFCU also provides mortgage and home equity rates that compete with other banking institutions.
Apart from these reasonable rates, CFCU requires minimum fees to set the lowest possible standard.
Customer Service
One of the credit union's premier offerings is its stellar customer service. Members are often pleased with the attentive and informed service they receive from the CFCU staff.
Because of the union's focus on community service and providing stellar opportunities for growth, members receive some of the best care and attention that a credit union can offer.
With a highly committed staff to the institution's goals, members don't have to look far to get outstanding service.
Accessibility

With locations all over northeastern Wisconsin, it's easy to find a Community First Credit Union throughout the state. No matter where you are in the state, you can likely find a branch to work with that will help you navigate the waters of investment and saving opportunities.
With so many different locations, it's easy for members to find a branch to call their own. CFCU makes the process straightforward by providing plenty of places for members to access their accounts.
Financial Advisors
Community First Credit Union works with a knowledgeable staff who provide answers and direction. There is also a skilled team of financial advisors who specialize in helping people maximize their wealth-making opportunities.
Financial advisors with CFCU help members grasp financial planning by providing expertise and straightforward answers.
Financial planning can be a scary prospect, but CFCU experts strive to make it easy and accessible.
See Related: Personal Capital SRI Review: Is It Trustworthy?
Community First Credit Union Cons
CFCU is a great place to invest and keep your finances. But like any institution, there are some downsides to the services that they offer. Let's look at some of their cons.
Poor Online Systems
Some customers complain that CFCU lacks updated online banking tools to make projects run smoothly. This can make setting up automatic payments on loans and other items difficult.
Online banking is one of the primary conveniences of the 21st century. Having updated systems that work without exception is a critical tool for any banking institution.
Some members have expressed concern that CFCU isn't keeping up with new and improved system options.
Most of the problems that members have with CFCU have to do with the online banking systems. Whether that is associated with online bill pay or automatic payment tools, the majority of the problems seem to come from online banking.
See Related: Free Financial Advisors to Start Financial Planning
Lacking Flexibility
Shareholders do not govern CFCU in the same way that a traditional banking institution is. This means that the policies the union uses are its own, crafted by the leadership.
Because the group is not a banking institution, the policies by which they operate are completely different than policies other banks might use. Some members complain that these policies are extremely rigid and don't leave room for human error or small mistakes.
Ratings
Community First Credit Union is a socially responsible credit union that focuses on putting the community first and allowing its members' ample opportunities to increase wealth.
The union is fully dedicated to providing quality services, affordable rates, and excellent customer care and advancement tools.
Looking at some of CFCU's pros and cons, it's easy to see why the institution has become such a trusted partner for its members. While there are definite cons to working with the credit union, they are mostly outweighed by the helpful features.
As a green and sustainable institution, CFCU is thriving. They take every opportunity to make socially responsible investments, and they encourage their members to do the same.
Beyond the ESG and social concerns, CFCU could also be ranked for the other services it provides. Using a standard five-star scale, let's look at the viability of CFCU and its:
Ease of use
Features
Customer service
Value for money
Ease of Use
Community First Credit Union receives three out of five stars for ease of use. While not a perfect rating, it is certainly an acceptable score.
It receives three stars because the team makes an effort to please every member that comes through the doors. The staff is dedicated and knowledgeable, making the experience pleasant and endless opportunities.
Working with CFCU is easy for most members. Since most members have a wonderful time, it seems plain enough that they should receive at least three stars.
They don't receive a full five stars because of the unfortunate situation with the online banking system. Since the online system sometimes causes issues for members, giving the institution five full stars would not seem fair.
Features
For features, CFCU gets all five stars. Not only does the credit union offer a wide array of features, but they offer plenty of information to help members make the most of those features.
The features that CFCU provides help members make wise investments and save money, making it highly effective in its primary role.
With the bonus of financial advisors and community-focused initiatives, it's easy to see why CFCU receives all five stars. They offer more features than the average banking institution, and they provide the means for the members to utilize them in a meaningful way.
Customer Service
Community First Credit Union is known for exceptional customer service that exceeds expectations and leaves members feeling more satisfied and comfortable than when they entered. For this reason alone, CFCU gets five out of five stars for customer service.
The staff at the credit union are highly skilled, working with the utmost competence and dedication to service. They are also incredibly knowledgeable, giving members peace of mind that their finances are well cared for at CFCU.
Customer service is one of the most important aspects of a credit union like CFCU. Since it's such a vital part of the operation, it can mean the end of a financial institution if the people are hard to work with.
Fortunately, CFCU employs helpful, friendly staff committed to the institution's goals and the members and their finances.
Value for Money
The rates at CFCU are extremely reasonable, and the services offered are expansive for what began as a small credit union. Considering the value for money that members receive, CFCU ranks four out of five stars.
It's hard to find a bank that would receive a perfect five out of five stars for value for money. There is always room for improvement, whether in business loan opportunities or overdraft fees.
However, CFCU does a stellar job of keeping rates low and manageable. It's easy to see why so many people enjoy trusting their finances to the CFCU. Not only do they offer excellent customer service, but they offer affordable services that ultimately benefit the member more than the institution.
See Related: Terrapass Review: Is It Worth It?
The Verdict: Is Community First Credit Union Worth It?
Overall, it is clear that Community First Credit Union is a worthwhile banking partner committed to social responsibility, community development, and member satisfaction. With high rankings in all areas, community First excels at providing quality services that benefit people beyond the walls of the credit union.
As a green, sustainable institution, CFCU has strived to provide its members with more socially responsible investment opportunities. This focus allows members to make wise financial decisions beneficial to value-based companies and causes.
Frequently Asked Questions
Looking at credit unions almost always brings up a set of questions that people want to be answered, especially when local institutions like Community First Credit Union seem to offer all the bells whistles. Adding green concerns and sustainability into the mix only adds to this.
Let's look at some of the frequently asked questions that arise when people start talking about credit unions and sustainability.
Are Credit Unions More Ethical?
Generally, a credit union might seem more ethical than a traditional banking institution for a number of reasons:
– They are more community-focused
– They don't answer to shareholders
– They provide quality customer service
– Their institutional values are easy to find online
– They support local causes
Places like CFCU intentionally focus more time and energy on socially responsible investing and ESG concerns, making them an ethical and sustainable institution. 
Do Credit Unions Use ESG Scores?
An ESG score measures an institution's environmental, social, and governance risk. These scores are measured by considering things like energy efficiency in the workplace, board independence, and other such issues.
ESG scores are considered widely important by investors of all kinds. The prominence of an ESG score has increased in visibility and accessibility, making it all the more vital for institutions to follow certain guidelines for improvement. 
Credit unions like Community First Credit Union will benefit from incorporating more ESG score material into daily practice. ESG scores can help drive positive results of a credit union and can lead to greater satisfaction for members.
Are Credit Unions Better Than Banks?
Whether or not credit unions are better than banks all depends on how you choose to look at the issue. Depending on your preferences and the amenities you're looking for, you might be better served by a bank than a credit union.
However, credit unions generally offer better services at more affordable rates with higher customer service. At least in the case of Community First Credit Union, there is a distinct dedication to the community.
Being neighborly is an underrated skill in the 21st century, and it's a skill that people at CCFCU still possess and practice. Working with staff dedicated to the community is a much better experience than working with a big, impersonal bank.
Do Credit Unions Run Credit Checks?
A credit union may run your credit score before allowing you to join. Like traditional banking institutions, a credit union must protect itself and its assets.
However, a credit union is much more likely to allow you to join despite a bad credit score. In fact, the credit score is one of the least important factors on the Community First Credit Union application. 
At most, a bad credit score will likely affect the services to which you have access.
Related Resources
Kyle Kroeger, esteemed Purdue University alum and accomplished finance professional, brings a decade of invaluable experience from diverse finance roles in both small and large firms. An astute investor himself, Kyle adeptly navigates the spheres of corporate and client-side finance, always guiding with a principal investor's sharp acumen.
Hailing from a lineage of industrious Midwestern entrepreneurs and creatives, his business instincts are deeply ingrained. This background fuels his entrepreneurial spirit and underpins his commitment to responsible investment. As the Founder and Owner of The Impact Investor, Kyle fervently advocates for increased awareness of ethically invested funds, empowering individuals to make judicious investment decisions.
Striving to marry financial prudence with positive societal impact, Kyle imparts practical strategies for saving and investing, underlined by a robust ethos of conscientious capitalism. His ambition transcends personal gain, aiming instead to spark transformative global change through the power of responsible investment.
When not immersed in the world of finance, he's continually captivated by the cultural richness of new cities, relishing the opportunity to learn from diverse societies. This passion for travel is eloquently documented on his site, ViaTravelers.com, where you can delve into his unique experiences via his author profile.