Many people wish to go solar, but their urge quickly dies when they contact solar installers. They are often slapped with high installation costs that are beyond their budget. But EnergySage Solar Marketplace is changing that story.
Solar installation on your property doesn't have to be expensive. Like any other marketplace, you only get the best deal when comparing multiple quotes from different service providers or vendors. But where do you find a pool of solar panel installers?
EnergySage helps connect property owners with reliable solar installers throughout the United States. But how does EnergySage work, and how legit is it? This EnergySage review has all your answers. Read on for details!
Unlock Sustainable Investing Opportunities 🌿
Join the green revolution by investing sustainably with our top partners. Discover platforms that align with your values and offer remarkable opportunities for growth.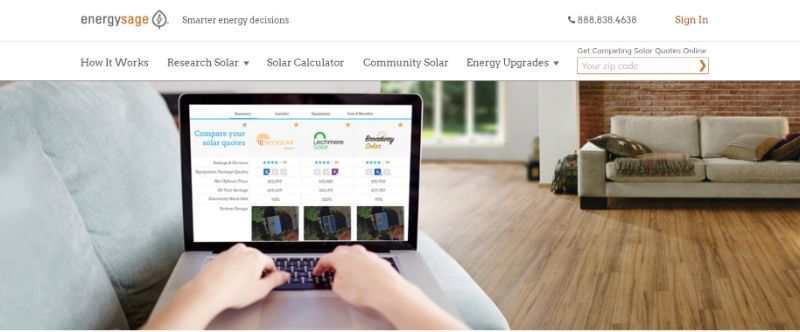 EnergySage Review Methodology
This review is based on the personal experience and opinions of EnergySage clients. I have tested the platform and am reasonably well-versed in the features and functions of the website.
In addition to my first-hand experience, I referenced the opinion of other users based on their reviews of the site to compile this article. All information presented is an honest opinion and free from biases.
I will authoritatively review Energy Sage and only give credit where it is due. They have been warned.
EnergySage Overview

Today millions of Americans are shopping for solar panels, battery storage, and all manner of renewable energy equipment. Similarly, many companies in the renewable energy space are looking for the same shoppers who are well-informed about clean energy.
Shoppers and companies often struggle to connect more conveniently. That is where EnergySage comes in to change that narrative. EnergySage was founded in 2009 and is headquartered in Boston, Massachusetts, United States. It is a one-of-a-kind marketplace developed with funds from the Sun-Shot program run by the US Department of Energy.
The aim of the company is to make renewable energy options more accessible and affordable to property owners. In other words, EnergySage connects renewable energy shoppers and solar energy companies. It is an online marketplace where consumers and businesses in the renewable energy sector interact and complete their sales.
The company simplifies the complex process of installing a solar system on your property. It provides resources and unbiased information about pre-screened solar installers and financiers. You can then choose your preferred solar company and ask for a free quote for the product you want.
What does this EnergySage Review Cover?
This detailed review covers everything you need to understand what kind of company Energy Sage is. There are many things to talk about concerning the EnergySage Solar Marketplace. However, we will keep it precise by only touching on the areas you should know.
The following are covered in this EnergySage review:
How to get started
How EnergySage works
Features of EnergySage
Pros and cons of EnergySage
FAQs about EnergySage
Getting Started with EnergySage
You don't need any expertise or prior knowledge of the EnergySage online marketplace to create your account. Everything is straightforward and user-friendly. The website is responsive and has an interactive user interface, making it easy to get started in just minutes.
You can start by logging on to the EnergySage homepage and providing your zip code. Whether you use a PC, tablet, or mobile phone, you should not have any problem creating your account and getting started.
The account creation process through the EnergySage website is sleek. It may take time for your account to be reviewed and verified, but you can use that time to set your preference. These parameters help in finding the best quote for you.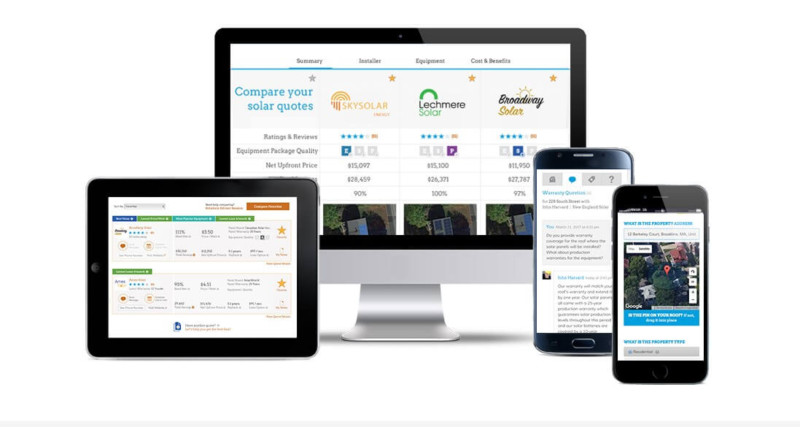 How EnergySage Works
You don't need prior knowledge to use the EnergySage marketplace. It connects shoppers and businesses by providing access to transparent information. That is all you need to make an informed decision.
As a shopper, this online marketplace connects you with solar companies that compete to win you. The benefits of using the platform include lower prices for solar equipment, quality control, and transparency.
Solar installers and solar manufacturers can find informed customers more efficiently and affordably. They no longer have to spend on expensive marketing campaigns to win clients. It becomes easy to meet consumers with solar-ready homes, and there is a quoting platform for them too.
It works in three simple steps;
Both shoppers and solar solution providers register on the platform. A shopper adds the property profile where solar is to be installed and provides electric bill information. You can also upload a document with the required details.
Solar service providers such as solar installers, solar product sellers, and solar manufacturers are pre-screened. There are no scammers on the platform.
Depending on your needs, a shopper gets multiple quotes from different vendors or service providers. This is where the magic is! You will never be exploited by anyone for any energy storage or solar product you buy.
Once you accept the offer, whichever solar product you ordered will be delivered to your location. Shoppers can buy anything they need, either for a solar power system upgrade or fresh installation, anything from a solar panel, or inverter, to a solar battery, or other solar services.
Feature of EnergySage Marketplace
You can buy anything related to solar from the EnergySage marketplace. This is the platform where you find a solar installer, solar financing options, and solar system equipment. That means you can also access solar loans to fund your project.
See Related: Best Business Loans for Solar Energy
Here are the main features of Energy Sage:
EnergySage Community Solar
Community solar is a program that makes solar incredibly easy to access through the financial options provided. You can also benefit from local solar power.
You can enjoy the benefits of solar power without installing equipment on your property. Whether you live in rentals or on a property you own, you can still benefit from community solar and support the growth of solar energy.
This program allows you to support clean energy by buying shares. You only need to search for such projects in your area, compare the results, and subscribe.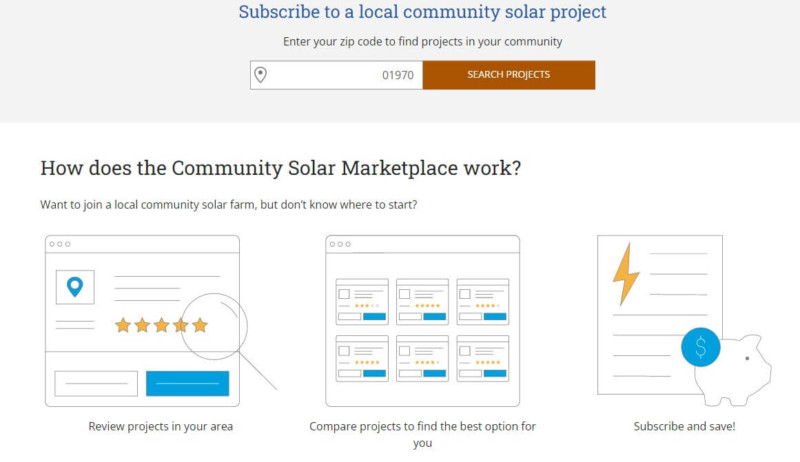 EnergySage Education Resources
Energy Sage is also committed to providing information to property owners on the need to embrace solar energy and ways to become more energy efficient. The website is a wealth of information.
The company provides information on many subjects regarding going solar and cost savings on electricity consumption. The main topics discussed in detail include the following:
Energy efficiency
Smart energy products
Heating and cooling
Electric vehicles
Renewable energy
Other clean energy options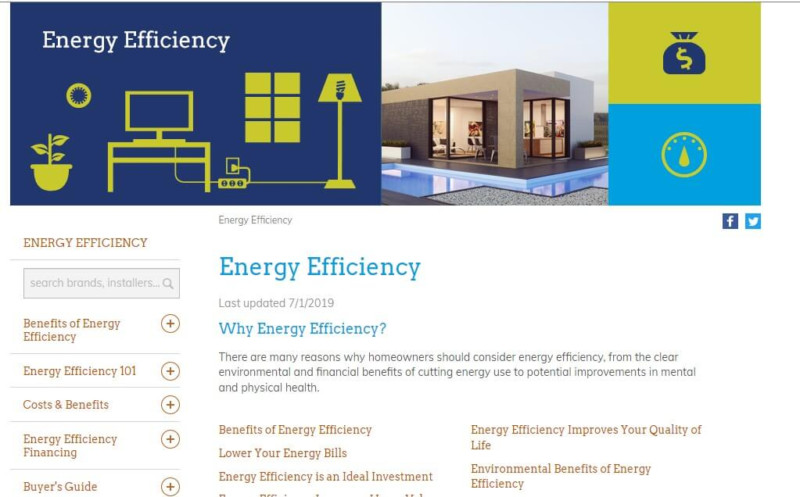 There is also a research menu that takes you to informational pages about the benefits of solar, why you should go solar, and how to do it. You can also learn the basics of solar batteries.
These are meant to educate property owners on the need to upgrade their homes and switch to clean energy sources.
This is why the EnergySage online marketplace is a community of informed shoppers; customers already know what they want and the benefits that come with them!
Solar Rebates
Solar rebates or promotions can help you save money. You get to buy solar panels and other equipment at discounted prices from manufacturers.
There are often promotions on solar panels, inverters, and batteries from reputable companies. However, you need to accept the offer with a rebate on equipment. Once you do that, EnergySage sends you a message on how to claim it.
Also, you can subscribe to get notifications when solar rebates are available.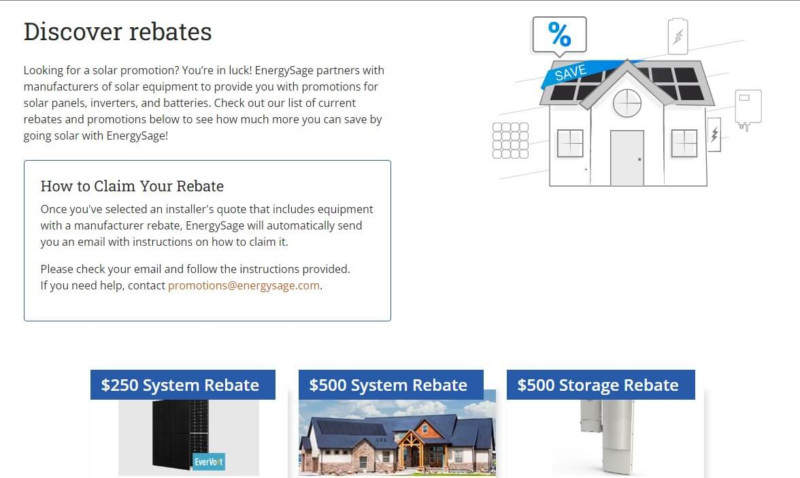 Solar Advisors
If you are looking for a reason to use EnergySage when shopping for solar system equipment, here is one; You can have a solar advisor to help make the right decision when choosing a quote. Don't allow room for regrets if you can get help for free!
EnergySage is Free for Shoppers
You don't pay even a cent to use the EnergySage marketplace. All the products are available for free to shoppers. You only register your profile.
After inputting basic property details, you can start receiving solar quotes from local companies. But how does EnergySage make money then?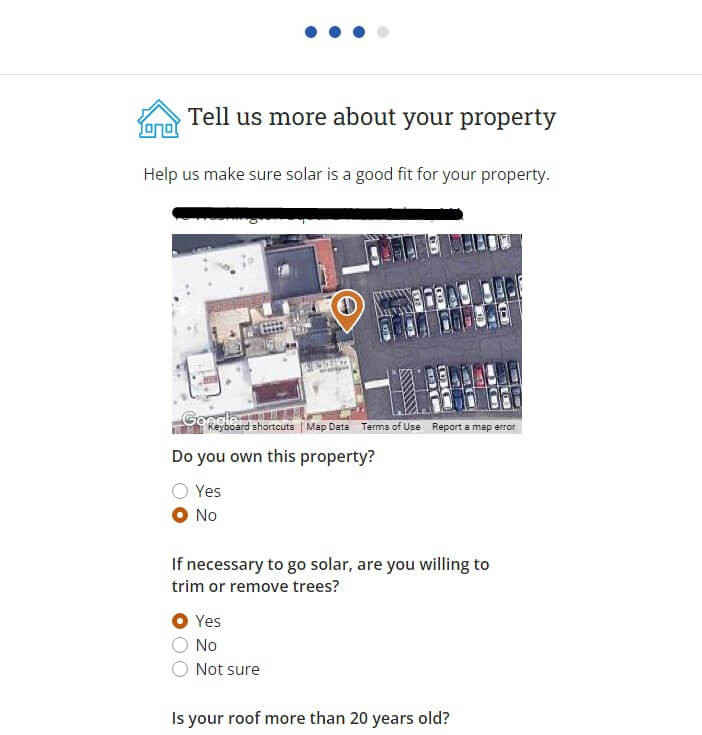 Solar installation companies and other solar product vendors are judged a small fee for using the platform to meet their clients. But still, the charges are low compared to what you might use to fund any marketing campaign.
EnergySage aims at making solar energy accessible and affordable to every property owner who wants to go solar. First, you are not charged for using the platform. Secondly, you buy solar products for your solar system at a much more affordable price.
Loyalty Reward
EnergySage rewards loyal clients who recommend the platform to their friends. To earn $100, refer just one person to go solar through EnergySage.
The amount is credited to your account once the person you referred buys solar products through this online marketplace. They also get $25 as a welcome bonus!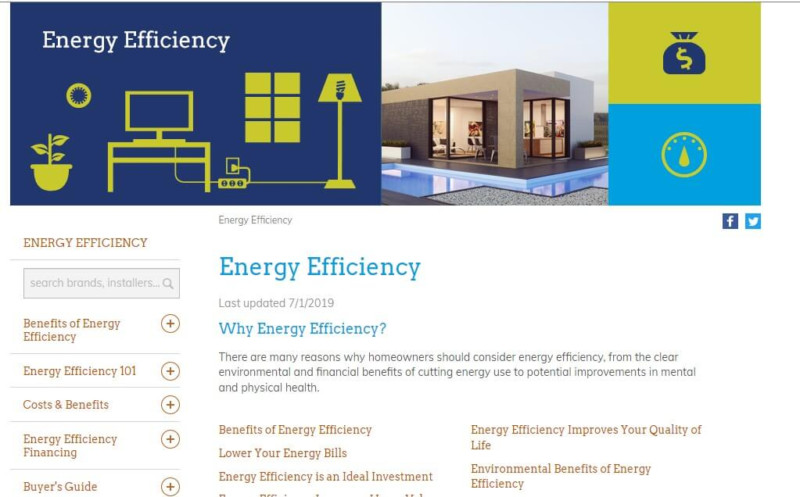 Excellent Customer Support
The company has solar advisors on standby to offer support to clients where necessary. You can schedule a call or send an email for a guaranteed prompt response. Alternatively, you can call directly through the contact address provided on the website.
Free Solar Savings Calculator
The solar savings calculator assumes a sunny roof or anywhere the solar will be installed. Regardless, it is still a beneficial feature to have. You will instantly see your cost savings once you create your profile and provide your monthly average electricity bill.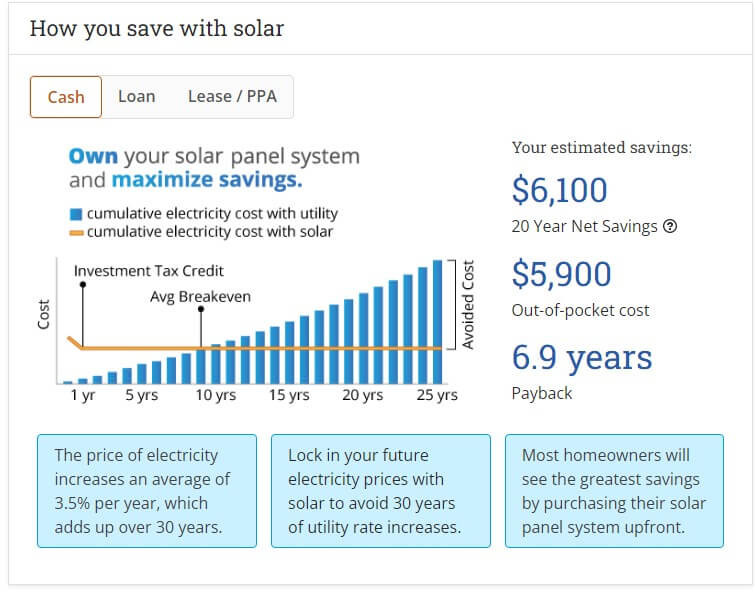 EnergySage Message Center
EnergySage message center allows you to engage with installers without cluttering your email inbox. It is a convenient way of organizing all your communications in one place. This feature also lets you send a single message to multiple solar installers, saving you time.
Besides, you can reply to messages directly from your email address while maintaining privacy.
EnergySage Ratings
You can be tempted to give this online solar marketplace 5 out of 5 in every aspect because it quite frankly deserves it.
But I did promise to be thorough!
Many people have successfully received solar quotes, and more homes have been connected. Based on our research methodology, we can rate Energy sage as follows:
Overall rating: 4.9
Customer support: 4.9
Education resources: 5.0
Features: 5.0
Website usability: 4.8
Client Satisfaction: 4.9
Reliability: 4.9
What can I say? It's not perfect, but you'd be a flaming lunatic not to look into it!
Pros and Cons of EnergySage
Pros:
Easy quote comparison online tool
Multiple solar quotes
Solar power savings calculator
Full transparency
Expert help from solar advisors
Pre-screened solar installer network
Registration is quick and simple
Cons:
Solar installers are not available in all areas
You don't control who quotes you
Some factors may be overlooked regarding solar installation conditions
EnergySage: The Verdict
EnergySage has experienced solar advisors and abundant resources online to make going solar a breeze. As a homeowner, you no longer have to do market research for the best products. You can find reputable contractors on this solar marketplace to install solar panels on your roof. It never matters if it is flat or inclined, made of tiles or asphalt.
Going solar has become easy and more affordable with EnergySage. You can acquire any renewable energy product or have an entire solar system installed on your roof without leaving your home. Also, you don't have to pay upfront because solar financing options are available.
FAQs
What is EnergySage?
EnergySage is an online solar marketplace where property owners shop for solar-related products and services. It connects them with pre-screened solar installation companies and vendors who provide multiple quotes.
How does EnergySage make money?
Not all EnergySage users access the site for free. Solar companies and installers pay a small fee to find informed customers on the platform.
Can EnergySage determine the number of solar panels I need?
No. The number of solar panels and other equipment you need depends on your energy consumption and the sun on your roof. The EnergySage requires your monthly electricity bill and assumes a sunny roof to make half-baked calculations. If you can call a solar installer to your property, the better.
What other affiliations does EnergySage have?
Energy Sage partners with leading companies and organizations, such as Go Solar California, Environment America, Massachusetts Clean Energy Center, etc.
Is EnergySage legit?
Yes. EnergySage is legit. This company gives everything to protect homeowners from exploitation. It only allows reputable contractors and solar companies to register on the website. So, you can trust that the quotes you get are from screened solar installers.
Do I need a solar battery?
The answer depends on where you live and your preferences. Most people who go solar still remain connected to the grid. In that case, you will not need a solar battery. But if you live off the grid, a battery bank is not optional. You need it for electricity storage.
Related Resources