When it comes to online brokers, there are now plenty of great trading platforms available. In fact, there are so many different options that it can be difficult to figure out which ones to choose from. If you're searching for a new brokerage account, then the eToro trading platform is one of the many choices you're likely to come across.
But is eToro legit? How does it differ from other trading platforms? Join us as we answer these questions and more. As we review eToro, we'll also explain how it works, complete with a comprehensive look at its key features.
You'll also get our honest feedback on the platform's pros and cons. Our goal is to give you a thorough overview of what eToro offers so that you can decide if it's the right choice for you.
Unlock Sustainable Investing Opportunities 🌿
Join the green revolution by investing sustainably with our top partners. Discover platforms that align with your values and offer remarkable opportunities for growth.
Methodology
Before we launch into our eToro review, we wanted to take a moment to give you a better idea of our approach. As experienced investors ourselves, we've reviewed and used a wide variety of investment platforms.
We understand that what works for one investor may not work for another. That's why we'll explain who eToro is best for based on everything from the experience levels to trading strategies of different types of investors.
What is eToro?

eToro is a popular cryptocurrency and stock trading platform. Now available in countries all over the world, eToro offers a unique set of social trading features such as copy trading. It's important to note that the features available on eToro can differ widely depending on which country you live in.
eToro USA users can now trade stocks, crypto, options, and exchange-traded securities. While eToro's unique features are definitely worth a look, U.S. investors looking for forex brokers or margin trading options may want to look elsewhere.
In countries such as the UK, eToro offers a wider range of brokerage services. UK users can trade Forex and engage in CFD trading, in addition to crypto assets, stocks, and exchange-traded funds.
See Related: Public Investment App Review: Is it Worth It?
A Brief History of the eToro Platform
While eToro may feel like a relatively new option to U.S. investors, it has actually been around since 2007. Though it didn't become available in the United States until 2018, the trading platform has been pioneering some of its most innovative features in other countries for years.
Even today, eToro users in the United States don't enjoy as wide a range of options as investors in other countries.eToro was first established by three Israeli entrepreneurs with the goal of making investing fun and accessible for everyone.
In its early days, the eToro platform focused on Forex trading before adding commodities, currencies, and other assets. In 2010, it became the first social trading platform in the world upon launching its unique CopyTrader™ feature.
CopyTrader allows other investors to copy the trading patterns of other successful traders. This was a major innovation in the investment world and is still one of the features that eToro is known for today. It's also part of why the trading platform first began attracting international attention.
In 2011, eToro won the Finovate Europe Best of Show and continued its rapid global expansion. By 2013, the platform added a wide selection of stocks to its offerings, including European and Australian securities.
The same year, eToro secured a place at the forefront of the cryptocurrency trading revolution when it began offering Bitcoin trading. Around the same time, eToro announced that users could begin trading CFDs. While trading CFDs is not permitted in the USA, it's a popular feature of eToro Europe, as well as in Australia and other countries.
By 2017, eToro had added other popular cryptos such as ETH, XRP, and Litecoin to its crypto offerings. In 2019, commission-free stock trading became a standard offering of an eToro account in many countries. In late 2021, eToro Europe users gained access to eToro Money, a financial service that comes with a linked debit card.
Today, eToro operates in 140 different countries around the world. When you sign up for an eToro account, you'll enjoy the option of choosing from around 20 different languages.
eToro in the United States
eToro is still coming into its own in the United States, which still lags behind a bit when it comes to the introduction of certain eToro features. For instance, the eToro trading platform only became available to U.S. users in 2018. In the beginning, it was only available to U.S. users in 32 states and exclusively offered cryptocurrency trading for 13 different assets.
Regardless, the platform's features, such as the eToro wallet, social trading capabilities, and copy trading features caused eToro to catch on quickly. It wasn't until January 2022 that the platform began offering access to stock and ETF trading in the USA.
In the lead-up to the launch, eToro co-founder and CEO Yoni Assia said:
"For the first time, Americans can collaborate with other crypto traders when making buying and selling decisions. Users can adjust their trading strategies by watching and learning from others on the platform. When I founded eToro, I envisioned a community where people could trade, invest and share their knowledge in a simple and transparent way. eToro also acts as a bridge between the old world of investing and a blockchain-powered future, helping our users navigate and benefit from the transition to crypto assets for wealth building. People create the eToro experience and now Americans will play a major role in shaping our community and future."
eToro USA vs Other Countries
So why the delay in the USA? Much of it goes back to the same reasons that eToro users in Europe enjoy more features of the trading platform than those with U.S. retail investor accounts. Financial institutions are governed by different institutions in various countries, many of which have different regulations.
For example, in the United Kingdom, eToro UK Ltd. is regulated by the Financial Conduct Authority (FCA). In the United States, eToro's crypto trading arm is registered with FinCEN as eToro USA LLC, while its stock trading arm is registered as eToro USA Securities Inc under FINRA and SIPC.
While the eToro trading platform is now available in most U.S. states, eToro USA LLC is more limited in the number of tokens on its crypto exchange. This goes back to the fact that when users trade crypto on eToro, in some cases they are buying actual coins while in others they are trading CFDs.
Contract for Difference or CFD trading means that you don't actually own the underlying crypto assets. Instead, you are engaging in a contract with a crypto trading platform like eToro, which agrees to replicate the price of that asset without actually purchasing it for you.
Due to the rules of the EU regulatory framework, this arrangement is fine if you live in certain European countries. eToro USA LLC, however, operates under a different framework in which trading CFD assets is not allowed.
Trading CFDs can get a bit complicated, which is probably why it's frowned on by U.S. regulators. Research shows that many retail investor accounts lose money when trading CFDs, so at least U.S. eToro traders don't have to worry about the downsides.
See Related: Best Investments for Teachers to Make Today
Key Features of eToro
In order to fully understand our eToro review, it's important to get familiar with the key features that eToro offers. Part of what sets eToro apart from other online brokers is its incredibly straightforward platform. If you're a beginning or intermediate trader who tends to find complex instruments intimidating, then eToro may be the platform for you.
eToro offers both a web platform and a mobile app so that you can keep an eye on your portfolio and place trades from anywhere. Throughout the following section, we'll be using screenshots from the web platform, but the eToro app offers all the same features.
How To Sign Up for eToro
eToro's ease of use begins right from the moment you decide to sign up for an account. When you arrive at the account creation page, you'll find several handy sign-up options. Choose from your Google or Facebook sign-ins or go the old-fashioned route and create your account manually.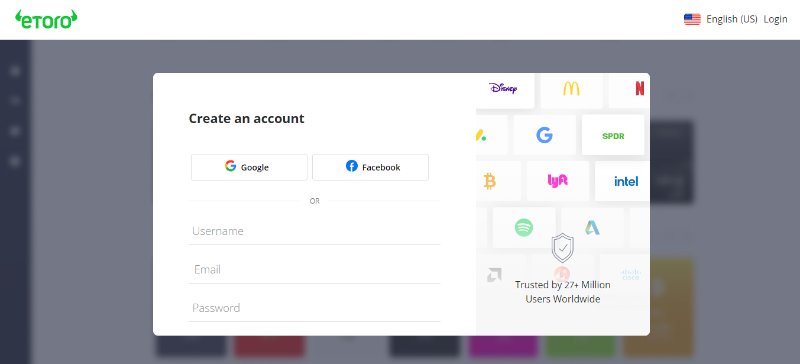 Once you create a login, you'll then be asked to enter some basic information about yourself. It's important to be aware that this is not just for social trading purposes, but an actual legal requirement. Be sure to enter your information here exactly as it appears on your ID.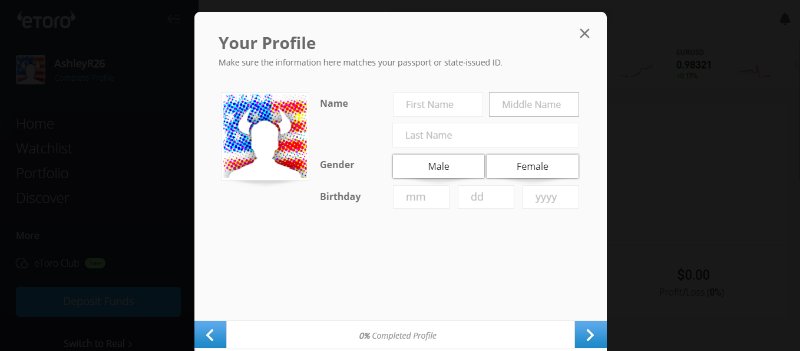 If this is your first time signing up for a brokerage account, then it may seem a little alarming for eToro to ask for personal information such as your address and social security number. Rest assured that this is completely normal for a brokerage service and is actually required by U.S. law.
But is eToro safe? When it comes to security, eToro doesn't play around. The platform uses SSL encryption to keep your personal data safe and secure.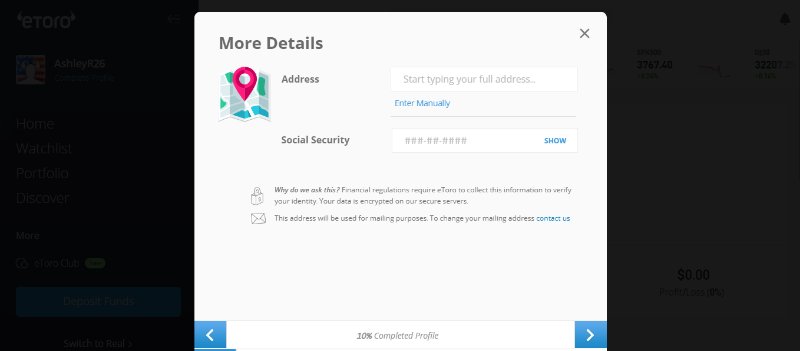 Last but not least, eToro will ask you how much money you plan to invest over the course of the next year. It will also ask you to indicate your risk tolerance. This page also comes with nice breakdowns of various options to help you assess your tolerance for yourself. As it points out, higher-risk trades also come with a higher risk of losing money rapidly without the proper precautions.
Next, you'll need to quickly verify your email address by simply clicking on the verification link in an email that eToro will send you.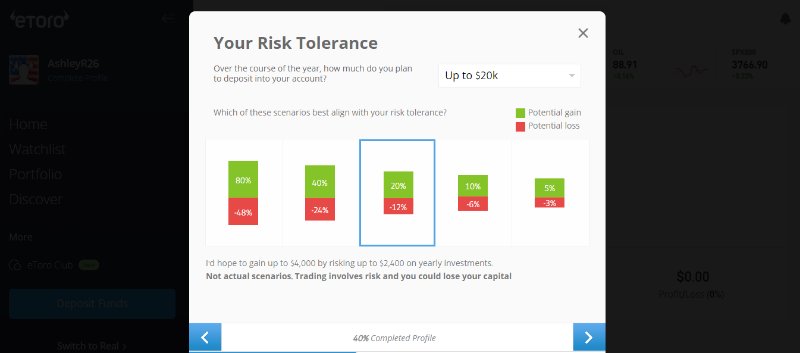 Last but not least, you'll be ready to fund your account. You can make a deposit via PayPal, a debit card, or a wire or bank transfer.
If you're not ready to deposit funds just yet, then just x out of this option. You can always deposit funds later by clicking the "deposit funds" option on the bottom left-hand side of your main menu.
A few quick notes about deposits:
It's worth noting that deposits made through PayPal, with a debit card, or with a bank transfer all require a minimum deposit of $10, but are available instantly.
The minimum deposit for a wire transfer is $500 and it may take 4 to 7 business days to reach your account.
You can check out more FAQs about deposits right here.
How To Use eToro
Creating Watchlists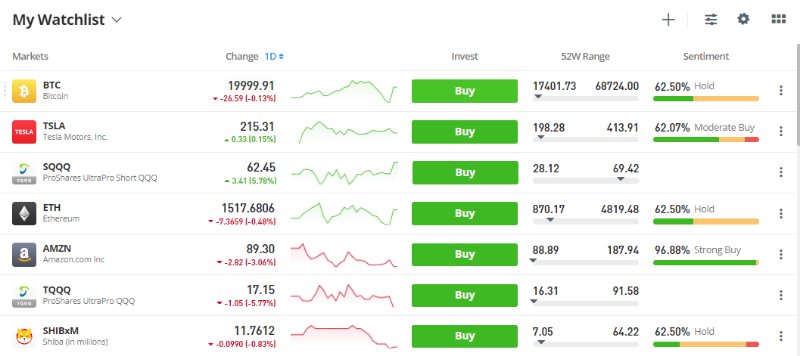 Want to check out your options before making your first investment? Click on the "Watchlists" tab where you'll find a pre-loaded watchlist that includes popular eToro investment options.
Alongside each, you can see each security's gains or losses over the course of the last day, week, or month. You'll also get a breakdown of its chart movement, 52-week price range, and a summary of how other investors are feeling about its odds.
If you want to add more assets to this watchlist, just click on the + symbol in the top right-hand corner. A search box will appear where you can type in the name of the ticker symbol of the asset you're interested in following.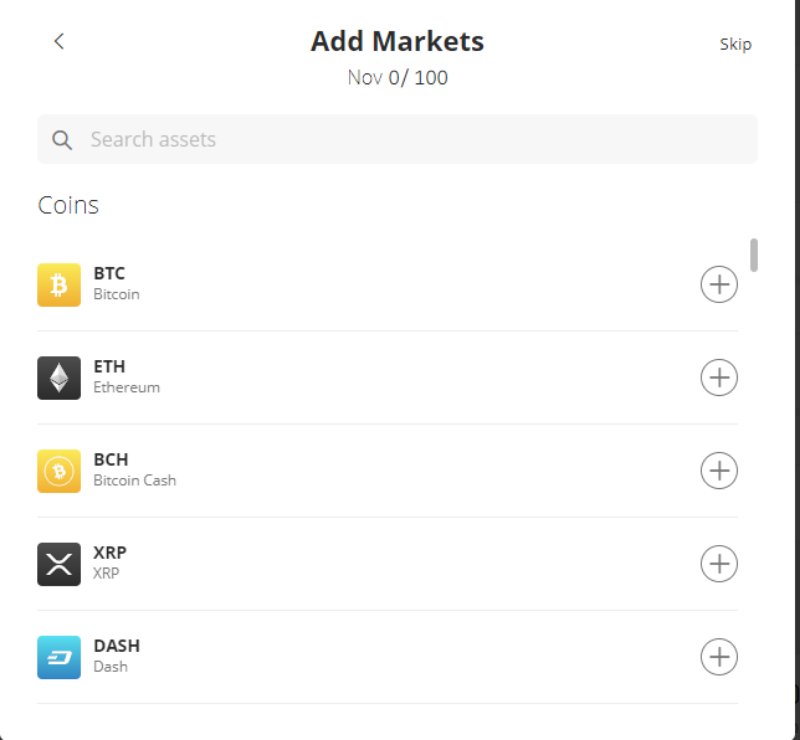 Want to create a whole other set of watchlists altogether? No problem. Just click on "My Watchlists" and select "Create New List" from the dropdown tab. Alternatively, you can select "All Watchlists," which will take you to this screen: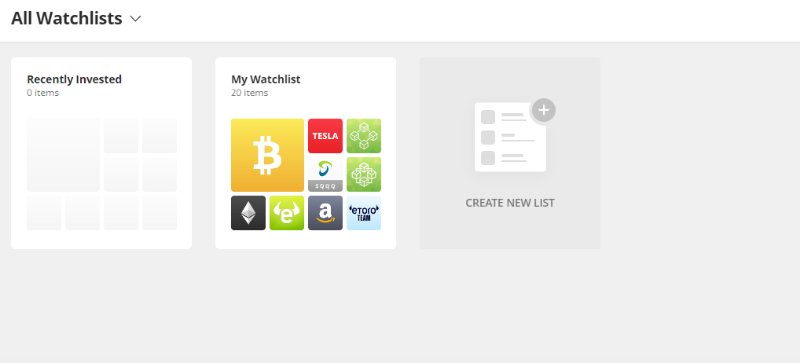 Then click the "Create New List" tab that will appear. Some investors may even want to create multiple watchlists for things like cryptocurrency trading, ETFs, value stocks, dividend stocks, etc. You can even add social trading profiles or smart portfolios to your watchlists if you choose.
See Related: How to Start Investing With Purpose
Using Your Virtual Trading Account
The unfortunate truth is that many new retail investor accounts lose money, especially when they're first starting out. Whether you're new to cryptocurrency trading or are bored with your own trading strategies and want to give day trading a shot, there can be a high risk of losing money until you figure out what you're doing.
That's why eToro offers every user a free virtual trading account. Also known as a paper trading account, a virtual trading account allows you to practice trading using fake money. While you won't actually make any money if things go well, you won't have to risk losing money rapidly due to rookie mistakes either.
In order to access your paper trading account, just select "Switch to Virtual," which you'll find right under the Deposit button on your menu.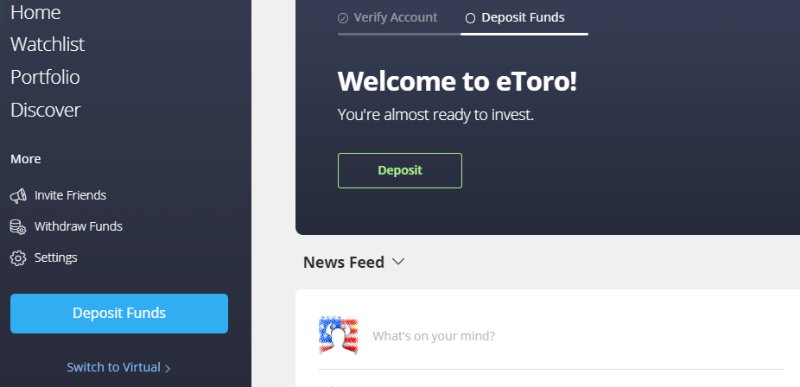 Your screen will then switch to your virtual account, where you'll find $100,000 fake dollars that you can use to try out your investing ideas. You try trading crypto assets, stocks, and ETFs just like you would on your regular account.
The cool thing is that your virtual account will also work with various eToro copy trading features. This is a nice way to get familiar with a new social trading feature firsthand without risking your own cash.
eToro's Unique Social Trading Features
If you like the idea of turning investing into a social activity, then eToro has several features that should be right up your alley. In addition to being a trading platform, eToro is also set up a bit like a social media platform for investors. You can post your thoughts on various investments on your newsfeed, or check out and comment on the posts of other users.
But one of the most innovative features eToro offers is its crypto copy trading feature. When you click on the "Discover" tab, you'll be directed to a page that features the profiles of some of the most successful cryptocurrency traders on the platform.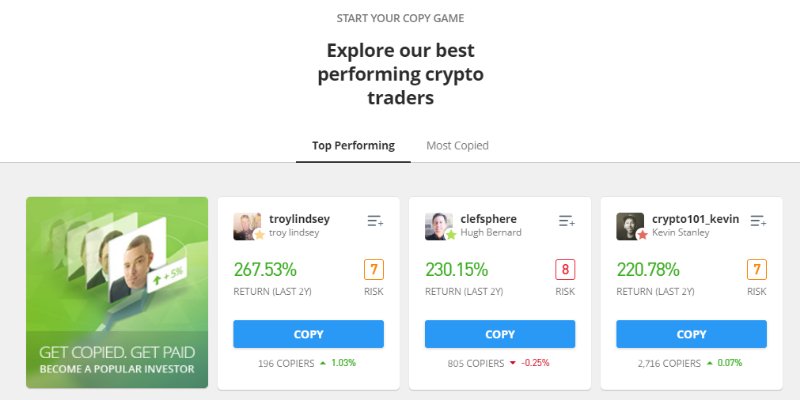 By clicking on a trader's profile, you'll be able to check out their trading history, success rates, and portfolio. If you like what you see, then you can even decide to automatically copy them, trade for trade.
In order to use the copy trading feature, you'll simply click "copy" and specify the amount of money you want to invest. It's important to note that while using the copy trading feature is free, you'll have to invest a minimum of at least $200 in each copy.
When you place a copy order, you can choose to either only copy new positions that that trader takes out going forward or to replicate their existing portfolio. If you choose the second, the money you invest will be used to purchase the same assets in the same ratio proportions as the trade you're copying.
Your investment will automatically be readjusted and rebalanced to reflect any trades or sales that the copied trader makes as long as the copy remains open. While copy trading can be a great way for beginners to cash in on the expertise of top traders, just keep in mind that it's not without its risks.
Be sure that you do your research to really understand how it works. It's also suggested that you set a stop loss on any copy so that your position will be automatically closed if copied accounts lose money beyond a set amount.
See Related: Best Investments for Young Adults
Smart Portfolios
eToro also offers a number of crypto investment options called smart portfolios. A smart portfolio is a professionally curated portfolio of crypto assets that center around a certain theme.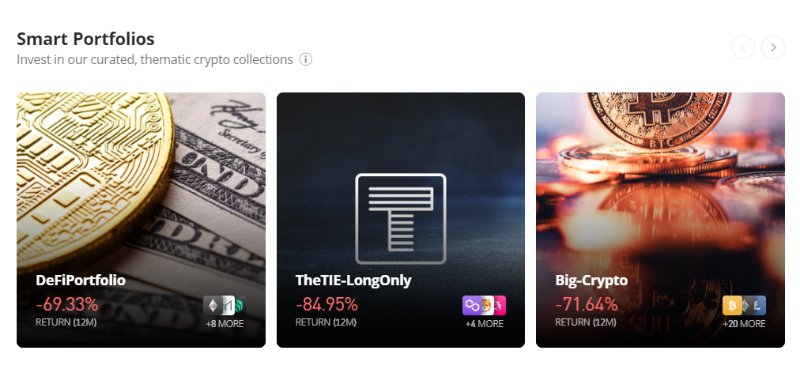 For instance, if you want to invest in DeFi protocols, you can make one investment in the DeFi-themed smart portfolio instead of having to buy a number of separate tokens. Each portfolio is overseen by the eToro investment team and is automatically rebalanced regularly.
Charts and Research
eToro is also set up with features for investors looking to build their own portfolios. You can check out the community choice board for tips on the most popular assets at the moment.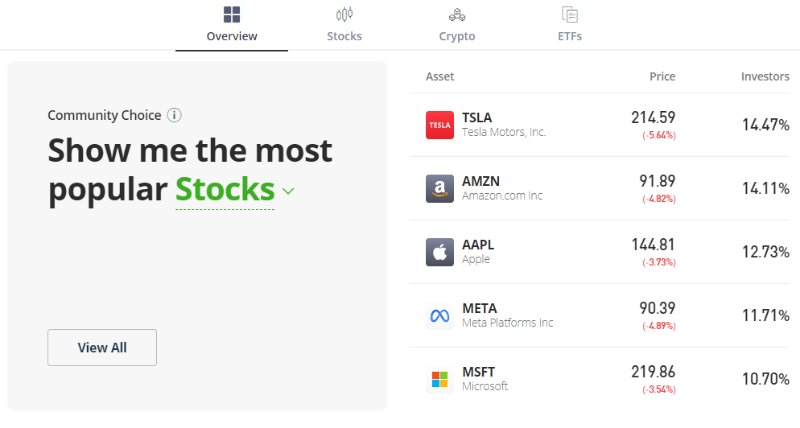 Click on the research tab to check out buy/sell ratings from leading analysts. Or navigate to the chart section to use ProCharts, a professional-grade analysis tool. ProCharts allows users to use various technical analysis tools to evaluate charts that reflect a security's movement over a specified time frame.
eToro also features advanced order options such as stop loss, trailing stop loss, and take profit. These order types allow you to trigger an automatic buy or sell order when the price of a security hits a predetermined point.
Education
eToro also offers an online trading academy for both beginning and experienced investors alike. No matter what your skill or experience level, you can choose from a selection of guides and videos designed to help you hone your skills. Topics include everything from options and cryptocurrency trading to guides that are designed to help you learn the ins and outs of the eToro platform.
There's also a news and analysis page where you can stay up to date on the latest headlines. From market insights to the latest on specific stocks or cryptos, it's a nice way to stay on top of what's going on in the world of investing.
See Related: Best Impact Investing Online Courses
ESG Ratings
One of eToro's latest features is a new ESG rating system. The platform has partnered with ESG book to bring investors sustainability data on the companies behind over 2,000 assets.
The ESG score works on an easy-to-understand stoplight system. Companies with green rates are at the top of their ESG game, while yellow companies are about average as compared to others in their sector. Those that dip into the red are not doing so well and could benefit from upping their efforts.
The data that goes into each company's score is updated daily to give investors the latest information.
Fees
This is where many eToro reviews tend to go downhill. While stocks and ETFs do trade commission-free on eToro, there's still a 1% charge for crypto transactions. This is a major drawback for many traders, especially given that there are now plenty of other platforms that now offer commission-free cryptocurrency trading.
Additionally, the eToro platform only offers about 25 different platforms and does not offer advanced features such as staking or crypto-to-crypto trades. eToro withdrawal fees may also apply when you transfer crypto from your investment account to your eToro money crypto wallet. With minimums starting at $1 per transfer, it's important to thoroughly understand transfer rates to keep them from adding up quickly.
eToro Club
If you decide that eToro is the platform for you, then you'll also have the chance to join the eToro club if you invest a certain amount of money. In order to join the lowest tier, you'll need to invest a minimum deposit of at least $5k. Membership in the top tier comes with an investment of $250k.
eToro club members enjoy a variety of perks that broaden as they ascend each tier. Benefits include everything from webinars and VIP events to a dedicated account manager and a free subscription to the Wall Street Journal.
eToro Pros and Cons
No matter what your experience level or trading style, every online broker comes with its own set of pros and cons. As you can see from our overview of eToro's key features, eToro has some real strengths as well as some room for improvement. Here's a quick recap:
Pros:
Beginner-friendly, easy-to-navigate interface
Copy trading features are truly unique
eToro mobile app is highly rated and comes with advanced trading features
Social trading features are a nice way to trade ideas
Free paper trading account
Cons:
Limited crypto and ETF selection
Fees for crypto trades and transfers
Copy trading only available for crypto
eToro Review and Ratings
As we mentioned upfront, whether or not eToro is for you will largely come down to what features you're looking for in a brokerage account. Here we'll attempt to help you get a better idea of how eToro stacks up against other online brokers by reviewing several different aspects of what the platform offers.
Ease of Use: 5
This is one area in which eToro really shines. If you're a beginner or are simply looking for a platform that's incredibly easy to master, then eToro is hard to beat. From the sign-up process to the sleek, straightforward platform, eToro is a great platform for beginners.
The trading platform's cryptocurrency and ETF offerings are a bit more limited than those of other brokers. But if you're just starting out and looking to focus on the most popular coins and assets, then this may end up being a plus for you.
If you're an advanced U.S. trader looking for a robust setup, then eToro may not be the best choice for you. If you live outside of the U.S., however, it may be worth looking into. eToro's offerings vary from country to country, so the web platform that's available in your area may feature a broader set of offerings than those available in the United States.
Features: 4
If you're a beginning or intermediate trader, then eToro likely has everything you need to get started. While its technical analysis tools aren't incredibly advanced, that seems to be part of the point. eToro was developed with the goal of making investing easy and accessible enough for everyone.
From its charting tools to the eToro investing academy, enough information is provided to be thorough without becoming overwhelming. eToro is also a great choice for investors who enjoy the social aspects of investing. You can share your trading insights and weigh in on those of other users much like you would on a social media platform.
eToro's virtual practice portfolio is also very easy to access and offers investors the perfect opportunity to get familiar with the platform without actually risking any money. It's also great for intermediate or advanced traders who want to try out new trading techniques or track a simulated portfolio in real-time.
Then, of course, there's eToro's copy trading feature. While it's currently only available for crypto trading in the USA, it truly is a one-of-a-kind offering. Even if you're brand new to crypto trading, copying a top trader is a great way to learn the ropes while (hopefully) making a profit.
Customer Service: 3.5
When it comes to customer service, eToro has very mixed reviews. There is a customer service Help Center where you can reach out with questions by creating a help ticket. There's also a pretty thorough Q&A section as well as a chat option powered by Nanorep.
While some customers seem very pleased with eToro's customer service, others complained of being directed to third parties or never receiving a reply at all. Part of the reason for these discrepancies may come down to the fact that eToro is an international trading platform.
They now have registered offices across several different continents and it's possible that some may be more responsive than others.
Value for Money: 3.5
Trading fees are one of the areas where eToro really tends to fall short. In all fairness, eToro fees only come into play where crypto assets are concerned. eToro stock and ETF trading are both commission-free. The platform now even offers options with no commissions or contract fees.
But when it comes to crypto, eToro charges a 1% fee, which is a big turn-off for some investors. This is especially true considering that there are now plenty of other brokerages that offer a wider selection of crypto offerings on a commission-free basis.
While Coinbase also charges a 1% fee for crypto transactions, it makes up for it by offering advanced features and one of the largest selections of tokens on the market. Given that eToro lags far behind with just over two dozen coins to choose from, its fee is harder to justify.
eToro's saving grace, however, might be the fact that its copy trading feature is incredibly innovative. At the moment, it's the only platform we know of that offers such a capability. For this reason, the trading fees and $200 minimum deposit may be worth it for some investors.
This is particularly true if you're very new to crypto or want to profit off of it without having to constantly monitor your portfolio. In these situations, the small fees may end up costing you far less than you would have lost if you plunged in on your own.
Overall eToro Rating: 4
Overall, eToro is a great platform for beginning and intermediate investors who don't mind contending with small trading fees for crypto transactions. While eToro is still a relatively up-and-coming platform in the United States, it's been a popular choice in other countries for many years.
The bright side is that the U.S. version of eToro is still evolving and will hopefully continue to offer more features in the future. It was only recently that U.S. users were given the opportunity to begin trading commission-free stocks, as well as a selection of around 200 ETFs. eToro also recently debuted options trading for U.S. users, complete with no commission fees or drawbacks.
While eToro's crypto offerings are still limited to around 25 popular tokens, beginners will find them among the most popular. Additionally, eToro's copy trading feature is an innovative way for new traders to copy the trades of more advanced crypto investors. When faced with the possibility of losing money rapidly due to beginner mistakes, copy trading may be a more profitable option for some newcomers.
eToro's smart portfolios are also a great way to take advantage of new and emerging technologies. Each smart portfolio offers automatic rebalancing, which is a nice perk for traders who don't have time to check in on their portfolios on a regular basis. The eToro mobile app is also solid and comes with plenty of great features to allow you to check in on your assets at any time.
While eToro is an ideal platform for beginners, it may not be for everyone. eToro crypto fees and its limited token offerings may prove a turn-off for more advanced investors.
Those with a great deal of capital in play will also want to get very familiar with the fees charged each time you transfer money to your eToro money wallet. Depending on your situation, these trading fees may be enough to convince you to check out other options before making a commitment.
The same may be true for more advanced stock and ETF traders. While eToro does have a nice selection of stocks and around 200 ETFs (including select leveraged ETFs), it's not meant to be the most advanced platform.
Best eToro Alternatives
If eToro sounds like the right platform for you, awesome! If not, then you may want to check out WeBull, which is one of the most similar options – and not just because of the bull theme! WeBull offers some of the same social aspects of eToro, such as social media-style commentary and feedback.
While you can also follow other traders on WeBull, it does not offer eToro's copy trading features. The trade-off is that WeBull does offer a larger selection of cryptocurrencies that you can trade on a commission-free basis.
It also offers commission-free trades on stocks, options, and ETFs. Additionally, its search and charting features are a bit more advanced than those currently offered by eToro. There's even a paper trading option that allows you to practice with fake money in much the same way as you can on eToro.
If you're a very advanced trader or specialize in day trading, then we would suggest looking into TD Ameritrade's Think or Swim platform. Available online, for download as a desktop platform, or as a mobile app, Think or Swim's charting options are about as advanced as they get. You'll enjoy professional-level features that are so robust that it's almost hard to believe they're offered for free.
If you're a beginner, however, you're probably better off starting with a platform like eToro or WeBull. Both are great options when it comes to easing into the world of investing without having to worry about getting overwhelmed by complex data or tools.
Related Resources