eTrade offers a full suite of account types, from retirement and commission-free brokerage accounts to Morgan Stanley savings and checking accounts. But is it the right choice for investors looking for an easy way to stay on track with an automatic investing plan?
Rest assured that eTrade's suite of financial solutions offers several different investment choices for automatic investing—from customizable recurring purchases to eTrade's core or prebuilt portfolios.
We'll break down the differences between the three and how to get started with each. Let's examine how each option can help you put your E*Trade account on autopilot.
Unlock Sustainable Investing Opportunities 🌿
Join the green revolution by investing sustainably with our top partners. Discover platforms that align with your values and offer remarkable opportunities for growth.
eTrade Automatic Investing Plan
The most basic of e Trade's automatic investing plans allows customers to set up recurring investments into eligible mutual funds or exchange-traded funds (ETFs). This is a great option if you want to set up automatic purchases into the funds of your choice.
Whether you want to invest in a single mutual fund or use your recurring deposits to fund several investment options, you can customize your unique automatic investment plan. You can set up recurring investments of as little as $25 or specify a higher amount depending on your investment goals.
To get started, you'll log into your eTrade account and select "Investing" from the main menu.
Select the menu option for "Automatic Investing."
Choose from "ETFs" or "mutual funds" depending on the type of asset class you want to make a recurring investment in.
Select which eTrade account you want to set up recurring purchases, such as an individual brokerage or retirement account.
On the next screen, you can choose which fund you want to invest in. If you already own shares in select investments, they will appear as options, but if not you can also pull up a fund in the search box.
While you can add as many funds as you like, be aware that if a fund is not already in your portfolio, you'll need to make an initial purchase to add it to your plan. For instance, you may want to make a minimum purchase that covers the price of entrance into certain assets like mutual funds.
On the next screen, you'll enter any initial purchase amounts you may want to pay to enter into any new funds. You'll also specify the fixed dollar amount of the regular deposits you'd like made into each of your investment choices.
You'll also select the frequency for your automatic investing plan. For instance, you may want to automatically invest every month, two weeks, etc.
Select a funding source for your investments, whether it be an internal or external bank account.
Review your plan, agree to the automatic investing plan agreement, click on "Confirm Order" and you're all set!
Setting up eTrade automatic investing is a great way to stay on track to your goals while taking advantage of dollar cost averaging. In case you're unfamiliar, dollar cost averaging explains why investing in the same asset at regular intervals (regardless of cost) is good.
Due to the ever-evolving nature of the stock market, you'll likely pay a little more or less for or fractional shares in the same asset of over. But the idea of dollar cost averaging is that as long as you stay consistent, the average price of each of your shares (or fractional shares) should remain pretty even over time.
Core Portfolios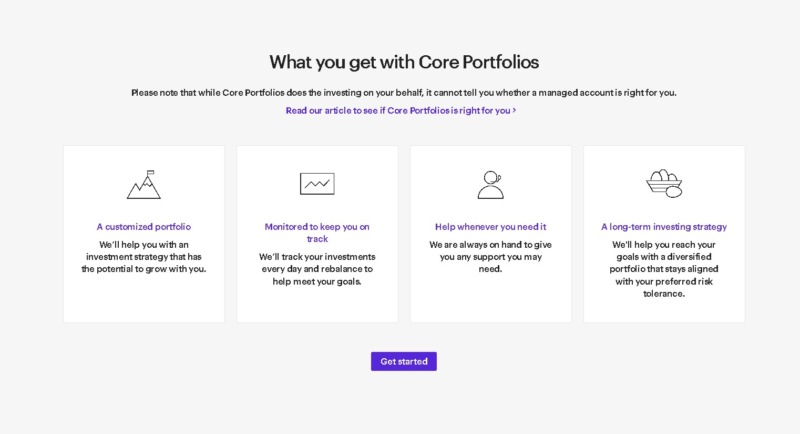 Additionally, eTrade offers investors the option to invest through its Core Portfolios. A Core Portfolios account is a type of hybrid account that uses robo-advisors to help you create an automatic investing plan in a few easy steps.
If you decide to go this route, you'll need to be ready to make an initial minimum investment of at least $500 to get started. After that, you can either add money to your portfolio at any time or use e Trade's Money Transfer service to set up recurring purchases of any amount on your schedule.
What are the Benefits of Core Portfolios?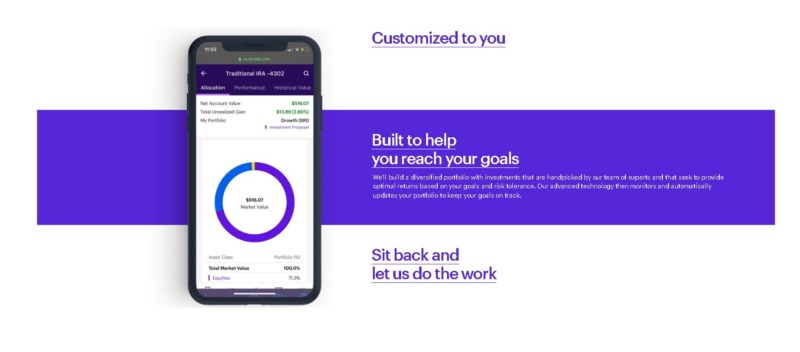 Core portfolios are a great choice for hands-off investors who want enough control over their investments without pouring countless educational resources for information. When you sign up for the Core Portfolios program, you'll complete a brief questionnaire about your risk tolerance, how much you want to invest, and how often.
The program's robo advisors will then customize a portfolio built around your preferences and automatically rebalance it semi-annually to maintain your target asset allocation. But what if you're not into the recommended portfolio the system generates?
No worries – you can select a portfolio at any time with more or less risk. e Trade's Core Portfolios also offer enhancements designed to align with your values, such as socially responsible investing strategies or smart beta strategies.
While smart technology will play a large role in maintaining your portfolio, it will also be actively monitored by humans available to offer help whenever you need it. Overall, the automatic investment plans offered by Core Portfolios are an easy approach to creating a diversified portfolio that you can build on over time.
See Related: AcreTrader Review: Is It Legit or Worth It?
How Much Do Core Portfolios Cost?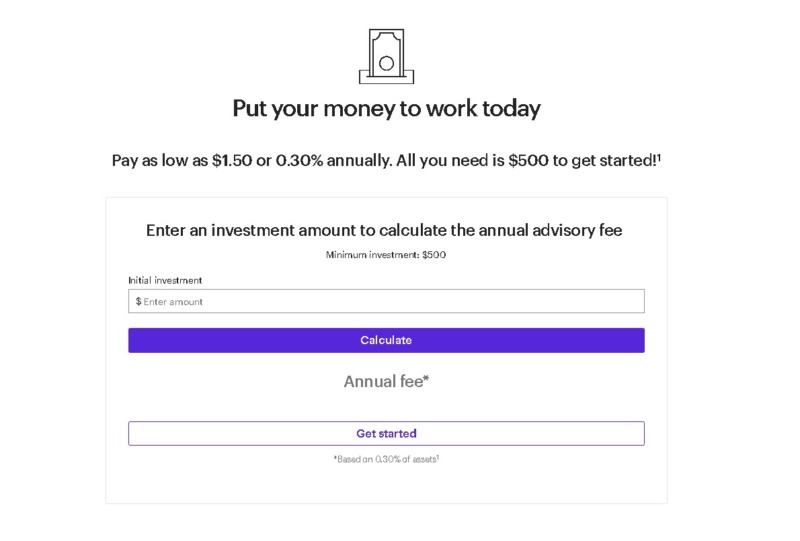 Account minimum
As mentioned, you'll need to invest a minimum of $500 to get started. But the good news is that even if your balance should drop below the account minimum due to market volatility, eTrade will still continue to manage your account.
Investment Fees
Additionally, eTrade's Core Portfolios invest in ETFs with low-cost expense ratios. The goal is to offer customers an easy way to build a diversified portfolio at a lower cost than other investments.
While you can add certain mutual funds to your portfolio, you'll be limited to those you already own. If not, you'll need to make an initial purchase into the fund to add it.
Annual Account Fees
Now, let's talk account fees. While human advisor fees vary widely, e Trade's Core Portfolios charge an annual advisory fee of 0.30%.
Using a robo advisor to create an automatic investment plan is generally cheaper than using an individual financial consultant or a portfolio manager-assigned option. Typically, investors who work with human advisors pay fees ranging from 1%–2% of their annual account balance.
But while e Trade's robo advisor expense ratios aren't bad, they're not stellar either. It's worth noting that SoFi's Automated Investing plan is free and allows you to get started even if your minimum investment is only $1.
Potential Drawbacks of e-Trade Core Portfolios
No Automatic Tax Loss Harvesting
One potential drawback of using the Core Portfolio option for taxable accounts is e Trade's tax-sensitive investment strategy. Core Portfolios don't automatically offer tax loss harvesting, a strategy that reduces capital gains tax by selling subpar investments to balance the gains from winning ones.
Instead, you'll be automatically enrolled in a tax-sensitive strategy that relies on municipal bond ETFs unless you opt-out during the initial questionnaire. But in all fairness, such considerations may be more important to some investors than others.
Not for Short-Term Investors
Additionally, it's important to note that a Core Portfolios account is designed for long-term investors looking to take advantage of dollar-cost-averaging and slow but steady growth. In other words, it's not the type of investment that will make you rich overnight.
That said, if you are into stocks and options trades, a Core Portfolio isn't a bad way to build a nest egg in addition to your short-term goals. It may be a particularly handy option if you already have an existing eTrade account.
Outgoing Transaction Fee
Along the same lines, since Core Portfolios are intended for long-term investing, they aren't the best place to park money you may need soon. eTrade charges a $75 outgoing transaction fee for a full transfer or a partial transfer fee of $25.
Invest in an eTrade PreBuilt Portfolio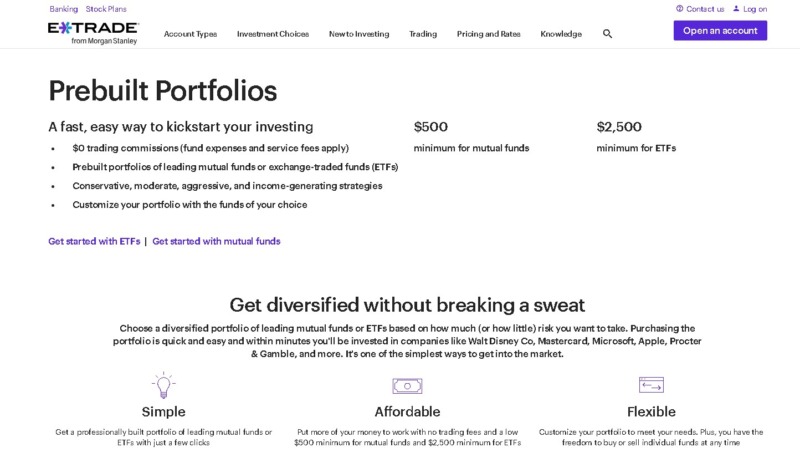 In addition to Core Portfolios and Automatic Investing, eTrade offers PreBuilt Portfolios. While they're marketed more as educational content, PreBuilt Portfolios are worth checking out if you're looking for an easy way to get started with a portfolio composed of two different asset classes: ETFs or no-load mutual funds.
Choose from four pre-curated ETF portfolio options based on risk tolerance and time horizon or four portfolios designed around mutual funds. While the portfolios featuring mutual funds offer a minimum $500 buy-in, you'll need to be ready to put up a minimum of $2,500 if you're interested in a Prebuilt ETF portfolio.
If you're looking to invest in a fully diversified portfolio with a single click, then a Prebuilt Portfolio isn't a bad way to go. Remember that PreBuilt Portfolios are self-directed, so while they don't include rebalancing, you will enjoy the freedom to buy or sell assets anytime.
You can stick to the originally suggested plan and make additional recurring purchases of the same investments. Or you could use a Prebuilt Portfolio as a foundation to build a customized portfolio over time.
See Related: eToro Review: Is It Legit and Worth Using?
Is an eTrade Automatic Investing Plan Right for You?
In an age where you can sign up for automatic purchases of almost any product, eTrade makes it easy to set aside money for the future regardless of your financial situation. Whether you opt for a self-directed option by creating an automatic investing plan or take advantage of the latest technology with a core portfolio, you'll enjoy all the benefits of dollar cost averaging over time.
eTrade also offers the benefits of great market commentary, educational resources, and a convenient mobile app. You can also enjoy multiple account types, ranging from custodial accounts to individual brokerage accounts from the same platform.
Even if you're primarily into trading individual stocks, creating a separate hands-free investing account dedicated to conservative investments like mutual funds never hurts. Whether you decide that eTrade is right for you or not, we hope this has helped give you a better idea of the different automatic investing options the brokerage has to offer.
Related Resources