Figure.com is fast becoming a popular lender in the mortgage and loan industry. It is one of the most mentioned brands by borrowers of the Home Equity Line Of Credit (HELOC). You may have heard of it if you are interested in either HELOC or mortgage refinancing. If that is the reason behind your search, you need to read on to know more about this lender.
It is always a proper action to research a lender before applying for or taking out a loan. This step is necessary to help keep you out of unforeseen trouble in the future!
As a finance advisor, I have received countless requests from folks who ask the question; is Figure legit or just another fraudulent platform? Therefore, this Figure.com review contains all you need to know about the lender!
Unlock Sustainable Investing Opportunities 🌿
Join the green revolution by investing sustainably with our top partners. Discover platforms that align with your values and offer remarkable opportunities for growth.
How Did I Review Figure.com?

Over the years, I have had experiences with different lenders in the United States. Besides being a financial advisor and a personal finance writer, I've had first-hand experience applying for mortgages, HELOCs, and other types of loans.
Figure.com is one of several home equity lenders I have engaged. This experience then authenticates my review of the brand. It is also an obligation to ensure my review is not biased and (at least somewhat) reliable as an analyst.
In carrying out these Figure reviews, I considered three critical things. Firstly, I considered the home equity loans (and others) available, which you will agree with me, to be an important factor. The other two are affordability and ease of use.
These three factors determine the reliability of a mortgage lender. In short, this review is a summary of all these three things.
What is Figure?

This approach probably is the best way to take because it is most likely you know little about the brand. It would be best if I introduce you to the brand and its identity.
Figure, established in 2018, is one of the trending lenders in the United States. It is a new online lender notable for home equity credit and mortgage refinance lines. It provides services to 41 states of the United States, including Washington D.C.
The company has its headquarters in San Francisco. I definitely can not talk about the number of their sub-offices because they are known for digital applications. One of the best things about Figure is that you can make all applications online without being physically present with a notary.
The Figure loans application website integrates blockchain and high-level technology to facilitate easy and secure applications. Both application and funding are 100% online with no hassle. The company's fast funding is spectacular as you can get the Figure home equity line of credit in just five days, while Figure can approve your mortgage refinancing in 4 weeks or less.
It is worthy of note that the HELOC offered by Figure has a loan cap of $400,000. This cap might be a bit low; however, you can access up to $2,000,000 in the jumbo loan refinancing.
See Related: How to Invest in Renewable Energy [Step-By-Step]
Pros and Cons of Figure.com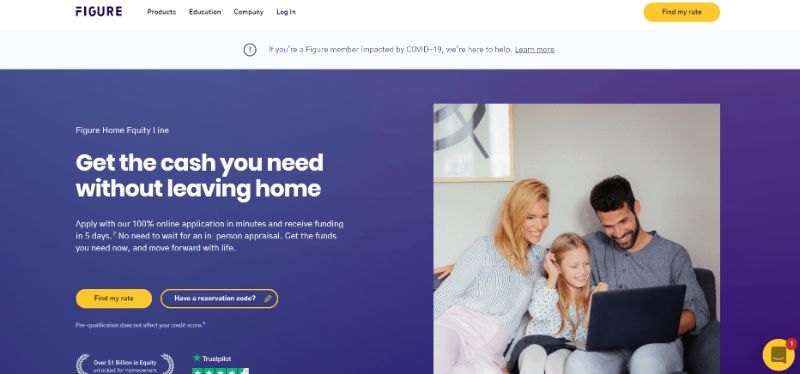 Figure Pros
Let me start by giving you an overview of the good sides of Figure.com. Here are the pros of Figure should know;
Seamless Application
With what I can call an ultra-fast application, you can apply for a loan on Figure in a short time of 5 minutes! All applications are carried out online from the comfort of your home. The processes involved are not hard as you are only requested to input your basic information. You can then approve a soft credit check and verify your identity using a government-issued ID.
Quick Loan Disbursement
Easy application isn't all; Figure also promptly releases your loan without keeping you waiting. Figure can grant your HELOC application as quickly as five days from application. Loan refinancing can take between 20 days and 4 weeks to be processed. This is perhaps one of the quickest loans you can get in the United States.
See Related: Are Personal Loans Bad? Here's What You Should Knowc
Fair Interest Rate
One would have thought the company might have made up for its easy application and quick disbursement with a hefty interest rate. However, Figure still offers one of the most competitive interest rates around. The company has an APR rate starting from 3.5%, while the HELOC rate is presently 4.61%. Interestingly, borrowers with credit union membership or auto-pay can enjoy discounts leading to fewer APRs.
Fewer Fees
One of the challenges borrowers face is paying different fees while servicing a loan. Figure loan lenders will only charge you 4.99% of your initial draw amount as origination fees. Aside from this, you do not have to worry about expenses such as appraisal fees, late fees, annual fees, and prepayment fees. As such, it becomes easier to commit to paying up your loan.
Soft Credit Check Only
It is interesting to see Figure requesting permission to carry out only soft credit checks. Major lenders will not qualify you for a personal interest unless they perform a hard credit pull on your credit score. Borrowers with a minimum credit score of 620 can qualify for HELOC on the platform.
Revised Draw Limit
Figure offers a flexible HELOC which allows you to draw on your line of credit. Even after paying up your loan, you can still draw up to 100% of the original amount. This offer is an update to the company's initial draw of 20%. This attribute makes Figure a better option when considering HELOC.
Figure Cons
There are always two sides to a coin. It would be wise to point out the inadequacies of Figure.com, which I have found. Here are the cons of Figure;
Property Choice
Figure is very selective of properties that can qualify for the Figure home equity line of credit. It has been spelled out that the acceptable properties are single-family residences, townhomes, and sometimes condos. Some other properties such as multifamily real estate, commercially zoned real estate, co-ops, houseboats, and manufactured housing are not eligible to get Figure's HELOC. Meanwhile, some lenders may consider borrowers with such properties.
Low HELOC Loan Cap
Major home equity lines of credit offer a loan cap of $500,000 and beyond. On the other hand, Figure HELOC has a loan cap of $400,000. This low cap might be an attempt to minimize its risk since both the application and the funding process are online. Whatever reasons they have got for this, the fact is that it is a limitation for the borrower.
Limited Customer Support
Customer service is one aspect of business that automation and AI may not carry out effectively – at least for some time. Hence, Figure has fallen short in this regard. Regardless of how urgent you may need to talk to a support agent, you may have to wait for days to get a response from the support team. There are no loan agents to talk to or ask questions about your loan. I've found the live chat feature is very limited and may not provide satisfactory answers.
See Related: Best Energy Efficiency Loans for Homeowners
Services Offered By Figure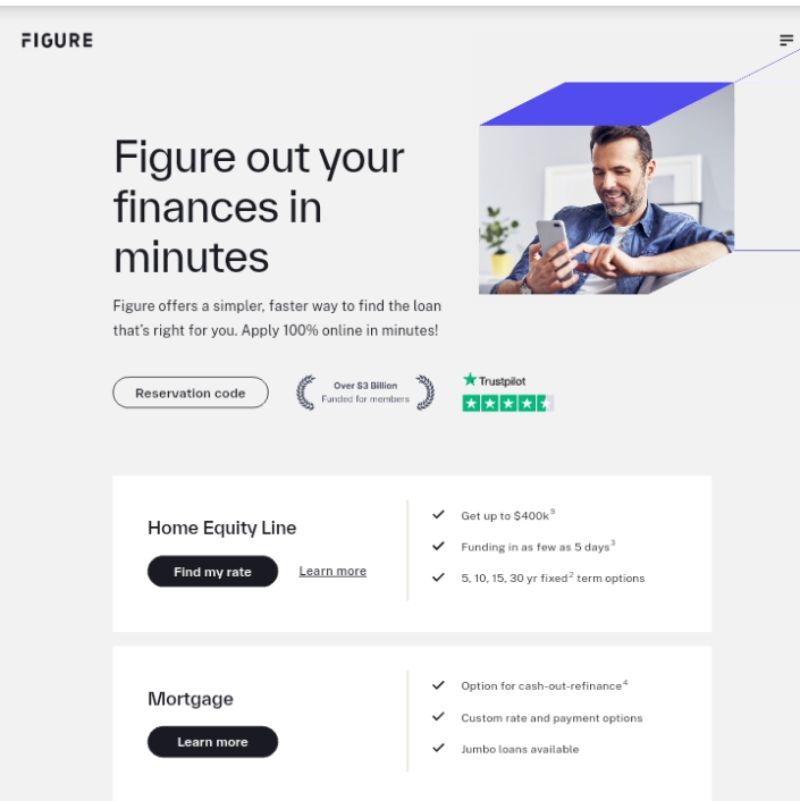 I want to believe that you have a glimpse of what Figure does by now. However, I want to take you through the details of all services provided by the company. You don't want to assume the service rendered is the same as that of other borrowers you may wish to imagine. So in the next section, you will find me explaining each of these services and how Figure works.
See Related: Upgrade Loan Review: Is It Legit to Use?
Home Equity Line Of Credit
Home Equity Line Of Credit (HELOC) is a line of credit that allows the borrower to draw on as needed till the maximum amount is reached. Figure provides HELOC to borrowers from 41 states of the United States, including the District of Columbia.
The uniqueness of Figure's HELOC is that it is flexible compared to a traditional home equity loan. The HELOC rate offered in Figure ranges from $15,000 to $40,000 with a 5, 10, 15, and 30 years repayment period. The lender provides the initial draw amount in a short period of 5 days away from the application day.
Homeowners can make an additional draw of up to 100% after the initial draw has been paid while the origination fee is involved.
A worthy note about Figure home equity lines is that they do not include an appraisal fee. The lender uses an automated evaluation system to appraise your property, nullifying the appraisal fee. Likewise, Figure uses a fixed rate for each draw, depending on the prime rate during the draw period. As a result, you will have a different rate for different draws, while the locked-in rate will not change over the repayment period.
Figure requires you to have a minimum credit score of 620 to qualify for the home equity line. It is possible to go through the pre-qualification process to check if you are qualified without using your credit score. We'll go through the process involved in the home equity loan application shortly.
See Related: How to Finance Solar Panels: Loans & Other Options
Mortgage Refinance
Mortgage Refinancing allows homeowners to carry out debt consolidation or pull equity out of their homes. It is also a good option to choose a mortgage with a lower interest rate. Other homeowners will consider this option because it is always cheaper since your primary residence is securing the loan.
If your refinancing aim is to lower your interest rate, Figure can provide you with up to an 80% Common Loan To Value (CLTV) ratio. The maximum loan, in this case, will be about $1.5m. However, for a cash-out refinance, you can get up to 75% CLTV with a maximum amount of $1m.
Only single-family homes and townhomes qualify for Figure's mortgage refinancing – although other properties can qualify in special circumstances. Jointly owned properties such as second homes, co-ops, commercial real estate, and investment property may not be considered.
Figure offers a more different form of mortgage refinancing to homeowners. Firstly, like the home equity lines, you apply online, and it takes a few minutes to do that.
The verification of income and sheets are also automated and done online. Meanwhile, you have to give access to a hard credit check to evaluate your credit score. All the same, the entire process will take about five minutes or slightly over.
It is worthy of note that Figure's mortgage refinancing shares some similarities with traditional mortgage refinancing. It includes all necessary fees like a lender fee, recording fees, and title fee. The refinance point is also calculated for the entire loan amount, unlike in a line of credit.
The homeowner is expected to pay the mortgage along with the new loan. The amortization schedule will also be revisited while the debt horizon will be extended.
See Related: Tesla Auto Loan Overview: How to Get the Best Terms From Tesla
Personal Loan
Figure offers a personal loan formerly referred to as a student loan refinancing. Figure created this loan to help students consolidate or lower student loan debt. It is sometimes referred to as an unsecured personal loan.
Like it is the company's custom, you will have to make the application online. It uses your financial accounts for asset and income verification. The loan features an origination fee and prepayment penalty. However, you can avoid the prepayment fee if you pay off the loan early.
The Figure personal loans offer a loan amount between $5,000 to $50,000. The loan period can only be within a short-term period of 3 or 5 years. It also depends on your credit score after your financial account evaluation.
More interesting is that you can earn a discount of about 0.25% if you automate your payment. It is as simple as linking your bank account to Figure, and they will make the deduction at a specific date each month.
See Related: What Are Green Personal Loans?
Figure Pay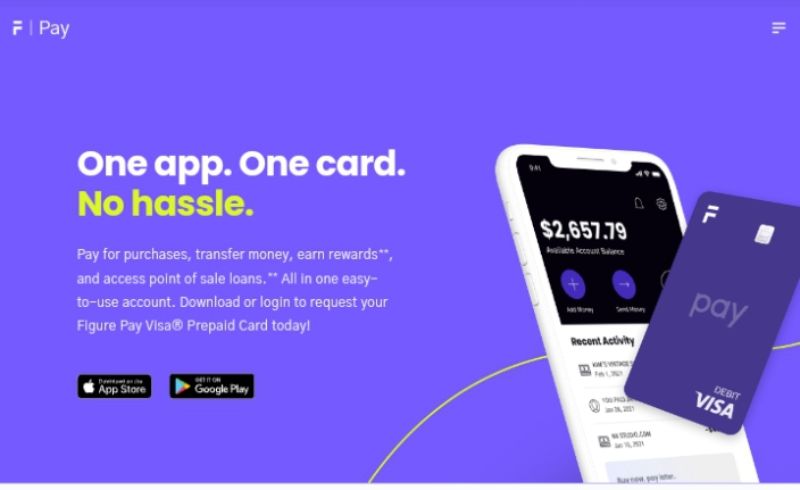 Figure Pay is another interesting service from the Figure company. It is not a loan service but rather a payment platform that works like PayPal or Venmo.
The platform allows you to send money and receive payments to friends and family. You can also use it for making payments to online vendors and at a retail store. Figure has offered incentives to retail stores to encourage their customers to pay using Figure Pay to enhance its popularity.
The Figure Pay app also allows users with good credit scores to use the buy-now-pay-later service. In addition, you can attach other credit and debit cards to your Figure Pay account for making deposits and withdrawing your money.
Figure Pay also features a merchant service that allows businesses to receive payment from their clients. There is also an option to refer people to use the platform while you earn a commission on the referrals. The transaction fee on the platform is incredibly low and might just be an opportunity to save the extra fee traditional merchants might cost you.
See Related: Best Green Auto Loans to Consider Today
Loan Application on Figure.com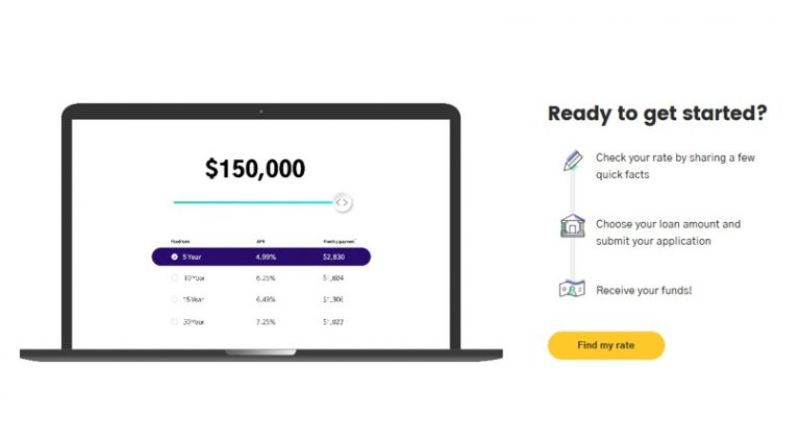 I've mentioned the seamless application process on Figure.com. Now let me take you through the process in more detail. The entire loan process can be categorized into three stages: funding inclusive. Each of these is explained below.
See Related: Best Credit Builder Loans
Pre-qualification Stage
The first stage of application for HELOC and mortgage refinancing is the pre-qualification stage. This stage is where you show interest in the loan and check if you are qualified and the likely interest rate.
On the website's homepage, click on the 'find my rate' tab. This will redirect to the page where you will submit some of your information:
Name
Email address
Residential address
Date of birth
Collateral property address
Description of the property
Household income
Reason for requesting a loan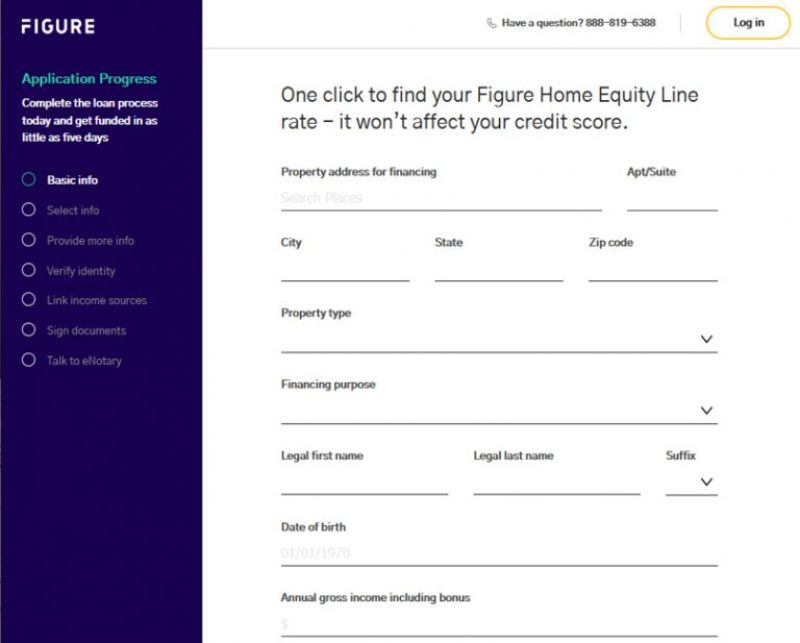 Immediately after submitting the information, Figure carries out a soft credit check to ascertain your eligibility. The required credit score is a minimum of 620 for major states, while Oklahoma is 720. If you meet the criteria, you will receive feedback on the maximum loan amount you can get with the origination fee and interest rate.
Loan Application Stage
If you like the offer Figure gave you at the pre-qualification stage, you could then proceed to fill out the proper loan application form. This form requires you to submit information such as;
Bank account access
Government-issued identity card, i.e., United States passport, Driver's license, State ID, Residency visa, Military ID, etc.
Property insurance or proof of homeowners insurance
Loan and flood insurance (might be optional if your house is not located in a floodplain)
Once you have this information submitted, Figure's automated verification system verifies your identity and property. A hard credit score is then performed, which analyzes your deposit history and credit report. The system also checks through the public record to ascertain you as the property owner.
All of these verifications are done in less than 5 minutes. However, when the automated system encounters glitches, the lender might subject you to human verification, which may take more time. The property evaluation verification is critical as the Figure always wants to avoid overlending.
Application Closing Stage
The final stage of your application is verification with an online notary. Figure does not require you to present yourself for identification verification and signing at their office! They use a remote online notary where you meet with a notary officer through a video call.
The e-notary will verify your identity to ensure it matches your submitted identity card. The e-notary might also subject you to questions to ascertain whether you are eligible for the loan. Finally, you will need to e-sign a document that the notary officer will notarize. Then that might just mean that your loan is on the way.
If your loan is approved, it will be disbursed into your account using the account information submitted. Figure home equity line of credit typically takes five days, while mortgage refinancing may take about ten days to 4 weeks.
See Related: PACE Loan Calculator: How Much Does It Cost Per Month?
My Verdict On Figure.com
As an experienced finance fellow, hopefully, my recommendation can help you make the right decision about whether Figure is right for you. Most importantly, I need to emphasize that my decision is neither sponsored by any company nor biased – I'm just a humble user.
I have explored many lenders both as a borrower and a financial advisor. I must commend Figure.com for a few reasons.
It is incredible to have your loan application done online in about 5 minutes without visiting the lender's office. The online application, evaluation, and e-notary system have saved energy, time, and resources. Even with computer glitches, it's still quicker and easier than having to apply in person.
Moreso, I like that Figure's home equity line of credit does not include the appraisal fee and other unnecessary fees. The only attached fee is the origination fee.
This opportunity allows borrowers to commit to paying up the loan without the burden of an income-sucking fee. Nonetheless, mortgage refinancing maintains all necessary fees applicable to a traditional mortgage.
Finally, I will not want to close my sight on Figure's shortcomings. I believe the company can do better by increasing the HELOC cap, which is $40,000. Likewise, customer support speaks volumes about a brand, and the company must improve upon it.
Save for these; Figure is a recommendable lender you can consider for your HELOC and mortgage refinance if you have a good credit score.
FAQs
Who should use the Figure?
I will recommend Figure for people with good credit scores. You stand the chance of getting your loan approved with a minimum credit score of 620. You then use Figure for your HELOC, mortgage refinancing, and personal loans.
What about the Figure loan term and draw phase?
Figure has a loan term of 5,10,15, and 30 years. You will choose your best payment schedule that satisfies any of the loan terms you are given. The initial draw phase can be two or five years. Once the draw phase expires, you won't be able to borrow more money, and this activates the repayment phase.
What is the CLTV ratio for my credit score?
For a first and second lien; a credit score of 620-659 has a CLTV ratio of 75%; a credit score of 660-699 has a CLTV ratio of 80%; a credit score of 700-759 has a CLTV ratio of 90%; a credit score of 760-850 has a CLTV ratio of 95%.
Is Figure a legitimate lending company?
Figure is a legitimate lending company that provides home equity loans, mortgage refinancing, and personal loans to borrowers. The company was founded in 2018 and is headquartered in San Francisco, California. Figure has received positive customer reviews for its fast and efficient loan process and competitive interest rates.
Related Reviews
Related Resources