There's no doubt that the future of companies that invest in sustainable energy is bright. It's obviously great news for investors, no matter the industry type. Sustainable investing is crucial as it helps contribute to a better world.
Investors from different fields can invest their funds in trusted environment-friendly and socially responsible companies to make them work in a way that positively influences society for a more sustainable future.
However, finding the right investment firm with socially and environmentally responsible practices is one of the daunting challenges since hundreds of companies claim to play a significant part in ensuring a better future.
Unlock Sustainable Investing Opportunities 🌿
Join the green revolution by investing sustainably with our top partners. Discover platforms that align with your values and offer remarkable opportunities for growth.
If you're searching for an eco-friendly company to invest your capital in, then you're at the right place.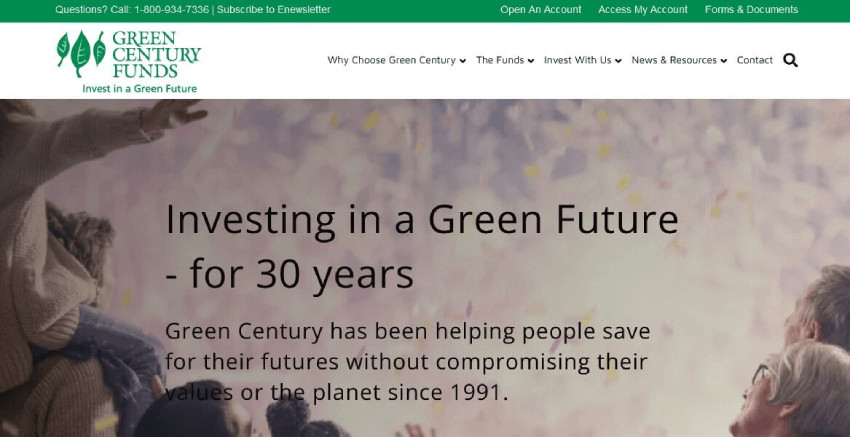 Have you heard about Green Century Funds? If not, no worries. This Green Century Funds review has got you covered.
In this post, we will highlight every detail you need to know about Green Century Funds to make the right investment decision. Let's continue reading to take a closer look at different aspects, including Green Century Funds investment.
But, before digging into details about Green Century Funds, let's start with the basics.
What is Green Century Funds?
Established in 1991, Green Century Funds is the first family of responsible, fossil fuel-free, and diversified funds in the United States. It is a pioneer in SRI (Socially Responsible Investing) and the divestment movement.
This mutual fund company was founded by nonprofit environmental advocacy groups intending to provide an investment option for people constantly working to save the environment.
We can say that Green Century Funds has been helping investors ensure a secure future without compromising on the planet's safety.
The unique three-pronged approach of the Green Century creates a unique way for investors to make a significant impact with their investments. Here are some points every investor must know about Green Century:
It invests in sustainable companies and employs strict ESG (Environmental, Social, and Governance) performance rating screens.
Green Century Funds doesn't invest in companies that process, extract, refine, and transmit oil, gas, or coal; transmit natural gas; own carbon reserves; transmit electricity derived from fossil fuels; and produce nuclear weapons, military weapons, tobacco, civilian firearms, atomic energy, and genetically modified organisms (GMOs).
It houses an award-winning and in-depth shareholder advocacy program that motivates dozens of companies each year to boost their environmental practices.
This is the only US mutual fund firm entirely owned by public health and environmental nonprofit organizations. Moreover, 100% of the profit generated by the Green Century supports the work of these NGOs (nonprofit organizations).
How Does Green Century Funds Work?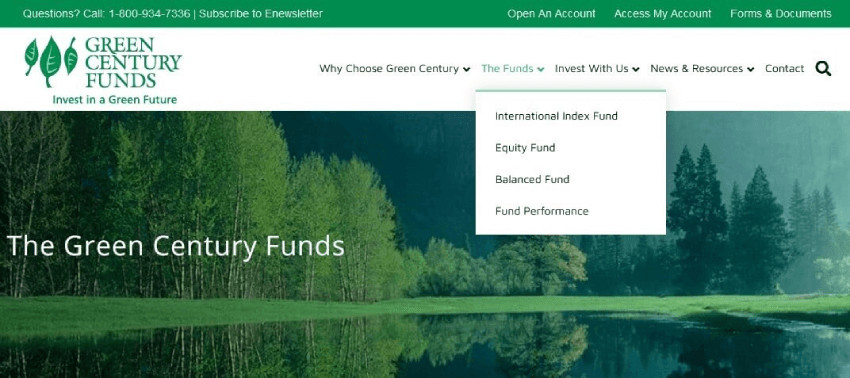 This section of the Green Century Funds review represents how Green Century Funds works.
Basically, this mutual fund company features three ways for investors to align their investments with their values, and these methods are as follows:
Green Century Balanced Fund is an actively managed fund that invests in the stocks of solution-oriented businesses, including energy efficiency, clean water, and renewable energy companies, over 50% of which are sustainable or green.
Green Century Equity Fund passively managed fund is dedicated to investing in sustainable US-based companies – groups with socially conscious funds.
Green Century MSCI International Index Fund is another passively managed fund that invests in businesses with excellent ESG ratings in well-known markets outside the US.
This is the first fossil fuel-free, diversified, and socially responsible international index fund available to US investors.
Why Choose Green Century Funds?
Green Century investment strategy follows values-based screens and ESG rankings, such as fossil fuel company exclusions, to provide investors with sustainable and green investment options.
The company also uses a wide range of shareholder advocacy tools, like filing shareholder resolutions and dialogues with management, to improve supply chains and corporate environmental policies to make an impact that investors can measure.
In addition, Green Century has made a dramatic difference on public and environmental health issues over the past three decades by following unique nonprofit ownership.
Furthermore, Green Century Funds leverages its status as an investor to introduce improved corporate environmental practices. They believe that even corporate sustainability companies have room for growth and quality improvements.
Therefore, the company encourages several organizations each year to get involved in more robust environmental practices throughout their supply chains and operations.
Green Century believes that businesses that work towards the safety of people and the environment may avoid reputational and brand damage, protecting shareholder interests.
Overall, the Green Century Funds performance may help companies ensure environmental safety and get an impressive ROI (return on investment).
Not only this, but it also provides investors with peace of mind by knowing that they are supporting the corporate sector in the effort to improve supply chain processes, address climate issues, and implement robust governance structures.
How to Invest with Green Century Funds?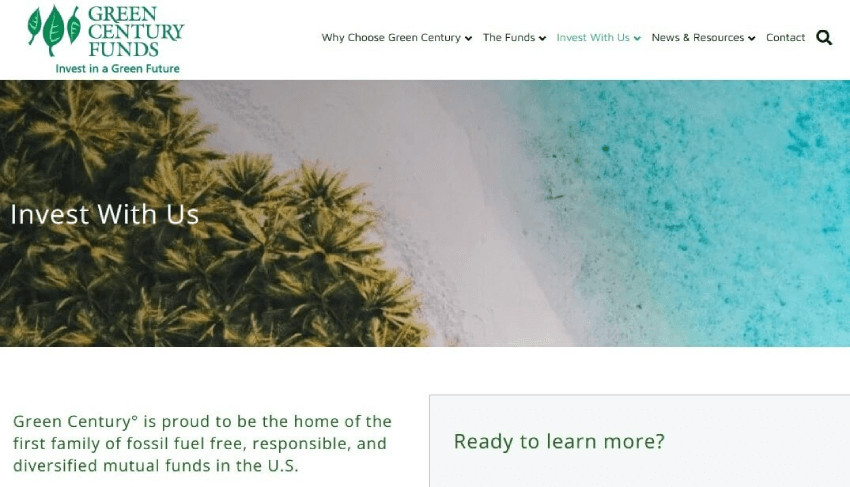 This section of the Green Century Funds review will discuss the points you need to know to get started with Green Century Funds.
There are two ways investors can invest with Green Century Funds, either directly or through an intermediary, like a brokerage account or financial advisors.
1. Invest Directly
Check out the information available in documents or forms online, fill them carefully, and send them to [email protected].
You may also consider opening an account online.
For additional account registration forms, reach out to the team or browse the list here.
2. Take Help from a Financial Intermediary
Under this method, you can consult with your broker, mutual fund supermarket, financial advisor, or other intermediaries for details on investing in Green Century Funds.
A financial intermediary may follow varying policies and charge a fee from you for their assistance.
When you invest in a Green Century Fund directly, you will have to pay no front-end sales and contingent deferred sales charges. On the other hand, when you invest in Green Century with the help of an investment professional, that financial intermediary will charge you a commission based on the investment amount.
However, to invest with Green Century Funds, you first need to register online and open an account with the company.
For this, you need to obtain a prospectus and registration form.
Browse the website to get the required documents. You may also ask the team to share all the necessary documents with you in your mail by sending a request at [email protected].
Go through the material properly to understand the process. Once you review all details, consider filling out the account registration form and sending it to the company with your initial investment.
You may also consider opening an account online.
How to Register on Green Century Funds?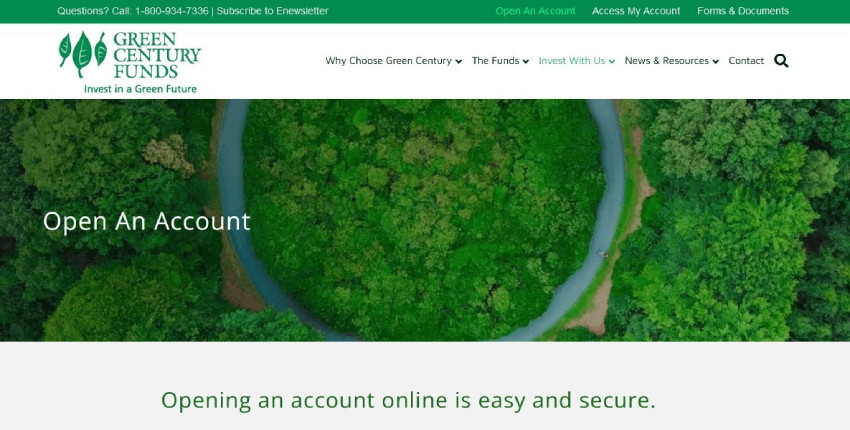 Opening an account online with Green Century Funds is easy and secure. One can open the following account types with the company.
Regular Investment Account (Both individual or joint)
Traditional Individual Retirement Account (IRA) (except transfers/rollovers)
Roth Individual Retirement Account (except transfers/rollovers)
Custodial Accounts (UGMA/UTMA) (Uniform Gift/Transfer to Minors Accounts)
To open an account with Green Century investment, click here. Once you complete the registration procedure, the company will transfer funds to your new Green Century account from your current bank account. This entire process will take approx 5 minutes.
Besides, every investor needs to have some documents ready before starting the registration process. These documents are as follows:
Personal bank account number and bank routing number of the candidate (a deposit receipt from your savings account or a check from your checking account)
Investor's Social Security Number (SSN)
The names, DOB (dates of birth), and SSNs of any account beneficiary (only for IRAs)
Most importantly, once you start the registration process online, make sure to complete it before leaving the website. If you exit the site without completing the process, you will have to start from scratch, as the information you've entered will delete automatically.
Also, for all other account types (IRA transfers and rollovers ) or whether you want to open an account by mail, consider downloading the account forms online or requesting to have materials mailed to you.
See Related: Vinovest Review: Is It Legit & Worth It?
Investment Strategy of Green Century Funds
As you may know, Green Century Funds has been a well-known name in socially and environmentally responsible investing for the last 30 years.
With the three-pronged practice, this mutual fund company provides investors from all industries the opportunity to impact society in a unique way that no other mutual fund family can match.
Now, let's dig a little deeper to know the investment strategy of the Green Century.
1. ESG Performance Ratings
Green Century Funds prefers picking businesses with the highest ESG ratings in the industry. Investing in companies with good ESG ratings has been proven to be a great move to lower risks and gain financial benefits.
Making investments using ESG value may result in lower or higher returns than an investment plan that doesn't include such criteria.
2. Value-Based Screens
To provide investors with a reliable investment platform to invest with their values, Green Century avoids investing funds in harmful and dangerous industries, like tobacco, fossil fuels, nuclear energy, and the production of genetically modified organisms (GMOs).
3. Fossil Fuel Free
Green Century is the first group of environmentally & socially responsible and diversified mutual funds. They also list their screens excluding gas, coal, and oil exploration, refining, extraction, processing, and transportation.
4. Controversy Exclusions
Green Century also uses ESG controversy ratings to ignore companies with projected or current reputational risks. Not just this, but they also don't prefer working with businesses that do not follow international principles and norms.
See Related: Mainvest Review 2022: Is It Legitimate?
Additional Information about Green Century Funds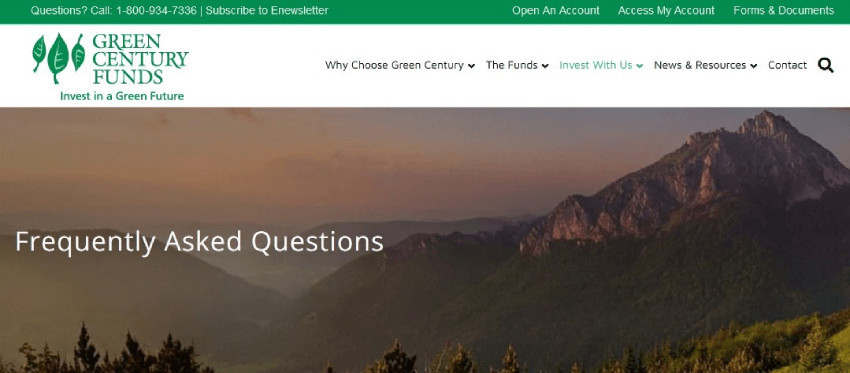 This section of the Green Century Funds review features some FAQs (Frequently Asked Questions) you must go through to understand the program and process properly.
1. What is the Minimum Investment with Green Century?
So basically, one can open a regular account with any Funds of Green Century with a minimum $2,500 initial investment amount.
Similarly, you can open Education Savings Accounts, Individual Retirement Accounts (IRAs), and UGMA/UTMA with a $1,000 minimum initial investment.
A minimum investment of $1,000 is required for people who want to open a regular account with an AIP (Automatic Investment Plan) of at least $100 per month.
Also, there's a $250,000 minimum initial investment for the Institutional Share Class of the Balanced Fund, Institutional Share Class of the Equity Fund, and Institutional Share Class of the International Index Fund.
See Related: Arcadia Power Review
2. How to Transfer or Rollover IRA to Green Century?
The easiest method to roll over or transfer an individual retirement account to the Green Century account is – to fill out an IRA Transfer request form. Complete the form and submit it with the IRA account registration form. The company will reach out to the current IRA custodian to transfer the funds to a Green Century IRA account from the existing IRA custodian.
Additionally, you must check with your IRA custodian to see if it needs a Medallion Signature Guarantee on the IRA Transfer Request Form to avoid any delay later.
3. How to Access Your Green Century Account?
Once you create your account with Green Century, you can access it, view statements, and make transactions by signing up for Online Services. Just go to the Home Page of Green Century and hit "Access My Account."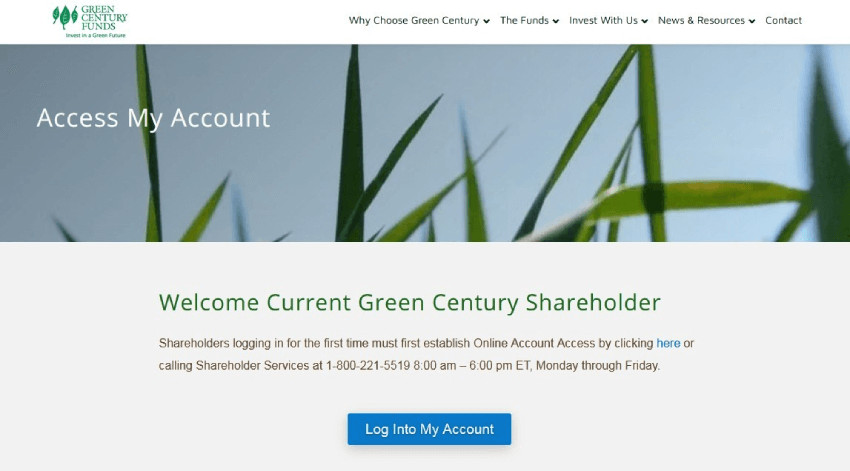 Now, click here and follow the given instructions to get online account access. You may need your Account Number and Tax Identification or Social Security Number to register to add online access to your account.
Moreover, investors also have the option of going with the electronic delivery of shareholder reports, account statements, etc.
If you prefer to receive documents online, log on to your account and press "Account Detail." Once you choose the electronic delivery option, you will receive an email with details on when your documents will be available online.
See Related: How to Create an Investment Thesis [Step-By-Step Guide]
Invest in Green Century Funds Today
Overall, this Green Century Funds review shows that this mutual fund company can help investors save for retirement without compromising their values and make positive environmental contributions.
Green Century only invests in corporations, leaders, and innovators that lead their industries in ESG performance, offering a great deal to organizations, investors, and society.
We hope this detailed Green Century Funds review will help you decide how to invest in Green Century and make sure your money supports what you value.
Moreover, if you have any questions about Green Century's investing strategy, nonprofit ownership, or shareholder advocacy, please fill out the form and let the team resolve your queries.
Related Reviews
Related Resources