How can one own a Tesla without emptying their pocket? Are there any good tips on how to save for a Tesla that someone can use? Well, this guide is meant to answer those questions and more. Read on to find out.
How do you own a Tesla that bears a $100,000 price tag? Sounds like a dream only achievable by the rich, right?
Well, it's not. You can also own this luxurious new brand without straining your finances too much. In the next few minutes, we'll show you just how to afford a Tesla.
Well, it's true that Elon Musk's brainchild is causing unrest in the automotive industry. And like with any other great brand before Tesla, everyone wants to have a piece of this new technology.
Elon Musk didn't just add another car to the list of electric vehicles. He has added luxury and speed to this eco-friendly invention. In essence, it not only outperforms the biggest brands in terms of luxury and speed but also in maintaining a clean environment.
Now, what is better than this?
The only problem with Tesla is that it isn't cheap. But this doesn't mean that you are locked out of owning one. Today, we show you how to save for a Tesla to help make the purchase less intimidating.
But first;
Why People Love Tesla
Why does Tesla have such a loyal and passionate fanbase?
The sleek design, creative functionality, and environmentally friendly nature are a few top reasons why everyone wants to use a Tesla. Tesla is entirely committed to its customers and serves every person as an individual.
Once you own a brand new car from Tesla, it's hard to buy any other brand. And, here's why it is worth the hype.
1. Customized Driver Profiles
Tesla's driver profiles are a defining feature of the company's personalization initiatives. You can change your settings by just pushing a button as a driver. How cool is that?
Rather than manually fixing your mirror or adjusting your wheel, Tesla automatically changes the settings depending on your preference. Moreover, Tesla matches the driving style with each user. Thus you can drive the car according to what is comfortable.
The best part is the profile isn't fixed on the key, and you can switch between the profiles using the touchscreen. Your driver profile smoothly blends with the Tesla experience, and your car becomes an extension of the driver.
See Related: Best Portable Solar Panels for Home
2 . Data-Driven Design
Thanks to its test fleet of completely self-driving cars, Tesla has the most integrated data in the business. Numerous sensors pick up movement, which is connected to provide you with a full image of the driving experience.
Tesla firmly understands the individual needs of its clients and tailors the driving experience to meet these needs. Hence, the company stays abreast with data and updates its software to resonate with every user.
3 . Dynamic Personalization
Unlike other car brands, Tesla targets to create reliable software that automatically updates as systems develop. Thus, the driver experience improves when the software evolves.
Innovative personalization helps the car recognize the driver and automatically reconfigures according to your preferences.
The root of Tesla's fast growth is its forward-thinker approach which uses personalization innovation to create a unique driver experience.
Different Ways How To Save for a Tesla
Do you fancy Tesla cars, but you're discouraged by the price tag? Worry no more because these tips show you how to save up for a tesla.
1. Clear Your Debts
Paying your debt is a piece of sound financial advice for almost any financial goal you might have. It's difficult to avoid debt these days, and most people owe thousands of dollars in loans.
But start working towards paying off a significant amount of your debt, and if consistent, you'll clear your debt in a few years. Thus, you get a step closer to buying your dream car. Attempting to save to buy a new Tesla while servicing your massive loan will pull you down.
See Related: Acuity Brands, Inc. ESG Profile (AYI): Is It Sustainable?
2. Don't Change Your Current Car
You might be thinking of selling your new car to save up for a Tesla. Although it may sound like a good idea, keep driving your current vehicle if you've not saved enough to make a downpayment for a Tesla.
Besides, the old car saves you money when running errands, and if you're still servicing a loan on the vehicle, you will pay off in time to get your Tesla.
3. Create a Budget
Preparing a budget helps you to track your spending habits. Budgeting allows you to stick to your plan and enables you to stay out of debt.
What's more, budgeting assists you in cutting back on unnecessary expenses and saving more for your Tesla.
4. Buy Tesla Stocks
If you believe in the philosophy of everything electric and green living, then you should think of cashing in Tesla's success. Undoubtedly, Tesla is offering hot deals of $240 per share on Wall Street.
Your shares could quickly rise to at least $332.986 per year and double in a year if the current trend continues. Start monitoring the market and invest in many shares when the prices are low. If you're lucky, you'll put a down payment for your Tesla before you know it.
5. Start a Side Hustle
You can boost your savings for a Tesla by earning extra income. There are no limits to increasing your income.
Create value by making good use of your skills, and you will speed up your dream of owning a Tesla a reality.
See Related: Best Investments for Low-Income Earners
Salary to Afford a Tesla Model 3
Tesla models aren't cheap. In fact, Model 3 is the lowest-priced Tesla and retails at around $39,990. Still, it doesn't include government rebates. Meaning you can't consider Tesla 3 a budget car.
To buy this car, you first need a down payment of $4,500. And Tesla's website calculator estimates a monthly payment of $519 for 6 years to own the car.
With these calculations, coupled with your every month's spending, you can easily see if your salary can support owning a Tesla Model 3.
Basically, owning a Tesla requires you to be earning a salary of around $75,000 a year and above.
Can I Afford a Tesla Model 3?
The question of how to afford a Tesla Model 3 will pop up every time this unique car brand is mentioned.
But first of all, what does it mean to afford a car?
Basically, affording a car doesn't necessarily mean the price of the sticker. There is more to the True Cost to Own a vehicle.
Here are some of the costs you have to consider if you're thinking of buying a car:
Fees and taxes
Relevant tax credits
Financing
Maintenance
Car insurance
Fuel
Depreciation
Repairs (does not include unforeseen repair costs that in the regular maintenance)
Therefore, to afford a Tesla, you have to think beyond the initial cost. You must also consider the running costs.
Model 3 is the cheapest Tesla model, and below are some of the main costs to consider before buying a Tesla.
See Related: Tips for Buying a Used Tesla
1. Financing or Buying Directly
How will you pay for the Tesla Model 3? If you're planning to buy it directly from the manufacturer, you need a salary that allows you to save and pay the base cost of $39,990.
Thus, you'll save enough to purchase a Tesla by having a yearly income of $75,000 or more for a few years.
But does this mean that without a yearly income of $75,000, you can't afford a Tesla? There is no need to worry because there are other ways to afford a Tesla Model 3.
Tesla gives you the option of leasing their cars. It also offers you a financing option, where you can get a Model 3 with a downpayment of $ 4,500. But, you'll have to make monthly car payments of $519 for the next 72 months.
2. Maintenance
Model 3 is one of the best-selling cars in the market. Fortunately, many Tesla owners and enthusiasts enjoy reporting on the prices and the state of their prized Tesla once they achieve specific milestones. These reports include the number of years they've had it or the number of miles they've driven it.
A feature by Andy Syle discusses the actual cost of owning a Tesla Model 3 after driving 40,000 miles. Syle states that he had spent $51,922 up-front when purchasing the car in the video.
But here's something exciting. Despite three minor repairs covered under warranty, he has spent zero dollars in maintenance.
Generally, the Tesla warranty covers 50,000 miles or four years. Slye's car hasn't even gotten a new set of tires yet, but he's already traveled 40,000 miles in under two years.
3. Charging
Still, based on Andy Syle's experience owning Tesla Model 3, his figures accurately depict the total costs. After covering the 40,000 miles, the car expended an amazing 9,622 kWh from the battery. The vast bulk of this — 9,428 kWh — was charged at home, with the rest from Tesla charging stations.
Supercharging cost him only $54, while the cost of charging from home was $0.07 per kWh, which totals to around $660. That's not all; he factors in battery drain power loss due to efficiency problems and idling. And his charging cost is an impressive $767 for the 40,000 miles covered.
4. Insurance
Insurance tends to be costly when it comes to Tesla cars. Style paid $2,000 annually for full coverage, with a deductible of $500.
But style saved $2,500 for 17 months with no fuel costs. Therefore, consult with your insurance company first to get the full cost.
5. Depreciation
Tesla depreciates with a rate of 10-12% annually, which is very steep in the initial three years. Thus, if you're thinking of purchasing a Tesla, then 2019 is the optimal spot for depreciation and levels out in consecutive years.
Do Tesla Cars Use Gas?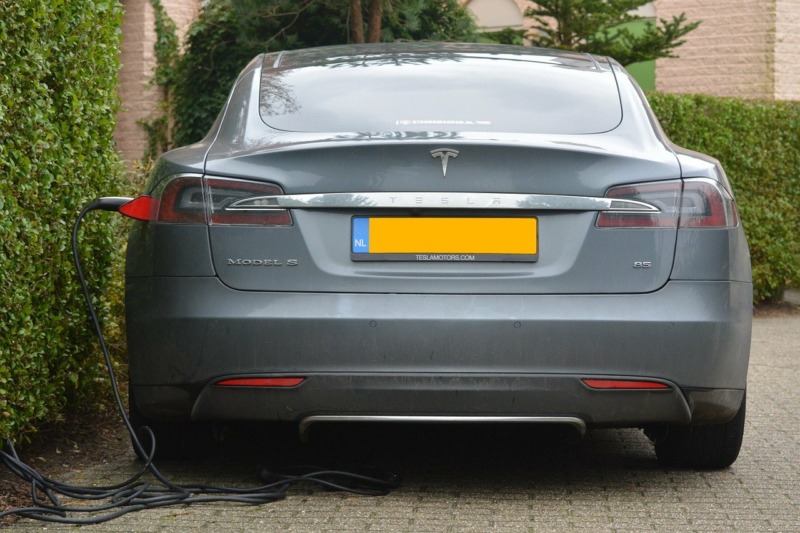 Tesla cars are electric and don't rely on gas for fuel. Instead, the car's fuel source is batteries charged at home or designated charging stations. You just need to charge your vehicle as a Tesla driver, like charging an electric device until the panels are full.
In addition, Tesla does not make hybrid cars that use gas and electricity. This means that Tesla vehicles are solely electric.
See related: Is Tesla Powerwall Worth it? Our Tesla Powerwall Review
Common Items Used when Owning a Tesla
Once you buy your Tesla, you need the necessary essential accessories. It's prudent to have items that deal with charging, punctures, and security.
It is important to note that Tesla doesn't offer spare wheels because it is rare for your car to have a flat tire. Here's what you need and a handy Amazon link when you need them.
1. Handling Flat Tires
Your Tesla car doesn't come with a spare tire, and you're stuck in case you get a puncture. Tesla can only tow you for 50 miles and will offer you a spare wheel if you're lucky to be close to a service center. However, if having a slow puncture, you need an air compressor to increase the pressure.
See Related: Is It Possible to Get Tesla Free Supercharging?
2. Cleaning the Exterior
Tesla is a luxury brand, and it's natural to protect and keep it clean. Some of the products you can use are:
3. Keeping the Interior Clean
4. Security
With pin-to-drive and the ability to monitor your car from your phone app, Tesla security is excellent. However, security is not without flaws, and further security precautions may be necessary.
How to Buy a Tesla
What is the best way to buy a Tesla? Here are the three simple steps on purchasing a Tesla
Step 1: Checking Online
Tesla gives you two options of buying a car; visiting the showroom or buying online. First, look at the Tesla Design Studio on their website and prod and poke until you tailor the car to your needs.
You can check out the model and features such as range, wheels, and colors.
Step 2: Stop by a Service Center
Before clicking the purchase button, visit the Tesla service center close to you. Tesla operates various service centers, and you can ask questions, see the car and do a test drive.
Step 3: Purchase the Car
After looking at the models and choosing what works for you, you can now buy the car. There are two options for purchasing a car.
Buying directly from the Tesla showroom just like a typical dealership
Purchasing online via Tesla's website.
After that, select your financing option. For instance, you may decide to pay cash or take a loan. Check out these best Tesla auto loans if you want to shop around.
Is Tesla Worth it?
No doubt, Teslas are very costly. However, purchasing a Tesla doesn't necessarily mean you have money.
Here's why Tesla is a success.
1. Top of the Class Cars
Even though Tesla's range is limited, they have made history by having their models lead the electric vehicle sales lists. Not to mention the sleek and minimalist design without compromising performance and functionality.
Also, the safety features of Tesla are top-notch, encouraging more people to join the Tesla bandwagon.
2. Cutting-edge Technology
Tesla is way ahead of its rivals when it comes to state-of-the-art technology. Firstly, One of the reasons Tesla is the unrivaled electric car of choice is its battery technology. The Model S range has dominated the industry, with a Tesla battery reaching 400 miles.
Secondly, the Tesla supercharger's ecosystem makes it more convincing to switch. The supercharge charges Tesla cars at a supersonic speed. In only 40 minutes, the vehicle is 80% charged, making it very efficient.
Thirdly, Tesla has taken advantage of software tech, reinventing the driving experience.
3. Environmentally Friendly
The most convincing reason for converting to Tesla is that electronic cars are eco-friendly. Tesla has zero emissions to the environment.
4. Excellent Customer Service
Tesla is customer-centric and has tailored the driving experience per the client's needs. Additionally, Tesla doesn't use auto dealers, consequently saving buyers from dealership fees by removing middlemen in the sales model.
Hence, it isn't surprising that Tesla has successfully created a good customer experience by selling directly to the clients.
Start Saving Today
If you're looking to purchase an electric luxury car, Tesla is a good choice. Tesla is not just an ordinary car; it's similar to a smartphone. Packed with unique and state-of-the-art features, you'll want to have it.
However, given the high price tag, Tesla cars are a status symbol. If you're looking for a cheaper choice, then Tesla Model 3 is a good option.
And, with the above guide on how to save for a Tesla, I'm sure you'll be able to save money and own a brand new one soon.
Related Resources
Kyle Kroeger, esteemed Purdue University alum and accomplished finance professional, brings a decade of invaluable experience from diverse finance roles in both small and large firms. An astute investor himself, Kyle adeptly navigates the spheres of corporate and client-side finance, always guiding with a principal investor's sharp acumen.
Hailing from a lineage of industrious Midwestern entrepreneurs and creatives, his business instincts are deeply ingrained. This background fuels his entrepreneurial spirit and underpins his commitment to responsible investment. As the Founder and Owner of The Impact Investor, Kyle fervently advocates for increased awareness of ethically invested funds, empowering individuals to make judicious investment decisions.
Striving to marry financial prudence with positive societal impact, Kyle imparts practical strategies for saving and investing, underlined by a robust ethos of conscientious capitalism. His ambition transcends personal gain, aiming instead to spark transformative global change through the power of responsible investment.
When not immersed in the world of finance, he's continually captivated by the cultural richness of new cities, relishing the opportunity to learn from diverse societies. This passion for travel is eloquently documented on his site, ViaTravelers.com, where you can delve into his unique experiences via his author profile.