It is critical to develop an understanding of the hydrogen industry before we learn the best hydrogen fuel cell stocks, where to buy hydrogen fuel cell stocks, and information regarding hydrogen fuel cell stock companies.
More specifically, inferences into the outlook of hydrogen energy and what hydrogen energy does are critical.
What is Hydrogen Fuel?
Hydrogen fuel stocks promote the usage of green hydrogen, which is a renewable energy resource.
Hydrogen is a clean fuel that produces water when engulfed in a fuel cell. Hydrogen production occurs from traditional resources, like natural gas and nuclear power, and renewable power, such as solar and wind.
How is Hydrogen Fuel Used?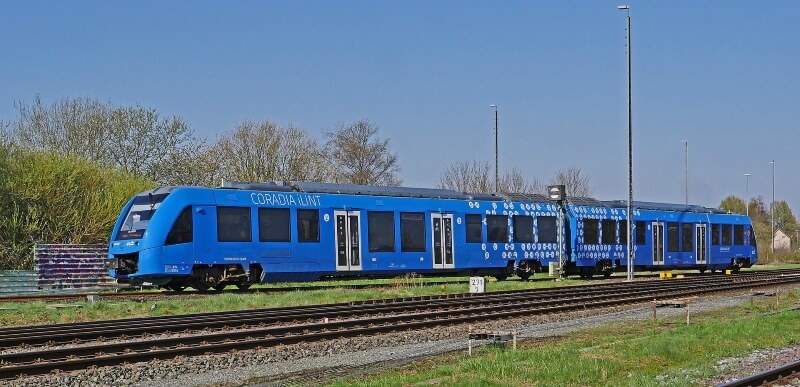 A typical application of hydrogen energy is as an energy carrier. Hydrogen energy stores and delivers energy from other sources. Hydrogen is becoming more popular in the transportation industry and is a backup generator fuel for hospitals and universities.
Methods of hydrogen fuel production include thermal processes and electrolysis. In addition, hydrogen fuel companies produce energy with solar and biological processes.
Why is Hydrogen Fuel Important?
According to the Hydrogen Council, hydrogen is essential in achieving net-zero carbon emissions. Hydrogen will play a critical role in the decentralization of energy systems.
The utilization of hydrogen will help mitigate the effects of global warming.
Hydrogen will play a pivotal part in the global economy for years to come. For this reason, the future of the hydrogen industry remains optimistic.
The Outlook of the Hydrogen Industry
The future outlook of the hydrogen industry is positive, and exponential growth expectations exist.
The positive outlook reasoning is that hydrogen plays a key role in renewable resource creation. There are currently barriers to the adaptation of hydrogen as a fuel source. Once the perceived blockages to hydrogen use are gone, the outlook of the hydrogen industry will improve.
Hydrogen Fuel Cell Stock Price
In 2020, hydrogen fuel cell stock prices rose tremendously, as the celebration and innovation of green hydrogen were everywhere. The volatility of hydrogen fuel cell stock prices was highly apparent in 2021, as prices sharply declined.
The future outlook for hydrogen fuel cell stock prices is overwhelmingly positive because of the nature of the industry. Hydrogen fuel cell companies will play a crucial role in climate change and reducing carbon emissions.
A high-risk tolerance is necessary for short-term hydrogen fuel cell stock investment because of the industry's current volatility. Long-term estimates suggest that hydrogen fuel cell stock prices will rise and be an appreciating asset.
Pros and Cons of Investing in Hydrogen Fuel Cell Stocks
As with every industry, there are pros and cons to investing in hydrogen fuel cell stocks. The pros of hydrogen fuel stock investment outweigh the cons, but it is necessary to have a holistic view. It is up to the investor to determine whether the pros of hydrogen fuel stocks are worth it, especially in the short term.
Pro: Hydrogen is a Renewable Resource
A pro of hydrogen fuel is that it can be a renewable resource. Unlike finite fossil fuels, green hydrogen promotes renewability and reusability. Hydrogen will play a considerable role in mitigating climate change and using eco-friendly energy sources.
Pro: Hydrogen is the Future
When the world runs out of fossil fuels, it will need to turn to different resources. Climate change and carbon emissions are at the forefront of world economic and environmental discussions. One of the renewable resources that the world will turn to is hydrogen. Hydrogen is the future of energy, and countries will run on hydrogen-based and other renewable fuel sources.
Pro: Hydrogen is a Relatively New Resource
Hydrogen is a novel renewable resource because of the cost of this innovative energy. Joining the hydrogen sector now will make an investor a pioneer.
The investor who funds in the hydrogen sector will be a pioneer because of the sheer novelty of hydrogen. Joining the hydrogen sector allows an investor to be a trend-setter of sorts; hydrogen is a unique opportunity.
Con: Hydrogen is Expensive, Especially Compared to Fossil Fuels
A potential barrier to the adoption of hydrogen as a renewable resource is its expensive nature. Fossil fuels are relatively cheap but finite. Hydrogen is a renewable resource, but the creation of hydrogen resources is costly.
Because of the expensive nature of hydrogen compared to fossil fuels, companies have been hesitant to make the change. After all, companies are looking for the highest possible profit.
Con: Experts Say the Industry is Too New
Experts warn of the risks of investing in the hydrogen and fuel cell sector. Because the hydrogen sector is new, experts say hydrogen is an insecure investment. To this point, hydrogen ETFs, or combinations of stocks in the sector, were just released in 2021.
Fossil fuel remains a prominent energy source, but it is finite and will not last. Hydrogen is a future energy source, and the desire to invest depends on investor risk tolerance.
Con: Hydrogen Fuel Stocks are Highly Volatile
Hydrogen stock prices have shown rapid growth and loss in a short duration of time. The increase and decrease of a price are indicative of volatility. Hydrogen is a novel and expensive energy resource. As such, hydrogen fuel stocks are highly volatile. While some investors take advantage of the volatility, others find the instability unsettling.
How to Buy Hydrogen Fuel Cell Stocks
First, one needs to obtain knowledge regarding where to buy hydrogen fuel stocks. Next, it is helpful to know how to buy hydrogen fuel stocks. A prospective buyer can purchase individual stocks or an ETF.
1. Select an Online Stockbroker
A knowledge of how to buy fuel cell stocks begins with where to buy stocks. Select an online stock broker that sells stocks and securities. Online stockbrokers include:
2. Research the Hydrogen Fuel Cell Stocks
This article provides a comprehensive list of various hydrogen fuel stocks, pros, and future outlooks. Engage in research to make an informed decision. Market cap, future outlook, partnerships, company of origin, company history, and key figures in development, are a few things to consider in hydrogen fuel cell stock investment.
3. Choose the Type of Stock Order
A market order is the agreement to pay the price of a stock at any particular moment. A market order is risky because many stockbrokers will charge a high amount based on price fluctuations.
A limit order is when the buyer sets how much they are willing to pay. For example, if a stock fluctuates between $20 per share and $22.30 per share, a buyer can set the limit order at $20. A limit order will ensure that the buyer pays $20 per share if the stock reaches that price. 
See Related: Best Green Companies to Invest in 2023
Best Hydrogen Fuel Cell Stocks
This list of the best hydrogen fuel cell stocks contains mostly NASDAQ and NYSE featured stocks and one OTC stock.
These hydrogen fuel cell stock companies are not in competition because of the novel nature of the hydrogen industry. In addition, hydrogen energy technology is still emerging, so each company features unique technologies and provides different services.
1. Plug Power – Best Hydrogen-Based Fuel Cell Manufacturer (PLUG, NASDAQ)
Plug Power is an American green hydrogen company that has headquarters in Latham, New York. Plug Power creates hydrogen-powered fuel cells that can replace conventional batteries.
Plug Power manufactures fuel cells that power automobiles, drones, forklifts, and power generators. Plug Power has distributed fuel cells to power forklifts for big names like Amazon, Carrefour, Home Depot, and Walmart.
Pros
Low impact on the environment because it uses thermal and electrolysis
Promising partnerships with Walmart, Carrefour, Home Depot, Amazon, and more to come
Is a JP Morgan favorite stock
Cons
Burning cash for two decades like other hydrogen stocks
Hydrogen is becoming increasingly competitive, with Bloom Energy, FuelCell, and Ballard as competitors.
The future outlook for Plug Power is positive because it creates hydrogen-powered fuel cells that will replace conventional car batteries.
A partnership with French automaker Renault and Korean EV maker Edison are just two of the new automobile deals that Plug Power has in the works.
Additionally, Plug Power is opening up fuel-cell hydrogen plants. As previously stated, hydrogen plants are the future of energy.
See Related: Best Green Ammonia Stocks to Invest In Today
2. Bloom Energy- Most Promising Future Hydrogen Cell Provider (BE, NYSE)
Bloom Energy is a San-Jose-based energy supplier that sells fuel-cell-powered servers.
Bloom Energy uses onsite technology that generates power by converting national gas and biogas into electricity. Bloom Energy has provided energy for years, but the future is positive, as the energy company is expanding its scope of business.
In 2020, Bloom disclosed that the company plans to make hydrogen-powered fuel cells and electrolyzers. This news means that Bloom Energy will become a creator of green hydrogen production.
There is more positive news for Bloom Energy; the monolith has a multi-billion dollar deal with SK Group of South Korea. Bloom Energy will also work with Samsung to produce fuel-cell-powered ships.
Pros
Promising partnerships with SK Group, Coca-Cola, Bank of America, and Google
Bloom plans to make hydrogen with solar power and water; promises minimum impact on the environment
Cons
Hydrogen is increasingly more competitive; PLUG Power, FuelCell, and Ballard are competitors
Bloom uses natural gas and does not yet have hydrogen-based fuel cells
Has past scandals as company lied about profitability, has incurred losses for years
See Related: How Much is a Wind Turbine? Here's What to Know
3. FuelCell – Best Government Backed Fuel Cell Manufacturer (FCEL, NASDAQ)
FuelCell is an American hydrogen company, established in Connecticut. Another United States-based hydrogen fuel company, this green hydrogen source is a well-known name in the industry.
The United States Department of Energy selected FuelCell to receive funding toward designing and erecting SureSource electrolysis.
SureSource electrolysis is a platform that produces hydrogen. FCEL uses SureSource systems and works by separating and concentrating carbon dioxide. SureSource fuels universities, hospitals, and other large energy-consumption organizations.
The Connecticut-based company designs and manufactures fuel cell power plants. FuelCell's SureSource plant creates more hydrogen than it needs to power production. The revolutionary technology leaves a surplus for industrial or transportation uses.
For the future outlook of FCEL, the company is developing long-term hydrogen storage solutions.
Pros
Has high US government backing for SureSource Systems
Transitioning to green hydrogen
Exciting partnerships on the horizon
Cons
Does not yet has hydrogen-cell capabilities of competitor plug
Incurring losses because of the costly nature of hydrogen
Contributes to direct cell power plants that uses biogas and natural gas to function
4. Linde PLC – Best Large Cap Company (LIN, NYSE)
Linde PLC is an old name in energy, operating since 1879 with headquarters in the United Kingdom.
Linde specializes in selling atmospheric gasses including oxygen, nitrogen, helium, and its bread and butter, hydrogen. Linde produces and supplies atmospheric gasses to the EMEA and APAC.
There are more than 150 hydrogen stations worldwide that Linde supplies. The future is bright for Linde, who is currently building the world's first refueling station for hydrogen passenger trains in Germany. Linde is a prime example of an established company evolving into an emerging industry.
Pros
Largest industrial gas company in the world
Linde maintains staying power, influence, and relevance for over 100 years
Creating the world's first refueling station for hydrogen passenger trains
Cons
Hydrogen is a highly competitive industry and is becoming more competitive each year
Contributes to direct cell power plants that use biogas and natural gas to function
See Related: Top EV Charging Station Stocks to Invest in Today
5. Ballard Power Systems- Best in Pioneering (BLDP, NASDAQ)
Ballard Power is a Canadian-based industry architect, creating fuel cells for heavy-duty vehicles like trucks, ships, trains, and buses. Ballard was established in 1979 and has Publicly traded on the Nasdaq since 1995.
A specialty of Ballard power systems is fuel cells used for backup power generators.
Partnerships of Ballard include Tata Motors in India to make electric buses, Talgo company to make hydrogen-fueled trains in Spain, and Hydrogene de France for hydrogen power.
The future outlook is positive for Ballard. Some analysts suggest the company pivot into the consumer-friendly EV sector. A change would mark a difference in the company's direction from the current focus of heavy-duty vehicles.
Pros
A respected industry pioneer, one of the first fuel cell creating companies
Has loyal customers globally because it is the original fuel-cell company
Cons
Incurring losses for two decades
Specializes in heavy-duty vehicles, not a broad application like competitors
6. PowerCell Sweden AB- Best OTC Stock (PCELF, OTCPK)
PowerCell Sweden AB saw its origins as a developmental project for automaker Volvo. In 2008, PowerCell AB became an independent company that produces fuel-cells, fuel-cell systems, and fuel cell-related engineering services.
PowerCell is an OTC stock and is objectively smaller than the other hydrogen fuel-cell companies on the list. Do not be fooled– the smaller relative size of PowerCell has not hindered the ability to secure partnerships.
An exciting partnership with Bosch will give Bosch exclusive rights to manufacture cars, trucks, and buses using PowerCell Sweden technology. PowerCell also announced partnerships with ZeroAvia for Aviation and Hitachi for stationary power.
Pros
Created by Volvo developers and has a world-class team
Partnerships in prominent aviation, stationary and other transportation companies
Cons
OTC trading stock has higher risk, listed on Swedish Financial Market
Much smaller than Nasdaq and New York Stock Exchange trading companies on the list
Looking for a Hydrogen ETF?
An ETF stands for an exchange-traded fund that possesses many kinds of investments, stocks, commodities, or bonds. An industry ETF is a way to invest in an entire sector, such as the hydrogen sector.
Three hydrogen ETFs announced in 2021 contain combinations of prominent hydrogen stocks.
Direxion Hydrogen ETF (HJEN)
Global X Hydrogen ETF (HYDR)
Defiance Next Gen H2 ETF (HDRO)
See Related: How to Buy Stocks Without a Broker
Fuel Cell Companies Stocks in the Future
There are a variety of fuel cell companies stocks with different things to offer. The fuel cell companies' stocks have one thing in common: they contribute to the future of renewable energy.
When choosing hydrogen fuel cell stocks companies, consider the location and products in the pipeline. Some companies are deeply established energy suppliers that are pivoting into hydrogen fuel.
Other hydrogen fuel cell companies are newly formed. Newer hydrogen fuel companies intend on developing and providing hydrogen energy for the world.
What is considered the best hydrogen fuel cell stock is subjective. However, an analysis of objective information can help to inform investment strategies.
Hydrogen fuel stocks encourage the usage of green hydrogen, which is a renewable energy source.
Consider hydrogen fuel stocks as an investment into the future. The outlook for hydrogen fuel stocks is overwhelmingly positive. Why are hydrogen fuel stocks so volatile? Because hydrogen power and subsequent technologies are expensive to make.
There are numerous fuel cell companies stocks, including power juggernauts that are now pivoting into hydrogen energy. Similarly, there are new companies with the sole intention of providing hydrogen fuel sources to the world.
The utilization of hydrogen will assist in mitigating the effects of climate change and carbon use. The future outlook for hydrogen fuel stocks is positive, and short-term investors need risk tolerance in such assets.
Related Resources
Kyle Kroeger, esteemed Purdue University alum and accomplished finance professional, brings a decade of invaluable experience from diverse finance roles in both small and large firms. An astute investor himself, Kyle adeptly navigates the spheres of corporate and client-side finance, always guiding with a principal investor's sharp acumen.
Hailing from a lineage of industrious Midwestern entrepreneurs and creatives, his business instincts are deeply ingrained. This background fuels his entrepreneurial spirit and underpins his commitment to responsible investment. As the Founder and Owner of The Impact Investor, Kyle fervently advocates for increased awareness of ethically invested funds, empowering individuals to make judicious investment decisions.
Striving to marry financial prudence with positive societal impact, Kyle imparts practical strategies for saving and investing, underlined by a robust ethos of conscientious capitalism. His ambition transcends personal gain, aiming instead to spark transformative global change through the power of responsible investment.
When not immersed in the world of finance, he's continually captivated by the cultural richness of new cities, relishing the opportunity to learn from diverse societies. This passion for travel is eloquently documented on his site, ViaTravelers.com, where you can delve into his unique experiences via his author profile.