Do you use a self-storage facility? If you are like many people, you have belongings you do not want to give up, but you also do not have room for them at your home.
That is what makes storage units so valuable. They are typically an affordable way to manage extra belongings easily, keeping those items secure but out of sight.
Investing in a self-storage facility could be a good idea to build up your portfolio. It may open the door for you to build a strong investment portfolio, especially as demand for these storage facilities and individual storage units grows. Here is everything you need to know.
Why Investing in Storage Units is a High-Yielding Route to Wealth?
The real estate market has grown in value by leaps and bounds over the last few years. Owning numerous rental homes can be one way to build your portfolio through real estate investments, but you will need the cash or access to capital for these larger purchases.
With a storage building, you purchase or invest in one parcel of land and then rent that property to multiple tenants, yielding a significantly higher average profit margin. Before diving into the storage unit business, though, knowing what to expect from this market is critical.
The Rise of the Storage Units Market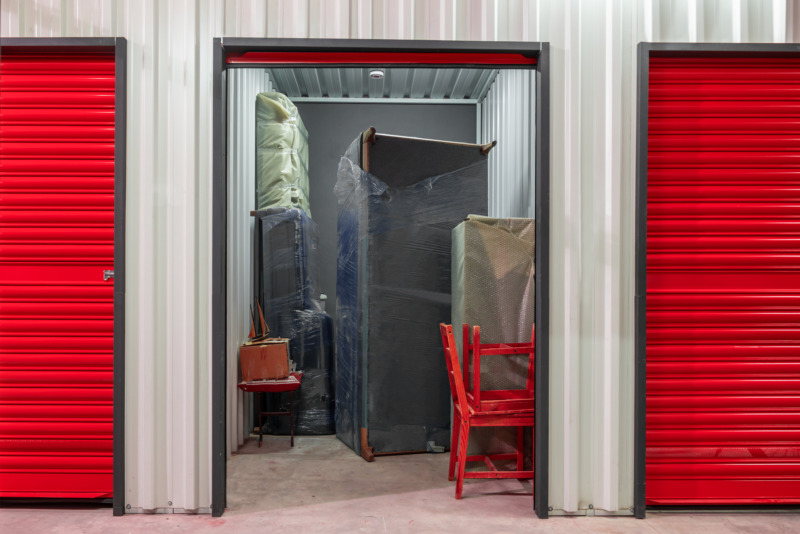 The storage unit market is thriving, with new properties being developed and filling up their unique quickly. Matthews Real Estate Investment Services recently published a detailed report about this section of the real estate industry. It found that, in 2022, 14.5 million people used self-storage facilities in the U.S. That is up from 970,000 people in 2020.
More so, they point to the average ten by ten non-climate controlled units having a national average rent of $134 per month, and that self-storage facility owners have an annual return on investment of about 17%, much higher than many other real estate market sectors.
Demand is there, but why? There are numerous notable reasons why consumers are using self-storage facilities at such a fast rate:
Urbanization: With more people moving into condos and smaller homes in urban areas, the need for affordable storage space is quite high.
Not moving: Many people are simply not moving right now to larger homes due to the high cost of home prices. That means they may need to find ways to add more storage within their current home.
Appealing to millennials: Self-storage appeals to millennials who favor living in smaller homes and having less to manage.
Work-at-home businesses: Some people use self-storage facilities to better manage their e-commerce business as a storage solution that is far more affordable than warehousing.
Downsizing: For those who are downsizing right now for any reason, often to lower their monthly mortgage payment, having a place for all their belongings is critical.
With high profit margins in some areas, this business model can be profitable for many investors with their facility. Still, there are multiple ways to invest in storage building properties.
See Related: Proven Ways to Start Investing in Apartment Complexes
Ways to Invest in Storage Units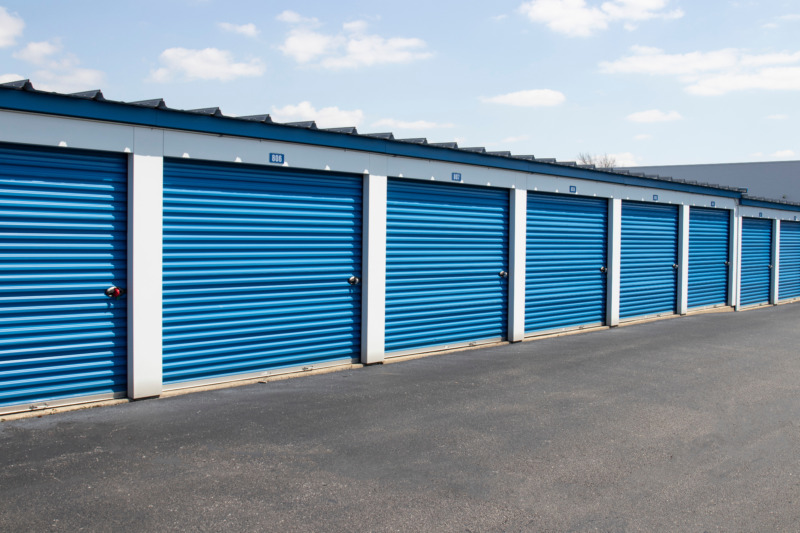 Real estate investors have multiple routes into the self-storage industry. Below are a few of the most prominent methods for those who wish to enter the self-storage industry as an investor.
1. Purchase and manage existing self-storage businesses
You can enter the storage business by purchasing an existing self-storage business and operating it yourself. This method provides you with a way to jump into the market quickly. It will be critical to do due diligence on the business itself to ensure you know what to expect from it, including:
Rents paid
Delinquent accounts
Purchase price versus rental income (how long will it take to recoup your money)
Operating expenses for the property
Taxes and liens associated with the property
Like with all commercial real estate, you must ensure a business with a positive cash flow and the right purchase price to ensure a profitable business.
2. Build a new self-storage facility
For those who do market research and determine there is a need to invest in new construction for storage facilities in the area, building your facility can be a good move. The key is to ensure, like all other real estate investments, that there is market demand for the property. Keep the following factors in mind if you plan to go this route:
Have a competitive market analysis created for the local market and complete thorough market research to determine the needs and demands of this market.
Consider any limitations on the building of storage units or occupancy rate limitations put on a new facility by the city's building codes.
Talk to other storage owners in the area to determine demand, rental costs, and overall maintenance costs.
Perform market research on features desired that may be lacking in the local market, such as climate-controlled units, high-end security, and 24-hour surveillance.
Construction costs must be estimated based on the goals you have. For example, you could build a new storage facility from the ground up or take an existing structure, like an office building, and convert it into a storage facility.
The investment in self-storage REITs can be quite profitable if you invest wisely. If you want to take advantage of the demand for this type of public storage but do not want to develop a business plan, purchase property, manage construction, or manage the storage facility over time, this form of real estate investing works very well. There are a few things to keep in mind:
Understand how a self-storage REIT works, including that your investment is spread across various sectors to reduce some risk.
Choose those REITs that are specific to self-storage investment – there are numerous options to choose from
Invest in self-storage in a hands-off method, which means you typically do not have any say in how the self-storage unit or business is run.
Invest as little or as much as you want in your new storage unit business while reducing a significant portion of the risk.
With a self-storage REIT, you do not have a lot of say in the operation of the self-storage business, but your investment is spread across more properties, allowing you to defer some of that risk. Check out RealtyMogul for access to these types of self-storage facility investment methods.
See Related: Best Podcasts for Real Estate Investing
4. Buy stock in a self-storage business
There are a number of large self-storage facilities and companies that are publicly traded. These companies typically own numerous self-storage units and facilities over a specific region or even nationwide.
You can make self-storage investments by purchasing stock in these companies using an app like Robinhood or M1 Finance.
Keep the following in mind:
If you want to invest in the self-storage sector and earn passive income, this is one way to do so
Complete due diligence in any storage unit business to understand its cash flow, ownership structure, growth, and profitability.
Determine how much say you wish to have since you may or may not have any voting share when you invest in self-storage by purchasing shares.
Learn as much as you can about this type of self-storage investment based on studying the company, the brand, and the locations it is present in
Self-storage investing like this can be very profitable, but for that to occur, you must research. It is not the same as if you own self-storage facility properties yourself, but it can be lucrative for those looking to invest in self-storage in a more hands-off manner.
Advantages of Investing in Storage Units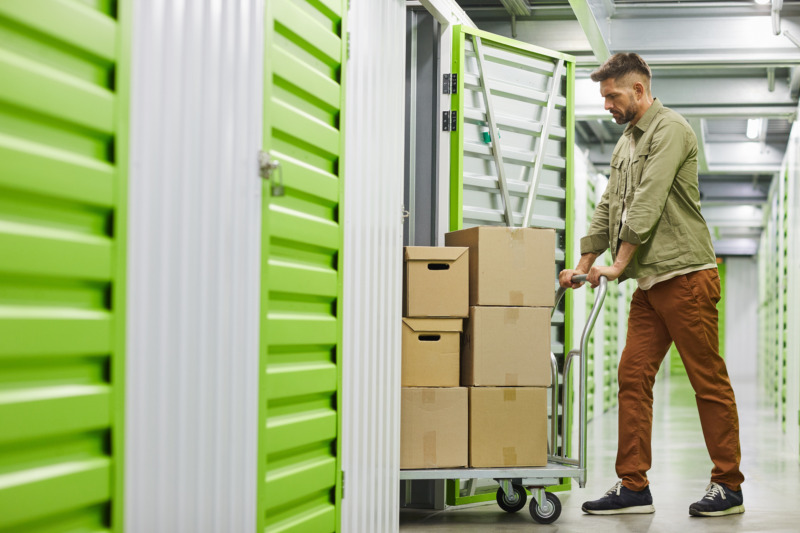 Now that you know some ways to start investing in self-storage make sure it is right for you. Having a good understanding of how to invest to achieve your specific financial goals is critical. Consider these benefits of self-storage facility investments overall.
Stability during economic downturns: Storage facilities maintain good demand even during economic downturns.
Low overhead costs: When you consider the operating and debt expenses in this form of commercial real estate, it tends to be much lower than other businesses. That helps keep net operating income stable.
Generally passive income: While there are numerous ways to manage self-storage facilities, it is important to note that once the storage units are rented, they become more of a passive income.
Predictable cash flow: With reliable tenants, you can expect monthly steady income from the self-storage business.
These storage unit investment benefits are prime reasons many people invest in self-storage. However, individually consider the storage unit's ROI (return on investment). Be sure you understand the storage unit's business profitability based on operating expenses, rental demand, and competition.
See Related: Best States for Real Estate Investing
Risks and Challenges in Storage Unit Investing
With so many promising benefits, it is easy to see that self-storage real estate investing has much to offer. However, as you learn how to buy storage units, you have to consider some of the potential drawbacks of them as well.
Occupancy rates: As a self-storage investor, you must consider the current occupancy rate of existing facility units. A drop in renters impacts cash flow.
Legal matters: A self-storage investor must understand state laws regarding security, liability, and tenant management, including how to evict a nonpaying tenant.
Maintenance costs: Depending on the specific self-storage investment, there may be the need to upgrade, modernize, add security, and maintain the storage unit facility heading into ownership. While passive income from storage units is possible when you invest in REITs or public storage shares, operating private storage facilities often means more maintenance and costs.
Storage unit franchise opportunities exist, but remember that this often means paying a franchise fee, which may ultimately mean following the policies and governance set by that franchise. The pros and cons of investing in storage units is a good starting place for looking at all of these options.
Self-storage facilities provide an opportunity for investment and growth. If you are thinking of starting your own self-storage business or engaging in self-storage investment through a REIT or public share purchase, make sure you understand the industry and local demand. Done well, self-storage investing can prove to be very profitable.
Related Resources
Kyle Kroeger, esteemed Purdue University alum and accomplished finance professional, brings a decade of invaluable experience from diverse finance roles in both small and large firms. An astute investor himself, Kyle adeptly navigates the spheres of corporate and client-side finance, always guiding with a principal investor's sharp acumen.
Hailing from a lineage of industrious Midwestern entrepreneurs and creatives, his business instincts are deeply ingrained. This background fuels his entrepreneurial spirit and underpins his commitment to responsible investment. As the Founder and Owner of The Impact Investor, Kyle fervently advocates for increased awareness of ethically invested funds, empowering individuals to make judicious investment decisions.
Striving to marry financial prudence with positive societal impact, Kyle imparts practical strategies for saving and investing, underlined by a robust ethos of conscientious capitalism. His ambition transcends personal gain, aiming instead to spark transformative global change through the power of responsible investment.
When not immersed in the world of finance, he's continually captivated by the cultural richness of new cities, relishing the opportunity to learn from diverse societies. This passion for travel is eloquently documented on his site, ViaTravelers.com, where you can delve into his unique experiences via his author profile.