Many of us want to carry out large projects such as home renovation, solar system installation, and swimming pool construction. Some even wish to have a once-in-a-lifetime event such as a wedding, but the high upfront cost makes it nearly impossible. That's where lenders come in to help you realize your dreams.
Many lenders can come to your aid when you need funds for various projects. LightStream is one such financial institution. This LightStream review focuses on its features, loan terms, and interest rates. Also, we will look at alternatives, just in case you want to consider other options. Let's dive in for details!
LightStream Overview
LightStream is an online lender where you can get your loan to fund virtually any project, including large ones that require high upfront costs. The most common ones are home remodeling, debt consolidation, adoption financing, etc.
Unlock Sustainable Investing Opportunities 🌿
Join the green revolution by investing sustainably with our top partners. Discover platforms that align with your values and offer remarkable opportunities for growth.
This lender is known for offering competitive fixed rates on personal loans and no fees or penalties for early repayment. There is also a long repayment period, typically up to 20 years.
LightStream is a division of Truist, a bank formed after the merger of SunTrust Bank and BB&T.
LightStream Detailed Review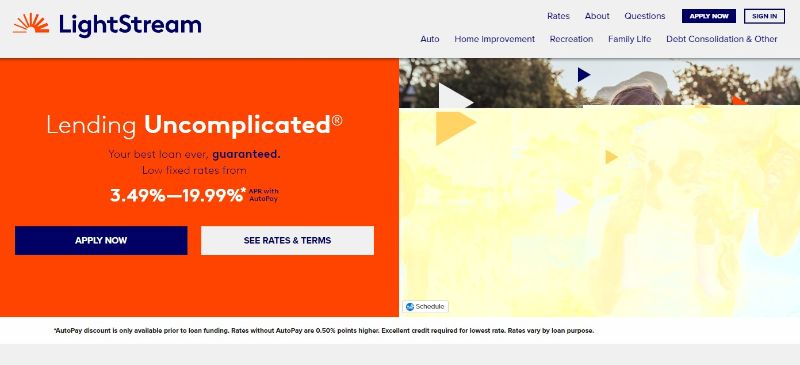 What makes LightStream better than other lenders, or why would you consider it over alternatives? This detailed LightStream review will reveal the answer.
What is LightStream?
LightStream is a division of Truist bank that offers personal loans. It is viewed as the best option because of competitive interest rates, long repayment periods, and high loan limits. You can get from $5,000 to $100,000, depending on your credit score and the project you want to fund.
LightStream allows borrowers to apply for loans online or over the phone, with a typical processing time of fewer than 24 hours. This, however, depends on many other factors.
LightStream prides itself in providing fast and easy loans to deserving customers. It also offers a straightforward loaning process, incredible service, and excellent rates.
If you need a loan for any project, you can apply from the website or mobile app. Your funds are deposited directly into your account if the loan is approved. Additionally, the lender guarantees the best loan experience backed up with a 100-dollar warranty.
See Related: Best Immigrant Loans for Small Business
How The Loaning Process Works
Applying for loans with LightStream. To understand it, let's look at how LightStream works.
The process begins when a borrower initiates it online or over the phone. As with any other loan, you will be asked to provide supporting documents to verify your identity and calculate your credit score.
LightStream does not disclose your credit score to anyone, including yourself. The loan is approved if you meet the minimum credit score and other requirements. Typically, LightStream financing is for those with good credit history, stable income, and a track record of timely payment of previous loans.
The LightFStream financing process ends after reviewing all your documents and a background check. This typically takes a few hours for some projects, leading to same-day funding.
See Related: Greensky Finance Review: Is It Legit?
Is LightStream Sustainable?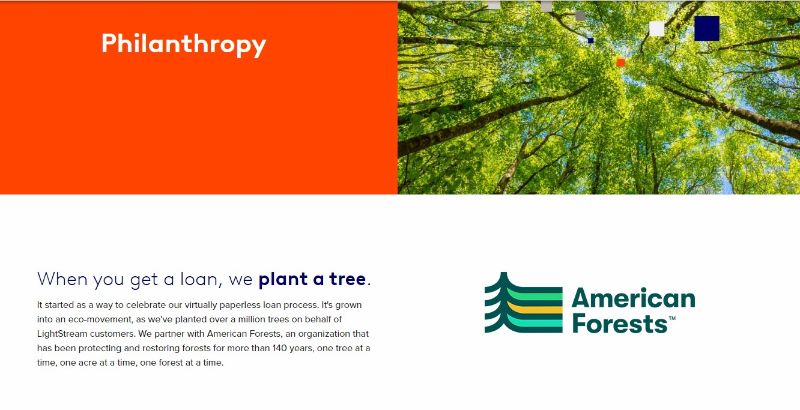 More and more consumers are becoming environmentally and socially conscious. That rings a bell in our minds and makes us ask if LightStream is sustainable or not. This lender claims to fund almost every project, including car loans. The question is, how does it offset such activities?
LightStream is sustainable because of the tight measures to offset its carbon footprint. Its first step in becoming eco-friendly is to go paperless. The entire LightStream loan application process is done digitally without papers involved.
Another strategy is to plant a tree for every loan approved by a client! LightStream does that on behalf of its customers by partnering with American Forests. American Forests is an organization that protects and restores forests, and it has been doing so for the past 140 years.
See Related: What Are Green Personal Loans
LightStream Loans
LightStream offers personal loans at a fixed rate for practically anything. Its unique lending solution allows customers with good credit history to get loans to fund purchases and projects without providing collateral.
With LightStream, there is a loan experience guarantee. You no longer have to go through the lengthy process of filling out papers and providing security for your loans. All required for a LightStream personal loan application is an excellent credit score.
LightStream loans also come with fixed competitive rates and flexible repayment terms. If both parties reach a loan agreement, funds are deposited directly to the borrower's account. If it is your first time taking a LightStream loan, you will find it very cost-effective and sustainable.
You can apply for LightStream personal loans to fund any of the following:
Car Loans & Refinance Loans
Pool Loans
Timeshare Financing & Vacation Ownership Loans
Boat Loans & Aircraft Financing
Fractional Loans
IVF Financing
Jewelry Financing
Medical & Dental Financing
Adoption Financing
PreK-12 Education Loans
Horse Loans
Wedding
Medical loans
And more…
See Related: Best Credit Builder Loans
LightStream Affiliate Program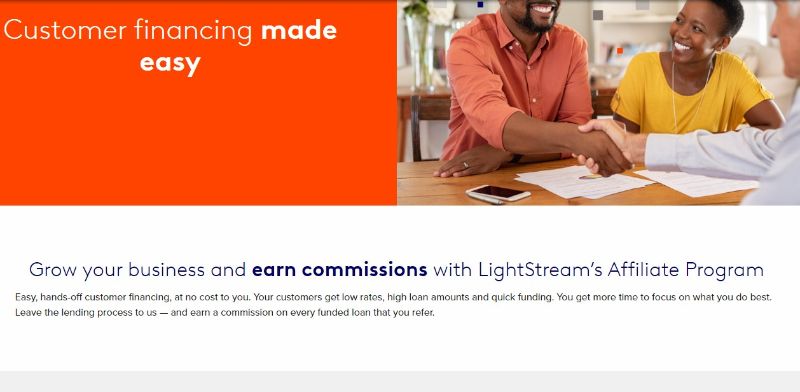 LightStream affiliate program allows businesses to help their customers finance assets or services they want to buy. It is an easy, hands-off customer service that costs you nothing. Your only role is to refer them to LightStream personal loans to get low rates and high loan limits.
Apart from getting your customer to buy what they wanted when short on cash, you also get a commission for every loan funded from your referrals. It is a win-win situation for all parties.
The program works in three simple steps, outlined as follows:
You add a tracking link to your website so that LightStream knows the source of traffic.
Customers click the link to redirect them to LightStream's main website
Customers are funded if they have a good credit score and excellent credit history. They become cash buyers, and you get your referral commission.
See Related: How to Start Investing in Women-Owned Businesses
LightStream Rate Beat Program
LightStream promises to beat a competitor's rate by 0.1% if you can prove that you were approved for an unsecured loan with the same loan terms. This program excludes any secured or collateralized loan offers from other lenders. The competitive offer must also be available to other borrowers with similar credit scores and financial profiles.
Claiming this offer is straightforward. If you are approved by a competitor for a lower qualifying rate, submit your rate beat request online. Just log into your account and upload all the required documentation.
Loan Experience Guarantee
LightStream guarantees borrowers 100% satisfaction. If that is not fulfilled, you stand a chance to get 100 dollars back! This offer expires 30 days after receiving your LightStream loan.
If you are not satisfied with your loan experience, LightStream recommends you reach out within 30 days of receiving it. You will get a questionnaire to fill out. Once completed, you get your $100. The lender does this as a way of improving its services.
Every customer that takes a loan from LightStream qualifies for a loan experience guarantee, except Truist financial corporation members.  
See Related: Are Personal Loans Bad? Here's What You Should Know
LightStream Loan Rates
As mentioned, LightStream loan limits range from 5,000 to 100,000 dollars. The repayment period also varies from 24 to 144 months, depending on the loan amount and other factors. There are no penalties for paying earlier than 24 months! Salaried individuals can enable autopay to get a further discount of 0.5% on the interest.
LightStream offers flexible interest rates and repayment terms. That makes it impossible to state actual values, depending on the asset or project you want to fund.
For example, LightStream personal loans have a rate of between 3.49% and 19.99% with autopay. And if you want a solar financing loan, you can expect your interest rate to fall between 5.73% and 19.99%.
See Related: Aspiration Zero Credit Card Review
Requirements for LightStream Personal Loan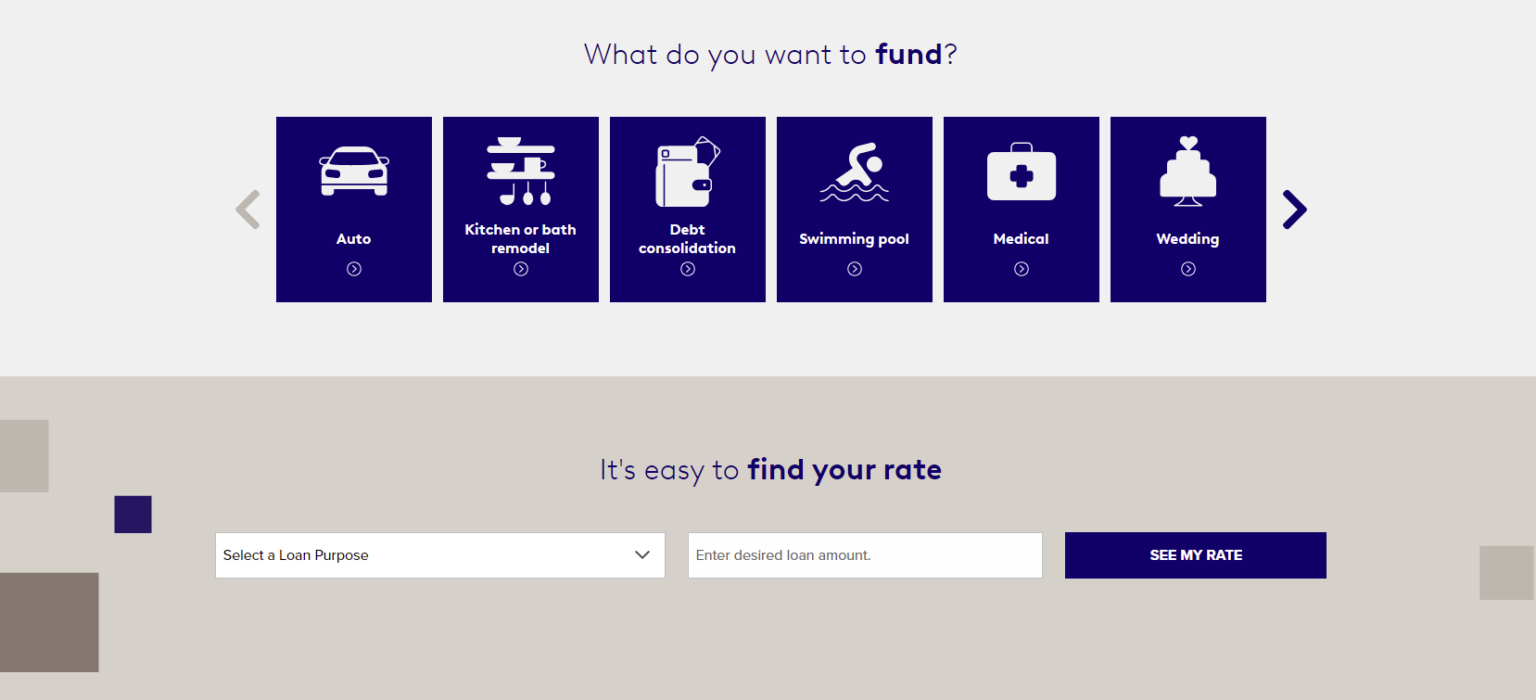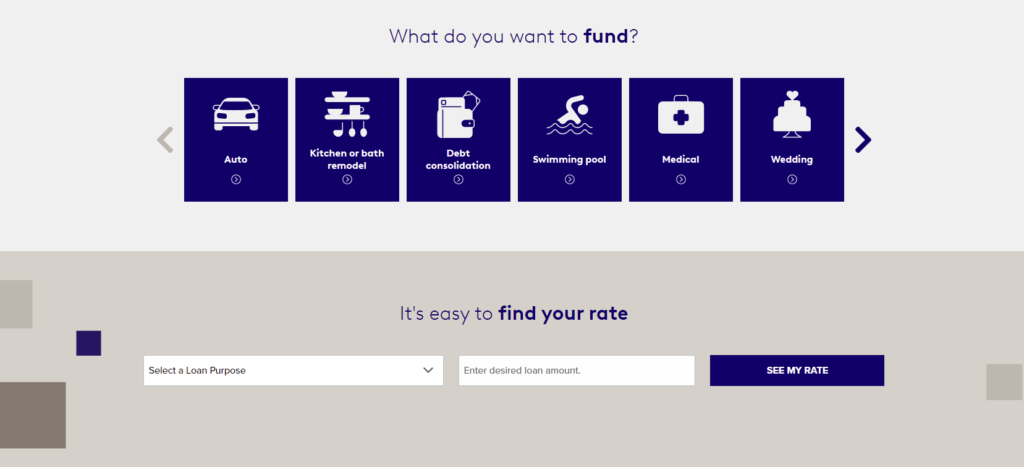 Apart from your excellent credit history and credit score, what else will you need to get LightStream loans? Qualifications depend on the loan purpose and other factors, as highlighted below:
Personal info: You need to provide your full name, location address, and where you come from if you are not a US citizen.
Loan info: You will have to indicate the loan amount you need, proposed terms, and loan purpose. You will state if you need debt consolidation loans, car loans, or other uses. There is flexibility in the repayment terms. You can propose your monthly repayment amount and duration.
Employment info: Before LightStream approves any loan application, it ensures the borrower has a stable job, or assets like a business to repay the loan. You need to specify your annual income, share the monthly cost of running your home, and other financial details. These include the money you have in your savings, checking, and retirement accounts.
Co-applicant info: LightStream allows you to apply for a loan jointly or individually. If you have a partner, you will have to share the needed information.
See Related: Investing in Low-Income Neighborhoods
Pros and Cons of LightStream
We have looked at every aspect of LightStream in this review. Let's now look where we give it a thumb up and a thumb down. It may have a high overall rating, but that doesn't mean it is perfect.
Advantages of LightStream
Low-interest rates: LightStream offers flexible and low rates, depending on the loan amount. Borrowers with the best credit scores get lower interest rates, and those who enable autopay get a discount of 0.5%.
Flexible loan terms: The long repayment period allows borrowers to prioritize achieving less overall interest rates. The loan agreement depends on your financial power and ability to repay.
Long repayment period: LightStream allows a repayment period of up to 144 months for large projects, such as home improvement projects or vehicle loans. That makes monthly repayments more affordable.
100% satisfaction guarantee: LightStream promises a 100-dollar reward to any customer who is not satisfied with its lending services. It is an assurance you will get the best experience.
Referral program: This allows businesses to increase the purchasing power of their customers who buy assets and services in cash. They also get a referral commission on any approved loan.
Disadvantages of LightStream
Below average customer support service: Most inquiries are channeled through an email form on the website. You can only contact the customer support team directly after receiving your first loan.
Payments are not made directly to creditors: LightStream deposits funds directly in your account. This may be inconvenient if the loan's purpose is to pay off your debts because you still have to manage repayment yourself.
Excellent credit score required: Since the lender doesn't require collateral, they tend to be stricter on who qualifies for the unsecured loans.
See Related: Upgrade Loan Review: Is It Legit to Use?
LightStream Ratings
Before we take a look at some alternatives, it is now time to give our verdict and overall ratings of LightStream. Based on our experience and research, we can rate LightStream as follows:
Overall rating: 4/5
Products and features: 4/5
Customer support service: 2.5/5
Top up and withdrawal methods: 4/5
Deposits security: 5/5
Usability: 4.5/5
Account opening: 3/5
Best LightStream Alternative
There are other online lenders you can also opt for if your experience with LightStream is not satisfactory. Your loan application may be declined by one lender but to the other. So, we present you with the best lending services to consider.
LightStream Vs Aspiration Loan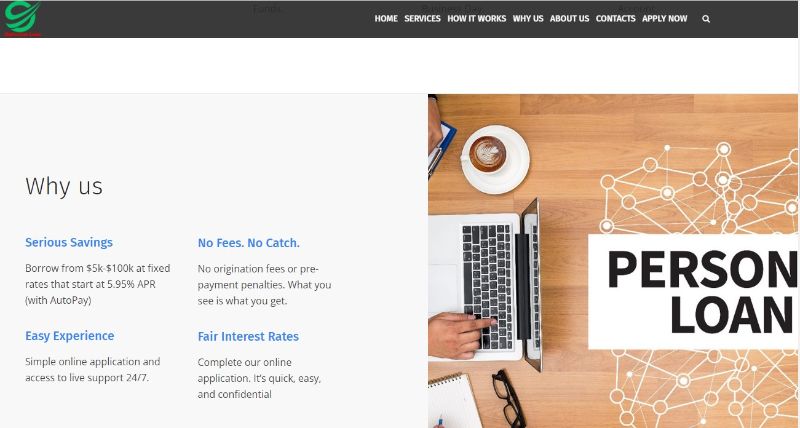 Aspiration and LightStream share many features in common for personal loans. The only difference is that the former offers business loans, which the latter doesn't. So, which one should you use?
Both Aspiration and LightStream are online lenders for personal loans. The loan application process follows the same steps. You follow the online application where you quickly fill out a form and submit your confidential information. Your application is reviewed, and you get funds as early as the same day if you meet the requirements.
Aspiration also has the same $5,000-$100,000 loan limit at a fixed rate starting from %.95% APR. There are no origination fees and penalties for paying early.
Now the difference is the secured business loan that Aspiration customers get. The most popular types offered include:
Short-term business loans with a loan limit of $2,500 – $250,000 at a rate starting from 10% and a 3-18 months repayment term.
Long-term business loans with higher loan limits of $25,000-$500,000 longer repayment terms of 1-5 years, and 7-30% interest rate.
Equipment financing up to 100% of its value and repayment term is the equipment's lifespan at an 8-30% rate.
Small business startup loan: maximum amount is $150,000, repaid between 6 months and 4 years at an interest rate of 7.9%-19.9%.
SoFi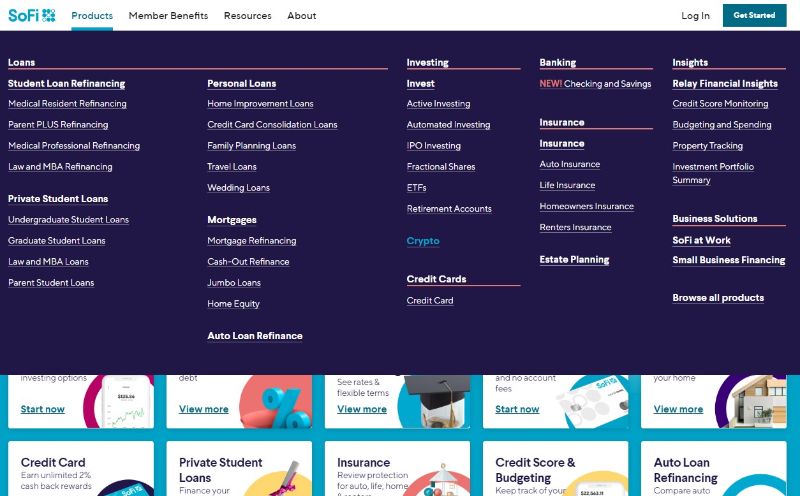 SoFi is the best alternative to LightStream for online loans if you have good credit. It offers slightly high rates. Currently, the APR is estimated to range from 6.99% to 21.75%. The credit score is also higher, but the loan limits remain the same at $5,000-$100,000.
SoFi offers private student loans, personal loans, mortgages, auto loan refinance, and student loan refinancing. There are other items under these categories. So, you can check the website for more details.
Happy Money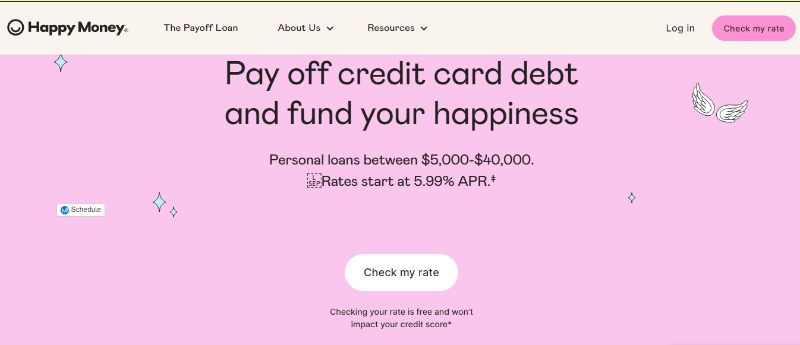 Choose Happy Money as the best alternative for LightStream for online loans for credit card consolidation. The current rates are estimated at around 5.99-24.99%, higher than the rate LightStream and SoFi offer. Despite its lower credit score, Happy Money is not the online lender to consider for large projects. The loan limits are between $5,000 to $40,000.
Happy Money is the best choice for a loan if you want to pay off your credit card debt. That's its main area, but it also offers other personal loans.
Upgrade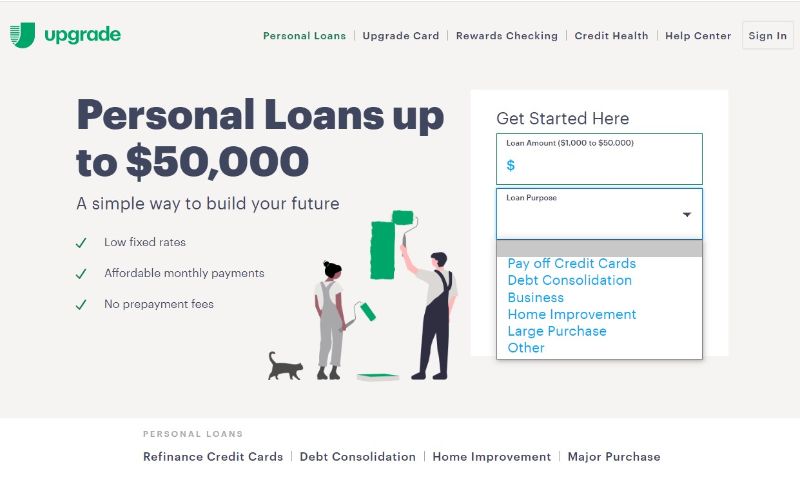 Upgrade is the best choice for personal loans. The lender requires a low credit score compared to others. However, its maximum loan limit is also lower than the competitors. You can only qualify for a personal loan between $1,000 and $50,000. We can say, Upgrade is better than Happy Money, but you can be slapped with a high-interest rate of 5.94-35.97.
Upgrade provides personal loans for debt consolidation, paying off credit cards, business, home improvement, bulk purchases, and other purposes.
LendingClub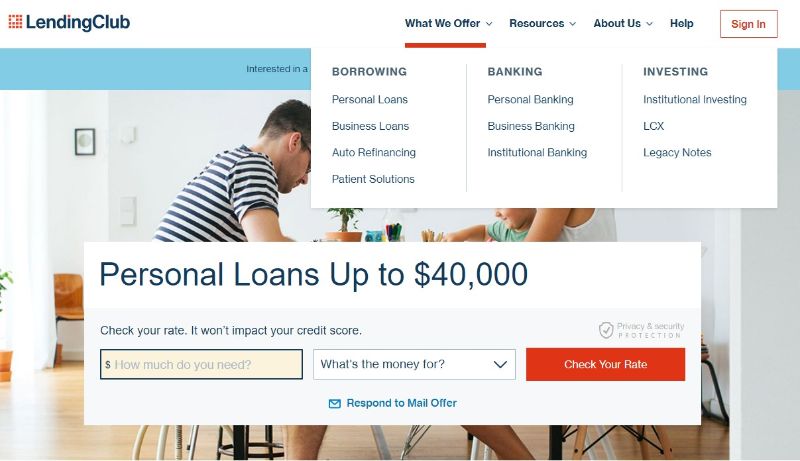 LendingClub is another competitor for personal loans. Its maximum loan limit is low. You can only qualify for a loan amount of $1,000-$40,000. Clearly, it will not be the best option for large projects.
However, LendingClub stands out as a lender that considers the business community. You can apply for small business loans, small business administration, commercial real estate, and equipment financing. Additionally, you can apply for auto refinancing and patient solutions. Note that these other products have higher loan limits than personal loans.
Marcus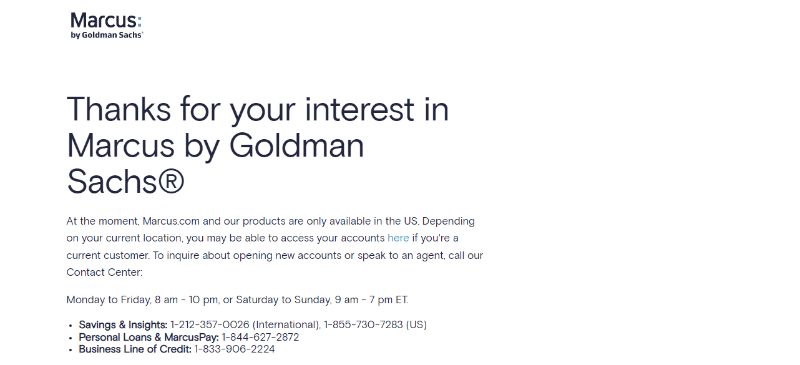 Marcus by Goldman Sachs provides online lending services to US residents. It is another LightStream alternative worth considering for personal loans because of its zero fees and flexible repayment terms.
Marcus allows you to set autopay and get a discount of 0.25%, which is half the rate that LightStream offers. Where it is better is direct payment to creditors for debt consolidation loans. It may be your best choice if that's your loan purpose.
However, it has a short loan term length of 3-6 years and a slightly higher rate of 6.99-19.99%. Also, it may not suit your large projects that require a loan of more than $40,000 because it is the maximum limit.
Is LightStream Legit?
LightStream is one of the most reputable online lenders in the United States and has enabled thousands of people to achieve their dreams. It offers 100% legit lending services that cover almost everything.
However, it has tight requirements that can result in your loan application being disapproved. You need excellent credit scores and impeccable credit history to qualify for LightStream loans. That is understandable since the lender does not require collateral.
But is LightStream legit? Yes. You can even confirm it from LightStream reviews online. Many people across the United States have benefited from its lending services to fund many projects. You shouldn't hesitate to be one of them.
LightStream Review: Final Thoughts
LightStream is one of the leading online lenders in the United States. You can receive its lending services provided you have a good credit score.
The company approves loans to fund different projects, with fossil fuel exploration as the only exception. That's because it's one of the sustainable personal loan lenders committed to environmental and social protection.
At the same time, LightStream offers the most reliable services to everyone who deserves it. Only your excellent credit report speaks for you, and the company does not charge prepayment penalties. Choose LightStream for high loan amounts and flexible monthly payment rates.
Related Resources: