M1 Finance is a well-known online investment platform that has been around for a few years. But is it legit? In this M1 Finance review, we'll take a look at the pros and cons of using the platform to invest your money.
M1 Finance is an online investment platform that allows you to invest your money in stocks and ETFs. You can choose from a variety of different portfolios, or you can create your own. The platform is free to use, and there are no fees for buying or selling stocks.
The biggest benefit of M1 Finance is that it is very user-friendly. The platform is designed for people who are new to investing, and it makes it easy to buy and sell stocks. There are also no fees for buying or selling stocks, which is a big plus.
What is M1 Finance?

M1 Finance LLC is a brokerage company. It has created a finance super app that allows you to keep your investing, borrowing, and spending all in one place. It is an excellent tool for sophisticated investors who want to self-direct the type of portfolio they prefer, then have their trades executed automatically.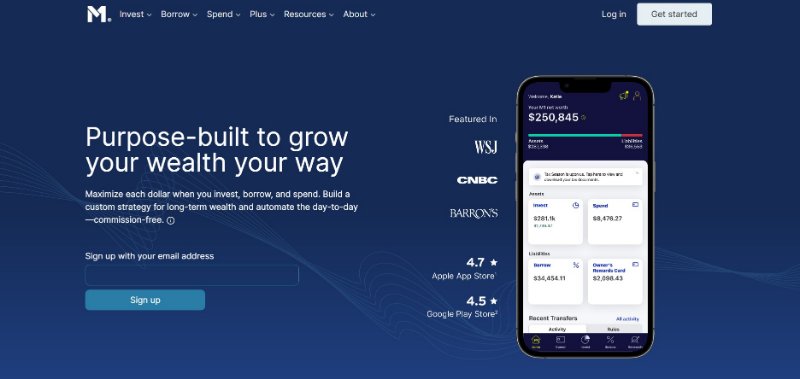 Investors allocate a portion of their portfolio to particular stocks, EFTs, or cryptocurrencies using a pie diagram. You can even decide what percentage of the pie to allocate to socially responsible investors. If you're unsure or want an easy option, you can also tap on the research option and select any of M1's premade socially responsible portfolios to use as your whole pie or to fill part of your pie.
See Related: FarmTogether Review: Is It Legit or Worth It?
M1 Finance Product Offerings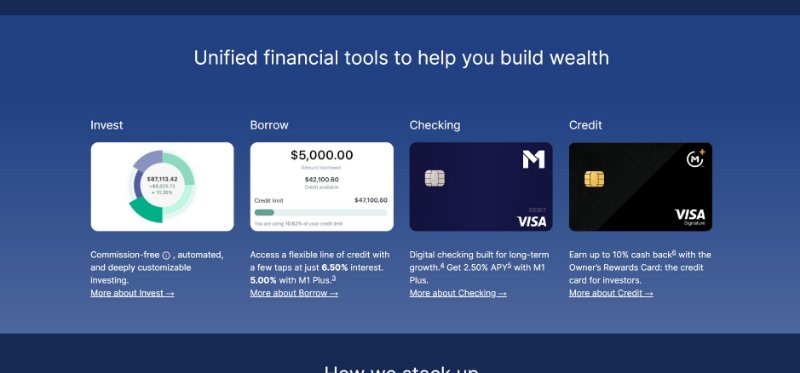 M1 has three components: investing, checking, and borrowing. The investment component includes brokerage accounts, retirement accounts, and cryptocurrency accounts. M1 charges no commissions on trades, no account fees, and no app fees.
M1 also has other financial features. You can borrow against your brokerage account investments, for example. As long as you have at least $2,000 in your portfolio, you can borrow up to 40 percent with rates as low as 4.25 percent. You can also access a cash-back Owners' Reward Visa card with Visa Signature benefits.
Checking accounts pay 1.75 percent interest, no matter your balance if you buy an M1 plus membership for $125 annually. The Visa card fee of $95 is also waived for M1 plus members. M1 also offers a resource center with curated portfolios and other valuable financial information to help you get started.
See Related: Aspiration Review: Is It Sustainable & Legit?
OK, so how does M1 Finance Work in Practice?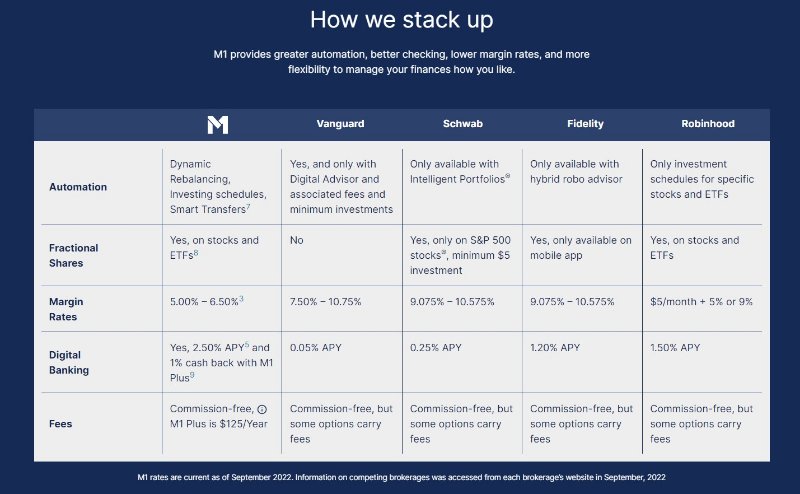 Let's start with the investment component. You set up the type of account you want. You can choose an individual or joint taxable account for general needs; a Roth, SEP, or traditional IRA; or a trust account. To set up your account, you'll need to provide some general information to identify yourself. Once your account is open, you're ready to create your portfolio.
If you are on the mobile app, then go to the research tab and choose pies. You then tap my pies and go to the three bars to create a new custom pie. If you are on the website, you go to research, then click my pies, and then click the create new pies button.
You then select the investments you prefer and add them to your pie. Each holding represents one slice. The pie can have up to 100 slices.
You then set the target weight of each slice as a percentage of the whole portfolio. For example, if you want a specific ESG stock or EFT to be 50 percent of your portfolio, you would create a slice of the fund and give it a weight of 50 percent. Once you've finished adding pieces to your pie, you click done.
Your pie isn't added to your portfolio automatically once you click done. You can continue to play around with it until you're satisfied.
Once you are satisfied, tap or click "add to your portfolio." Now, the pie has become your portfolio, you need to make a deposit to fund it.
Once you fund the pie, the money automatically flows to align with the percentages in your pie. Over time, the slices of those investments that perform well will grow, while those that fail to perform will shrink. So, as you continue to fund the pie, the money will flow and automatically adjust so that slices remain at their target percentage.
Suppose you don't want to create your own portfolio from scratch. You have the option of using a pie curated by experts. To take that option, you go to research and choose expert pies. Then you select the pie that matches your strategy.
The M1 Finance App has a lot of flexibility even with the expert pies. You can use the expert "pie" to be your entire portfolio or you can use it for only a slice of your portfolio.
For example, you could select the international Responsive Investing Pie. If you want your entire portfolio to be just like that pie, then you give it a weight of 100 percent. However, you can also give it a weight of 25, 50, or 80 percent of your pie, if you so choose.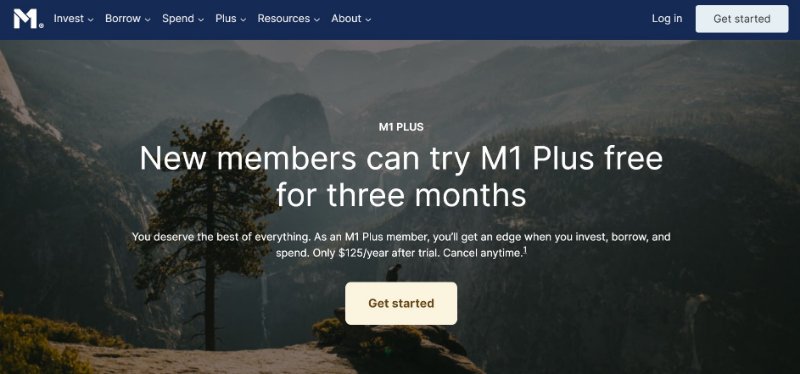 You can also choose to participate in other financial offerings on M1. You can decide to open a checking account, which allows for an easy transfer of money into your brokerage account. And, you may also apply for the Visa card. If you do both, you will likely want to buy the M1 Plus membership.
The M1 Plus membership is $125 annually, although you can try it for three months for free. The Plus membership gets you several benefits, including a waiver of the $95 credit card fee and 1.75 percent interest on your checking account balance. The membership also gains you more cash on your purchases, and you can reinvest the cash back into your portfolio with just a touch.
You also have the option of borrowing in certain instances. Suppose you've been using the app for a while, and you've built up $30,000 in non-retirement investments. Suppose an emergency comes and you need some cash, quick.
You have the option to borrow up to 40 percent of that $30,000 — or $12,000. If you're an M1 Plus member, your interest rate is 4.25 percent; if you're not, you'll pay 5.75 percent, which is still a lot lower than most other loans. You can borrow the money instantly without filling out an application and receive flexible repayment terms.
Borrowing, of course, has some risks associated with it. If your portfolio value drops, you may have to sell some of your holdings to pay back the loan, for example. So, avoiding borrowing the full 40 percent is a good idea, especially in times of high volatility in the stock market.
See Related: Best Wealthfront Alternatives | Apps Like Wealthfront
OK. So, you've heard all we've presented so far about this app. You may be wondering: is M1 Finance legit?

Well, yes. M1 Financial LLC, which created the app and manages the assets, is a legitimate, legal entity based in Chicago. It was established in 2015 and has grown rapidly, increasing the amount of its managed assets by 150 percent from 2020 to 2021.
M1 Financial is licensed in every US state and in Puerto Rico. It now has more than 500,000 clients and manages more than $5 billion in assets.
See Related: Best Real Estate Investment Websites
You may also be wondering: is M1 Finance trustworthy?
The answer to that question is also yes. M1 Finance is regulated by FINRA and the SEC, just like all other brokerage firms. The app and brokerage firm receive excellent reviews from users and experts. For example, Investopedia named its Roth IRA to its list of the Best Roth IRA accounts in 2020.
Investopedia also called it the best app for sophisticated investors, and Yahoo named it the best free investing platform. Also, any cash and securities up to $500,000 deposited in M1 Finance are covered by the SIPC, which protects against broker failure.
See Related: Tesla Auto Loan Overview: How to Get the Best Terms From Tesla
Pros and Cons of using M1 Finance
Pros of M1 Finance
The pros are:
The app is free. You have the option to add premium services such as a cash-back Visa card.
It allows you to customize your investment options or choose a curated option.
It offers socially responsible investment portfolio options.
You can invest in stocks, EFTs, and cryptocurrencies.
You can create more than one portfolio depending on your goals.
You can deposit money at any time, and it will automatically be allocated to your portfolio. You don't have to take the time to manage this process.
M1 charges no account fees and no commissions.
M1 has a low account minimum of $100 for general brokerage accounts and $500 for retirement accounts.
It allows for investing in fractional shares.
It provides the opportunity to borrow against your account at reasonable interest rates.
Cons of M1 Finance
No investment app is suitable for everyone. Here are some of the cons of M1Finance.
The platform doesn't allow for very complex investment strategies nor is it suitable for day traders. Instead, it is aimed at long-term passive investors.
It does not offer the tax loss harvesting features that some apps do. Tax loss harvesting is the process of automatically selling off securities at a loss to offset capital gains or other income from the investments.
See Related: Best Betterment Alternatives
Final Thoughts
M1 Finance is a legit investment platform that offers free investing and an impressive range of features. While it may not be the best choice for everyone, M1 Finance is definitely worth considering if you're looking for a low-cost way to invest your money. Thanks for reading our M1 Finance review.
Related Resources
Kyle Kroeger, esteemed Purdue University alum and accomplished finance professional, brings a decade of invaluable experience from diverse finance roles in both small and large firms. An astute investor himself, Kyle adeptly navigates the spheres of corporate and client-side finance, always guiding with a principal investor's sharp acumen.
Hailing from a lineage of industrious Midwestern entrepreneurs and creatives, his business instincts are deeply ingrained. This background fuels his entrepreneurial spirit and underpins his commitment to responsible investment. As the Founder and Owner of The Impact Investor, Kyle fervently advocates for increased awareness of ethically invested funds, empowering individuals to make judicious investment decisions.
Striving to marry financial prudence with positive societal impact, Kyle imparts practical strategies for saving and investing, underlined by a robust ethos of conscientious capitalism. His ambition transcends personal gain, aiming instead to spark transformative global change through the power of responsible investment.
When not immersed in the world of finance, he's continually captivated by the cultural richness of new cities, relishing the opportunity to learn from diverse societies. This passion for travel is eloquently documented on his site, ViaTravelers.com, where you can delve into his unique experiences via his author profile.