As far as investment goes, options are opening up for single investors who have a budget to put down. Apps like Robinhood can connect you straight to the stock market, where you are given the power to make your own trades – directly through the app. But what if your focus isn't as broad as the whole stock market?
Mainvest is an investment platform that connects small businesses, causes, and investors. The idea is Main Street investment: a chance to invest in exclusively brick and mortar businesses that show promise.
There are a lot of questions about Mainvest, and you might have heard of the platform by now already.
Unlock Sustainable Investing Opportunities 🌿
Join the green revolution by investing sustainably with our top partners. Discover platforms that align with your values and offer remarkable opportunities for growth.
Reddit is abuzz with discussions about money, Mainvest, and how much you can earn through the Mainvest platform.
Is Mainvest legitimate?
More importantly, is Mainvest worth your money?
Check out this Mainvest review where we'll give you direct insights into the investment opportunities offered by this unique platform.
We've put together the ultimate guide to Mainvest. Here's everything you should know about how Mainvest works and how to sign up for Mainvest.
An Introduction to Mainvest
If you've never used Mainvest before, the first thing you should know is that it's a revenue-sharing platform meant to connect businesses and potential investors.
Small businesses get investment, while investors get returns when the small businesses make money – thus, a share of the revenue earned.
Mainvest gets a lot of mentions on the internet for its devotion to small private businesses. If you're reading this, it's very likely that you've heard of Mainvest before.
But what exactly is it? How does it function in reality? Is it possible to profit with Mainvest if you invest in small brick-and-mortar businesses?
Here's what you should know about the very basics.
What is Mainvest?

Mainvest is an investment platform that connects local startup businesses and investors who sign up for the platform.
Mainvest is meant to provide a win-win situation where two worlds can meet – and from which both can benefit.
Investment doesn't always mean large, stock market buys.
Mainvest has been made to guarantee that you can invest in promising local businesses in your area.
How does Mainvest work?
How Mainvest works is easy to explain: you can sign up to the platform as a local business, or as an investor who wants to sign up for a local business.
Once you have signed up, you will get a chance to browse through the businesses that have signed up (and are in your area).
Through Mainvest, you can view individual stats on each business before you make your investment.
Mainvest puts your money into local businesses that are almost guaranteed to do well. It's an investment with just a few clicks, or at least that's what they promise to be.
See Related: Best Solar Crowdfunding Options for Renewable Energy Projects
Who can sign up for Mainvest?
As long as you're at least eighteen 18 years old and have a bank account in the United States, you're eligible to invest.
The whole point of Mainvest is that it provides an investment gap for everyone.
If you have a budget to invest in and your country allows for it, you can sign up to Mainvest and start investing in local businesses.
What's the whole point of Mainvest?
Mainvest is set up to bring together investors with small businesses in town that could use the help.
Unlike stock trading platforms like Robinhood, Mainvest is made for direct investment – peer-to-peer, and people-to-business.
Mainvest is a Regulation Crowdfunding (RegCF) portal that operates under Title III of the JOBS Act. Mainvest also has some equity offerings, although its main focus is on revenue sharing. This makes crowdfunding easy and accessible for everyone.
What this means for investors is that, in exchange for their buy-in, they will get a part of the successful turnover – and the more you invest, the higher the eventual returns promise to be.
What do Mainvest reviews say?
If you've done some of your own research by this point already, you'll know that reviews have a lot to say about Mainvest.
Mainvest reviews are all over the internet, including discussions on sites like Reddit from people who want to sign up (or have already joined).
Yes, Mainvest is a legitimate website, but not everyone has had the same experiences with it.
Reviews about Mainvest are varied.
There are investors who have made great returns through using Mainvest, but others who say they have had more success with competing platforms.
Some users say Mainvest is effortless, and others say the interface could use some work.
Our review is in-depth: we'll tell you exactly why we like Mainvest and some of the reasons why we don't.
Mainvest is a great investment platform for many reasons, though has some drawbacks that we'll talk about in the spirit of a completely honest review.
See Related: FarmTogether Review: Is It Legit or Worth It?
How do you sign up for Mainvest?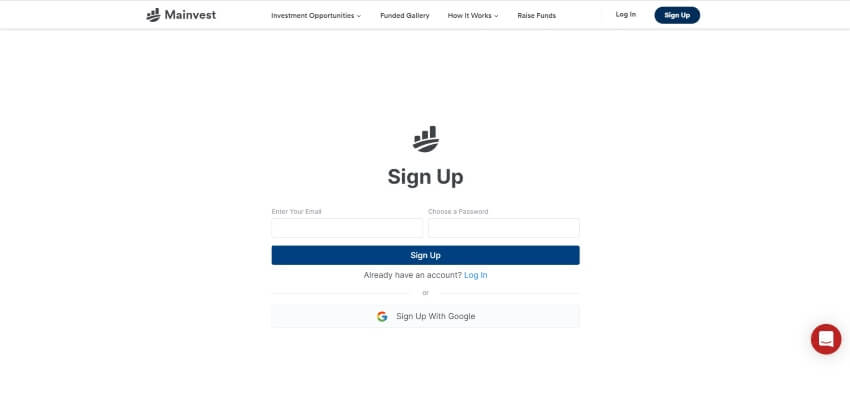 Mainvest claims to have a very easy sign-up process that will take you only a few minutes.
After this, you'll be asked to set up your profile with more detailed information – including two-step verification, since it's a financial trading app with heightened security features.
The first step to signing up for Mainvest is to create an account or sign in with your Google Account. Which one you choose is up to you, though some people prefer to keep all their accounts in the same place.
Next, the site asks the user to fill in some basic information as an investor or business: this is nothing too complicated.
Is Mainvest a legitimate site?
Yes, Mainvest is legitimate as a registered company – and registered as a financial platform in the United States. Mainvest is not a scam, and it's not any type of scheme.
Like platforms like Robinhood, Mainvest is completely legitimate.
According to reviews, Mainvest just isn't for everyone – and has pros and cons just like any other site you could mention.
We'll go over some of the most important pros and cons associated with Mainvest next.
See Related: Green Century Funds Review: Is it Worth?
Pros & Cons of Mainvest
Mainvest is a great website, and definitely legitimate – but let's be honest and say that all websites, including Mainvest, have pros and cons. Mainvest isn't necessarily for everyone, and users have reported different experiences in their reviews of the Mainvest site.
Some of the pros of Mainvest include its accessibility to everyone out there, a quick sign-up process that allows you to start investing immediately, and a great revenue-sharing model that works well to support both people and businesses.
Some of the cons of Mainvest include an added level of risk because of the selection of small businesses, and the fact that all investments are local – though this is not technically a negative for everyone who invests!
There are pros, and there are cons.
You'll have to decide whether Mainvest is right for you: yes, it's legitimate, yes, you can earn money – but is this right for you, personally?
Let's go over some of the pros and cons of the Mainvest platform next to help you decide.
See Related: Important Socially Responsible investing Pros and Cons
The Pros of Mainvest

Accessible for Everyone
One of the best features about Mainvest is that it's accessible for everyone, and meant to bring businesses and investors together. As long as you are an investor with something to cash into a cause, you'll find someone local on the Mainvest platform.
The flip-side works just as well for small businesses, which also profit from the funds investors put in.
Revenue-Sharing Model
Revenue-sharing is a concept that allows investors to put their money into a business, and receive an agreed percentage of future revenue against the amount they have put in. The revenue-sharing model is what makes Mainvest unique, and it's also one of its best attributes.
The revenue-sharing notes model behind Mainvest is the cool part: that's where both businesses and investors get to see things pay off, often faster than traditional stock market investments.
Quick Sign Up Process
Mainvest isn't hard to sign up with: it takes just a few minutes and you can make your first investment in a local small business the moment you've signed up.
A quick sign-up process helps, and Mainvest doesn't overcomplicate their initial sign-up with frills or bells after: all users have to do is add some basics about themselves as an investor, and they can start.
From there, you just sync your bank account and fund your account.
Instant Access to Contacts
Mainvest is great because it gives an investor instant access to contacts in their area: it's also great for businesses because it sets them up with funding that could help their businesses on the way up.
Instant access is one of the main features that make Mainvest worth it for both sides.
Quick Contact to Funders
If you have ever run a business, you'll know that it can take months or years to secure the proper funding for where you want to take your venture. Sometimes, businesses fold because they never get there.
Mainvest promises quick access to funders for businesses and quick access to businesses for investors.
It cuts out a lot of the need to wait.
Supports Businesses & People
Mainvest is a platform that provides a fair amount of support for businesses and investors. That is to say, both sides of the platform work equally well – it's not skewed to work better for businesses, or better for investors at any rate.
Mainvest is meant to be a win-win platform that helps both sides of the business to achieve success. When one side does well, so will the other: that's the whole idea of it.
Available Support for Help
Mainvest has no lack of in-house guides if you want to know a specific thing or two about the site. Their own FAQ covers most of the things you might want to know about using Mainvest after sign-up, including how to make your first investment (and exactly how to get it).
If the FAQ doesn't answer your question, Mainvest support is just a message away. Support responses are quick: that's a definite pro for the platform which sets it apart from others that might take days to get back.
The Best of New Local Business
The Map view shows local businesses and it's highly likely that investors will be more likely to see local offerings, but all investors have access to all public deals.
Mainvest is set up to drive local investment startups forward: if you are an investor who wants to keep your finger on the pulse of your own neighborhood and maybe do some good in the process, Mainvest might be for you.
Mainvest offers the best in local businesses. With Mainvest, there's no need to sit in a pub for hours or be glued to your search engine in order to figure out what's going on locally. Mainvest will keep you up to date.
See Related: Vinovest Review: Is It Legit & Worth It?
The Cons of Mainvest
Added Risk
Mainvest allows investors to put their money into smaller (or startup) companies in their area that might show promise.
Revenue-sharing means that, if the business does well, the investor gets back on his investment – but small businesses and startups can take a while to reach this point.
Sometimes, investment in smaller businesses and start-ups comes with a definite amount of risk. It's no different when investors use the Mainvest platform. Remember that no investment site can replace common business sense.
If you can deal with the added risk, Mainvest could for you.
Smaller Companies
Mainvest does not invest in small businesses, Mainvest is a funding portal. If you are looking for a large, brand name investment in companies like Netflix, this isn't your best choice.
But if you are chasing local small business investments that might go very big in the near future, Mainvest could be for you.
Easy Sale (But Hard Resell)
It's easy enough to put your money into a small business, but when it comes to getting your money out to invest in other businesses it can be difficult.
Mainvest makes it easy to invest in small businesses, but small business investments can be a hard re-sell when you want to move on to something else – unless that particular business has done well, you might lose out when you let your part go.
Somewhat Limited Selection
Mainvest is a great platform if you want to invest in emerging or new local businesses – but if you want to branch out further and you're actually looking for ETF investments or high-rated stock options, Mainvest isn't your type of site.
A common criticism of Mainvest is that the platform is slightly limited in terms of options for investors who want more than local businesses. Investors are restricted to the businesses in their closest proximity.
Again, if you want to invest in international stocks, Mainvest is not the platform for you.
See Related: Wealthfront SRI Review
Accredited Investors vs Non-Accredited Investors
Mainvest has always been open to non-accredited investors.
Non-accredited investors are folks who do not meet the legal standard of an "accredited investor". To be considered an accredited investor, you must have a net worth of more than $1 million, excluding your primary residence or annual income exceeding $200,000 (or $300,000 for joint income).
Accredited investors are generally considered qualified and sophisticated enough that they can make their own investment decisions without requiring additional regulatory protections such as disclosure requirements and restrictions on resale transactions. There is no limit on the number of people who qualify as accredited investors so long as they meet these criteria.
The Mainvest platform offers investors a comprehensive due diligence and vetting procedure before presenting each opportunity for their approval, ensuring that only the finest quality investments are available to them.
Mainvest Review: Is it Legitimate and Worth It?
In our Mainvest review, we've covered several things including the vetting process, the investment opportunities in brick and mortar businesses, the potential for a secondary market, and a lot more.
However, what about the real opinion. Mainvest is a very popular website at first look: internet communities like Reddit and Quora are filled with threads about Mainvest and how Mainvest works.
One of the biggest questions about Mainvest is whether Mainvest is legit, and how does Mainvest make money?
Is Mainvest Legitimate?
Yes, Mainvest is a completely legit website and registered company.
Registration details can be viewed and verified on their website before investors or businesses even sign up to the site. This is important for anyone who wants to put their money into an investment platform or site.
Mainvest passes the legitimacy test: it's just not a site that could be called "for everyone", but for investors who want to make a local difference.
Many Mainvest competitors are not legitimate or registered.
How does Mainvest make money?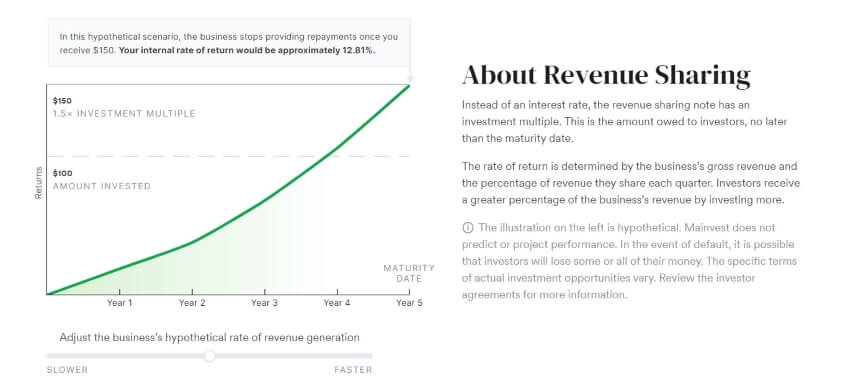 Mainvest makes its money from a one-time fee when a business successfully completes a raise. If a raise is unsuccessful, Mainvest doesn't take a fee, and investors are refunded in full. Investors never pay fees on Mainvest, which is pretty boss.
Is Mainvest worth it?
You're wondering if there's a way to get private investment for your company without knowing what to do. If you live near one, you may even go to one of the many small private businesses listed on Mainvest. Map filters are used by Mainvest to highlight possible investment opportunities in the area.
However, investment in brick and mortar businesses is usually risky given that it lacks liquidity, debt security, and governance compared to big companies. Like most investment platforms, Mainvest does not operate a secondary market though the Mainvest website does state that it is in development.
Mainvest is therefore a good choice for those who can tolerate more risk, want to invest their money in small businesses, and are willing to hold on to their investment for a longer period of time. However, if you are looking for quick returns or want to invest internationally, then, all things considered, Mainvest is not the right site for you.
However, if you do have the ability to invest as an accredited investor in small local businesses that you care about, Mainvest could be a fun investment opportunity though the selection is somewhat limited.
FAQ
Is Mainvest a reliable and legitimate investment platform?
Yes, Mainvest is a reliable and legitimate investment platform. It has been in business for several years and has a good reputation.
Are my investments safe with Mainvest?
Your investments are safe with Mainvest. The company takes security very seriously and employs the latest encryption technologies to protect your data.
What are the risks of investing with Mainvest?
There are several risks of investing with Mainvest, including the limited secondary market for your investments, the lack of operating history of the Mainvest businesses, and the uncertainty of an investment in a small business. You should always do your own research before investing money in any company or platform.
What is the minimum investment amount with Mainvest?
The minimum investment amount with Mainvest is $100. This makes it accessible to investors of all levels. You can withdraw your cash funds to your bank account easily so long as they are not in debt investments.
Related Reviews
Related Resources