Marcus by Goldman Sachs is an online banking platform that has gained significant attention recently for its consumer-focused products and services. As a subsidiary of the reputable Wall Street giant Goldman Sachs, Marcus aims to deliver a seamless banking experience while providing competitive interest rates, particularly on its savings accounts and CDs. Since its launch, Marcus has catered to its customers' evolving needs by offering innovative financial solutions.
Marcus by Goldman Sachs bank primarily focuses on personal banking products, such as high-yield savings accounts, certificates of deposit, and personal loans.
Notably, their savings account and CD rates are higher than the national average, drawing the attention of potential customers looking for better returns on their deposits. Additionally, Marcus strives to maintain a transparent fee structure with no monthly service fees, allowing users to manage their finances effectively without hidden costs.
Unlock Sustainable Investing Opportunities 🌿
Join the green revolution by investing sustainably with our top partners. Discover platforms that align with your values and offer remarkable opportunities for growth.
The combination of competitive rates, user-friendly online and mobile banking app services, and the backing of a well-established financial institution like Goldman Sachs has positioned Marcus as an attractive option for individuals seeking to enhance their financial journey.
As we delve further into the Marcus by Goldman Sachs review, we will explore the various aspects of their offerings that have contributed to their growing popularity and how they are shaping the future of digital banking.
Overview of Marcus by Goldman Sachs

Marcus by Goldman Sachs is an online banking platform rooted in the renowned investment banking firm Goldman Sachs USA. Launched in 2016, Marcus has been designed to cater to customers' personal banking needs. It provides competitive savings, CD rates, and personal loan offerings as an online-only bank.
Core Values and Approach
The primary mission is to offer a simple, transparent, and customer-centric approach to personal banking. They strive to achieve this by providing higher-than-average Annual Percentage Yields (APYs) on their savings accounts and competitive rates on certificates of deposit (CDs).
No Monthly Service Fees: Marcus ensures its customers do not face hidden costs or charges. They do not impose monthly service fees on their savings accounts or CDs. This practice allows customers to maximize their savings and enjoy a hassle-free banking experience.
Commitment to User Experience: Marcus focuses on user experience and convenience as an online bank. Their well-designed website makes it easy for customers to access their accounts, manage their savings, and apply for various other banking products and services. Moreover, their customer support services prioritize addressing concerns and resolving issues efficiently.
Aligned with Goldman Sachs Bank USA: Marcus by Goldman Sachs operates as a Goldman Sachs Bank USA brand. This alignment allows them to leverage their parent company's expertise, resources, and reputation, ensuring customers a secure and reliable banking experience.
See Related: M1 Finance Review: Is It Legit?
Savings Accounts and Rates
APY and Interest Rates
The Marcus Online Savings Account offers a competitive annual percentage yield (APY) of 4.30%. This APY is substantially higher than the national average of 0.42%, positioning it well among high-yield online savings accounts. The interest rate is applied consistently, allowing savers to benefit from a higher return on their savings.
Minimum Deposit Requirements
One key advantage of the Marcus Savings Account is that it requires no minimum deposit to open an account, making it easily accessible for a wide range of savers. Coupled with its competitive rates, this no-minimum deposit feature attracts customers seeking an efficient, low-barrier way to save.
Monthly Maintenance Fee
Unlike many traditional banks, Marcus Savings Account does not charge any monthly maintenance fees for account opening of its high-yield savings account. This no-fee structure creates peace of mind for account holders and allows growth in their savings without worrying about fees eroding their balances.
Withdrawal Penalties
It is important to note that while the Marcus by Goldman Sachs Savings Account offers competitive rates and no minimum deposit requirements, withdrawal restrictions and penalties may be imposed if customers withdraw money from their accounts too frequently. Savers should know these terms and account limitations to maximize the benefits of holding a high-yield savings account with this institution.
The Marcus Online Savings Account offers a comprehensive solution to customers seeking a high-interest rate on their savings, combined with the advantages of no minimum deposit requirements and the absence of monthly maintenance fees.
Account holders should consider account details and withdrawal limitations before fully committing to maintaining an account with Marcus for optimal savings growth.
See Related: Best Banks for Low-Income Earners
Checkings and Offered Services
Mobile Check Deposit
Marcus does not offer checking accounts or mobile check deposit services. Their primary focus is on offering competitive rates for savings products and certificates of deposit (CDs). Since Marcus operates as an online-only bank, customers looking for checking account services with mobile check deposit capabilities might need to consider alternative banking options.
Direct Deposit Features
Although Marcus by Goldman Sachs does not offer checking accounts, it does provide direct deposit services through its savings accounts, allowing customers to send funds directly to their external bank account via ACH transfers.
When setting up direct deposit with an employer or any external account, the Marcus savings account can be utilized to receive these funds directly. The lack of a minimum deposit requirement for the savings account ensures easy access to direct deposit features for customers.
Out-of-Network ATM Fee
They do not offer debit or ATM cards, and their services do not include ATM-related fees, such as out-of-network ATM transaction fees or potential overdraft fees.
Their commitment to focusing on savings and CD products contributes to their competitive rates and fee-free offerings in these product categories. Customers seeking comprehensive banking experiences or easy access to ATMs must explore alternative banking options.
Personal Loans and Fees
Loan Structures
Marcus by Goldman Sachs offers unsecured personal loans ranging from $3,500 to $40,000 with terms between 36 and 72 months. These loans support various financial needs, such as debt consolidation, home improvement, unexpected expenses, etc.
Interest rates on these loans span from 6.99% to 24.99%, depending on the borrower's creditworthiness. Notably, Marcus' loans come with no origination, late payment, insufficient fund, or prepayment fees.
Rate Guarantee
Marcus offers a unique rate guarantee feature, which gives borrowers some flexibility. They have the option to change their payment date up to three times during the life of the loan, providing them with more control over the timing of their payments.
Additionally, Marcus does not charge monthly fees or require a minimum balance, ensuring that borrowers can focus on repaying their loans rather than managing bank accounts and fees.
Loan Penalties
One of the key benefits of Marcus' personal loans is the absence of fees and penalties. Unlike some competitors, Marcus does not charge origination fees, late payment fees, insufficient fund fees, or prepayment fees. This transparency and consumer-friendly approach make it easier for borrowers to manage their loans without worrying about hidden charges.
See Related: Vinovest Review: Is It Legit & Worth It?
Certificates of Deposit and Returns
CD Rates
Marcus by Goldman Sachs offers attractive CD rates for customers seeking to maximize their returns in a low-risk and stable environment. Their high-yield Certificates of Deposit are designed for savers with rates above the national average.
For instance, the 6-month CD offers an annual percentage yield (APY) of 4.85%, while the 12-month CD offers a 5.00% APY. Moreover, the rates increase as the term length extends, encouraging long-term investments.
No-Penalty CDs
In addition to their standard CDs, Marcus by Goldman Sachs also provides No-Penalty CDs, which allow customers to withdraw their entire balance without any penalties after a short initial lock-in period.
The current 13-month No-Penalty CD offers an APY of 4.35%, providing flexibility to investors needing access to their funds before the maturity date.
Early Withdrawal Penalty
It is crucial to note that early withdrawals from standard CDs attract penalties. Marcus by Goldman Sachs enforces these penalties to help maintain the stability of their investment portfolio and ensure that customers do not face undue risks. However, the monthly interest earned direct deposits on CDs can be withdrawn without any penalties, making it a convenient feature for investors seeking periodic income from their deposits.
In summary, Marcus by Goldman Sachs' Certificates of Deposit offer competitive returns, a range of term lengths, and flexible withdrawal options. These features make the bank's CDs attractive for investors aiming for stable, risk-averse growth in today's volatile economic climate.
See Related: FarmTogether Review: Is It Legit or Worth It?
Customer Service and User Experience
Mobile App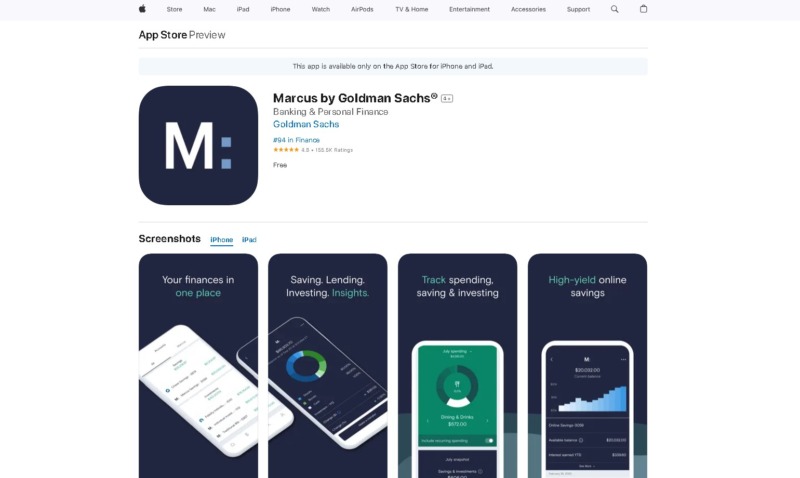 The Marcus by Goldman Sachs mobile app provides customers with a user-friendly experience, enabling them to manage their accounts effectively on the go. With features such as mobile check deposits, customers can save time by depositing checks through their smartphone without visiting a branch or ATM.
The app's interface is designed to be visually appealing and easy to navigate, offering key functionalities like account management, transaction history, and bill payments.
Customer Satisfaction Ratings and Reviews
Regarding customer satisfaction, Marcus by Goldman Sachs has received mixed reviews. According to a ConsumerAffairs rating, the financial institution holds an overall rating of 3.5 out of 5 stars, with 28% of customers rating it 5 stars and 43% giving it 4 stars.
Complementing this, another source, ConsumersAdvocate.org, has given Marcus by Goldman Sachs's CDs a 4.8 out of 5 stars, highlighting the high-yield certificates of deposit's features and customer experience.
It should be noted that while Marcus demonstrates strengths in its attractive offers and simplified user experience, some customers may express concerns or encounter difficulties when reaching customer service representatives.
However, the firm addresses these concerns by providing an automated customer service line, available 24/7, as well as direct communication with representatives available on weekdays from 8 a.m. to 10 p.m. ET and on weekends from 9 a.m. to 7 p.m.
Although no specific J.D. Power ranking is available for Marcus by Goldman Sachs, customer reviews and ratings are valuable indicators of the company's user experience and customer satisfaction.
Investments and Financial Products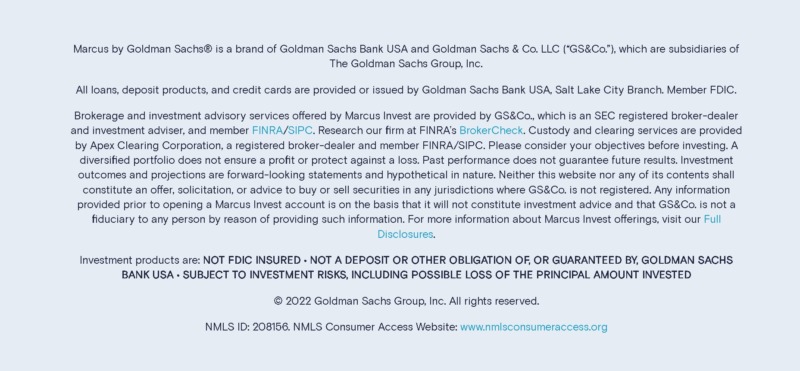 Customers can explore various financial products and electronic transfer services. This section will focus on investments and financial products, particularly wire transfer services and available credit cards.
Wire Transfer Services
Clients of Marcus have access to wire transfer services, allowing seamless movement between accounts or transferring funds to external institutions.
Wire transfers are an efficient and secure method of transferring money for various purposes, like investing and lending. As one of the leading financial institutions in the world, Goldman Sachs prioritizes the security and speed of these transactions for their customers.
Available Credit Cards
In addition to investment and lending products, Marcus offers a range of credit card options to cater to different financial needs and preferences. These credit cards provide a variety of rewards and benefits, making them popular choices for both personal and business use. Clients should carefully evaluate their spending habits and financial goals to select the most suitable credit card option.
Goldman Sachs is renowned for its expertise in financial products and services tailored to various needs. Providing competitive wire transfer services and diverse credit card options empowers clients to manage their finances effectively and embrace many investment opportunities.
See Related: AcreTrader Review: Is It Legit or Worth It?
Branches and Accessibility
Online-Only Bank Provisions
Marcus by Goldman Sachs is an online-only banking platform. This means they are designed to provide services primarily through their website and mobile apps. Customers can manage their accounts, transfer money, and reach customer service without access to physical branches.
The platform offers mobile applications for both Apple and Android devices, making it accessible and convenient for many users. The apps are designed to provide efficient account management, making it easy to track savings goals and monitor account balances from anywhere.
Physical Branches Locations
Since Marcus is an online-only bank, they do not have physical branch locations. Depending on the user's preferences, this can be both an advantage and a disadvantage.
Although Marcus does not offer a branch network, it can provide competitive rates and fewer fees than many traditional banks. The reason being they have lower overhead costs associated with maintaining physical branches.
Acknowledging that the lack of physical locations may not appeal to some customers who prefer in-person support or face-to-face interactions with their banking institution is vital.
It's crucial for potential Marcus by Goldman Sachs customers to understand the online-only nature of the platform and consider their comfort level with managing their finances, primarily online banks and through digital channels.
Security Measures and Protections
Marcus prioritizes the security of its customers' bank accounts and personal information. As an online bank, security measures have been taken to protect customer data and funds.
One essential security feature of Marcus is that it is FDIC insured. This means that deposits are insured up to $250,000 per depositor, providing a safety net for depositors in case the institution fails.
Online banking services offered by Marcus are protected with industry-standard encryption and secure socket layer (SSL) technology. This technology helps ensure that sensitive data transferred between the customer's device and the bank's servers remains private and secure.
In addition, Marcus employs two-factor authentication (2FA) to protect customer accounts from unauthorized access further. 2FA requires users to provide secondary information for account access, such as a text message code and password.
They also offer proactive security measures to help customers prevent unauthorized access to fee-free accounts. These include customizable account alerts that notify customers of any account activity or attempted logins.
Customers can also take advantage of secure account locking, allowing users to temporarily lock their online account if they suspect unauthorized access or need heightened security during a specific period.
Frequently Asked Questions
What are Marcus by Goldman Sachs interest rates?
Marcus offers a competitive interest rate for its online savings account. As of 2023, the annual percentage yield (APY) is 4.30%, notably higher than the national average of 0.42%. This rate enables account holders to maximize their savings and grow their funds more effectively.
How does Marcus' high-yield savings account compare to others?
The Marcus savings account is highly competitive compared to other high-yield savings accounts. With an APY of 4.30%, the account provides significantly higher returns than the national average and stands out among its peers. Additionally, the account requires no minimum deposit and charges no fees, making it an accessible and attractive option for consumers looking to increase their savings.
Are funds in a Marcus account FDIC insured?
Yes, funds held in a Marcus by Goldman Sachs account are FDIC insured. The Federal Deposit Insurance Corporation (FDIC) insures deposits up to $250,000 per depositor, per institution, and ownership category. This means that consumers can have confidence in the safety of their funds while taking advantage of competitive interest rates.
What fees does Marcus by Goldman Sachs charge?
Marcus is known for being a fee-friendly banking option for consumers. The bank charges no fees for its online savings account, allowing holders to save and grow their funds without additional costs. The absence of fees and competitive interest rates make this an appealing choice for consumers seeking a high-yield savings account.
Related Resources