ESG investing is a trend that many investors have adopted. But is Morningstar ESG the best way to go about it? I know you've probably asked yourself this question, and this review has just the right answers for you.
It isn't easy to make it in the financial market, especially as a new investor. In fact, not every investor here makes tangible profits. But, those that do know how lucrative the financial markets can be.
Using the right tools and platforms, coupled with the right information, is the only way to succeed in trading. Whether you want to do day trading or hold your assets for a longer time, these three aspects determine your success.
Morningstar is one platform that helps traders get the desired information about investing. And Morningstar ESG focuses more on sustainable investing strategies.
The platform assists traders in making informed investment decisions. It offers them the right stock metrics and fundamentals to do just that.
But is Morningstar the best financial service firm for you? This Morningstar ESG review explores this platform in detail. From here, you can easily decide whether it's the right fit for your investing needs.
What is Morningstar?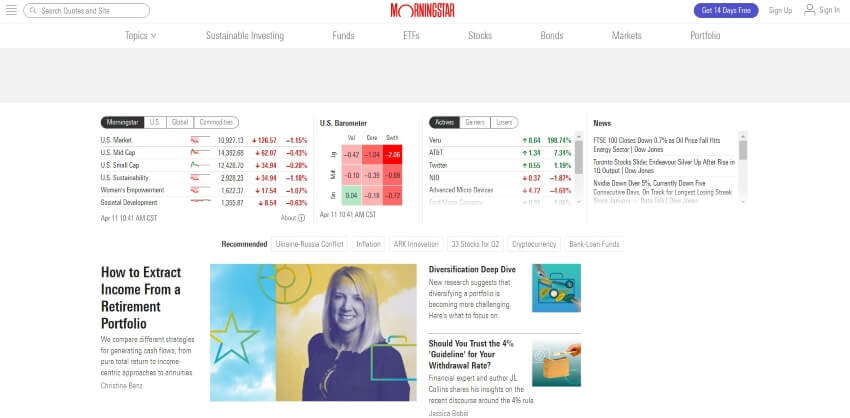 Understanding what the platform entails is crucial. It's the first step in appreciating its effectiveness in financial market investing success. So, what is it?
Well, Morningstar is one of the most popular financial services firms in the industry. It's a research company that offers investment information and ratings to investors. These can be individual investors, financial advisors, or institutions.
The firm was founded in 1984 by Joe Mansueto. Its main aim was to provide an in-depth analysis of stocks, mutual funds, and other investments. And it has grown to become one of the most trusted names in independent investment research.
Currently, Morningstar headquarters are in Chicago. But, it also has international operations in over 25 countries. According to the firm, its research covers over 600,000 investments. These include stocks, mutual funds, and ETFs. Also, it has more than 150 Morningstar analysts worldwide, offering objective and insightful analysis.
The company provides an in-depth analysis of individual stocks, mutual funds, and ETFs. It does this through its Morningstar Analyst Rating system. These ratings are based on a qualitative assessment of a fund's or stock's performance over time.
Usually, the ratings range from 1 to 5 stars. A higher rating means that the investment's prospects are favorable. But, a lower one indicates that the investment is likely to underperform its peers.
Morningstar Features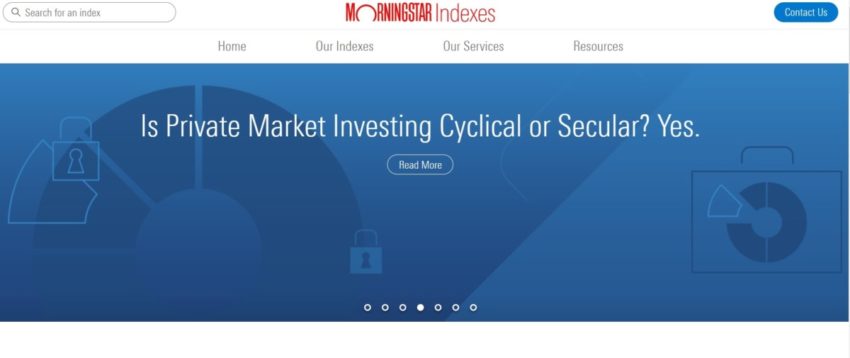 Morningstar comprises four main features. These features make it easy for you to invest in the financial market. They include:
1. Morningstar Ratings
This is arguably the most popular feature in Morningstar. It grades various financial instruments such as stocks, ETFs, mutual, and index funds, giving them a 1-5 stars rating. This rating is based on the company or fund's historical and current performance over a three, five, and ten years span.
Five stars rating indicates the best performance, while a one-star is the least rating. This means that you, as an investor, can easily identify stocks and funds that have been performing and decide whether they are worth your money.
Also, 4 and 5 stars show an undervalued stock, while 3 stars is a sign of a fairly valued one. On the other hand, 1 and 2 stars represent an overvalued stock.
The rating system also uses the expense ratio to rate funds. This ratio is the amount of money a fund charges to cover its expenses. A lower expense ratio indicates that a fund is cheaper to operate and, thus, more attractive to investors.
However, it's important to note that the Morningstar rating system is not perfect! As some experts might argue, this rating system mostly considers the past performance of a company.
And, there is no guarantee that the company will continue to perform well in the future. Or that the wheels won't turn and a poorly performing company or fund starts performing better. Nonetheless, it's still one of the best ways to quickly assess how a stock or fund has been performing.
See Related: Do ESG Investments Outperform the Market?
2. Portfolio X-Ray
This feature allows you to see how your portfolio is diversified. It does this by analyzing the holdings in terms of asset class, industry, and country.
The good thing about this feature is that it offers a free version (Instant X-Ray), although quite basic. But, it still allows you to access the platform's finance expertise and handy investing tools.
However, you can opt for the premium tool (Portfolio X-Ray) that better analyzes the stocks, ETFs, and mutual funds' data. This gives you a more comprehensive picture of your portfolio's overall characteristics.
All you need is to create a free account with Morningstar and then input your portfolio details. And, within minutes, you'll be able to see how diversified your portfolio is.
See Related: Fiserv, Inc. ESG Profile (FISV): Is It Sustainable?
3. Screeners
The screener tool is a powerful research tool and one of the best stock screeners out there. It allows you to filter stocks, ETFs, and mutual funds according to your investment criteria.
For instance, you can use this tool to find companies with a certain market cap or those that operate in a particular industry. You can also use it to find ETFs and mutual funds with low expense ratios or that consider ESG factors.
Generally, the Morningstar screener has over 200 different criteria that you can use to filter stocks. However, the number of filters available on the free version is quite limited.
4. ESG Investing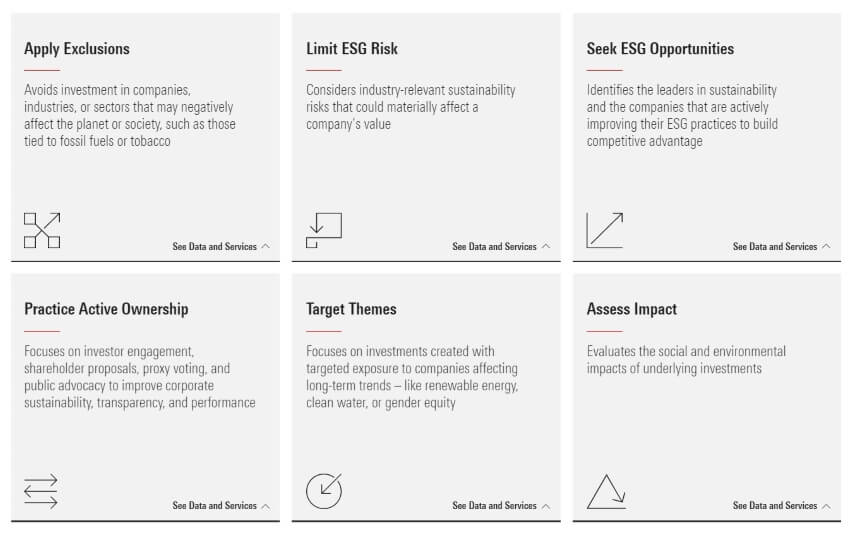 ESG investing is one term under the umbrella of sustainable investment strategy. While retail investors will call it "impact investing," institutional ones refer to it as ESG investing. However, the end goal is the same. The term ESG stands for the three main pillars that make up a company's sustainability and ethical profile. These include environmental, social, and governance issues.
Generally, this investing approach means investing in companies or funds that have strong ESG ratings. And there are limitless benefits of ESG investing. With Morningstar ESG investing, you get detailed research on ESG factors and funds. This allows you to make prudent investing decisions.
With this approach, the platform focus on more than just the financial aspects of the companies or funds. Instead, it looks at the impact of the companies' operation on the planet and society. Morningstar has one of the most effective ESG stock screeners in the market.
See Related: How to Become an Impact Investor
Morningstar ESG Rating System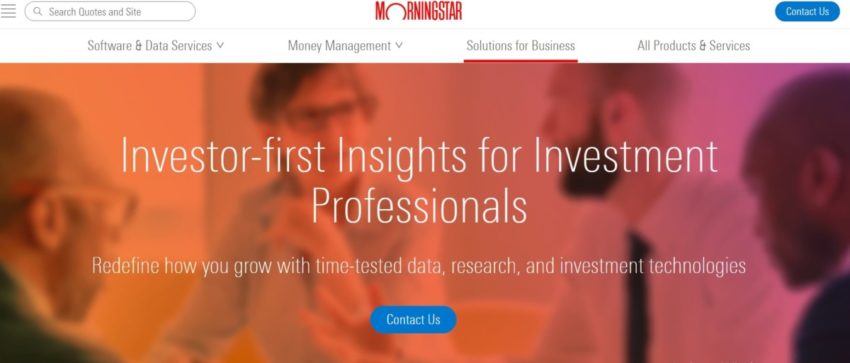 As we've mentioned earlier, ESG stands for environmental, social, and governance. And investors use these sustainability ratings to assess a company's impact on society and the environment—in addition to its financial performance.
With Morningstar ESG ratings, the environmental aspect evaluates a company's impact on the environment. This includes factors such as carbon emissions, water usage, and waste management.
The social component looks at a company's treatment of employees, customers, and other stakeholders. This includes things like workplace safety, customer satisfaction, and human rights practices.
And lastly, the governance component assesses a company's board of directors, executive compensation, and share structure. This helps investors evaluate how well a company is run and whether or not it is shareholder-friendly.
An increasing number of individuals want to invest in companies that have a positive impact on society and the environment. So, they use ESG ratings to screen investments and make informed choices about where to put their money.
Morningstar ESG uses a combination of quantitative data and qualitative analysis to produce its ratings. The data comes from public sources, such as regulatory filings, corporate sustainability reports, news articles, and research reports.
The firm's analysts then use this data to assess a company's exposure to an ESG risk or opportunity. They also consider how well the company is managing these risks and opportunities. The result is an overall rating for the company that ranges from 1 star (lowest) to 5 stars (highest).
Generally, through the Morningstar index market barometer, investors can get a snapshot view of the financial market. The barometer quotes are real-time and allow instant analysis of companies' performance trends by the investors.
See Related: How to Get a Certificate in ESG Investing
What does Morningstar Offer for ESG Investing?
Besides its ESG ratings, Morningstar offers a variety of resources for sustainability-conscious investors. The firm's website includes an ESG investing section that provides news, commentary, and analysis on the latest developments in the field.
The section also features a range of Morningstar research reports on topics such as impact investing, climate change, and water risk. In addition, Morningstar ESG offers a number of tools and resources for financial advisors and asset managers who want to incorporate ESG investing into their practice.
This includes an ESG advisor center that provides access to educational materials, webinars, and other resources. Finally, Morningstar has launched a series of environmental, social, and governance-themed ETFs. These funds give investors a way to access companies that have been vetted by Morningstar analysts for their ESG practices.
Morningstar Sustainalytics Rating
Sustainalytics is a subsidiary of Morningstar, and its ratings are widely used by retail and institutional investors, as well as financial advisors. And it's one of the most popular sustainable investment research firms in the market.
Similar to Morningstar's ESG ratings, Sustainalytics' ratings are based on a company's exposure to certain environmental, social, and governance risks. However, there are some important differences between the two rating systems.
For one, Sustainalytics (Morningstar sustainability rating) goes beyond just evaluating a company's past and current practices. The firm also considers a company's future prospects when it comes to sustainable investing.
This means that companies with strong sustainability plans but poor current practices can still receive high marks from Sustainalytics.
In addition, Sustainalytics' ratings are based on a comprehensive analysis of a company's sustainability report. This is in contrast to Morningstar, which relies heavily on public data sources.
See Related: Abbott Laboratories ESG Profile (ABT): Is It Sustainable?
Morningstar Sustainalytics Investor Solutions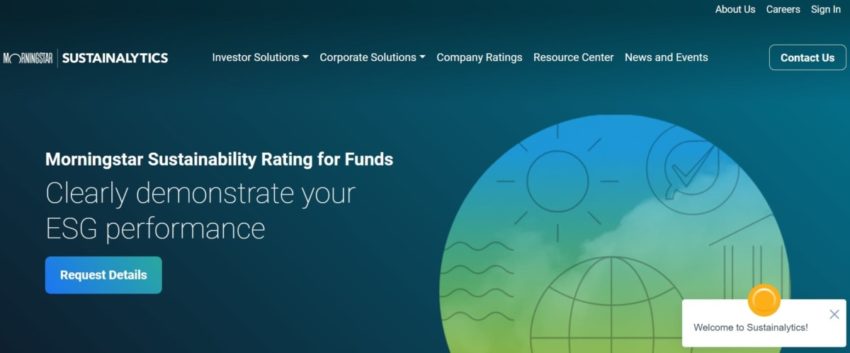 As you'll find out, Sustainalytics company research offers one of the best ways to assess blockchain and public equities. It offers investor solutions in various areas, including:
ESG Research
Analytics & Reporting Solutions
Stewardship Services
Index Research Services
Let's take a closer look at each.
See Related: FarmTogether Review: Is It Legit or Worth It?
1. ESG Research
Learning how exposed or how well a company you've invested in manages its material ESG is crucial. It undoubtedly helps you to make well-informed decisions when it comes to buying, selling, or holding stock.
With that in mind, ESG research is one of the most important investor solutions that Morningstar Sustainalytics offers. Investors are keen on using Morningstar for ESG investing to ensure that their money is used in the right way based on their values.
2. Analytics & Reporting Solutions
Morningstar Sustainalytics also provides a number of analytical and reporting tools. These tools give investors the ability to track and monitor their portfolios for ESG risks and opportunities.
The firm's analytics platform includes a range of features such as custom screens, peer comparisons, and portfolio analysis.
Meanwhile, the reporting solution provides investors with easy-to-understand ESG reports. These reports can be generated for whole portfolios or individual holdings.
3. Stewardship Services
Another key investor solution offered by Morningstar Sustainalytics is stewardship services. This service helps investors engage with the companies in their portfolios on environmental, social, and governance issues.
Morningstar Sustainalytics provides a range of resources to help investors in this area. This includes an engagement platform, voting recommendations, and impact reporting.
4. Index Research Services
Last but not least, Morningstar Sustainalytics offers index research services. Generally, the firm manages two types of indexes; JSI (Jantzi Social Index) and GSSI (Global Sustainability Signatories Index).
The Jantzi Social Index is a broad-market index that consists of companies with strong social practices. The Global Sustainability Signatories Index, on the other hand, is made up of companies that have signed onto global sustainability initiatives.
See Related: ESG Investment vs Non-ESG Investments: What's the Difference?
Morningstar ESG Review: Pros and Cons
Like any other ESG investing platform or tool, using Morningstar ESG investing has its benefits and drawbacks. And to help us get a complete picture of the platform, this Morningstar ESG review explores both sides.
Pros

The platform offers a wide range of features and tools that help investors make prudent decisions.
It's a great platform for both beginner and experienced investors.
The rating system is a quick way to assess how a stock or fund has been performing.
Its ESG investing tool helps investors to invest sustainably.
Offers the best opportunity for value investors to identify undervalued stocks.
The platform is safe to use and doesn't use your personal data in any way outside its policies.
Cons
It's not entirely free. Premium membership will cost you around $34.95 a month.
The screener tool on the free version is quite limited.
Morningstar relies more on past performance, which is not always indicative of future results.
It can be quite cumbersome to analyze group holdings through this platform.
Who is the Platform Best For?
Considering the platform's positives and negatives, it's ideal for both beginner and experienced investors. However, it's best suited for value investors who are looking to identify undervalued stocks.
The platform's ability to assess how a stock or fund has been performing makes it ideal for value investors. And the wide range of features and tools also add to its appeal.
So, if you're looking for a comprehensive investing platform that offers great value for money, then Morningstar is definitely worth considering. Register today and be sure of where your money goes.
Related Resources
Kyle Kroeger, esteemed Purdue University alum and accomplished finance professional, brings a decade of invaluable experience from diverse finance roles in both small and large firms. An astute investor himself, Kyle adeptly navigates the spheres of corporate and client-side finance, always guiding with a principal investor's sharp acumen.
Hailing from a lineage of industrious Midwestern entrepreneurs and creatives, his business instincts are deeply ingrained. This background fuels his entrepreneurial spirit and underpins his commitment to responsible investment. As the Founder and Owner of The Impact Investor, Kyle fervently advocates for increased awareness of ethically invested funds, empowering individuals to make judicious investment decisions.
Striving to marry financial prudence with positive societal impact, Kyle imparts practical strategies for saving and investing, underlined by a robust ethos of conscientious capitalism. His ambition transcends personal gain, aiming instead to spark transformative global change through the power of responsible investment.
When not immersed in the world of finance, he's continually captivated by the cultural richness of new cities, relishing the opportunity to learn from diverse societies. This passion for travel is eloquently documented on his site, ViaTravelers.com, where you can delve into his unique experiences via his author profile.