Mushrooms may only make you think of silly-looking foods. These unique fungi have many other uses, including a material for biodegradable packaging. It's an important component in a prime position to help create a circular market worldwide.
You can slowly grow mycelium and break it down so it won't build up in landfills like polystyrene, Styrofoam, and other materials used for packaging purposes. There already are a number of companies that work with mushroom containers.
The Mycelium Production Process for Mushroom Packaging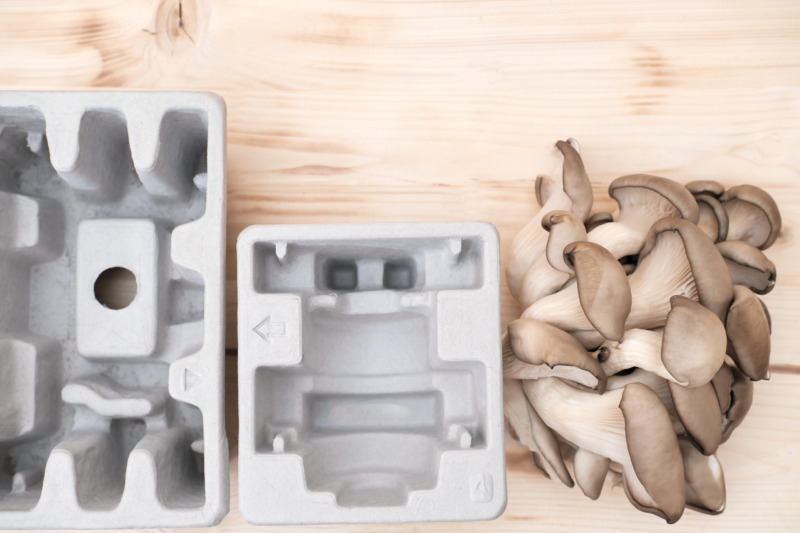 The process to ensure mycelium grows for mushroom packaging is done in a workshop. You need to give them a food source since they won't be out in nature getting those good old nutrients from the soil. A common food source for this is hemp hurds and other agricultural waste.
Unlock Sustainable Investing Opportunities 🌿
Join the green revolution by investing sustainably with our top partners. Discover platforms that align with your values and offer remarkable opportunities for growth.
This growing complete structures process to create mushroom foam for packaging is even more beneficial to a sustainable market because this agricultural waste normally would go to the landfill. It's an excellent type of upcycling.
An Innovative Approach to Material Production
A biotech professional combines hemp, corn husks, wood chips, or other waste with mycelium and puts it into some mold to produce the shape they want for mushroom packaging. This part of the process likely only takes a few days, though it can take about a week before the material is fully created.
Fungi Makes Good Foam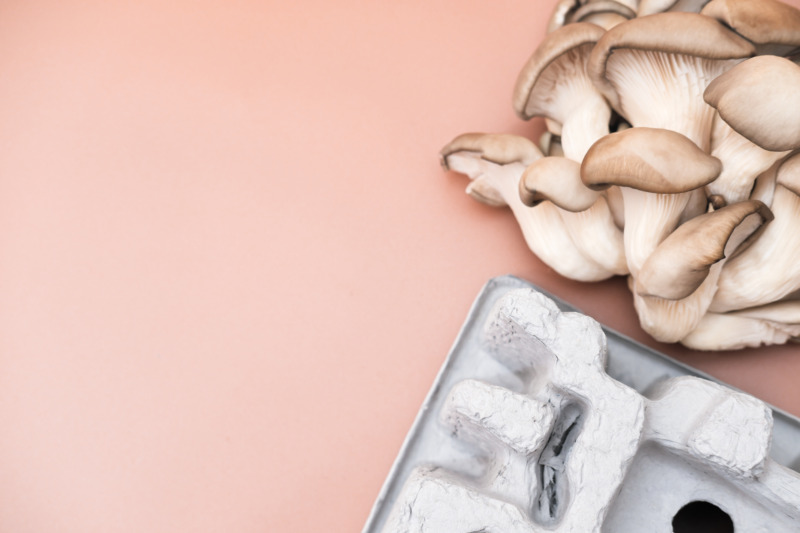 Mycelium fiber is a material that may then be turned into products for construction, clothing, and various goods. This material is like foam, but it's a much more environmentally friendly alternative to polystyrene (known as Styrofoam) since you won't have the plastic waste. Packing material is a more simple and commonly created up-cycling form of mycelium-based products.
Next, they typically heat and dry the mycelium packaging material. This kills the fungus and prevents the mushroom packaging from sending off spores everywhere. You would otherwise end up with a lot of mushroom growth without this crucial step in the process.
See Related: Supply Chain Sustainability: Everything You Need to Know
The Nature of Myco-materials
Myco-materials are substances that include mycelium. You can use them to create objects made partially or completely from fungal mycelium. Myco-materials are made by growing fungi with filaments on agricultural waste.
There are three types of myco-materials:
Molded: This is a biocomposite that has been grown in a mold. It's then dried to freeze into certain shapes for sound panels, insulation, and several other products.
Pressed: This type of biocomposite is grown in beds. The resulting growth is pressed into shapes such as car parts and bricks.
Pure: This biocomposite is grown on beds, molds, or in liquid form. They harvest it directly from the substrate, which can be made into mycelium leather and foods such as bacon.
The Properties of Mycelium
Mycelium (plural – mycelia) is a fungus's root structure consisting of threaded parts or polymers. They can join together and form the vegetative part we know as mushrooms.
The mycelia absorb nutrients from their environment and decompose plant material. They are important to many species of plants, and as a result, they are a vital part of agriculture.
Mushroom mycelium is biodegradable, and the above process's dried result makes this network super strong. Even though they can combine closely, their mass is not as dense as many other materials. This can be made into a biocomposite resistant to fire, water, and mold.
Bioprocessing for Sustainable Mushroom Packaging
Mushroom mycelium is among the top choices for innovative, sustainable alternatives today. Since it's durable, lightweight, molds easily, and is relatively simple to produce, this is a material that is cost-competitive with polystyrene foam. Mushroom packaging is commonly used at this time as a means to protect glass jars and bottles while they are in shipping.
Bioengineers make fungi packaging using branched fibers from the mycelium and binding agents. They place these on agricultural waste, including hemp hurds. The process typically only takes about a week before it is all set for use as mushroom packaging.
The Great Advantage of Mushroom Foam Containers
Not only does this make good use of something that would be sent to the landfill, but it also absorbs carbon dioxide from our atmosphere while it's converting to foam products.
This means that making mushroom packaging is at least carbon-neutral and may even be considered carbon-negative, only one of its major advantages. Any company that would like to offset its carbon footprint would do well to look at this as a worthwhile innovation venture.
Biodegradable Packaging Brings a Challenge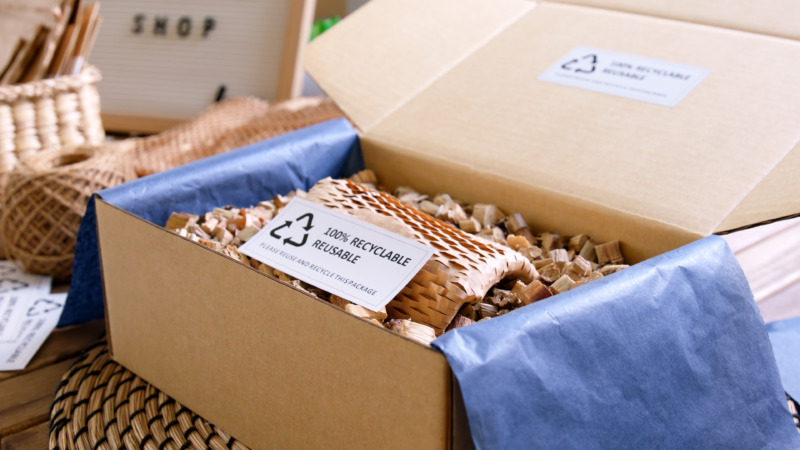 One drawback is that the mycelium foam and its resulting mushroom packaging have a short lifespan. Mushroom packaging is a biodegradable plastic alternative and it tends to break down completely within a month.
That makes it difficult for long-distance shipping and keeping the mushroom containers for longer periods before use. Still, it is ideal for shorter supply chains and local business transactions with business clients and customers.
See Related: Net Zero: Achieving Global Climate Goals Efficiently and Effectively
Businesses That Work with Durable Mushroom Packaging
Ecovative Design
Ecovative Design is an Albany New York area company that has entered the arena of mushroom packaging with its mycelium foam. This foam has allowed the company to develop an alternative to plastics that protects items while they are in storage and transport. Ecovative Design continues to support efforts for innovation in the packaging and production industries with their clients.
Magical Mushroom
Magical Mushroom is another company that creates this essential sustainable solutions product in Surrey, England. Magical Mushroom packaging breaks down within 45 days and can be broken down and placed in your garden. Magical Mushroom mycelium packaging has a shelf life of 30 years when it's kept dry.
FAQs
Who uses mushroom packaging? 
Among the top well-known businesses around the world that use alternative solutions to plastic packaging are the DELL computer company, Ikea, Merck, and Steelcase Inc. More businesses are bringing mushroom-based packaging on board on a limited basis as a sustainable polystyrene alternative. At the same time, they collect data on this process.
How long does it take for mushroom packaging to decompose? 
Mushroom packaging can decompose within a much shorter period than plastics and other materials. It takes about a month for the sustainable alternative to break down.
Is there a mushroom that can break down plastics?
Yes, at least one mushroom species can break down plastic. Oyster mushrooms decompose plastic, and they also can create edible mushrooms at the same time. This means it may have a good application in homes for recycling solutions.
It is an excellent home compostable alternative. Even though there are efforts to reduce how much plastic is manufactured, we may be a long way off from creating and using plastic. Plastic-eating mushrooms can help to reduce plastic pollution.
Related Resources