MyAutoloan.com is a popular online platform that provides car buyers and refinancers with a simple and efficient way to secure financing. Offering a range of options for new and used vehicles, refinancing, and lease buyout loans, this platform caters to a diverse array of credit profiles. Here's a full MyAutoLoan.com review after trying this auto financing option.
With a nationwide network of lenders, MyAutoloan.com allows users to compare multiple offers, making it an attractive choice for those seeking competitive rates and flexible terms.
Users of MyAutoloan.com appreciate the platform's user-friendly interface and the quick turnaround time for funds availability.
The platform is designed to save time and effort, as applicants can access multiple loan offers with just one application. By using MyAutoloan.com, potential borrowers can use its extensive lending network and expedited process to secure the best possible loan for their financial needs.
In recent years, MyAutoloan.com has received positive reviews for its comprehensive approach to auto loans, refinancing, and lease buyouts. The platform's commitment to providing a straightforward, transparent experience has resonated with customers from varying credit backgrounds.
With its user-friendly features and competitive offerings, MyAutoloan.com remains a go-to choice for individuals seeking an efficient way to secure automotive financing.
What is MyAutoLoan?
MyAutoLoan is an online auto loan marketplace that specializes in providing an efficient service to connect borrowers with auto loan offers. As a loan aggregator, this platform allows you to check the availability of various loan offers with a single application, streamlining the loan process and making it easy for borrowers to find the best rates and terms for their financial needs.
Horizon Digital Finance LLC, a reputable company with years of experience in the industry, operates the service. As a loan marketplace, MyAutoLoan's primary goal is to simplify the entire process from start to finish. By partnering with various lenders and lending partners, including banks, credit unions, and financial institutions, they present a range of offers to applicants looking for auto financing.
Using the platform, borrowers can access loan offers for new auto purchases, used auto purchase, refinancing, and even lease buyouts. The process is straightforward, as you fill out a simple online application, and MyAutoLoan matches you with suitable loan offers based on your credit and financial requirements.
Throughout the loan process, autopay options can be set up for a hassle-free monthly payment and experience, reducing the worry of missed or late payments. This service's ease saves time and allows borrowers to make informed decisions while comparing loan offers.
In summary, MyAutoLoan is a valuable resource for individuals seeking a convenient and streamlined method of securing an auto loan. Their service is designed to make the process as easy as possible, offering a wide range of loan options to meet various financial needs.
See Related: Vinovest Review: Is It Legit & Worth It?
Types of Loans Offered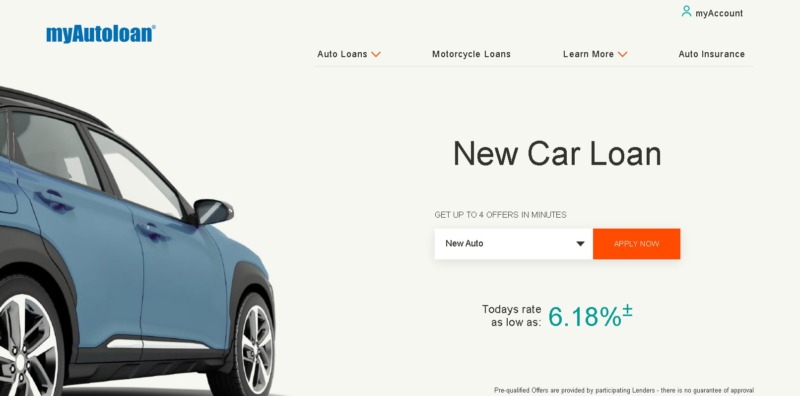 myAutoloan auto loans offer a variety of loan products to cater to the diverse needs of car buyers and owners. Their loan products comprise new car loans, used car purchase loans, no refinance auto loans, refinance loans, private party loans, and lease buyout loans. Their services cater to a broad range of customer credit profiles, which means fair- and bad-credit borrowers have the opportunity to secure financing.
New car loans are designed for those looking to purchase a brand-new vehicle. With myAutoloan, borrowers can be directly matched with potential lenders that suit their financial needs and credit standings. These new auto loans typically come with lower interest rates than used car loans, making them attractive for consumers buying from dealerships.
Used car purchase loans cater to buyers interested in purchasing used vehicles. Depending on the age and condition of the vehicle, the interest rates on these loans may be higher than new car loans. However, myAutoloan.com strives to provide competitive interest rates by allowing applicants to receive multiple loan offers to find the best fit.
Auto refinance loans are for car owners seeking better interest rates or lower monthly payments on their current auto loans. By refinancing, borrowers can save money by securing new loans with more favorable terms. myAutoloan.com conveniently presents several offers from various lenders, allowing applicants to compare and choose the best refinancing options.
Private party loans assist borrowers in financing a vehicle purchase from a private seller. Acquiring a loan for a private party purchase can be challenging, but myAutoloan.com bridges the gap by connecting applicants with lenders specializing in these transactions.
Lease buyout loans help car lessees purchase their leased vehicles at the end of their lease terms. These loans allow lessees to transition from leasing to owning the vehicle without navigating the complexities of dealership financing or seeking alternative funding options.
By offering a wide range of auto loan providers and products, myAutoloan.com caters to many individual financing needs and preferences, making it easier for applicants to secure the right auto loan for their particular situation.
See Related: Are Personal Loans Bad? Here's What You Should Know
Eligibility and Application Process
The eligibility criteria for myAutoloan.com focus on credit scores, credit history, and certain financial factors. To qualify for auto financing through myAutoloan.com, applicants must have a FICO credit score of 575 or higher. It should be noted that better interest rates and loan terms are more accessible to those with higher credit scores.
Despite the minimum credit score requirement, myAutoloan.com considers various credit profiles, including those with lower credit scores. However, for individuals with open bankruptcies in their credit history, it's advised to first resolve them, as they may be disqualified from receiving offers.
To start the application process, applicants must complete a quick and easy online form that gathers their personal and financial information. It's essential to be honest in providing the required data, as lenders will verify the details later during the loan process.
Upon submission, myAutoloan.com performs a hard credit inquiry, which may affect your credit scores slightly. However, it's important to understand that if multiple inquiries are made within 21 days, they will count as a single credit pull, minimizing the impact on your credit.
After evaluating the applicant's eligibility, myAutoloan.com generates multiple loan offers from various trusted lenders.
This allows borrowers to compare the offers and choose the most suitable one for their needs, whether they aim to purchase a new or used vehicle or refinance an existing loan.
Moreover, these loan offers can cater to different financing scenarios, including buying from a dealership, refinancing, and even purchasing from a private seller.
myAutoloan.com's eligibility and application process is relatively simple and accessible for individuals with a wide range of credit profiles. By completing the online application and comparing the generated offers, borrowers can find appropriate auto financing options to meet their needs.
See Related: Personal Capital Review: Is It Legit & Trustworthy?
Interest Rates and Terms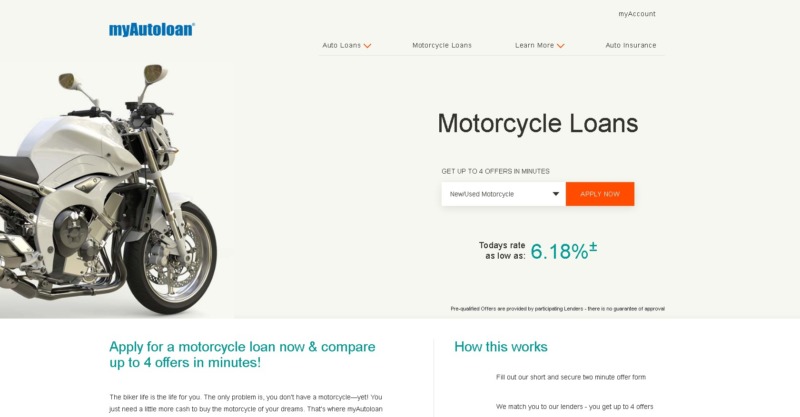 When considering myAutoloan.com for financing options, it is important to understand their interest rates and loan terms.
MyAutoloan.com offers competitive interest rates to its customers, providing a more favorable borrowing experience. They work with various lenders, ensuring a range of APRs catering to different credit profiles.
Although the exact rates may vary based on factors such as credit score, income, and loan term, applicants with FICO scores of 575 or above are considered for financing. This indicates that myAutoloan.com considers a diverse range of credit profiles in its evaluation process.
Loan terms offered by myAutoloan.com start at a minimum of $5,000, depending on the type of auto loan you seek. This includes options for new auto purchase loans, used auto purchase loans, auto loan refinancing loans, and auto lease buyout loans. It's important to note that myAutoloan.com imposes vehicle restrictions and has mileage and car age limits in some cases, which might impact the loan terms available to its customers.
Furthermore, while exact interest rates may not always be accessible without completing the application process with a direct lender, customers can receive up to 4 matches with potential lenders within minutes. This enables borrowers to compare rates and terms different lenders offer before making final decisions. Transparency in the rates and loan terms offered by myAutoloan.com is highly advantageous for customers.
See Related: Best Tesla Financing Rates in the Market
MyAutoLoan and Credit Scores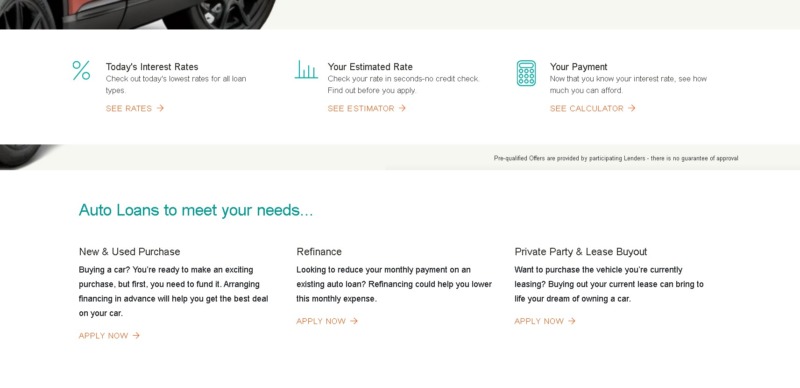 Regarding MyAutoLoan, credit scores play a significant role in determining eligibility and interest rates for potential borrowers. Applicants' credit scores are crucial in evaluating their capability to repay the loan. Let's delve into how MyAutoLoan considers different credit profiles and their impact on loan terms.
MyAutoLoan considers a range of credit profiles, catering to applicants with varying credit histories. The minimum FICO credit score required to qualify for a loan at MyAutoLoan is 575.
However, a higher credit score improves the likelihood of securing more favorable loan terms and lower interest rates. Consequently, an individual with a low credit score may still be eligible for a loan, but the interest rates might be higher.
It is essential to note that while applying for a loan through MyAutoLoan, multiple lenders may access the applicant's credit report. If all inquiries occur within a 21-day timeframe, they will be considered a single hard inquiry on the credit report. This is important, as multiple inquiries can temporarily lower an individual's credit score.
Customer Service and Experience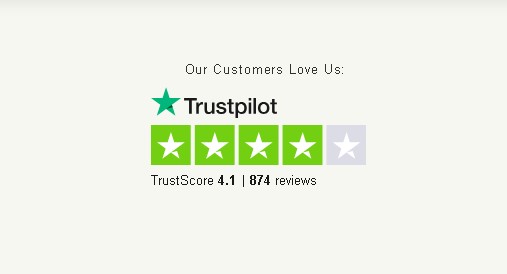 MyAutoLoan offers its users a decent customer service experience. Based on Trustpilot reviews, some customers found the process smooth and efficient.
However, like any other service, there could be instances where individuals faced issues or were not completely satisfied with their experience. Distributing the ratings over five categories helps better understand customer feedback. These categories are 5-star, 4-star, 3-star, 2-star, and 1-star.
On the bright side, customers have appreciated the platform's ability to match them with potential lenders that best suit their needs. This includes applicants having bad or fair credit scores.
Most users found the online application process to be simple and user-friendly. They also liked the fact that they could receive up to four matches with lenders within minutes, making the process quick and hassle-free.
While the organization has an online presence, customers found the limited ways of reaching the lender to be restrictive. Also, MyAutoloan.com has a high minimum loan amount, restricted car age, and specific mileage limits. These factors might not appeal to all car buyers looking for flexible auto loan solutions.
If we look at the customer experience through several reviews, the majority of users seem to have had a good interaction with the platform for new auto purchases, refinances, and lease buyouts. People commented that the service has worked fine and helped them confirm their choice of the best bank or lender according to their situation.
In a nutshell, MyAutoLoan.com's customer service caters to a wide range of borrowers in most aspects. However, adopting a more extensive range of auto insurance contact information options for the lenders and refining their policies regarding loan requirements might elevate overall customer satisfaction.
See Related: Best Apps for Automatic Investing in ETFs
Pros and Cons of MyAutoLoan
MyAutoLoan has multiple advantages, making it a popular choice for those needing an auto loan. One of the main benefits customers experience is the competitive interest rates offered by the company. These great rates help individuals save money on their auto loans, making purchasing or refilling a vehicle more affordable.
Another positive aspect is the company's transparency in its methodology. Borrowers can confidently apply knowing their loan terms and conditions are laid out. This level of openness allows for a smoother borrowing process with no surprises.
The company also offers a fast application process, streamlining the loan approval experience. It is particularly beneficial for those who require a quick decision on their auto loan application. Moreover, MyAutoLoan considers applicants with FICO scores as low as 575, which means that even individuals with below-average credit scores have a chance to access financing.
Despite these advantages, there are some drawbacks to using MyAutoLoan. One of these is the vehicle restrictions imposed by the platform. Not all vehicle types and ages are eligible for loans, which can limit the options available for borrowers.
Loans are also unavailable for Alaska and Hawaii residents, reducing the company's geographical reach and potential customer base. Additionally, the $8,000 minimum loan amount for new cars may not be suitable for those looking to finance a more affordable or used vehicle.
Finally, while MyAutoLoan may provide some customers with the best rates, it is essential to note that not all borrowers may qualify for these top-tier interest rates. Factors such as credit score, loan term, and loan amount can all impact an individual's final interest rate.
MyAutoLoan in Alaska and Hawaii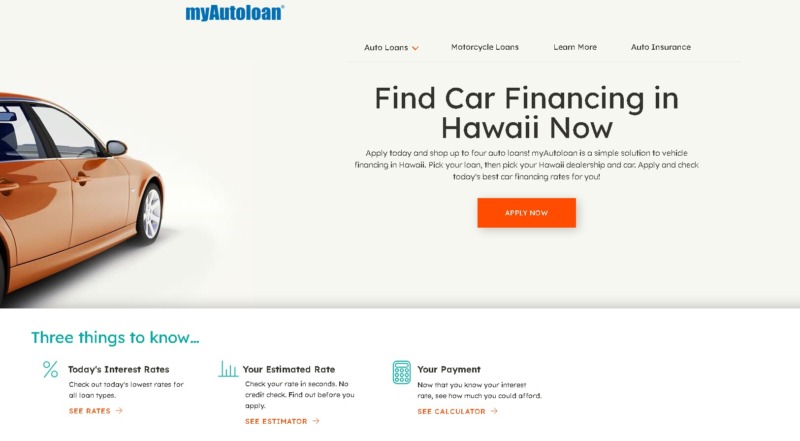 MyAutoLoan is a popular platform for obtaining auto financing options. However, residents of Alaska and Hawaii should be aware that the platform has certain restrictions in these states. While MyAutoLoan offers competitive interest rates and considers a wide range of credit profiles, including a minimum FICO score of 575, there are limitations for those living in Alaska and Hawaii.
In Alaska, MyAutoLoan can still be used to compare various new car loan offers. Once the most suitable loan is selected, it's possible to receive funding within 24 hours. This enables Alaskan buyers to visit any local dealership and purchase their desired vehicle, such as an SUV, sedan, truck, van, or sports car.
On the other hand, potential car buyers in Hawaii face different circumstances. Unfortunately, MyAutoLoan does not provide loan offers for residents of this state. As a result, those living in Hawaii will need to explore alternative financing options to purchase their desired automobile.
While MyAutoLoan is a valuable resource for obtaining auto financing in most states, its availability and offerings differ for residents of Alaska and Hawaii. Alaskans can still use the service to compare new car loan offers but must manage with the platform's restrictions. In contrast, residents of Hawaii will need to seek other financing options, as MyAutoLoan does not cater to their state.
MyAutoLoan and Auto Insurance
MyAutoLoan.com provides a platform for applicants to find suitable auto loans for purchasing new or used vehicles, refinancing, and lease buyouts. They consider applicants with various credit profiles, including bad and fair-credit borrowers.
Regarding auto insurance, some customers claim that their shopping experience with MyAutoLoan.com is inaccurate. They have reported receiving frequent notices that their credit was checked by multiple companies, which affected their credit scores. It is essential to be aware of the potential impacts on credit when using services like MyAutoLoan.com.
High-end sports cars usually carry higher auto insurance premiums due to increased risk and replacement costs. While MyAutoLoan.com can help borrowers secure financing for expensive vehicles, it may not directly impact the auto insurance rates associated with these cars. To keep insurance premiums low for high-end sports cars, it is advisable to shop around and compare quotes from multiple insurance providers.
Bankruptcy can significantly impact a person's credit score and ability to secure an auto loan or auto insurance. MyAutoLoan.com considers applicants with various credit backgrounds, which may include those recovering from bankruptcy.
Although securing an auto loan might be possible with a bankruptcy on record, potential borrowers should anticipate higher interest rates and more stringent loan terms. Additionally, auto insurance premiums may also be affected, as some insurance providers may consider individuals with bankruptcy as high-risk clients, leading to increased rates.
See Related: Best Auto Loans for Tesla: Top Financing Options
Seller and Dealership Relations
When working with myautoloan.com, customers can expect a seamless experience, especially regarding seller and dealership relations. The platform excels in connecting borrowers with a wide range of financing options, covering new and used car loans as well as refinancing. This positions myautoloan.com as an efficient marketplace for customers to compare multiple auto loan offers and make informed choices.
One critical aspect that sets myautoloan.com apart is its versatility with different types of sellers. It caters to established dealerships and extends its services to private party sellers, including a broader spectrum of sellers, ensuring that potential borrowers work with various entities, catering to their specific needs.
When working with dealerships, myautoloan.com allows customers to easily find a suitable car loan for their desired car purchase. The platform puts the customer in control by matching them with suitable lenders who can accommodate their credit profile and desired loan terms. This process boosts the chances of a successful transaction while establishing a stress-free relationship between the buyer, lender, and dealership.
Similarly, in private-party transactions, the platform plays a vital role in bridging the gap between the buyer and seller. It connects potential buyers with appropriate loan offers, accounting for the often unique terms and conditions of buying from a private seller. By doing so, myautoloan.com creates a streamlined experience and helps maintain transparent relations between the buyer and seller.
Finally, myautoloan.com's customer service and support team ensures smooth interactions between all parties involved in the auto loan process. Their responsiveness to customer queries and timely support builds trust while reinforcing positive relationships with sellers and dealerships. Thus, the platform plays a crucial role in shaping successful partnerships in auto financing.
| Review Parameters | MyAutoLoan.com |
| --- | --- |
| Interest Rates | 2.99% – 21.99% |
| Loan Types | New Car, Used Car, Refinance, Private Party, Lease Buyout |
| Credit Score Requirement | Minimum of 575 |
| Lending Terms | 24 to 84 months |
| Application Process | Online, Simple & Quick |
| Customer Service | Rating 4/5 |
Loan Amounts and Monthly Payments
MyAutoLoan.com provides a variety of loan amount options to cater to different borrowers' needs. These loans can range from $5,000 and up, allowing individuals to finance new and used vehicles, refinance existing loans, or purchase leases. However, keep in mind that for new car purchases, the minimum loan amount is $8,000.
Considering a borrower's credit score is crucial while determining monthly payments. MyAutoLoan.com has a flexible approach, taking into account FICO scores of 575 or above. This inclusivity allows individuals with fair- or bad-credit access to competitive interest rates better suit their financial situation.
To calculate the monthly car payment, it's essential to factor in the interest rate, loan term, and principal loan amount. Depending on the borrower's creditworthiness, interest rates at MyAutoLoan.com can vary significantly. Generally, the better the FICO score, the lower the interest rate a borrower may receive.
Although MyAutoLoan.com does impose some vehicle restrictions when financing, the platform offers a quick application process. Borrowers might receive multiple offers from partnered lenders after submitting their applications, improving their chances of finding a suitable loan.
Frequently Asked Questions
Does myAutoloan run your credit?
Yes, myAutoloan runs a credit check during the application process. This is done to assess an applicant's creditworthiness and determine suitable loan offers and interest rates. Remember that a hard inquiry on your credit report could negatively impact your credit score.
How long does myAutoloan take to approve?
The approval time for myAutoloan varies based on individual circumstances. However, many applicants receive multiple loan offers within minutes of applying. Up to four lenders can finalize loan details and complete the entire process quickly if all your paperwork is ready.
What are the myAutoloan rates?
Interest rates on myAutoloan loans differ depending on various factors such as credit score, loan amount, loan term, and vehicle type. For example, new auto purchase loan rates may start around 4.75%, while refinance loan rates could begin at 5.29%. The actual rate you receive will depend on your specific financial situation.
Is myAutoloan trustworthy?
Yes, myAutoloan has built a reputation as a trustworthy service, earning a 4.1 rating on Trustpilot. The company consistently receives positive feedback for providing users a smooth and easy online experience. It's essential to thoroughly review the loan terms before accepting any loan offer.
Will myAutoloan affect my credit score?
Applying for a loan through myAutoloan involves a hard credit inquiry, which may temporarily lower your credit score by a few points. That said, if you receive a loan and consistently make timely payments, the experience should ultimately benefit your credit history and improve your score in the long run. Always prioritize responsible borrowing and timely repayment to maintain good financial health.
Related Resources
Kyle Kroeger, esteemed Purdue University alum and accomplished finance professional, brings a decade of invaluable experience from diverse finance roles in both small and large firms. An astute investor himself, Kyle adeptly navigates the spheres of corporate and client-side finance, always guiding with a principal investor's sharp acumen.
Hailing from a lineage of industrious Midwestern entrepreneurs and creatives, his business instincts are deeply ingrained. This background fuels his entrepreneurial spirit and underpins his commitment to responsible investment. As the Founder and Owner of The Impact Investor, Kyle fervently advocates for increased awareness of ethically invested funds, empowering individuals to make judicious investment decisions.
Striving to marry financial prudence with positive societal impact, Kyle imparts practical strategies for saving and investing, underlined by a robust ethos of conscientious capitalism. His ambition transcends personal gain, aiming instead to spark transformative global change through the power of responsible investment.
When not immersed in the world of finance, he's continually captivated by the cultural richness of new cities, relishing the opportunity to learn from diverse societies. This passion for travel is eloquently documented on his site, ViaTravelers.com, where you can delve into his unique experiences via his author profile.