Opening a bank account has changed a lot over the past several years. We can truthfully say that today's financial institution world isn't like that of our parents.
Traditional banks, also known as brick-and-mortar banks, have multiple physical branches. The original concept of traditional banks was that you did business face to face and built a relationship with your neighborhood banker. Traditionally, you also banked during "banker's hours," typically 9 a.m. to 5 p.m.
Times have changed even for traditional banks as many have added digital banking services such as online banking, mobile banking, and online bill pay. These new options allow you to use traditional banks at all hours without encountering a person.
Unlock Sustainable Investing Opportunities 🌿
Join the green revolution by investing sustainably with our top partners. Discover platforms that align with your values and offer remarkable opportunities for growth.
However, traditional banks still tend to make loans based on banking relationships as much as other factors. That relationship is developed in person. Also, banks make money by investing their deposits into other projects, some of which are harmful to the environment.
They also tend to make money by offering their banking services, which means they charge fees. Traditional banks often charge fees if you don't keep a minimum balance for overdrafts.
For years, only traditional banks existed. Now, however, we have two alternatives: neobanks and digital banks. Both of these banks have dramatically changed the banking system.
They offer competitive interest rates. However, they tend to offer fewer financial products than traditional banks. In particular, most do not provide brokerage services like traditional banks have begun to do. Still, they offer convenience to those who do not require access to a physical branch.
What Is A Neobank?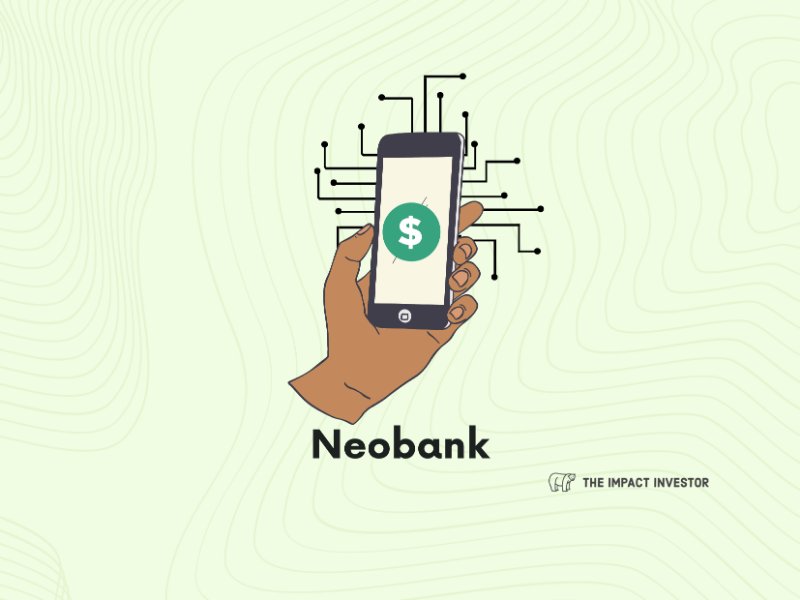 A neobank is a non-licensed financial technology company that typically offers banking services through a partner bank. It is not a bank. It doesn't make money by charging fees.
It also has no physical presence and offers services exclusively online or through a mobile app. Neo banks tend to specialize in particular services, such as checking or savings accounts, rather than providing a whole array of services. Bank accounts are federally insured through the partner bank.
They strive to offer a more seamless customer experience than a traditional bank. They also strive to be faster and cheaper.
Technology is all-important to a neobank because of the lack of a physical branch. They also tend to rely heavily on customer data and analyze patterns in the data to help them determine the types of products and services they should offer.
A neobank is sometimes called a challenger bank and is compared to disrupters in other industries. According to Forbes, they are changing the financial sector in ways similar to how Airbnb revolutionized the hospitality industry. About 256 neobanks exist worldwide.
Here are four neobanks with whom we affiliate.
Aspiration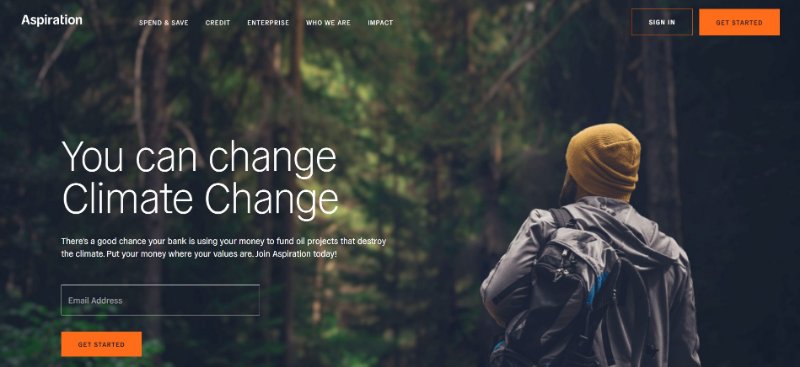 Aspiration is a neobank whose main characteristic is a focus on social and environmental consciousness. Its slogan is "We didn't set out to build a bank. We set out to build a better world." It offers options to plant trees and invest in a sustainable investment fund.
Aspiration has one account- a cash management account- that functions as both a savings and checking account. It provides a 10 percent cash back reward when you use your debit card at sustainable businesses and also provides early crediting of direct deposits.
It also offers credit cards. Consumers choose the fee they believe is fair for services, and Aspiration donates a portion of the fee to charities.
Aspiration partners with several banks to provide services, including Amalgamated Bank, Bridgewater Bank, C3Bank NA, Coastal Community Bank, Eagle Bank, The Freedom Bank of Virginia, Manufacturers Bank, and Progress Bank.
See Related: Aspiration Review: Is It Sustainable & Legit?
Bluevine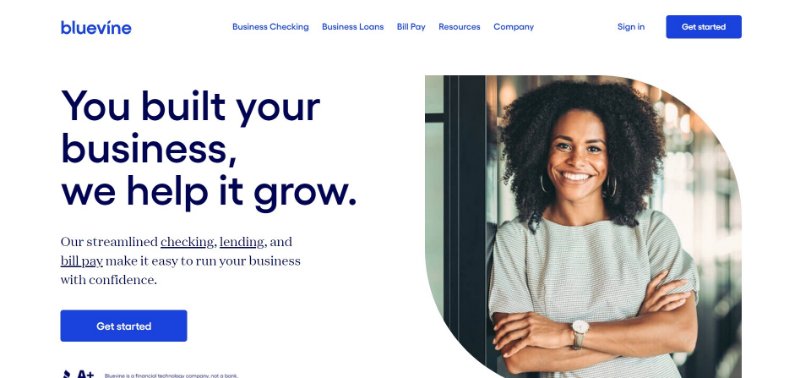 Bluevine is a neobank that provides better access to banking services for small and medium-sized businesses. Its slogan is "You built your business. We help it grow."
Bluevine initially started as a business lender, then later began to offer banking services through The Bancorp Bank. Its interest checking account is free of monthly and overdraft fees.
It intends to help small businesses prosper. To that end, it also offers a resource center to help its customers with money management, business strategy, marketing strategy, daily operations, and team management. Its goal is to develop and scale the business.
See Related: Most Unethical Banks You Need to Avoid
Chime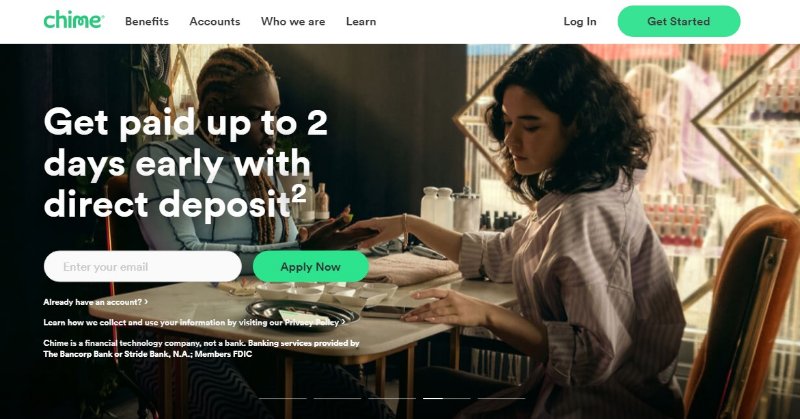 Chime is a fintech company founded in 2012. Chime seeks to help those not served well by traditional banks gain access to financial services. It says it wants to "profit with its members, not from them. "
It offers checking, and savings accounts and a credit builder secured credit card for those who have no credit history or bad credit history. The savings account offers a high yield interest rate.
It has no monthly fees or minimum balance requirements. They also provide early access to direct deposits. Bancorp Bank and Stride Bank offer partner banking services.
See Related: Varo vs Chime: What is Better?
Revolut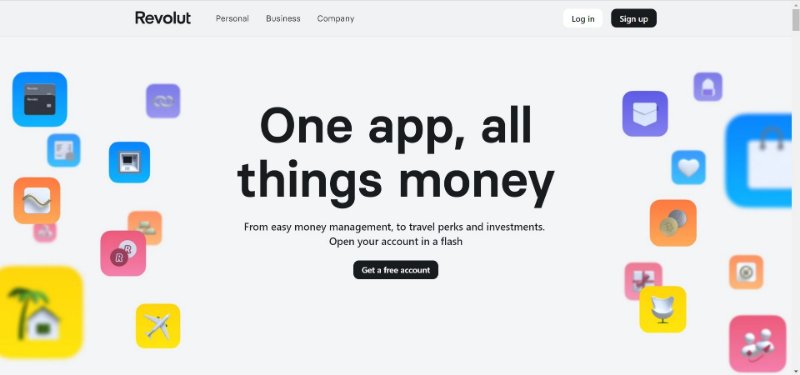 Revolut is another neobank and was founded in 2015. It offers one super app for spending, money management, savings, and investments. Its banking services include one account for both savings and checking. Read our full review on Revolut if you're interested in learning more about this banking option.
Users with direct deposits can receive their funds up to two days early. The funds of US customers are held through Metropolitan Commercial Bank. The account has no fees unless you want additional services, such as high-interest and overseas medical insurance.
Revolut also offers automated investing and the option to find personal loans through its app. It has an international focus and offers competitive exchange rates and international transfers. It also provides various travel perks, particularly for those who pay for more advanced services.
See Related: Are Personal Loans Bad? Here's What You Should Know
What is a Digital Bank?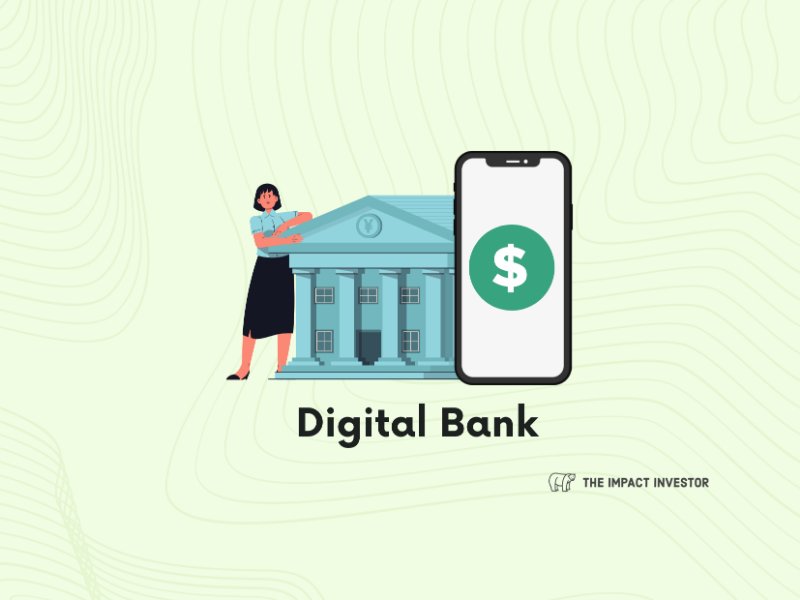 A digital bank operates digitally. It differs from a neobank because it is a bank rather than a financial technology company that partners with a bank. Sometimes, a digital bank is an online division of a traditional bank.
Suppose a digital bank is affiliated with a traditional bank. In that case, the customer may be able to receive in-person assistance if they live near a branch.
Digital banks tend to offer various services, sometimes as many as traditional ones. However, they will typically offer higher interest rates on deposit accounts, require lower minimum balances, and charge fewer fees than traditional banks.
Although technology is essential for a digital bank, banking services are a higher priority.
See Related: 30 of the largest banks refuse to say "no" to fossil fuels
Neobank vs Digital Bank: How Do They Differ?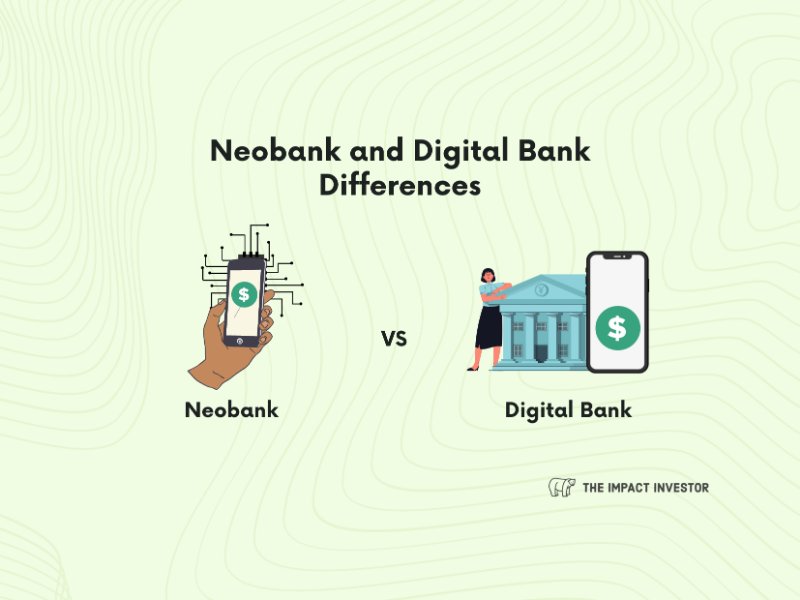 A neobank differs from a digital bank because neobanks do not have banking licenses. Instead, they offer banking services through partners. At the same time, digital banks (also known as online banks) tend to provide the services themselves.
Neo banks also are primarily technology platforms and tend to offer fewer services than digital banks. Technology and speed are critical features for neobanks. Providing various financial services in-house may be more important for a digital bank.
For example, one digital bank may offer a checking and savings account, a money market account, and an individual retirement account. They also might provide self-directed investments. On the other hand, a neobank might offer a nifty mobile app.
As challenger banks, neo banks also tend to have very innovative strategies, superb technology, and apps. They also tend to be more accessible to those whom digital banks consider credit risk.
People concerned with digital banking sometimes feel more comfortable with a digital bank than a neobank because a digital bank resembles a legacy bank but with in-person assistance opportunities and fewer fees.
Neobank Vs Digital Bank. How Are They Similar?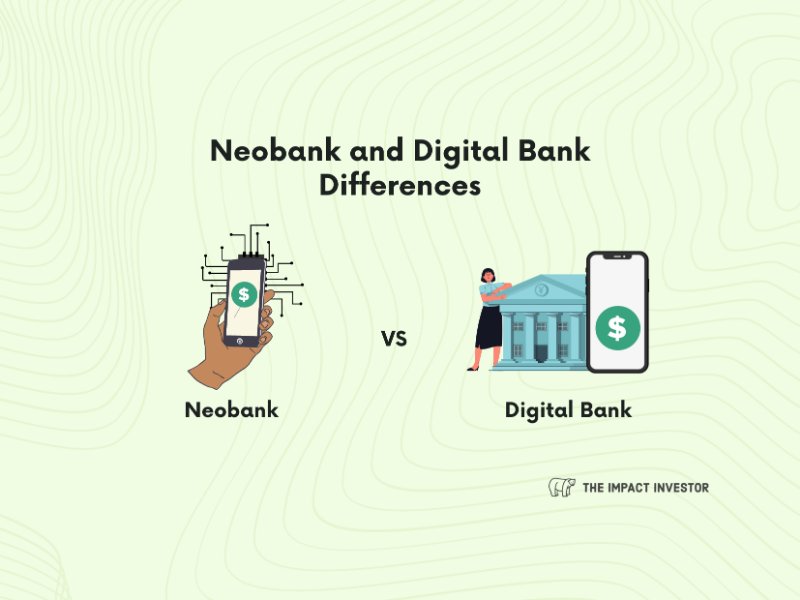 Neobanks and digital banks also tend to have many similarities. Both offer digital banking and mobile apps. They also both offer deposit accounts that will have competitive interest rates and lower fees than traditional banks.
Both tend to allow for early withdrawals of direct deposits, one to two days faster than traditional banks. They both tend to have low minimum balance requirements on deposit accounts.
Both typically offer debit cards and options for cash withdrawal from a national network of ATMs. Neither neobanks nor digital banks would exist without a considerable investment in technology.
They also both offer financial protection on deposit accounts through FDIC insurance. Neobanks offer FDIC insurance through partners, while the digital bank will offer it themselves.
What is Better About a Neobank?
A neobank generally provides better technology for online banking and a better mobile app. It also will often provide peer-to-peer money transfer capabilities.
Because a neobank is a fintech company, it will face fewer regulations from the Federal Office of the Comptroller of the Currency (OCC) than a regular bank. Neobanks may also offer automated investing and budgeting capabilities within the same app as the deposit accounts, which is convenient for some people.
See Related: Best Socially Responsible Banks in 2022 | ESG Options
What is Better About a Digital Bank?
Digital banks offer a wider variety of personal finance services so customers who want to have money market accounts, credit cards, retirement accounts, mortgages, personal loans, vehicle loans, and checking and savings accounts can have them all in one place. Some customers prefer to deal directly with the bank rather than through a fintech app.
Who Should Use a Neobank?
A neobank will suit those who want the best technology platform. Many neobanks also offer services on their apps, such as money management or peer-to-peer money transfers.
Individuals who want these services will be happier with a neobank. Neobanks also tend to be open to customers with nontraditional or difficult financial situations.
Who Should Use a Digital Bank?
Digital banks will suit those who care more about a wide range of traditional banking services rather than the best technology platforms. Because some are divisions of traditional banks, some people will feel more secure with a digital bank. Some digital banks also offer the opportunity for in-person assistance.
Comparing Neobanks
Suppose you decide that you are technology-forward and want to work with a neobank. Neobanks tend to have specialties. Here is a comparison of our four neobank affiliates, Aspiration, Bluevine, Chime, and Revolut, to help you decide which neobank is best for you.
What is Different About Each Neobank?
Each neobank is a little different from the others.
Specialties
The specialties are different.
Aspiration focuses on sustainability and environmental friendliness.
Bluevine specializes in financial solutions for small and medium-sized businesses.
Chime is focused on individuals who face barriers to banking services. It is the only of our affiliate neobank partners to offer a credit builder account in addition to a checking and savings account.
Revolut has a unique money management component with smart analytics. It also allows for investing in individual stocks and crypto and provides financial services for international travelers.
Types of Accounts
Another difference is the types of accounts offered.
Revolut offers one deposit account that functions as a checking and savings account.
Chime and Aspiration split checking and savings accounts up. Chime also offers the opportunity to round up debit card purchases to deposit into savings accounts.
Bluevine only offers business checking and business loans.
Aspiration and Chime offer credit cards, but Chime's credit card is a secured card for those with high credit risk.
Revolut and BlueVine both offer the opportunity for loans.
Both Aspiration and Revolut offer the opportunity to invest. Aspiration's only opportunity is a sustainable fund, while Revolut provides various options.
Rewards
Two of our neobanks offer rewards for debit or credit card purchases.
Aspiration offers up to 10% cash back for debit card transactions at sustainable businesses. It offers 1% cash back for credit card transactions.
Revolut offers discounts and cash-back options that are sent directly to your account.
Bluevine is a business banking fintech that does not offer a rewards debit or credit card.
Chime offers debit card perks, such as automated savings options, but no rewards.
See Related: How to Save Money & Go Green; a Step-by-Step Guide
What is Similar About Each Neobank?
The four neobanks have many similarities.
High-Interest Rate Deposit Accounts
All our neobank affiliates offer savings or combined accounts with a high annual percentage yield compared to traditional banks.
Aspiration offers a 3% annual percentage yield for regular members and 5% for Aspiration Plus members. Those who spend more receive a higher APR.
Bluevine offers business checking with a 1.5% interest.
Chime offers a 1.5% annual percentage yield.
Revolut offers a tiered approach depending on the membership plan selected. The APRs vary from 0.5% to 1.2% annual percentage yield.
Low or No Fees and Minimum Balance Requirements
All our neobank affiliates also offer low fees and minimum balance requirements compared to traditional banks.
Aspiration offers a pay-what-fair scheme that allows users to determine a fair fee for each service. The accounts require a $10 minimum. They have several fee-free ATM options.
Bluevine charges no monthly, opening, ACH, or overdraft fees and has no minimum deposit requirement. They do charge a fee for a cash deposit.
Chime charges no monthly, overdraft, or ATM fees at more than 60,000 locations. They also have no minimum balance requirements.
Revolut offers no-fee withdrawals at a network of more than 55,000 ATMs and refunds fees for many non-network ATM transactions. It also has no minimum balance requirement.
Early Direct deposit
All neobanks offer access to direct deposits up to two days early.
What is Better About Each Neobank?
Aspiration is green. It promises not to invest any of your deposits into fossil-fuel schemes. It also offers rewards for supporting sustainable businesses and lets you offset the carbon footprint from your account with charitable donations.
Chime offers options for rebuilding credit and automatic savings. Bluevine offers lending and interest-bearing checking opportunities that small businesses can't find through other banks.
Revolut offers the opportunity to budget and manage spending within the same app as the deposit account. It also provides investment opportunities for small investors, friendly international exchange rates, and travel perks.
See Related: How to Become an Impact Investor [Step-By-Step Guide]
Who Should Use Each Neobank?
Those passionate about creating a more sustainable world are the target customers for Aspiration. Indeed, even those who want to be more mindful of their carbon footprint or invest in a sustainable fund will find Aspiration a good option. The high-yield savings account is also a big draw, especially for those with a high monthly spend.
Bluevine is for business users who want the opportunity to earn interest on their checking accounts with a small balance. It is also for SMBs who have found obtaining credit difficult at traditional banks. It has the option for bill pay using ACH or credit card, which is unique for many business accounts.
Chime offers a high-yield savings account and would be a good choice for someone who wants a high-yield account but wants to keep checking and savings separate. It also is an excellent choice for someone who wants to save but may lack the discipline to do so.
It has two automated savings programs. One rounds up debit card purchases, and the other allows the individual to automate savings out of each paycheck. Finally, it is a good way for someone with bad or nonexistent credit history to build credit through a secured visa card.
Revolut is suitable for someone who wants to combine many personal finance services into one super app. It offers options for money management and investing, in addition to a deposit account. It also provides the opportunity to choose the benefits you want. You pay no fees if you only need minimal benefits like accounts, money management, and investment options.
However, if you want travel perks and additional benefits for currency exchange, you can pay fees to acquire them. Revolut also provides good options for small investors because you can buy fractions of shares in more than 2,000 companies. Finally, those who travel globally will find some of Revolut's rewards and perks interesting.
Related Resources