These days, technology has made it possible to do plenty of things that used to require a visit to a physical brick-and-mortar business. From shopping to trading stocks, there are now few things that the average consumer can't do right from their smartphone.
In some ways, it only makes sense that a new type of banking would arise amid today's rapid technological advances. Enter the neobank. No, unfortunately, the neobank is in no way related to The Matrix. But it's still a concept worth considering if you're interested in taking advantage of today's latest financial technology.
But what exactly are neobanks and how are they different from traditional banks or online banking services? You've come to the right place to find out.
What Is a Neobank?
Neobanks, sometimes called challenger banks, offer financial services from fintech companies or startups. Unlike online banks, which are simply the online versions of banks with physical branches, neobanks usually exist entirely online.
The online-only nature of the neobank cuts out the operating costs that many traditional banks are forced to contend with in order to stay open. This allows the average neobank to pass along savings to its customers, often in the form of lower fees and better rates.
The fact that some banks feature extensive online banking services, doesn't necessarily mean they are considered neobanks. This is especially true if their financial services are also available at physical branches tied to financial institutions with a bank charter.
This leads us to another major difference between neobanks vs traditional banks. While all traditional banks are chartered banks, many neobanks are not. Let's take a closer look at exactly what that means and how neobanks keep it from becoming a problem.
Chartered Banks
A chartered bank is a financial institution that operates under the regulatory rules of a state or national charter.
A nationally chartered bank, for instance, might operate under the governance of a central federal agency such as the OCC. State-chartered banks, on the other hand, might operate under the rules of state-specific regulators, federal regulators, or both.
Regardless of whether a traditional bank is chartered at the state, national, or federal level, it's legally required to apply for insurance through the federal deposit insurance corp (FDIC). As of 1991, this became a requirement for all traditional banks under the Federal Deposit Insurance Corporation Improvement Act (FDICIA).
FDIC insurance covers each customer for up to $250,000 for each account they hold at a federally insured bank. In essence, even if the bank somehow experiences difficulties, customers can rest assured that the money in their bank account is still safe.
How Safe Are Neobanks vs Traditional Banks?
The fact that neobanks are not subject to the same regulations as traditional banks doesn't mean that many don't offer the same protection. Most reputable neobanks also have a partnership with a traditional bank.
This allows them to offer their customers the same FDIC insurance protection, even though they are not technically considered "banks" in themselves.
That said, not all neobanks have gone this route. That's why it's incredibly important to read the fine print before signing up for financial services from any institution.
If the financial technology company that created your neobank should experience disaster, knowing that your bank account is federally insured could be a lifesaver. Rest assured that the neobanks we'll mention later on all have arrangements with FDIC member financial institutions.
See Related: Neobank vs Digital Bank: What's the Difference?
Common Banking Services Provided by Neobanks
Many neobanks are pretty straightforward when it comes to the types of accounts and features they offer. Virtually every neobank offers a checking or cash account that comes with an attached debit card.
Many of these checking accounts also come with benefits such as no monthly or overdraft fees or account minimums. Customer deposits can usually be made via direct deposit, money transfers from other online bank platforms, or mobile checking upload.
But how do you make a cash deposit if there are no physical branches? Most neobanks provide a simple solution by partnering with other banks or retail stores where customers are allowed to deposit cash.
As far as additional account types, some neobanks offer more than others. Savings accounts are a fairly standard offering and some neobanks even provide brokerage services. In general, however, you'll find fewer services available through neobanks than their traditional counterparts.
A neobank may offer small cash advances and occasionally even a credit card. But challenger banks are probably not your best bet if you're looking for a substantial loan. Since neobanks don't technically have banking licenses, they usually refrain from offering services like mortgages or major loans to reduce credit risk.
The Pros and Cons of NeoBanks
As you can see, the neobank may be an interesting option for you as long as you don't mind the lack of in-person assistance. But how can you be sure a neobank will cover all your banking needs?
While you should always do your research, we'll help you get started with a quick breakdown of several common neobank pros and cons.
Pros of Neobanks:
Often, they have much lower fees and a higher annual percentage yield
Almost all reputable neobanks partner with a traditional or legacy bank to ensure their clients enjoy the same protection as member FDIC banks
Neobanks are accessible 24/7, usually from a convenient mobile app
Never wait in line at a physical bank again
Many new banks also offer personal finance features designed to help users save or budget
Early access to direct deposits is a common neobank offering
Cons of Neobanks:
May have limited services as compared to traditional banks
In-person assistance is often unavailable, though many new banks do offer chat, phone, or email assistance
Cash withdrawal and deposit options may require a bit more research than those of traditional banks or credit unions
Not all neobanks offer checks
Some neobanks charge monthly fees for specific services or upgraded accounts
Examples of Popular Neobanks
Sometimes the best way to understand something like a neobank is to take a look at actual examples. Here we've gathered a collection of some of our favorite neobanks based on a variety of different factors.
While each option you'll find is not a bank in the traditional sense, each of the options on the following list does partner with a member FDIC in order to offer the same protection.
Best Eco-Friendly Option: Aspiration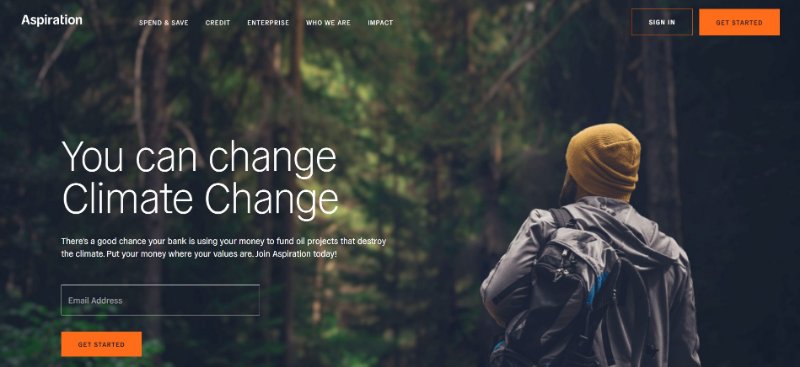 From credit to debit cards, financial products now commonly offer everything from cashback rewards programs to travel points. But what if there were debit cards that allowed customers to help save the environment with every swipe?
That's where Aspiration comes in. Aspiration is a neobank built for users who want to turn personal finance into a planet-saving mission. Aspiration offers two debit cards, one free and the other paid, each of which connects to a hybrid checking and savings account.
If you choose to use the automatic round-up feature, the spare change from every purchase you make with your (recycled) debit card will go toward planting a new tree. At the heart of Aspiration's mission is the fact that big banks often use customer deposits to fund coal or fossil-fuel projects.
This will never be the case when you switch your funds to Aspiration. You can even see the impact you'll make with every dollar you transfer from a big bank.
Aspiration additionally offers a credit card complete with a rewards program. Use your rewards to earn cash back or donate them to planet-saving causes.
Pros:
Great for eco-warriors looking for an effortless way to contribute to their favorite cause
Direct deposits allow you to access money two days earlier
Cashback for Coalition Conscious purchases
Cons:
Offerings begin and end with checking and savings accounts
See Related: Aspiration Review: Is It Sustainable & Legit?
Best for Rebuilding Credit: Chime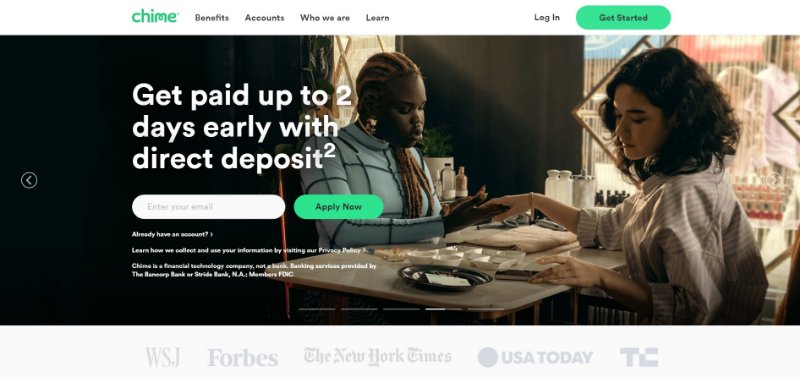 Chime has become one of the most popular neobanks in the U.S. and offers a great alternative to traditional banking. Not only does it come with no fees or balance requirements, but it also has a "spot me" feature designed to help customers avoid late fees.
By successfully applying for the spot me feature, you can enjoy a $200 cushion in case you go a little overboard. Chime will simply take the balance out of your next direct deposit, fee-free.
Chime also offers a credit builder option that's perfect for anyone looking to give their credit score an upgrade. Best of all, there's no credit check required to apply, nor are there interest fees, minimum balance requirements, or annual fees of any kind.
If you're looking for a free-fee solution, then Chime is a great way to get control of your finances right from a convenient mobile app.
Pros:
Fee-free checking account with an optional savings account
The credit builder option is an excellent way to shape up your credit score
24/7 human assistance available
Cons:
Account types are limited to checking and savings
Best for Retirement Saving: Acorns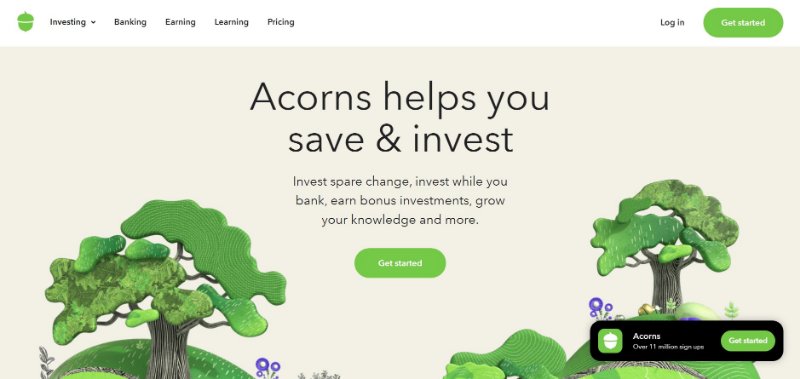 Acorns originally started out as an effortless way to tuck money away in an individual retirement account (IRA). While Acorns still offers its IRA robo-advisor solutions, it's since expanded to offer a checking account called Acorns Banking.
When you apply for an Acorns Banking account, you'll have the option to round up the spare change left over from every purchase you make with your Acorns debit card. Acorns will then automatically invest your change in your attached investing or retirement account.
You can even earn bonus investments every time you make a purchase with one of Acorns' many partners. The checking account itself also comes with plenty of nice perks, direct deposits, mobile banking features, and no late fees.
The only downside is that Acorns does charge small monthly maintenance fees. But if you're looking for an easy way to tuck away more money, it's definitely an option worth checking out.
Pros:
The automatic roundup option lets you invest any spare change left over from purchases
Earn additional investments from participating retailers
No overdraft fees
Cons:
Acorns does charge fees for the use of its services
As with any other IRA, early withdrawals from your Acorns Later account may incur penalty fees
See Related: Acorns Sustainable Portfolio Review 2022: Is It Worth It?
Best for Freelancers: Lili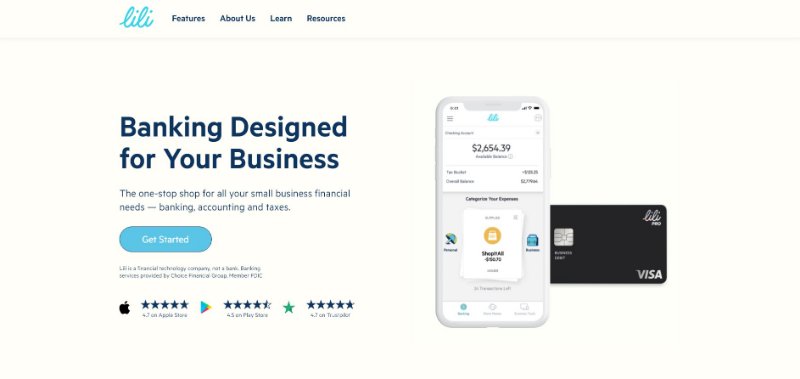 While being self-employed certainly has its perks, it also comes with plenty of financial considerations all its own. From taxes to invoicing, Lili was designed to take the guesswork out of freelance financial decisions.
Lili's free checking account comes refreshingly free from fees and account minimums alike. It also comes with easy-to-use features that can help you categorize your spending. Not only does this give you a good idea of where you're budget is going, but it's also a great way to keep track of business vs personal expenses.
Lili's tax optimizer features also allow you to keep track of tax-writeoffs, set aside money for taxes, and even automatically generate quarterly and annual expense reports. Enjoy a $200 overdraft cushion and even freelance-friendly features such as Lili's Tax Optimizer and free invoice templates.
If you own your own small business or work as a freelancer or independent contractor, then Lil was designed with you in mind. Whether you're looking for help with taxes or an overall money management solution, Lili is worth checking out.
Pros:
No account fees, late fees, or minimum balance requirements
Freelancer-friendly features to help with taxes, invoicing, and personal finance
Cashback rewards when you shop with select partners
Cons:
Limited cash deposit options
Checkbooks and wire transfers are unavailable
Best for Small Business Owners: Oxygen Business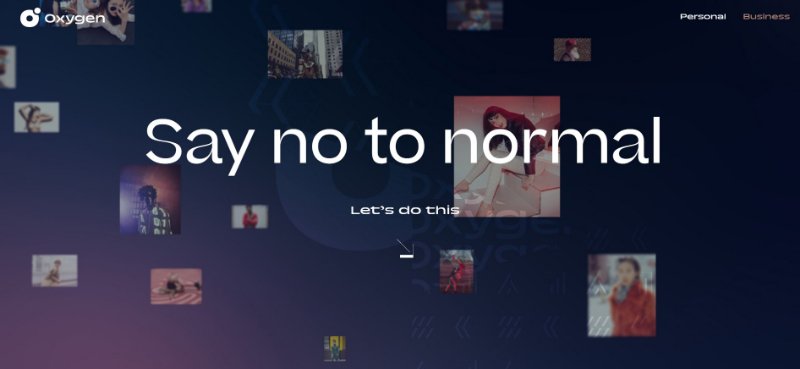 Oxygen is another great option for small business owners or customers who are interested in setting up their own LLC. One of Oxygen's coolest features is that customers can set up an LLC right from their mobile account app.
But Oxygen has plenty of other features that set it apart from other digital-only banks. Want to make a purchase without giving out your banking details? You can use your Oxygen Business account to create unlimited virtual single-use cards.
Not only are there no monthly fees or balance requirements, but customers also enjoy unlimited free ACH transfers, mobile check deposits, and direct deposits. While checkbooks are not available, Oxygen has figured out a clever workaround.
Customers can access a free service that allows them to pay bills by mail to anyone in the U.S. The account also comes with a great rewards program that offers cashback on business purchases through select partners. Rank up rewards for purchases like gas, shipping, and even coffee.
Pros:
Helps users set up an LLC form inside its app
No monthly fees or account minimums
Save on business-related purchases with the generous cashback rewards program
Cons:
Cash deposits are only available through Green dot and require a fee
While many neobanks have online platforms, Oxygen is only available on mobile devices through its app
See Related: Best Banks for Low-Income Earners
Best for Crypto Investors: Current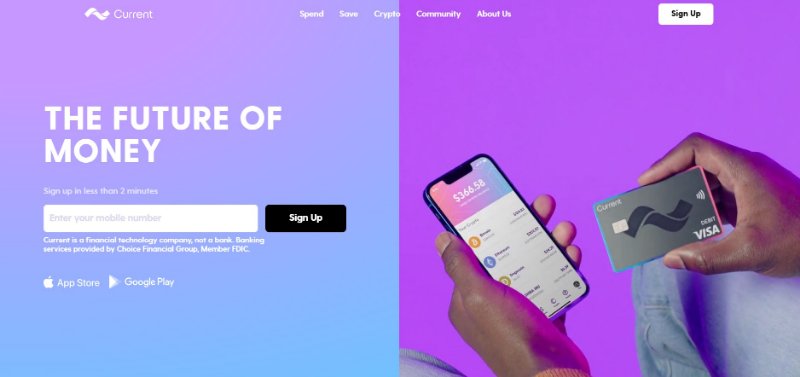 While some neobanks also incorporate brokerage accounts that allow customers to buy stocks, Current is designed with the crypto investor in mind. Current also offers a personal checking account, a savings account, and a teen checking account, each of which comes with plenty of great perks.
The Current checking account offers access to direct deposits two days earlier than traditional banks, up to $200 in overdraft protection, mobile deposit features, and more. There are also no fees for bank transfers, instant transfers to other Current members, or atm fees at 40,000 U.S. partner locations.
Current is also one of the best neobanks to consider when it comes to savings accounts. Current Save offers an APY so impressive that it's actually worth considering as an investment. When you stash your money with Current, you'll enjoy an annual percentage yield of up to 20x higher than you'll find at traditional banks.
Then, of course, there's Current's crypto trading feature, which is a rarity among online banks. Trade dozens of top tokens right from your account and instantly turn them to cash when you're ready to cash out.
Pros:
Offers not only checking and savings accounts but also fee-free crypto trading
Current's savings account offers an incredibly impressive APY
The Current teen account comes with plenty of handy parental controls
Cons:
APY interest offer capped at $6,000
Best for Budgeting: Revolut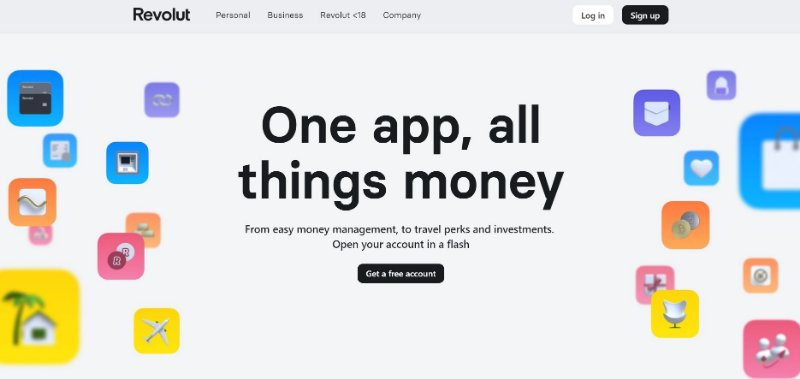 Sick of getting charged for monthly subscriptions you completely forgot about? If so, then Revolut has you covered with an innovative free solution. Not only can the neobank help you keep track of monthly subscriptions, but it even allows you to block those you're no longer interested in, right from the app.
Revolut can even help stop such charges before they start by sending you an alert when a trial subscription is about to come to an end. That way you can decide if you were impressed enough to continue or to cancel before the charges start rolling in.
But the budgeting benefits don't end there. Revolut's free account option also comes with built-in financial tracking and analysis features that can help you set a budget and stay on track.
Revolut has also developed an interesting alternative to savings accounts. Rather than put all your savings in one large account, you can set aside money in a series of "vaults," each of which can be dedicated to different goals.
Not only does Revolut also offer crypto trading, but commission-free stock investing as well. There's even a cashback rewards program to help users earn on purchases from a variety of partner brands.
Read our full Revolut review to learn more about how this banking option can save you money over the long haul.
Pros:
Built-in budgeting and personal finance analysis tools
Ability to track and cancel subscriptions right from the app
Commission-free stock and crypto trading are available
Cons:
The stock and crypto-trading platforms are pretty basic and don't offer additional products such as options, mutual funds, bonds, etc.
Related Resources