Net zero has emerged as a critical goal in addressing climate change and global warming. To achieve this state, the greenhouse gas emissions released into the atmosphere must be balanced by an equal amount of removal efforts. The concept has gained significant traction in recent years, with the Paris Agreement underlining the necessity for nations to work collectively toward achieving net zero in the near term in order to mitigate the effects of global warming.
Countries and organizations worldwide have taken note of the importance of transitioning to a net-zero economy. Major economies, including China, the United States, and the European Union, have all set net-zero targets to significantly reduce their emissions. Alongside these governments, over 3,000 companies, and financial institutions have also adopted sustainability strategies that revolve around this key objective.
Adopting net-zero strategies presents myriad opportunities for investment and growth in industries that seek to minimize their carbon footprint.
Unlock Sustainable Investing Opportunities 🌿
Join the green revolution by investing sustainably with our top partners. Discover platforms that align with your values and offer remarkable opportunities for growth.
As a result, impact investing and sustainable business practices have become increasingly relevant in the world of finance. Investors and companies alike recognize the potential of investing in clean energy, carbon capture technology, and other innovative solutions to not only combat climate change but also create long-term value in the process.
What is Net-Zero? Definition & Examples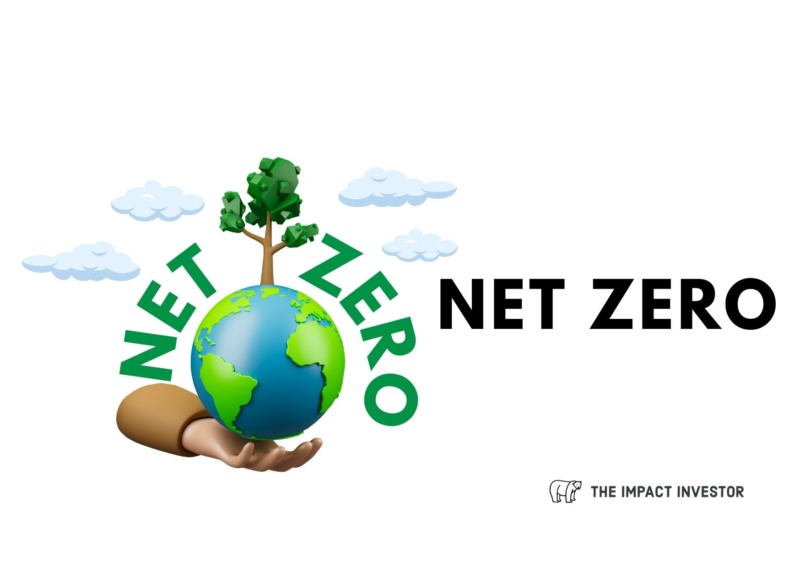 Net-zero, in simple terms, refers to a state where the total amount of human-caused greenhouse gas (GHG) emissions is balanced by an equal amount of emissions reductions. This balance can be achieved by reducing emissions and removing them from the atmosphere, leading to no net increase in emissions.
A key distinction to understand is that net-zero emissions are focused on balancing human-induced carbon dioxide and anthropogenic emissions of other GHGs, while net-zero carbon refers specifically to carbon dioxide emissions. Both concepts aim to mitigate the impacts of climate change by achieving an equilibrium between emissions production and elimination.
Net-zero can be achieved through various strategies. Some of these strategies include:
Energy efficiency improvements: Reducing overall energy consumption through technological advancements, better insulation, and behavioral changes.
Renewable energy deployment: Transitioning from fossil fuels to renewable sources, such as solar, wind, and hydropower, to decrease GHG emissions.
Carbon capture and storage (CCS): Employing technologies to capture carbon dioxide emissions from power plants and industrial facilities, then storing them underground to prevent further release into the atmosphere.
Nature-based solutions: Utilizing the natural ability of ecosystems like forests, grasslands, and wetlands to absorb and store carbon dioxide, supporting conservation and reforestation efforts.
Emission offsets: Investing in projects or technologies that remove or reduce emissions elsewhere, such as reforestation, renewable energy, and methane capture.
Several examples of net-zero initiatives and commitments include:
Countries: Nations like Sweden, the United Kingdom, and Denmark have legally-binding net-zero targets set for 2045, 2050, and 2050, respectively.
Cities: Cities like Tokyo, Barcelona, and Los Angeles have ambitious net-zero targets, ranging from 2030 to 2050.
Corporations: Leading companies, including Microsoft, Amazon, and Unilever, have pledged to attain net-zero emissions by specific target years, often aiming to do so ahead of governmental commitments.
In summary, net-zero plays a crucial role in mitigating climate change by using negative emissions and striking a balance between greenhouse gas emissions produced by human activities and the emissions removed from the atmosphere. This can be attained through a combination of strategies that both reduce emissions and enhance removal processes. Numerous countries, cities, and corporations are committing to net-zero goals, showcasing their dedication to addressing the global climate crisis.
See Related: What is the Sustainability Accounting Standards Board (SASB)?
Importance of Net Zero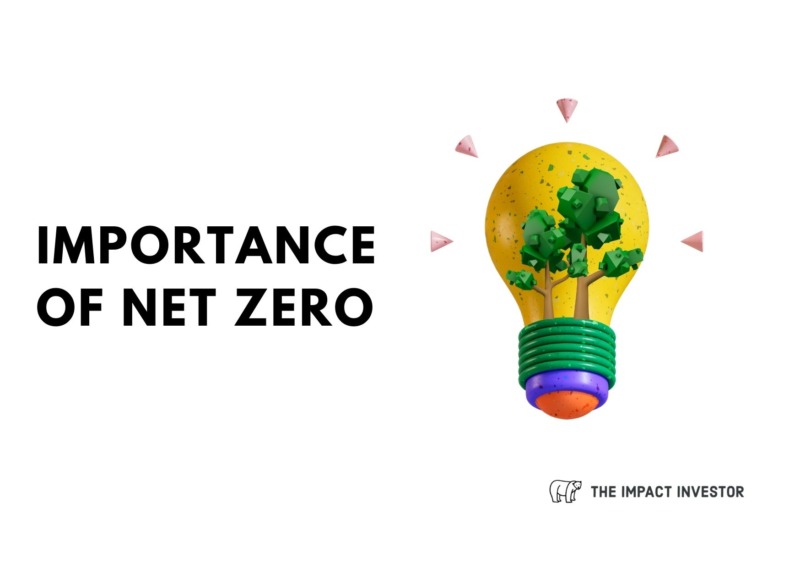 Net zero is a critical concept in the fight against climate change. It refers to the balancing of human-caused greenhouse gas emissions by removing an equivalent amount residual emissions from the atmosphere. To achieve the global warming target of 1.5°C set by the Paris Agreement, it is necessary for global carbon emissions to reach net zero by mid-century.
Addressing the challenge of net zero is paramount to tackling climate change, for several reasons. Firstly, unmitigated greenhouse gas emissions contribute to dangerous temperature increases, leading to severe and irreversible impacts on ecosystems, biodiversity, and human health. By striving for net zero, nations work collectively to address the global climate crisis and protect the planet for future generations.
In addition to environmental benefits, achieving net zero holds significant potential for economic growth. The transition to low-carbon and renewable energy sources creates opportunities for new markets and industries. Innovations in clean technologies can drive job creation, increase global competitiveness, and promote sustainable development.
Finally, reaching net zero is essential for managing climate-related risks in the finance and investment sectors. As sustainability becomes a core concern for investors and regulators, companies must adapt their business models and strategies to align with the transition to a low-carbon economy.
This can help mitigate potential negative impacts on financial performance and long-term value creation, allowing businesses to capitalize on emerging opportunities in the green economy.
Overall, net zero is crucial in limiting global warming, safeguarding ecosystems, promoting economic growth, and mitigating financial risks associated with climate change. Achieving this goal is a collective responsibility and an opportunity for transformative climate action that yields positive outcomes for people and the planet.
Net Zero Targets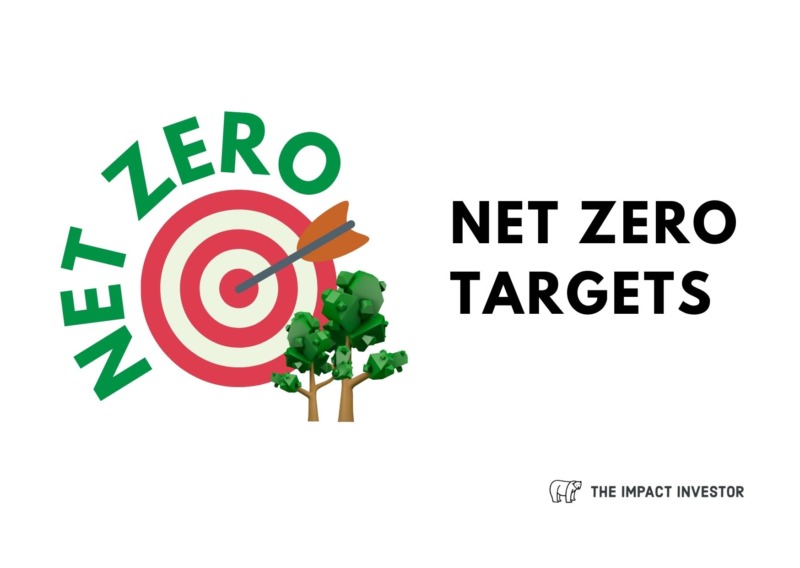 Net zero targets provide a framework for businesses, governments, and organizations to align their efforts in reducing greenhouse gas emissions. The objective of net zero emission reductions is to balance the amount of emissions released and the emissions removed from the atmosphere, primarily through natural or technological means. This equilibrium plays a crucial role in limiting global temperature rise to 1.5°C, in accordance with the latest climate science.
Many entities adopt science-based targets to ensure credibility and effectiveness in their climate change mitigation strategies. One such initiative is the Science Based Targets initiative (SBTi), which offers a comprehensive and stringent framework for corporate net zero target setting. SBTi requirements compel companies to reduce emissions in line with the goals outlined by the Paris Agreement and use carbon removal technologies within their operations wherever necessary.
Governments across the globe are also recognizing the urgency and establishing net zero greenhouse gases and targets at a national level. The United States, for example, has outlined a long-term strategy that envisions achieving net-zero greenhouse gas emissions by 2050. This ambitious plan encompasses massive deployment of clean energy technologies, ranging from renewable energy resources like solar and wind power to electric vehicles and energy-efficient building retrofits.
The International Energy Agency (IEA) emphasizes the narrow path to net zero emissions, stating that success hinges on the rapid and widespread adoption of existing clean energy solutions. This entails scaling up solar power infrastructure significantly, comparable to installing the world's current largest solar park every day.
Achieving net zero targets necessitates concerted efforts from all stakeholders, including businesses, governments, and individuals. Implementing science-based targets, accelerating clean energy deployment, and adhering to national and global commitments can synergistically propel progress towards the ultimate goal of net zero emissions and a sustainable future.
See Related: What Are the Four Pillars of Sustainability?
Net Zero Economy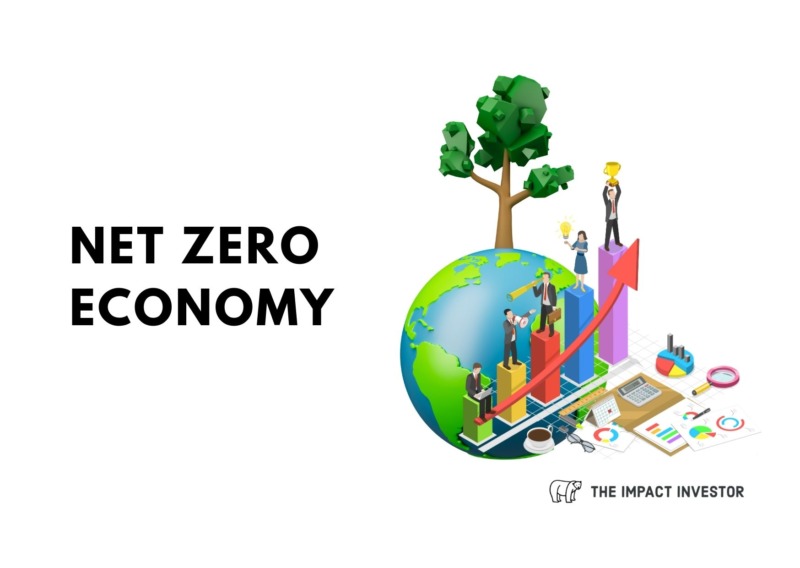 A net zero economy aims to balance greenhouse gas emissions produced and emissions removed from the atmosphere. This balance is crucial in limiting the global temperature increase and the adverse impacts of climate change. To achieve net zero global emissions, by 2050, a significant transformation of the global economy is required, involving an annual average spending of $9.2 trillion on physical assets, which is $3.5 trillion more than current investments.
The net zero transition involves the massive deployment of clean energy technologies, such as renewables, electric vehicles, and energy-efficient building retrofits. This shift means installing solar power at a scale equivalent to the world's largest solar park every day until 2030. It also relies on meeting nine system-level requirements, including physical building blocks, economic and societal adjustments, and governance, institutions, and commitment.
The United Nations has launched the Race to Zero Breakthroughs, a roadmap defining targets across over 20 key economic sectors, such as aviation and construction for net zero by 2050. These targets serve as guideposts for governments, businesses, and investors in making a feasible transition to a net zero economy. Achieving net zero means governments and businesses must effectively incorporate sustainability best practices and green technology into their operations.
In summary, a net zero economy appears attainable through the concerted efforts of governments, businesses, and investors in transforming their economies and practices. By ensuring the widespread adoption of clean energy technologies and adherence to system-level requirements, it is possible to bring about a more sustainable global economy and mitigate the harmful effects of climate change.
See Related: What is Water Sustainability: An Ultimate Guide to Efficient Use
Interpretation of Net Zero Emissions
Net zero emissions refers to the balance achieved when all emissions other greenhouse gases produced by human activities are offset by an equal amount of carbon removal from the atmosphere. This concept is central to climate change mitigation strategies and emphasizes the importance of comprehensive, integrated approaches to reducing net greenhouse gas (GHG) emissions.
In the context of climate policy and sustainable development, net zero emissions often sets a target year by which this balance past emissions must be achieved, such as 2050. The Intergovernmental Panel on Climate Change (IPCC) emphasizes the need for carbon neutrality to limit global warming to 1.5°C above pre-industrial levels and minimize the risk of catastrophic climate change impacts.
There are two primary components of net zero emissions: reducing emissions and enhancing carbon sinks. Reducing emissions entails transitioning to low-carbon energy sources, improving energy efficiency, and reducing direct emissions from industries and transport. Enhancing carbon sinks involves the promotion of carbon-absorbing natural solutions, such as afforestation and reforestation, as well as the development of innovative carbon capture and storage technologies.
Sustainable and impact investors play a crucial role in the global transition to net zero emissions. Identifying and investing in companies and projects that focus on clean energy technologies, emissions reduction, and carbon capture strategies aligns financial objectives with positive environmental outcomes. By providing capital and supporting innovation, finance experts contribute to the development and implementation of sustainable solutions essential for achieving the net zero emissions target.
In conclusion, the interpretation of net zero emissions highlights the need for comprehensive climate policy, technological innovation, and transformative investments in renewable energy and carbon removal solutions. By understanding the concept of net zero emissions, stakeholders can effectively contribute to a global effort toward mitigating climate change and ensuring a sustainable future for generations to come.
Net Zero Companies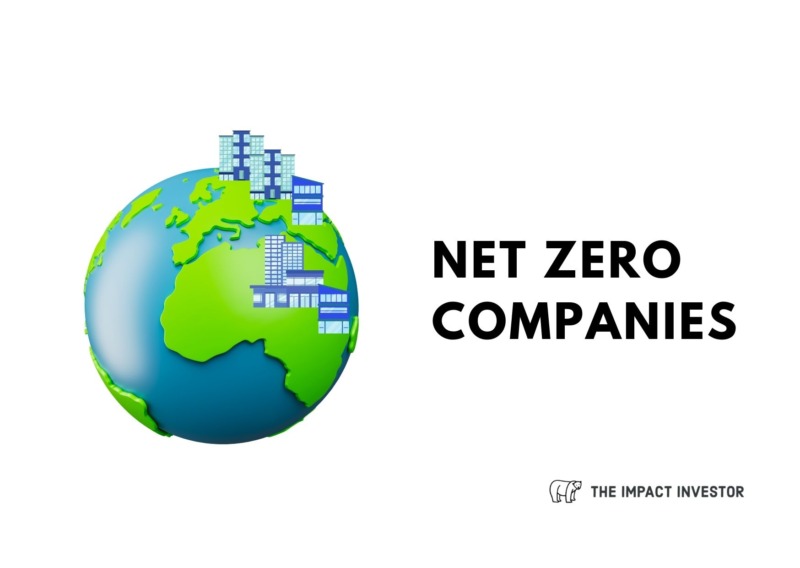 Net zero companies commit to reducing their greenhouse gas (GHG) emissions to create a balance between the emissions produced and removed from the atmosphere. The ultimate goal of net zero date is achieving carbon neutrality by 2050, in line with the Paris Agreement.
A growing number of businesses worldwide recognize the importance of setting net-zero targets. For instance, the percentage of companies declaring a net-zero aim almost doubled from 2019 to 2020. This trend is driven by an increasing awareness of climate change risks and a desire to transition to a more sustainable global economy.
Multinational corporations like PepsiCo, Scania, and JLL strive to attain net-zero emissions ahead of the Paris Agreement's timeline, targeting 2040. These early adopters demonstrate leadership and commitment to address the climate crisis.
The path towards net-zero emissions encompasses a variety of measures, including:
Enhancing energy efficiency
Transitioning to renewable energy sources
Implementing carbon capture and storage solutions
Offsetting remaining emissions through reliable, third-party verified projects
For companies in the United States, achieving net-zero emissions by 2050 requires a comprehensive and rapid effort to decarbonize the economy. The 7.2 billion metric tons of annual GHG emissions in the country stem from diverse sectors of the major economy, necessitating concerted action.
Related Resources