Online bank platforms provide digital services to customers and businesses. Most financial institutions offer some form of internet banking, and some banks only operate online.
A bank may create and operate a digital banking platform under its name. However, it can also offer banking as a service to third parties. In this case, a financial institution provides a digital banking platform that other companies can use to provide banking options to their customers.
For instance, brands may use digital banking platforms to offer checking or savings accounts to their customers. They can access financial services under the brand's name even though third-party service providers are actually operating the platform.
In other cases, financial service providers offer specific capabilities. For example, companies may go to a third-party provider to facilitate money transfers, specific types of investment, or payment services.
In short, any company embedding financial services in the operations or under its brand name would look for a third party to provide a solution.
The Best Online Banking Platforms
Here is a look at the best banking service providers and platforms. Some of these options offer all services of banks and other financial institutions. Others focus on bringing a specific function like international money transfers to their clients.
1. Chime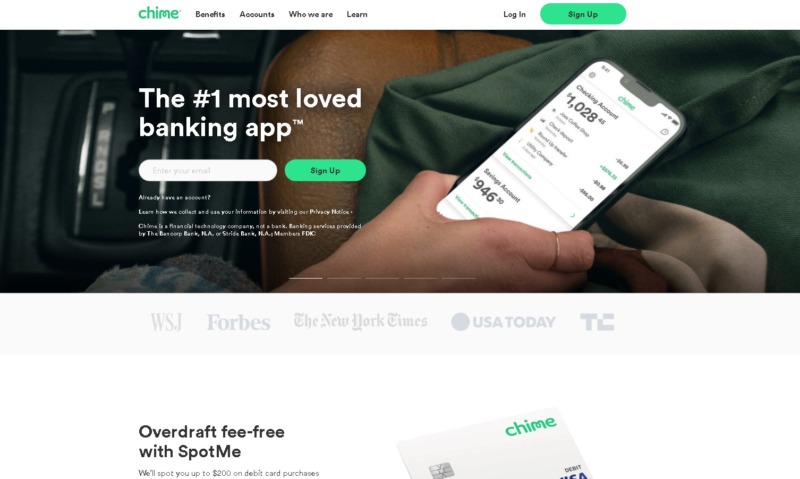 Chime is an American online bank. It is unique because it uses a different business model from the typical brick-and-mortar banks.
It doesn't rely on overdraft or monthly subscription fees and doesn't require a minimum balance or investment. Its income comes from credit and debit card interchange fees.
In addition to providing services under its brand name, Chime offers its banking services to others. Its offerings include the following:
No monthly fees,
A fee-free debit card,
Direct deposit services,
Overdraft protection up to $200,
High-yield savings account (currently 2% APY),
Access to ATMs (fee-free if in-network),
Basic money transfers.
Companies can offer Chime's full-service online banking under their brand. Chime does not have physical banks, so its customer service is limited to online call centers and chat apps. This can make things like cash deposits difficult.
However, companies seeking a banking platform that allows them to offer full online checking and savings services without fees will find Chime an effective option. Chime caters to these clients with an open API. This framework lets companies integrate other services into the Chime platform and customize the design and features to meet their needs.
See Related: Varo vs Chime: What is Better?
2. Revolut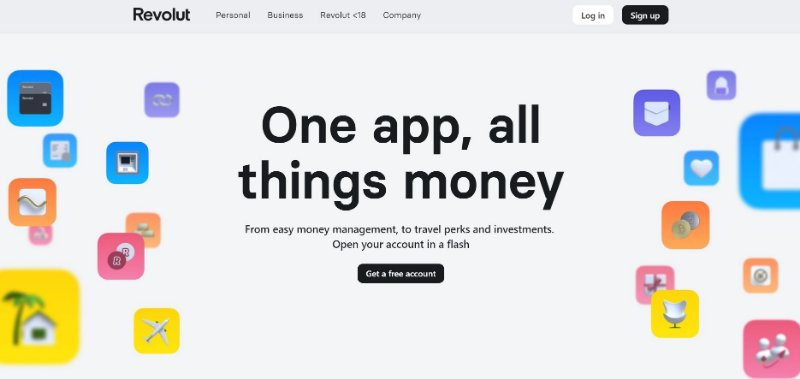 Revolut offers a money management app. It bills itself as a "financial superapp." It offers digital banking services through its iOS and Android apps.
One of the main advantages of Revolut is that it is available in multiple countries. Businesses operating in different nations can offer Revolut's services to their customers without selecting a different service provider for each country.
Here are some of the features offered through Revolut's app. These are available to businesses through the Revolut Connect platform.
Exchange money in 36 currencies,
Splits bills with multiple people,
Budgeting and analytics tools using financial data,
Early pay for customers with direct deposit,
Manage bank cards in-app,
Access investment and insurance products,
Apply for and manage loans.
The biggest drawback of Revolut is that some services do not work in some countries because of banking regulations. However, customers can link their Revolut account to most major banks, allowing them to access services unavailable through the app.
See Related: Chime Review: Unbiased Insights on Features & Benefits
3. Aspiration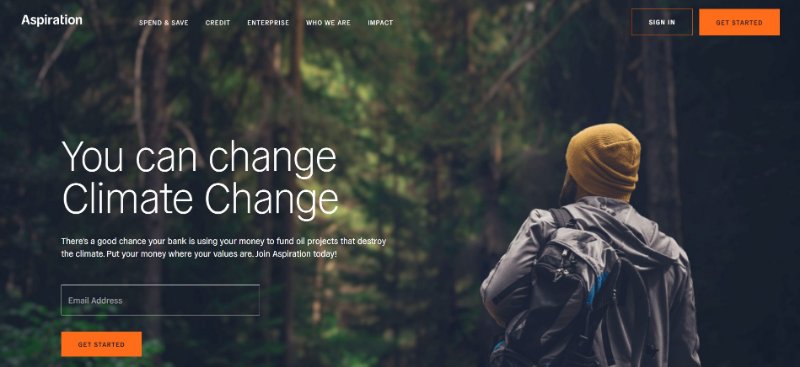 Aspiration is an online-only financial firm. Many reviewers and experts categorize it as a "neobank." This term means it primarily offers online services and provides access to a variety of different financial products beyond checking and savings accounts.
In legal terms, Aspiration is not a bank. Instead, it is an investment platform registered with the Securities and Exchange Commission (SEC). Funds are protected by FDIC insurance through the bank that issues Aspiration's debit cards.
Aspiration offers unique features focused on ethical banking and sustainability causes.
Aspiration uses proceeds to support environmental and social causes,
You can sell carbon credits through the platform,
It only invests in sustainable and eco-friendly investments,
Users get access to a fee-free ATM network,
Users earn cash back when shopping at pre-selected ethical retailers,
You can set account minimums.
Aspiration is a good choice for businesses that want to offer customers who value ethical financial practices and want to support sustainability. While you can get basic financial services for investments and debit cards, Aspiration does not offer the same level of services as other online banking platforms like Chime.
See Related: Aspiration Review: Is It Sustainable & Legit?
4. Wise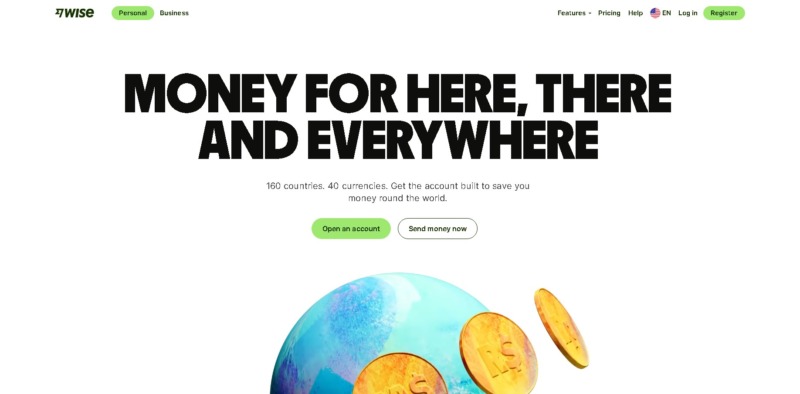 Wise is a money service provider. It specializes in international money transfers. Customers can send money to different countries, converting currencies automatically if needed.
Wise also allows people to open accounts and hold money in other currencies for transfers at a later date.
Here is a look at the benefits Wise provides as a third-party financial service.
A variety of options for sending money,
No markup on exchange rates,
Fast money transfers for some transactions,
Multi-currency accounts,
Money transfers to more than 70 countries.
Wise offers an open banking API. However, access is restricted to companies regulated and licensed for financial activities in their jurisdiction. Unregulated businesses can use the service through the Wise brand, but they cannot integrate the platform with their services.
Finally, Wise is primarily for digital products like debit and credit cards. It does offer bank-to-bank transfers, but these can be slow in many cases.
5. Stripe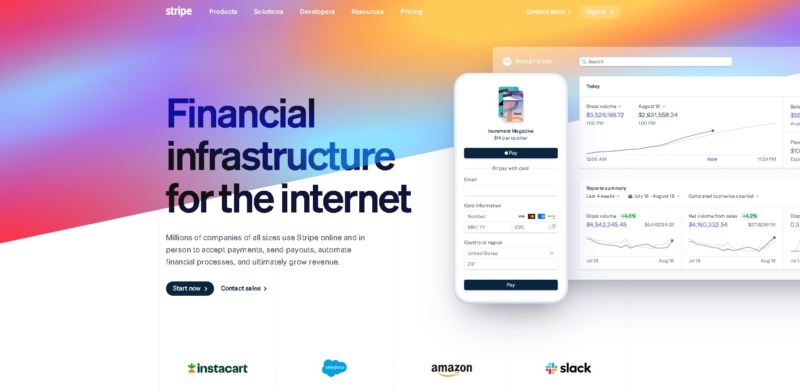 Stripe is primarily a payment processing service. It integrates with businesses and other financial service providers to access customer payments.
Stripe is highly customizable and offers multiple APIs that businesses can use to create solutions that fit their unique needs. You can also combine frameworks. For instance, a payment API allows a business to accept multiple forms of payment, such as debit card and bank transfer payments, through one API.
Such features can streamline a payment processing system.
Here are the features you can expect with Stripe.
Ability to offer different payment options,
Both in-person and online integrations,
The capacity to offer subscription services,
Support for invoicing.
Stripe also offers point-of-sale tools like card reader encryption and payment processing tracking.
Stripe partners with major banks to handle payments. It is a popular option for small and mid-sized businesses. Also, some e-commerce sites offer it as an option to their vendors.
6. Unit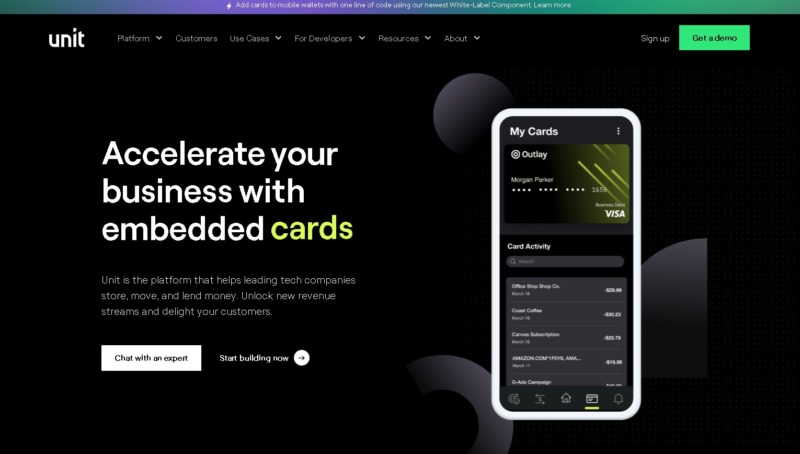 The Unit allows companies to embed financial services in their existing tech infrastructure. Unit's developers claim their platform will simplify compliance and regulatory requirements.
The platform also simplifies integration. In addition to the API, the Unit offers a user interface to help streamline the coding process. These features reduce the time it takes to bring financial services to customers.
Here are the services available through the Unit.
Individual bank accounts,
Business bank accounts,
Interest rate management for savings accounts,
Debit cards,
Credit cards,
Charge cards,
Digital cards,
Direct deposit.
The system can also manage money transfers, lending, and rewards programs.
7. Shopify Balance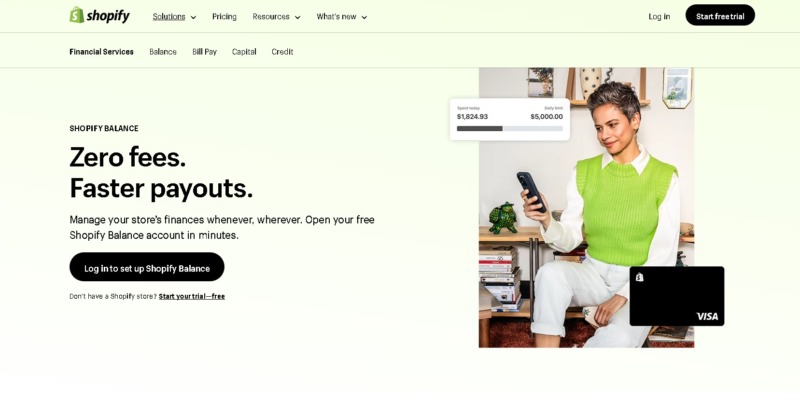 Shopify Balance is an account management tool for e-commerce vendors using the Shopify platform. It can serve as a business bank account. Funds are FDIC-insured, and the system is backed by a major bank, Evolve Bank and Trust.
Here are the perks of Shopify Balance.
Shopify Balance is free to use if you sell via the platform.
It integrates with Shopify Payments, which helps vendors avoid transaction fees.
Shopify Balance has a debit card that you can use to withdraw money from an ATM.
You can generate reports on income and sales using account transaction data.
Balance is an example of a financial service for a very specific purpose. However, the ability to access business money quickly through an ATM and the lack of significant fees make this option attractive for both large and small vendors.
8. Marqeta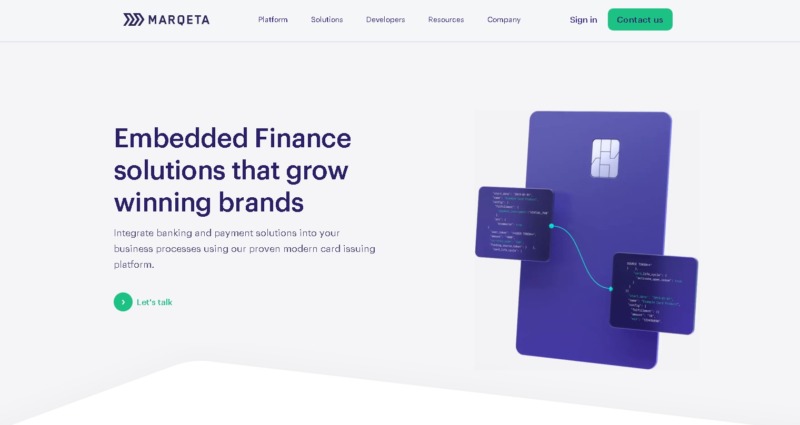 Marqeta is a financial services provider that specializes in credit and debit cards. Businesses can use this platform to handle the various requirements and processes necessary to launch a card program.
Marqeta handles the behind-the-scenes work, allowing companies to launch branded credit cards and debit cards without having to handle all the financial aspects of the process in-house. The company also works with issuing banks.
Here are some of the functions Marqeta handles.
Issue cards,
Authorize credit card transactions,
Communicate with entities involved in transactions,
Offer a platform for managing card programs.
Marqeta offers a suite of APIs that companies can integrate into their existing systems. With these additions, they can manage card programs in the same place as they handle other financial or customer services.
Major payment processors like Visa and Discover work with Marqeta, as do apps like DoorDash.
See Related: Predictive Analytics in Banking: Enhancing Financial Decision-making
9. Solarisbank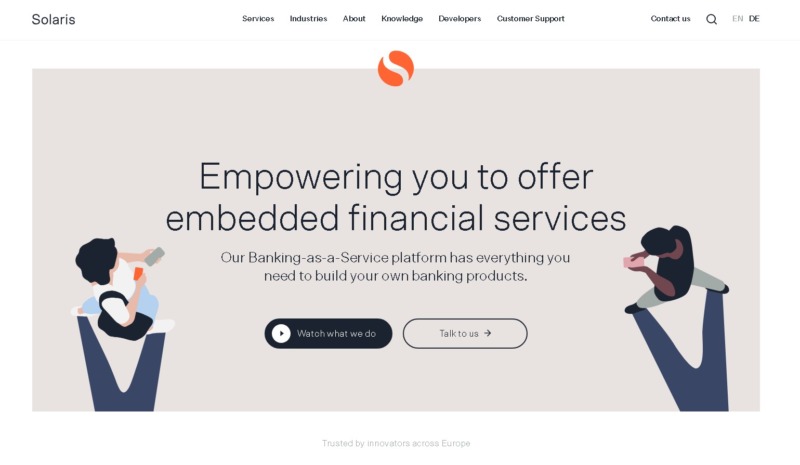 Solarisbank provides the framework businesses need to launch their banking services. Solarisbank works strictly on digital banking solutions.
With a complete BaaS platform, businesses can offer a range of services to customers without managing the details themselves.
German company Solaris offers various web services, such as online payment processing, checking and savings accounts, loans, and credit and debit card programs. The Solarisbank platform allows companies to bring these features to their customers under their brand.
Here is what Solarisbank offers.
Credit and debit cards,
Checking and savings accounts,
A split-pay tool,
A KYC identity verification platform,
A lending platform,
A digital assets (crypto and NFT) brokerage.
A company can use the suite of APIs offered by Solarisbank to add these components to its offerings to customers.
10. Green Dot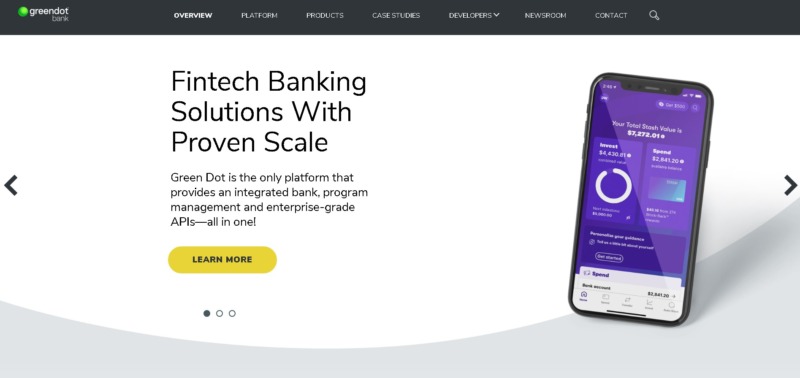 Green Dot is a fintech company focused on bringing banking solutions to everyone. It is best known for its Green Dot cards, which provide basic banking functions to people without checking accounts.
It uses industry-grade APIs to allow companies to customize their banking systems and other products to bring similarly accessible services to their customers.
Here are the services Green Dot provides.
Branded cards, including prepaid, debit, and secured credit cards;
Cash deposits into debit or checking accounts via retail cashiers;
peer-to-peer payments;
Payroll services;
Managed lending services;
Tax refund payments.
One of the biggest advantages of Green Dot is that product users can get basic services, like cash deposits, at its nationwide network of retailers. This feature provides access to brick-and-mortar services usually unavailable through online banking platforms.
11. Solid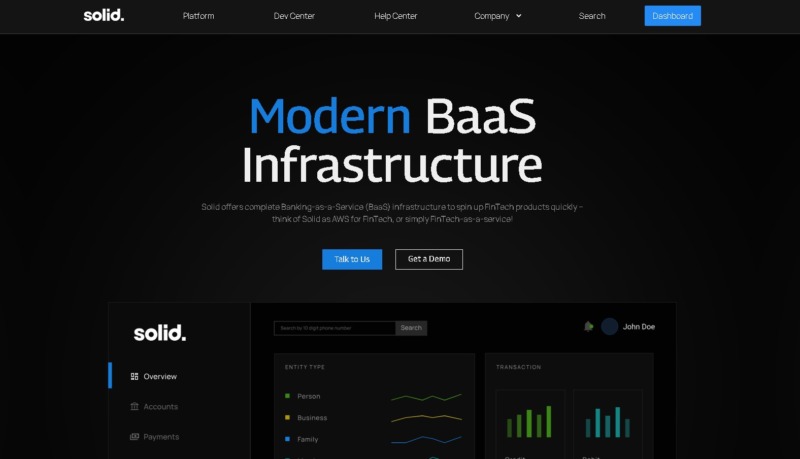 Solid (sometimes stylized as "solid.") is a fintech company that delivers white-label banking solutions. It refers to itself as the AWS of fintech because it offers hosted services with a complete infrastructure already in place.
Solid has built-in regulatory and compliance protections, so companies do not have to worry about these issues when launching their branded financial products.
Here are the services you can offer using the Solid financial services platform.
Crypto wallets,
online payment processing,
Money transfers,
ACH transfer processing,
Branded credit and debit cards,
Checking and savings accounts,
Account management tools.
Solid bills itself as a fintech company, and it focuses on the "tech" aspect of this category. Solid claims its APIs only require a few lines of code for full integration. The streamlined nature of their backend design is supposed to limit the time it takes to get financial services or products to market.
See Related: Different Millennial Banking Habits to Know About
12. Galoy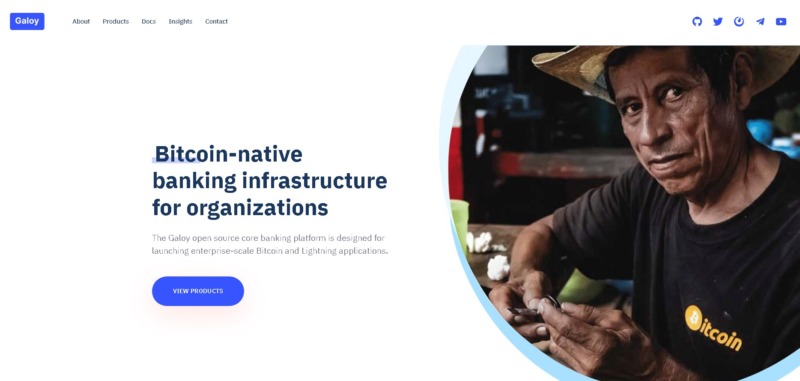 Galoy brings BaaS services to the cryptocurrency world. The company provides open-source software that allows any company to open a Bitcoin-based bank.
The Bitcoin Beach Wallet is an example of Galoy's mission. It offers transactions via Bitcoin with anyone else with the wallet. The goal is to allow users to use crypto for daily spending.
Galoy offers open-source and premium features.
Premium options include:
KYC verification,
Fiat currency purchases,
Cloud-based servers,
Cryptocurrency partial custody.
Open-source products include the following:
A Bitcoin wallet,
Web wallet,
Point-of-sale transaction processing,
An admin panel,
A dashboard for managing accounts and tracking activity.
With these tools, companies can offer Bitcoin banking services and handle crypto-based transactions. The open-source products are free to use, while premium options, necessary for scaling and compliance, are aimed at larger companies wanting to offer Bitcoin services to customers.
13. NovoPayment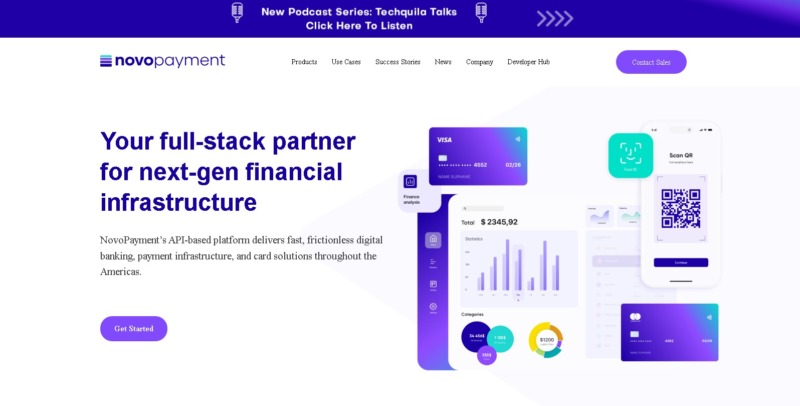 NovoPayment operates an API-based platform. Like Solid, it seeks to provide infrastructure and streamlined code that allows users to launch financial products quickly.
While some banking systems focus on infrastructure for large corporations, NovoPayment offers scalable solutions and claims that its products can also work for small businesses.
Here are the products you can get through NovoPayment.
Branded credit and debit cards from Visa or Mastercard,
Prepaid cards,
Digital card programs,
Multi-currency accounts,
Bank accounts,
Fraud detection and prevention,
digital wallets,
Card issuance system for both physical and digital cards.
NovoPayment works throughout the Americas. It focuses on getting products and services to market quickly, claiming its APIs are easy to integrate into existing systems and do not require much technical expertise. The ease of use and speed make the service ideal for small businesses.
What Types of Services Do Online Banking As a Service Platforms Provide?
The types of banking systems and services providers offer vary. Some focus on a specific function, while others offer core banking capabilities like digital banks or credit unions.
Bank accounts: Some platforms allow you to embed financial services like a fully functioning bank. The platform allows users to open and manage checking or savings accounts and access other financial services, such as purchasing interest-bearing investments like bonds or CDs.
Mobile banking: Some platforms provide and manage applications that allow customers to offer mobile banking services that allow account management, payments, and other features on smartphones and other devices.
Payment services: Some banking service providers offer customers payment processing. Payment platforms often include fraud detection, chargeback protection, and other features. This type of service often focuses on smaller businesses that do not have payment processing systems.
Money transfer and currency services: Some financial service platforms focus on transfers. This function can include cross-border transactions involving exchanging money into a different currency. Full-service platforms may integrate this feature with payment processing or banking.
Business banking: Platforms can also offer business services, such as invoicing, payroll, and accounts payable functions. These features typically include record-keeping and accounting.
Identification and verification services: Businesses must comply with regulations in their home jurisdiction and any place they operate. Laws often require them to comply with Know Your Customer (KYC) and anti-money laundering (AML) rules. Some financial services specialize in verifying identities following customer acquisition to comply with these laws.
Loan application processing and management: Companies can provide lending services to customers through a third-party platform. These services can include software for processing loan applications and other tools for underwriting and other processes necessary for loan approval.
Investment services: Financial services platforms can offer access to investments. These can include allowing customers to contribute to investment funds or trade equities directly through a third-party stockbroker. Some companies may seek multiple service providers to offer different investment options to customers.
Banking as a service providers can also offer analytics, data collection, accounting, tax prep, and other features.
See Related:
How to Choose a Banking as a Service Provider
Businesses need to weigh specific considerations when deciding on banking as a service provider for their business or organization. Some companies provide very specific services, while others have features that customers will appreciate and use more than others.
Here are some questions to ask when selecting an online banking platform or specific online financial service.
What are my requirements?
You want to ensure you opt for a banking service that fits your needs. The first step in this process is to define your needs and any special requirements a banking service provider needs to meet. You may be seeking a payment processing system. However, you should also ask if you need other features, such as integrating the system with accounting software or data analytics tools.
Even if some features are not necessary for your core business operations, you might want to consider if they will help streamline operations or allow you to automate certain tasks that would otherwise consume time.
Is the Service Scalable?
Businesses grow and change over time. The various financial services firms choose to need to expand or contract to adapt to these changes. For instance, a company should be able to add new customers or related features without requiring major changes to the platform setup.
Does the Service Meet Compliance Requirements?
Companies need to follow laws in their home country and other operating jurisdictions. A business might need to meet specific KYC requirements, maintain records, and offer evidence to support tax filings or sales tax payments.
Can the Service Integrate with My Current Systems?
You may have existing features you offer to customers. You will want to continue providing these while adding third-party financial services. Financial institutions should be able to provide integration or at least offer application programming interfaces (APIs) that allow a development team to customize the software and platform to fit with your current operations.
Integration is vital for non-customer-facing features like data analytics platforms, databases, and automated bookkeeping software.
FAQs
Which platform is best for banking?
The best platform for banking as a service depends on your needs. A business needing a payment processing system or offering money transfer services requires a different platform than those providing a checking account to customers. The best banking platform is the one that offers the features that fit your company's needs.
What is an API in banking?
An API is an application programming interface. It provides a framework that developers can use to integrate the app into existing systems or customize it to fit their needs.
What are the most common electronic banking services?
An API is an application programming interface. It provides a framework that developers can use to integrate the app into existing systems or customize it to fit their needs.
Related Resources
Kyle Kroeger, esteemed Purdue University alum and accomplished finance professional, brings a decade of invaluable experience from diverse finance roles in both small and large firms. An astute investor himself, Kyle adeptly navigates the spheres of corporate and client-side finance, always guiding with a principal investor's sharp acumen.
Hailing from a lineage of industrious Midwestern entrepreneurs and creatives, his business instincts are deeply ingrained. This background fuels his entrepreneurial spirit and underpins his commitment to responsible investment. As the Founder and Owner of The Impact Investor, Kyle fervently advocates for increased awareness of ethically invested funds, empowering individuals to make judicious investment decisions.
Striving to marry financial prudence with positive societal impact, Kyle imparts practical strategies for saving and investing, underlined by a robust ethos of conscientious capitalism. His ambition transcends personal gain, aiming instead to spark transformative global change through the power of responsible investment.
When not immersed in the world of finance, he's continually captivated by the cultural richness of new cities, relishing the opportunity to learn from diverse societies. This passion for travel is eloquently documented on his site, ViaTravelers.com, where you can delve into his unique experiences via his author profile.